This article has links to products and services we recommend, which we may make a commission from.
This authentic chimichurri recipe is the best accompaniment to grilled meats. Made with fresh parsley, oregano, garlic, red wine vinegar, and olive oil, the incredibly bright flavors will have your taste buds doing the tango.

What is Argentine Chimichurri Sauce?
When it comes to grilling, Argentinians have mastered the art of the perfect barbecue.
Accompanying grilled meats is the ubiquitous chimichurri sauce. This popular sauce is made with parsley, oregano, garlic, olive oil, and red wine vinegar.
Red pepper flakes, salt, and pepper give it an additional punch.
Contrary to what some may think, Argentine chimichurri sauce never includes cilantro, only parsley. It's a versatile condiment used mostly with grilled meats, and can also be used as a marinade.
Chimichurri sauce is also found in Uruguay, a top beef producing country that rivals Argentina.
Discovering Chimichurri Sauce in Argentina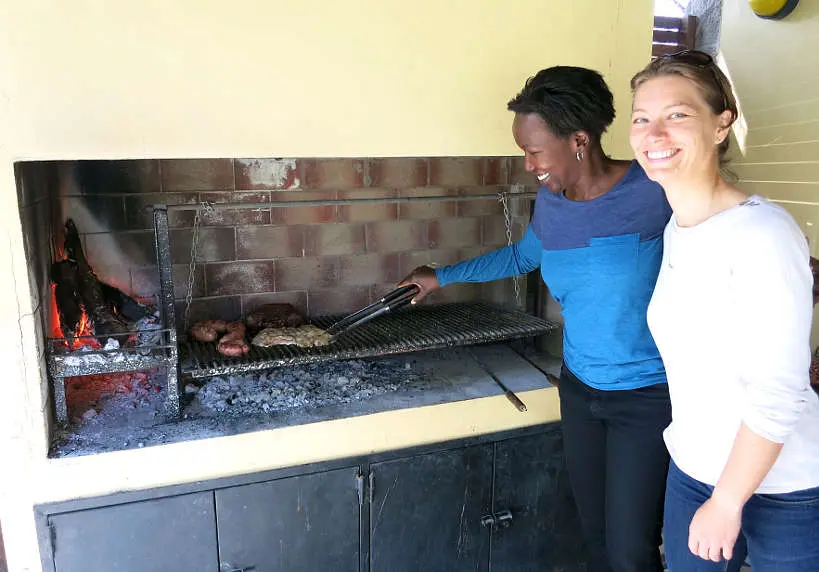 Learning the secrets of Argentine grilling was our mission, on our food travels to Argentina. We wanted to learn more about Argentine grilling in a country that prides itself on its beef.
During our three month stay in the country, we shared and enjoyed many asados or barbecues.
We connected with locals and ate at several parrillas or steakhouses where grilling was at the forefront.
It was through these experiences we discovered the famous Argentine chimichurri sauce.
Unlike grilling in the US, where barbecue sauce is a favorite, most meats in Argentina are simply salted before grilling.
Once cooked, the final touch is added. Chimichurri sauce is served alongside the grilled meats and the feast begins.
We fell in love with the bright and fresh flavors of this delightful sauce and even learned how to make the chimichurri sauce.
When you make this authentic chimichurri recipe and pair it with grilled meat, you'll be singing its praises too.
AUTHENTIC FOOD QUEST TIP: To ground ourselves deeper into the Argentinian grilling culture, we had the pleasure of meeting Argentine top chef, Francis Mallmann. Known for his techniques of 'cooking with fire', he shared fascinating insights about grilling in Argentina In his book Seven Fires: Grilling the Argentine Way, Francis Mallmann shares grilling recipes and techniques adapted for the home cook. Make your summer grilling fun and tasty.
Origins and History of Argentine Chimichurri Sauce
No one really knows the origin of this Argentina's grilling staple. There are several explanations and the most common one is attributed to its inventor, Jimmy McCurry.
Alongside indigenous troops, Jimmy McCurry, an Irish or English soldier, fought for Argentine independence in the 19th century.
His name "Jimmy McCurry" was difficult for locals to pronounce, so they are said to have called him 'Chimichurri'.
Other stories credit Basque settlers who came to Argentina in the 19th century. They are said to have called the sauce tximitxurri, which means jumble or mixture.
My favorite story is attributed to gauchos or Argentine cowboys. Chimichurri sauce is said to have been concocted and used for flavoring meat cooked in open fires in the pampas.
Regardless of the origin story, a bowl of chimichurri sauce is indispensable in Argentina, especially where meat is being served.
RELATED: Argentina Food Guide – Top 15 Authentic Foods You Must Try
How to Use Argentine Chimichurri Sauce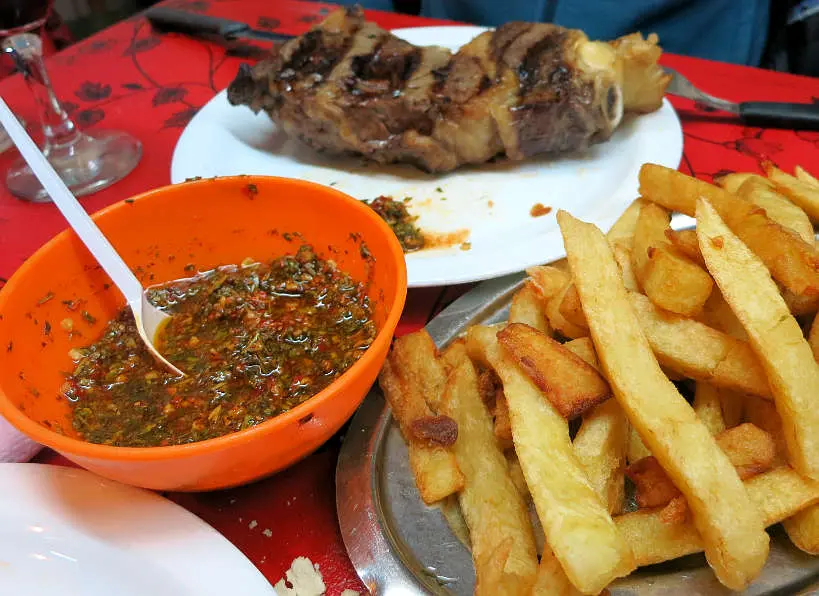 Chimichurri Argentina's Versatile Sauce
In Argentina, ketchup, mustard, or barbecue sauces are never found at any asado. The only acceptable sauce for grilling is chimichurri sauce. And, the sauce is added to the meat as a final touch.
Typically, at an asado, there is a wooden bowl of chimichurri sauce that is passed around to flavor the meats.
Besides grilled meats, chimichurri sauce is a versatile sauce that has other uses. While it matches the richness of the beef, it is also a tasty sauce for grilled chicken or fish.
You can also lightly grill thick crusty bread and slather it with chimichurri sauce.
Also tasty is chimichurri sauce with roasted vegetables.
And, you can also mix it in with boiled potatoes for a side dish with a bite.
READ MORE: Argentines love adding chimichurri sauce to grilled meats. Get the Argentine barbecue tips with these 9 Argentinian grilling techniques
Argentina Chimichurri Recipe Pairing with Steak & Malbec Wine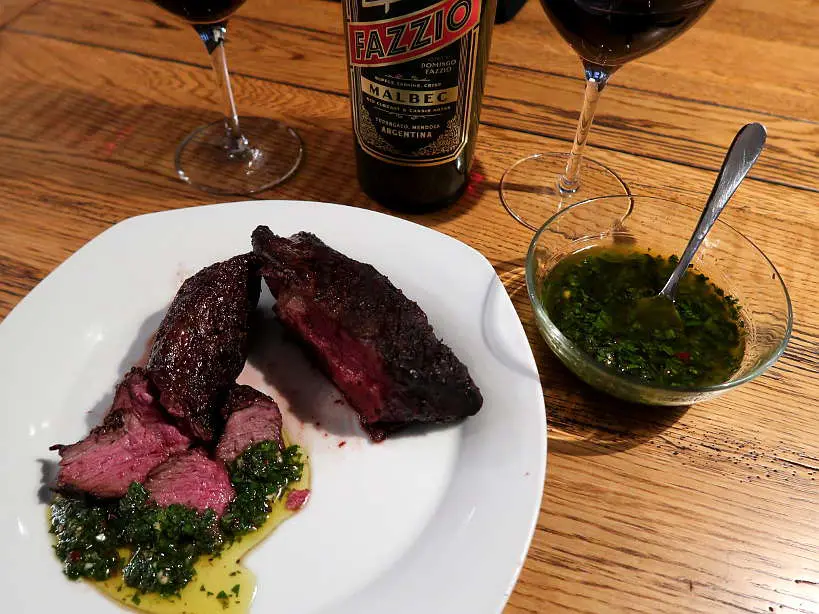 Argentine chimichurri sauce is the perfect complement to a piece of great grass-fed beef.
Equally delicious is a full-bodied Malbec wine, which makes a great partner to grilled beef topped with chimichurri sauce.
RELATED: 12 of The Best Argentine Grills For Sale – A Full Review
How To Make Chimichurri Sauce At Home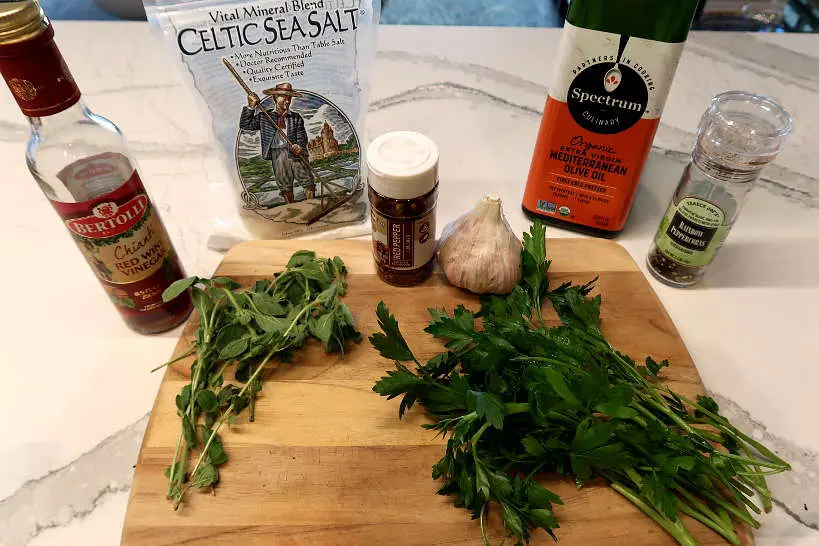 Chimichurri sauce accompanies grilled meats in Argentina. The main ingredient is fresh parsley and it elevates your meat dishes to incredible heights.
Argentine chimichurri gets better with age, and as they say in Argentina, "today it is good, tomorrow, it's even better."
There are two ways of making this authentic chimichurri recipe. One uses fresh herbs while the other uses dried herbs. Both use oil as the medium.
Chimichurri sauce is bright and zesty. The fresh herbs are fragrant and the garlic and vinegar cut through the richness of the meat. Argentine chimichurri sauce is generally not spicy but rather, herbaceous.
Chimichurri Sauce Ingredients
Fresh Italian parsley leaves
Garlic cloves peeled
Fresh oregano leaves (or dried oregano)
Red pepper flakes
Freshly ground black pepper
High-quality extra-virgin olive oil
Authentic Chimichurri Recipe Tips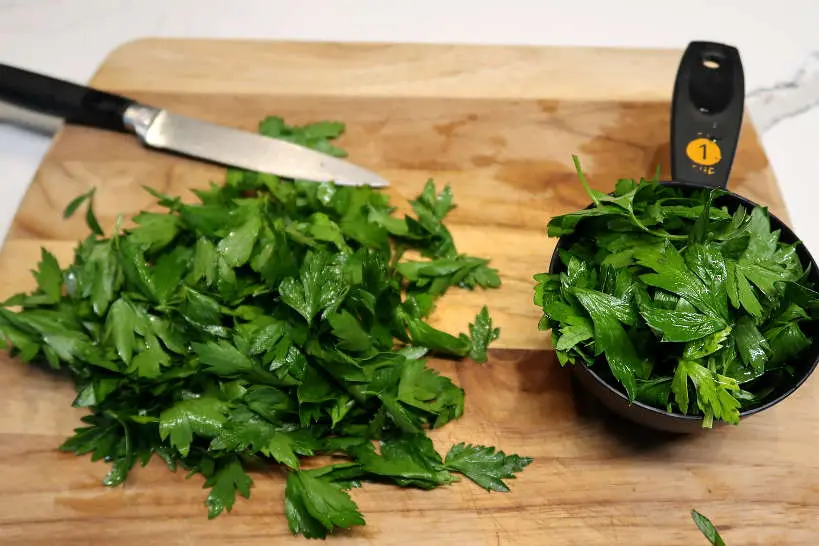 Authentic Chimichurri Recipe with High-Quality Ingredients
We recommend using fresh herbs for a flavor-packed chimichurri sauce. Equally important is the use of high-quality olive oil, which goes a long way to enhance the flavors.

One often overlooked and important component is the quality of the salt. Choose kosher salt versus iodized salt.
Kosher salt has a coarse and flat grain size, making it pinchable and easy to crumble. It is ideal for crumbling over dishes and meats.
How to Make Chimichurri Sauce Using Boiling Method
Many in Argentina, including chef Francis Mallmann, like to add an extra step to their chimichurri sauce preparation.
This step involves bringing one cup of water to a boil in a small saucepan. Add the salt, and stir until it dissolves. Remove from heat, and allow to cool.
Once cooled, add this mixture to the rest of the ingredients just before adding the olive oil.
This process helps tame the pungency of the garlic and parsley yielding a more mild and smooth chimichurri sauce.
Try this if you are short on time and want a well-balanced chimichurri sauce. This method works if you don't have time to let it sit for at least 24 hours before serving.
Argentine Chimichurri Recipe Step by Step Instructions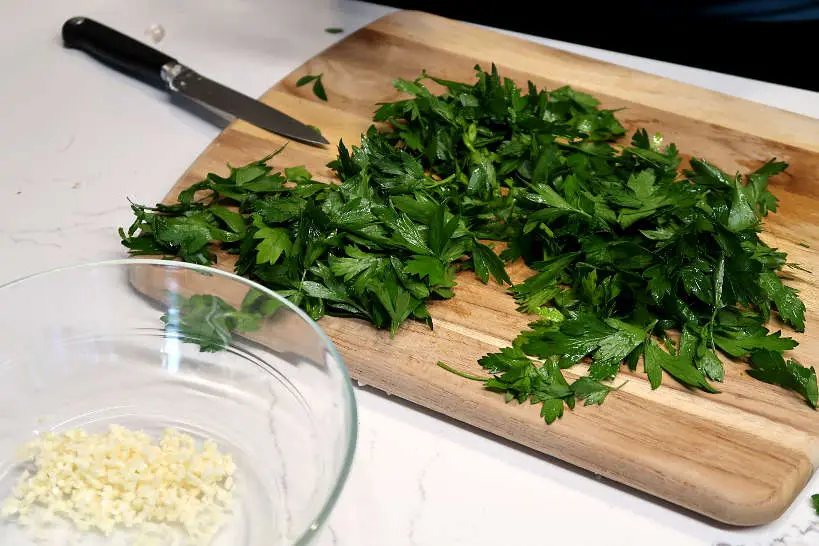 Chop up the garlic into fine pieces. Clean the fresh parsley by rinsing it under cold running water. Shake the parsley to remove the excess water and chop.
Add in clean and chopped oregano. Mix the three together and then add in red pepper flakes.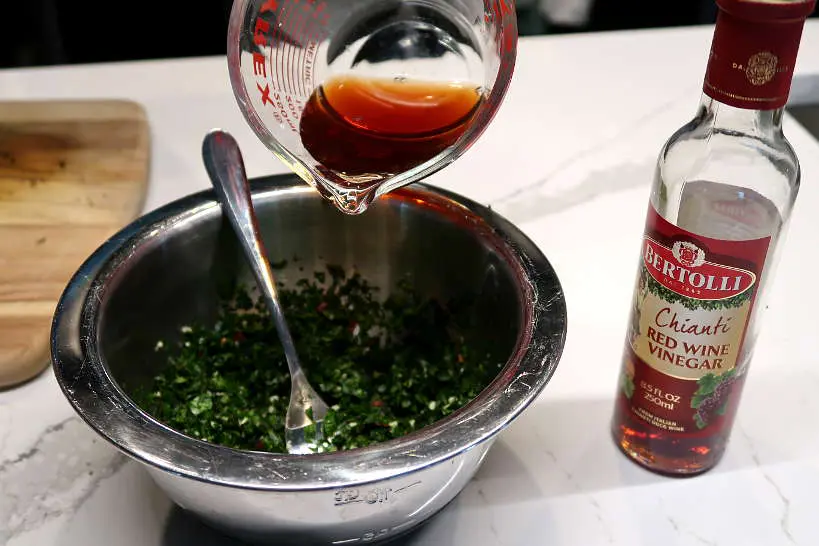 Now, move into the liquids phase and begin by adding red wine vinegar.
Mix thoroughly with garlic and fresh herbs.
Next, add the olive oil slowly, mixing as you go along.
Finally, add salt and pepper to taste.
More Argentinian Cooking Products
Looking for More Argentinian Local Food Experiences?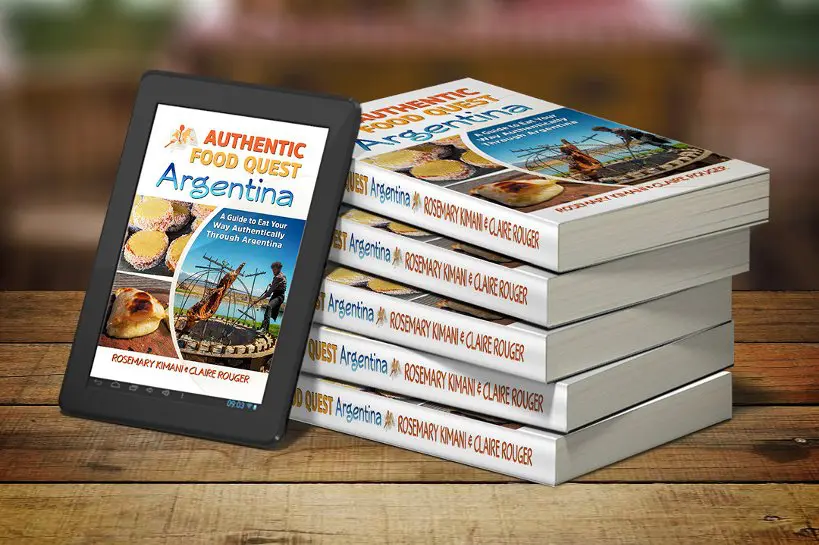 Our book, Authentic Food Quest Argentina takes you on a journey through food in four main regions of Argentina. Buenos Aires, Mendoza & the Wine Regions, the Andean Northwest, and Patagonia & the Lake Region.
In it, you'll find descriptions of the typical dishes, desserts, beverages, street food, and unique produce not to miss. Also included is an overview of the farmer's markets and local stores, restaurants, wineries, and local producers worth visiting.
Throughout the guide, are stories and insights shared by local experts including Argentina's most renowned Chef, Francis Mallmann.
By combining storytelling with local information, this unique guidebook that inspires intrepid and armchair travelers to savor their adventures in Argentina.
Available at Amazon
Curious by nature, Rosemary loves exploring new flavors and connecting with locals. She shares her insights and culinary finds from her travels to inspire people to connect local through food.