Plovdiv, the 2019 European Capital of Culture, is one of the oldest continuously inhabited cities in Europe.
Located in the fruitful Thracian Valley, the city sits between seven hills and is known for its ancient sites and Bulgarian wines.
The food in Plovdiv, and like in most of the country, is rich in traditions. Several Plovdiv restaurants focus on traditional Bulgarian cuisine and wines.
On a trip to Plovdiv, to celebrate its status as the European Capital of Culture, we explored Bulgarian cuisine at several Plovdiv restaurants.
Each of the Plovdiv restaurants we visited offered their own unique twist to Bulgarian cuisine.
In this ancient city with a modern attitude, here is a guide to 5 authentic Plovdiv restaurants to explore Bulgarian gastronomy.

#1 – Central – One of The Best Plovdiv Restaurants for Traditional Bulgarian Food
The pedestrianized area in the heart of the city is one of the main areas to visit.
Right off this main street is Central, a Plovdiv restaurant that focuses on traditional Bulgarian cuisine.
Built on the foot of Danov Hill, one of the seven hills of the city, the restaurant has two impressive terrasses overlooking the stairs and the Maritsa River.
While the imposing and grandiose entrance may appear intimidating, the food served at the restaurant is simple and very accessible.
The space is open and airy and the service friendly and efficient.
RELATED: 10 Surprising Facts About Eating at Bulgarian Restaurants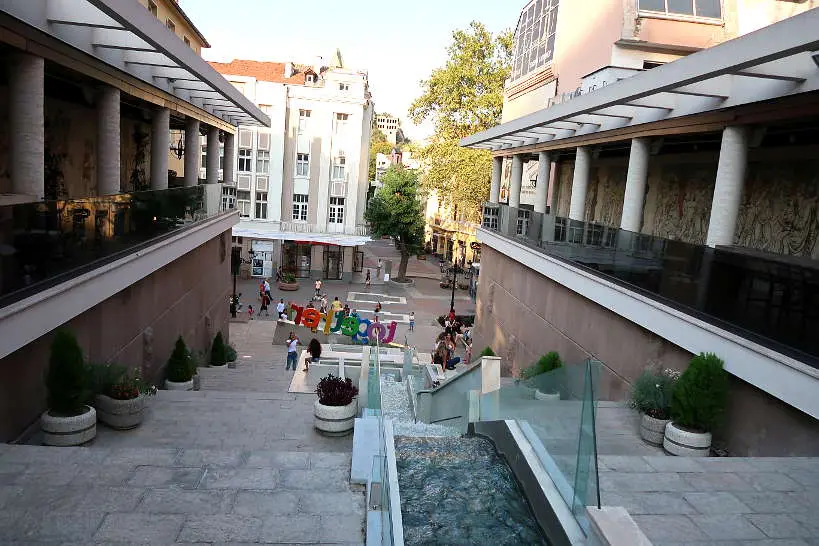 Traditional Bulgarian Appetizers and Meats
On our visit, our meal started out with a traditional Bulgarian Shopska salad served with tomatoes, cucumber and topped with grated Bulgarian sirene white cheese.
Following, we had a platter of four traditional Bulgarian dips.
A fresh yogurt and cucumber dip with walnuts. A roasted eggplant and pepper dip, a spicy dip with paprika roasted peppers and tomatoes, and a soft cheese dip.
All the dips were fresh and full of flavor. The spicy dip with paprika roasted peppers was one of our favorites.
Overall, the spectrum of flavors in the dips was quite extensive and they are not to be missed at Central.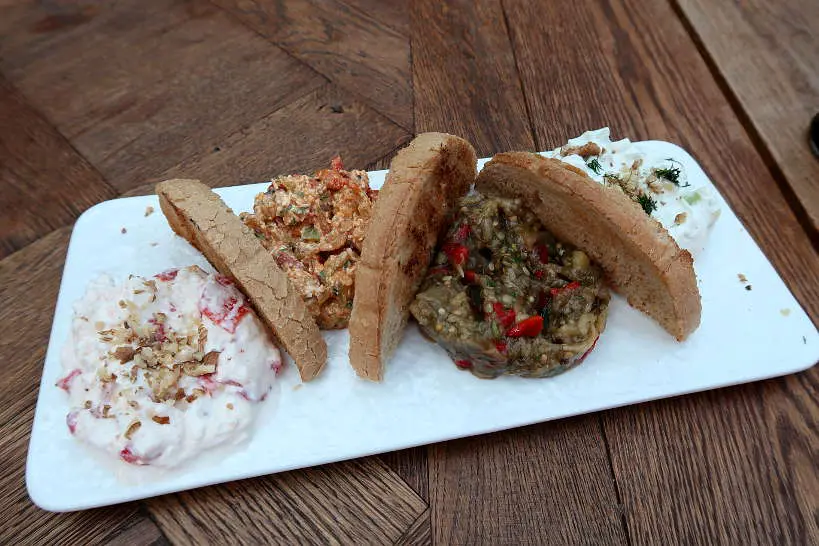 From the appetizers, we moved to a plate of grilled meats, which are typical in Bulgarian cooking.
First, we had lamb kebapche, an elongated grilled minced meat made with lamb, pork and spices.
Then we had kyufte, which are traditional Bulgarian meatballs made of minced pork meat, seasoned with spices and shaped in a flattened ball.
On the plate was a coiled shaped sausage on a stick called karnache. And lastly, Bulgarian pork sausages and pork steak.
Accompanying the meat was a plate of freshly grilled vegetables, drizzled with olive oil.
RELATED: Bulgarian Food Guide: What You Should Know and Love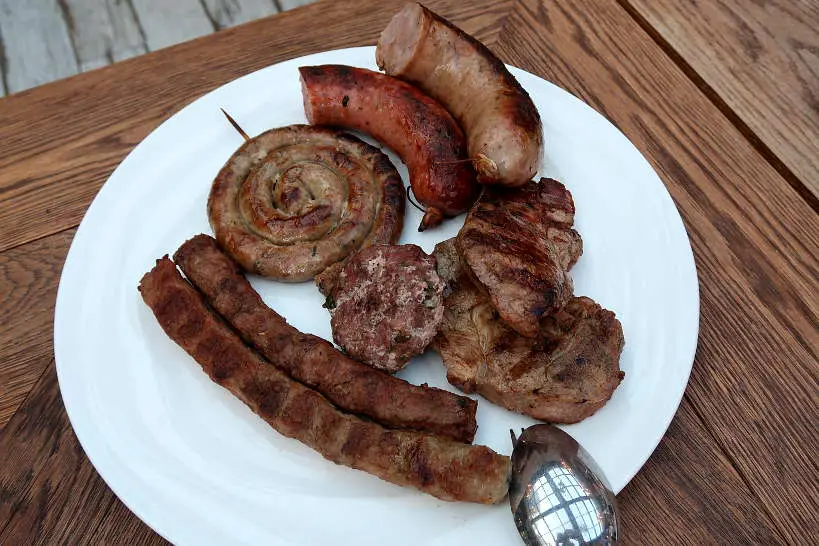 Bulgarian Desserts With Turkish Influence
With barely any room left for dessert, we still managed to squeeze in a tasting two traditional Bulgarian desserts.
The first was a homemade soft cheese cake topped with blueberries. And the second was a traditional sweet banitsa pie.
This particular sweet banitsa pie had nuts, honey and lokum or Turkish Delight, stuffed between thin layers of phyllo dough.
We enjoyed both desserts and in particular the fresh blueberries on the cheese cake.
Where to Eat in Plovdiv for Traditional Bulgarian Food
Address: Naiden Gerov 5, Plovdiv
Hours: Open everyday from 12:00 pm to 12:00 am
Price: Main dishes range from 10 BGN – 20 BGN (approx. $6 to $12 USD)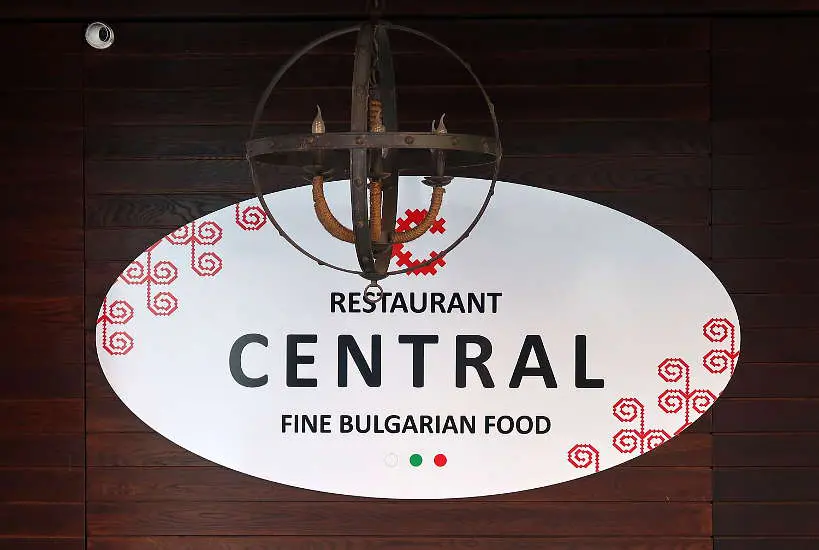 #2 – Restaurant Odeon – Bulgarian Cuisine with a Mediterranean Flair
Just steps away from the Roman Theatre is where you'll find Restaurant Odeon.
The entrance to the restaurant is off the pedestrian street and tucked into a little alley, away from the city sounds.
Book ahead or ask for one of the tables underneath the covered terrace overlooking the Roman ruins.
The decor is traditional Bulgarian with a contemporary style.
You'll find a wide selection of Bulgarian dishes on the menu as well as vegetarian and vegan options.
We enjoyed a wide array of dishes cooked with seasonal ingredients. The impressive selection of Bulgarian wines is not to be missed.
Related: Read more about Bulgarian wines 7 Melnik Wineries You Want to Visit for Amazing Bulgarian Wines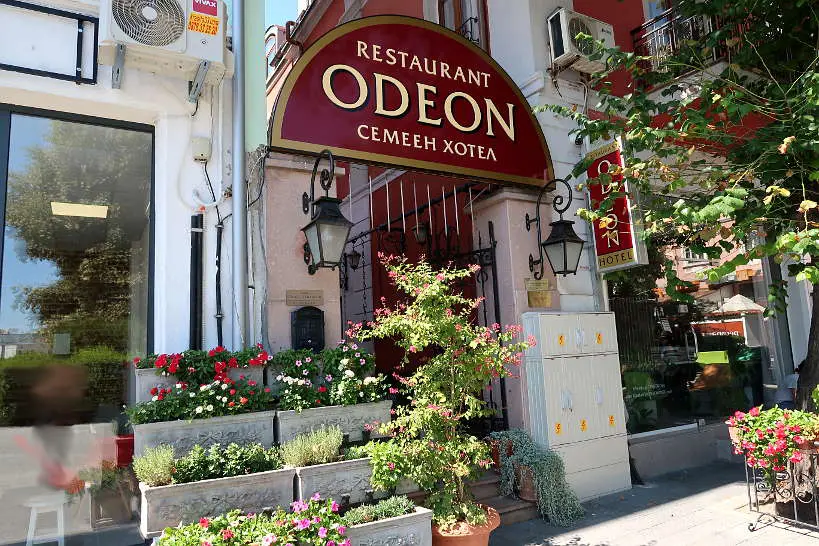 Bulgarian Cuisine with a Mediterranean Twist
Kicking off the meal, we enjoyed a simple starter made with incredibly fresh produce.
Brilliantly red tomatoes, white Bulgarian Sirene cheese, cucumbers and roasted red peppers completed the delightful salad.
This was served with Bulgarian pita bread, which tasted very similar to pita bread you would find at Mediterranean restaurants in the U.S.
We were very impressed by the two main dishes we ordered. Rosemary ordered the halibut fish which had been freshly delivered.
Accompanying the fish sitting in a delightful basil broth with lemon was an array of vegetables. Fresh broccoli, tomatoes and grilled lettuce added texture to the dish.
Light and flavorful is how Rosemary described the dish. It was a hot day and the fresh flavors of the fish and vegetables was the perfect lunch time meal.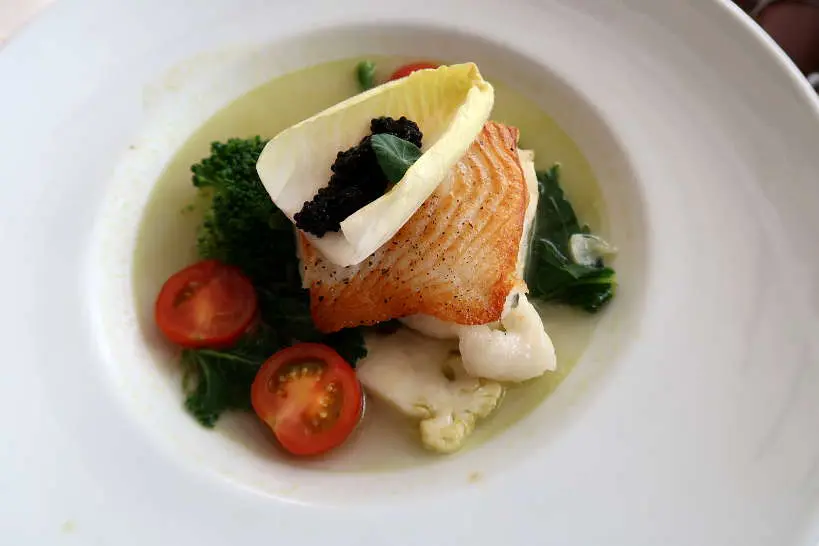 For Bulgarian food with a modern twist, my seared duck magret did not disappoint.
Beautifully plated, thin cut slices of duck with colorful purees of pumpkins, peaches and pears dotted the plate.
I enjoyed the tender duck which was perfectly cooked and well seasoned. The purees added a touch of color and contrast to the rich duck meat.
While I was not expecting to find duck on a Bulgarian menu, I was glad I ordered it. This was one of my favorite dishes at the restaurant.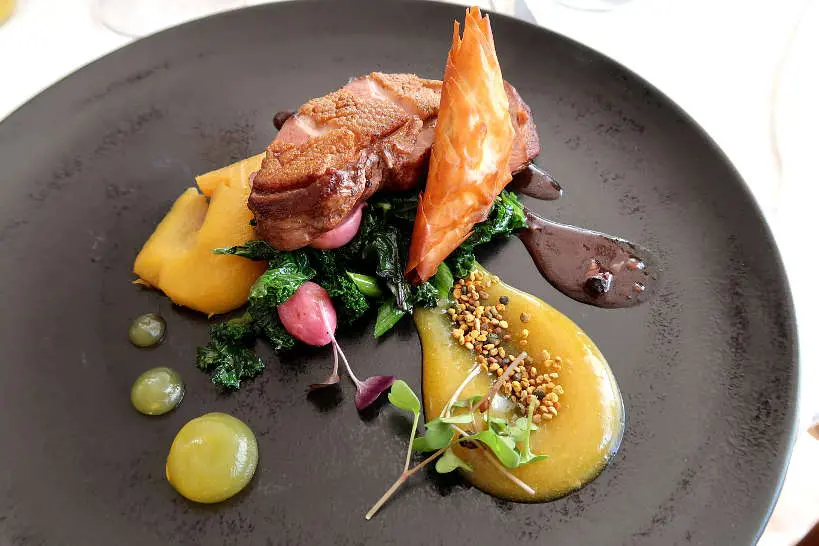 Unexpected Bulgarian Flavorful Dessert
Rounding off the experience at Restaurant Odeon was a light creme brulee.
What we liked about this dessert was the addition of lavender which gave it a unique flavor.
Bulgaria is a major exporter of lavender and having it in the dessert was a great link to the terroir.
Not to mention, the dessert was also lighter than expected.
We enjoyed both desserts and in particular the fresh blueberries on the cheese cake.
Where to Eat in Plovdiv for Bulgarian Mediterranean Cuisine
Address: 40 Otetz Paisiy Street, Plovdiv
Restaurant Hours: Open Monday – Saturday; 8:00 am to 11:00 pm
Price: Mains range from 20 BGN – 40 BGN (approx. $11 to $22 USD)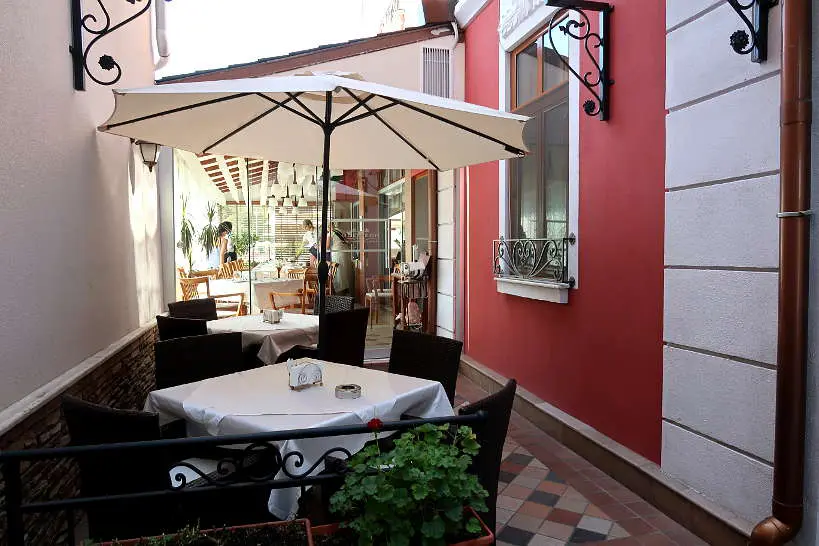 Good to Know: The restaurant is part of Hotel Odeon, a small family owned hotel. Rooms and apartments are uniquely decorated featuring baroque inspired designs. This is a great central location and all the rooms have air conditioning, free Wi-Fi and private bathrooms. Book your stay at Hotel Restaurant Odeon.
#3- Smokini – One of the Best Plovdiv Restaurants for Contemporary Bulgarian Cuisine
Smokini Restaurant is conveniently located a block away from the ancient stadium of Philippopolis, in the center of town.
This quaint restaurant has a mix vintage and contemporary decor with exposed brick walls and concrete beams.
The friendly young chef, Kiro, stopped at our table and described his cooking as "Bulgarian cuisine infused with French and Italian influences".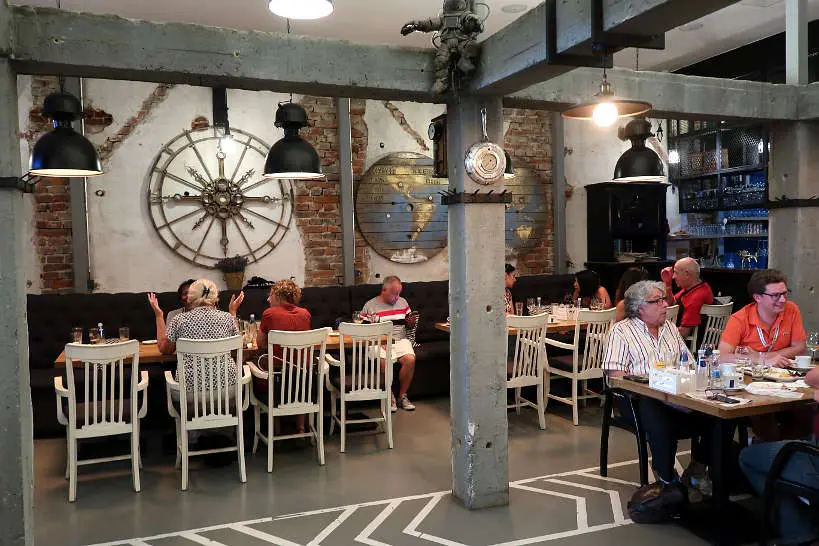 A Creative Twist to Traditional Bulgarian Food
The dining experience started with a plate of typical Bulgarian cheeses, salads and dips individually laid out on a large platter.
The cheese plate had two traditional Bulgarian cheeses. One Bulgarian white cheese known as sirene and the other, kashkaval, a yellow cheese.
Also on the plate were slices of blue cheese and baby mozzarella served with seasonal figs and walnuts.
The salad was a variation of a Shopska salad served alongside a quinoa dip with tomato fondue and fennel.
The two final appetizers were an eggplant dip and a yogurt-cucumber dip.
Overall, the ingredients were fresh and the dips creative and flavorful.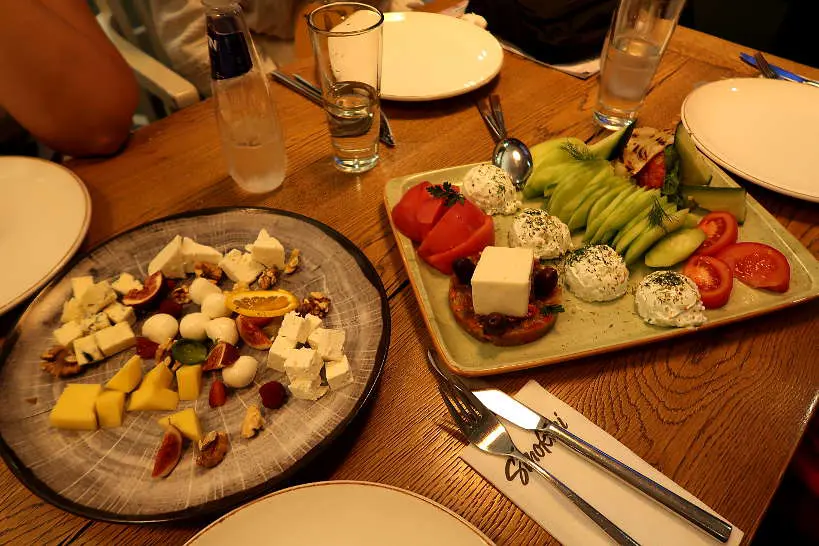 For the main meal, we had a trio of meat which included slowly cooked beef tongue, chicken and pork tenderloin.
The meats were served with a turnip and parsnip puree, broccoli, zucchini and red onions.
Each meat had its own designated sauce. The beef was really tender and soft and the puree tasty and creamy.
An Assortment of Desserts
We finished with a plate of assorted desserts. Although we were stuffed, it was difficult to resist sampling every single dessert proposed.
The dessert platter was comprised of traditional Bulgarian desserts and some chocolate classics.
We particularly enjoyed the homemade nougat with the traditional green figs.
The chocolate desserts were also outstanding. And in particular, the delightful dark chocolate Dome cake as well as the Lava cake with the melting core.
If you are looking for a contemporary twist to Bulgarian cuisine, Smokini's creative menu is not to be missed.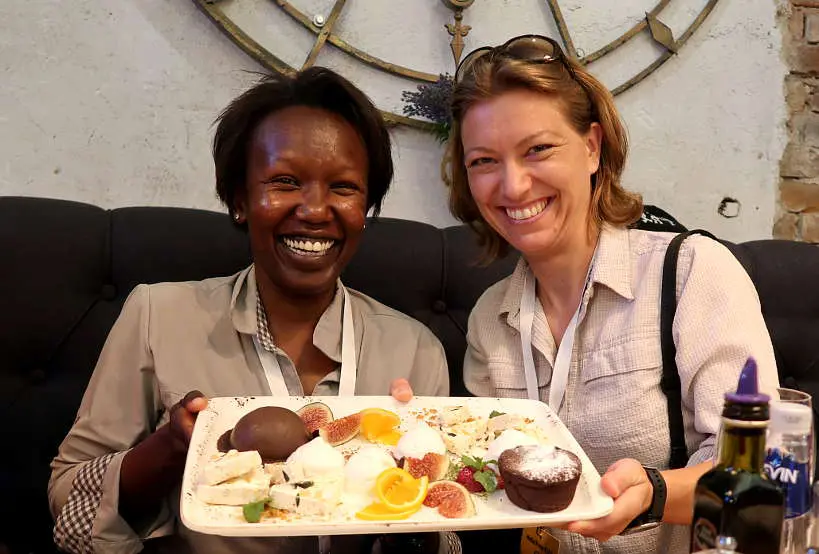 Where to Eat in Plovdiv for Creative Contemporary Bulgarian Cuisine
Address: Otets Paisiy, 12, Tsentar, Plovdiv
Hours: Open everyday from 11:30 am to 11:3 0pm
Price: Mains range from 10 BGN – 32 BGN (approx. $6 to $18 USD)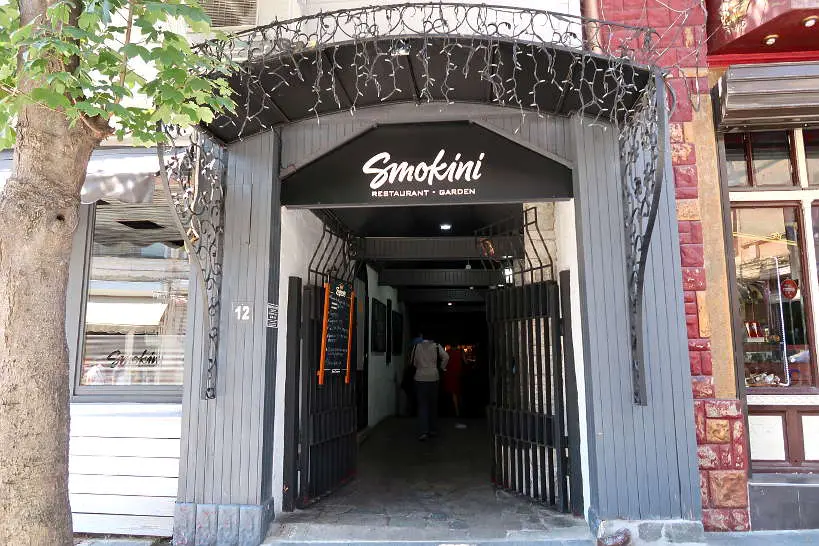 #4 – Grebeca Restaurant – Traditional Bulgarian Food in Outdoor Venue
Grebeca restaurant is located near the Rowing Canal also called the Regatta Venue. This is the largest rowing facility in the Balkans, with a channel of 2200 meters (about 1.4 miles) long.
The restaurant is situated in the largest park in Plovdiv along the Maritsa River. This is the perfect place to enjoy a meal outdoors.
At Grebeca restaurant, part of the sitting area is outdoors in a large and open space. The restaurant is furnished with large white clothes tables and comfy chairs under airy tents.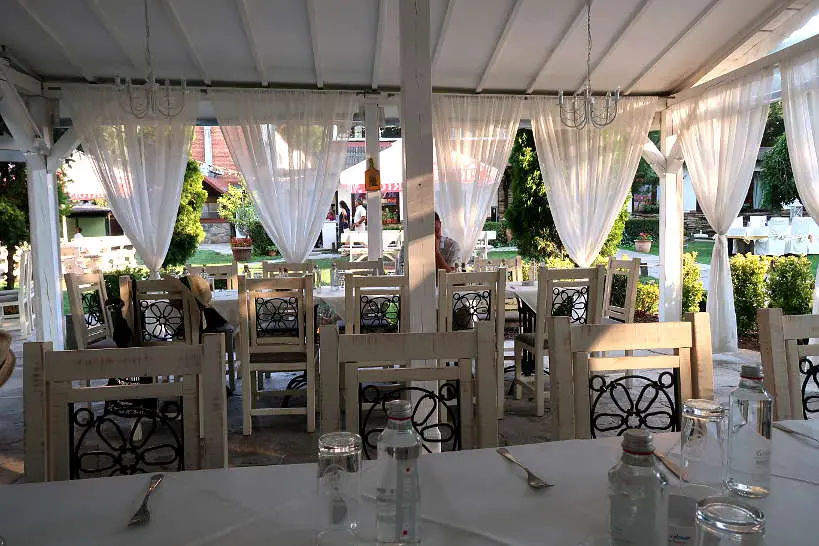 Traditional Bulgarian Dishes
To start our meal, we enjoyed a traditional Bulgarian salad Grebeca style.
It was served with large pink tomatoes, Bulgarian sirene cheese, roasted peppers and basil with pesto sauce.
The vegetables were tasty and the basil and pesto sauce gave a nice refreshing bite to the salad.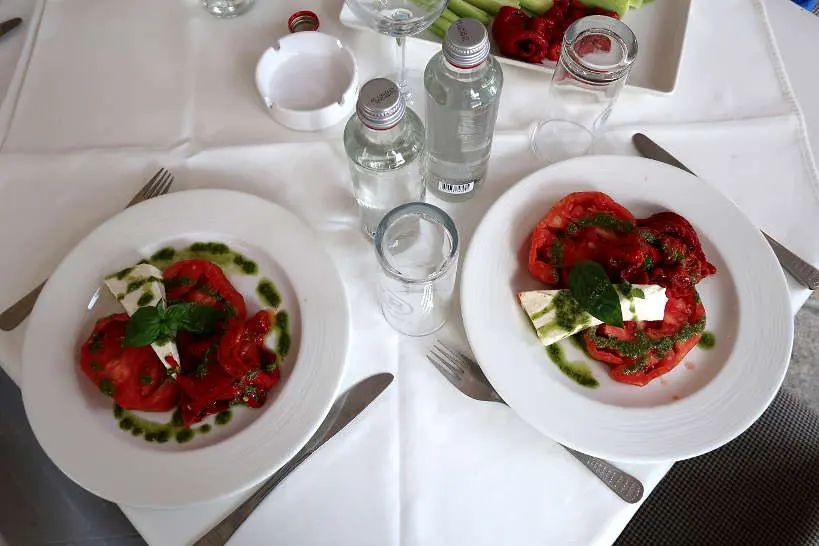 Following the salad, we enjoyed several meat dishes served with mushrooms and potatoes topped with parmesan cheese.
We had five meats cooked in a traditional Bulgarian style. Chicken, beef tongue, pork filet, pork ribs, and veal kebapche. Accompanying the meats was a yogurt based sauce.
In general, all the meat was tender and well seasoned. Our preference went to the pork filet which was tender and cooked to perfection.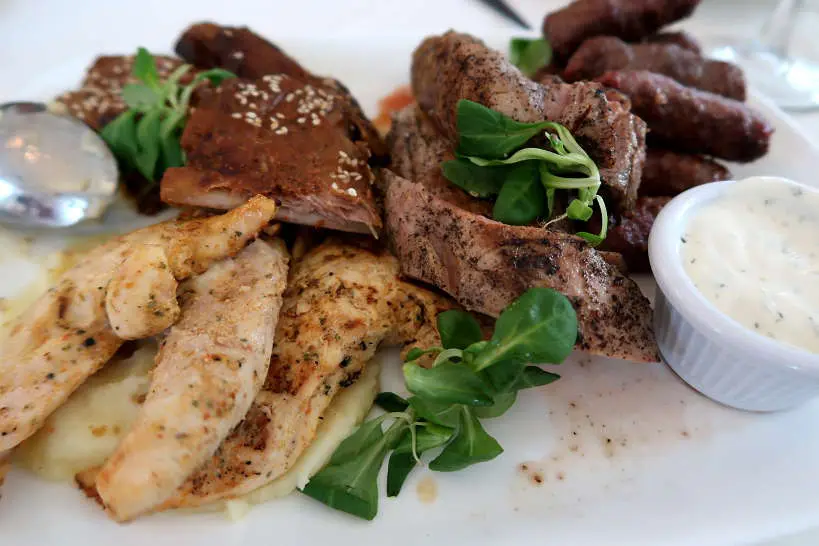 Where to Eat in Plovdiv for Traditional Bulgarian Dishes in an Outdoor Venue
Address: Grebna Baza, Rowing Canal, Plovdiv
Hours: Open everyday from 11:00 am to 5:00 pm and 6:00 pm to 12:00 am
Price: Mains range from 14 BGN – 30 BGN (approx. $8 to $16 USD)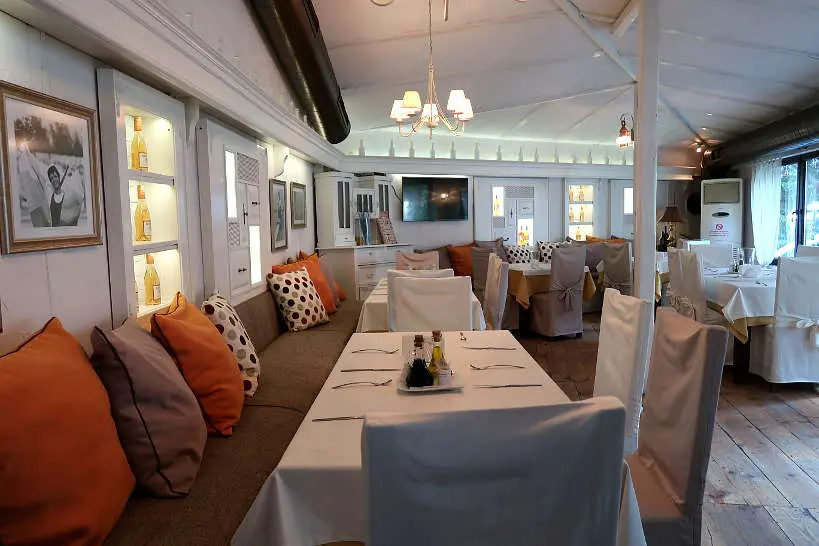 #5 – The Theatre – a Plovdiv Restaurant in an Unique Setting
Located on the grounds of the Plovdiv Drama Theatre, is the aptly named Theatre Restaurant.
You'll find the restaurant off the main street, one of the longest pedestrian streets in Europe.
A little tricky to spot at first, simply walk into the Plovdiv Drama Theatre and you'll see signs pointing towards the restaurant in the back.
The restaurant features outdoor seating and if it is too hot, as it was at the end of August, there is an air conditioned room with floor to ceiling windows.
If you are looking for a convenient stop in an artistic environment, this is an excellent place for lunch.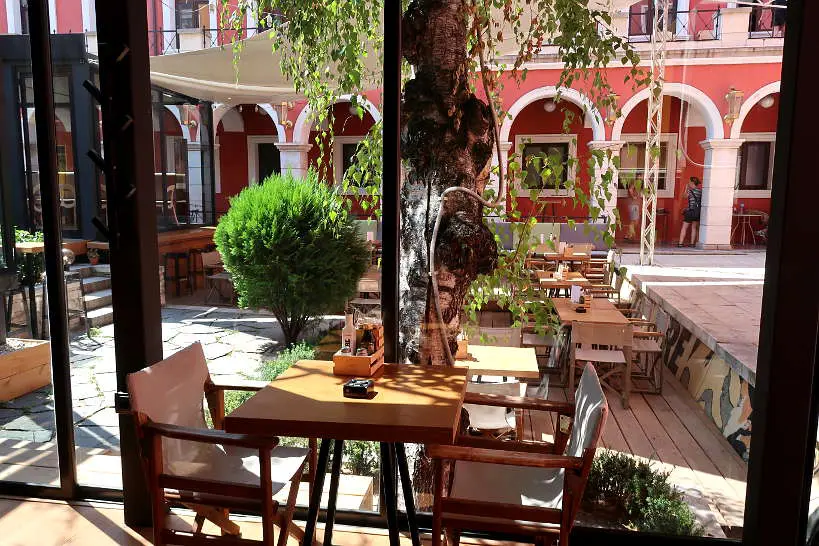 Popular Bulgarian Fare
The special on the lunch menu when we stopped in was Bulgarian moussaka. This is a popular dish in Bulgaria that is widely available.
Unlike Greek Moussaka which uses eggplants, Bulgarian moussaka is made using potatoes.
This indulgent dish was full of flavor. Very well seasoned with a side of Bulgarian yogurt, we both enjoyed the dish.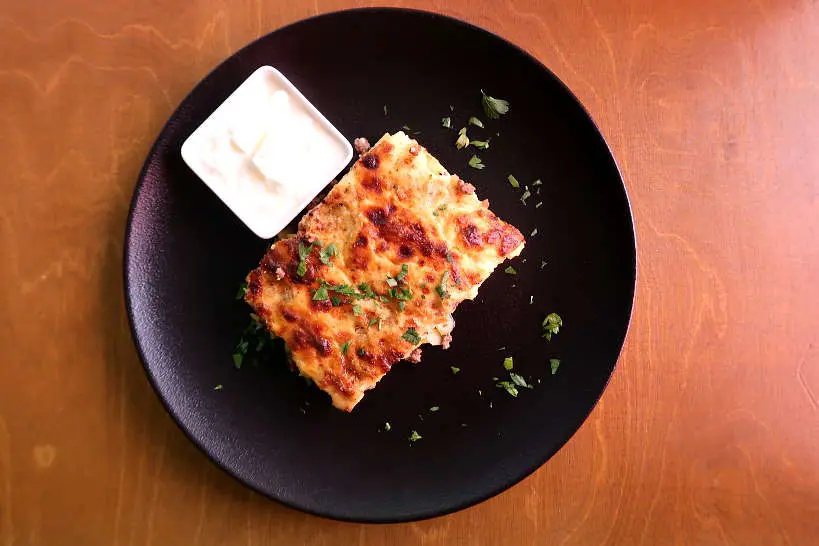 Going along with the moussaka, we shared a delightful tomato salad with a huge dollop of yogurt dip in the center.
The dip, known as snow white salad or snezhanka is a thick Bulgarian yogurt mixed with cucumbers and dill.
The fresh tomatoes dipped into delicious dip made for an outstanding combination.
When eaten together with the moussaka, the tomatoes added levity to the rich moussaka dish.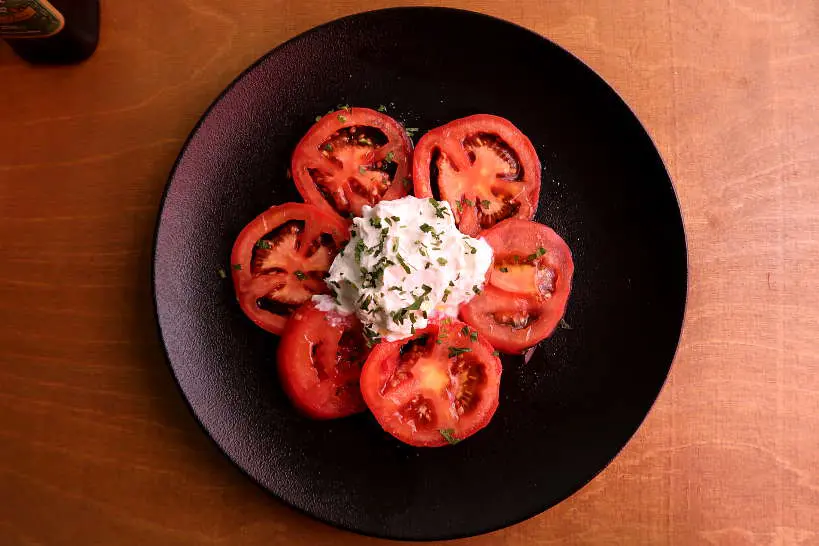 Where to Eat in Plovdiv for Bulgarian Fare in a Gorgeous Setting
Address: 38 Knyaz Alexander I Street, Plovdiv
Hours: Open everyday from 11:00 am to 5:00 pm and 6:00 pm to 12:00 am
Price: Lunch specials range from 6 BGN – 12 BGN (approx. $3.5 to $7 USD)

In Summary
The ancient city of Plovdiv not only offers amazing sites to visit, but also a great way to explore regional specialties from the Thracian Valley.
Discover the city and use this Plovdiv restaurants guide to taste the Bulgarian cuisine.
The five Plovdiv restaurants highlighted draw on the country rich culinary traditions, each with their own interpretation of traditional Bulgarian cuisine.
To go along with the rich culinary history, consider taking a walking tour of Plovdiv to better understand the roots of this ancient city.
On a tour, you will visit some of the most impressive and important sites.
Stops will be made in the Old Town, the Roman theater and Stadium as well as the 14th century Djumaya Mosque.
Where to Stay in Plovdiv
Plovdiv offers many activities, archeological museums and cultural events.
If your travels take you to Plovdiv, plan on spending several days in the city.
You get to explore the history and ancient sites, the local gastronomy and visit the nearby wineries like Villa Yustina.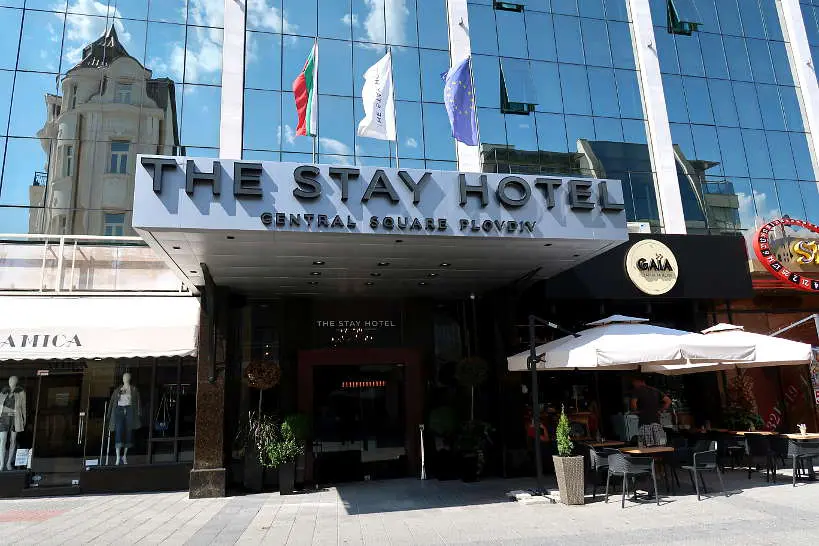 The Stay Hotel
During our visit to celebrate the 2019 European Capital of Culture festivities, we spent four days at The Stay Hotel.
Conveniently located in the heart of the city, the Stay Hotel is at walking distance from the Old town, Kapana district, and the featured Plovdiv restaurants.
The rooms are stylish with a modern and contemporary decor.
You'll find all the essential amenities needed for an enjoyable stay.
One aspect we really appreciated was the USB outlets that were readily accessible for charging our electronics.
If you like to keep active and work out on your travels, note that the Stay hotel does not have a gym.
Luckily, there is a city park is conveniently located a few blocks away where you can run or take a brisk walk.
Prices start at $45 a night for a standard queen room
See more prices, read reviews or to find similar hostels check: Booking.com
Love it? Pin it!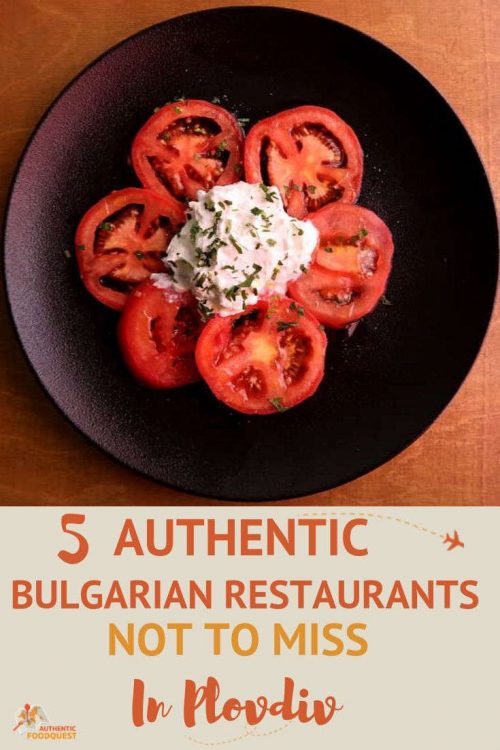 Special thanks to Plovdiv2019 for having us on this Summer Press Trip. All views and opinions expressed are our own. Full bellies and happy taste buds too!
Disclaimer: This page contains affiliate links. That means at no extra charge to you, we earn a small commission when you purchase using these links. Thank you for your support.
Claire is co-founder of Authentic Food Quest and a lover of simple and exquisite cuisine. Since 2015, with her partner, Rosemary, she has been traveling the world as a digital nomad, creating content about local food experiences.
Her advice from visiting 45 countries and more than 240 food cities has been featured in Lonely Planet, Business Insider, Honest Cooking, Food Insider, and Huffington Post. She has also co-authored three books, including one in collaboration with Costa Brava Tourism.
An ex-mechanical engineer, Claire is responsible for SEO, keeping the website running, and the fun food & travel videos on YouTube.
When Claire is not eating, she can be found running or cycling. Find out more about Authentic Food Quest