We spent the Summer in South Florida, near Miami, house sitting and writing our first book Authentic Food Quest Argentina.
To be more specific, we were in Wellington, near West Palm Beach, surrounded by the Cuban-American community.
With Cuban-Americans making up more than half of Miami's population, their influence is deeply rooted. And when it comes to the food, it is no surprise that there are many Cuban restaurants in Miami and its surrounding offering traditional Cuban food.
In this article, we put a spotlight on four authentic Cuban restaurants and traditional dishes.
Are you ready to whet your appetite with tasty Island food? Read on…

Cuban Restaurants in Little Havana, Miami
Little Havana in Miami, Florida, got its name in the 1960s to reflect growing Cuban population. It is known to be the cultural and political capital of Cuban-Americans in the world.
Little Havana's landmark is Calle Ocho (S.W. 8th Street) and it is the walk of fame including the famous Domino park. If you walk by there, you will see domino players meeting in the park given that dominos is a popular game in the Cuban culture.
When it comes to Cuban food in Miami, you will not have much difficulty finding something to your liking. You will see names like Versailles, one of Miami's Cuban favorites, Puerto Sagua, a classic no-frills Cuban institution, or El Exquisito making the top of the "best Cuban restaurant " list.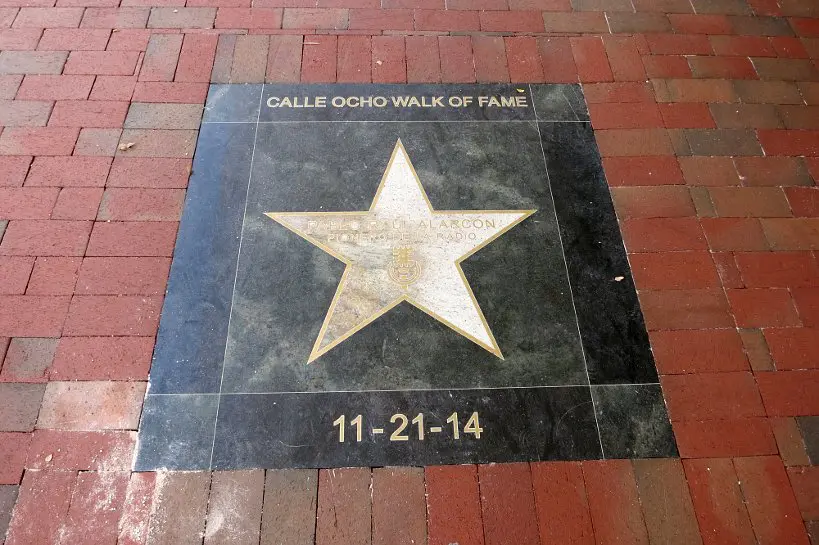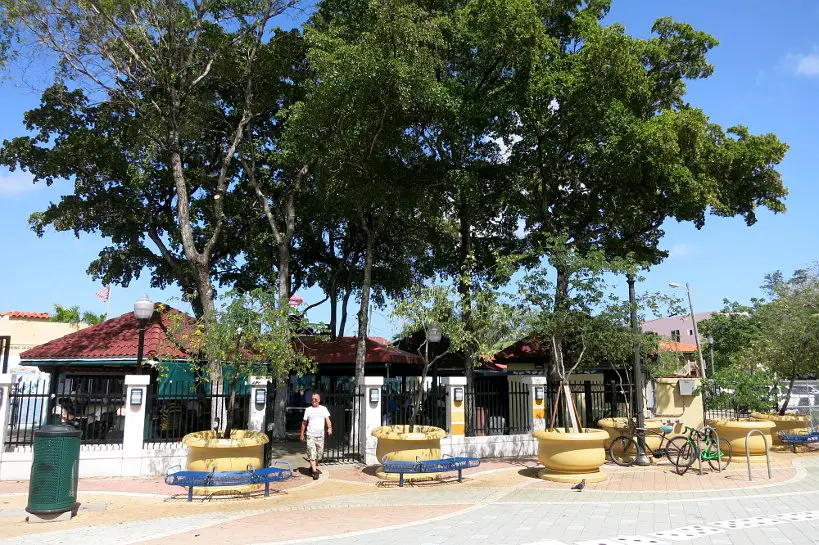 Cuban Food Miami: Ropa Vieja, Classic Cuban Dish at El Exquisito
For a one day stop in Miami, we chose to go to one of the "best" Cuban restaurants in Miami: El Exquisito.
Why did we choose to go to El Exquisito? Well, first it was highlighted as a true and authentic Cuban food restaurant.
What made the scale tip in favor of El Exquisito is the location. El Exquisito is in the heart of Calle Ocho. We didn't have much time to spend in Miami, so a place conveniently located was of our main criteria after the food, of course. Indeed, El Exquisito is not only close to the famous Domino Park but also next to Los Pinarenos Fruteria.
We'll come back to Los Pinarenos Fruteria but first, let's dive into our experience at El Exquisito.
When you walk into this small restaurant, you immediately feel the local vibe. Everyone speaks Spanish and the waiter's joke and laugh with the regulars.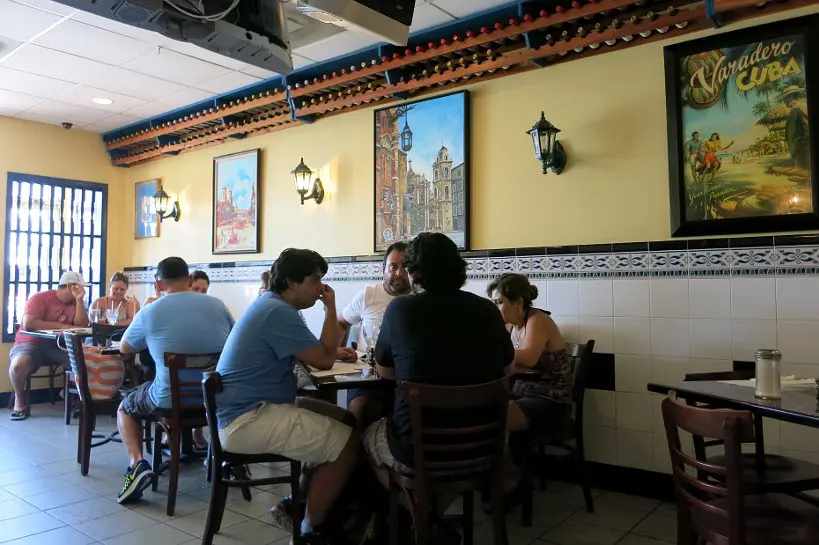 We took our seats at the back of the dining room and got the menus handed to us. The main meal we ordered was the Cuban classic: Ropa Vieja. Ropa Vieja is a Cuban beef stew made of shredded beef with tasty vegetables like onions, peppers, and tomatoes. Served with the choice of two sides, we got fried yuca and vegetables.
It was truly delicious. The meat had been marinated and was really tender and it had all the flavors of the vegetables soaked in.
The only disappointment were the vegetables which were served as a side. It seemed like they had been previously frozen and were clearly not prepared at the restaurant. We would recommend having the yucca or french fries as sides and avoid the vegetables.
All in all, it was definitely a nice experience and a great way to step into the local Cuban atmosphere.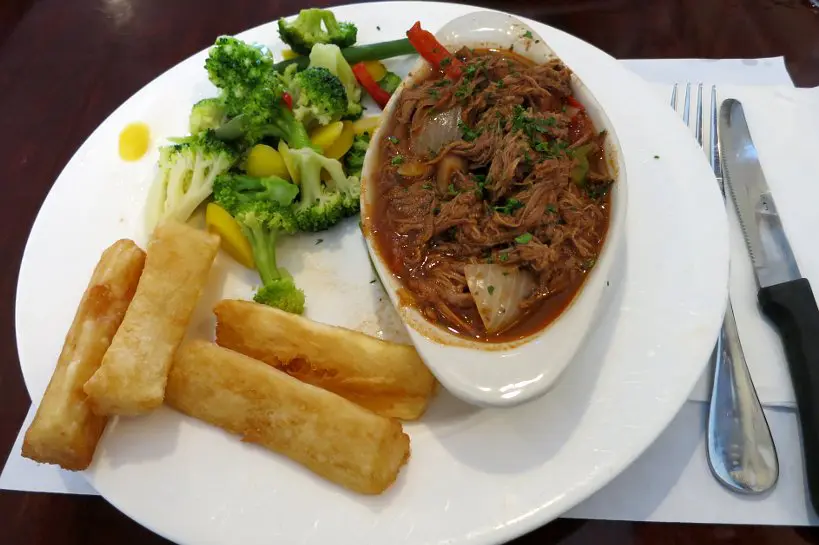 Sugar Cane Juice at Los Pinarenos Fruteria
We skipped dessert and instead reserved our appetite for a sugar cane juice at Los Pinarenos Fruteria.
This local joint is known for its authentic fresh juices made on the spot. We watched the manager preparing the juice by inserting the canes into an old metallic chipper machine.
The juice was tasty. Not too sweet and a refreshing end to a delicious meal.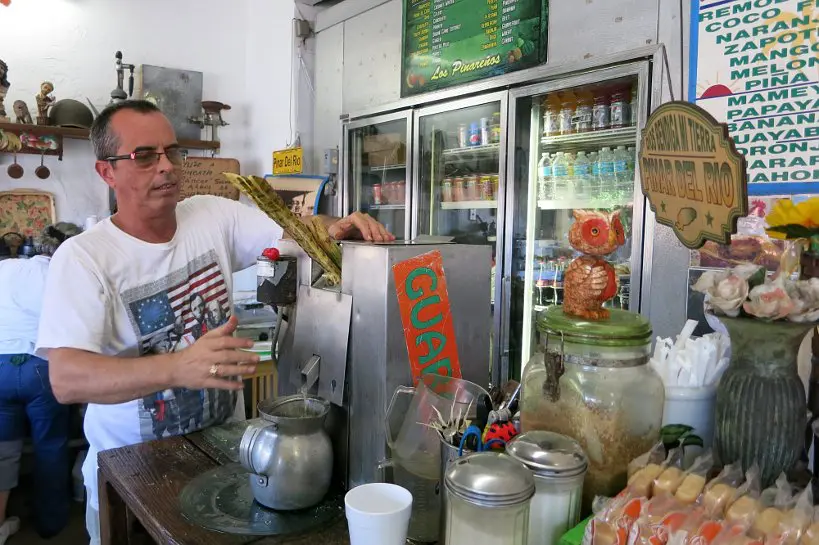 Cuban Restaurants in West Palm Beach
Although Miami is the capital for great Cuban-American food, West Palm Beach also has several local Cuban restaurants gems. As we were based not far from West Palm Beach, we explored the local Cuban food scene.
Capri Cuban Bakery to Enjoy Traditional Cuban Food
Capri is a casual joint where local Cubans stop to get their quick fix of Cuban food. It is a great place to come taste Cuban food for lunch or for a snack. We tried the famous Cubano Sandwich, one of the most typical Cuban sandwiches. Served with rice and black beans, it really makes for a serious meal!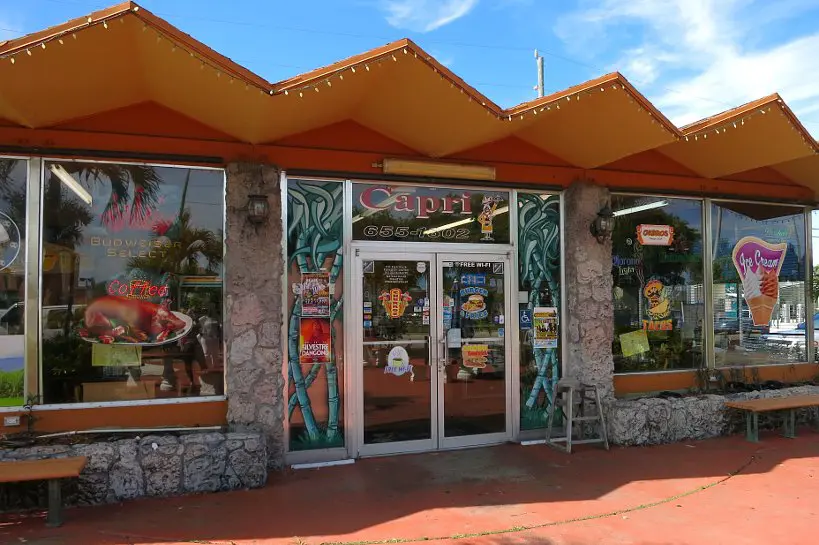 The Cubano sandwich is made of two slices of traditional Cuban bread, layered with roasted pork loin, ham, melted swiss cheese, home made pickles and yellow mustard.
Scrumptious!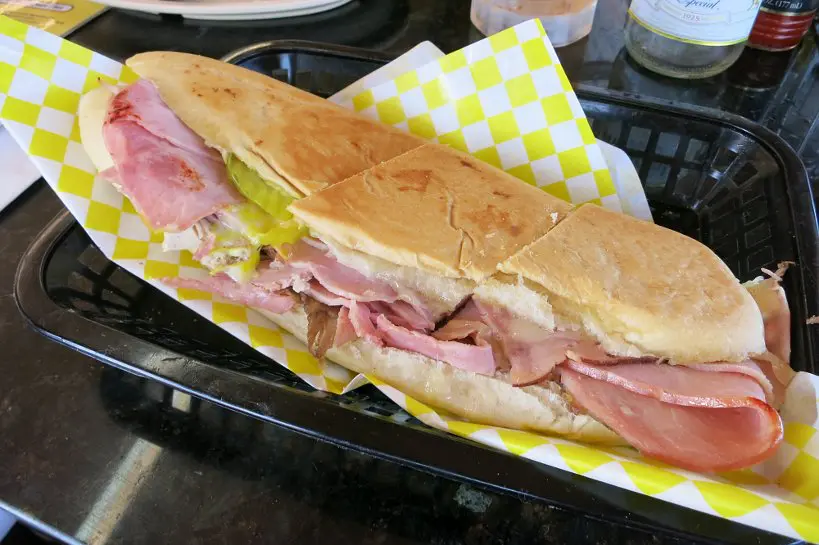 Havana Restaurant for Celebrity Spotting and Traditional Cuban Food
At the corner of Forest Hill Boulevard and South Dixie Highway is where you will find Havana Restaurant which goes with the tagline "Best Cuban food in town".
This two story building has a restaurant section and a very popular to-go or walk up counter.
The food here is legendary and known for serving traditional Cuban homestyle cooking. Don't be surprised if you run into celebrities like Gloria Estefan, Cameron Diaz, Bob Dylan and more.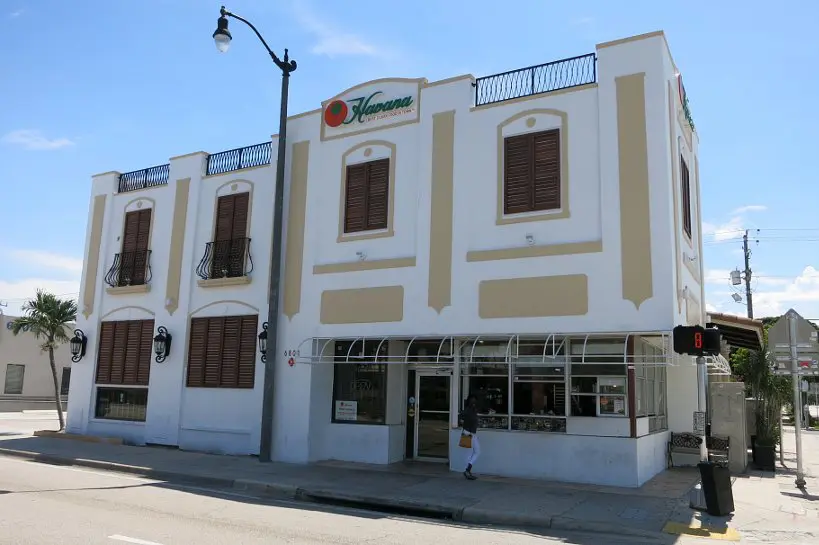 On a sunny afternoon, we stopped by Havana to sample another famous Cuban Sandwich Pan Con Bistec or steak sandwich. Attracted by the warm temperatures, we decided to order from the walk up counter and enjoy the sandwich outdoors.
In hot-pressed homemade Cuban bread, a thin slice of perfectly seasoned round steak, sautéed onions, lettuce, tomato and skinny potato sticks complete this sandwich. Delicious! This is a great spot to experience local culture and traditional Cuban food.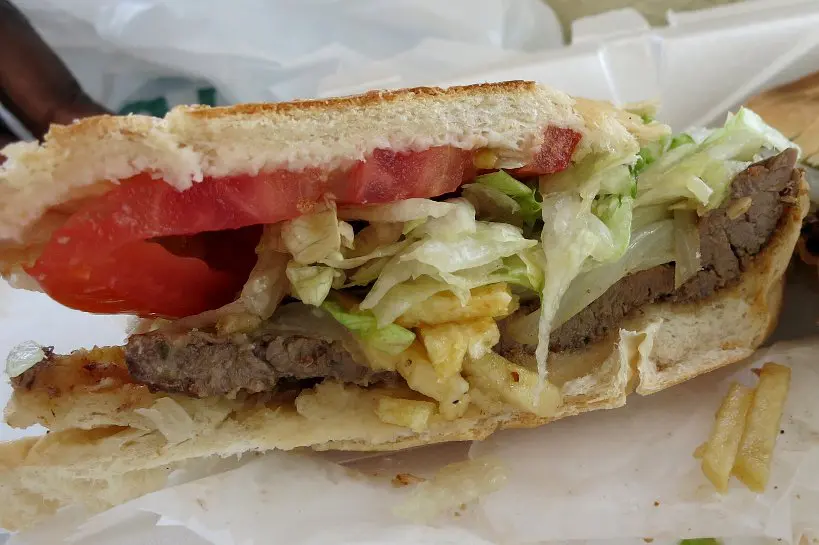 Don Ramon: Cozy Cuban Restaurant in West Palm Beach
Up the street from Havana Restaurant, is the well-known Don Ramon Restaurant. This family run restaurant has been opened since 1990 and is another landmark for Cuban heritage and culture.
The restaurant is cozy and comfortable and has live music every Thursday and Sunday nights. We stopped in one weeknight evening for dinner. The dinner menu is quite extensive and after going over it and not knowing what to choose, we asked the waiter to make a recommendation for the best authentic and traditional Cuban food.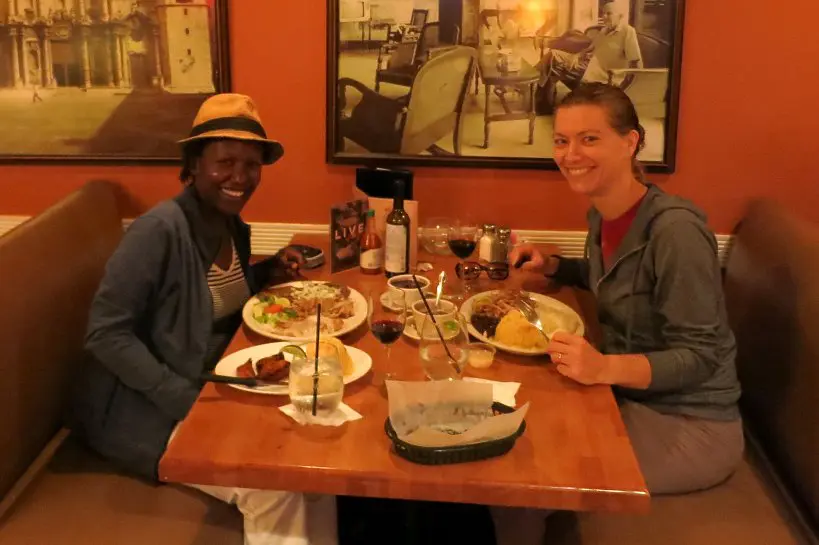 The specialty that evening was a trio of three meats: Cuban-style cut choice beef, chicken and Lechon asado (slow roasted pulled pork). This was accompanied with rice and plantains.
The meal was pretty basic, but it did provide a delicious introduction to Cuban food. If you are looking for a cozy Cuban restaurant where you can listen to live music, Don Ramon is your spot.
One tip to keep in mind when ordering is to always get the "special" of the restaurant. This is a great way to taste the local delicacies. For more authentic restaurant tips, check out our previous article: 4 tips to have authentic restaurant experiences.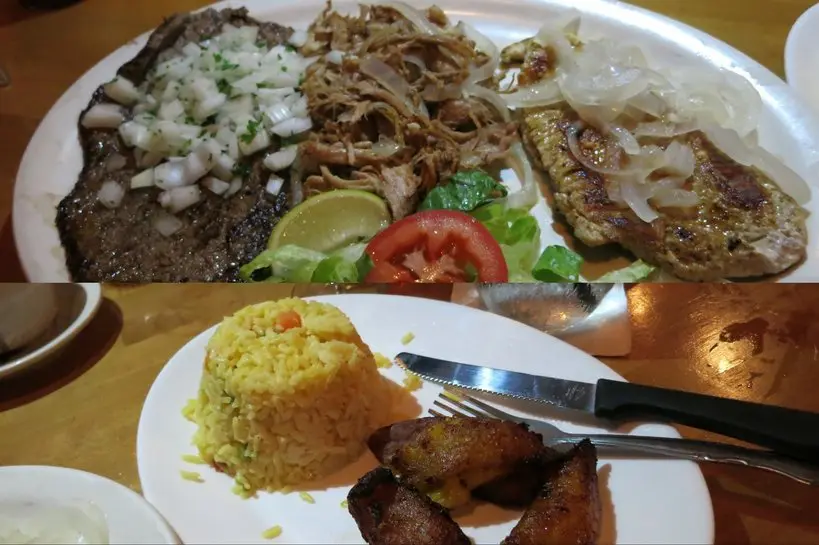 In Summary
The Cuban influence in Miami is unmissable. The next time your travels take you to Florida, the Sunshine State, be sure to indulge in traditional Cuban food.
In Little Havana, Florida, experience the delights of Calle Ocho with its authentic Cuban food in Miami. And when you are in West Palm Beach check out the Cuban restaurants that keep the traditional Cuban food alive!
Have you had Cuban food before? Let us know in the comments below your favorite Cuban dish, drink or dessert.
Don't forget to sign up for our monthly newsletter here and get your free ebook on The 5 Best Ways to Find Authentic Food While Traveling.
Savor The Adventure!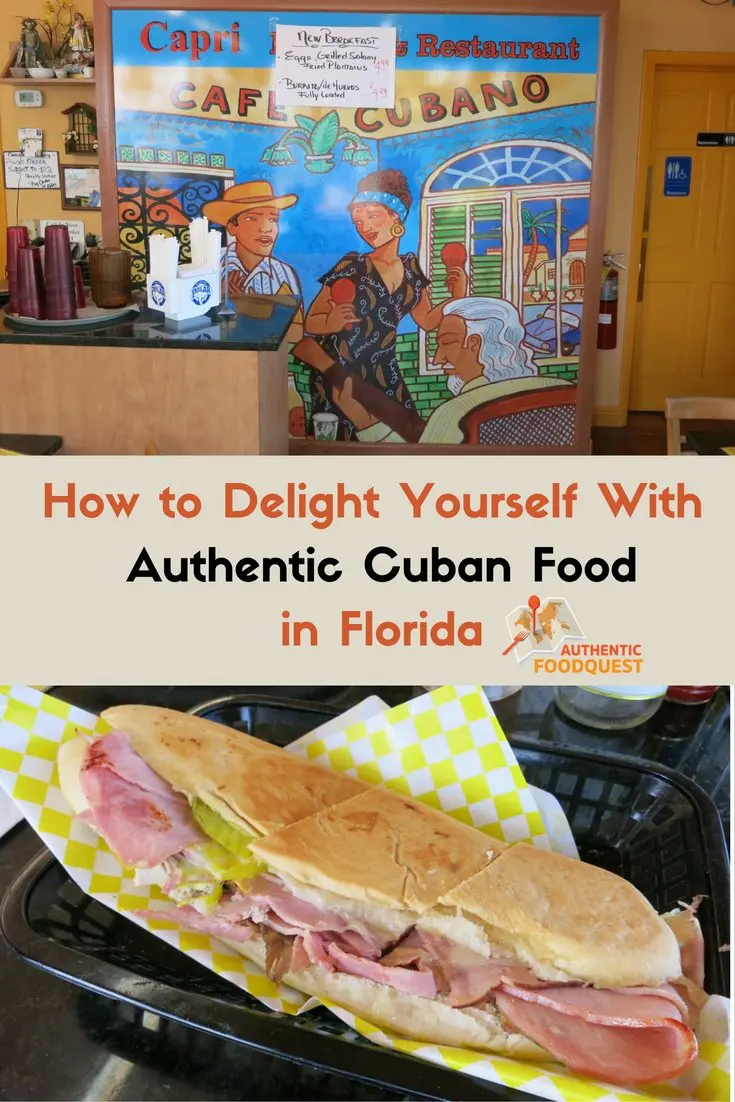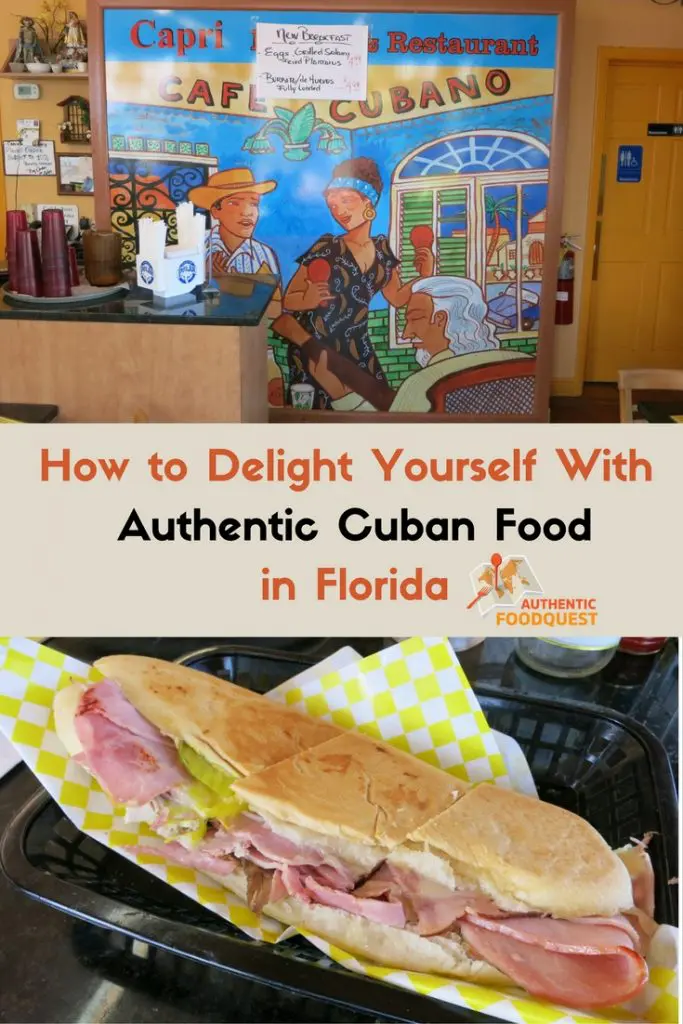 Claire is co-founder of Authentic Food Quest and a lover of simple and exquisite cuisine. Since 2015, with her partner, Rosemary, she has been traveling the world as a digital nomad, creating content about local food experiences.
Her advice from visiting 45 countries and more than 240 food cities has been featured in Lonely Planet, Business Insider, Honest Cooking, Food Insider, and Huffington Post. She has also co-authored three books, including one in collaboration with Costa Brava Tourism.
An ex-mechanical engineer, Claire is responsible for SEO, keeping the website running, and the fun food & travel videos on YouTube.
When Claire is not eating, she can be found running or cycling. Find out more about Authentic Food Quest