The culinary scene in Miami is rich and diverse. The city is synonymous with flavors from across Latin America and the Caribbean Islands.
On your travels to Miami, take a culinary journey and explore the local flavors. Open up to new and exciting Latin food experiences. At Authentic Food Quest, our goal is to help you discover the local specialties and invite you to open up to new tastes., so Expedia.com asked us to share our list of local places for travelers to check out during their Miami vacation.
Make your vacation to Miami unlike any other. Even though, Miami offers plenty of outdoor activities in the sun, sand and water (see more things to do in Miami at Expedia.com), the food is not to be missed.
On your upcoming travels to the Magic City, "taste" Miami and enjoy Latin flavors at any of the authentic and local places to eat in Miami.

Savoring Cuban Flavors in Little Havana
Cuban cuisine is a must try in Miami, where more than half of the population is Cuban-American.
Little Havana and the famous Calle Ocho is at the heart of the Cuban-American community in Miami. Find many Latin-influenced shops and Cuban restaurants.
A visit to Calle Ocho is one of the best ways to immerse yourself in the local Latin culture and savor Cuban flavors of Miami.
#1 – Traditional Cuban Fares at El Exquisito
El Exquisito restaurant makes for an ideal stop for a Cuban lunch as you stroll the famous Walk of Fame on Calle Ocho. This traditional family-owned Cuban restaurant, opened in 1974, is one of the best local places to eat in Miami. They pride themselves in serving "grandmother's food".
The restaurant is filled with regulars and locals and most of the conversations are in Spanish. Soak in the Cuban atmosphere, with the posters on the walls of Cuba and Little Havana as you dive into the menu.
On the menu, find classic Cuban fare such as Ropa Vieja, a Cuban-style beef stew, sweet plantains, Lechon roasted or Cuban roasted pork, Cubano Sandwiches and more.
Known as one of the "best Cuban restaurant" in Miami, El Exquisito restaurant is a must try on your culinary tour of the Latin flavors in Miami.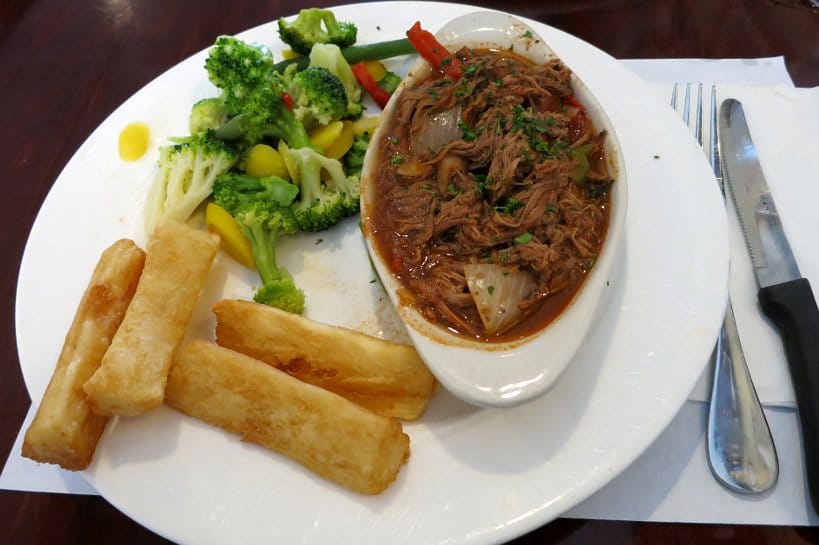 Where
1510 SW 8th St, Miami, FL
#2 – A Refreshing Stop at Los Pinarenos Fruteria
At Los Pinarenos Fruteria, locals find the fruits and vegetables to prepare their next Cuban meal. With signs in Spanish and a large Cuban flag flying in this open-air store, you'll feel as though you've been transported to Cuba.
This local joint also makes excellent fresh juice on the spot. You can get fresh sugar cane juice directly from pressed sugar cane plants. Or, you can also treat yourself to fresh coconut juice directly from the coconut.
Cool off at this refreshing stop as you visit Calle Ocho and other famous landmarks in Little Havana.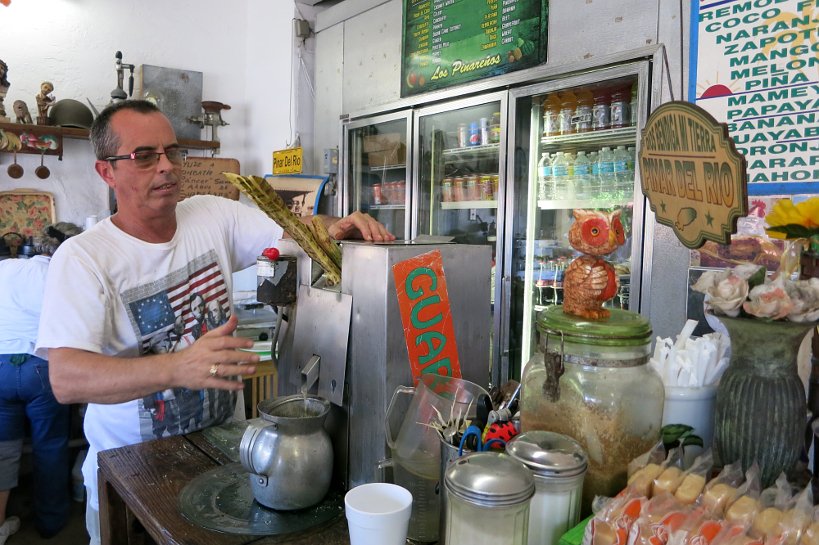 Where
1334 SW 8th St, Miami, FL
#3 – Versailles: Miami's Iconic Cuban Favorite
A little further from the main part of Calle Ocho, is Versailles, one of the iconic restaurants of Little Havana. This large restaurant with a bakery attached has been serving locals and tourist alike since 1971.
Although its name might suggest a link to the famous Château de Versailles in France, the French comparison stops there.
The main draw to the restaurant is the strong, sweet Cuban coffee served with Cuban pastries for breakfast. Versailles also has a full menu for lunch and dinner featuring local favorites like croquetas, Cuban sandwiches or generous portions of traditional Cuban dishes.
You can taste Moros, a Cuban mix of beans and rice, Cuban style shredded chicken and other Cuban staples. When in doubt, try one of the samplers, to give you a roundup of Cuban specialties on one plate.
Versailles restaurant is not only popular for the Cuban cuisine but also for its political significance. This is where Cuban exiles and anti-Castro gather and express their opinion on anything about Cuba. It is also where the U.S politicians come to seek the Cuban vote.
La ventanita or their walk-up coffee window, is the place to go for locals to connect and have lively conversations with "Cuban bites".
Join the locals at this iconic restaurant and savor everything Little Havana has to offer.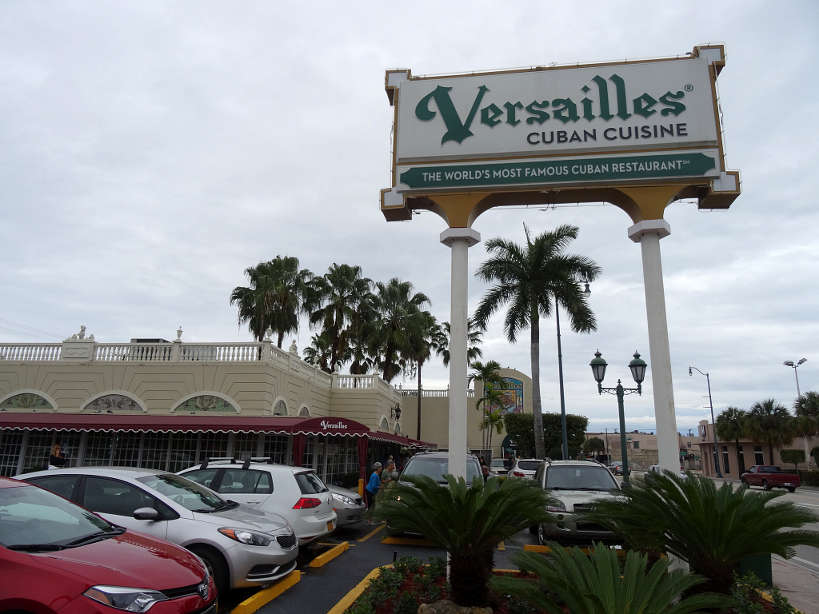 Where
3555 SW 8th St, Miami, FL
Local Places to Eat in Doral, Miami – Florida's Fastest Growing City
Just a few miles west of the Miami International Airport, is the City of Doral. This hidden gem is one of the fastest growing areas of Miami, popular for golfing and shopping.
Golf champions such as Tiger Woods, Jack Nicklaus, Phil Mickelson, and more have all been known to play at Doral's PGA-level golf courses.
Doral, is also home to Miami's largest mall. You can enjoy affordable shopping at Dolphin Mall, which has more than 240 stores.
However you choose to enjoy your time in Doral, you want to take the time to explore Latin flavors at two of our favorite spots.
#4 – Peruvian Cuisine at Pisco Y Nazca, Doral
While on our quest for authentic food in South America, we fell in love with the amazing tastes and variety of flavors found in Peruvian cuisine. We even wrote a book called, Authentic Food Quest Peru about the local cuisine and regional specialities in Lima and Cusco.
Pisco y Nazca, is a modern ceviche gastrobar and one of the best restaurants in Doral for authentic Peruvian food. The executive chef, Miguel, originally from Peru has created a unique menu featuring ceviche and shareable plates.
On the menu is one of our favorite Peruvian cooking styles, Nikkei, which is a blend of Peruvian and Japanese flavors. If you've never had Nikkei cuisine, we highly recommend trying the ahi tuna Nikkei. This light starter is made with ahi tuna, mirin, soy sauce, wasabi peas, cucumbers, canchaca, leche de tigre and topped with a wonton-sesame crisp.
The sweet and spicy flavors and the delicate flavors of the ahi tuna, transported us back to Peru, where we first had Nikkei cuisine.
While in Doral, don't miss the authentic Peruvian flavors at Pisco y Nazca. This fun and casual restaurant is the perfect place to end your day in Doral.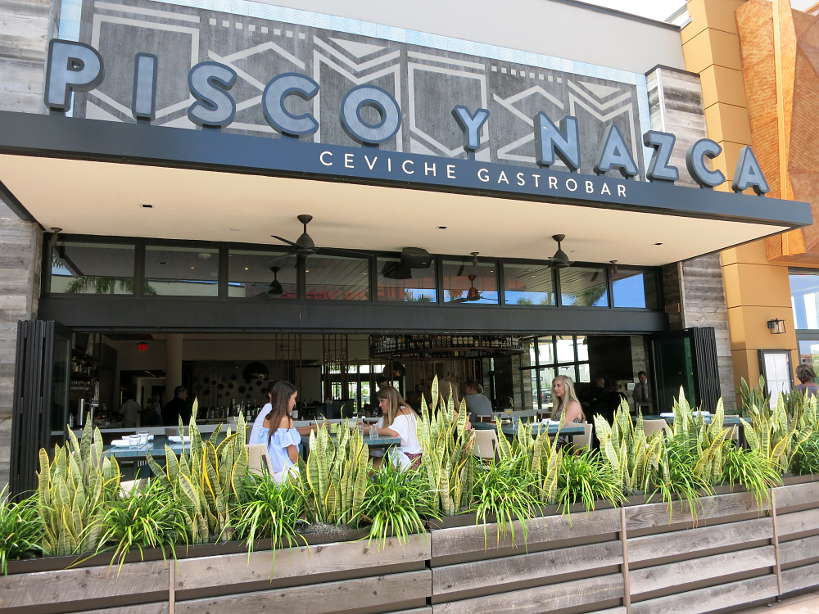 Where
Address: 8551 NW 53rd St, #A101, Doral, FL
#5 – A Sweet Treat at Freddo for Argentinian Ice Cream
If you have never tried Argentinian ice cream or helados, you are in for a real treat.
Freddo makes authentic Argentinian helados and even imports some flavors from Argentina to the U.S.
While in Argentina, on our quest to discover the local specialties, we were surprised to discover a huge Italian influence in the country. Argentina has perfected the art of making ice cream or helados.
Freddo makes artisanal gelato using only fresh and natural ingredients, free of any artificial flavorings, coloring or preservatives.
Be sure to order dulce de leche, Argentina's most popular dessert flavor. Stay cool and refreshed in Miami with authentic ice cream from Argentina.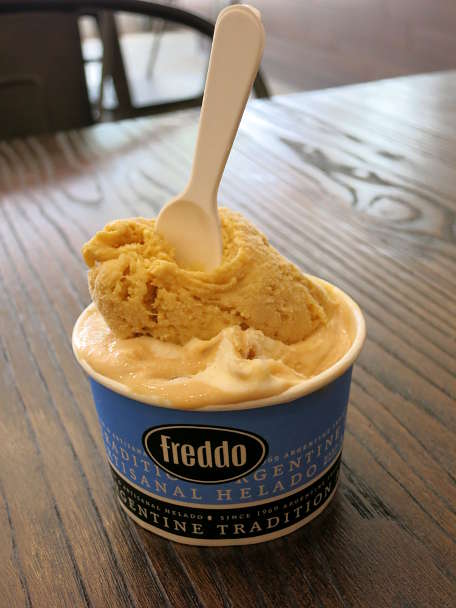 Where
Address: 8550 NW 53rd St, Doral, FL
In Summary
The local flavors of multicultural Miami, are beyond a doubt, one of the best ways to experience the city. Getting off the beaten path and seeking out the local eateries and restaurants is another fun way to discover Miami.
The rich Cuban history of Calle Ocho and landmark restaurants like Versailles, will introduce you to more than just Cuban cuisine. A culinary journey through Doral, Miami, will introduce you to a new part of the city and local places to eat serving delicious South American flavors.
Add Latin flavors to your trip to Miami and enjoy a unique and delicious vacation.
Have you been to Miami before? In the comments below, tell us what is your favorite local place to eat in Miami?
Find out What kind of food traveler are you? Take the quiz and get your food traveler profile in minutes!
Savor The Adventure!
Love it? Pint it!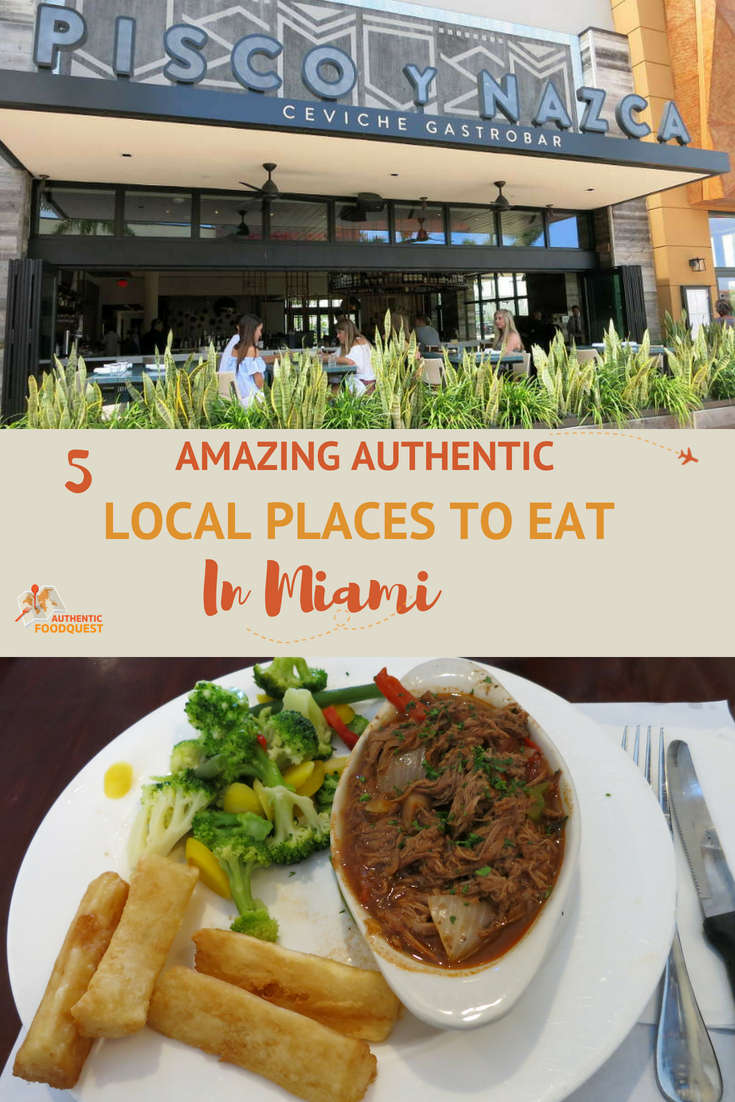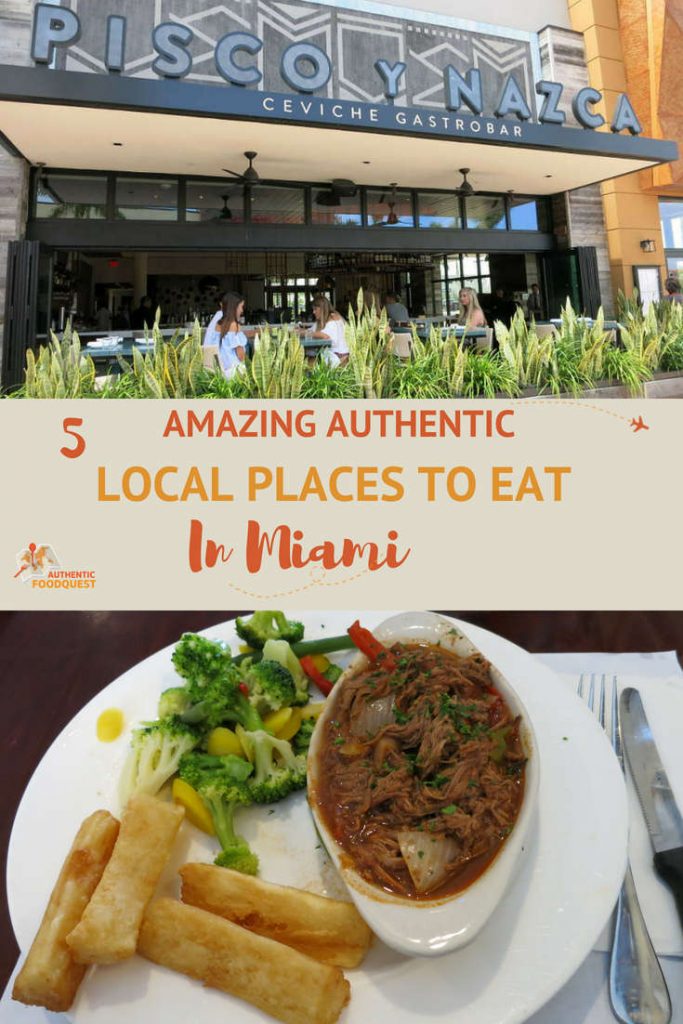 Curious by nature, Rosemary loves exploring new flavors and connecting with locals. She shares her insights and culinary finds from her travels to inspire people to connect local through food.