This article has links to products and services we recommend, which we may make a commission from.
This authentic Mexican guacamole recipe is deliciously creamy and easy to make. With a fascinating ancient history and an exciting present, this is the best guacamole, ever.

What is Mexican Guacamole?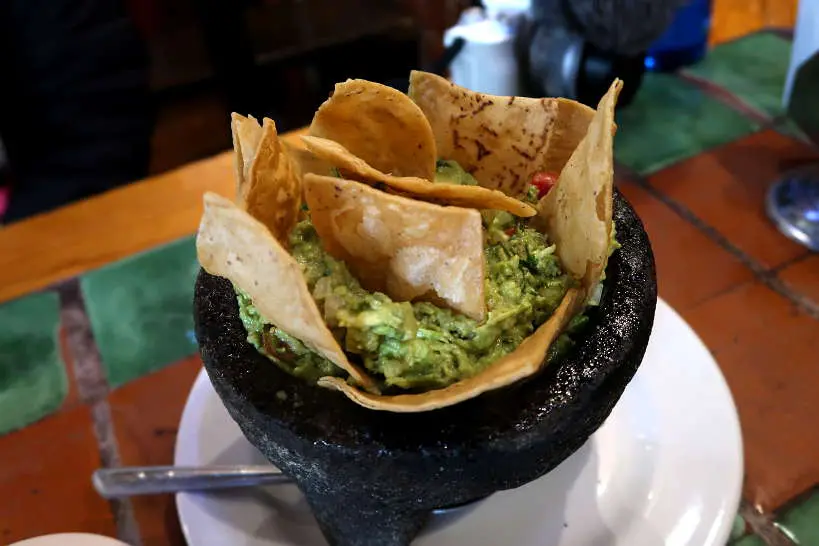 In its simplest form, guacamole is simply mashed avocados and spices. A dish with a long and rich history, guacamole comes from the Aztecs in Mexico.
The word guacamole is related to the Aztec word for avocado. In Nahuatl, the language spoken by the Aztec, it is āhuacamolli.
The first part is the Nahuatl word for avocado. And, mōlli means "sauce."
Today, most of the world's avocados come from the Mexican state of Michoacan.
Discovering Mexican Guacamole in Mexico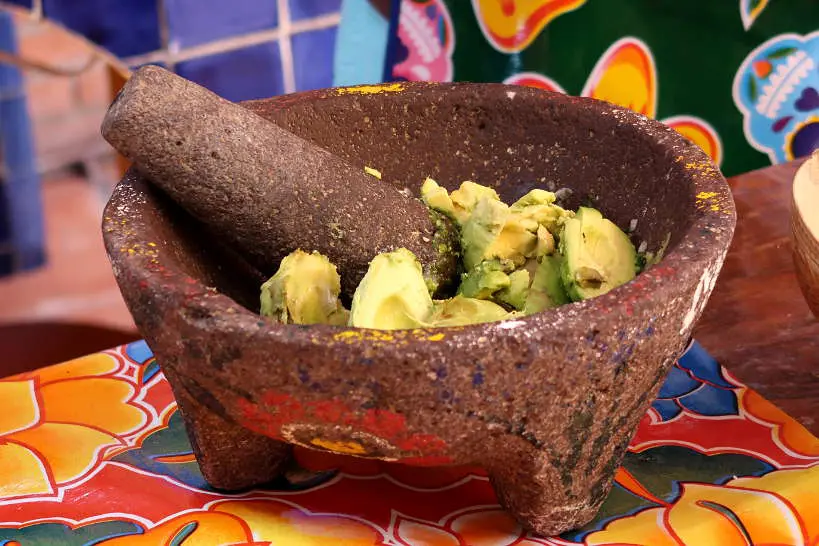 Surprisingly, guacamole is not readily available at local restaurants in Mexico, unless you order it. Instead, you're more likely to find a variety of salsas or sauces.
Salsa verde or green sauce is one of the most popular salsas in Mexico and is sometimes made with avocados.
Lighter and thinner than guacamole, it tends to be paired with tacos de carne or meat tacos. In Oaxaca, you'll find salsa verde on every table to accompany the local specialty tlayudas or Oaxaca-style pizza.
You will most likely find guacamole in restaurants frequented by tourists. Also, seafood restaurants will have it on the menu to go with ceviche or seafood tacos.
We enjoyed delicious Mexican guacamole on a Secret food tour in Mexico City.
And importantly, we learned how to make authentic Mexican guacamole in a cooking class in Oaxaca.
This Mexican guacamole recipe is the one we made in our cooking class. We invite you to taste authentic Mexican flavors, courtesy of Chef Gerardo Aldeco of La Cocina Oaxaquena.
Authentic Food Quest Tip: If your Mexico travels take you to Oaxaca, we recommend taking a cooking class at La Cocina Oaxaquena. With a local family, you will learn to make a number of Oaxaca specialties. This cooking class starts with a market visit and includes local beverages like Mezcal.
Brief History of Mexican Guacamole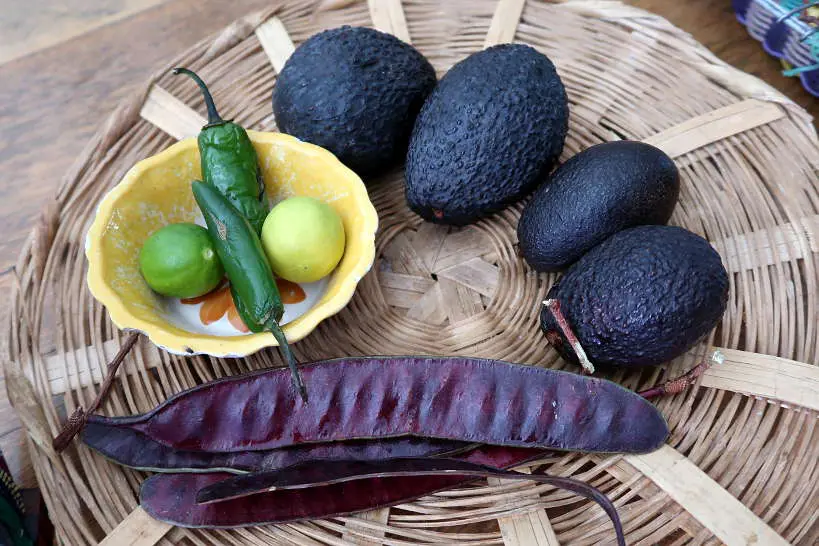 The Aztec's dominated central Mexico in the 14th to 16th centuries. They are believed to have made guacamole purely from mashed avocados.
At the time, Mexican guacamole was very popular for its high fat and protein content. Further, the Aztec believed guacamole to be an aphrodisiac, further increasing its popularity.
When the Spanish arrived in the 1500s, they turned the name "ahuacatl" into "aguacate" to today's Spanish word for "avocado." And, ­"āhuacamolli" became "guacamole.
Guacamole has grown in popularity around the world. In the United States, more than 139 million pounds of avocados are eaten on Superbowl day alone.
READ MORE: Oaxaca Guide: Your Best Guide To The Most Authentic Food
How To Make Authentic Mexican Guacamole At Home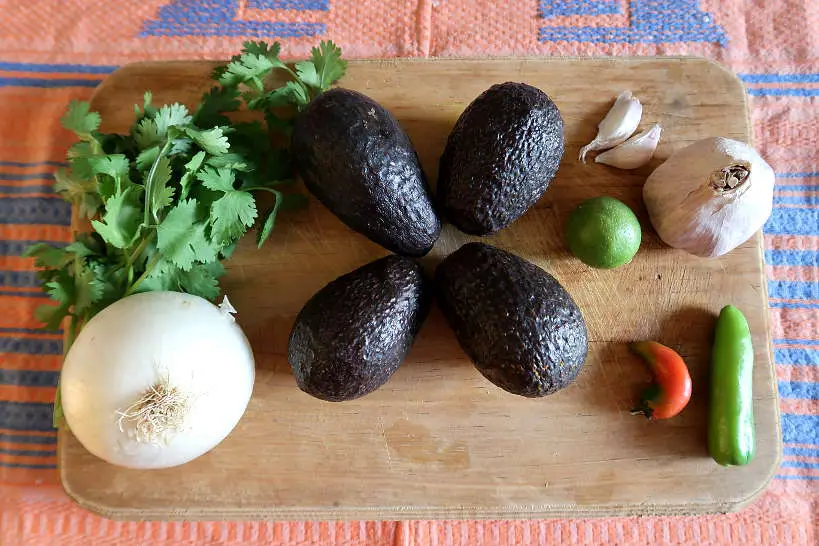 This authentic Mexican guacamole is really easy to whip at home. The simple preparation and fresh flavors make it one of the most iconic Mexican dips.
There are only a few ingredients needed in this authentic Mexican guacamole recipe.
The most important is the quality of the avocados. You want to pick ripe avocados that are soft but not squishy.
Authentic Mexican Guacamole Recipe Ingredients
4 ripe avocados
White onion
Garlic, 3 cloves
Cilantro
1 lime, freshly squeezed
Chilis serranos or jalapenos depending on your spice tolerance
Salt to taste
How to Pick Ripe Avocados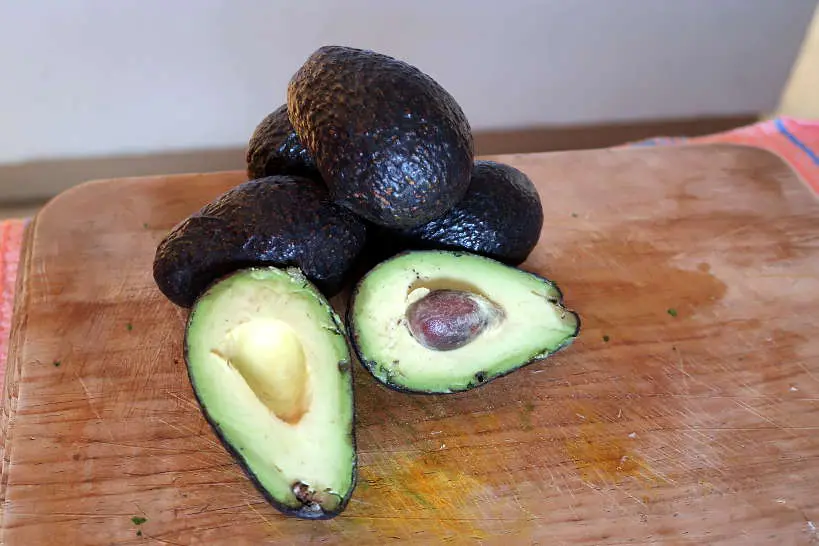 To make guacamole, you want the avocados to be ripe, slightly soft to the touch. However, you don't want them to be so soft that they become mushy.
When they are soft, they will give you creamy textures, perfect for your guacamole.
How to Keep Guacamole Fresh
There are several tricks and tips to store guacamole and keep it from turning brown.
One popular theory is to put the guacamole in glass Tupperware and pour water or lime juice on its surface.
Before you pour the water or lime juice, first smoothen and even out the surface of the guacamole. The water or lime juice acts as a seal, preventing the avocado from turning brown.
It's an option. But our recommendation and best tip, is to make it fresh at the last minute and simply eat it all.
Tips for Making Mexican Guacamole at Home
How to Cut Avocado and Remove the Seed
The best way to remove the seed from the avocado is to cut the avocado across at its midsection.
Use your knife to pick up the seed and delicately remove it from the core of the avocado.
Mexican Guacamole Spice Levels
Depending on your spice tolerance, you can use chili serrano to make this Mexican guacamole spicy.
For less spice, go with jalapenos peppers which are typically milder than chili serranos.
Guacamole Variations with Tomatoes
Some Mexican guacamoles call for tomatoes. If you are a tomato lover, feel free to add some. Choose Roma tomatoes, about one tomato, for two avocados used.
Typically, when we've made guacamole in the past, we've always added tomatoes. This was our first time having guacamole without tomatoes and we loved it.
We like the creamy avocado flavors, which are not influenced by juicy tomatoes.
Try this Mexican guacamole recipe and see what you think. Nonetheless, if you want to add tomatoes, simply chop them up and add them slowly to the mashed avocado mixture.
What Kind of Onions to Make Mexican Guacamole
The type of onion you choose will add a different dimension to the avocado flavors. Red and yellow onions are less obtrusive, while white onions will offer a sharp bite.
This authentic Mexican guacamole recipe calls for white onion. We've made guacamole with red onions in the past and they are also a good alternative.
Feel free to substitute white onion with red onion regarding your preference.
Tortilla Chips or Tostadas with Guacamole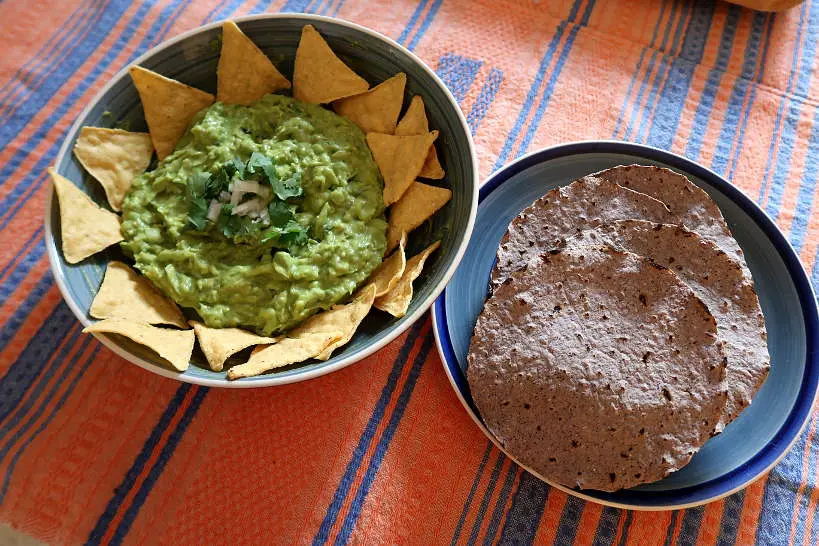 Finally, great Mexican guacamole deserves fresh and crunchy tostadas. We prefer purple corn to regular yellow corn, which are lighter, thinner, and easier to digest.
We recommend the organic blue corn chips for a refined taste that will pair well with your homemade Mexican guacamole.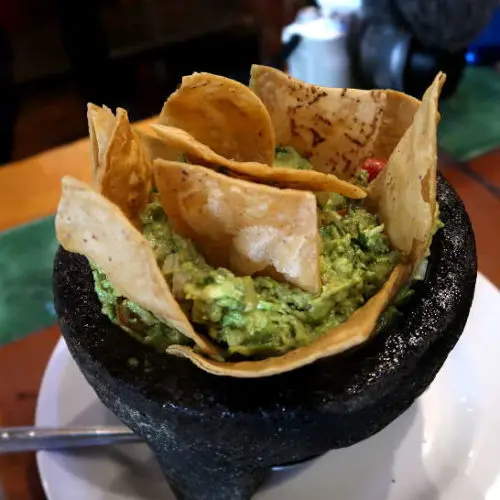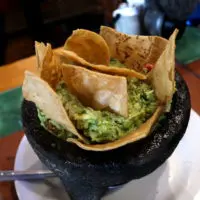 Authentic Mexican Guacamole
This authentic Mexican guacamole recipe is deliciously creamy and easy to make. Simply combine avocados, onion, cilantro, pepper, lime juice, garlic, and salt for a fresh and irresistible dip.

Print
Pin
Rate
Ingredients
4

avocados

medium, ripe

½

white onion

medium

3

cloves

garlic

handful

cilantro

1

lime

1 to 2

chilis serranos or jalapenos depending on your spice tolerance

Salt to taste
Instructions
Chop onion, garlic, cilantro, and chiles and place on the side

Cut the avocados in half and remove the seeds

Mash the avocados one at a time and add lime juice and salt to taste

Add the chopped condiments into the bowl of mashed avocado

Mix well to a consistency you like
Notes
You can use a blender if you prefer your guacamole very smooth. We personally like our Mexican Guacamole chunky. In this case, use a pestle and mortar or a fork to mash in a bowl.
Nutrition
Serving:
1
|
Calories:
337
kcal
|
Carbohydrates:
21
g
|
Protein:
5
g
|
Fat:
30
g
|
Saturated Fat:
4
g
|
Polyunsaturated Fat:
4
g
|
Monounsaturated Fat:
20
g
|
Sodium:
16
mg
|
Potassium:
1049
mg
|
Fiber:
14
g
|
Sugar:
3
g
|
Vitamin A:
405
IU
|
Vitamin C:
40
mg
|
Calcium:
34
mg
|
Iron:
1
mg
Claire is co-founder of Authentic Food Quest and a lover of simple and exquisite cuisine. Since 2015, with her partner, Rosemary, she has been traveling the world as a digital nomad, creating content about local food experiences.
Her advice from visiting 45 countries and more than 240 food cities has been featured in Lonely Planet, Business Insider, Honest Cooking, Food Insider, and Huffington Post. She has also co-authored three books, including one in collaboration with Costa Brava Tourism.
An ex-mechanical engineer, Claire is responsible for SEO, keeping the website running, and the fun food & travel videos on YouTube.
When Claire is not eating, she can be found running or cycling. Find out more about Authentic Food Quest