Would you like to try Nyonya food in Penang?
That was the question our friend Kathleen, who writes about heritage and culture at Kat Pegi Mana: Where Is Kat Going, asked us.
We had just arrived in Penang, eager to discover the local food scene, and were surprised to hear about Nyonya food or Peranakan cuisine.
Penang is known as one of the birthplaces of Peranakan culture. Peranakan means "straits born" or the descendants of Chinese immigrants who married and integrated with local Malays.
Known as "Baba" for males and "Nyonya" for females, Nyonya food or Peranakan cooking is a result of blending Chinese ingredients with distinct spices and cooking techniques used by locals.
The result is a unique cuisine that is aromatic, spicy, and herbal. Fresh herbs like lemongrass, galangal (wild ginger), turmeric, chilies, shallots, spicy shrimp paste (belacan) are used in most Nyonya dishes.
To better understand the Peranakan culture and Nyonya food, we spent an immersive day with Kathleen, discovering Nyonya food at a well-known restaurant and visiting one of the most famous Peranakan museums in Penang.
Join us as we discover authentic Nyonya food and Peranakan culture in Penang, Malaysia.

Experiencing Nyonya Cuisine
While we were planning for our immersive Peranakan day, Kathleen told us she is a descendant of Baba- Nyonya heritage. Her grandmother was of Nyonya descent, and she grew up enjoying the harmonious flavors of Nyonya food. Given her heritage, we let her pick the restaurant for our first Nyonya food experience.
Perut Rumah Restaurant, Penang
Perut Rumah located in a two-story bungalow is one of the few Nyonya restaurants in Penang. The interior is a charming mix of Nyonya artifacts and Chinese decorations.
In Malay, perut means stomach and rumah is house. It is a term for the kitchen, which is the center of the household.
The menu offers an extensive list of Nyonya dishes. With Kathleen being the expert, we let her choose the dishes that were most representative of Nyonya cuisine.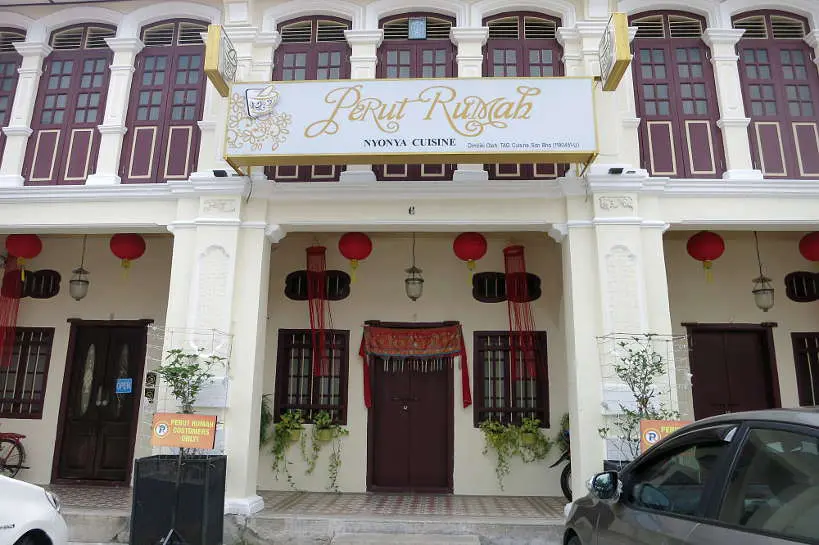 Discovering Nyonya Food
Nyonya food incorporates traditional Chinese foods with modifications, Malay style dishes and importantly, invented or innovative foods. In addition, Nyonyas are famous for their colorful and delightful cakes or sweets (keuhs).
At the restaurant, we had a variety of dishes that were both Chinese and Malay oriented. At the time of our visit, the restaurant was out of one traditional dish that we unfortunately missed. This dish is a pickled, sweet and sour Acar Fish, that is a must-try Nyonya dish.
The portions are humongous and large enough to share. We enjoyed our meal with delicious barley lime tea and honey lemon tea. Read more about barley tea and other unusual Malaysian drinks.
Nyonya Appetizers and Main Dish
Nyonya Top Hats – Kuih Paiti
Kuih Paiti is a Peranakan dish that is also found in Singapore, where it is known as Kueh Pie Tee. It is a classic Nyonya finger food, that is prepared in little pie shells that resemble top hats.
Savory crispy pastry shells are filled up with a tasty mix of thinly sliced, turnips, carrots, bamboo shoots, and french beans.
The Top Hats are served with a delicious homemade chilli sauce, that adds the perfect finish.
The contrast of textures between the crispy cups and moist fillings made eating these a truly amazing experience. These are so delicious, you definitely will not stop at just one.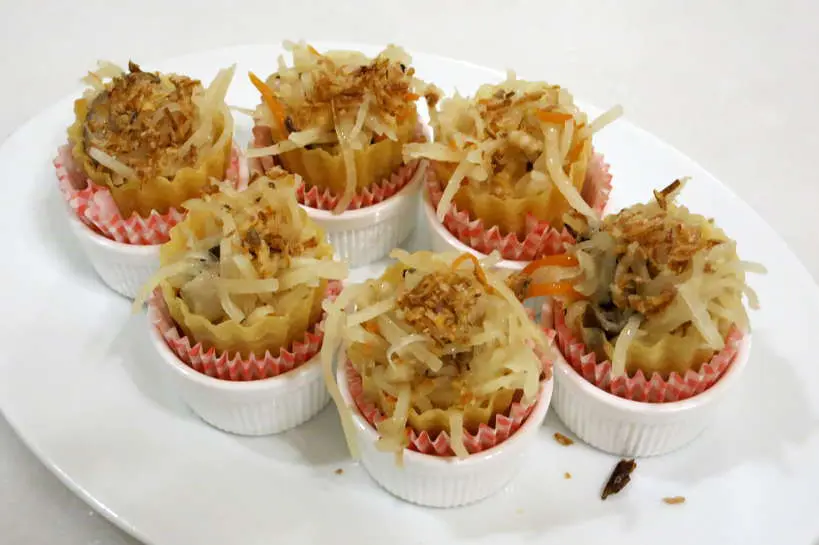 Nyonya Curry Chicken – Kari Kay
This familiar and delightful dish is one we could not wait to try. Chicken curry is a popular Indian dish found all over the world. However, this particular Nyonya version had us begging for more.
A large bowl of steaming Nyonya chicken curry swimming in a thick sauce was served with individual servings of white rice.
The chicken curry was cooked in the traditional Nyonya bone-in style, infused with fresh curry paste and leaves. A coconut base made the curry creamy and full of flavor. This mouthwatering curry was incredibly aromatic with the chicken pieces easily falling off the bones.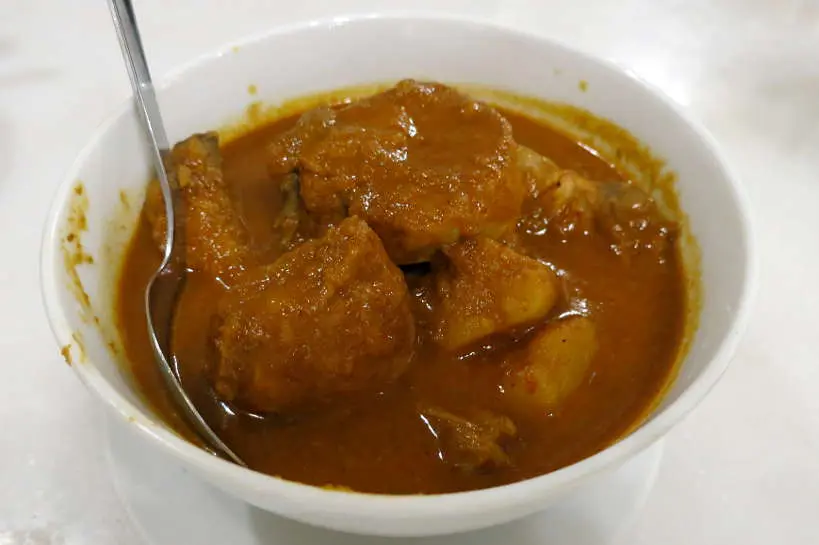 Mixed Vegetables Stew- Nyonya Chap Chai
Chap Chai or Chap Chye is a traditional Nyonya dish that is enjoyed by Peranakans and non-Peranakans alike. It is a common Chinese dish and is typically eaten around Chinese New Year.
The vegetable stew was filled with a number of ingredients, with the "staples" being Chinese cabbage, carrots Chinese mushroom, black fungus, lily flower bud, beancurd and various other vegetables. There are many variations of the recipe and they are typically passed down from generation to generation.
What sets the Nyonya version apart, is the use of taucheo, fermented soya bean in the place of salt. While most of the ingredients used were new to us, we very much enjoyed the savory flavors.
This traditional and simple dish perfectly complemented the chicken curry. The dish had the essence of home-style cooking, the kind of vegetable stew one's grandmother would make.
Nyonya Desserts
After our copious meal, we didn't have any room left over for desserts at Perut Rumah restaurant. Instead, for the rest of our stay in Penang, we made it a point to discover the famous Nyonya treats.
Nyonya Cakes
Nyonya cakes, also known as keuhs or kuih are renowned for their variety and richness. They are bite-sized colorful desserts ranging from cookies, cakes, pastries to pudding. The base ingredient for these cakes is rice, rice flour or glutinous rice. The other main ingredients are coconut, tapioca and mung bean among others.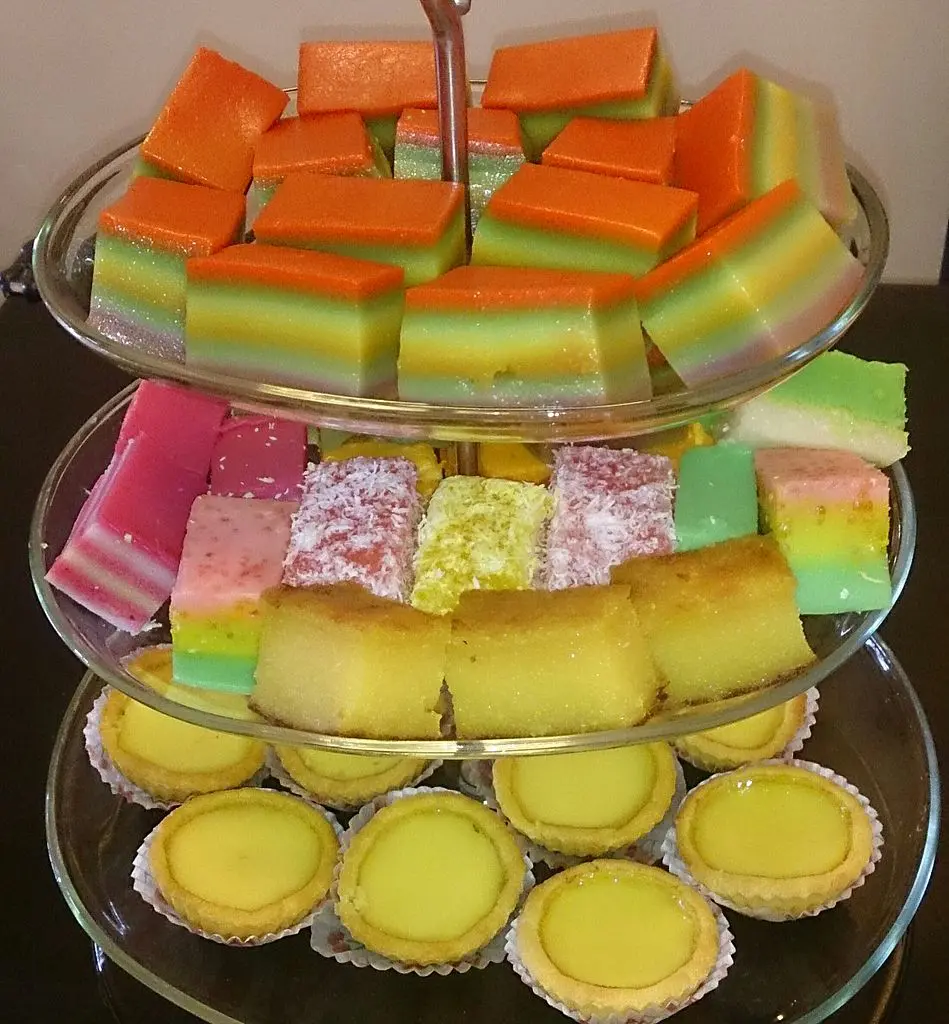 The colors are the most striking characteristic of these cakes. You will find cakes with green, pink, yellow and blueish colors. Authentic cakes are made from natural colorings such as pandan leaves, gula melaka, rose syrup and egg yolk.
The texture of the cakes is quite different from Western pastries. The glutinous base makes the texture very chewy. Although coconut and palm sugar is often added to the cakes, they never taste overly sweet.
One other particularity of these small cakes is that they are mostly steamed and not baked. There are many varieties and we enjoyed sampling the different flavors regularly.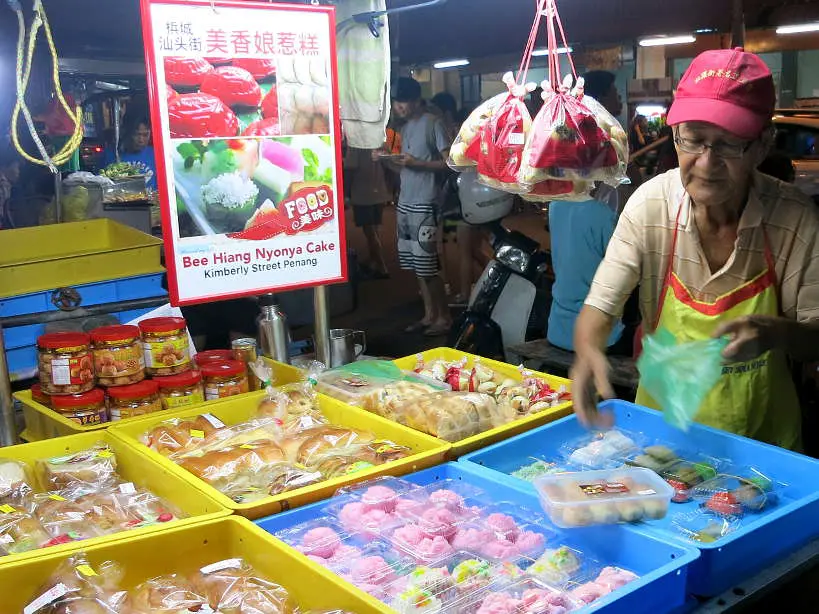 Nyonya Soya Bean Curd
While walking the streets one evening, we stumbled onto a small corner cafe that was making ice-cream and original Nyonya soybean curd. Intrigued by this flan like looking dessert, we decided to give it a try.
Nyonya Soya Bean curd is simply sweet tofu. It is made from soy milk transformed into curds by cooking it with gelatin or jelly powder, and then cooling it for hours before serving. The traditional soya bean curd has only sugar as one of the main ingredients. While flavored soya bean curds also have vanilla, sesame or green tea.
The texture of the Nyonya Soya Bean is similar to custard or soft flan. The taste is really mild and by itself, it can be quite bland. You want to try the vanilla, sesame, or green tea flavors for the best experience. This is the perfect dessert after a spicy or rich meal.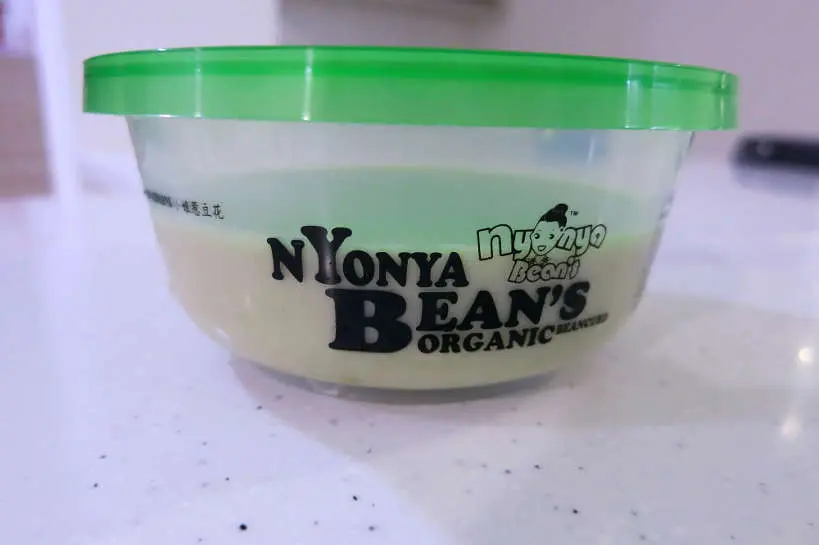 Pinang Peranakan Mansion: A Glimpse Into a Baba-Nyonya Home
In their day, the Babas and Nyonyas were the wealthy and influential people in the business world. To get a glimpse back in time of how the rich Straits Chinese settlers lived, we visited the Pinang Peranakan Mansion, a cultural museum of Peranakan heritage.
The restored mansion is the former residence of Chung Keng Kwee, the wealthiest man in Penang during his time, and one of the leaders of the local Chinese community (Kapitan Cina).
Built at the end of the 19th century, this ornate mansion has an eclectic mix of Eastern and Western elements and a wealth of artifacts that transport you back in time.
Traditional Nyonyas are fiercely proud of their unique cuisine. Peranakan food takes a long time to prepare, and the women spend a better part of their lives in the kitchen preparing these dishes.
Given that food is our interest, the dining room and kitchen were the two most fascinating rooms to visit.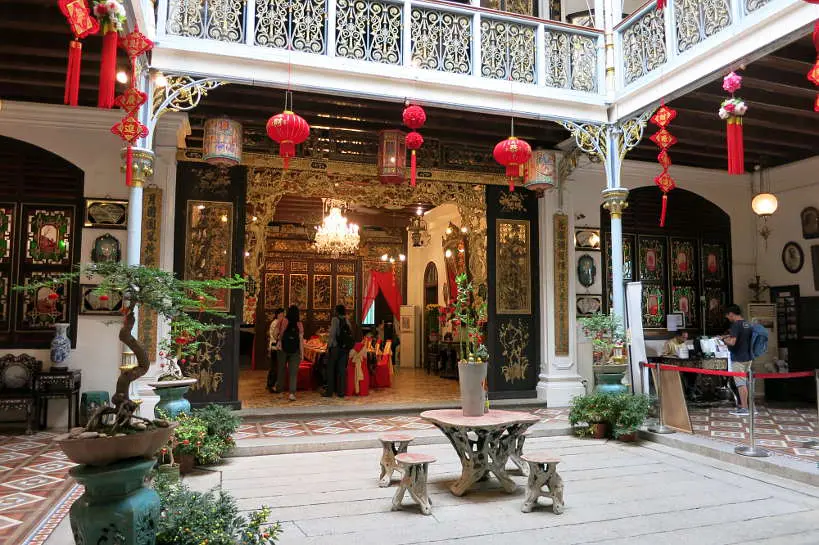 The Opulent Dining Room
As soon as you enter the museum, you cannot help but notice the striking dining table. The opulent dining area reflects on the wealth and habits of the Peranakan at the time.
The meals are like ceremonies for entertaining guests and visitors.The art of cooking was an expression of cultural exuberance and eclecticism.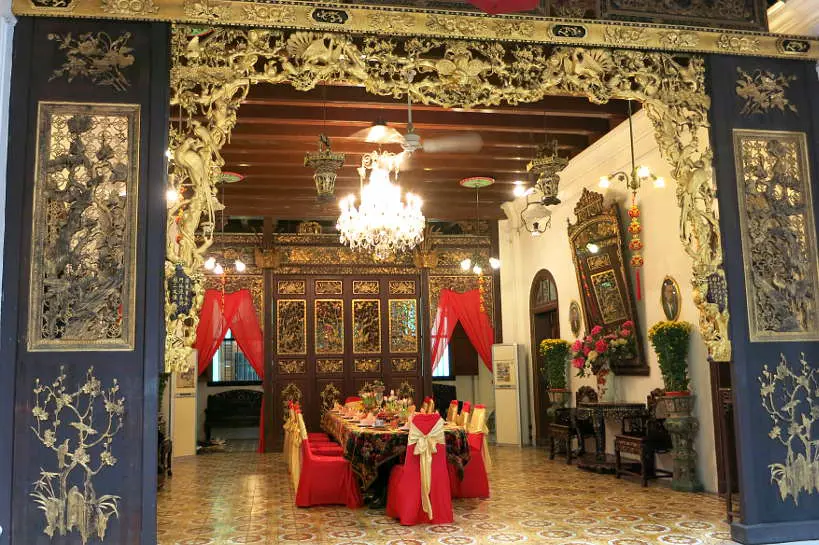 The Kitchen: the Most Important Room of the Peranakan House
Peranakan cooking is intricate and a complicated works of arts, requiring hours of preparation.
The kitchen was held by the women, the Nyonya. It is where the food is prepared with her army of servants. In and around the kitchen, the mistress would entertain friends, relatives. This is where the women in the household gathered.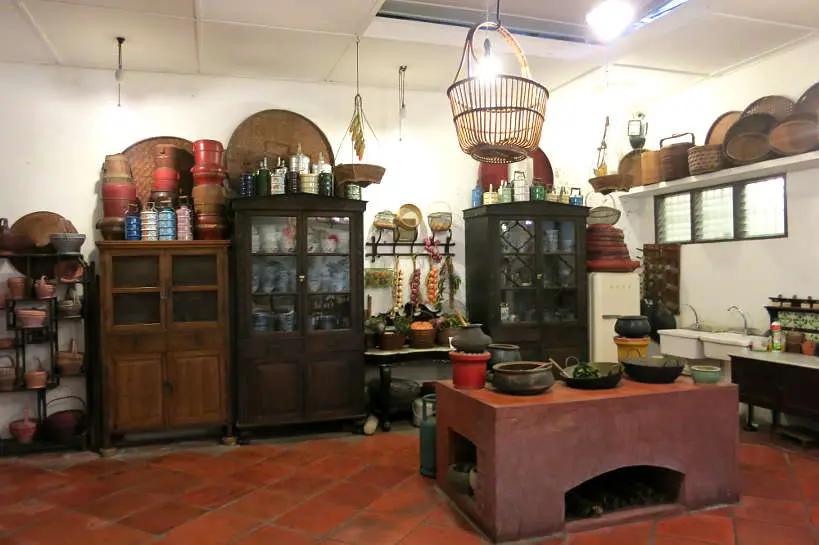 In the kitchen, the stove was at the center, made of long bricks with holes. Firewood and charcoal were used to fuel the stove. With no refrigeration, they would keep the food in wooden boxes, with wire mesh sides suspended from the ceiling or placed on stilts to avoid ants.
Cooking utensils were stored on wooden racks hanging from the wall. Pots, pans, earthenware water jugs, mortar and pestle and bamboo trays were commonly used. Rice was kept in earthenware jars. Porcelain was used to keep sugar, salt and rice. And utensils from China such as Tiffin carriers were used to transport rice and meals to the table.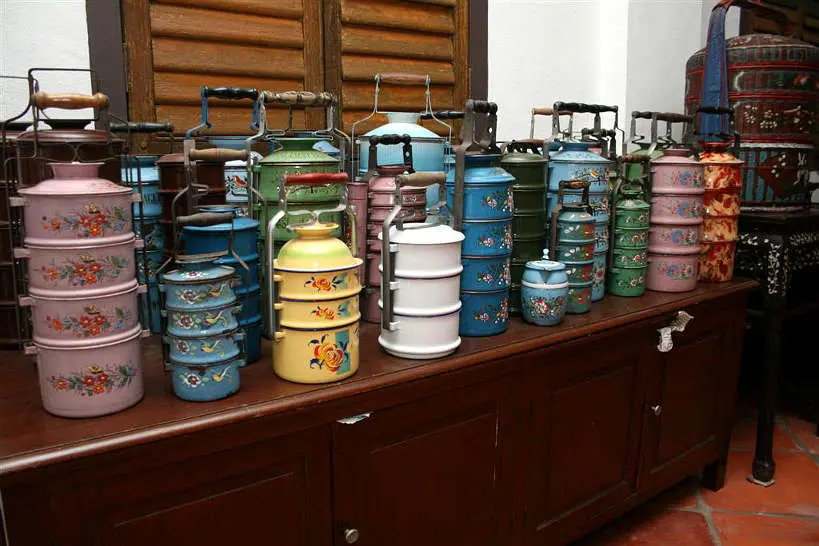 This visit to the Pinang Peranakan Mansion was an eye opener on the celebration of the Nyonya food at a Peranakan home.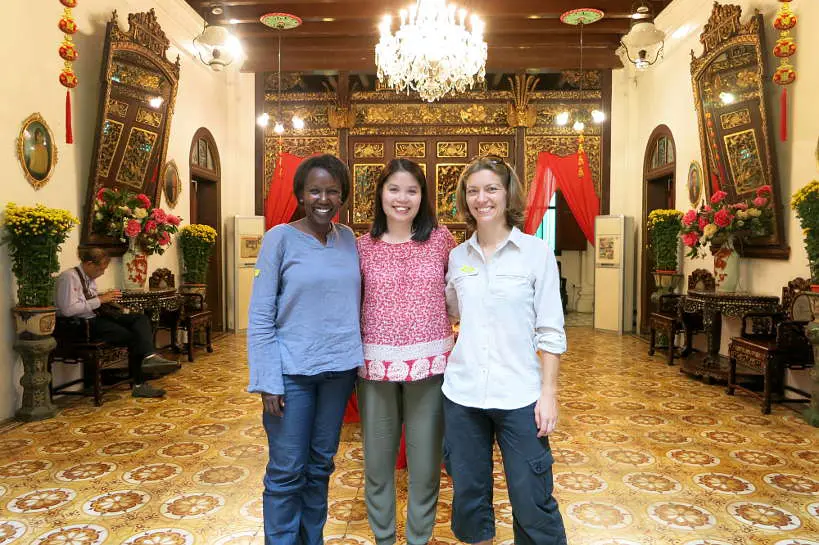 In Summary
Malaysia is a country blessed with a wonderful blend of cultures. And, Peranakan culture through Nyonya food is worth discovering.
Nyonya cuisine is a significant marker of the Peranakan culture.The food is a medley of tastes – salty, sweet, spicy, and sour, which, in the hands of a Nyonya cook, is a wonderful collision of flavors.
Having Kathleen's local knowledge and expert guidance enriched the experience. In Penang, don't miss discovering Peranakan culture and Nyonya food.The cuisine, created by the women in the kitchen, has spawned a delicious new style of cooking, that must be experienced.
Have you heard of Nyonya food or Peranakan cuisine before? In the comments below, tell us which Nyonya food you would love to try!
Savor The Adventure!
Locations mentioned
Address: Pinang Peranakan Museum, 29, Church Street, 10200 Penang.
Hours: Everyday from 9:30 am to 5:00 pm
Entrance fees: 20RM per person (about $4.76 dollars).
Address: 17, Jalan Bawasah, George Town.
Hours: Everyday from 11:00 am to 3:00 pm and 6:00 pm to 10:00 pm
Prices: About 20 to 30 RM per dish ($4.76 to $7.10 USD)
Savor The Adventure!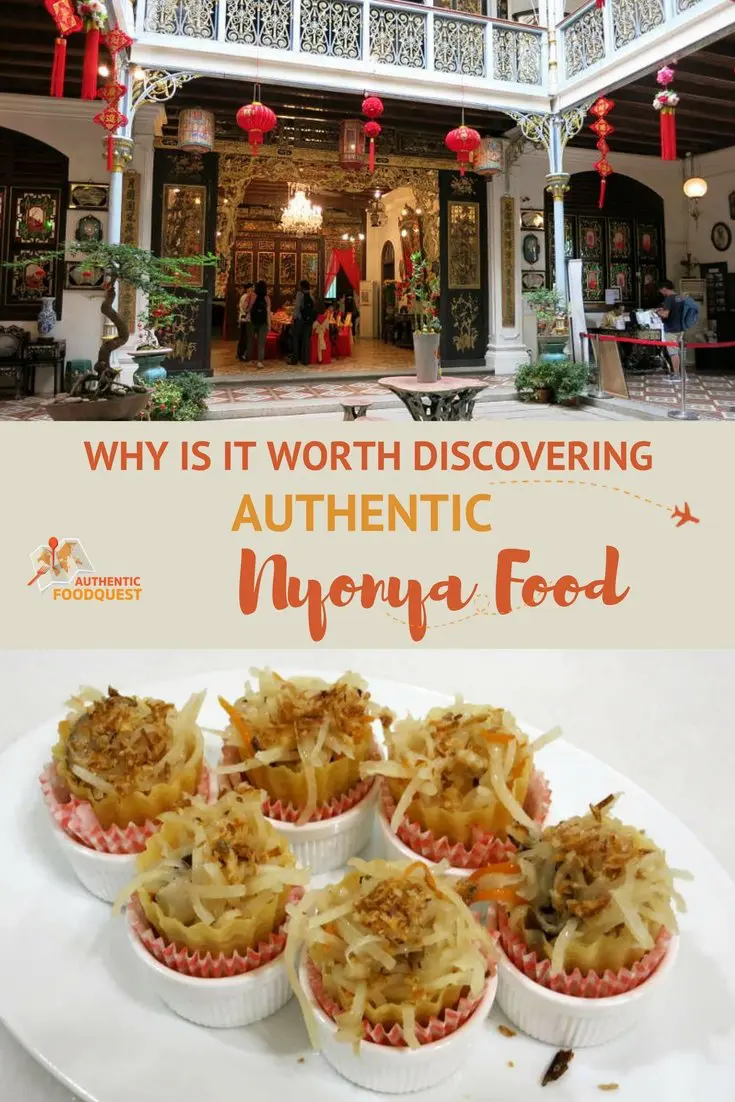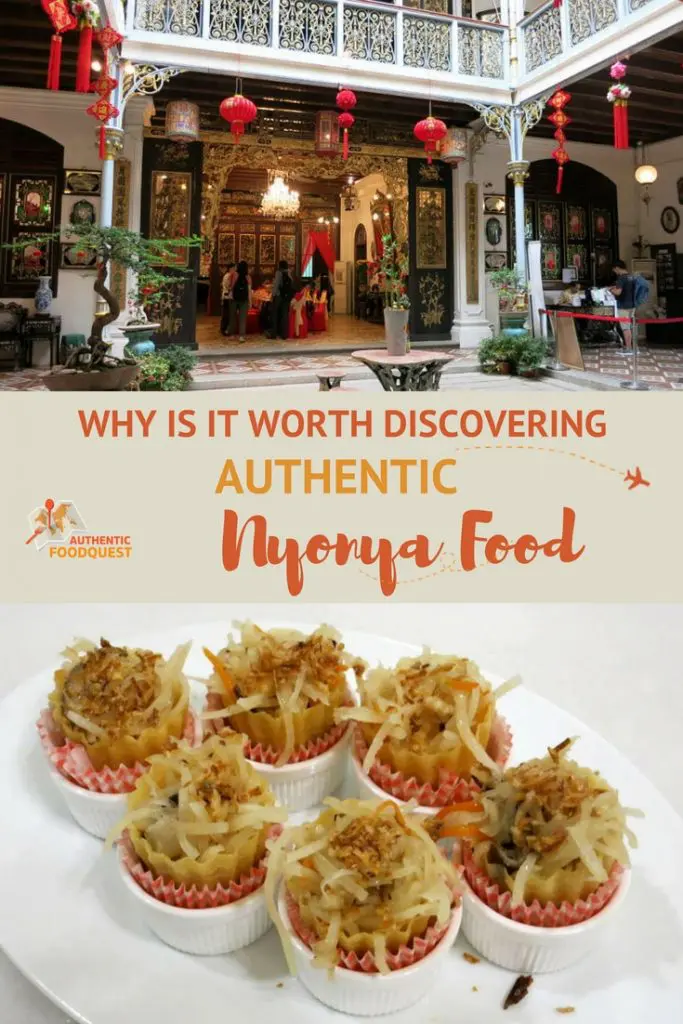 Curious by nature, Rosemary loves exploring new flavors and connecting with locals. She shares her insights and culinary finds from her travels to inspire people to connect local through food.