This article has links to products and services we recommend, which we may make a commission from.
Peruvian desserts are a representation of Peru's rich culinary culture. A fusion of flavors, the food has Inca roots, as well as Spanish, African, Chinese, and Japanese influences.
Many traditional desserts from Peru are a combination of new world and indigenous ingredients.
Some desserts were created in convents. Others use endemic ingredients elevated by the use of sugar.
Further, Peruvian desserts with Afro-Peruvian roots like picarones or turrones are cultural touchstones and sources of Peruvian pride.
In this article, we highlight 10 authentic desserts from Peru.
While there are many more, these are emblematic Peruvian desserts not to miss.

1. Picarones – Peruvian Donuts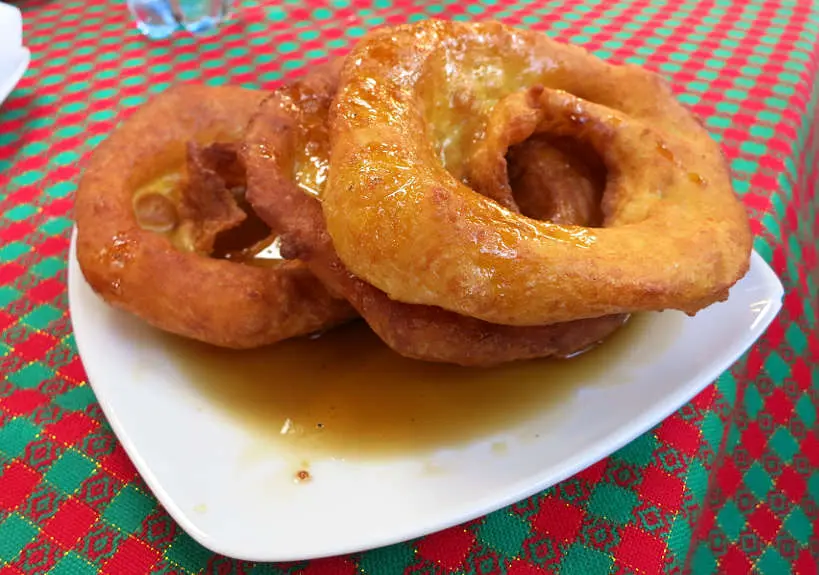 Picarones, similar to donuts, are one of the most popular Peruvian desserts. They are a street food, typically eaten in the evening.
Even though picarones look like donuts, they are quite different and unique to Peru. The principal ingredients are squash and sweet potatoes.
This Peruvian dessert was invented during the Viceroyalty of Peru when the country was ruled by Spain.
At the time, Spaniards in Peru missed their light and fluffy Spanish buñuelos fritters but the ingredients were not readily available.
Instead, the local ingredients of squash and sweet potatoes were used, creating an entirely new Peruvian dessert.
Picarones are deep-fried and typically sold in sets of four. They are eaten with cane syrup called chancaca.
The first time we tried them, we were surprised by the amount. At first glance, we thought we would not finish them as we had just finished a big meal.
However, after a couple of bites, we understood clearly why these little fried donuts were so popular. The combination of sweet potato and squash is heavenly, and not overly sweet.
Crispy on the outside and fluffy inside, this Peruvian dessert is not to be missed.
READ MORE: 7 Authentic Peruvian Street Food You Want To Have
2. Turron de Dona Pepa – Anise Flavored Peruvian Dessert
This traditional dessert from Peru is from Lima and is linked to religious activities. In fact, some say this Peruvian dessert invention was a miraculous one.
According to religious history, the image of Christ painted on a wall in a downtown Lima church, survived two natural disasters.
People began to worship the image and believed it offered protection and could even cure illnesses.
Josefa Maraminillo, an Afro-Peruvian slave known as Doña Pepa, suffered from paralysis in her legs and arms.
She traveled to Lima in hopes of a miracle and soon regained the use of her arms and legs.
Eternally grateful, Doña Pepa wanted to give back somehow. It is said that in a dream, saints appeared to her and gave her the recipe for a dessert.
The God-given dessert is a sort of layered anise-flavored nougat drizzled with chancaca syrup and topped with sprinkles and candy.
Named in honor of Doña Pepa, this dessert is traditionally in October, the Catholic holiday month that celebrates the "Lord of Miracles.".
Sweet tooths will love this extremely sweet and sticky Peruvian dessert. We loved the combination of textures, but could only eat small amounts.
There are many turrón varieties in Lima. Some nougat treats are softer than others, some dissolve in your mouth, and others are much drier.
The best thing is that you can find this miraculous dessert from Peru on Amazon.
3. Peruvian Arroz con Leche or Peruvian Rice Pudding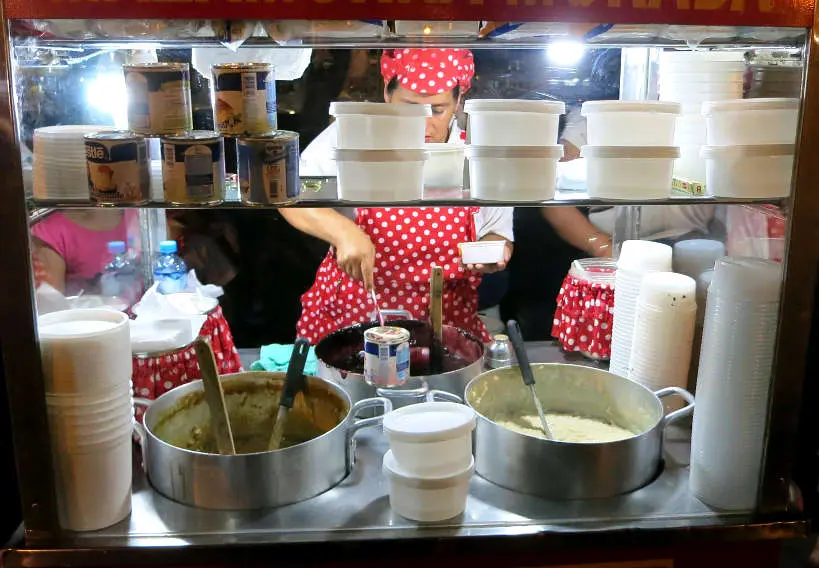 Rice pudding is one of the most traditional Peruvian desserts. While rice pudding desserts are popular all over the world, the Peruvian version has its unique flair.
Unlike most rice puddings that are made with ordinary milk, Peruvian rice pudding uses a combination of condensed and evaporated milk.
The resulting creamy dessert with cinnamon and citrus flavors is delicious and perfect for a chilly evening.
As a very typical homemade dessert, you'll find many variations. Some home cooks may add raisins soaked in Peruvian Pisco.
Peruvian rice pudding is typically sold by street vendors in the evening. You can have it by itself or mix it with mazamorra morada, another traditional dessert made with purple corn.
4. Mazamorra Morada or Peruvian Purple Corn Pudding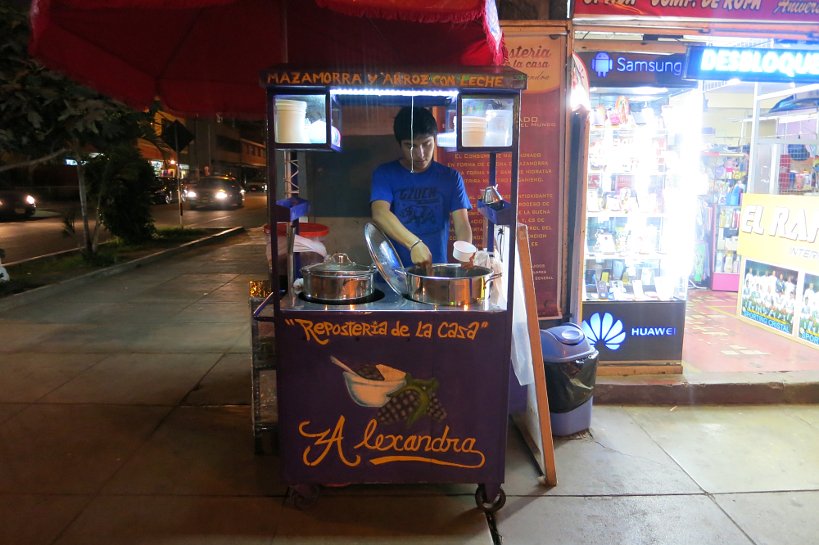 Mazamorra morada is a traditional and popular Peruvian dessert. It is made with purple corn that has been cultivated in Peru since pre-Hispanic times.
This simple pudding which in addition to purple corn includes fruit and sweet potato starch or harina de camote.
The name mazamorra has several origins. One version is attributed to the translation of "mazamorra" from the Moors, which in English is "mush."
Other stories are of the Spaniards, who during the conquest of Peru tried the dish and didn't like it. They called it mazamorra, a term used in dungeons and the mushy food served to prisoners.
Mazamorra mora desserts from Peru are popular throughout and can be found from street vendors to fine restaurants.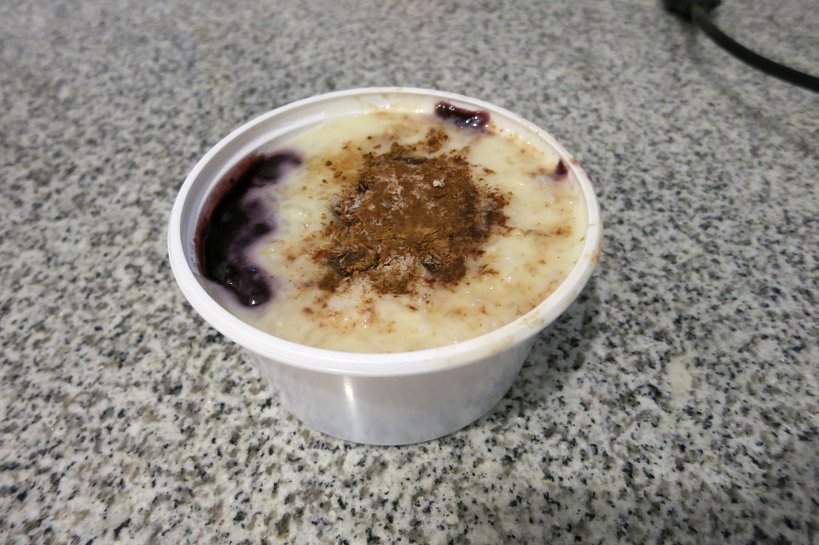 In Lima, it is common to have mazamorra by itself. You can have it together with arroz con leche and this combination is called a "classical."
We enjoyed the unusual flavors of mazamorra Peruvian dessert. On your travels, try the "classical" and get the best of both worlds.
AUTHENTIC FOOD QUEST RECIPE: The Easy Way to Make Mazamorra Morada
5. Peruvian Alfajores – Cookie Sandwich Filled With Caramel Goodness
Alfajores are our favorite South American dessert. We couldn't get enough of them in Argentina.
When we got to Peru, we were delighted to discover Peruvian alfajores, one of the most popular desserts in the country.
Alfajores generally consist of two melt-in-your-mouth cookies filled with a sweet and creamy center.
In most of South America, the creamy filling is dulce de leche. Whereas, in Peru, manjar blanco, similar to dulce de leche is used.
In Peru, the cookies are made of either flour or the popular corn starch known as alfajores de maicena.
Alfajores are said to have had Moorish origins and made their way to South America with Spanish conquerors.
They are delicious little bites, perfect for snacking or a sweet way to end a meal.
Peruvian manjar blanco is made by reducing sugared whole milk to a thick and creamy caramel-like paste.
While tasty, making the manjar blanco can be a time-consuming task.
For a sample of one of Peru's sweet sensations, order Peruvian alfajores on Amazon.
6. Suspiro de Limeña or Suspiro a la Limeña – A Woman's Sigh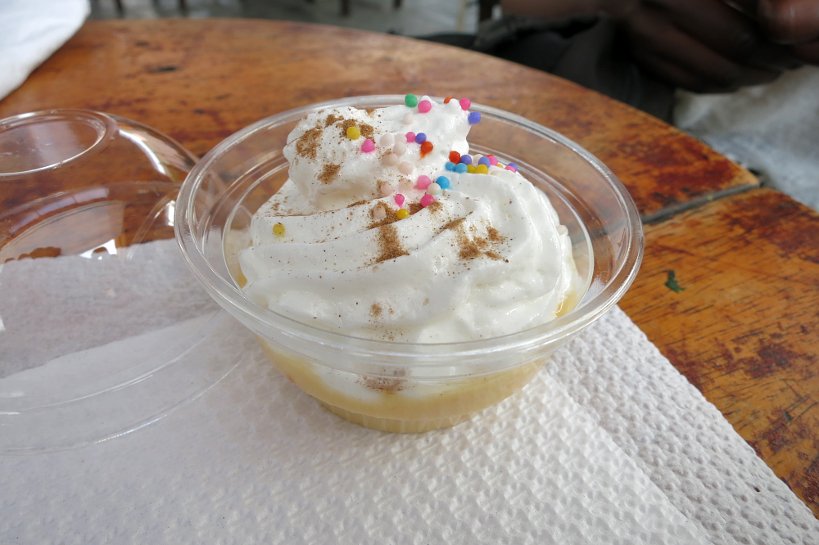 This traditional Peruvian dessert from Lima, goes by many names; suspiro limeño, suspiro de limeña or suspiro a la limeña.
The original recipe for this Peruvian dessert dates back back to the mid-1800s where it was first known as the "Royal Delight of Peru."
It was later renamed by Peruvian writer, José Gálvezm who called it "a woman's sigh." As a poet, he wanted a name that matched the beauty and elegance of the desert.
The sigh of a woman from Lima, sweet and alluring.
Suspiro de Limeña is characterized by the use of manjar blanco, as the bottom layer. This is the Peruvian equivalent for what is known as dulce de leche.
The top layer is a smooth egg white meringue top spiked with Port wine and a touch of cinnamon.
The clear distinction between the two layers is important. This dessert is usually served in elegant glasses fitting of its name and heritage.
We tried this dessert at a Lima gastronomy festival and quickly realized why it's served in small portions.
Suspiro a la limeña is extremely sweet and rich. It's a good idea to take small bites and keep "sighs" of contentment from becoming "sighs" of overindulgence.
This iconic dessert is beloved across the country and worth indulging in while in Lima.
7. Panettone Peru – Christmas Peruvian Dessert
Christmas in Peru, would not be Christmas without Panettone or panetón. This popular and traditional Peruvian dessert has Italian roots and is eaten throughout the country.
Panettone, a dessert that looks like a giant cup-cake, became popular with Italian immigration in the 1800s.
This Peruvian dessert is a sweet cake that is brown on the outside, yellow inside with a light consistency.
It has dried and candied fruit inside, and in Peru, slices of dried papaya are added.
While in Cusco, Peru for Christmas, we were surprised by the overwhelming displays of Panettone, at supermarkets.
It is a common holiday gift and is usually not made from scratch and instead purchased from the store.
We celebrated Peruvian Christmas with locals in Cusco and had the chance to try Panettone.
After our traditional Peruvian Christmas turkey dinner, we enjoyed slices of panettone with hot chocolate.
If you are visiting Peru, don't miss this traditional Christmas Peruvian dessert. In the interim, you can get Peruvian Panettone from Amazon.
READ MORE: Cusco Food Guide: 10 Foods To Have And Where To Eat Them
8. Cachangas – Crunchy Donut-Like Traditional Desserts From Peru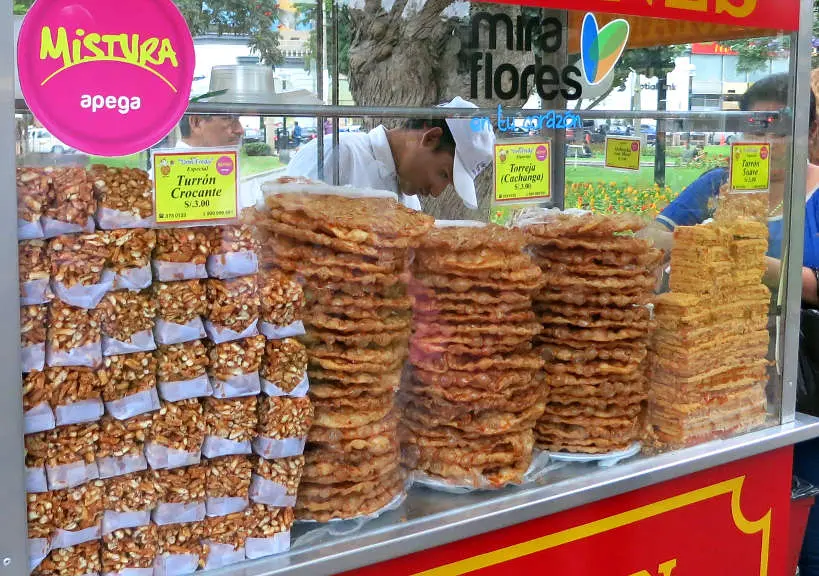 Cachangas is a crunchy donut-like tortilla, a traditional mid-afternoon snack. They are popular in the north of Peru, though found all over the country.
These Peruvian desserts can be eaten sweet, savory, or plain. They are made with flour but without yeast. The cachangas are lightly fried in oil for a crispy finish.
The name "cachanga" is derived from the Quechua word "kachangu." And the history is fascinating.
It is said that the cachanga was used to show love, appreciation, or admiration for another person.
During the colonial period, the Spanish would smear honey on the cachangas to make them more palatable and woo the ladies.
This is one of the homemade desserts from Peru that you'll find on the streets or at locals homes.
RELATED: Maca Drink from Peru: A Guide to The Incas Superfood (With Recipe)
9. Queso Helado – Cheese Ice Cream Peruvian Dessert from Arequipa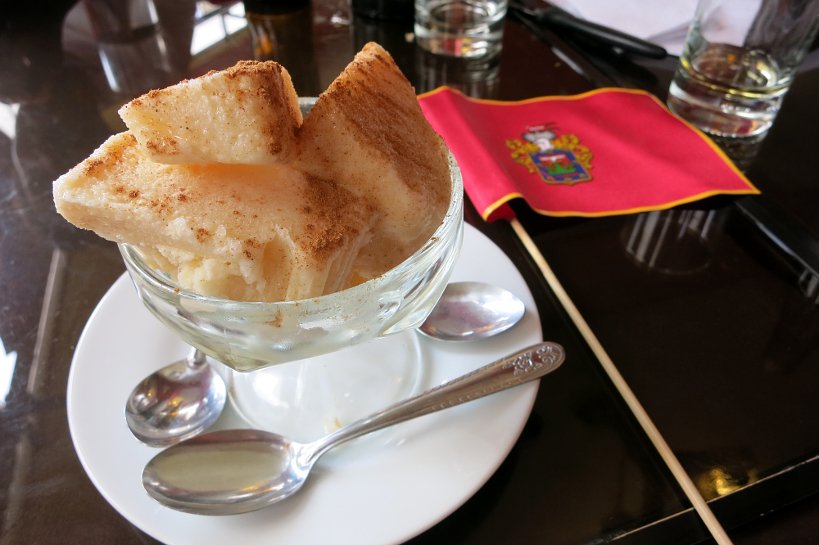 Queso Helado literally means cheese ice cream. And, surprisingly this Peruvian dessert does not contain any cheese.
Made with milk, condensed milk, coconut milk, potato starch, and a touch of cinnamon.
This ice-cream is sweet and icy and eating it is like chewing on a sweet milk sorbet.
The name queso helado comes from the traditional preparation style. The appearance in the middle of the frozen mixture looks more like sliced cheese rather than a scoop of ice-cream.
Arequipa, in the southwestern part of Peru, is the birthplace of this artisanal ice-cream.
Queso helado is one of the most famous Peruvian desserts, celebrated every January with a special festival.
READ MORE: 10 Must-Try Arequipa Food And Drinks in Peru
10. Peruvian Fruits
Peru has an amazing array of exotic fruits. Many are familiar and can be found in other South American countries.
The Peruvian fruits we found the most fascinating were the ones from the Amazon.
The Amazon covers more than two-thirds of Peru, and with that comes unfamiliar fruits not found outside the borders.
Camu Camu is a Peruvian fruit, native to the Amazon rainforest. It grows on bushes and is the size of a grape or cherry.
Extremely rich in vitamin C, it is said to be the fruit with the highest content of vitamin C, 100 times higher than the lemon.
The fruit itself has a strong sour and acidic taste, similar to a tart cranberry.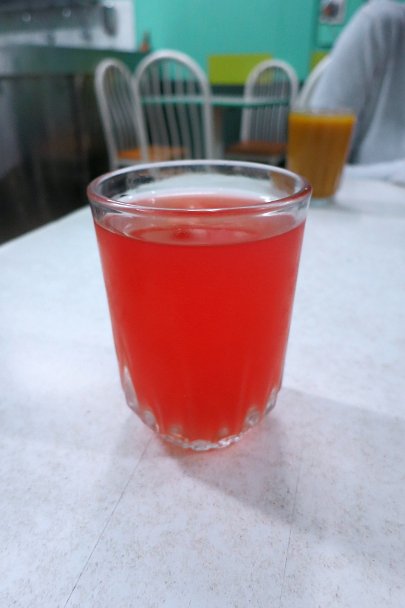 For that reason, it is often consumed as a juice or blended into Peruvian desserts. Unless you are in Peru to sample it fresh, your only option is it in powdered form.
At El Bijao, a Lima restaurant that specializes in Amazon food, we tried camu camu. We had it as a juice and loved the citrusy flavors.
Easy to drink, taking camu camu is a great way to boost your immune system.
You can add powdered camu camu to smoothies, baked goods, or your favorite tea.
READ MORE: Two-thirds of Peru is covered by the Amazon, some of the richest biodiversity on the planet. The diversity of plant life is staggering. See our article featuring 10 Strange Fruit From The Peruvian Amazon Jungle You Will Not Believe.

In Summary
The variety of Peruvian desserts draws on the country's fascinating fusion of cultures.
We enjoyed learning about the rich history of the desserts in Peru while traveling through the country.
One could spend a lifetime eating their way through Peru's rich gastronomic offerings.
While there are many more, these 10 authentic Peruvian desserts must be savored.
In the comments below, please let us know if you've had any of these desserts from Peru. If not, which one of the Peruvian desserts would you like to try?
Savor the Adventure!
Looking for Peruvian Desserts Recipes
Mazamorra Morada is one of the most popular Peruvian desserts. This is a classic easy to make recipe from Peru: The Easy Way to Make Mazamorra Morada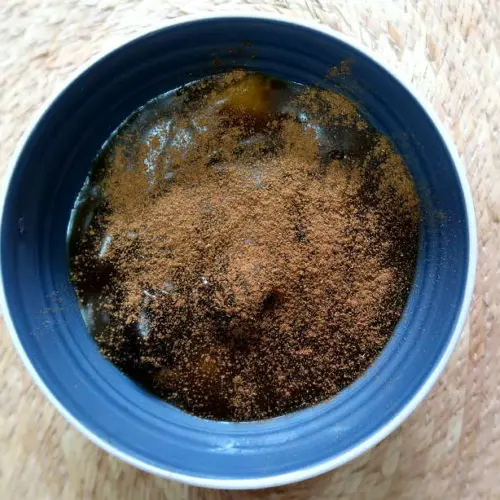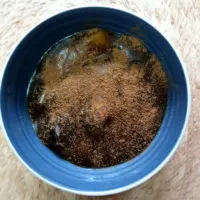 Mazamorra Morada Recipe
This mazamorra morada recipe is for a delicious and easy to make Peruvian purple corn pudding. A traditional dessert, the star ingredients are purple corn and dried fruits, thickened with cornstarch. Cinnamon and cloves add spicy and tropical flavors to this easy one pot dessert.
Print
Pin
Rate
Ingredients
1

pound

Peruvian Purple corn

2

cinnamon sticks

1

pineapple

small to medium size, fresh, ripe

1

cup

dried fruits

apricots, papaya, pineapples

⅓

cup

raw sugar

unrefined whole cane sugar or panela

½

cup

dried prunes

½

cup

pineapple

freshly sliced

¼

cup

corn starch

¼

cup

sweet potato starch

can be substituted for potato or corn starch

lime juice

freshly squeezed from 1 lime

ground cinnamon

for garnish
Instructions
Wash the purple corn and cook in 2 liters or 67 oz of water.

When the water starts to boil, add cinnamon sticks and cloves

As the mixture is boiling, wash pineapple and peel the skin

Add the pineapple skin to the boiling water

Add dried fruits (peaches, apricots, pineapple) to taste

Cover the pot, reduce heat to low and let it cook for 1 hour, or until corn opens up

Cut up about ½ cup of fresh pineapple into small cubes and set aside

After one hour, strain the liquid and discard corn, pineapple rind, cinnamon sticks and cloves

Put the liquid back in the pot and  boil again on low heat

Add sugar, dried prunes and fresh pineapple cubes while stirring continuously

Cover and let it cook on low heat until the fruits soften

In a separate bowl, add 2 cups or ½  liter of water

Add 50 grams of cornstarch and 50 grams of potato or sweet potato flour

Slowly add starch mixture to cooking pot while stirring continuously

Keep stirring about 5 minutes until the mixture thickens

Add freshly squeezed lime juice while stirring

Remove from heat and serve

Serve at room temperature or chilled

Sprinkle cinnamon to taste
Notes
 If you lose a lot of water in the boiling process, feel free to make a second batch by adding water to the corn, pineapple and fruits mixture. In addition to sliced pineapple, you can also add quince or apple. Feel free to add your favorite dried fruits as well.
Nutrition
Serving:
1
|
Calories:
202
kcal
|
Carbohydrates:
50
g
|
Protein:
2
g
|
Fat:
1
g
|
Saturated Fat:
0.2
g
|
Polyunsaturated Fat:
0.4
g
|
Monounsaturated Fat:
0.2
g
|
Sodium:
119
mg
|
Potassium:
297
mg
|
Fiber:
4
g
|
Sugar:
27
g
|
Vitamin A:
185
IU
|
Vitamin C:
60
mg
|
Calcium:
35
mg
|
Iron:
1
mg
Looking For More Peruvian Food Experiences?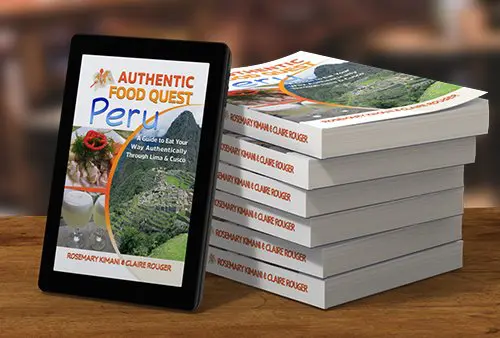 Our book, Authentic Food Quest Peru takes you on a journey through the regional food specialties in Peru.
Get an introduction to Peruvian food and the history of how this unique gastronomy came to be.
Discover the authentic foods in Lima and Cusco as well as the top Peruvian foods and drinks that should not be missed.
Take this guide with you as you explore Peru's magnificent cuisine.
Available on Amazon
Love Peruvian Desserts? Pin It!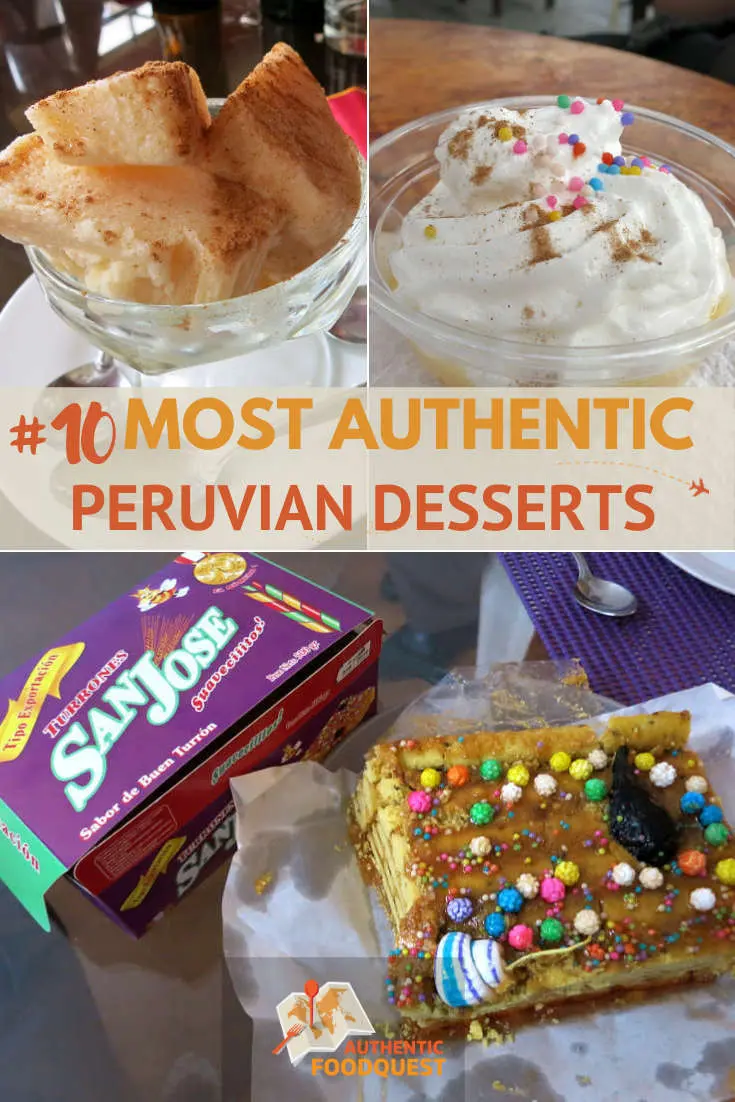 Rosemary is the editor-in-chief and strategist at Authentic Food Quest.
Traveling slow since 2015 with her partner, Claire, she has explored the cuisine in 45 countries and more than 240+ culinary cities.
Her writing about local food specialties has been featured in Lonely Planet, Business Insider, Honest Cooking, Food Insider, and Huffington Post.
As a food and travel writer, Rosemary has co-authored three books, including one in collaboration with Costa Brava Tourism.
Rosemary is an avid runner when she's not eating and exploring new destinations. She has run ten marathons and counting.
Before Authentic Food Quest, Rosemary held senior-level strategy positions in advertising. 
Find out more about Authentic Food Quest