This article has links to products and services we recommend, which we may make a commission from.
Bacalhau a Bras is one of Portugal's most popular dishes. Simple and delightful, Bacalhau a bras is a tasty Portuguese traditional dish that is easy to make. It is packed with flavor and the ultimate comfort food.

First, What is Bacalhau or Portuguese Cod Fish?
Bacalhau is dried salted codfish in English. It is a staple in Portuguese cooking and surprisingly, not native to Portugal.
Bacalhau is imported from Newfoundland or Norway. In the 16th century, Portuguese fishermen brought it back from Newfoundland and has since been integral to Portuguese cooking.
In Portugal, bacalhau usually refers to the cod fish that is dried and salted. While fresh cod fish, or bacalhau fresco exists, most recipes call for dried and salted cod fish.
To cook with bacalhau cod fish it must be prepared in advance. The fish soaked in freshwater and changed frequently for at least 24 hours to reduce the levels of salt.
It is easier to make this bacalhau recipe with ready-to-cook pieces of cod. But, you can also use salted cod fish and be sure to take the few days necessary to desalt the fish.
AUTHENTIC FOOD QUEST TIP: Get ready-to-cook cod pieces delivered to your home. This wild caught North Atlantic codfish from sustainable fishermen is some of the finest and freshest codfish. The cod pieces are individually vacuum packed, convenient to use for this bacalhau a bras recipe without the need to desalt the cod.
Discovering Bacalhau in Portugal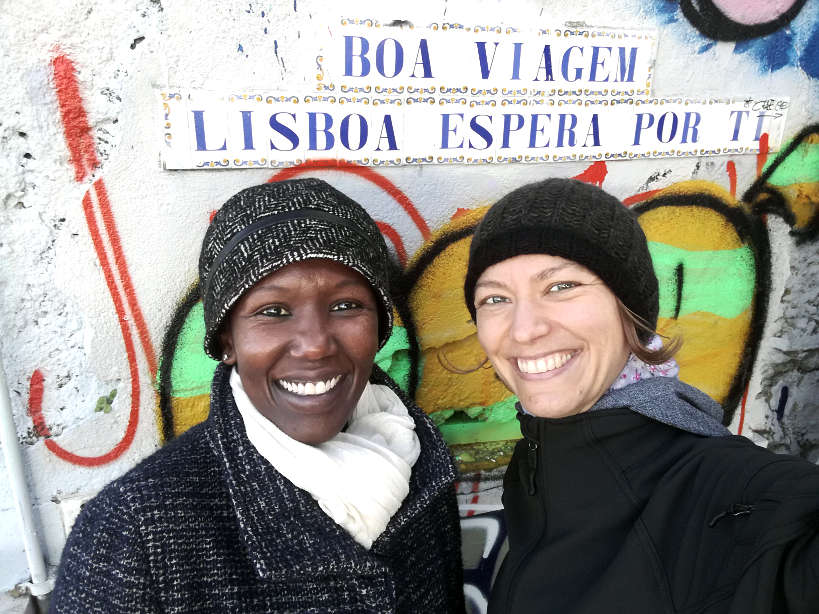 While exploring the local food in Portugal, we could not miss bacalhau, Portugal's national obsession. Bacalhau or Portuguese cod fish is available on every Portuguese restaurant's menu.
The Portuguese are so obsessed with cod fish, that there are over 365 ways of preparing bacalhau – one for each day of the year.
Everywhere we went, we tried different preparation styles of bacalhau. From grilled, baked, canned, and fried the options were endless.
After eating several bacalhau dishes, our favorite one was Bacalhau à brás, or stir fried cod fish and eggs.
We learned how to make it in Portugal and we're excited for you to make it at home.
RELATED: 10 Most Popular Portuguese Dishes You Want to Enjoy
Bacalhau a Bras – Stir Fried Cod Fish & Eggs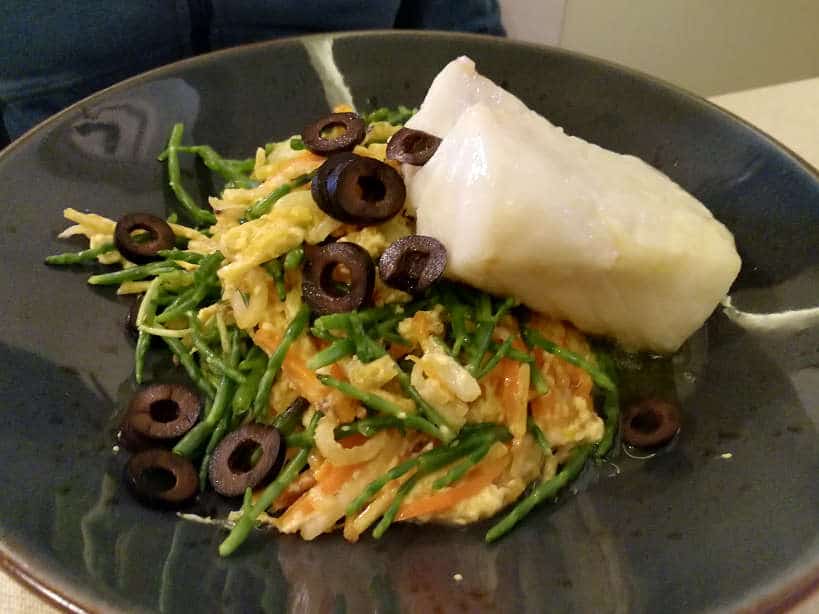 Bacalhau à Brás is one of Portugal's most popular dishes with origins in Lisbon. It is said to have originated in the Bairro Alto neighborhood of Lisbon, by a tavern owner named Braz.
Due to the spelling of the name, the dish is also sometimes referred to as Bacalhau à Braz.
Bacalhau à Brás recipe is a simple cod fish recipe that you can easily make. It consists of shredded cod, fried string potatoes, and onions, all scrambled up with eggs.
Black olives and chopped parsley top off the dish at the end.
RELATED: 5 Authentic Ways You Want to Eat Bacalhau in Portugal
How To Make Bacalhau a Bras at Home
While in Porto, Portugal, staying with locals through Airbnb, we started talking about local Portuguese food specialties.
Seeing our deep interest, Fátima, the housekeeper, taught us how to make bacalhau à brás, also her favorite Portuguese dish.
With a list of ingredients in hand from Fatima's bacalhau a bras recipe, we were off to the grocery store.
AUTHENTIC FOOD QUEST RECIPE: Pataniscas de Bacalhau – Easy to Make Portuguese Codfish Fritters
Bacalhau a Bras Recipe – Shopping List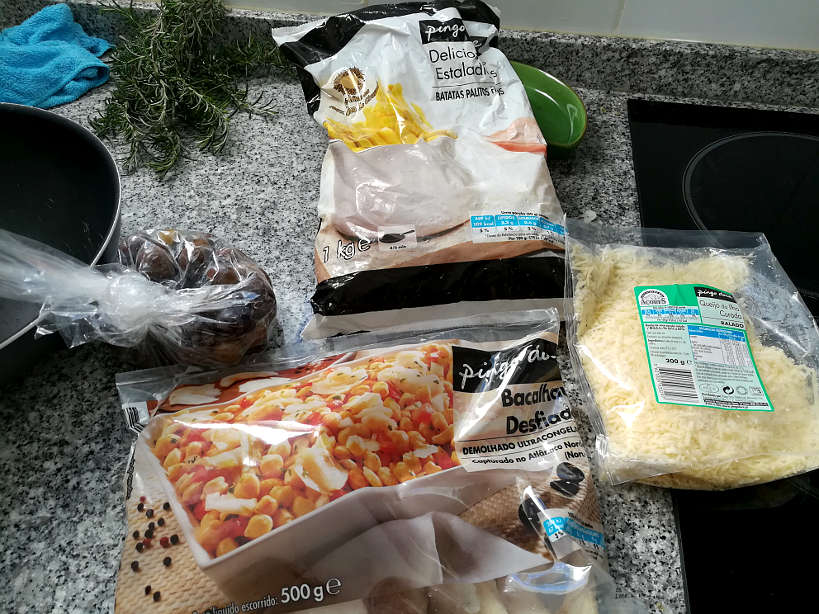 Bacalhau
Dry salted cod fish is the foundation of this Portuguese dish. Order bacalhau salted codfish from Amazon and follow the de-salting instructions.
Instead of salted codfish which needs to be desalted, you can substitute with ready to cook codfish pieces.
Potatoes
You can use russet potatoes, peeled and then cut into matchstick-size strips and then cooked. Alternatively, for ease and convenience you can also use already cooked matchstick (shoestring) potatoes.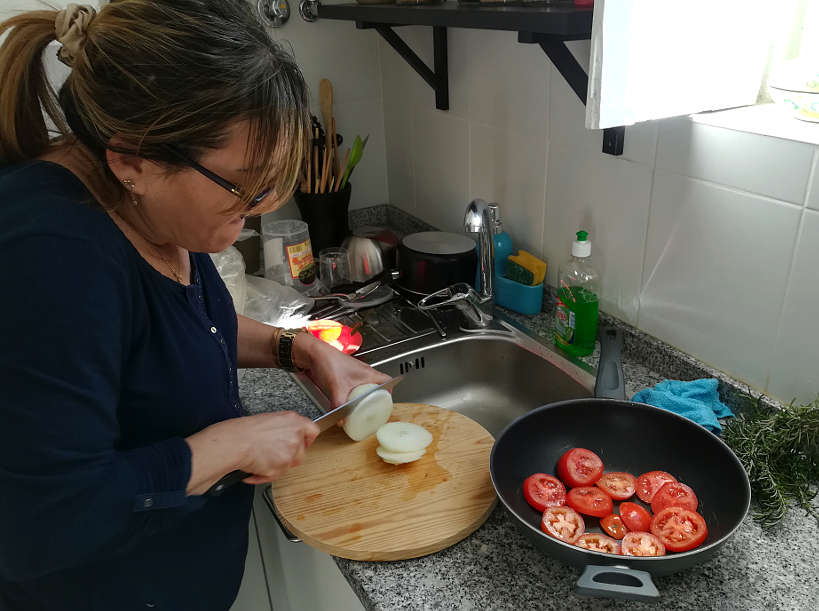 Tomatoes
Onions
Olives
Parsley
Garlic
Cheese (optional)
Salt & Pepper to Taste
Bacalhau a Bras Preparation
You can have bacalhau a bras by itself or add a side salad to make it a complete meal. When we made it with Fátima, we enjoyed it with oven baked frozen french fries.
Follow the instructions and soak salted bacalhau in water for 24 – 48 hours depending on size. Be sure to change water constantly during this time
Cover the bottom of a wide saucepan with sliced tomatoes, garlic and onions.
Cook until golden and then add cut up pieces of cod fish and drizzle with good quality Portuguese olive oil.
On medium heat, let everything cook for about 20 minutes
Once everything has cooked, add in already cooked shoestring potatoes and stir for a few minutes
Add in lightly beaten eggs with salt and pepper to taste
Stir everything together keeping the eggs soft and creamy
Add a few olives, grated cheese (optional) and garnish with parsley
Drizzle a little more of Portuguese olive oil before serving (optional)
Transfer to a plate and serve hot
Bacalhau a Bras Cooking Tips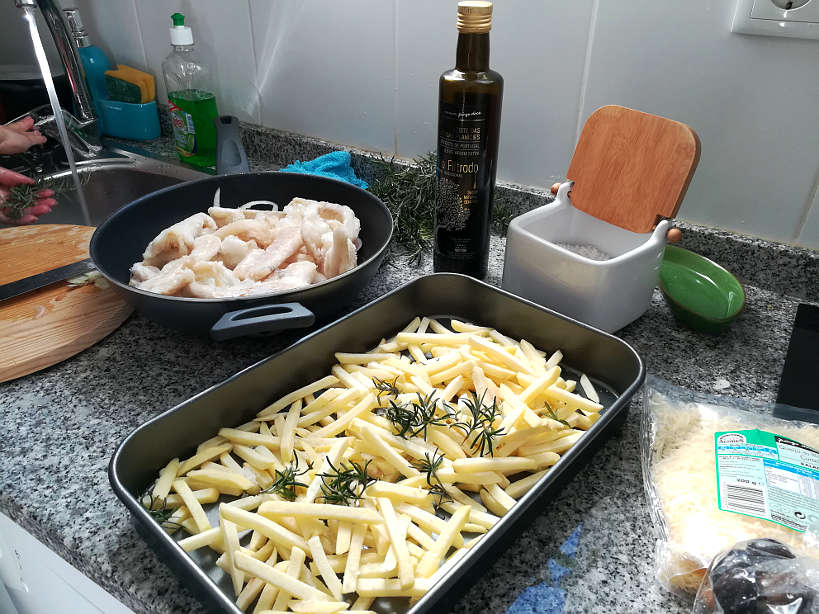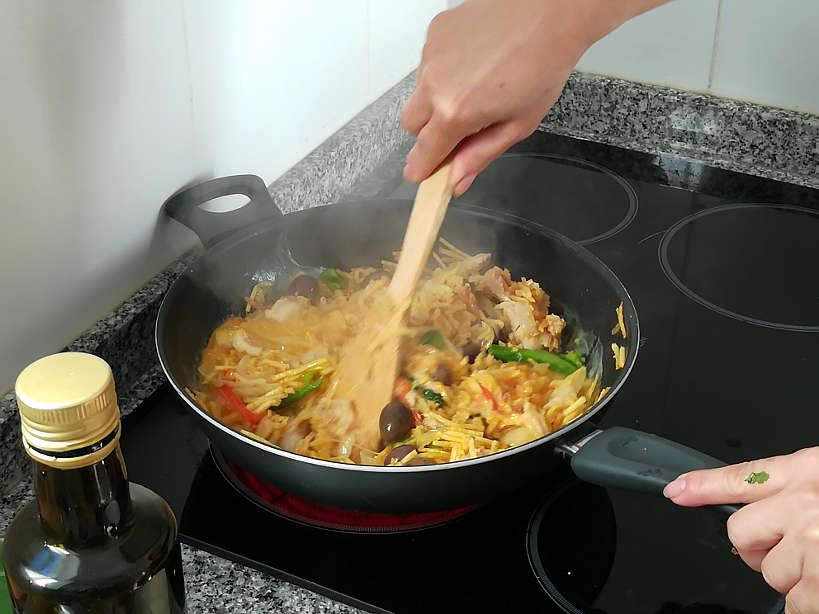 We learned that it is important to turn off the heat before the eggs solidify. This is to avoid the eggs fully cooking and becoming like an omelette.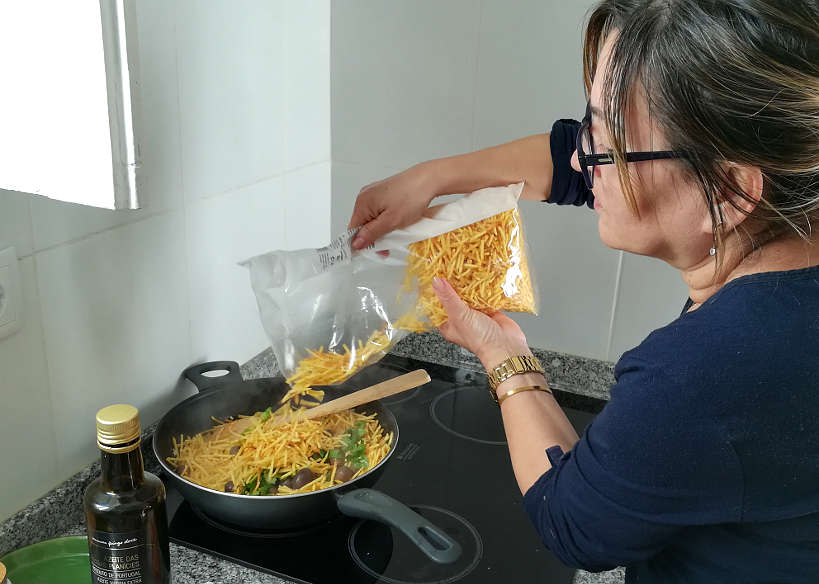 One other tip we learned is to only mix in about half of the shoestring potatoes first. Then save the rest for near the end. This ensures a lovely crunchy texture in the final dish, avoiding the possibility of it becoming mushy.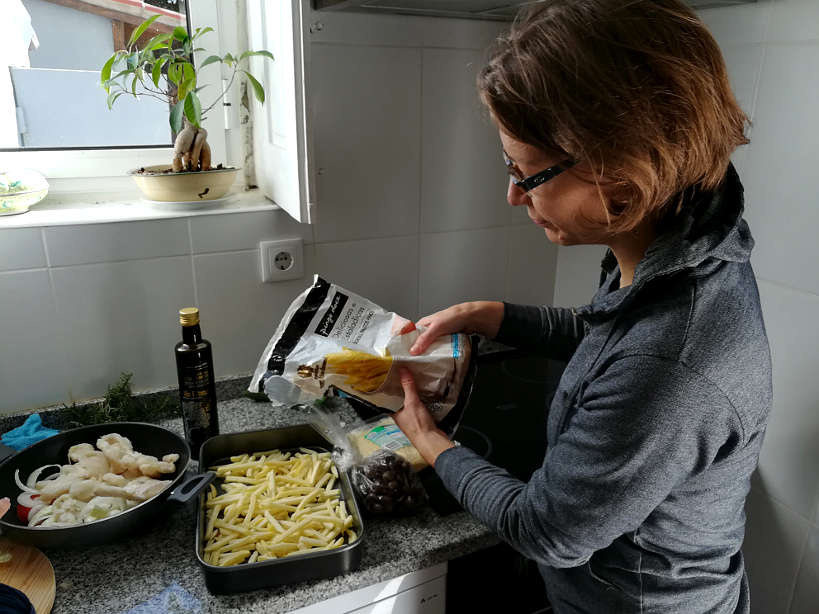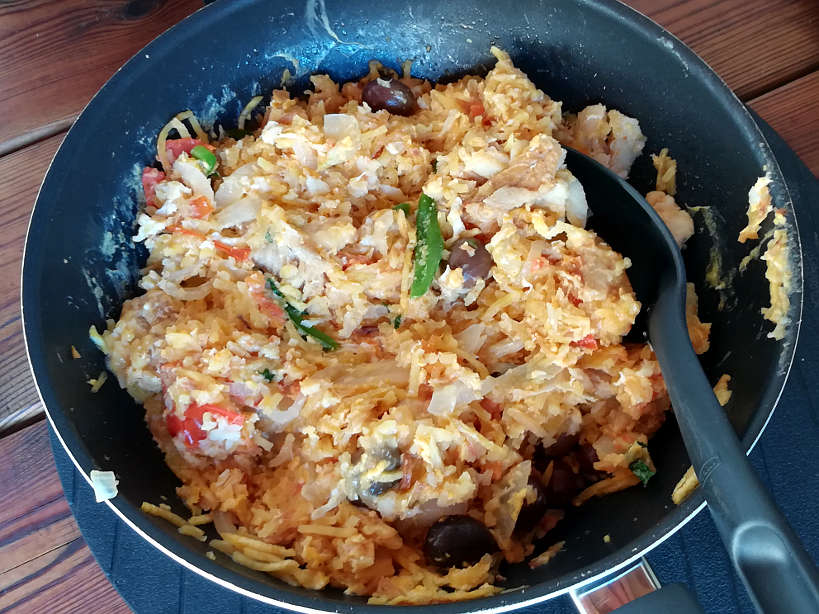 This delightful meal is simple and easy to prepare. Enjoy it as the Portuguese do with a glass of Portuguese white wine.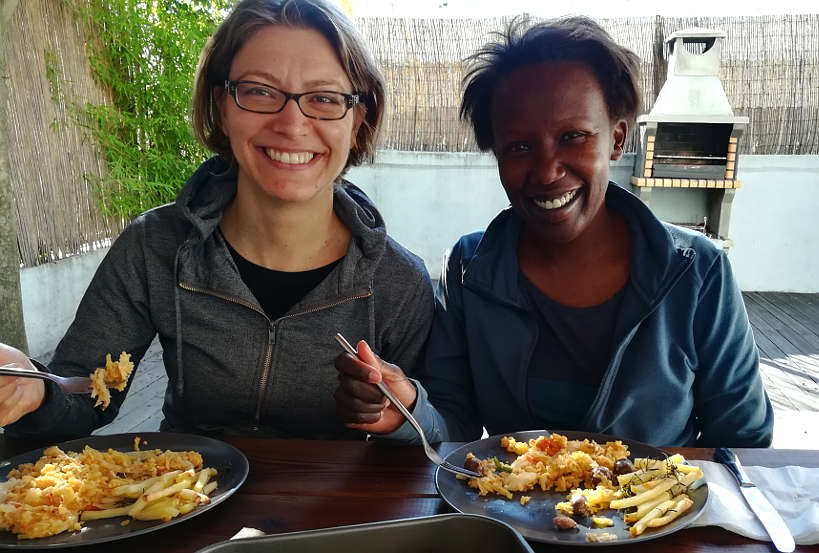 More Related Cooking Products
Curious by nature, Rosemary loves exploring new flavors and connecting with locals. She shares her insights and culinary finds from her travels to inspire people to connect local through food.