This article has links to products and services we recommend, which we may make a commission from.
"That's a symphony in a sandwich" is how Anthony Bourdain described the most famous Vietnamese sandwich called the Banh Mì.
If you're planning on traveling to Vietnam, the one sandwich you will not want to miss is the banh mi. This iconic sandwich has been consistently ranked as one of the best sandwiches in the world.
While exploring the local food specialties in Vietnam, we absolutely fell in love with the banh mi sandwich. Beyond the delicious flavors, we liked this Vietnamese sandwich for different reasons.
For Claire, the baguette bread transported her back to France, where she has fond memories of the simple pleasures of a baguette sandwich.
On my end, I'm personally not a huge sandwich fan. I'd choose a meal, anyday, over a sandwich. However, something magical happened in Vietnam. I finally discovered how good a sandwich really could be.
While traveling across the country, we made it a point to try the Vietnamese banh mi sandwich in different regions.
Join us on a culinary adventure and discover what makes the banh mi the best Vietnamese sandwich to fall in love with.

What Is Banh Mi – The Famous Vietnamese Sandwich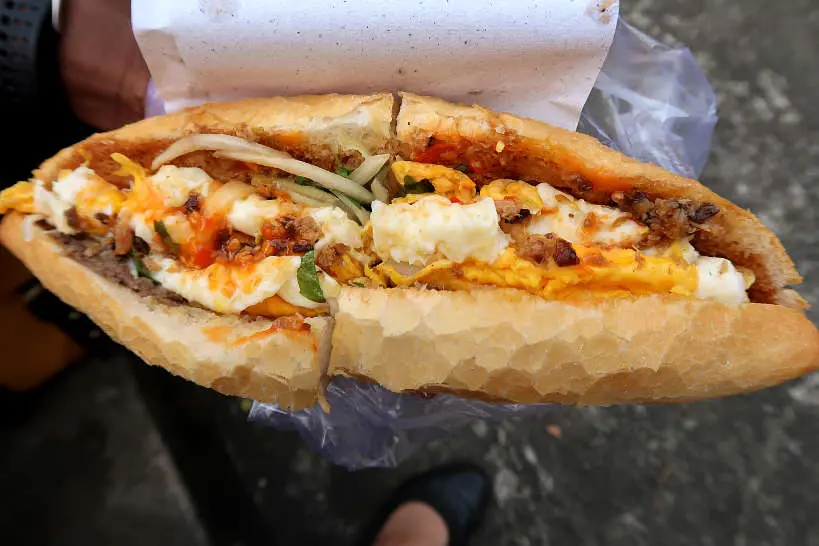 The banh mi is an airy and crunchy French baguette, stuffed with an ever-varying combination of meats, vegetables, and sauces.
This airy Vietnamese baguette is made with a combination of wheat and rice flours with a thin crispy crust.
It is filled with pork, pâté, cured ham and a variety of cold cuts. The sandwich also has a mix of Vietnamese herbs and fresh vegetables.
Coriander, cucumber slices, radish, pickled carrots, and daikon are typically used.
Bringing together the salty, sweet, sour and spicy flavors is a delicious sauce.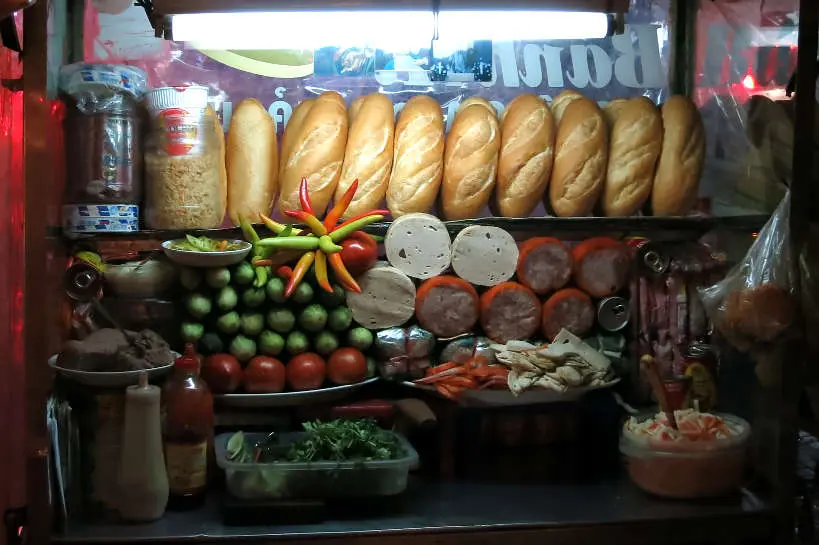 Depending on what part of the country you are in, this Vietnamese sandwich will be prepared in a slightly different manner.
Banh Mi History and Influences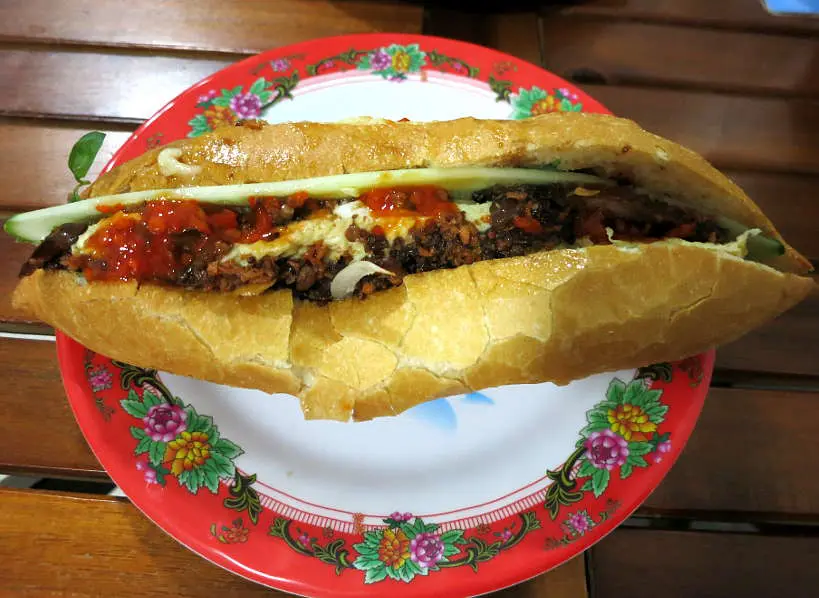 The banh mi sandwich gets its origin from the French influence in Indochina. The baguette was introduced by the French, but appropriated by the Vietnamese in the 1950s when they started calling it the banh mi or wheat bread.
The sandwich gained popularity around the world after the Vietnam War.
Saigon or Ho Chi Minh City is believed to be the birthplace of the banh mi sandwich. The Le family moved from Hanoi to Saigon in the 1950s and created this Vietnamese sandwich.
Their shop, Banh Mi Hoa Ma, named after their village in the north is in District 3 in Ho Chi Minh City.
Today, this famous Vietnamese sandwich is eaten all over the world. While banh mi Vietnam is mainly eaten for breakfast, it is enjoyed at any time of the day.
Considered a national staple food all over Vietnam, the banh mi is an experience not to be missed.
AUTHENTIC FOOD QUEST TIP: If you would love an authentic banh mi sandwich but are not traveling to Vietnam, learn how to make one in an online cooking class. In a private online cooking class with The Chef & The Dish, learn to make banh mi sandwiches with marinated pork and pickled vegetables. Alongside, you will also make fresh spring rolls and an accompanying dipping sauce. Transport your kitchen to Vietnam in this fun online banh mi cooking class.
Best Vietnamese Bánh Mì in Ho Chi Minh City (Saigon)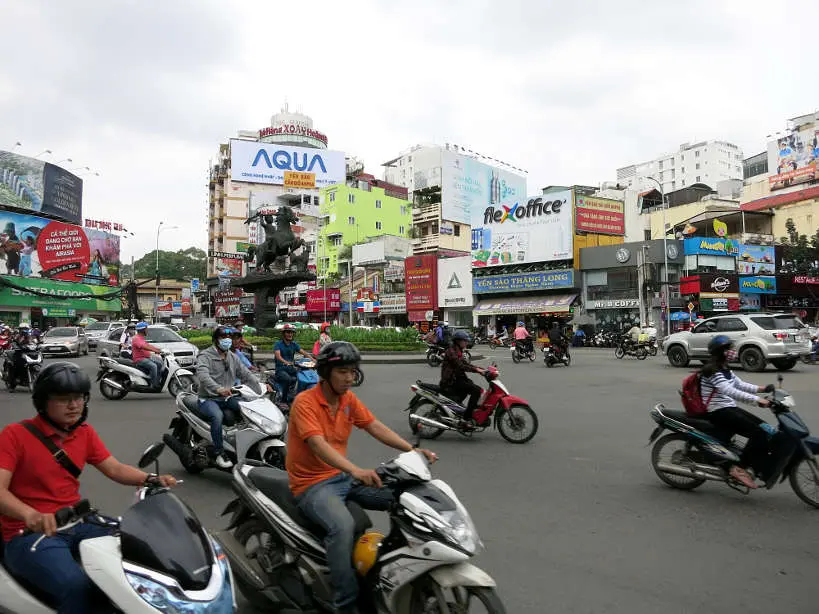 The first time we visited Vietnam, we fell seriously in love with the banh mi sandwiches in Hoi An. As we traveled south to Saigon, we noted the differences in tastes and ingredients used in the Vietnamese sandwich.
Looking for local recommendations for the best banh mi in Ho Chi Minh City, we asked our Airbnb host for guidance.
With their suggestions in hand, combined with local spots we found in our research, these are places worth experiencing.
READ MORE: Guide To The Best of The Food in Saigon – 15 Local Foods Not To Miss
Bánh Mì Huynh Hoa – Traditional Vietnamese Banh Mi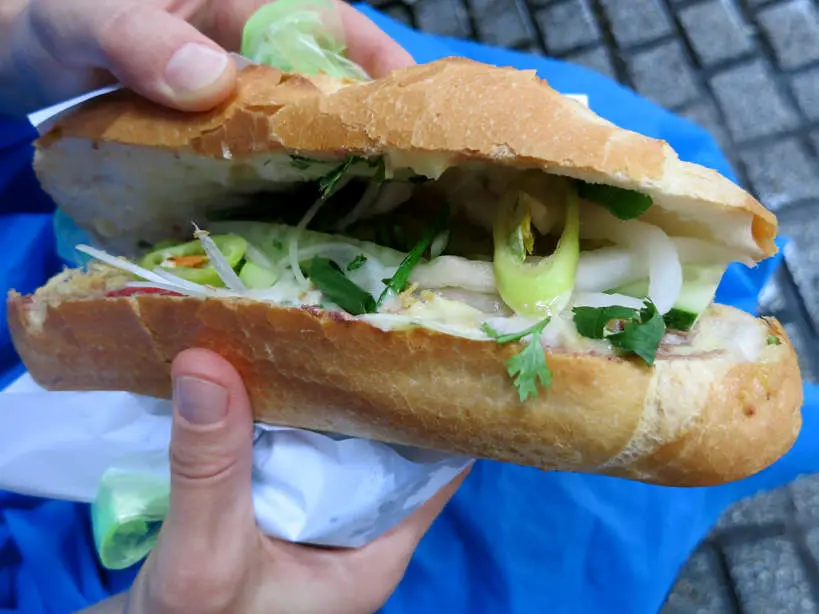 With a reputation of making the best banh mi in Ho Chi Minh City, Huynh Hoa restaurant has quite a following.
We got to the restaurant right before it opened at 2:30 pm and no sooner had the doors opened, a crowd suddenly appeared.
Run like a well-oiled machine, everything and everyone working had a role to play.
On one side of the room was a cart filled with the different types of ingredients, meats and pate.
Next to that cart was a smaller cart, with ingredients managed by a gruff old man. He spoke just enough English to tell me very sternly "stand here and wait."
Across the room were baguettes toasting to crispy perfection.
Banh Mi Huynh Hoa Vietnam Sandwich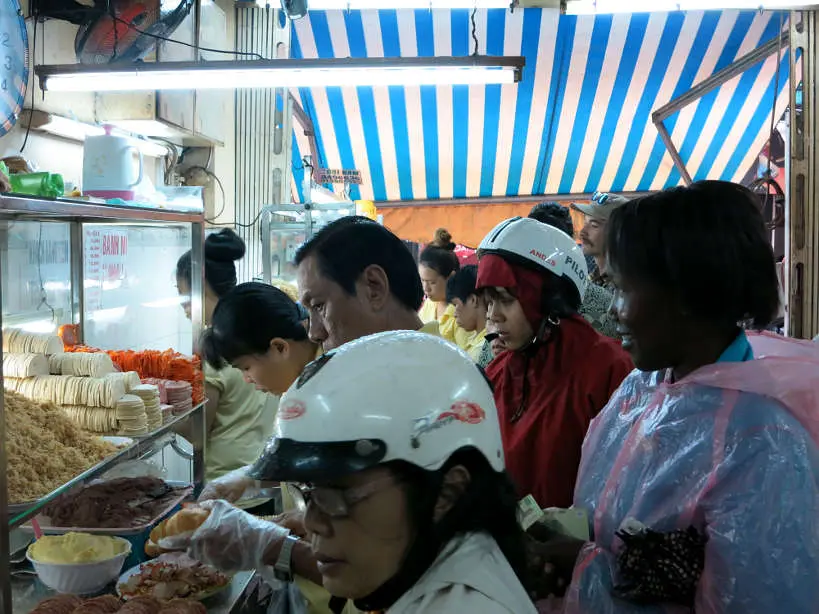 The restaurant does not have any seating area. After waiting in line, we sheltered from the rain and sat down to devour the best banh mi in Ho Chi Minh City.
The sandwich was heavy in weight and filled with several layers of meat. One of the reasons it is so popular is because it is filled with 8 or 9 different types of cold cuts.
Layered with the meat were slices of cucumber, peppers, onion, cilantro and a few shreds of carrots. The sandwich also had homemade mayonnaise and topped with chili sauce.
While we found the sandwich very fresh, we found it way too heavy on the meat.
More like a meat-sandwich and missing the balance of the fresh veggies and herbs that accompanied the banh mi sandwiches we enjoyed in Hoi An.
Even so, visitors to Ho Chi Minh City should not miss what is considered by many as the best banh mi experience.
Where to Eat the Best Traditional Banh Mi in Ho Chi Minh City District 1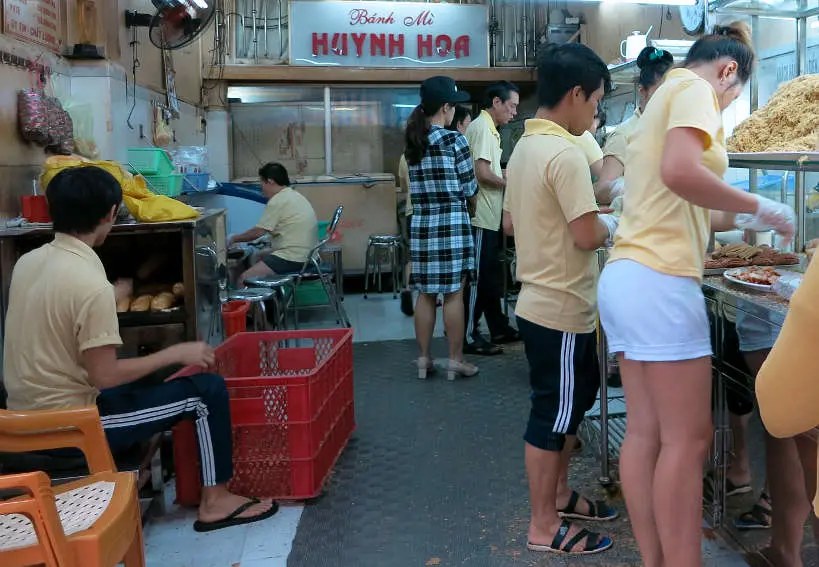 Address: 26 Le Thi Rieng, District 1, Hồ Chí Minh City
Hours: Open every day from 2:30 pm to 11:00 pm
Prices: About 33,000 VND per sandwich (approximately $1.44 USD)

Banh Mi Hong Hoa – A Solid Option For Vietnamese Sandwich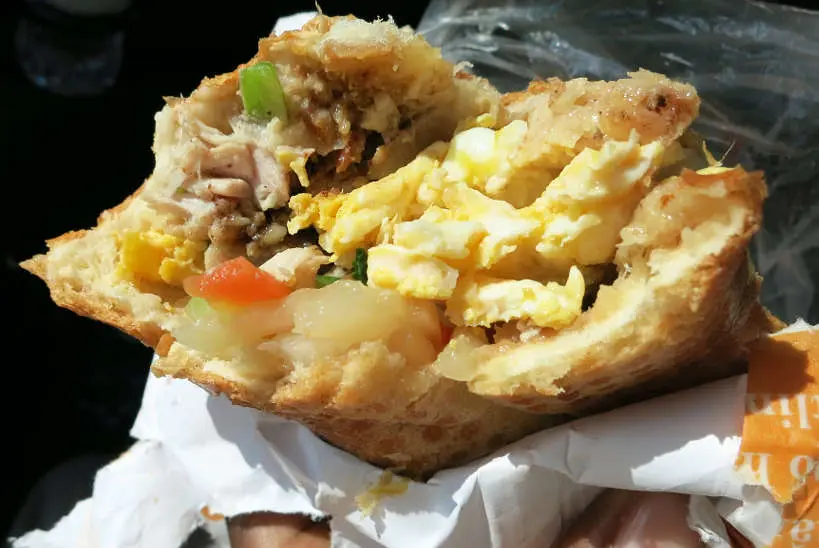 On our first trip to Vietnam, we traveled from Ho Chi Minh City to Cambodia by bus. For the 6-hour direct bus trip to Phnom Penh, we picked up Vietnamese sandwiches to eat.
Bánh Mì Hồng Hoa, not far from where we were staying was another recommended place we tried.
The restaurant is a typical shophouse with a walk-up counter on the exterior where you can choose from several types of banh mì sandwiches.
We got there at noon and the place was already busy with motorcycles constantly stopping by for orders.
We ordered the classic banh mi sandwich with pork slices (bánh mì thịt) and one with an additional egg added.
These were our favorite banh mi sandwiches in Ho Chi Minh City. The balance between the meat and fresh vegetables and herbs was closer to what we enjoyed in the north.
The bread was incredibly fresh and crispy. Furthermore, the sandwich held up surprisingly well in the to-go packaging. It was not "mushy" when we ate it about 2 hours later.
This is definitively a place not to miss for the best Saigon banh mi.
Where To Eat The Best Local Favorite Banh Mi in Ho Chi Minh City District 1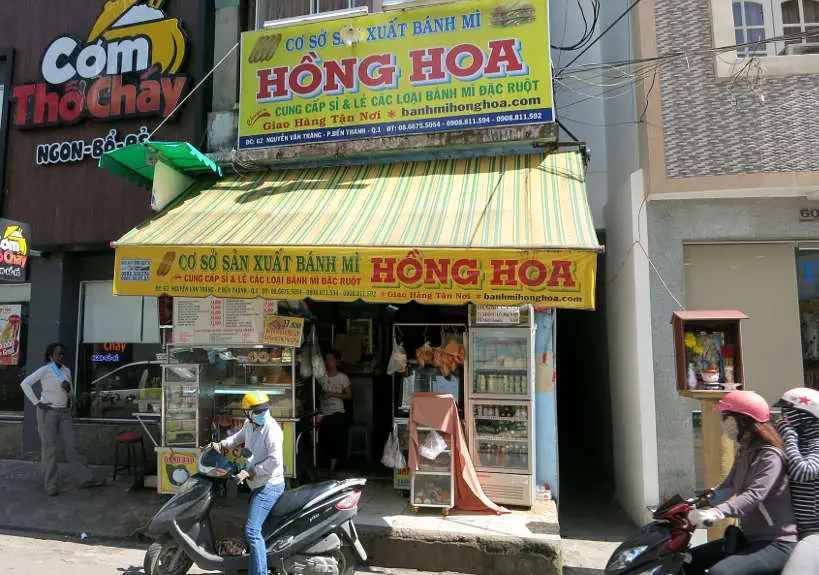 Address: 62 Nguyen Van Trang, District 1, Hồ Chí Minh City
Hours: Open every day from 8:00 am – 4:00 pm (check as hours vary)
Prices: About 12,000 VND to 18,000 VND per sandwich (approximately $0.50 to $0.80 USD)
Banh Mi Hoa Ma – Famous Saigon Banh Mi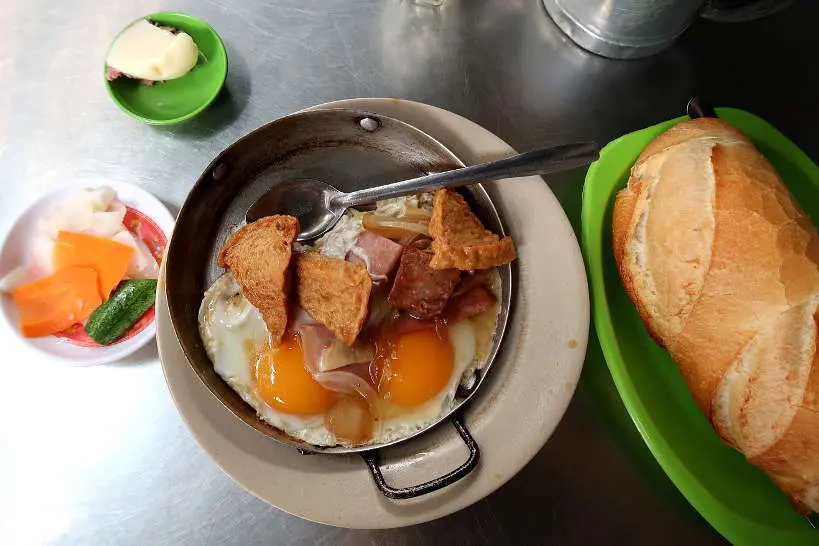 Banh Mi Hoa Ma, the restaurant said to have created the original banh mi sandwich is a popular place.
In addition to being the original, it was further popularized by Anthony Bourdain when he visited Saigon.
Located in District 3, it is still family owned and a solid option for banh mi sandwiches.
One of their most popular Vietnam sandwich is the banh mi op la. This version is like a deconstructed banh mi where the baguette bread is served separately from the filling.
There are small dishes with fried eggs, pork, onions and vegetables. A side of pâté is provided on the side to spread on your roll.
While the cuts of meat, vegetables, and bread were all quite fresh, we found it too touristy. Due to its popularity, it lacks the charm of more authentic eateries
Where To Eat The Best Original Banh Mi in Ho Chi Minh City District 3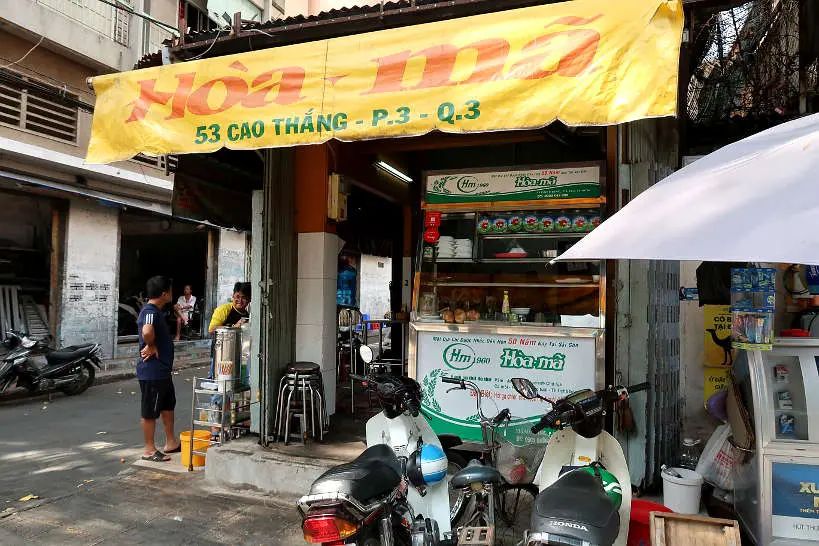 Address: 53 Cao Thắng, Phường 3, Quận 3, Ho Chi Minh, Vietnam
Hours: Open every day from 6:00 am to 11:00 am
Price: 52,000 VND (approx. $2.25)
Best Vietnamese Banh Mi Sandwich in Danang, Central Vietnam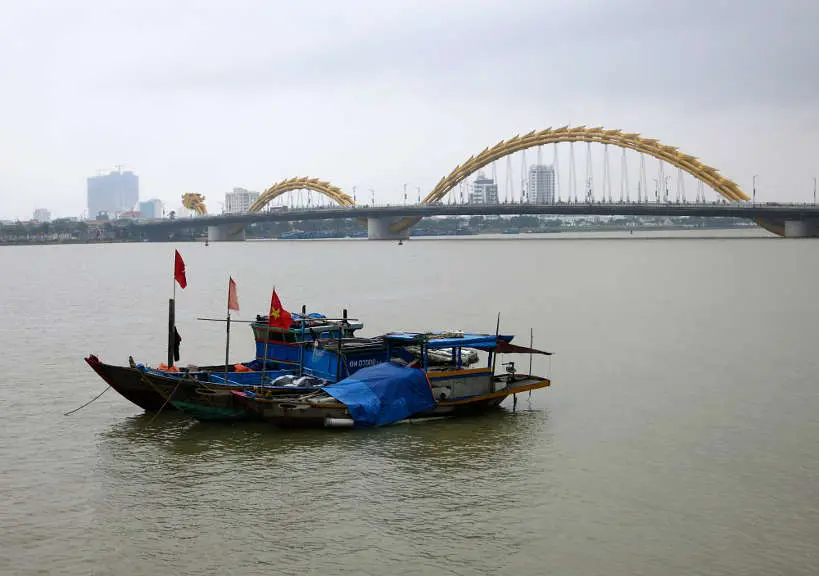 Danang in central Vietnam has a rich culinary history. We visited Da Nang several times, each time spending several weeks exploring the local food.
Not surprisingly, banh mi sandwiches feature prominently. The Vietnamese sandwiches are just as fresh and flavorful as they are in other parts of the country.
Like in Saigon, the banh mi sandwiches are meat-heavy. Whereas in Hoi An, which is also in central Vietnam, the sandwiches have more vegetables and are served with eggs.
Bánh Mì̀ Bà Lan – Best Banh Mi in Danang
Bánh Mì̀ Bà Lan is one of our favorite Danang banh mi local eateries. They are celebrated for making fresh banh mi sandwiches at the same spot for over 20 years.
An iconic street food in Danang, banh mi sandwiches can be found at street stalls, local bakeries and eateries.
At Banh Mi Ba Lan, expect to find a line at their busy street food cart. Simply wait patiently for the delightful banh mi Vietnam flavors.
Where To Eat The Best Local Banh Mi in DaNang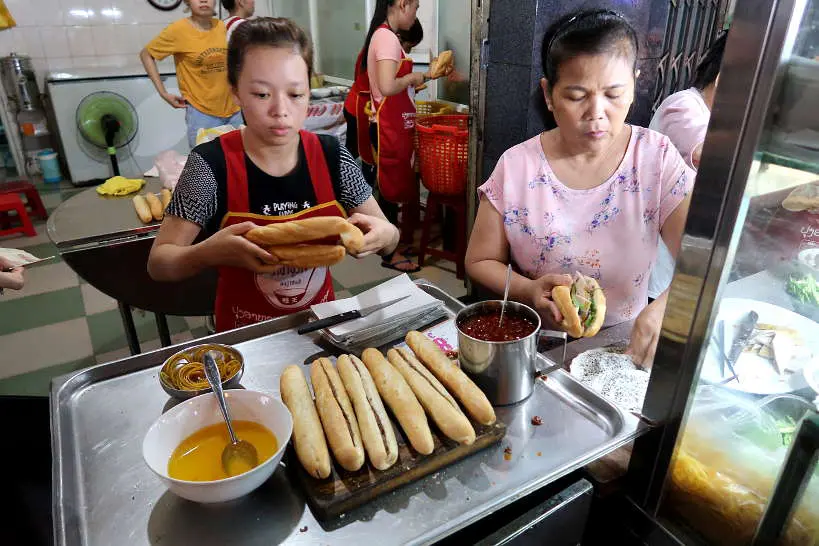 Address: 62 Trưng Nữ Vương, Hải Châu, Danang
Hours: Open everyday, 3:30 pm to 11:00 pm
Price: "Classic" for 20,000 VND with vegetables and pate and "Special" for 25,000 VND with more pate and pork (approx. $0.86 to $1.08)
Best Vietnamese Banh Mi in Hoi An, Central Vietnam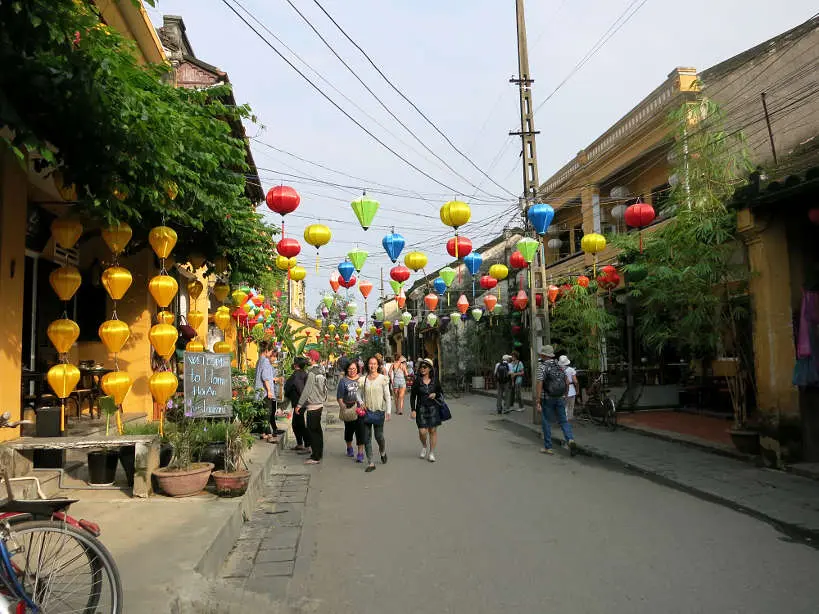 A UNESCO World Heritage site, Hoi An is an atmospheric old town with Chinese and Japanese influenced architecture. You will find famous Chinese temples, Japanese bridges, pagodas, ancient shop houses and old canals.
In addition to being a World Heritage site, it is also known for its local food specialities.
READ MORE: Guide To The Best Food in Hoi An & Authentic Restaurants
Bánh Mì Queen Hoi An – Our Favorite Banh Mi Sandwich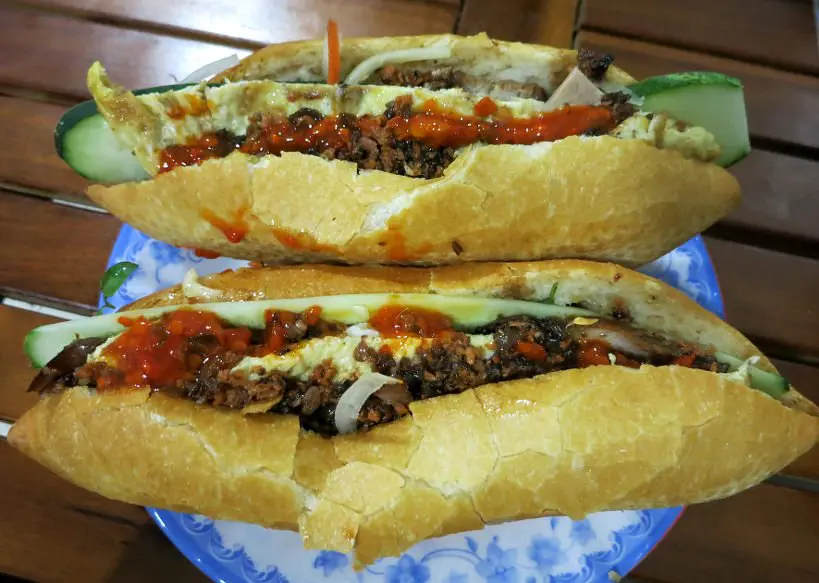 The first time we visited Hoi An, we arrived tired and hungry. When we asked our Airbnb host for a nearby banh mi spot, she recommended Madam Khanh, the Bánh Mì Queen.
At this point, we had no idea we were about to eat the best banh mi ever. We had been told Hoi An had some of the best banh mi sandwiches in Vietnam, and we were eager to find out for ourselves.
When we got to the stand, there was only one item on the menu – bánh mì. You can choose different types of filling, and we chose to go with "everything."
We were ushered into the very simple room in the back and waited patiently.
After a few minutes, the most beautiful sandwiches arrived. Even before our server would let us eat, she held onto the plate saying "photo", "photo."
You could tell that she had been trained to make sure only the best and most flattering pictures of the sandwich are taken.
She hung around the table for a few minutes watching us take photos. She left after only after we showed us the pictures we had taken.
Topped with an egg and the bread lightly toasted, this banh mi sandwich was divine.
In each bite was a wealth of textures and flavors. The spicy, salty, savory, sweet, and aromatic tastes keep you savoring for more.
We've been back several times and this is definitely our preferred banh mi sandwich in Vietnam.
Where To Eat The Best Banh Mi Hoi An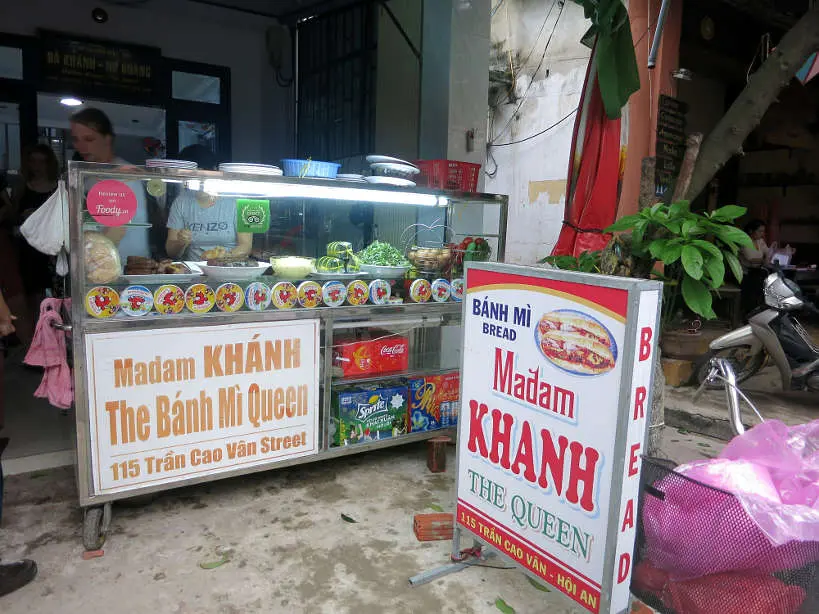 Address: 115 Trần Cao Vân, Sơn Phong, Tp. Hội An
Hours: Open everyday from 8:00 am to 8:30 pm
Prices: About 20,000 VND per person, with everything, (approximately $0.87 USD)
Bánh Mì Phượng, Hoi An – A Must Try Banh Mi Sandwich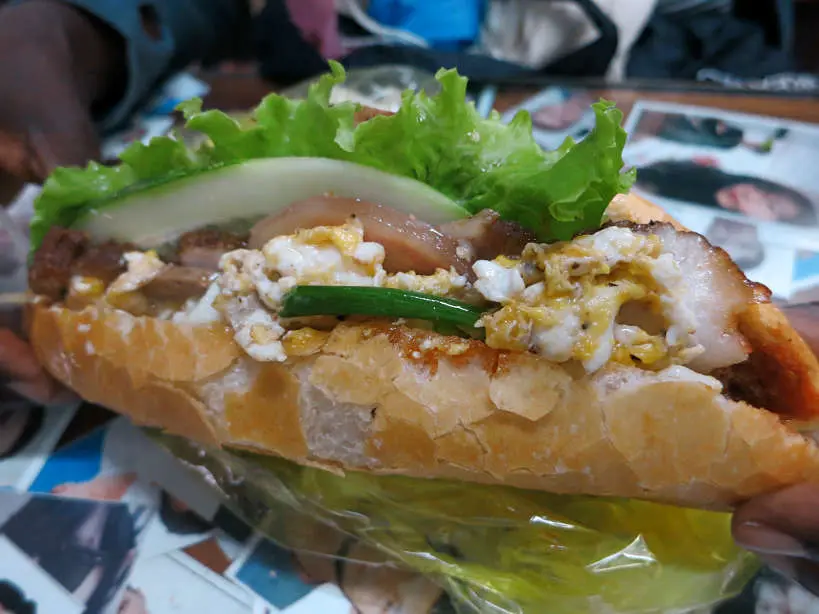 The other popular place in Hoi An for banh mi is Bánh Mì Phượng. This is the place that Anthony Bourdain visited when he described the banh mi "as a symphony in a sandwich."
We are always cautious about the quality of food at local places that receive celebrity endorsement. Our biggest concern is whether the place maintains its authenticity.
We went to Bánh Mì Phượng without any expectations. Not surprisingly, we were met by a long line of tourists waiting and others snapping photos in front of the endorsement by Anthony Bourdain.
Extensive Banh Mi Menu at Banh Mi Phuong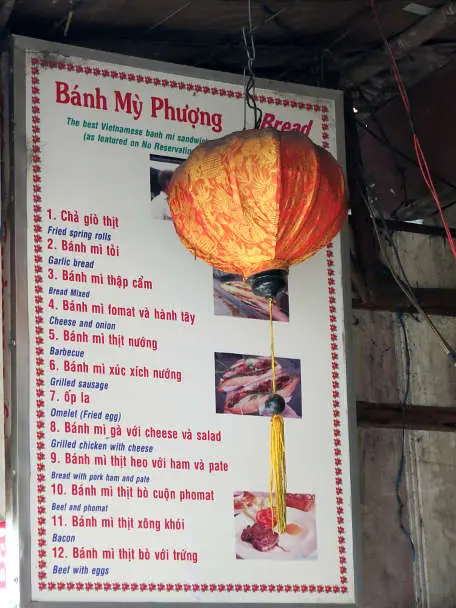 After patiently waiting we made it up to the busy counter. Several ladies were working frantically, preparing sandwiches "to-go" as well as for the restaurant.
For an equal comparison to the Queen of banh mi, we ordered two kinds of sandwiches. One banh mi with everything, including a fried egg. This was bánh mì thịt bò với trứng or #12 on the menu. The second was #9 with ham and paté, plus the addition of an egg.
The pace was rushed and the ambiance harried. After waiting patiently for our order, we sat at a corner table to savor this delicious Vietnamese sandwich.
Plump and overflowing with goodness is how the sandwiches arrived. We bit into them with eager anticipation.
The first thing we noticed right away was the delicious bread. Crispy on the outside and tender on the inside.
The sandwich was very fresh and filled with unique flavors and delicious herbs. One negative was fatty pork within the meat. While tasty, we also found one of the sauces to be too sweet.
All things considered, this Vietnam sandwich is an experience to be had in Hoi An. The best part is the bread which is baked fresh daily at the bakery next door.
Where To Eat Best Banh Mi Hoi An With Anthony Bourdain Endorsement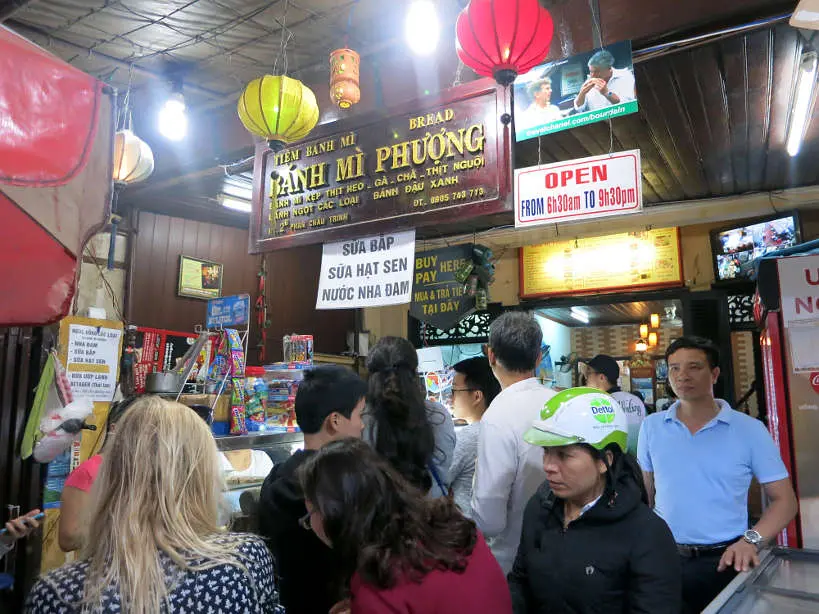 Address: 2B Phan Châu Trinh, Minh An, Tp. Hội An
Hours: Open everyday from 6:30 pm to 9:30 pm
Prices: About 20,000 VND – 25,000 VND per person, (approximately $0.87 USD – $1.10 USD)
Best Banh Mi Sandwich in Hanoi, Vietnam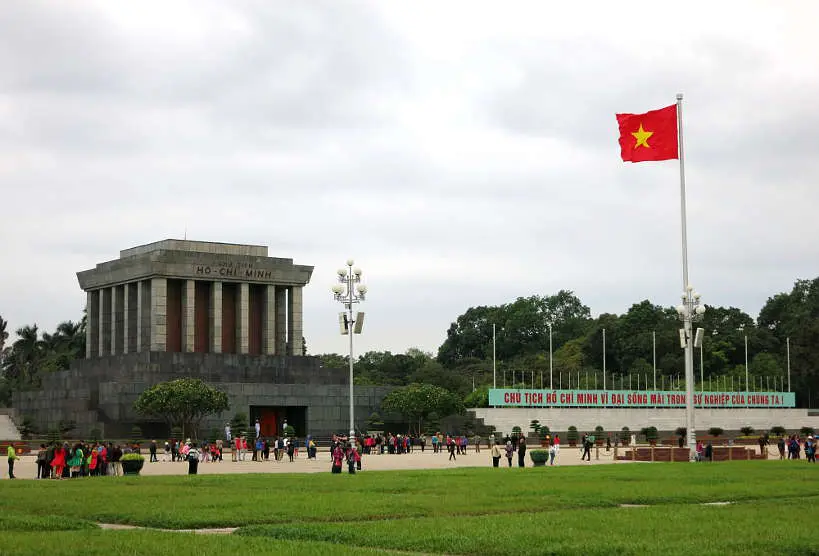 Hanoi, in northern Vietnam, is known for its unique local specialties. Pho soup is one of the most iconic Vietnamese food from the north.
Hanoi's proximity to China, the cooler climate, and abundance of seafood and fresh fish give the food a distinct identity.
Like the rest of Vietnam, banh mi sandwiches are also very popular and found on almost every street corner.
Banh Mì Ngon Best Local Banh Mi Sandwich in Hanoi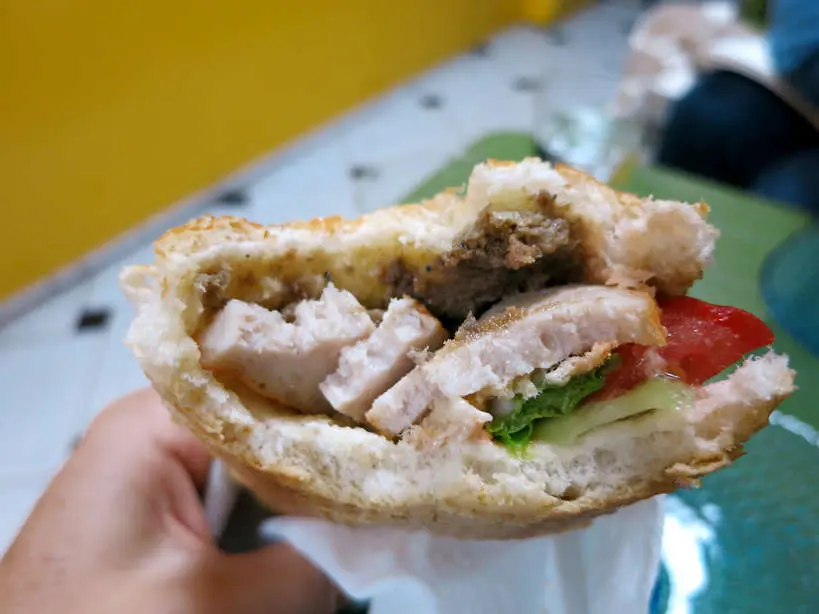 In Hanoi, we stumbled onto Bánh Mì Ngon where we had two freshly made banh mi sandwiches.
These sandwiches were filled with crispy herbs and vegetables, pate, a fried egg in a delightful homemade sauce.
The banh mi style in Hanoi is similar to those in central Vietnam. Filled with more vegetables and less meat as compared to Saigon banh mi.
These were the very first banh mi sandwiches we had in Vietnam and we enjoyed them tremendously.
Later, we discovered the Banh Mi Queen in Hoi An, and this became our favorite Vietnamese sandwich.
Where to Have The Best Banh Mi Hanoi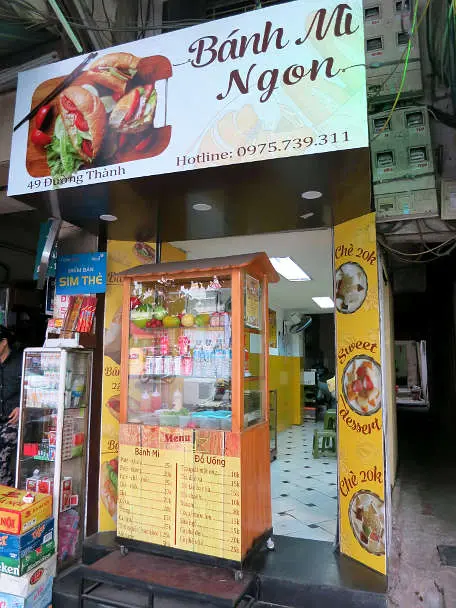 While there are many banh mi Vietnamese street vendors in Hanoi, we seek out local eateries that are off the beaten path.
For instance, we spotted one trendy kebab banh mi sandwich on the streets of Hanoi. This Vietnamese sandwich version is nothing close to the original banh mi Vietnamese sandwich.
Banh Mi Ngon, a small eatery on a busy street fit our criteria for local and authentic. In addition to the delightful banh mi experience the service was exceptional.
What made this experience special, was the owner of the place made us taste a local dessert which was pomelo slices topped with a mix of chili spices. A very nice and unexpected treat.
Address: 49 Đường Thành, Ha Noi
Hours: Open everyday from 8:00 am to 10:00 pm
Prices: About 15,000 VND to 25,000 VND (Approx. $0.66 USD to $1.10 USD)

In Summary
The banh mi sandwich is beloved in Vietnam. It is a quintessential French inspired Vietnamese street food that is delicious, filling and cheap.
In every part of Vietnam, vendors and local restaurants sell their own unique interpretation of the sandwich.
Whichever city you may be visiting in Vietnam, walk around and explore the street food in the local areas. And when you see a banh mi shop or vendor with a line of locals queuing, take your place in line.
Follow your nose and local recommendations and discover the nuances of this signature Vietnamese sandwich.
Within no time, you will discover for yourself why the Vietnamese banh mi is the best sandwich to fall in love with.
Have you had banh mi, the famous Vietnamese sandwich? Let us know in the comments below, where you had it and what you thought of it.
Savor The Adventure!
Love Banh Mi the Vietnamese Sandwich? Pin it!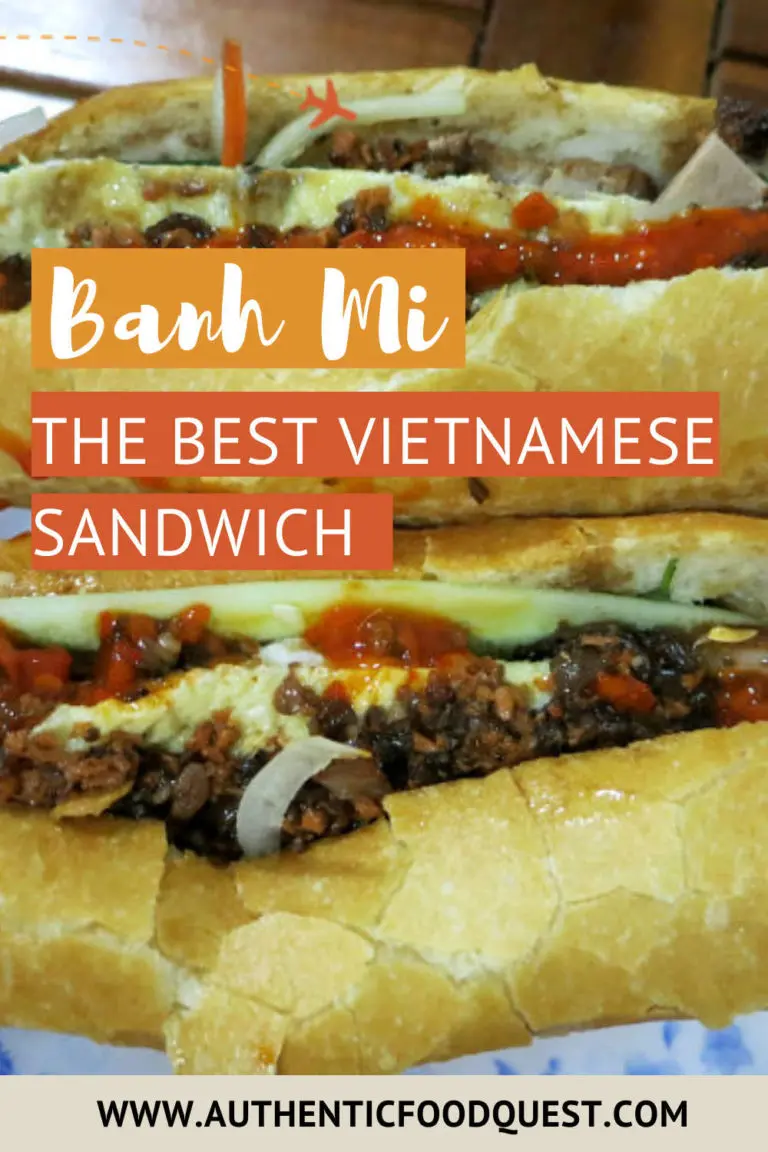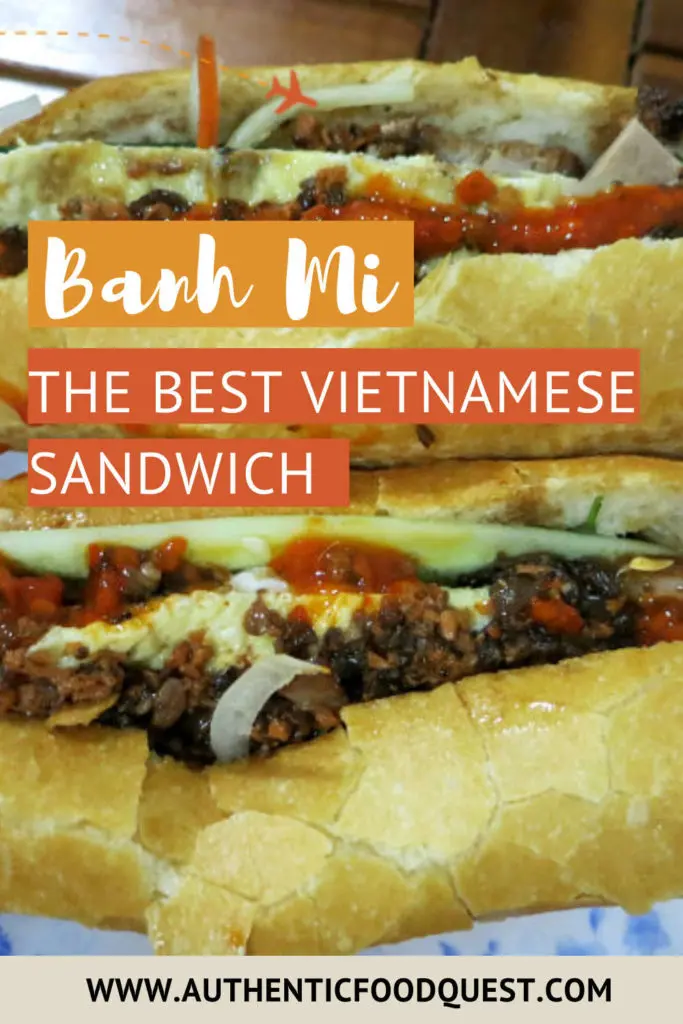 Rosemary is the editor-in-chief and strategist at Authentic Food Quest.
Traveling slow since 2015 with her partner, Claire, she has explored the cuisine in 45 countries and more than 240+ culinary cities.
Her writing about local food specialties has been featured in Lonely Planet, Business Insider, Honest Cooking, Food Insider, and Huffington Post.
As a food and travel writer, Rosemary has co-authored three books, including one in collaboration with Costa Brava Tourism.
Rosemary is an avid runner when she's not eating and exploring new destinations. She has run ten marathons and counting.
Before Authentic Food Quest, Rosemary held senior-level strategy positions in advertising. 
Find out more about Authentic Food Quest