Bariloche, one of the most attractive cities in Argentina and a popular holiday and outdoor destination, is located on the southwest part of the country close to the Chilean border.
Located on the shores of Nahuel Huapi Lake and the foothills of the Andes, it is a beautiful city with spectacular views and exquisite scenery.
Bariloche is also known as Argentina chocolate's capital.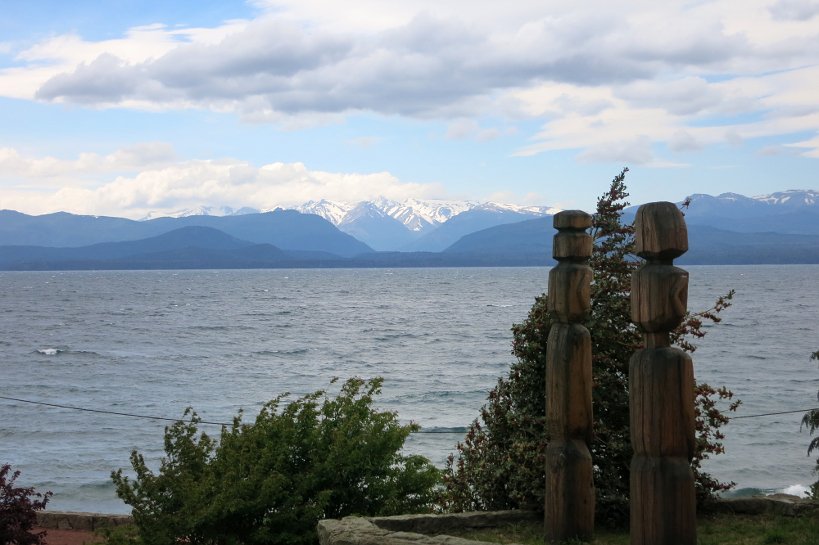 Before heading to Bariloche, we had heard a lot about the city and the varied cuisine, so naturally, it was high on our list for authentic food.
To get started on our authentic food quest, we indulged in one of the main classics: chocolates.
Bariloche sells itself as "Little Switzerland" based on the weather, architecture, chocolates, and Saint Bernard dogs (though we only saw 3 for tourist photos).
The European construction style uses Patagonian hardwood and stone, adopted from Switzerland is best demonstrated by the architectural style of the Civic Center, designed by architect Ernesto de Estrada.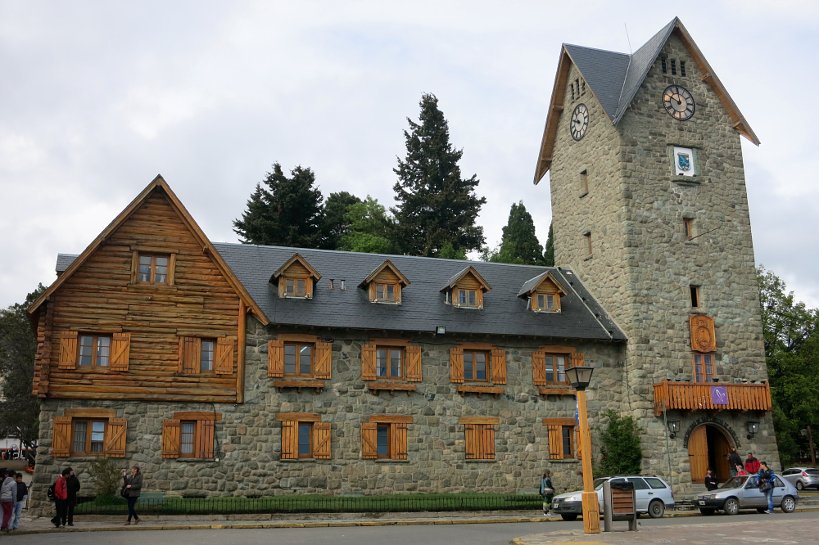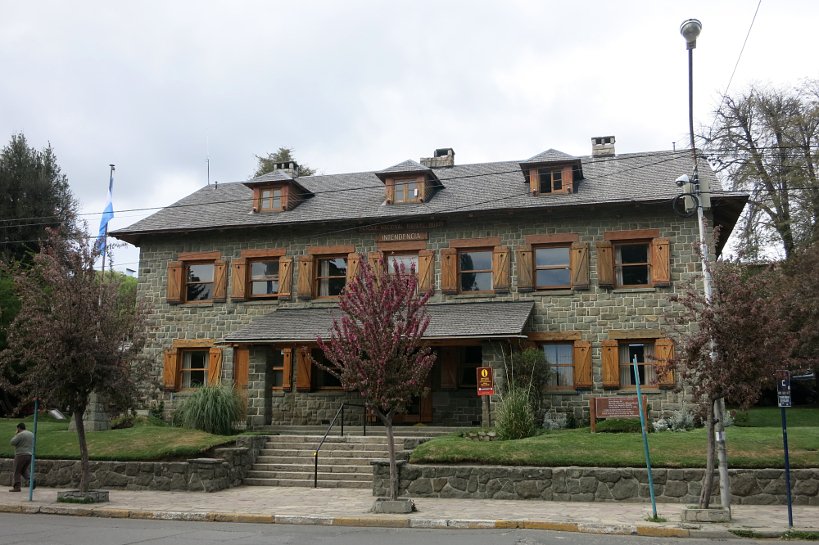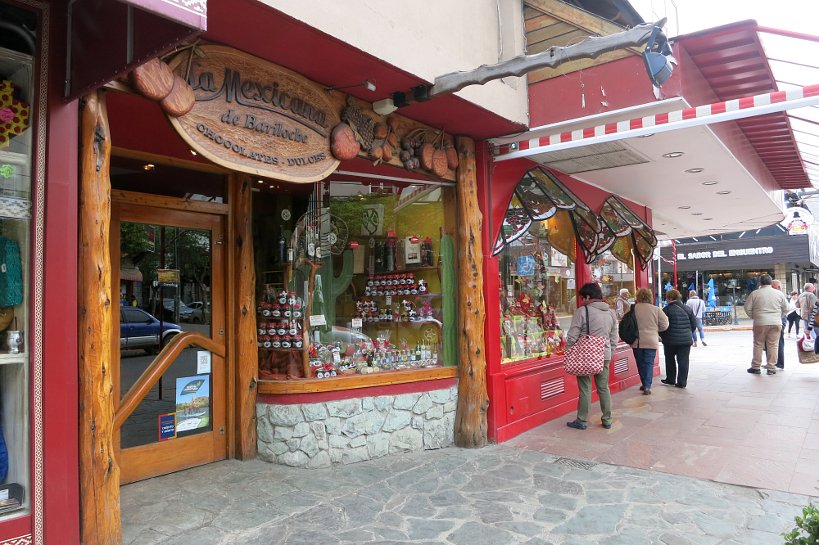 There is chocolate temptation everywhere you turn. We started our food quest with the goal of eating as much Argentina chocolate as possible. But once we saw the sheer number of stores and options available, we knew we had to narrow down quickly to avoid of the possibility of getting a "chocolate overdose."
One huge help in narrowing down was the fact that most stores give you samples for free, just for walking in. So, after sampling way too many bite-sized pieces, we focus on five options that should not be missed. Please note, we could not agree on a ranking order (more detailed tasting to be conducted again 🙂 ) but at least we agree on the recommendations below:
Mamushka
One of the most striking features of this store is the huge matryoshka nesting dolls (Russian dolls) display at the entrance and throughout the store. It dominates a prime corner of the street and is a busy and popular stop. It serves high quality chocolate and we enjoyed delicious milk chocolate balls that look like "Ferrero Rocher" chocolates. Mamushka is said to make the best chocolate in Bariloche and we cannot disagree that it is in our top three but not necessarily our first pick. However, delicious chocolate and definitively worth visiting.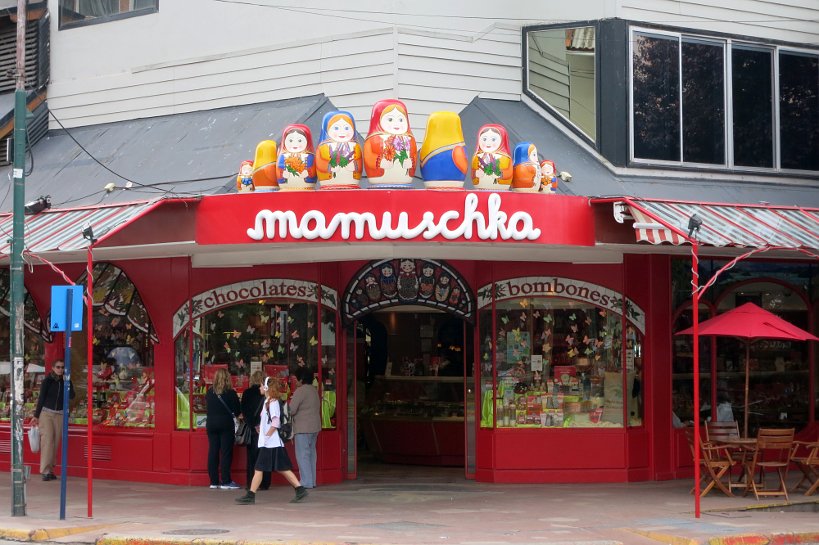 Abuela Goye
Abuela Goye is conveniently located in between Mamushka and Rapa Nui. It is one of the long-time chocolatiers in Bariloche. They claim to take a home-made and artisanal approach using ingredients from Patagonia. They have a focus on sustainability and on minimizing the environmental impact of their products.
We enjoyed tasting their full size samples and enjoyed milk chocolate with dulce de leche. We also had a chance to sample their chocolate helados (ice cream) which was very good with rich chocolate flavoring and minimal sugar. This one makes the top of our list!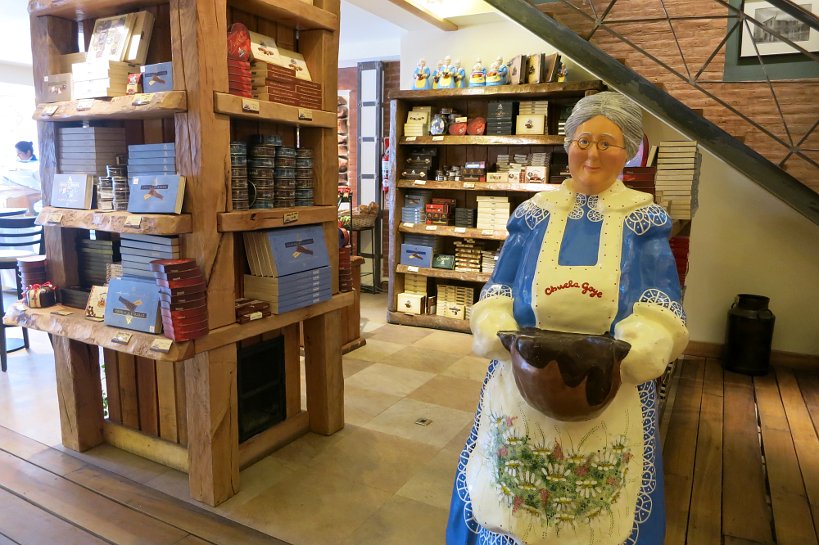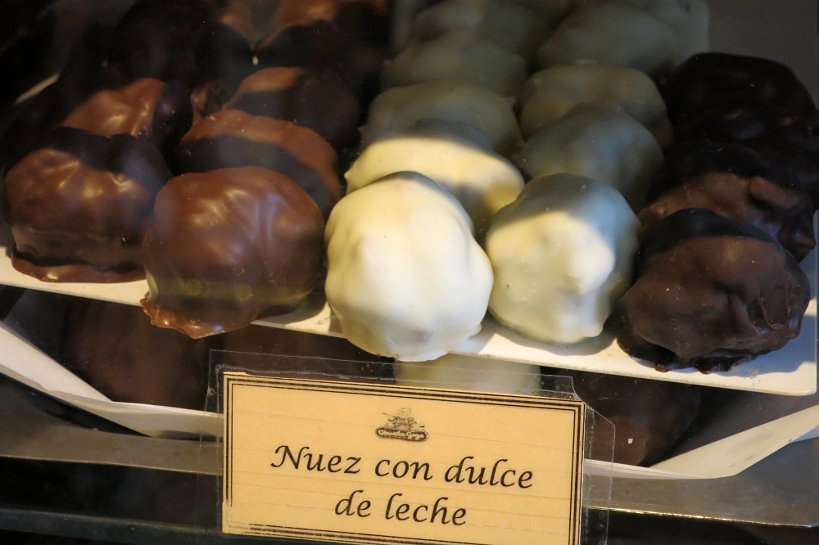 Rapa Nui
It is difficult not to miss Rapa Nui on Avenida Mitre with its large storefront and its beautiful chocolate fountain. Rapa Nui started as a family owned business by Diego Fenoglio the son of the pioneer of chocolate in Bariloche, Alfredo Fenoglio. It is a large store which also has sells ice-cream and tea.
We enjoyed a sample of milk chocolate with a peanut creamy paste in the middle. Not our favourite chocolate as peanuts are not high on our list. Although the actual chocolate was very good and of high quality. Worth checking out!!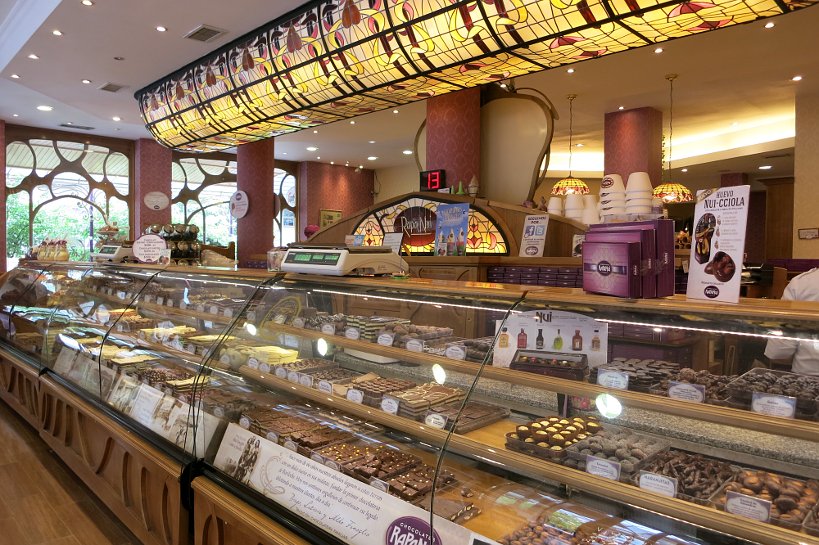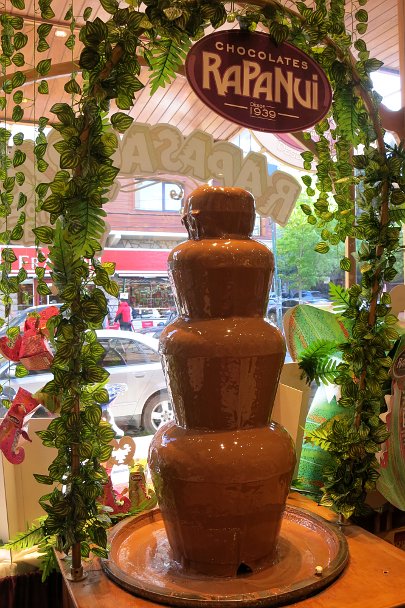 Torres
Walking into Torres, is walking into an artisanal family owned store. The stores (3 in Bariloche) are smaller and more intimate and offer a much more personalized experience. Here we had a chance not only to sample the chocolates, but to also learn about their chocolate hand-making process. Nothing is left to machines and each part of the process is tenderly handled. Here we tried the dark chocolate and found it creamy and soft. Rosemary liked the chocolate much more than Claire, but we both agree this should be on your list.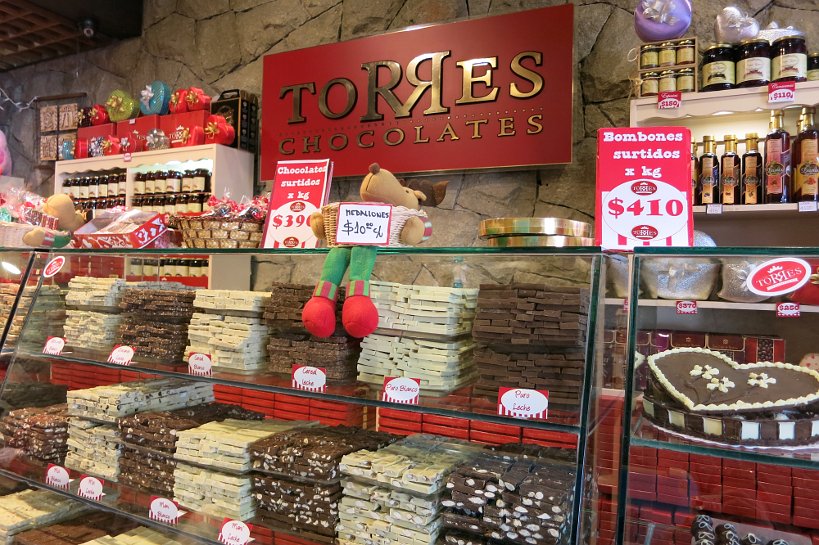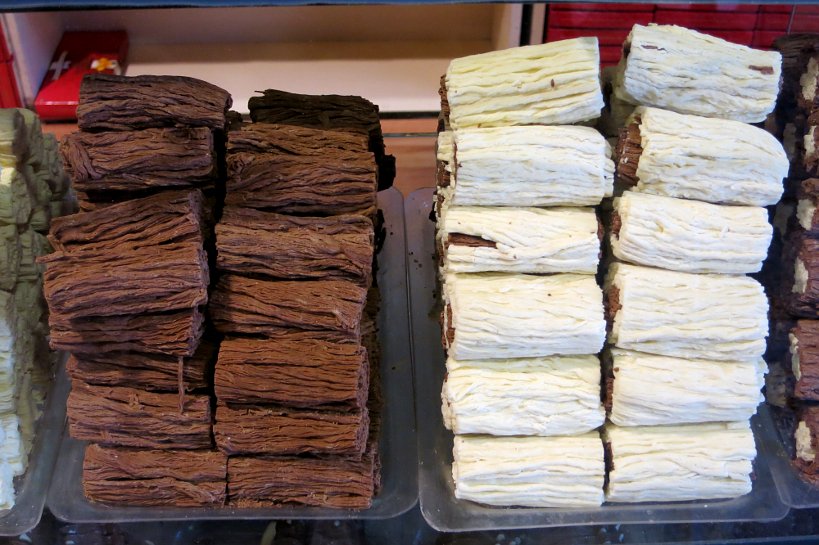 Chocolate Patagonico
Chocolate Patagonico has a smaller store on the Avenue of Chocolate Dreams. The chocolate sample they offered us was a milk chocolate with a milk cream chocolate paste in the middle. We found it a bit too sweet for our tastes but good enough to make it on this list. It is a nice change from the large bustling stores we've described above. Definitively worth a visit!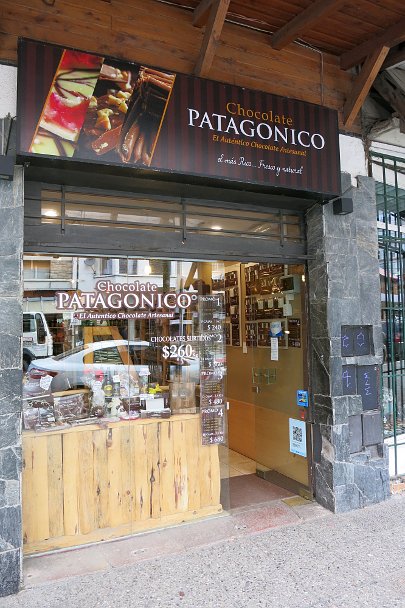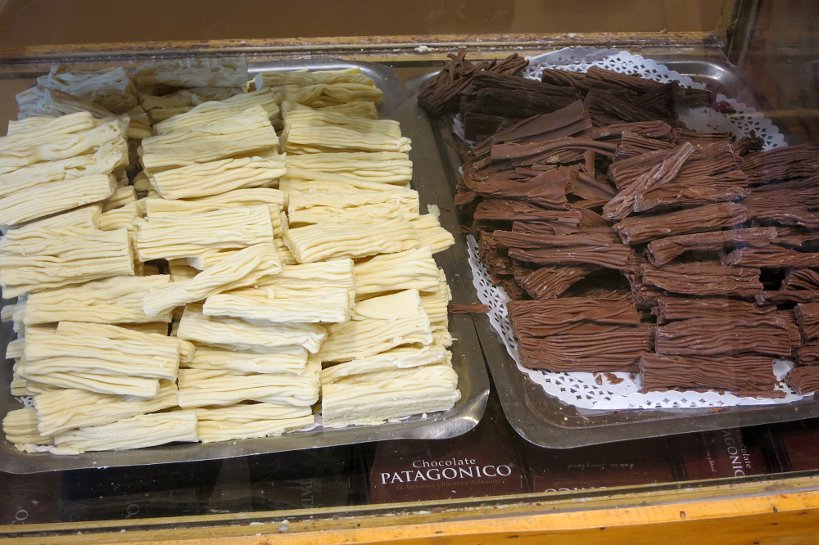 Chocolates del Turista
We cannot avoid mentioning Chocolates del Turista because they have several large and imposing stores in Bariloche (franchise owned). They have also been around for over 50 years. We walked into at least 3 of their locations and found them focused on tourists with different souvenir packages prepared for sale. We tasted the chocolate and their hot chocolate as well and found them good, but not great.
The reason we have Chocolates del Turista on this list is because their store on Avenida St. Martin has a production making process that is free and open to the public and you can see the creamy and delicious chocolate in the making. This alone is worth visiting.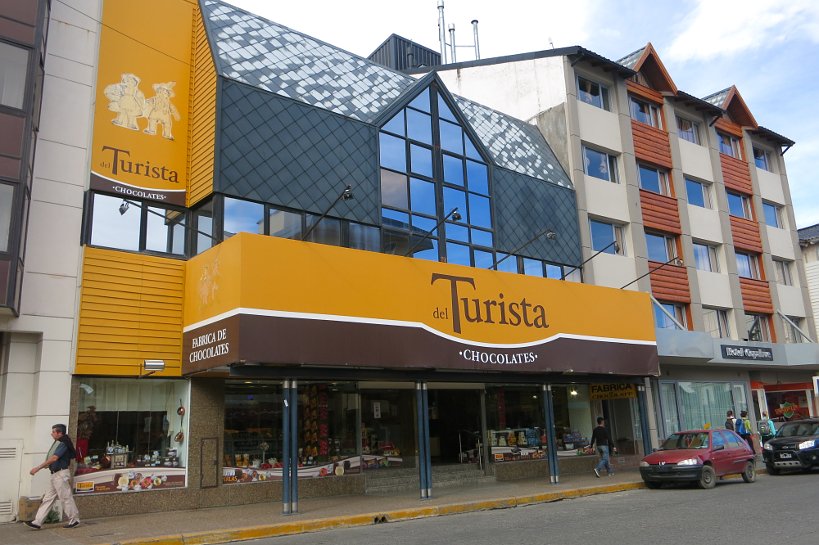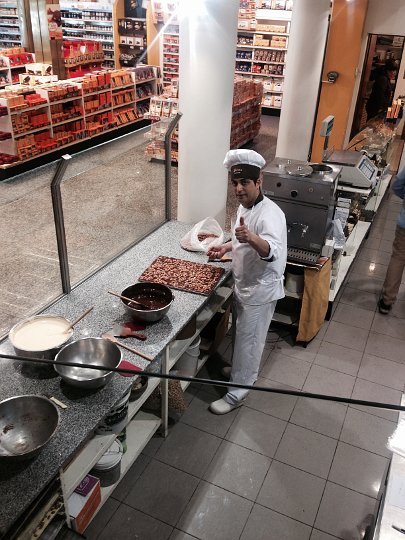 Museo Del Chocolate
To complement the visits to the Argentina chocolate store, we also paid a visit to the Museo del Chocolate, which is right at the exit of the city (about 2km from the Civic Center). It was formerly the Fenoglio Museo del Chocolate in tribute to the founders of Argentina chocolate in Bariloche and is today the Havanna Museo del Chocolate.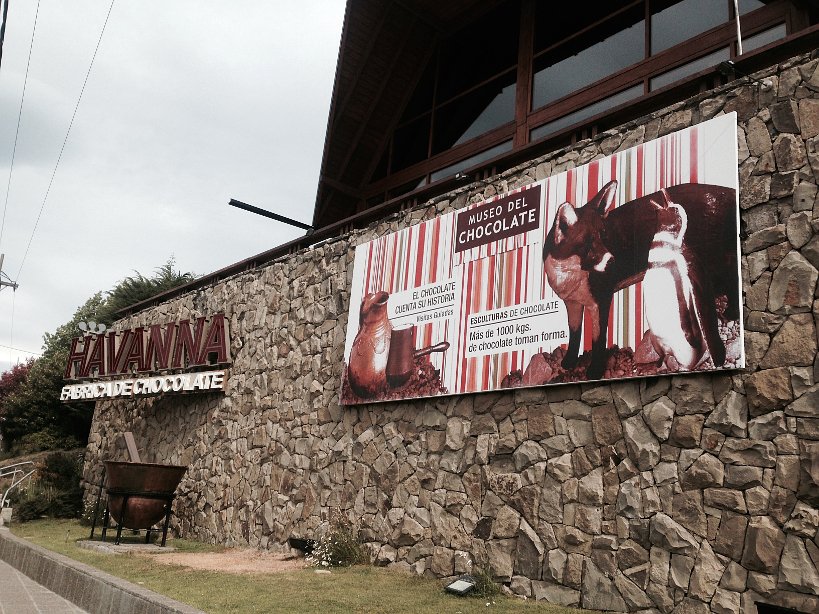 Our purpose for the visit was nice to get a broader perspective about the history of chocolate in Bariloche. There is a short video that talks about the origins of chocolate starting from Central America where it is native to the Mayans and Aztecs who were early users. While watching the video, we were served a cup of hot chocolate to enjoy while learning about its history. What a nice and surprising treat. The hot chocolate was also really yummy!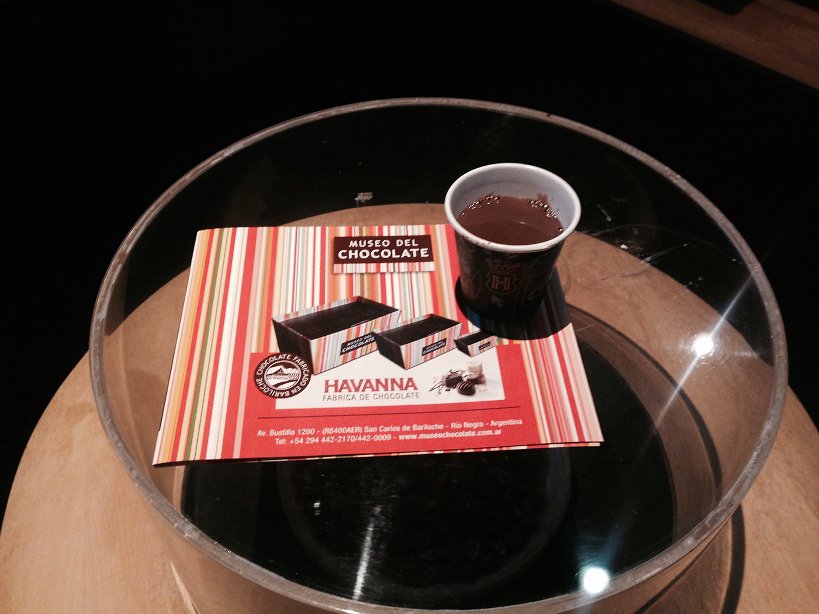 The first European to drink cocoa was the Spanish Conquistador Hernando Cortez. He exported chocolate to Spain in 1522 where it was also made into a drink. Portugal and France soon followed Spain in the import of cocoa and drinking chocolate became a popular luxury for royalty and the upper classes.
It was Swiss born Henry Nestle who discovered a way to mix chocolate liquor with milk by heating them both together into a powdered form. Rudolphe Lindt then added the cocoa fats back into the "milk-chocolate" to stabilize it at solid form. This is when chocolate became sold in bonbons and bars. Milton Hershey (American) came up with a similar technique at about the same time and shortly thereafter chocolate was being mass produced and available to all.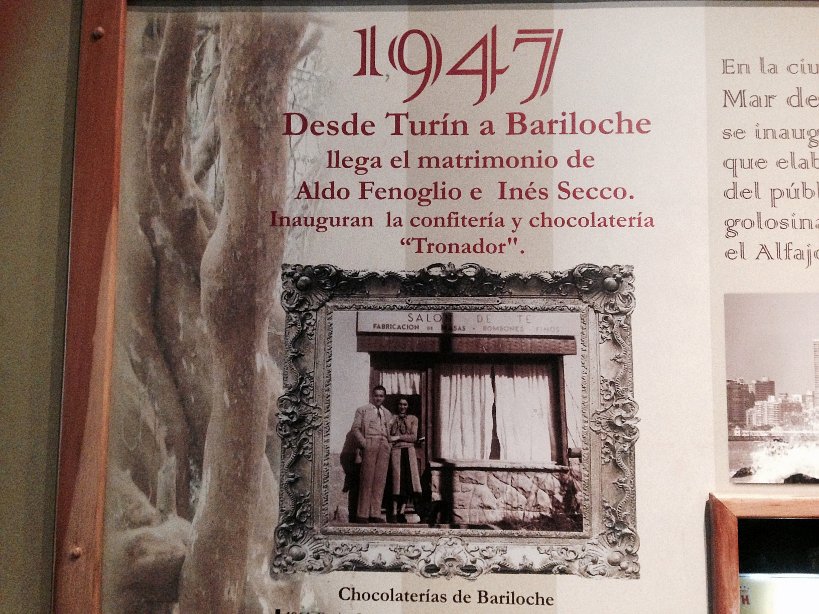 Argentina Chocolate
Bariloche's history with chocolate began after World War II when European immigrants moved to Bariloche looking for a better life in the 1940s. Bariloche is cold in the winters and some of the European immigrants started making hot chocolates and chocolates at home. This led to the popularity of Argentina chocolate which then spread throughout the area. Today, the cocoa beans used are sourced from Brazil.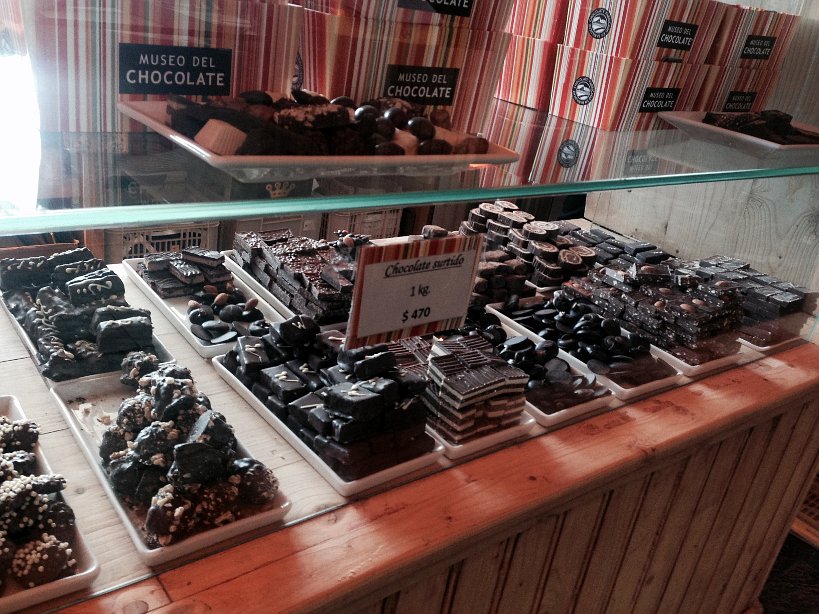 Chocolate Ice Cream – Helados Juaja
To finish off our chocolate tasting experience, we decided to check out how the chocolate compares when transformed into helados or ice cream. After doing intense internet research and looking at recommendations, we were pointed to Jauja, an artisanal helados store inspired by Patagonia. It is said to be one of the best in Bariloche and in Argentina overall.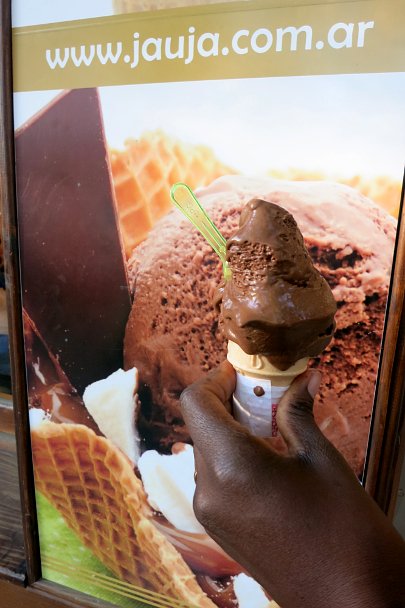 The selection of chocolate ice cream is substantial with at least 10 different types of chocolate ice-creams to choose from. Quite impressive! The server was great and told us that their ice cream is "special" because it is made daily with quality raw ingredients sourced from Patagonia. He let us try several chocolate flavors and we ended up choosing the "Chocolate Profundo" (deep chocolate) flavor. Absolutely to die for!
We've tasted ice cream at several helados throughout Argentina and in our opinion (more Rosemary's) this one ranks at the very top. The ice cream is not as sweet as some of the chocolate we tasted, and is good with a strong quality chocolate flavor. We definitively recommend stopping at this ice-cream store if you still have room for ice cream after indulging in all the chocolate…And it might be your best bet for tasty chocolate!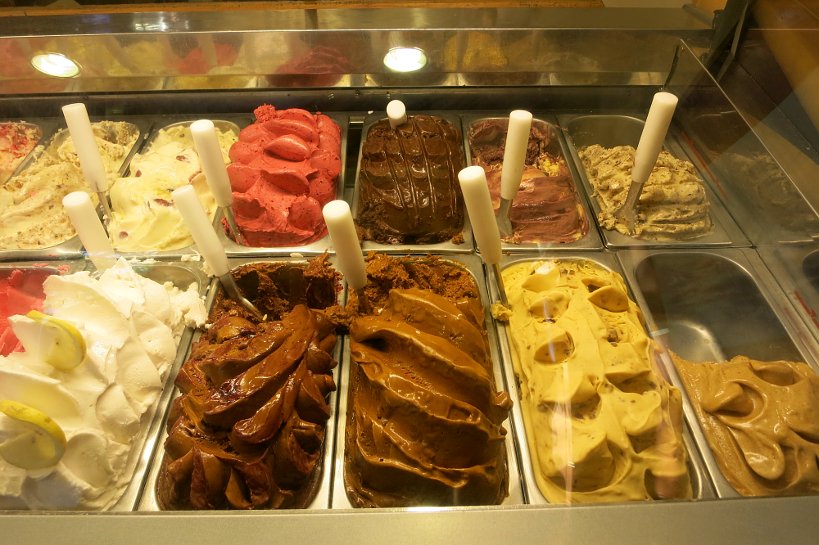 In Summary
Bariloche lives up to all the hype about it being "Little Switzerland" and its chocolate heritage. Chocoholics unite in Bariloche for the Chocolate Festival every Easter where a giant Easter egg (more than 8 meters high) is broken and shared with thousands of attendees. Other events including the making of a bar of chocolate and cereal over 100 meters in length, music, cultural events make this a popular and well-attended event.
For us, although we could not quite agree on our favorite chocolatiers, the one thing we can agree on (our humble opinion) is that the caliber of the Argentina chocolate in Bariloche is less superior than the chocolate we've had in Switzerland, France or Belgium. We say this for two main reasons.
1- The first reason is the high use of sugar. Most of the chocolate you will find in Bariloche is milk chocolate or white chocolate and very little dark chocolate. When we asked several storekeepers why there is so little "dark" chocolate, the consistent response we heard was that Argentines prefer the sweeter chocolates over dark. This did not surprise us as the preference for sugar and sweets is something we have also observed throughout our stay in Argentina. Also, when looking at the packaging of the chocolate, the first ingredient listed was often sugar, before cacao. We personally prefer deep, rich chocolate over sweet or sugary chocolate, which is why we prefer European chocolate.
2-Secondly, the presentation of the chocolate in Bariloche misses the exquisiteness that we find in Europe. Admittedly, this has nothing to do with taste, but when it comes to chocolate, presentation matters.
Overall, the chocolate in Bariloche is good and even better at the smaller, artisanal stores. It is certainly worth visiting Bariloche to get a taste for Argentina chocolate, but don't expect to be consistently blown away.
One good tip we would suggest is to skip dessert when you are in Bariloche, and head over to the different chocolate stores and pick up your treats!
If you've been to Bariloche, tell us what do you think of the Argentina chocolate in the comments below.
Savor The Adventure!
Claire, ex-engineer, is a digital nomad and content creator at Authentic Food Quest. Since 2015, with her partner, Rosemary, they travel the world in search of the best local food experiences. Their mission is to help you enjoy the best local specialties on your travels or via recipes in your home kitchen. Favorite country for food: Vietnam. Favorite local dish: Hainanese Chicken Rice.  Favorite way to keep fit: Cycling. Claire is responsible for the website and the fun food & travel videos on Youtube. She is also co-author of Authentic Food Quest Argentina and Authentic Food Quest Peru, available on Amazon.