Enjoying Uruguay beef and an asado or parilla (barbeque), from a top beef producing country, was high on our list and a priority when we got to Montevideo. We had experienced asados and parillas in Argentina and now wanted to see the Uruguayan touch to the asado savoir-faire.
Uruguay is one of the top 5 beef producing countries in the world and rivals Argentina in beef exportation. It is a country where the number of cattle actually outnumber the number of people almost 4 to 1 (population of about 3 million and about 12 million cattle). According to this BBC article Uruguay's world first in cattle farming, Uruguay is the only country in the world with a completely computerized traceability system, which means that consumers knows exactly where their meat comes from and how it was raised. In Uruguay, knowing where your meat actually comes from is a right!
Dining At A Top Uruguay Parrillas
Given the popularity of meat and widely available options or places to eat, we researched online and asked around for the best places to experience a parrilla (steakhouse) in Montevideo and all indicators led us to La Pulperia. La Pulperia is described as one of the the best parrillas, if not the best in Montevideo. It is not a fancy place but a simple restaurant with a simple menu, great service and unrivaled quality of meat. When we arrived we were able to get seated right away, though the place was buzzing and lots of people also ordering to-go. If you plan to go there, plan on getting there early.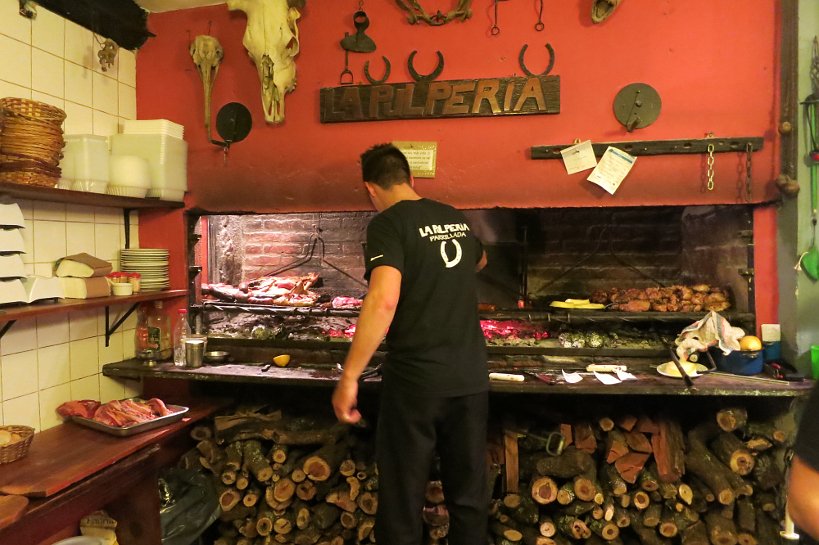 After pulling up our bar stools to a front and center view of the parrilla, we looked over the short dinner menu and ordered Pulpon (rump steak), an Asado (short ribs), which is most popular cut of meat, and a salty Morcilla Sausage (blood sausage) to compare it to the dulce (sweet) morcilla sausage we wrote about previously. This was accompanied with a side of homecut fries and a salad and washed down with a lovely bottle of local Uruguayan Tannat wine (Bodega Filgueira).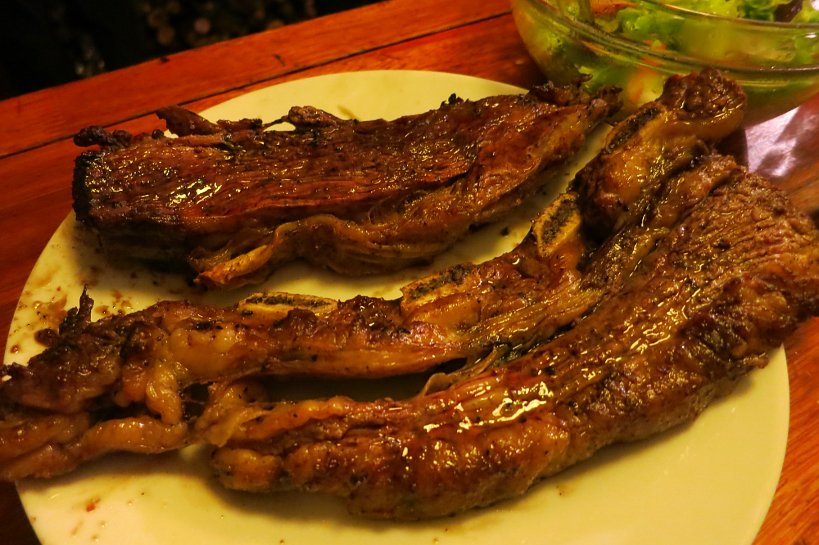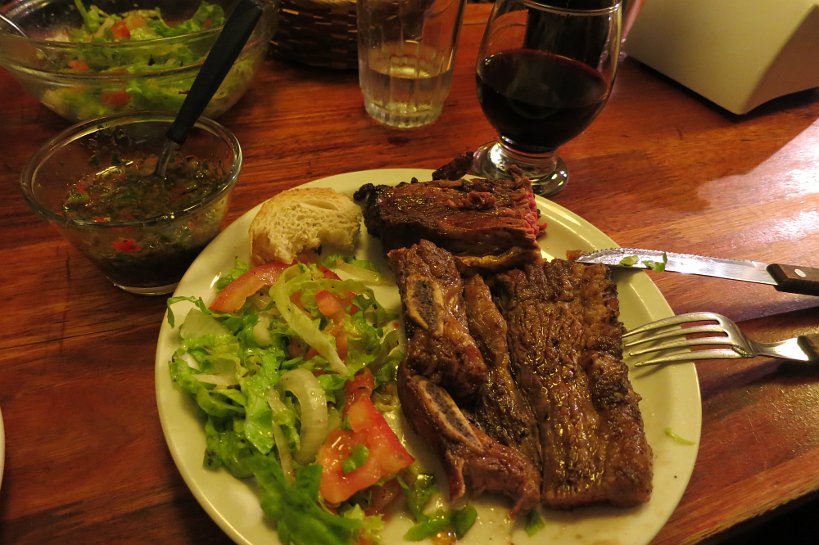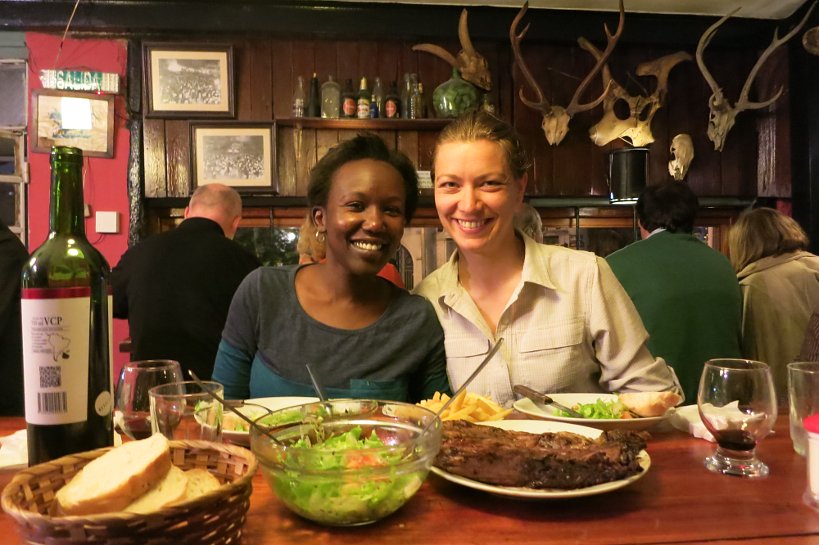 Echoing the reviews and what we had heard, the Uruguay beef was amazing. Both the Asado and Pulpon were tender and delicious. The Asado was a little fatty, but that was what made it melt in the mouth. The Pulpon was thick and juicy and to die for. Simply a great quality of beef cooked to perfection. The salty morcilla was a welcome change from the sweet one we had tried earlier at the Mercado del Puerto. This one was filled with onions, and was perhaps just a little too salty. Albeit, the meat was excellent as were the fries and salad. A great laid back place with attentive service to enjoy quality meat.

Reactions To The Link Of Meat And Cancer
The next day, after our delicious parrilla experience at La Pulperia, we wanted to understand how local Uruguayans were reacting to the recent report from the World Health Organization (WHO) International Agency For Research on Cancer, which concluded that processed meats are cancer causing and classified red meat as "as probably carcinogenic to humans."
Given the buzz and activity at La Pulperia the night before, it didn't seem like the locals were affected by the news. However, to get a deeper understanding, we decided to go to the place with the largest concentration of parrillas (steak houses) in Montevideo and get the opinions of those responsible for cooking the meat. So, late in the morning the next day, we went to the Mercado del Puerto, (the old port market) that houses about 13 bustling parrillas. We interviewed a couple of asadors (those responsible for the parrilla) as well as observed the general ambiance.
When we got to the Mercado, it was about lunch time and it was busy as ever. We had been to the Mercado the previous week, before the findings from WHO were released and it was just as busy. The energy was vibrant and fires were lit up, mixed grills featuring various cuts of beef, pork, chorizo, morcilla (blood sausage) and more, tempting and seducing lunch-time goers.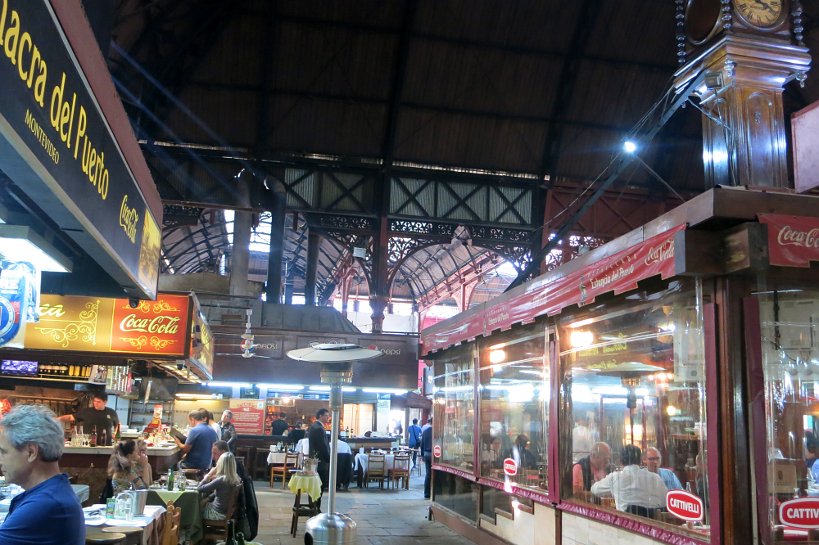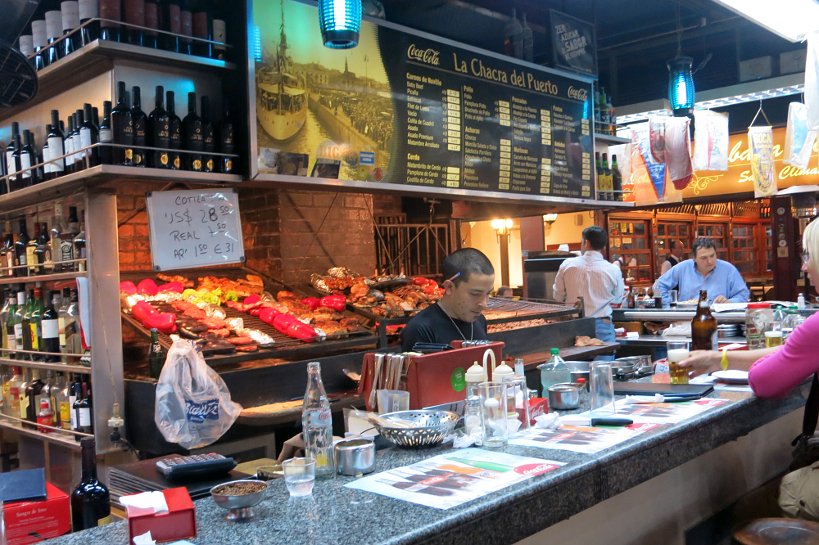 "Meat in Uruguay Is Free of Hormones"
Our first stop was "La Chacra Del Puerto" parilla, which was busy, with various cuts of meat sizzling on the fire.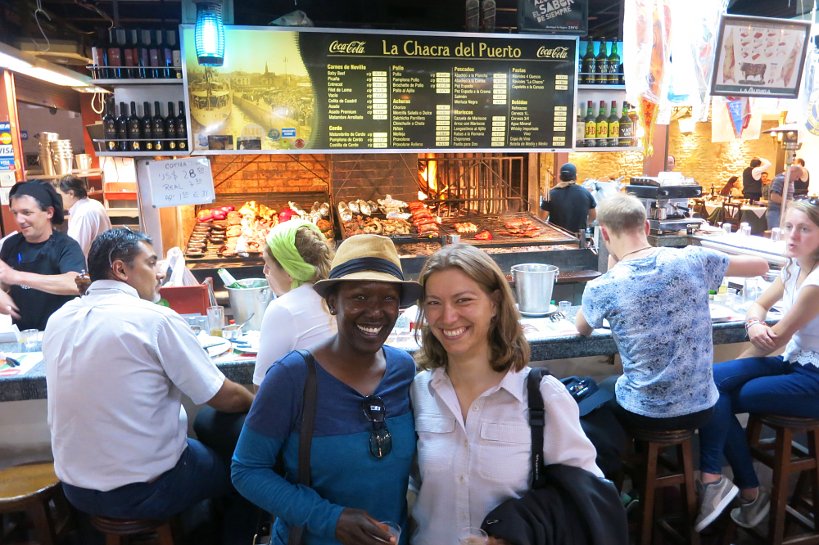 We had a chance to interview Renato, the parilla host, about the topic. From his point of view, the risk of cancer is due more to the processing of the meats, rather than the red meat. He went to explain that in Uruguay, the cows are raised naturally in the fields, they do not receive hormones and are free to eat naturally.
Perhaps, he added, that in the study was looking at cows in USA, which are raised in corrals and fed hormone rich foods and did not consider beef from countries such as Uruguay. He went on to share that in his opinion, the news was more political talk than actual reality.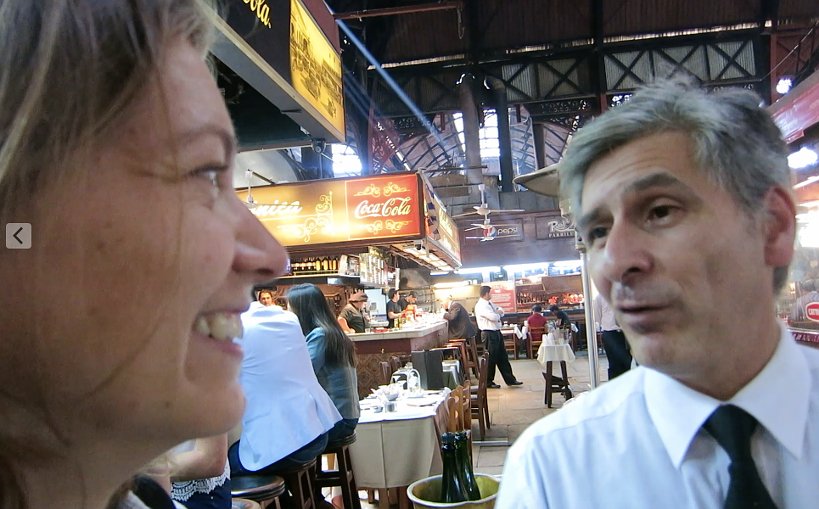 "We Had Beef Before, We Have Beef Today And We Will Have Beef Tomorrow. Why now is this a problem?"
At "La Maestranza", we could not have had a more passionate discussion with Pedro, who was tending the meat at his parrilla.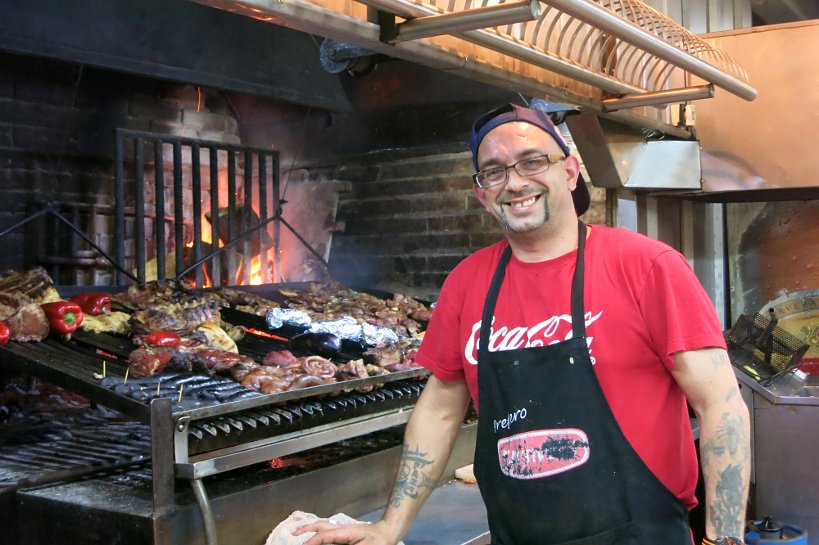 "All of this is bullshxxt. We've had meat before, we have meat today and we will have meat tomorrow. Why now is this a problem, he asked. If we takeaway meat, what will people eat he said? When we responded, vegetarian, he scoffed at the idea thinking of it as unimaginable.
Also, he added, what about chicken? We cook chicken the same way as the meat….we cook it on the parilla?. Why is it is not a carcinogen like the meat?
"Cancer Is From Smoking, Not Meat"
Our final conversation for the day was with Bruno at ROL2 Parrilla. More introspective and less animated as compared to Pedro, Bruno echoed many of the similar sentiments we had heard previously.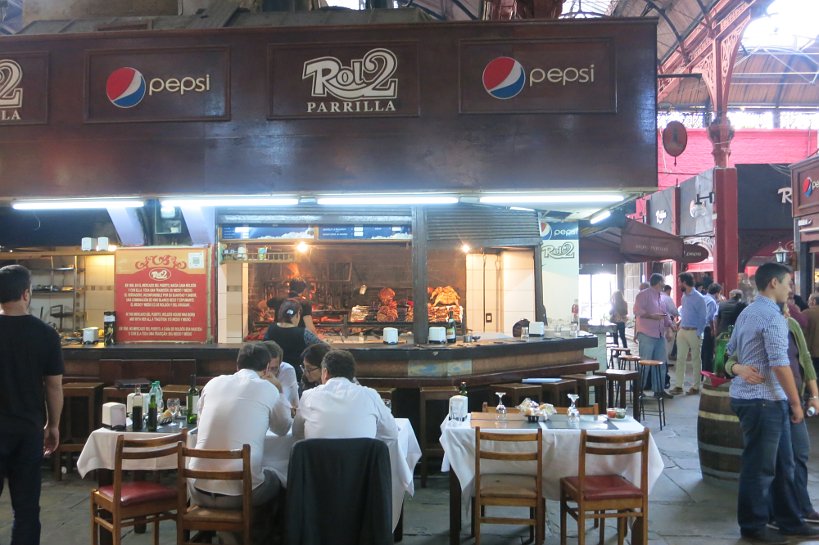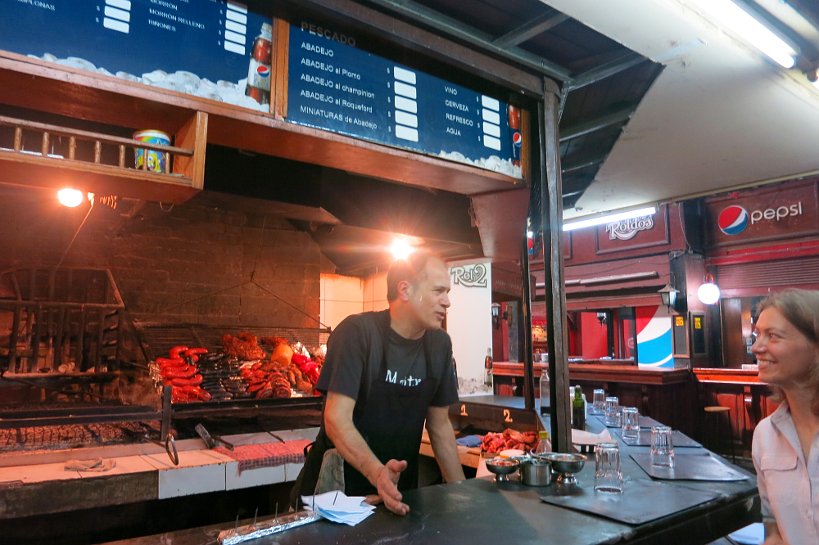 Bruno spoke about raising cattle in Uruguay and said that "the cows here are raised on natural pastures and not in corrals. Cows graze on open lands and do not eat processed food". He went on to describe the meat as "pretty good, natural and tasteful" because the cows are fed naturally and with no chemicals.
Cancer he says is "more from smoking. They have now legalized marijuana and shifted the conversation away from cigarettes and smoking (Uruguay became the first country in the world to legalize marijuana on December 10th 2013). Bruno went on to compare the different types of cancer saying that "cancer today comes from smoking and breast cancer is also significant, this has nothing to do with meat".

In Summary And Our Future With Meat
The conversation and debate about meat and its cancer causing properties is not new and has only just began again. Being in a region of the world where parrillas (barbeques) which are part of the culture and tradition are being challenged is very interesting to observe.
What is being questioned goes beyond the meat and touches the very fabric of what makes countries such as Uruguay powerful meat exporters and world renowned. None of the parrilla hosts that we spoke with thought their businesses would decline or shut down. They had heard (and survived) this debate before and were confident in the natural cattle raising process in Uruguay specifically.
This probably can be attributed to the traceability of red meat that the country as in place. When thinking about red meat specifically and the conclusions reached by WHO, one can't help but question how much of the grazing pastures and feed (hormone growth feed vs. natural feed) were taken into consideration. There are certainly benefits to be gained by consuming in moderation, but that really goes for anything.
More personally for us given that we are on a quest to experience authentic food, we will continue our travel adventures. We do eat meat, and will continue to enjoy a good juicy and tender slab of Uruguay beef occasionally as one source of protein in our diet. The one thing that has been reassuring is that the cows here are more likely to be grass fed than not. We will continue to try, taste and experience foods that are authentic to the regions that we are visiting. One of the things that is quickly becoming apparent is that food is really a way of connecting, of sharing and of coming together. Whether it is by having an asado or sharing mate, we must engage in the culture to better appreciate the unique specialties.

Curious by nature, Rosemary loves exploring new flavors and connecting with locals. She shares her insights and culinary finds from her travels to inspire people to connect local through food.