This article has links to products and services we recommend, which we may make a commission from.
What is your perfect American snack to enjoy at home or while hanging out with friends and family?
It all depends, right!
There is no one snack that's perfect for all. The mood and occasion dictates what you choose.
In this article, we showcase 10 of the most popular American snacks boxes from all over the country.
These are boxes of popular American snacks, American candies, sweets and much more.
Whatever you're craving, we've got you covered.
Find your best American snacks box to give as a gift or to enjoy at home.

American Snacks Box Comparison Table
1. American Classic Candy Box- Best American Snacks Box for Nostalgia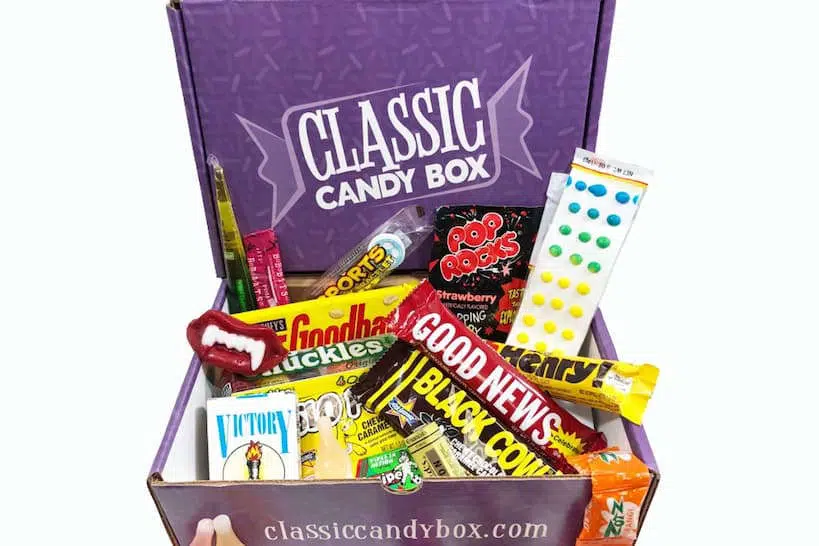 Tip: Best for Iconic and Nostalgic American Candies
Candy often stirs up memories from our childhood. There are certain types of candies that we remember and just love.
And, there are others from older generations to be discovered. This American Classic Candy Box takes you down memory lane with delicious American candies.
Remember, Rocky Road, Bit-O-Honey, Black Cow, Sugar Daddy, Juicy Fruit, Charms? Now, imagine receiving a monthly subscription box with hard to find iconic American candies.
This classic candy box includes a leaflet with all the snacks and the year they were made. Have fun revisiting old childhood snacks and discovering those your parents and grandparents enjoyed.
Find at least 25 pieces of candy, weighing 1 lbs- 1.5 lbs of hard candies, chewy candies and everything in between.
You can buy one box or get a monthly subscription for a low price. And, when it comes to snacks, few things can compare to American classics.
The selection in this American Classic Candy Box is sure to please anyone.
Pros
Great selection of hard to find American classic candies
Can purchase 1 box or 3, 6, 12 month subscription
Shipping free within the US
Cons
Costs associated with shipping worldwide
2. American Candy Mystery Box – Best For Mystery Lovers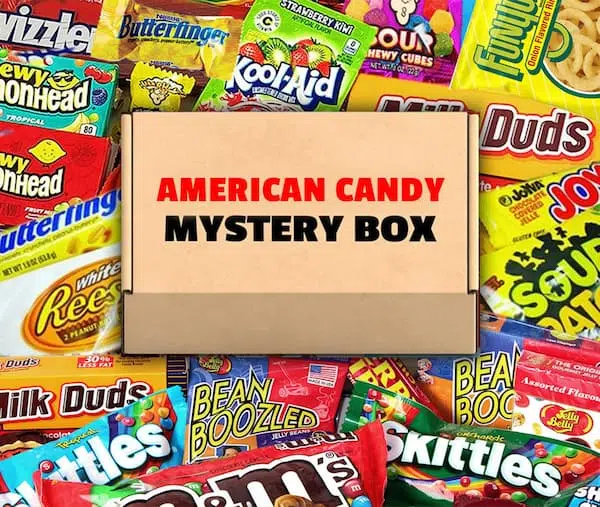 Tip: Best for Mystery Lovers
If you love surprises and are open to new tastes and textures, this American Candy Mystery Box is for you.
This American sweets box comes in three sizes. There is a mini box containing a total of 8 American snack.
A medium sized box with 12 unique candies and snacks is also available. And, for families or groups of friends, there is a big box with 18 different snacks and sweets to go around.
Within each box of American sweets is the mystery item. You never know what it is until you open your mystery box.
No matter what size of box you choose, you can expect American classic candies. Find various American flavors Reese's, Hershey's, Cheetos, Nerds and more.
This American candy mystery box makes a perfect gift for kids and adults alike.
Pros
Three different American snacks box options available
Varied selection of full-sized American snacks
Cons
3. Munchie Crate- Best American Snacks Box for Gifts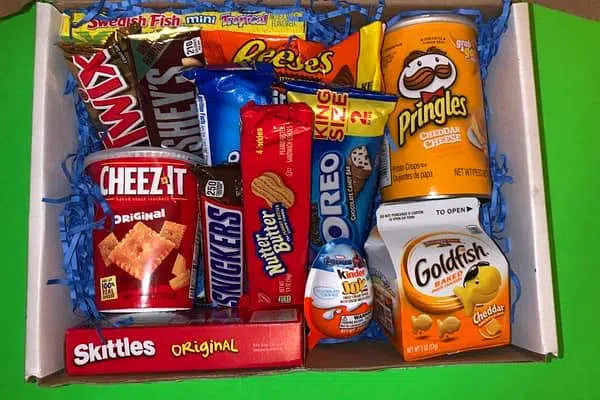 Tip: Best For Snackers
Do you know anyone who loves snacking? Or gets the munchies at night or, actually, any time of the day.
If that describes you or someone you know, then a MunchieCrate snacks box is perfect for you.
This box from MunchieCrate is filled with 20 or more popular American snacks.
Find several salty or sweet options, such as the delicious smoked potato chips, frosted cinnamon brownie bites – all packaged together in one box.
These American snacks will satisfy any cravings you may have.
You can buy the MunchieCrate either as one box or as a 3-month prepaid pack. This curated American snack box contains a different assortment of snacks each month.
So, if you're looking to show a little sweetness with familiar American snacks, this box will satisfy those who crave sugar or salt.
Pros
High-quality and famous American snacks
Great variety
Can easily order a single box
Cons
Snacks selected based on popularity, no option to choose
4. Patriotic Chocolate Pretzels – Best For Patriotic Celebrations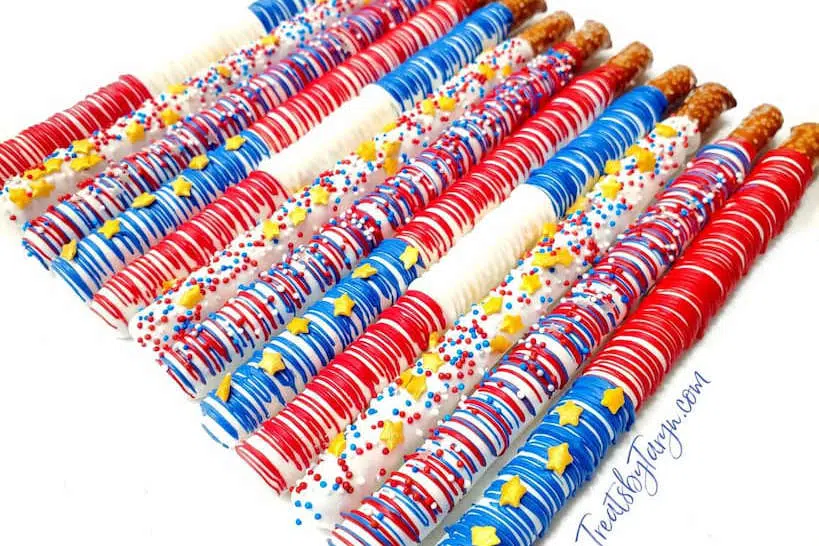 Tip: Best For Themed Celebrations and Parties
Colored in blue, white and red, these Patriotic Chocolate Pretzels beautifully reflect the American flag.
Gorgeously decorated, they are a sure hit on any holiday or themed party table.
While they are most popular around the 4th of July celebrations, you can order them any time of the year.
These chocolate pretzels come individually wrapped and they are a total of 12 delicious pretzels.
They are handmade and packed fresh, delivering a crunchy and delicious taste each time.
Just be sure someone is home to receive the package avoid it sitting out in the sun.
These beautiful patriotic chocolate pretzels are great for 4th of July snacks or any American festivity.
Pros:
Unique patriotic design
Quality American snacks
Handmade after placing order
Cons:
Shipping via FedEx to ensure fresh delivery, though costly
5. The Crave Box – Best American Snacks Box for Groups
Tip: Best for College, Office, Hospitals, Military, etc
For iconic American snacks that groups will appreciate, the Crave Box has an amazing selection of treats for all.
This box is filled with 45 different snacks, including sweet, savory and healthy snacks. With famous American snacks like Chex crackers, rice krispies, granola bars, Oreos, twizzlers and more, it's perfect for groups with different tastes.
Whether it's for office meetings, schools, universities, churches or any type of celebration, the variety of snacks will please adults and children alike.
Handmade in the US, all the snacks are carefully curated and individually wrapped. This is the ultimate variety gift box and one of the best American snacks boxes for groups.
Pros
Good price
Large variety of snacks included
Individually wrapped snacks which is great for groups
Cons
6. Chocolate American Flags Lollipops – Best Snacks For Themed Celebrations and Parties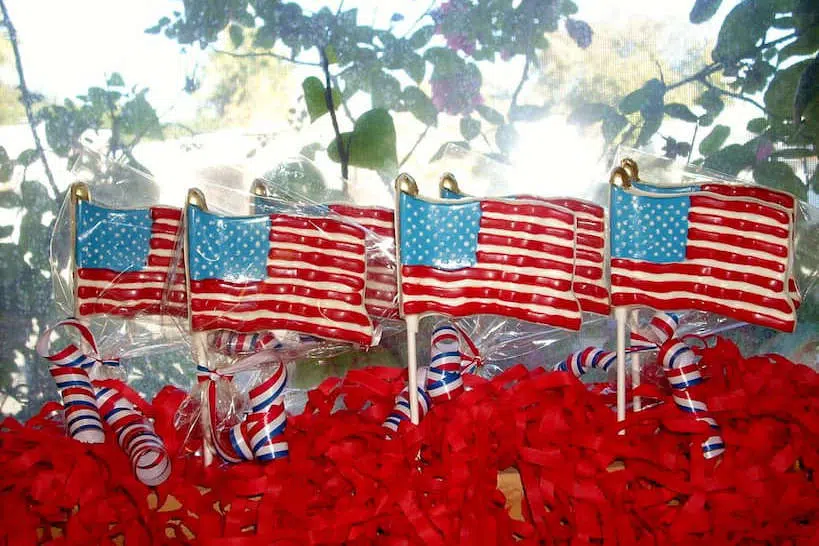 Tip: Best For 4th of July Celebrations
Whether it's a patriotic holiday or a USA themed party, these chocolate American flag lollipops will excite the crowd.
These American snacks are handmade to order and are shipped in packages of 10 lollipops each.
They contain white chocolate, dark chocolate and a sprinkle of decorating powder for sparkle.
Ensuring your package arrives safely is a key focus. Frozen gel packs are used within the shipping boxes to protect and ensure the lollipops do not break during shipping.
These American flag lollipops are delicious and make the perfect gift for American themed events.
Pros
Handmade to order
Free shipping within the United States
Cons
Shipping available only in the United States
7. Snack Chest – Best For American Cookies, Chips, and Candies
Tip: Ultimate Cookies, Chips & Candies
Neatly packed in a Snack Chest box, this hefty package contains up to 50 cookies, chips and candies.
The assortment of snacks are mostly fun-sized treats making it easy to grab and enjoy on the go.
The selection of snacks is surprisingly quite varied. From chocolates, candies, chewy bars, hard candies, chips and more, this is a tasty box for variety lovers.
This box is available as a one time purchase and can brighten the day of both the sender and receiver.
If you're looking to send joy to a loved one, this box gives them an incredible variety of snacks to think of you often.
Pros
Great variety of snacks in every box
High-quality, recognizable American snack brands
Cons
8. Best All Natural American Snacks- Best for Healthy Lifestyle
Tip: Best for Healthy Snacking
For those with healthy lifestyles who still want all-natural snacks, this healthy snacks care package is for you.
For a simple gift or to add variety to traditional snacks, find healthy nuts, bars, and fruit flavored candies.
This assortment of about 20 healthy snacks offers guilt-free options of popular snack brands. And, the flavor variety of snacks ranges from sweet, salty and savory.
Many of the tempting snacks come in sensible sizes allowing you to indulge without eating too much.
Each healthy snacks package contains one free surprise snack, so there is always something new to discover.
You can buy just one healthy snacks box to try out for yourself or give as a gift.
Pros
Hand selected healthy snacks in each package
Wide assortment of healthy snacks
Cons
Cannot customize snacks for specific dietary requirements
9. Men's Hearty Snack Box – Best American Snacks For Men
Tip: Snacks Any Man will Love
This is the ultimate care package for the modern man. This hearty snack box with more than 50 American snacks has exciting flavors for all taste buds.
Filled with great tasting snacks that are specially curated is the perfect way to send love in a box. Whether it is for a son in college or for a special occasion, this Men's snack box with the best American snacks will delight.
The assortment of snacks includes granola bars, sweet treats, chips, popcorn, jerky, nuts and much more. It's the perfect mix of salty sweet with wonderful textures.
One of the best things about this American snacks box is that it is a one time purchase with no subscription service required.
Simply bundle up your love with this Men's hearty snack box and send happiness and joy.
Pros
Top-notch presentation
50 high-quality snacks from excellent American brands
Full-size foods and snacks
Cons
Cannot choose your own snacks
Which one of these is your favorite American snacks box? Please let us know in the comments below.
Savor the Adventure!
Rosemary is the editor-in-chief and strategist at Authentic Food Quest.
Traveling slow since 2015 with her partner, Claire, she has explored the cuisine in 45 countries and more than 240+ culinary cities.
Her writing about local food specialties has been featured in Lonely Planet, Business Insider, Honest Cooking, Food Insider, and Huffington Post.
As a food and travel writer, Rosemary has co-authored three books, including one in collaboration with Costa Brava Tourism.
Rosemary is an avid runner when she's not eating and exploring new destinations. She has run ten marathons and counting.
Before Authentic Food Quest, Rosemary held senior-level strategy positions in advertising. 
Find out more about Authentic Food Quest