Sunny Lisbon is the perfect place to visit all year round offering almost 300 sunny days every year.
Finding the best area to stay in Lisbon can be quite daunting in Portugal's capital and largest city.
Lisbon can be easily navigated by foot and using public transportation.
For the most part, the city is relatively safe, especially in the popular and touristic areas.
Each barrio or neighborhood has its own unique character and charm. And in each barrio, you'll find amazing local establishments serving the very best Portuguese specialties.
To help you get the most out of your trip, we've prepared this guide with the best areas to stay in Lisbon for food lovers.

Finding the Best Area to Stay in Lisbon for Food Lovers
Lisbon has a compact city center where you'll find most of the main attractions. Baixa and Chiado are two neighborhoods in the city center to consider.
For alternatives areas outside the center and still very close to the core, check Bairro Alto, known for having a great nightlife.
For a trendy and artsy neighborhood with a nice organic market, Principe Real is the best area to stay in Lisbon.
If you want to stay and live like a local in Lisbon, Campo de Ourique will suit you best.
Finally, Graca and Penha de Franca embody the old Lisbon with hilly and quirky streets and steep staircases. This is one of the best area to stay in Lisbon for renting apartments at affordable rates.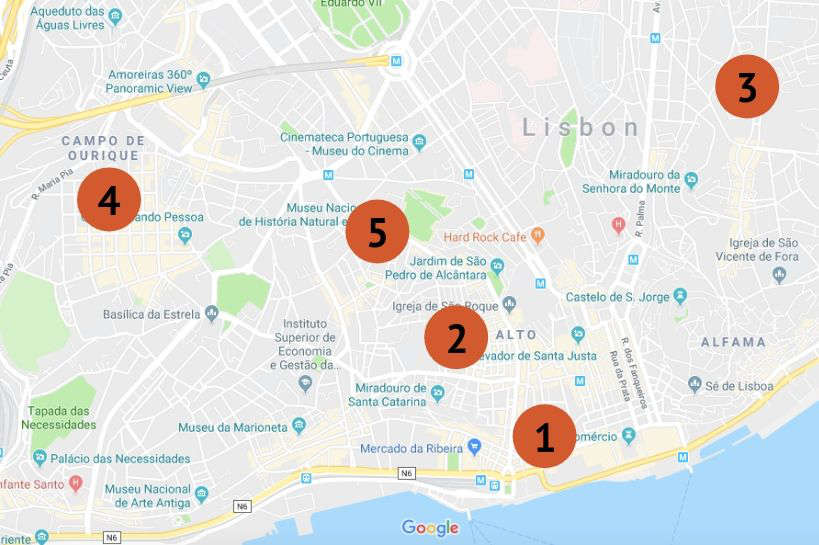 Authentic Food Quest Tip: To explore the city and make the most of your visit to Lisbon, we recommend getting a Lisboa Card. It is an official city pass that offers many benefits and discounts on transportation, museums and cultural sites in Lisbon and the surrounding region.
1- Baixa and Chiado
Baixa and Chiado are the most well known areas in Lisbon to visit. These neighborhoods are centrally located and close to many sites and attractions.
Notably in Baixa, you will find the Elevador de Santa Justa, an iron built elevator connecting the lower streets to the higher part of Lisbon.
You will also find the main plazas Praça do Comércio and Rossio.
Visiting Chiado means giving yourself the option of indulging in some of the best food, no matter the time of day.
At coffee and pastry shops, you'll find local treats including the famous s pasteis de nata almost any time of the day.
Don't miss Manteigeria, considered by some as the best shop for Pasteis de Nata in Portugal.
You will also find gourmet restaurants in Baixa and Chiado such as Cantinho do Avillez, one of the most famous restaurants by the Portuguese top chef.
If you prefer to sample diverse local foods and taste meals from local and prestigious Portuguese restaurants, go to Mercado da Ribeira.
Also known as the Time Out Market, this spacious market with numerous options will keep you coming back every day of your Lisbon trip.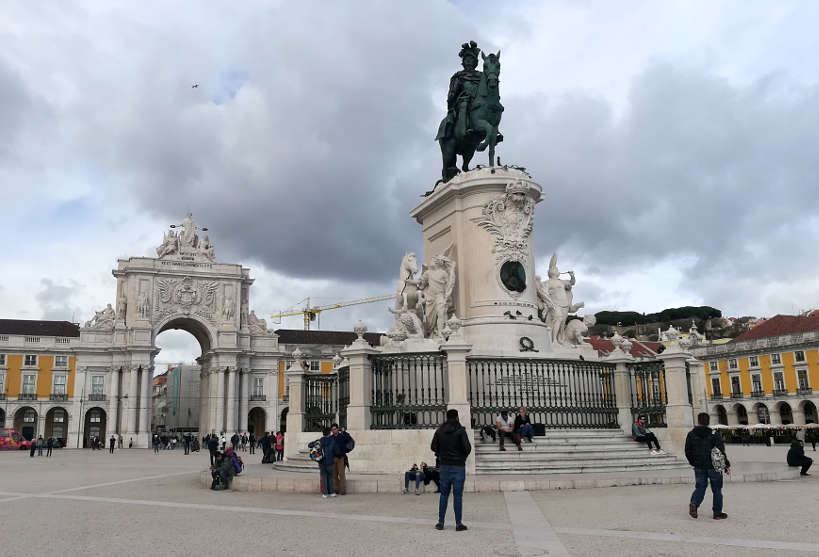 2- Bairro Alto
Bairro Alto is known as the upper town of Lisbon. With its hilly streets and narrow stairs, it is a great place to try one of Lisbon funiculars.
It is also one of the liveliest neighborhoods at night. Many locals and tourists alike come here to listen to traditional Portuguese Fado music at night.
The streets are filled with restaurant terraces in a neighborhood that's mostly reserved for pedestrians.
During the day, you can go shopping at the local boutique shops.
With the lively nightlife, you will find endless fun and entertainment at all hours.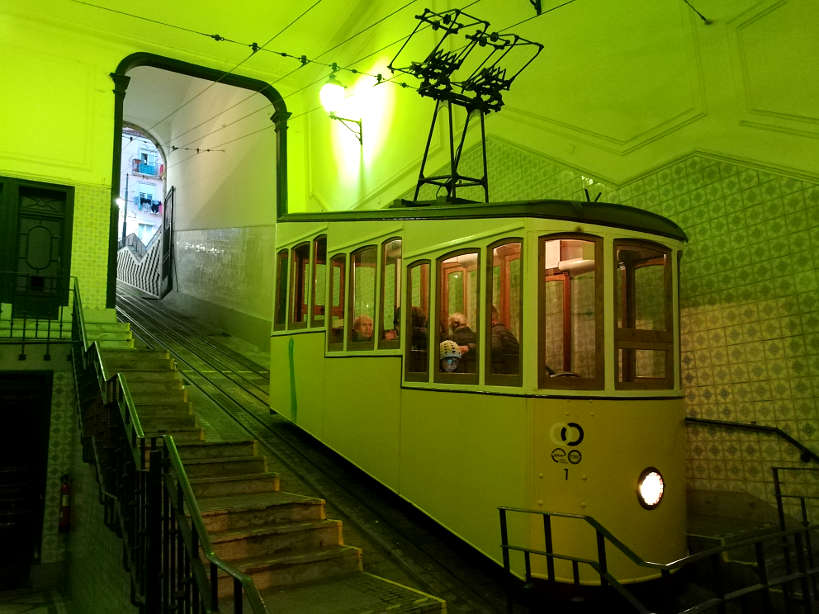 3- Graca and Penha de França
In the Graça and Penha de França neighborhoods, it is not uncommon to sit outside and enjoy coffee while chatting with store owners.
These charming areas have an authentic vibe and you'll find many local places to stay in Lisbon.
Most of the Graça district can be explored on foot. Although, you can also enjoy a ride on the popular Lisbon Tram 28 line.
The streets are narrow and full of small boutiques, cafes and pastry shops.
You will be walking under hanging laundry and enjoying soulful Fado music drifting from cafes and bars.
This is one of the oldest and liveliest areas in the city. It is also one of the best areas to stay in Lisbon and take in the city the view and the Tagus River.
While Graca is lively with tourist, Penha de França is a more local neighborhood with great local restaurants.
You'll find a great indoor market called Mercado de Penha de Franca, where you can find local fish and vegetables.
If you are looking for affordable places to stay, Penha de Franca will be your best area to stay in Lisbon.
When it comes to accommodations, Graca and Penha de Franca are the ideal neighborhoods to rent apartments. Hotels are in limited supply and not the most economical choice.
Related: For restaurants in Lisbon, read our article about the 10 Authentic Restaurants to Eat like a Local in Lisbon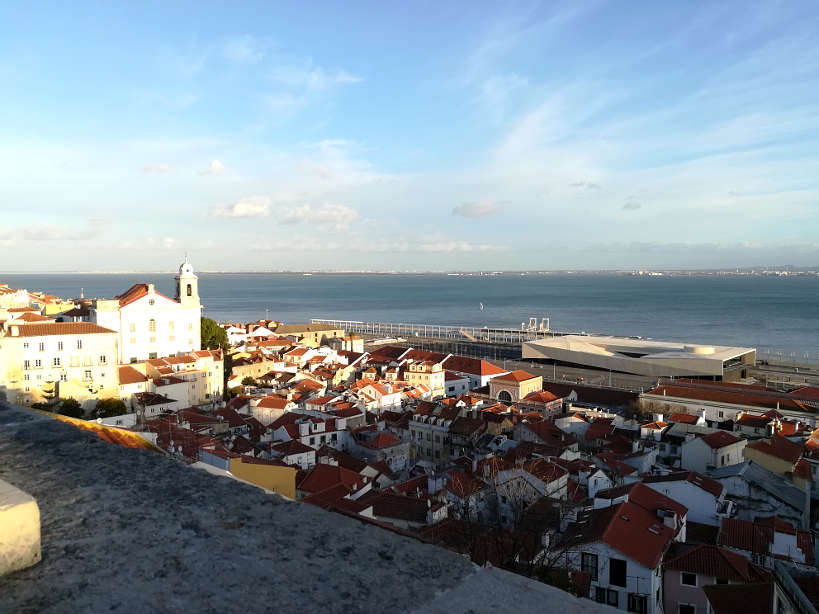 4- Campo de Ourique
Campo de Ourique is located 15 minutes west from downtown, at the end of the popular Tram 28 line.
This charming neighborhood is a "city within Lisbon." It is a foodie paradise and the best area to stay in Lisbon for innovative cuisine. According to locals, it is the area where new food concepts are tested and launched.
Visiting the Mercado de Campo de Ourique is a must. This market opened in 1934 and offers some of the best fresh fish, vegetables, fruits and more in the area.
You can shop for and cook your own produce or you can eat at any of the unique eateries and bars.
Campo de Ourique is our favorite area to stay in Lisbon. Undiscovered by most visitors, it has a local vibe while being close to the main attractions in Lisbon.
If we were to live in Lisbon, this is the neighborhood we would consider calling home.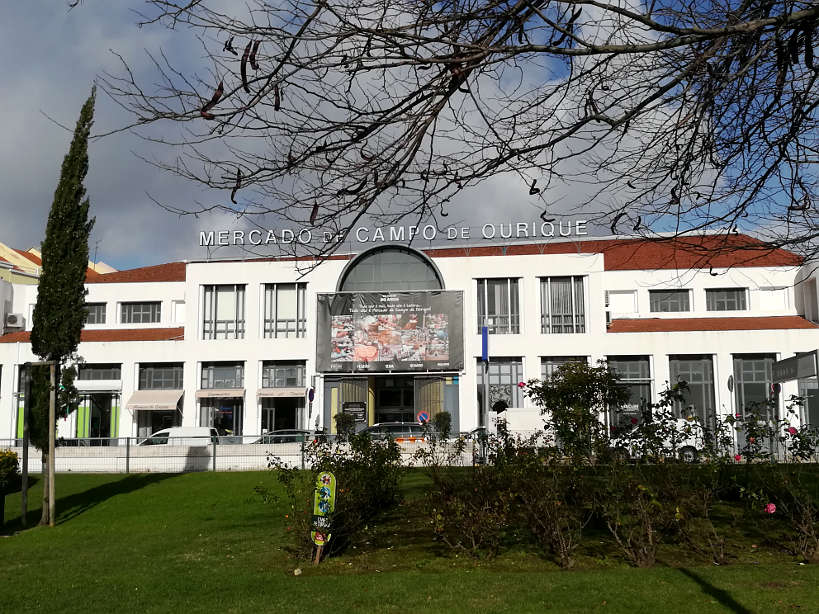 Authentic Food Quest Tip: To help you navigate this neighborhood, we recommend taking a Cultural Walk & Food Tour of Campo de Ourique. You will discover the unique local spots with a local, and learn about Portuguese cuisine.
5- Príncipe Real
Príncipe Real is the trendiest area to stay in Lisbon. It has been described as one of the "coolest" neighborhoods in the city.
You'll find some of the newest concept stores, art galleries, antiques and boutiques in town.
With restaurants, bars, stores, and art galleries everywhere,
 there's a lot to see and taste.
The park, Jardim do Príncipe Real, is one of the main attractions of the area. You will see locals lunching at the outdoor cafes or lounging under the shady trees.
Every Saturday morning is an organic market around the garden where vendors sell their fresh produce, bread, pastries and more.
Príncipe Real offers day and night activities including live music adding a flare to your evenings.
With incredible views of Lisbon, your hotel will show you amazing sights no matter which one you choose.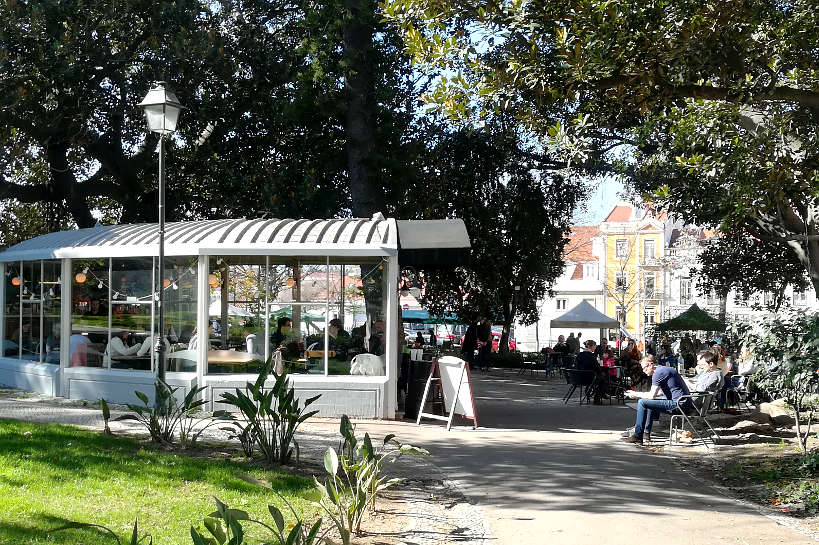 Looking for Where to Stay and Things to Do in Portugal?
Love it? Pin it!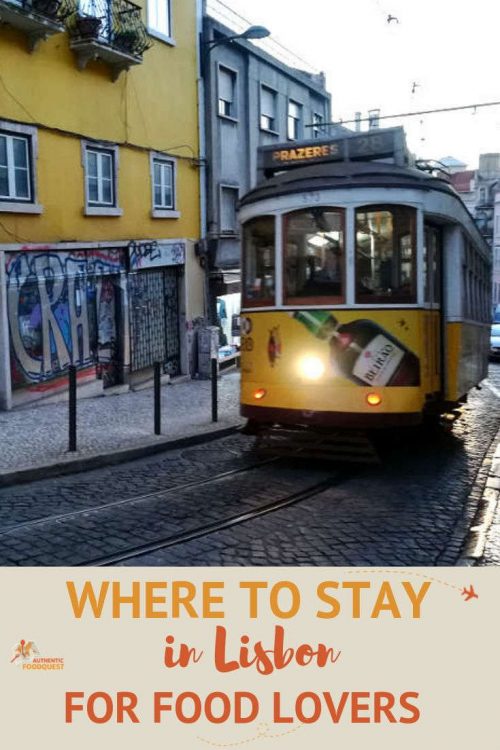 Disclaimer: This page contains affiliate links. That means at no extra charge to you, we earn a small commission when you purchase using these links. Thank you for your support.
Claire is a culinary explorer who travels the world in search of the best local foods. She is always looking for her next culinary adventure to bring you the best bites while exploring new places.