Chances are that your trip to Argentina, will involve visiting the popular tourist attractions. Possibly the beautiful UNESCO Heritage gorge, Quebrada de Humahuaca in Jujuy province. Or perhaps, the Cementerio de Recoleta where Eva Peron is buried in Buenos Aires.
But have you ever thought about visiting the local Argentinian food stores? Often times, food stores are an overlooked attraction. Think of the local food stores or local supermarkets as "food museums". You would be surprised at the hidden gems you might discover.
When traveling, make a point to visit local food stores with the same curiosity as you do a museum. Instead of seeing art or sculptures, you will be seeing the authentic foods of the region.
To feed your curiosity and make you salivate, here are 8 of the best Argentinian food stores we discovered on our quest for authentic food in Argentina.

1- Distrisur – Argentinian Grocery Store in El Calafate
On your way to hike the spectacular Glacier Perito Moreno in Patagonia, make sure to stop at Distrisur for your grocery needs. It is a family and locally owned business. They carry fruits, vegetables, dairy, meat, Argentine local wines, fresh artisanal pasta, and other scrumptious produce.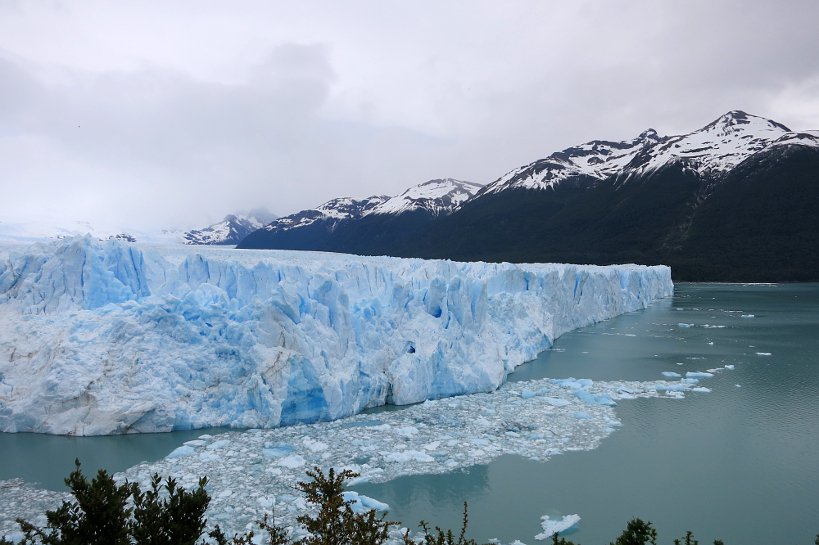 Distrisur is definitively the best Argentinian food store in El Calafate where tons of tourists flock each year to visit the glacier. By shopping there, you will not only treat yourself to the best food in town, but you are also supporting local businesses!
Address: Casimiro Bigua 4, El Calafate
Hours: Monday-Saturday, 8am to 12am; Sunday from 8am to 2pm and 5pm to 12am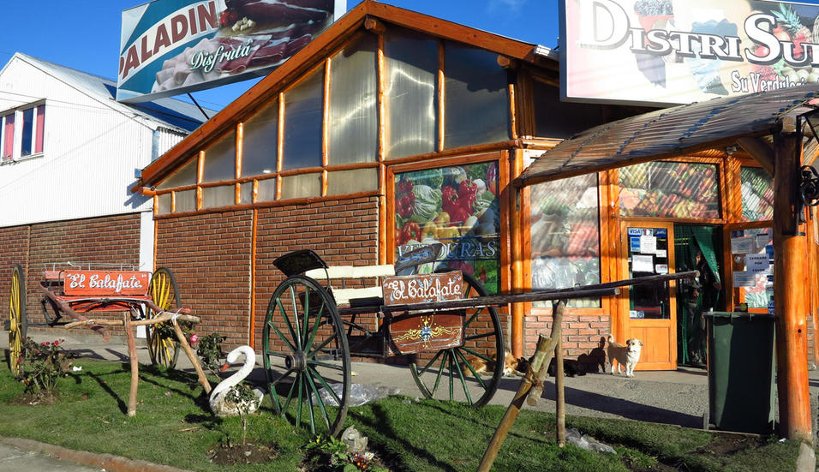 2- Piú Pasta – An Argentinian Food Store For Pasta in Bariloche
The Italian influence in Argentina runs deep and is manifested by the high number of fresh pasta food stores.
Piú Pasta in Bariloche makes some of the best pasta we've had in Argentina. The pasta is artisanal and made fresh every day. In addition, they also make whole wheat pasta. Choose from pasta in all sizes, colors and shapes. There are more options than you can think of!
The Piú Pasta specialty is the ravioli, with very creative fillings.
Are you tempted by the ravioles de cacao con queso azul (ravioli made of chocolate with blue cheese fillings)? After all, in Bariloche, chocolate is a local specialty. Or would you rather be tempted by ravioli filled with the local specialty: Patagonia lamb?
Taste Piú Pasta just once and watch the "pastaphile" emerge in you. Delicious and so easy to prepare. Just boil some water and deep the pasta into the boiling water. Wait a few minutes and it is ready! For an even better experience, pair the pasta with one of the many succulent sauces from Piú Pasta.
This is the perfect meal after a day of hiking in Bariloche.
Address: Belgrano 126, San Carlos de Bariloche
Hours: Monday-Saturday from 9am to 2pm and 5pm to 9:30pm; Sunday 9:30am to 2pm.
+54 294-442-2408
Find them on Facebook: www.Facebook.com/PiuPasta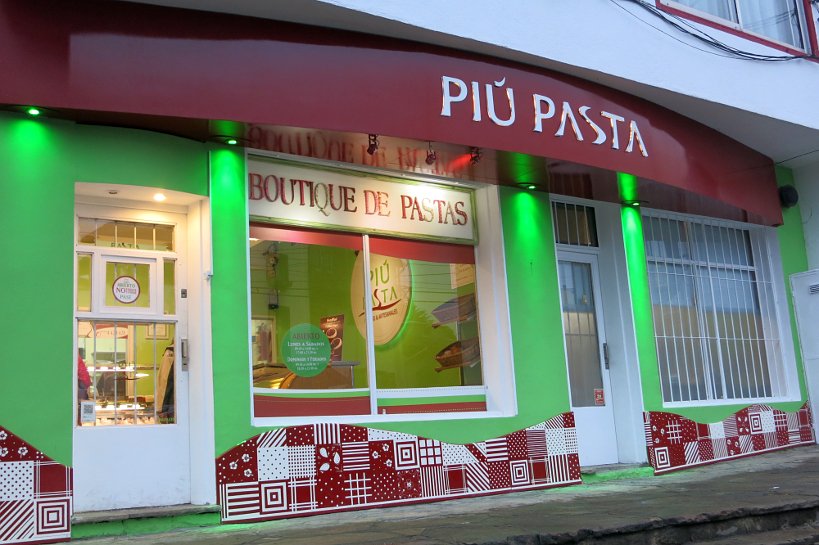 3- La Veneciana – Pasta and Bread Store In Mendoza
Sorrentinos are a local pasta specialty from Mendoza. The best place to get them is La Veneciana. This artisanal store offers delicious fresh pasta, bread, and pastries. The highlight is the Sorrentinos pasta. You can choose pasta options from cheese to tomatoes and basil and much more!
They also sell, Ñoquis (Gnocchi), another popular Argentinean pasta specialty. At the food store, you will also find delicious sauces to make a full meal with the pasta of your choice.
They have several locations listed with hours on their website. Your best bet is the main location in downtown Mendoza.
Address: Avenida San Martín 895, Mendoza
Hours: Daily from 8am to 10pm.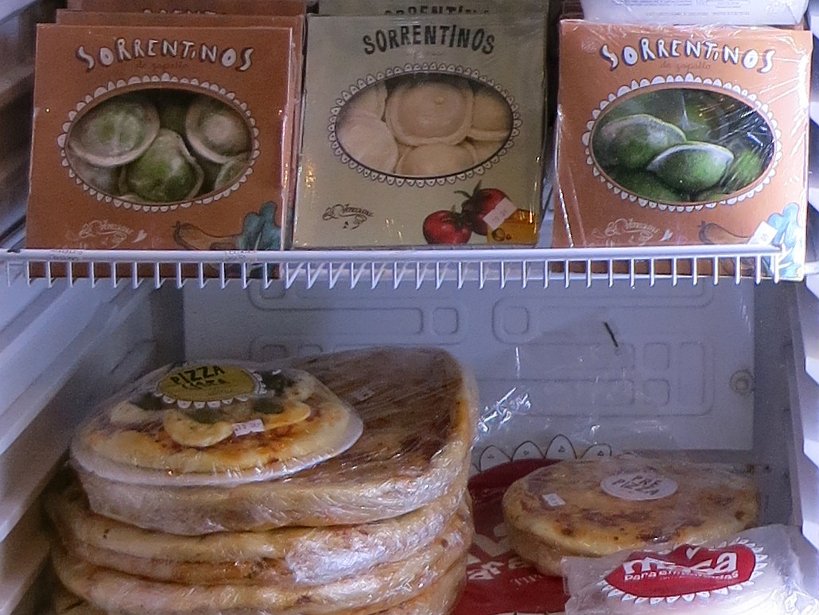 4- Mendosur -Verdulerías y Fruterias in Ushuaia
Verdulerías y Fruterías are Argentinian corner grocery stores that sell fresh fruits and vegetables. You will find them literally at every corner across the country. Some are large stores, while the vast majority are smaller mom and pop shops.
One great benefit of verdulerías y fruterias is they typically sell seasonal vegetables and fruits. By buying what is in season, you will enjoy the most delicious produce with the fullest flavors.
In Ushuaia (nicknamed "End of The World"), on our quest for the local specialties, we struggled to find fresh produce. It was a great surprise to find Mendosur. Here you will not only get fresh fruits and vegetables, but also friendly customer service. Try some of the local beers and wines as well as organic products at a very reasonable price. This Argentinian grocery store has a very local vibe. A nice change from the vibrant and touristy downtown area.
Address: Magallanes 1706, Ushuaia.
Hours: Tuesday-Sunday, 8am to 1pm and 4pm to 8pm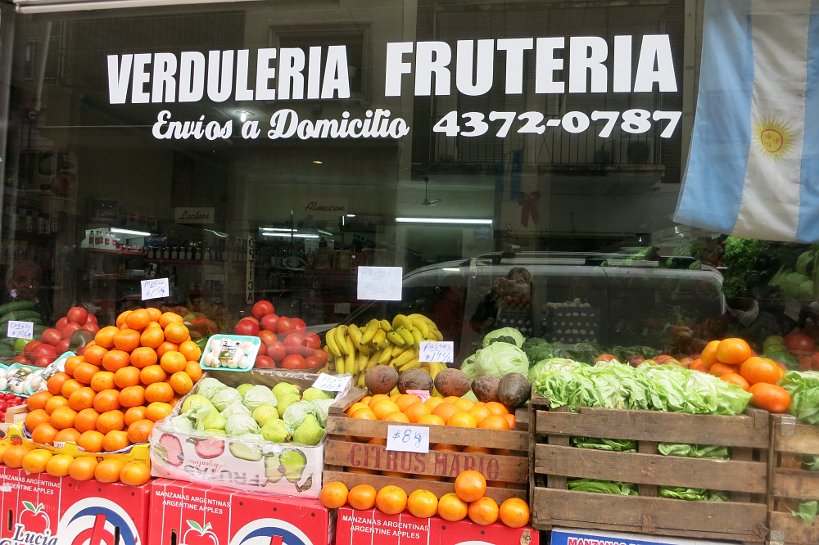 5- Lo Integral – Argentinian Bakery – Bariloche
Ahhhh! Delicious Argentinian bakeries! We could dedicate one article entirely to all the excellent bakeries in Argentina.
Choosing a bakery with the most unique and authentic products to offer was tough. After much debate, we nominate Lo Integral Bakery in Bariloche. This is a rare bakery where everything is made with whole wheat flour. All the bread and delicious Argentine sweets like alfajores and medialunas are made daily with whole wheat and artisanal products.
You will also find vegetarian sandwiches, fresh pasta from Piú Pasta, and vegan products. The cookies are amazing and a rare find in Argentina.
On your next trip to Bariloche and the Lake Region, don't forget to stop by and stock up at Lo Integral.
Address: Vice O'Connor 650, San Carlos de Bariloche
Hours: Monday-Saturday from 8am to 8:30pm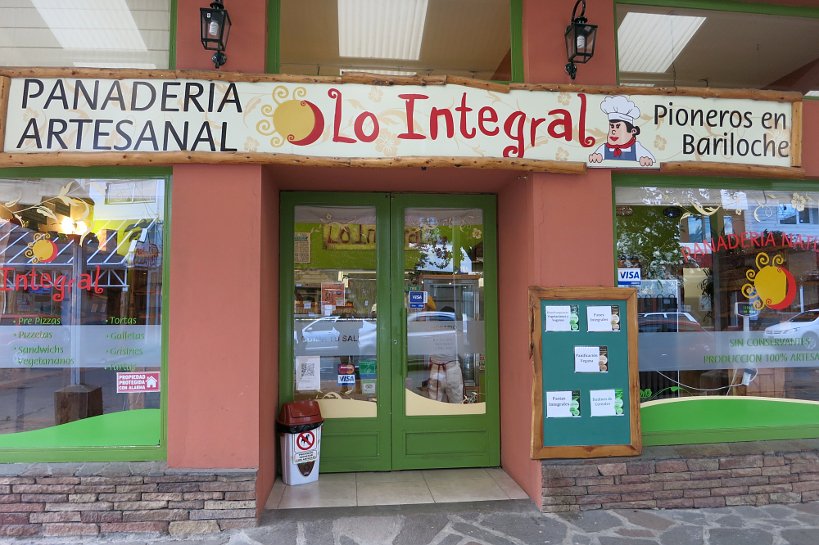 6- La Pata Negra – Cured meat and Cheese store in Bariloche
In Bariloche, one would think it would be easy to find cured meat and cheese stores. After all cured meats like boar and deer are the local specialties we discovered. However, beyond the touristy Family Weiss store, finding a good deli store is not easy.
Fortunately, there is La Pata Negra, a regional cheese and cured meat store that provides great quality products. And it shows. Unless you get there earlier enough, be prepared to wait in line at this cozy boutique. That will give you time admire the collection of Argentinian regional and local beers. Enough to tempt you to take one with you.
With a nice display of cheeses and cured meat, you get to pick from high-quality products at very reasonable price. Don't be intimidated, Bathis, the owner, will have you try samples and find you something for your tastes.
One of the specialties of this Argentinian food store is the famous picada. In Argentina, a picada is a platter of cured meat and cheese to eat as an appetizer. Ideal to share with newly made friends on your travels.
We definitively recommend visiting this store to prepare your picnic, if you're planning on hiking in the region!
Address: Belgrano 126, San Carlos de Bariloche, Argentina.
Hours: Monday-Saturday, 8:30am to 1:30pm and 5:30pm to 9:30pm.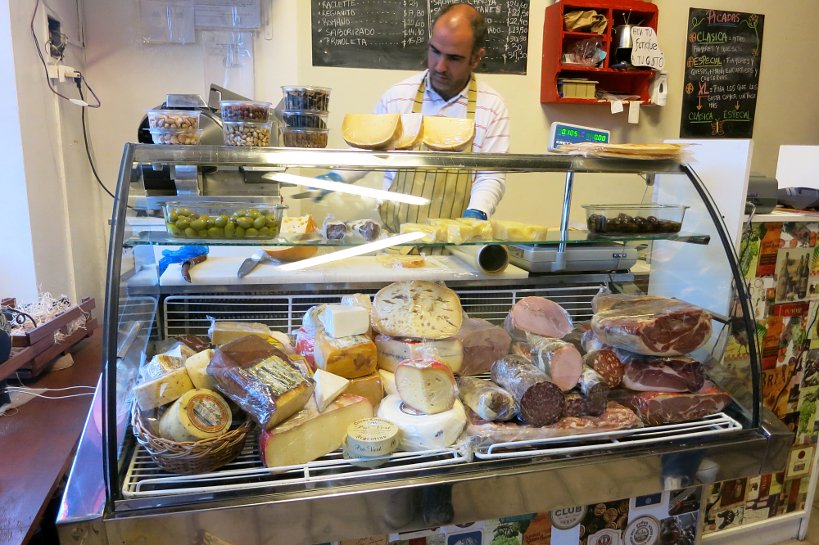 7- Dietetica Ferias de Artesanías – Artesanal Food Store in Purmamarca
In the Quebrada de Humahuaca, you will not want to miss the popular village of Purmamarca. Here, you can revel at the unique and beautiful Cerro de Los Siete Colores (Hill of Seven Colors).
Tucked in the middle of the arts and crafts of the village, you will find this hidden gem, the dietetica and artisanal food store of Purmamarca.
Dietéticas in Argentina are like health food stores. You can find specialty products, including vegetarian and gluten-free items. The main staples are usually raw sugar, artisanal honey, spices and all sorts of different grains and dried fruits.
This dietetica is a breath of fresh air in Purmamarca where the vendors are eager to attract the tourists. Located in a quieter part of the artisanal market, the lady who received us didn't harass or push us to buy any products.
In her boutique, you will find the famous dulce de cayote, a sweet marmalade we discovered in Salta Province. She had us sample some of her homemade dulce de cayote and explained to us how it was made. We could not resist and ended up buying the dulce de cayote candies.
From spices to sweets and herbs, this is definitively a refreshing store where you will find unique food souvenirs.
Address: Lavalle Street, Purmamarca
Hours: Monday-Saturday, 8:30am to 1:30pm and 5:30pm to 9:30pm.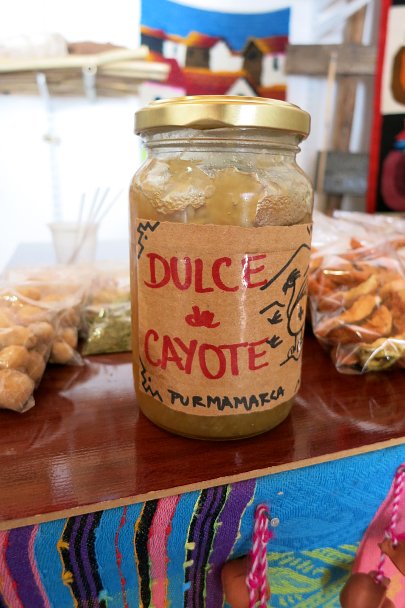 8- Carnicería Nucho "El Rey de la Molleja" – Butcher in Buenos Aires
It is difficult, if not impossible to talk about Argentinian food stores without mentioning meat. Where do people buy the world most famous meat? At Carnicerías!
Carnicerías can be best described as local butchers. At these stores, you will find different cuts of beef similar to the ones you can enjoy at a parrilla (local steakhouse). The beef is generally the main meat on display, though you will also find sausages, poultry, and cured meats.
Carnicería Nucho is no exception. This large carniceria in the Mercado del Progreso, is always busy with locals buying their daily meat.
Carnicería Nucho is also known to have the best molleja (sweetbread) in Buenos Aires, which is what makes them "El Rey," the King!
Definitively plan on visiting Carnicería Nucho at Mercado del Progreso. It is more than a butcher, it is an experience. Don't miss out on this local market attraction on your visit to Buenos Aires!
Address: Avenida Rivadavia 5430, Caballito, Buenos Aires
Hours: Monday-Saturday from 8am to 1pm and 5pm to 8:30pm.
Find them on Facebook: Facebook.com/NuchoCarnicerias.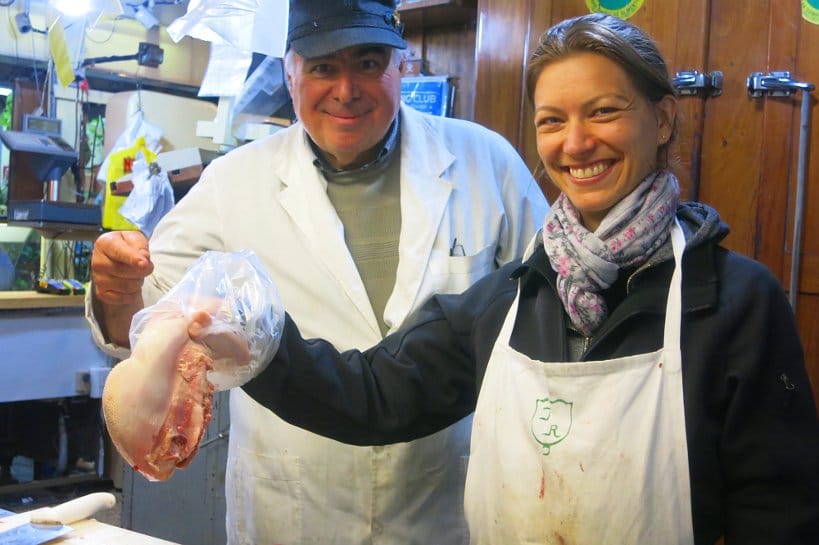 In Summary
After reading this article, we bet food stores will become a hot item on your bucket list of sites to see in Argentina. These stores visits are a great way to feed your stomach with authentic and local foods. But beyond your stomach, these "food museums" will feed your curiosity and craving for understanding the local and cultural landscape.
Enjoyed reading this article? As you prepare for your trip to Argentina, you will find many more food store references, markets, and restaurants in our Amazon Bestseller book: Authentic Food Quest Argentina: A Guide to Eat Your Way Authentically Through Argentina Grab your copy TODAY on Amazon!
Savor The Adventure!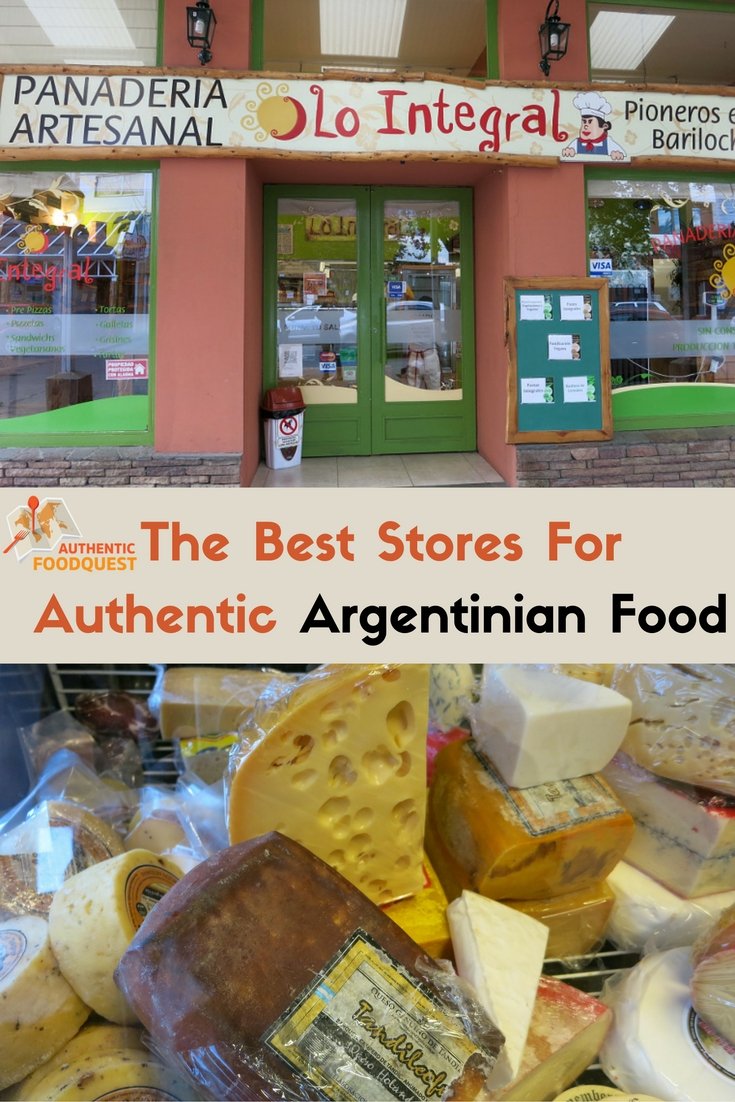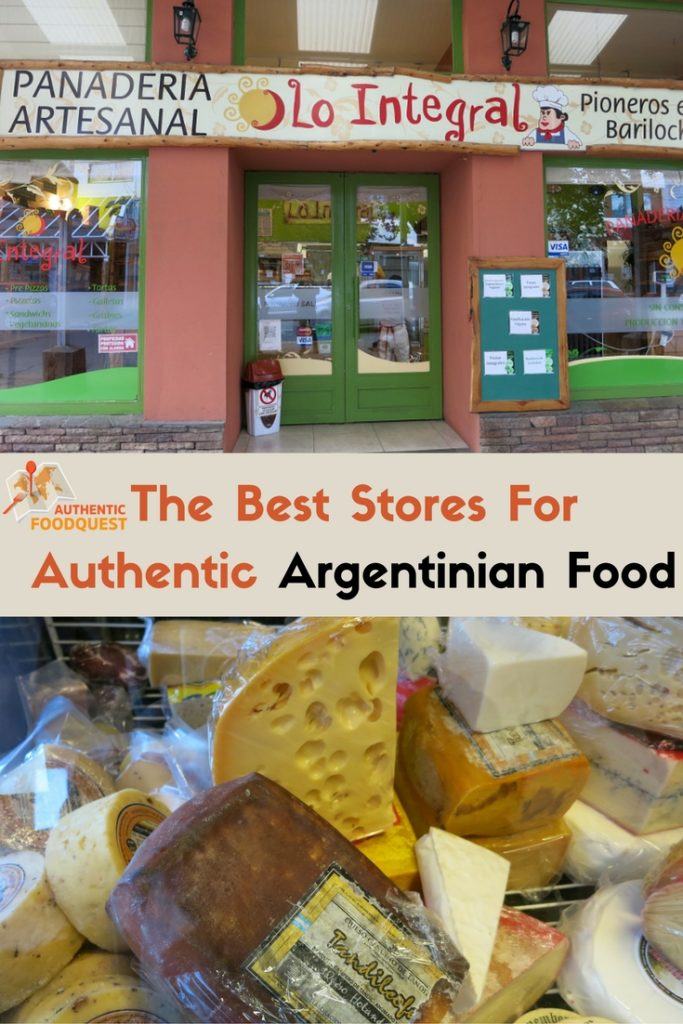 Claire is a culinary explorer who travels the world in search of the best local foods. She is always looking for her next culinary adventure to bring you the best bites while exploring new places.