This article has links to products and services we recommend, which we may make a commission from.
Asian meal kits make it easy to enjoy bold, fresh and exotic flavors at home on a regular basis.
The contrasting textures, spices and aromas are contained in chef developed recipes and meals that you make following simple instructions.
It's like going on a culinary expedition across Asia, to Thailand, China or Vietnam without much effort or cooking skills.
There isn't a meal kit provider focused solely on Asian food. However, the best meal kit delivery services offer a wide variety of delicious Asian food along with simple cooking instructions.
Your Asian meal kit is delivered to your home with the fresh herbs, sauces and ingredients that add so much flavor to the food.
To make your adventures in Asian cooking easier, we selected the best meal kit providers for Asian food to try.
They all offer diverse Asian meals on a weekly basis with recipes for experienced and novice home chefs.
Why not add some excitement to your weekly menu. Go ahead, and get started with any of these Asian meal kits.

Comparison Table Of Best Asian Meal Kits
| Meal Kits | Price $ Starts | Meal Kits / Ready to Eat | Best For | Contiguous US | Shipping Fees (US) |
| --- | --- | --- | --- | --- | --- |
| Blue Apron | $7.49 | Meal Kits | Overall | Yes | $9.99 |
| Sunbasket | $9.99 | Both | Organic | Yes | $5.99 |
| HelloFresh | $7.99 | Both | Curated Menus | Yes | $9.99 |
| HomeChef | $8.99 | Both | Swift Meals | Yes | $8.99 |
| Dinnerly | $5.06 | Meal Kits | Value | Partly | $8.99 |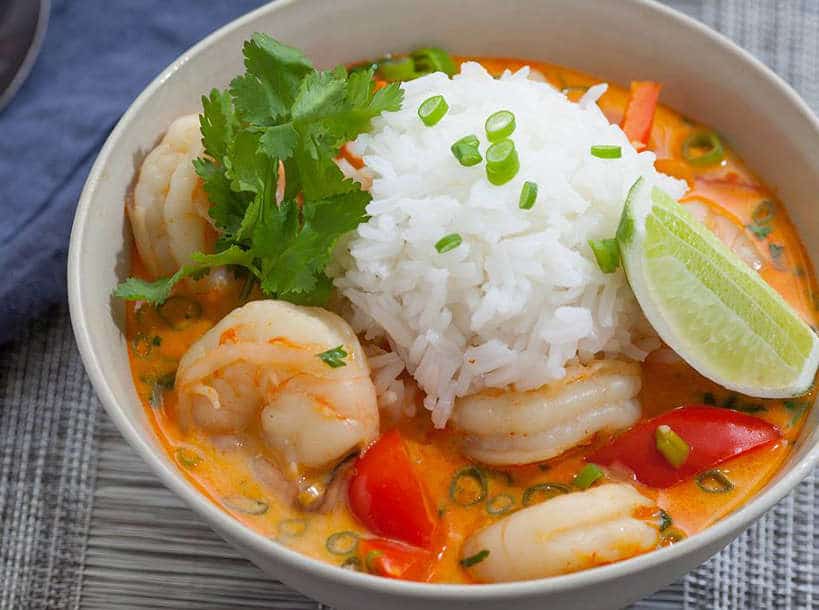 The abundance of Asian meal kits available on Blue Apron, make it our favorite Asian meal kit delivery service.
You'll find an impressive amount of Asian recipes on their online cookbook including step by step instructions with photos. And, these delicious recipes frequently appear in their weekly menu.
The Asian food meal kits include easy and authentic Chinese, Vietnamese, and Japanese foods. And, in some cases, you'll also find fusion or Asian inspired flavors and ingredients.
Blue Apron, one of the oldest meal kit delivery services has been around for about 10 years. In that time, they have built long standing relationships with farmers and producers to provide only high quality and sustainable produce.
You have flexibility with Blue Apron's weekly menu. Choose your plan from signature dishes to wellness plans or large family portions sizes. And, if you have any allergies or dietary restrictions, those too can be accommodated.
In addition to the Asian meal kits, Blue Apron also has a full wine menu if you want to pair your weekly orderings with a bottle or two. They also offer a range of cooking supplies, like knives and pans, if you want to give your kitchen an upgrade.
With a Blue Apron meal kit, making delicious Asian food in our kitchen will be a fun culinary adventure.
Pros
Offers a wide range of authentic Asian meals
Has a wide range of offerings like wine, kitchen products, spice blends and more
Responsibly sourced ingredients and chef designed recipes
Cons
Does not have plans for more than 4 people
Ships only to the contiguous United States.
A Few Asian Meal Kit Offerings Include: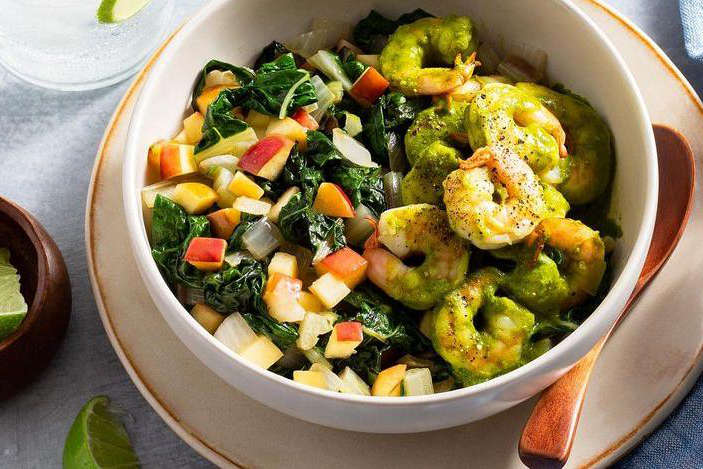 Sunbasket is one of the only meal kit delivery services that offers organic produce and responsibly raised proteins.
They have a wide range of offerings and recipes from a number of Asian countries. From the 15+ recipes available each week, you find options for delicious Asian food.
Many of the Asian recipes come from countries including Japan, China, Korea, Singapore, Malaysia, India, and more.
In addition to authentic Asian meals, some recipes are Asian-inspired with flavors like ginger, soy sauce, fish sauce, or fried rice.
Their recipes are chef tested and carefully curated and are delicious every time. And, if you have any dietary restrictions, there's no need to worry.
Sunbasket categorizes its recipes to accommodate a wide range of diets. Find options for those who eat vegan, vegetarian, pescetarian, paleo, gluten-free, or diabetes-friendly recipe options.
The use of organic and farm fresh ingredients, along with exciting Asian flavors for any diet, makes Sunbasket a top choice.
Pros
Wide range of recipes from a variety of Asian countries
Easily accommodates a different dietary preferences
Fresh, organic ingredients and recipes from top chefs and nutritionists
Cons
Ships only to the contiguous United States
A Few Asian Meal Kit Offerings Include:
HelloFresh, another popular meal kit company is one you are likely to have heard of. It is America's most popular meal kit company and known for high quality ingredients and simple recipes.
With over 25+ recipes to choose from each week, Asian meals are always on the menu. One week may take you to Thailand with a spicy noodle soup, and another to Vietnam for banh mi.
The wide selection of Asian cuisine and Asian fusion flavors can transform your weekly menu planning into an exciting adventure.
Hello Fresh offers a selection of curated menus. Find vegetarian meals, as well as menus with lower calories, carb smart meals, and family-sized meals if you're feeding a group.
With Hello Fresh meal kits it's easy to savor authentic Asian flavors. Most dishes come together in only about 30 minutes and require only 6-steps from start to finish.
If you want to improve your Asian cooking skills or get exposure to new tastes, try a meal kit service.
With Hello Fresh you can skip, change or cancel your Asian meal kit delivery easily if you are not impressed.
Pros
Chef designed and easy to follow recipes
Exciting Asian authentic and fusion dishes
Can choose meals for your dietary preferences from plant based, quick and easy, wholesome and more
Cons
Does not offer gluten-free or nut-free meals
Does not ship to Alaska and Hawaii
A Few Asian Meal Kit Offerings Include:
RELATED: Banh Mi – The Best Vietnamese Sandwich to Fall in Love With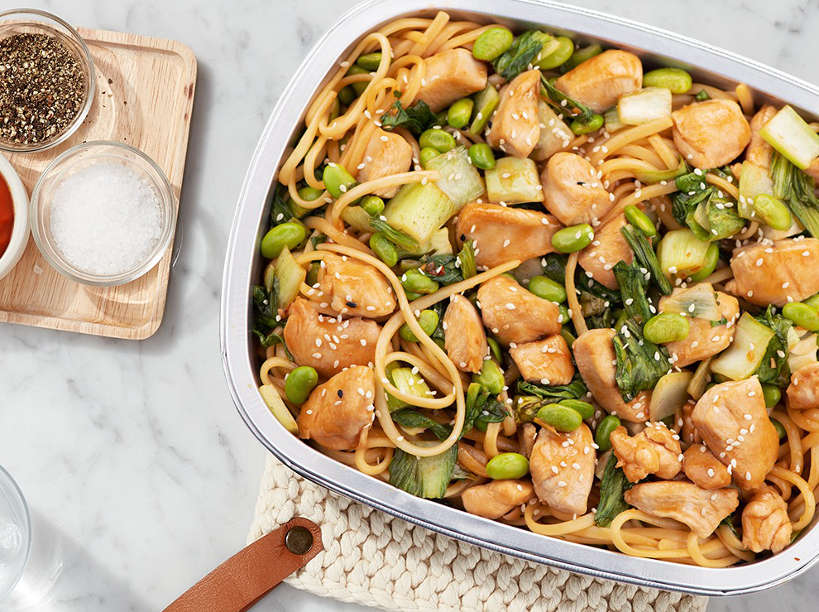 Home cooking made as easy as pie is what Home Chef promises with any of their meal kits. Effortless cooking is what you get with their 30 minute meal kits or their easy prep 5 minute meals.
In addition to providing a wide array of easy recipes, Asian food meal kits feature on a weekly basis.
Compared to other Asian meal kit delivery services on this list, the selection from Home Chef is Asian inspired rather than authentic.
You'll find recipes like Vietnamese inspired turkey lettuce cups, or panko crusted chicken. Delicious classic Asian meals with an accessible twist.
With Home Chef, you can find meals that are tailored for your lifestyle. You can choose from carb or calorie conscious to vegetarian. And, you also have the option to double up, swap or add protein to certain meals.
All the recipes are chef prepared and tested allowing you to easily follow along and make amazing flavorful Asian cuisine.
If you are busy and short on time, but still want to enjoy Asian flavors on a regular basis, Home Chef makes it easy.
Beyond meal kits, you can also add extras like desserts, Asian style salads and additional protein to complete your Asian cooking experience.
Pros
Simple recipes accessible for home chefs of all skill levels
Diverse Asian meal kit offerings and ready made meals
Cons
Does not have specific plans for Keto and Paleo
Delivers only to the contiguous United States
A Few Asian Meal Kit Offerings Include:
RELATED: 5 of The Best Indian Meal Kits For a Taste of India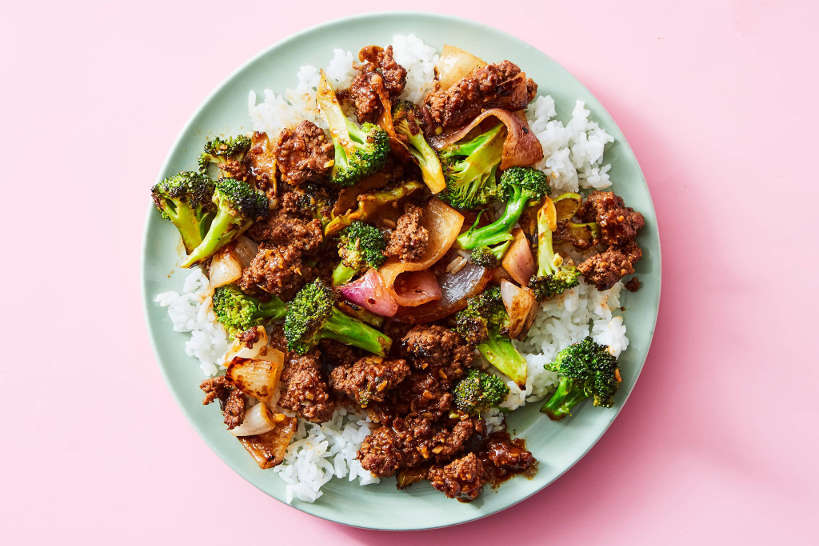 If you've never tried a meal kit delivery service before due to concerns about pricing, you'll want to try Dinnerly.
Dinnerly, describes themselves as the most affordable meal kit delivery service offering a variety of meals that come together in just 6 steps.
Asian food lovers who have never tried a meal kit will find an array of flavorful Asian inspired dishes on the weekly menu.
Once you select your meals, your fresh ingredients are shipped to you with simple instructions to create tasty Asian food.
Dinnerly does not compromise on the quality of the meals. What makes them so affordable is their use of digital recipes, fewer ingredients and simple packaging.
The Asian meal kits available on Dinnerly are both classic dishes and popular Asian inspired foods. Vietnamese, Chinese, and Japanese dishes can be found each week.
Choose either a couples plan for 2 people or a family, 4-serving size plan to get started. You also have the option of adding sides, desserts, smoothies or extra protein.
An Asian meal kit from Dinnerly is perfect for those looking to save money and time cooking their kitchens.
Pros
Affordable price point
Delicious easy to prepare meals in 6 steps or less
Offers extras like sides, desserts, smoothies and more
Cons
Unable to customize meals to different diet types
No meal kits available for more than 4 people
A Few Asian Meal Kit Offerings Include:
Answers To Popular Questions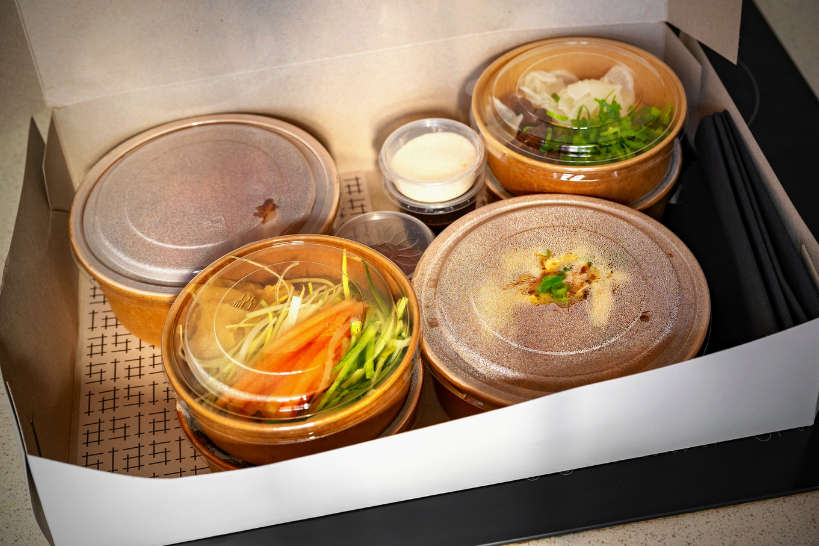 Best advice for Asian meal preps
If you're looking to meal prep with Asian recipes specifically, it's best to start with identifying what you want to eat.
What are your favorite proteins? Grains? Flavors? Sauces? Figure out what you want to eat, then set a budget and get to shopping.
With a meal kit service, meal prep is easy as your meals are basically ready to cook and serve. Meal kits are great for singles, as the 2 to 4-person portion sizes make it easy to save leftovers for meals throughout the week. Cook, put your meals in containers, and easily eat throughout the week.
What are the best containers for meal prep?
The best containers for meal prep will keep your food fresh for a long time while locking in flavors and aromas.
Vacuum containers work best with where you can separate the salads or fresh ingredients from soups and sauces.
That way, you can easily put your meals or leftovers together and create a tasty Asian meal in no time.
Claire is a culinary explorer who travels the world in search of the best local foods. She is always looking for her next culinary adventure to bring you the best bites while exploring new places.