Where can you find more than 140 restaurants in a three mile stretch in Las Vegas?
You'll be tempted to say the Strip with its thriving culinary scene and high-end options.
Think again!
Spring Mountain Road in the Chinatown neighborhood of Las Vegas is your answer.  This is where you can find the best Asian restaurants in Las Vegas.
With a booming Asian community, Las Vegas has seen an explosion of businesses and restaurants in the Chinatown district. What makes Las Vegas Chinatown unique is its diversity.
In fact, Chinatown in Las Vegas is one of the most diverse Chinatown's in the United States. Beyond Chinese cuisine, you'll find Japanese, Thai, Korean and Vietnamese food.
Chinatown Las Vegas is also known for its authenticity, with chefs aiming to bring the original flavors from their own countries.
For a taste of the burgeoning culinary scene, here are three of the best Asian restaurants in Las Vegas to enjoy.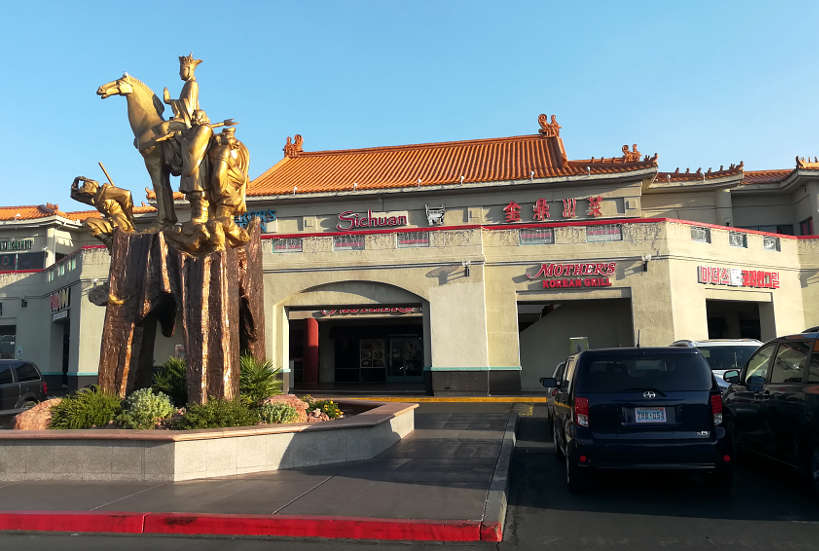 Creative Vietnamese Cuisine with a Southeast Asian influence
District One is a great example of the Chinatown's diverse and authentic culinary scene. While the menu is heavily Vietnamese, it also offers a mix of Southeast Asian inspired dishes.
The restaurant is named after the District One in Ho Chi Minh City,  a bustling neighborhood in downtown Saigon, known for dining and entertainment. In Vegas, District One is often visited by chefs from the Strip for its authentic flavors and creative options.
The chef and co-founder, Khai Vu, a Vietnamese native, brings his passion for food to serve an inventive cuisine. Some of his signature dishes are the Whole Maine Lobster Pho or the Big Bone Soup.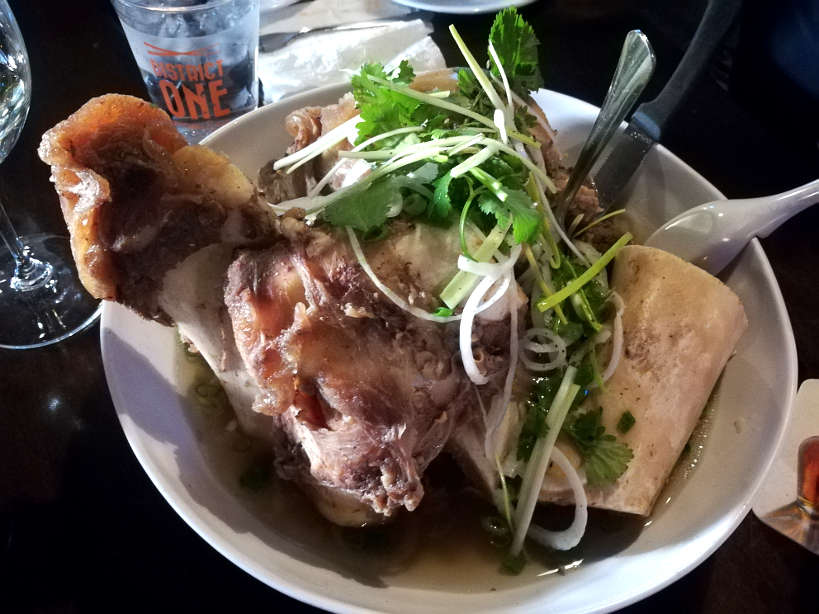 Pho Tai Nam
Tempted by their appetizing Pho Menu, which some say is the best pho in Las Vegas, we couldn't wait to taste how it compared to Pho in Vietnam.
Claire had the Pho Tai Nam. This traditional pho was served in a generous bowl. It combined slices of ribeye and flank steak served with rice noodles.
The clear broth had lemongrass, Vietnamese cilantro, raw onions, ginger, and green onions. mint, Thai basil, bean sprouts, and lime wedges were also added on the side.
Like the pho in Vietnam, the soup was fragrant with tender pieces of meat. The soup was filling and there was plenty left over to take away.  It's no surprise that with its delightful flavors it's often rated one of the best pho in Las Vegas.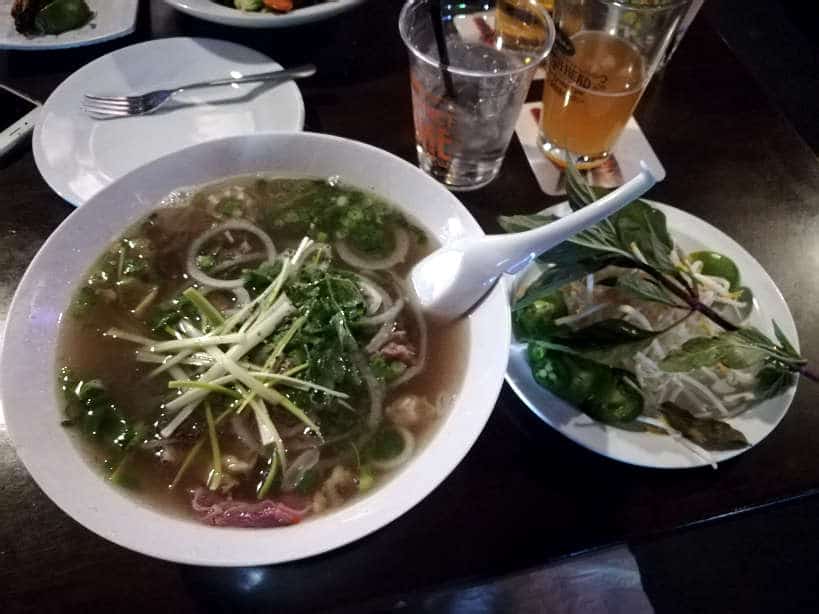 Spicy Hue Noodle Soup
Rosemary ordered the Spicy Hue Noodle Soup. This is a dish that was on top on our list while visiting Hue, Vietnam. While in Hue, we struggled to find it locally. We were really surprised to find it on the menu at District One and in Las Vegas.
Soups from Hue are notably distinctive from other Vietnamese soups. The broth in soups from Hue have dark red colors from a combination of spicy and sour flavors in one bowl.
The generous portion of soup combined beef shank, pork loin, pork roll, and flat rice noodles. It was served with Vietnamese cilantro, lemongrass, green onions, raw sliced onions, chili and fish sauce.
Mint, Thai basil, bean sprouts, and lime wedges were added on the side.
The broth was very flavorful with a distinct lemongrass aroma and a nice bite to it. The meat was really tender and perfectly seasoned. It was definitely close to the tastes and flavors we experienced in Vietnam and clearly the best Vietnamese restaurant we've tried in the US.
The difference is that they omitted the dark cubes of pork blood you'll always find in Vietnam. Possibly not to shock the American palate….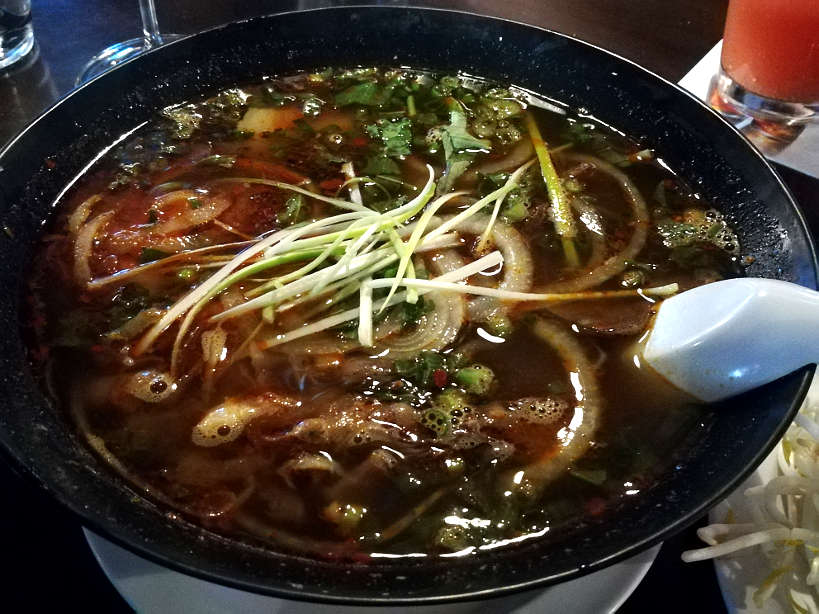 Where to Find District One
With a nice airy, open and modern room, District One is a great restaurant to have a relaxing dinner with friends or family. They have an diverse selection of drinks, including cocktails, craft beers and more.
Address: 3400 S Jones Blvd #8, Las Vegas, NV 89146
Hours: Monday to Sunday from 11:00 am to 2:00 am; Closed on Tuesdays.
Pro Tip:
District One has happy hour from 5:00 pm to 7:00 pm. This is a great opportunity to sample their appetizers and craft beers for half the price.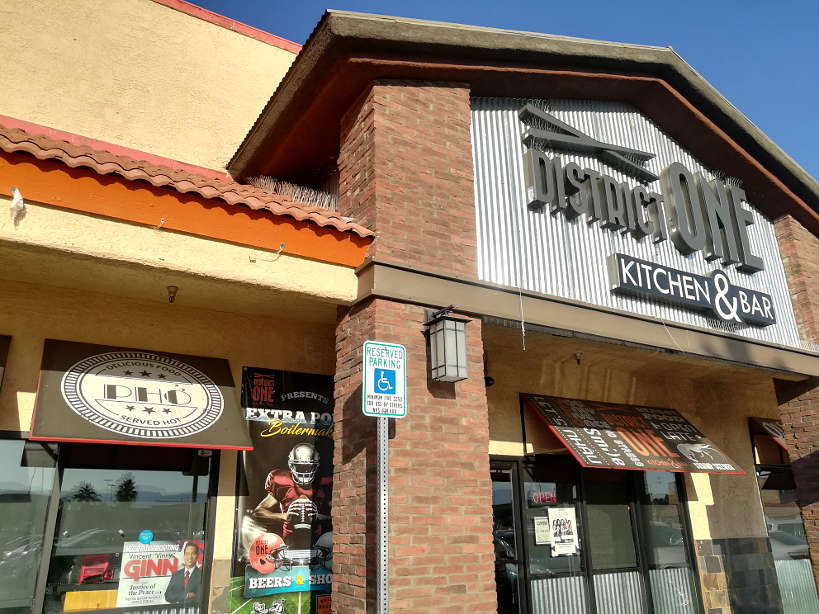 #2 Lotus of Siam – Best Thai Restaurant in the US
The first restaurant that was recommended to us even before we got to Las Vegas, was Lotus of Siam.  This restaurant was placed on the map by Gourmet magazine, which called Lotus of Siam "the best Thai restaurant in the United States".
Together with Kathryn, Vegas native and founder of Taste Buzz Food Tours, we went to Lotus of Siam to experience the much raved about Thai specialties.
While we were on our quest for authentic food in Thailand, we went to Chiang Mai, the largest city in Northern Thailand to discover the food and specifically, the most famous local dish, Khao Soi.  
When we learned Lotus of Siam offers Khao Soi on the menu, comparable to authentic Khao Soi in Thailand, we were sold. We needed to find out for ourselves if it lived up to Khao Soi in Chiang Mai, which was our favorite dish.
Lotus of Siam Restaurant
The decor reminded us of  Huen Phen Jai restaurant, one of our favorite local restaurants in Chiang Mai. Warm tones, in a contemporary style with distinctive Thai antiques and wall art.
Right after we got seated, we were handed a pretty thick menu with a range of traditional Thai dishes.
Eager to taste our beloved northern Thai dishes, we skipped directly to the northern Thai specialties and ordered Khao Soi, Nam Prik Noom with sticky rice and Sai Oua, northern Thai sausages.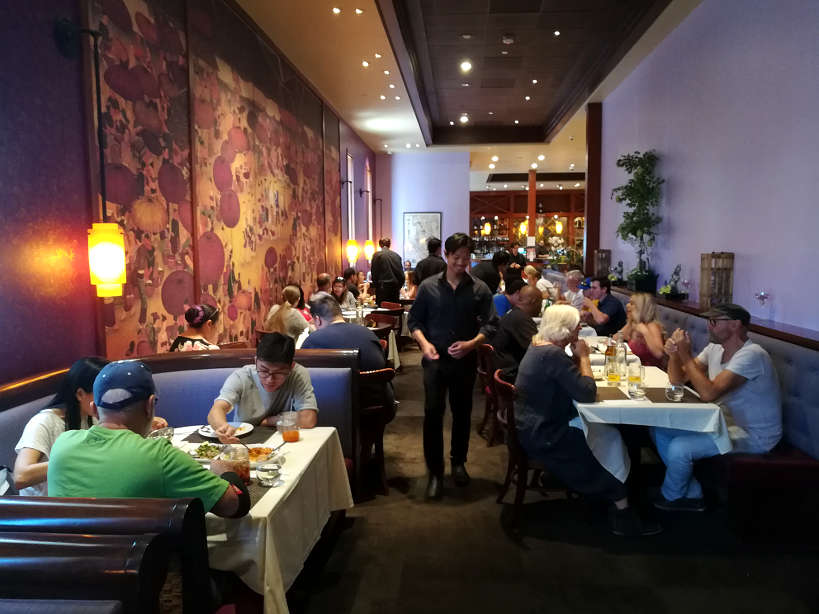 Nam Prik Noom or Green Chili for Starters
Eaten with sticky rice, this green chili dip is one of the most popular dips of northern Thailand. The way it was served at Lotus at Siam is similar to how we had it in Chiang Mai.
The beautiful presentation accompanied with fried pork skins and fresh vegetables including carrots, cabbage, broccoli, green beans, and cucumber slices.
In Thailand, this dish is pretty hot. To cater to the American palate, Lotus of Siam allows you to choose your spice level from medium hot and up.
Each bite was a memory back to Thailand. This is a bona fide star, a dish we recommend and would order again.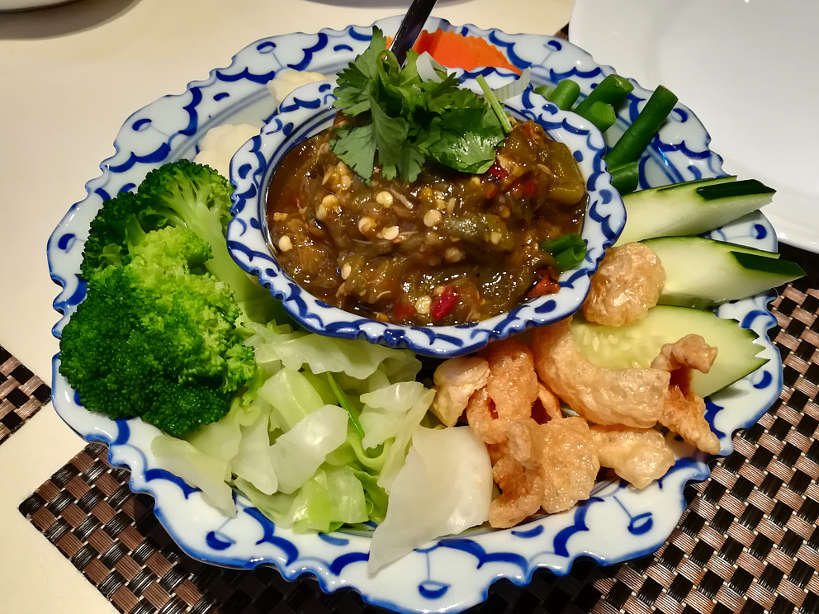 Sai Oua – Outstanding Northern Thai Sausages
When we saw Sai Oua, or northern Thai sausages on the menu we were thrilled beyond belief. These sausages were our Saturday breakfast weekly treat while in Chiang Mai.
In addition to being extremely tasty and flavorful, they are also the most famous sausages from the mountainous area of Chiang Mai.
These northern Thai sausages are infused with a beautiful blend of spices and herbs. The pork is combined with a mixture of herbs like lemongrass, kaffir lime leaves, galangal with a spicy bite from hot chilies.The sausages are wrapped into a beautiful coils and then grilled to perfection.
Unlike in Chiang Mai where Sai Oua at the markets is many feet long and coiled up, and sold by weight, at Lotus of Siam, it is brought to your table chopped up on a platter.
Regardless of the presentation, the Sai Oua sausages had the flavors and freshness you'll find in Chiang Mai.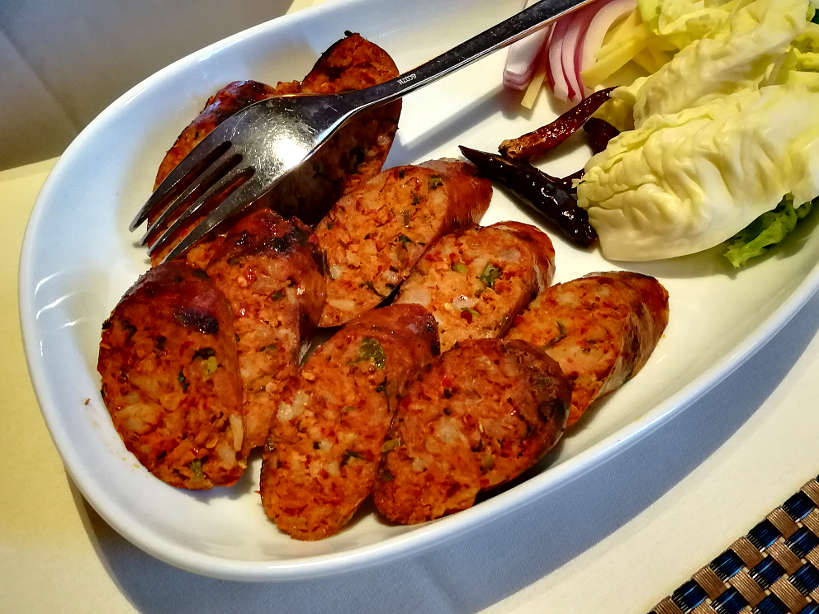 Khao Soi – Authentic Thai Flavors
We could not wait to dig into Khao Soi, our favorite dish from Chiang Mai. Like in Chiang Mai, we chose to have it with chicken, which is the most traditional Khao Soi meat.
The rich flavors transported us back to Chiang Mai. Tender chunks of chicken in a rich and delicate coconut curry sauce, sitting on a bed of egg noodles. A crisp haystack of fried noodles sprinkled with shredded scallions, completed the experience.
To avoid a dish that will make you weep, sniffle or moan, you can choose your spice level from a scale of 1 – 10. Having once had this dish very hot in Chiang Mai, we decided to go with a "7."
Our only regret was not going for a higher spice level. The scale is calibrated for the American palate and we missed the fiery Thai flavors.
All in all, we were most impressed by the authenticity of the flavors and the quality of the ingredients of a restaurant in the Las Vegas desert, far away from the lush mountains of Chiang Mai.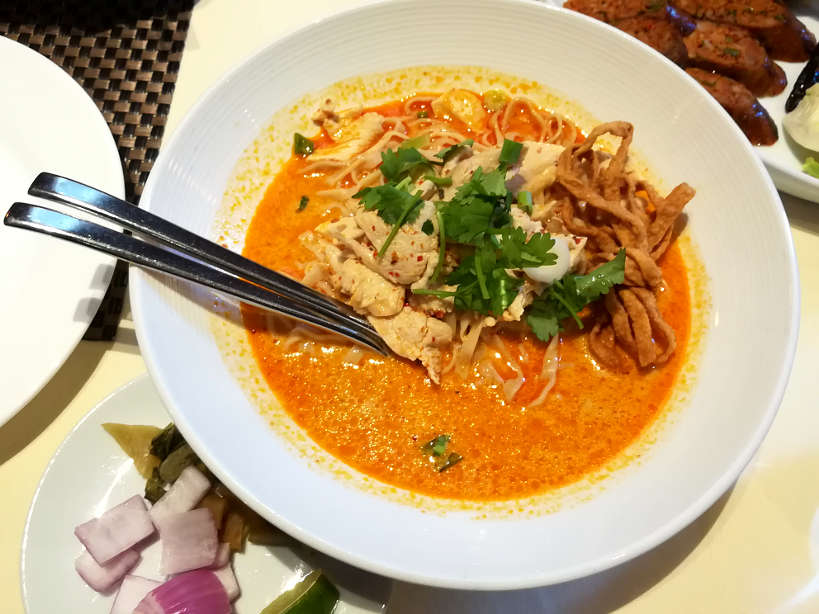 Where To Find Lotus of Siam
Address: 620 East Flamingo Rd,  Las Vegas, NV
Hours: Open daily, Lunch, Mon – Fri 11:00 am – 2:30 pm; Dinner, 5:30 pm – 10:00 pm, daily.
Pro Tips:
Don't be intimidated by the long and varied menu. Skip the usual suspects and go directly to the Northern Thai section and Lotus of Siam specialties, for the best experience.

You can pick your spice level from a range of 1 – 10. We didn't find the food spicy enough even after ordering at the spice level of "7." Nonetheless, choose the spice level you are most comfortable with.

Dinner reservations are highly recommended. We went for a late lunch and were able to get seated after a short 10 minute wait.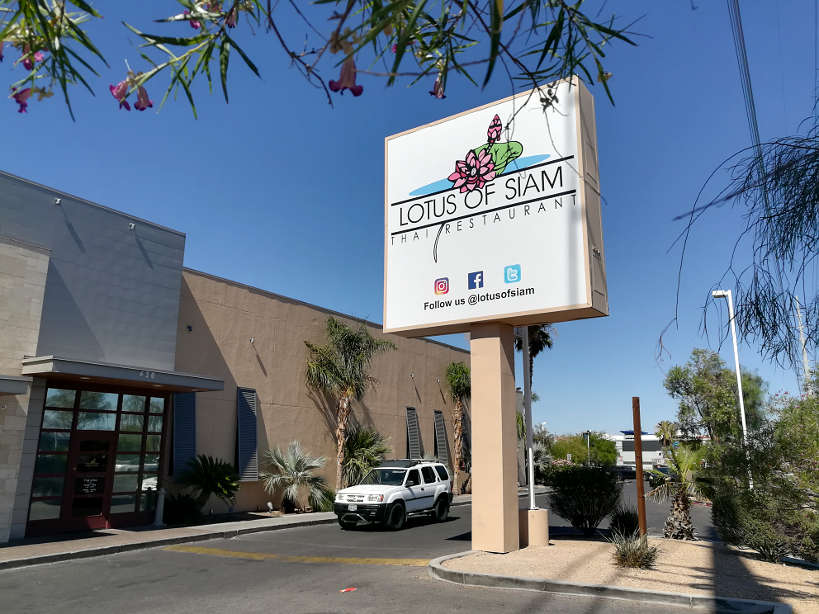 #3: Hobak and Korean BBQ: The Fastest Growing Food Trend in Las Vegas
Amongst the Asian communities in Las Vegas, the Korean population makes for the third largest group after the Filipinos, and Chinese.
So much so, that Las Vegas now has a Koreatown with a Koreatown Plaza located on Spring Mountain Road and Rainbow Boulevard. As a result, authentic Korean food is one of the most popular food trends in Las Vegas.
To the point that Korean cuisine is highly sought out by the big casinos on the Strip. The famous Los Angeles chef, Roy Choi, is partnering with the Park MGM to open a new Korean restaurant at the end of 2018. This will be the first high profile Korean restaurant on the Las Vegas Strip.
Korean barbecue is definitely the most popular Korean food you'll find in Sin City. What makes Korean barbecue unique is the way the meats are prepared and cooked in front of you.
Typically beef, pork, and chicken are grilled on a gas or charcoal grill built into the table. The meal comes with various sides called banchan.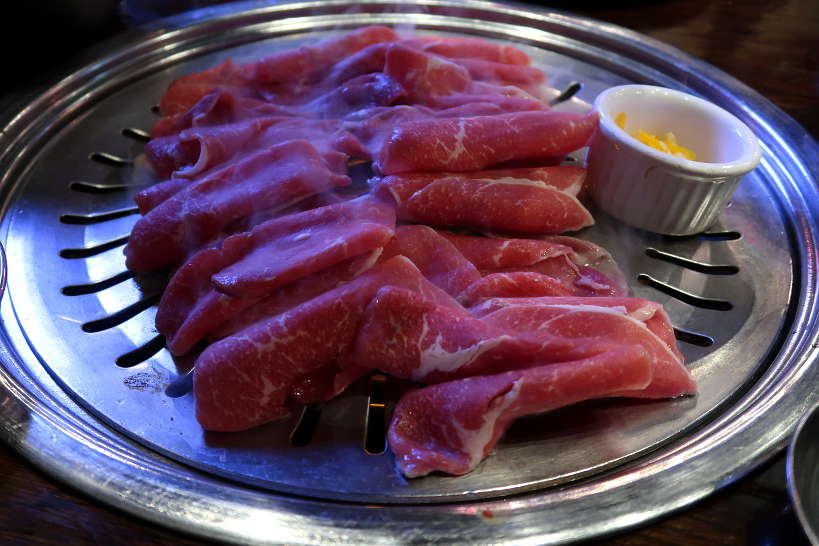 Hobak Korean Barbecue –  The Best Korean BBQ in Las Vegas
To experience Korean barbecue we went with friends and Las Vegas locals, Dan and Charlotte. On their recommendation, we went to Hobak Korean BBQ. This authentic Korean restaurant comes straight from South Korea, where it operates several successful branches.
Dan is an expert on Asian cuisine and he helped us navigate the menu and the different plates.  At Hobak, the servers come to the table and cook the different meats. We went with the Hobak Family combo, which included Angus Brisket, spicy bl beef short ribs, Hobak pork belly, and aged pork ribs. For each meat, a different bbq grid was used for cooking.
Click the video below to see the amazing flavors at Hobak Korean bbq
The combo came with an assortment of banchan (side dishes). It included kimchi, a ramekin with cheese that melts on the grill, bean paste stew, salad, and steamed egg. Little balls of sushi rice and wasabi also accompanied the meal.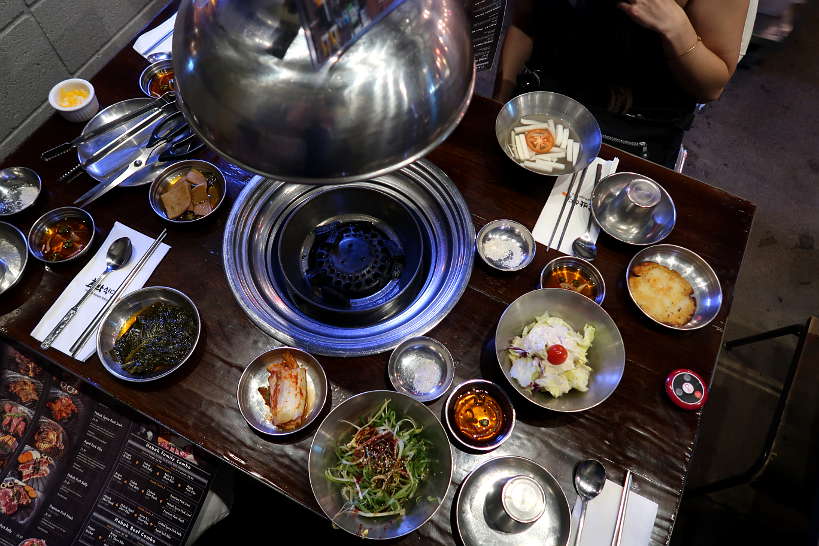 To go along with the meal, we ordered a bottle of Soju, one of the most popular Korean liquors.  Soju is a distilled rice-based spirit, commonly referred to as Korea's vodka. It comes in a variety of exotic fruity flavors, and we had the grapefruit flavored one.
This article about how to drink Korean Soju goes much more in-depth about this traditional drink including the rules and protocol to follow.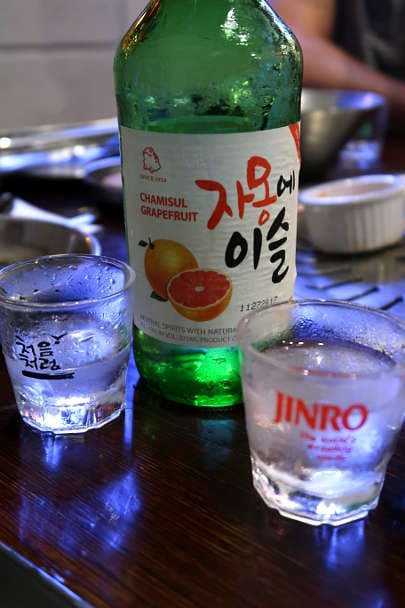 Where To Find Hobak Korean BBQ 
We had an incredible time savoring the fresh flavors, the meats and the tangy sides at Hobak. The portion sizes are copious and it is a meal that is best enjoyed in groups. If you've never had Korean BBQ before, get a group of friends together and enjoy this incredible feast.  
Address: 5808 Spring Mountain Rd. #101, Las Vegas, NV 89146
Hours: Open daily,11:30 am – 1:00 am
Pro Tips:
The portion sizes are copious, plan to go with a group of friends

Hobak does not take reservations, plan to go early and wait in line.  The line moves fast and there are a number of coffee shops and little cafes close by where you can wait.

As you exit, be sure to pass through the "Breeze Spot" and spray your clothes to get rid of the barbecue smell.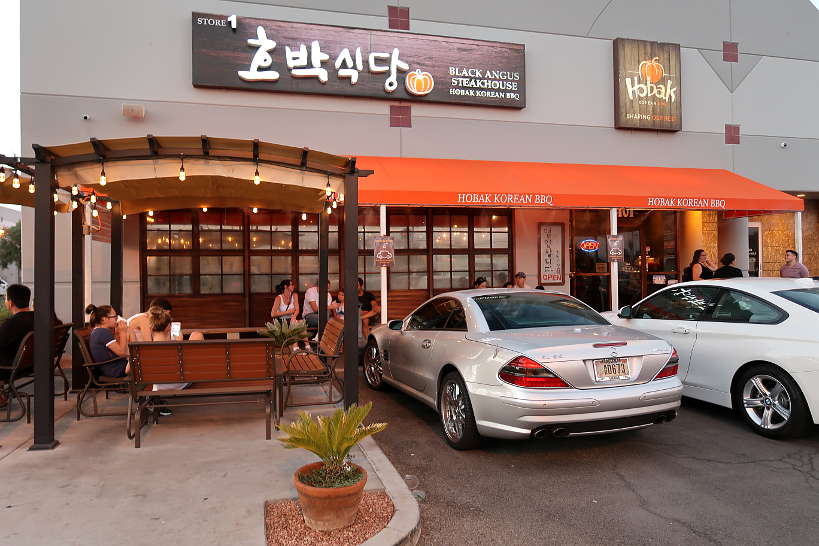 In Summary
The Asian community in Las Vegas has been the fastest Asian growing community in the US in the last decade. Asian-owned restaurants are thriving, each competing for the most authentic cuisine.
Chinatown is at the epicenter of this flourishing food scene in Las Vegas. You'll find the best Asian restaurants offering authentic Chinese, Vietnamese, Japanese, Thai, Korean and Filipino cuisines.
At District One, Lotus of Siam and Hobak BBQ, you'll not go wrong with their authentic cuisine. The prices are pretty reasonable considering the high-quality ingredients used, especially for some of the best Asian restaurants in Las Vegas, 
On your next visit to Vegas, venture off the Strip and delight in Sin City's most exciting culinary scene.
Have you been to Chinatown in Las Vegas before? In the comments below, tell us your favorite Asian restaurant in Chinatown.
For additional restaurants off the Strip, see our article 10 best affordable places to eat off the Strip in Vegas.
Savor The Adventure!
Love it? Pin it!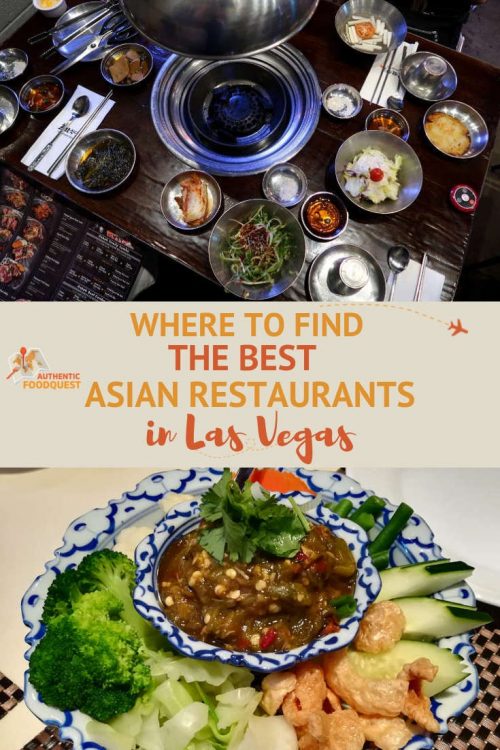 Claire is a culinary explorer and the engineer brain behind Authentic Food Quest. Together with her partner, Rosemary, they created Authentic Food Quest to inspire people to travel deeper through authentic food. Through food, they believe, people can have more meaningful connections on their travels. Take the quiz and find out your Food Traveler Profile.