This article has links to products and services we recommend, which we may make a commission from.
The best Asian snacks are a culinary treat for lovers of Asian foods. The colors, flavors and sheer variety are without a doubt, fun and exciting.
Snacks are an easy and fun way to experience another culture's cuisine. And, a snacks box is an excellent way to discover new treats and enjoy old favorites.
Having traveled through Asia several times, we enjoyed discovering and tasting various exotic snacks and flavors.
To get a taste of Asia at home, we scoured the net to find some of the finest Asian snack boxes.
This guide to the best 9 Asian snack boxes takes you on an exciting snacking trip.
Filled with different flavors, crunch, and unusual tastes, these subscription boxes are sure to delight.

Asian Snacks Box Comparison Table
Top Asian Snacks Box
1 – Bokksu Authentic Japanese Snack Box – Best Artisanal Japanese Snack Box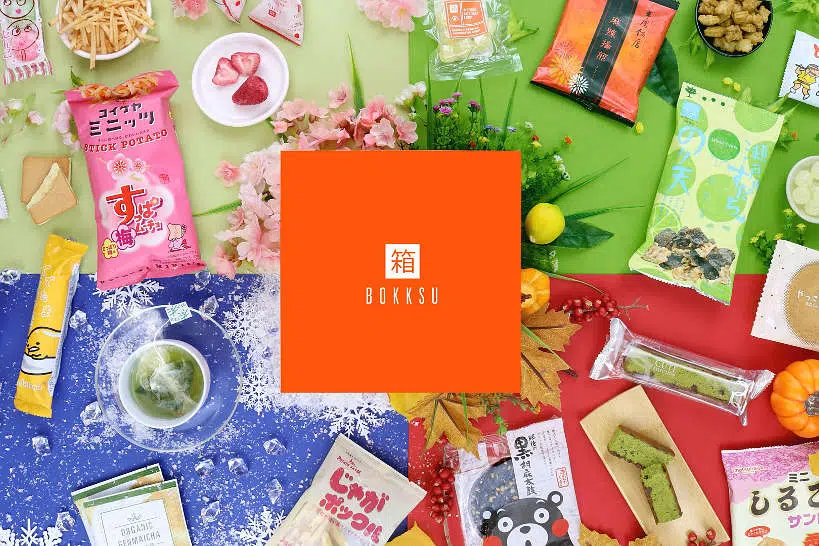 Experience the best of Japan with authentic Japanese snacks delivered to your doorstep. Coming directly from small artisanal Japanese family businesses, you'll learn about the vibrant culture through tasty snacks.
All Bokksu boxes ship for free and in each monthly subscription box, you explore a different side of Japan.
Some of the past boxes have featured Autumn snacks from the Kansai region, Moon Festival snacks, February Valentine snacks and more.
Each box comes with 20 to 24 Japanese snacks, a culture guide magazine to the region, snacks and even allergens.
With every box purchased, family run businesses in Japan are able to keep their traditions alive.
This Bokksu box is one of the tastiest ways to get to know Japan from home.
What People Are Saying
"The presentation is always great and it is definitely fun to get the bokksu every month. The variety is well thought through."
"Love the variety." "Beautiful packaging."
"I love the portion size and the more refined palate"
RELATED: The 8 Best Japanese Snacks Box To Taste Japan – A Complete Review
2 – Snack Pot – Best Asian Box for Trendy Snacks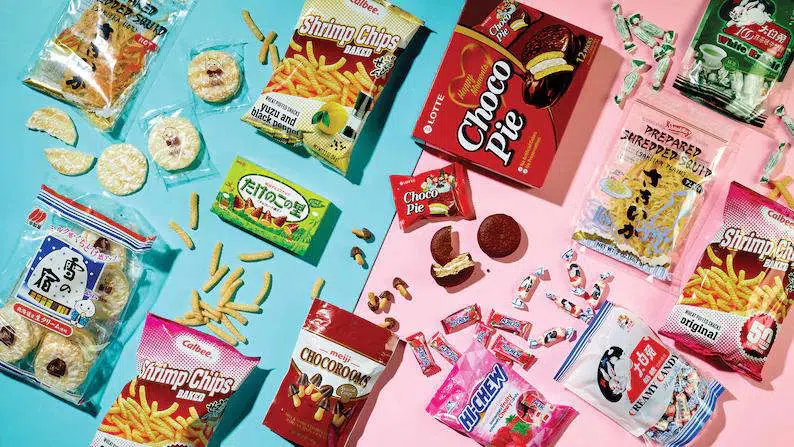 Asian snacks lovers will scream for delight with this variety box of Asian snacks. Featuring trendy and tasty sweets and snacks, Asian snacks lovers hit the jackpot every time with this box.
This box features 35 full sized and mini snacks of iconic Asian snacks. Find Pokemon, Hello Kitty, Super Mario themed snacks and more.
With a mix of dagashi, chips, jellies, crackers, candies, ramen and more, you have a feast to discover.
Each Snack Pot snacks box is handcrafted and you can choose from one of three sizes. A small taster box has 10 to 15 snacks.
The medium feast box features 20 to 25 snacks and the large premium box has 30 to 35 snacks.
Some items in this box ship exclusively from Japan, adding even more excitement to the treats.
While some of the snacks may change by season, you'll always get awesome snacks of the same value and quantity.
What People Are Saying
"So much variety, it's pretty densely packed in. Got some Pokémon stickers as freebies."
"This was a present for a high school student who graduated. He loved it."
3 – SeoulBox Signature – Best Authentic Korean Snacks and K-Pop
The SeoulBox Signature is one of the most authentic Asian snack boxes shipping directly from Korea.
Each box contains the best snacks and Kpop items to feed both your munchies and your cultural curiosity.
Each month you get around 18 handpicked Korean snacks curated with a particular theme. But that's not all, K-Pop items and K-beauty skincare products are also present in each month's box.
Fun and crazy ramen noodles are also part of the Korean snacks as well as unique local drinks.
This Asian snacks box is all about the Korean thrill. There is a mystery item in each box adding to the excitement each month.
One of the best parts about this Korean snack box is a magazine or booklet that comes in each box.
It contains popular cultural information on Korea and the world of K-Pop. A list of valuable information on the snack ingredients is also included.
This is one of the most authentic Korean boxes to subscribe to, since some of the items are found exclusively in Korea.
What People Are Saying?
"I love all the different citrus flavored foods. Especially the halabong chocolate. The only problem is I want more."
"All the snacks are delicious and the magazine that comes with it is very informative and has taught me more about South Korea and its amazing history and culture."
RELATED: How To Unbox Your S(e)oul? 2022 Seoulbox Korean Snacks Review
4 – Asian Candy Box – Best Candy and Treats Snacks Box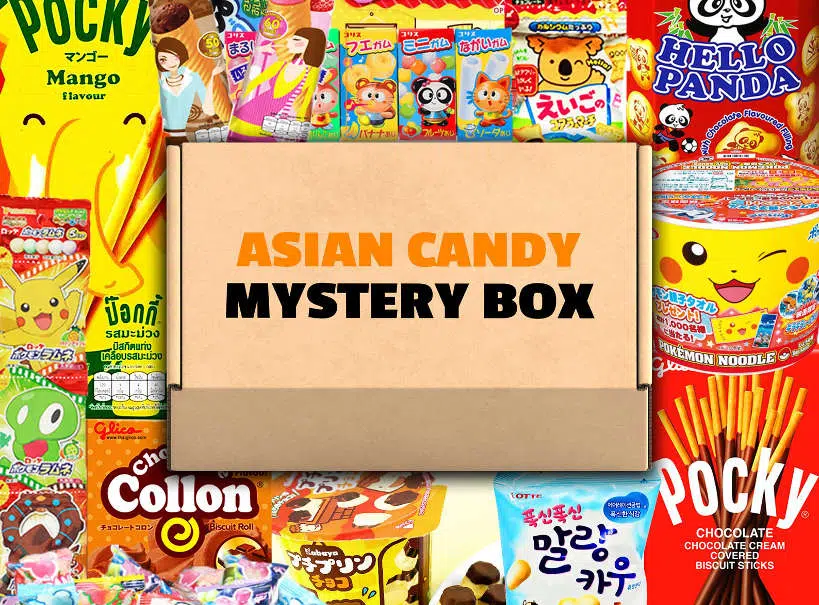 Love candy?
What about Asian candy?
This unique Asian candy box contains sweets from Japan, South Korea, China, Thailand, Taiwan, Malaysia and more.
Available in two sizes, you can choose a Mini Box with eight candies or snacks. Or, get the Big Box with 12 different candies.
All the candies are individually wrapped and can be shipped worldwide.
For family fun, enjoy the sweetness found in this box. With candies, gummies, jellies, and other surprising sweets, this box is a fun way to travel to Asia.
What People Are Saying
"The kids and I loved this box. We really enjoyed trying all the new items. Keep them coming!"
"They were suuuuuper good" "A great gift for Christmas"
5 – Akibento Asian Snack Box – Best Asian Box for Fun Snacks
Expect to travel through Asia in this Akibento Asian Snack Box filled with all sorts of Asian snacks.
The box has Japanese candies, chocolates, Korean treats, and cookies. If you love Chinese and Asian sweets, this is the ideal Asian snacks box as they are also included.
This gives you a variety of savory and sweet treats to share with family and friends.
If loved ones are away, sending this snacks box is a way of showing your love. The assortment of 22 full size Asian snacks is perfect for college kids, road trips, or any snacks lover.
While the assortment of snacks can change according to the season, the quantities and quality don't vary.
What customers love about this box is that it has a variety of snacks. The shipping process is simple, and there is a money-back guarantee.
What People Are Saying
"The box is filled with random snacks from the country you choose. That's what makes it great!"
6 – Mashi Mystery Box – Best Surprise Asian Snacks Box
From Korea, Japan, China, Vietnam, Indonesia and more, this snack box is full of surprising treats.
Tour Asia with your taste buds with the unique flavors in this Mashi mystery box. The assortment of snacks changes in this mystery box.
You never know what snacks from what countries are in the box.
However, one thing is certain. You'll always get three full sized items, 12 to 13 sample sized snacks and 9 to 10 candies.
If you love discovering new Asian flavors, then this box, full of mystery, is ideal.
Discover new tastes and textures, or give this box as a gift. The mashi box packaging the box comes in makes it perfect for gift giving.
What People Are Saying
"You get a lot of good quality items for the amount you pay."
The paper inside the box explains all of the snacks, in English. It was very helpful!"
7 – Korean Variety Snack Box- Best Korean Assorted Snacks
This delicious Korean snack box contains 40 individually packaged single-serve high quality snacks. Inside the box, there's Korean candy, chips, snacks, gummies, and cookies.
It's a value pack that excites the taste buds. You get to sample a variety of flavors. From spicy, to sweet flavors like caramel, chocolate, grape, peach and more.
Beautifully packed, this box of Korean snacks makes an excellent gift or a surprise pack for celebrations like birthdays and more.
This Korean Variety snack box is a one time purchase and not a subscription box. Simply try the snacks and enjoy them at a leisurely pace.
For adventurous eaters with a fondness for Korean snacks, this 40 piece variety box is the perfect snack box.
What People Are Saying
"This is my first "international" snack box, and I'm really pleased. I actually received 37 items in my box!"
"I bought these for something different for the kids snacks. They loved them! We were surprised by the great taste of the seaweed crisp crackers snacks."
8 – Indian Snack Box – Best Snacks Box For The Most Beloved Indian Treats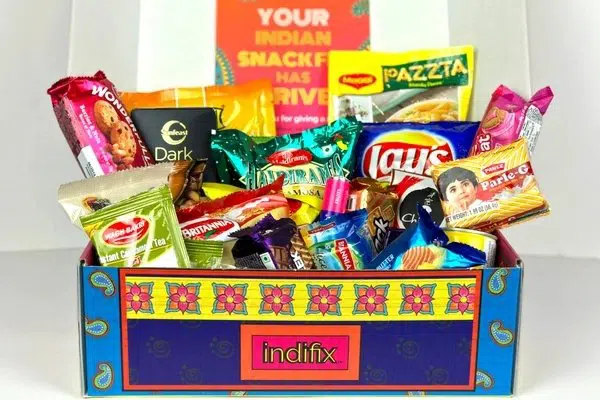 This IndiFix snack box is the only subscription box that features the most loved treats from India.
Whether you're craving candy, chocolate, noodles, chips, cookies or nuts, you get it all in this package.
This India snack box comes in two popular sizes.
The Original Fix has more than 12 handpicked snacks. Whereas the Super Fix has more than 20 premium snacks for the ultimate Indian food lover.
What we love about IndiFix is their commitment to helping local communities. When you get a box, an Indian child in need gets a free meal.
Each monthly subscription box is filled with different snacks from all over the country. You can be assured you'll not get the same snacks each month.
Enjoy fantastic flavors from India each month with a subscription to IndiFix.
What People Are Saying
"My Super Fix IndiFix box was stuffed completely full of snacks from sweet to savory."
"This is a great box packed full of Goodies. I was impressed with how much they put into this box and it's such a beautiful box too."
RELATED: 5 of The Best Indian Meal Kits For a Taste of India
9 – Malaysian Snack Box – Best Snacks For Malaysian Food Lovers
Malaysia, a top destination for food in Southeast Asia, is one of our favorite countries. Malaysian snacks, just like the food, are mouthwatering and highly diverse.
Whether you've been to Malaysia or not, this tasty snack box will take you there. This is not a subscription box, but a one-time purchase of Malaysian delights.
This box is filled with 20 different snacks with exciting sweet and savory flavors. Everything is individually wrapped making it easy to share the treats or eat them over a period of time.
This snacks box is one of the most affordable boxes on this list. If you've ever wanted to taste Malaysia, this is an exciting way to get started.
What People Are Saying
"Everything was fresh and yummy." "Brings back my childhood."
RELATED: The Best of Penang Food – Our 9 Most Beloved Authentic Dishes
Have you had any of these Asian snacks box before? Which ones tempt you the most? Please let us know in the comments below.
Savor The Adventure!
Claire is co-founder of Authentic Food Quest and a lover of simple and exquisite cuisine. Since 2015, with her partner, Rosemary, she has been traveling the world as a digital nomad, creating content about local food experiences.
Her advice from visiting 45 countries and more than 240 food cities has been featured in Lonely Planet, Business Insider, Honest Cooking, Food Insider, and Huffington Post. She has also co-authored three books, including one in collaboration with Costa Brava Tourism.
An ex-mechanical engineer, Claire is responsible for SEO, keeping the website running, and the fun food & travel videos on YouTube.
When Claire is not eating, she can be found running or cycling. Find out more about Authentic Food Quest