Chiang Mai is the largest city in northern Thailand. It is a popular destination in Thailand with many Buddhist temples and an Old City worth exploring.
Different from Bangkok, the temperatures in Chiang Mai are cooler, the vibe is more relaxed and you are surrounded by the beauty of the mountains.
Food, and specifically the most famous local dish, Khao Soi, was one of the main reasons for traveling to Chiang Mai. After exploring the local food in Bangkok, we were eager to discover Khao Soi in Chiang Mai as well as the beauty of the region.
Join us on our quest for the best authentic Khao Soi in Chiang Mai.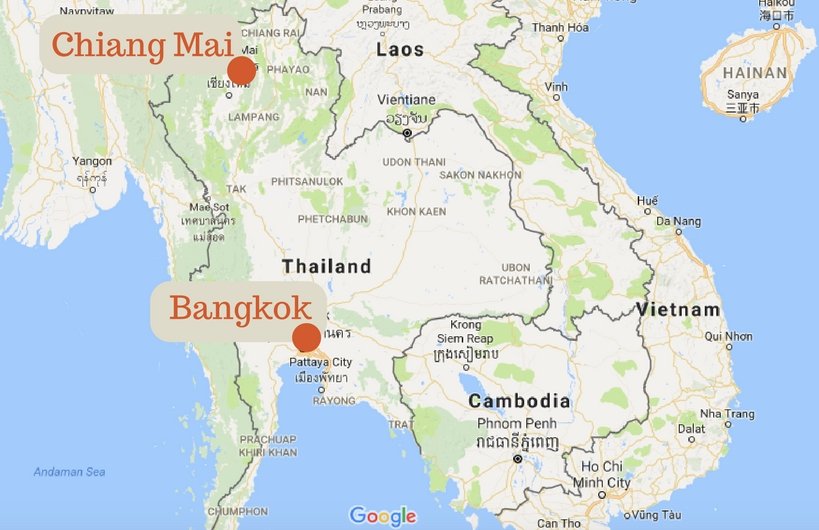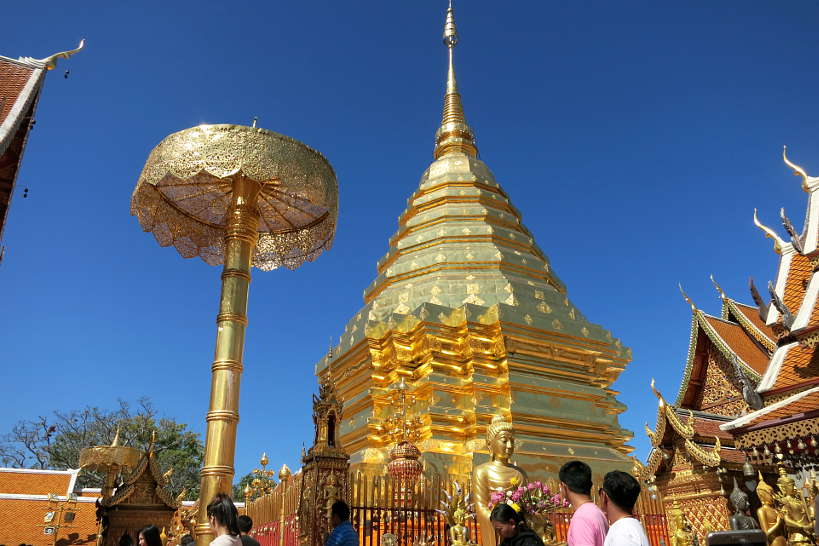 Khao Soi – The Most Famous Noodle Dish in Chiang Mai
Khao Soi, the most famous dish of Chiang Mai, quickly became one of our favorite dishes in Chiang Mai. This northern Thai dish is a rich and spicy coconut milk based curry served with chicken or beef and two types of noodles.
In the U.S., Lotus of Siam restaurant in Las Vegas rated one of the best Thai restaurants in the country, makes a very authentic Khao Soi dish.
The origins of this dish come from the South of China with Chinese Yunnanese Muslims on their way through Thailand to Myanmar.
That is why Khao Soi is only found in northern Thailand. The main ingredients are freshly made red curry paste, turmeric powder, and curry powder.  Khao Soi in Chiang Mai is accompanied by a fresh lime wedge, shallots, pickled cabbage, and roasted chilis.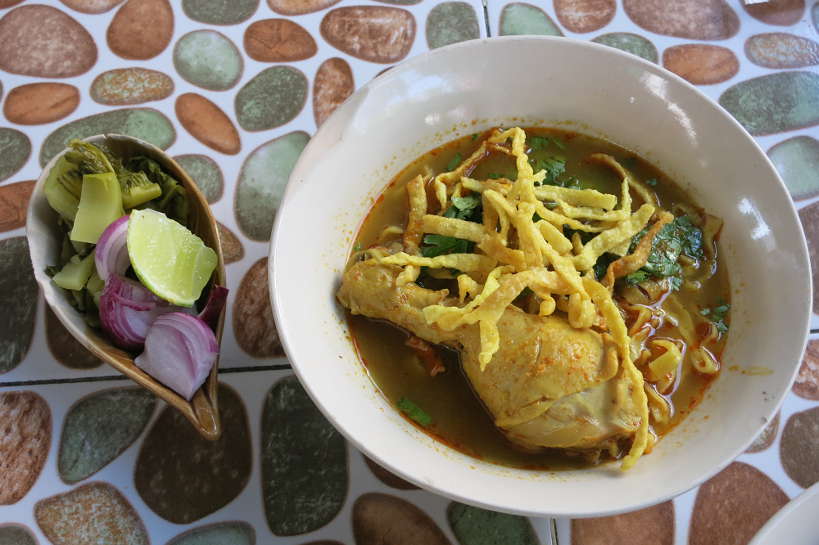 In Search of the Best Khao Soi in Chiang Mai
In Chiang Mai, you'll find Khao Soi everywhere, from restaurants, local eateries and markets. Each vendor has their own way of making this traditional dish. The spice levels is the first difference you will notice. Some vendors make the Khao Soi a little too mild, while others may have it a little too hot and spicy.
Although some of the places listed below are more famous and popular than others, try several before you decide on your own favorite Khao Soi spot. Here are a few authentic Khao Soi places to give you a head start.
1 – Khao Soi at the Saturday Market by Chiang Mai Gate
As always, the best places to find local dishes is at the local markets. Chiang Mai offers many incredible food markets day or night.
Every Saturdays night is the Wui Lai Market by the Old City. The market starts across the Chiang Mai Gate and extends all the way down the length of Wui Lai Road. Although the market is dedicated to art and crafts, you will find plenty of food options.
The area around Chiang Mai gate is a bustling square where food vendors set up their carts and tables. You'll see tourist and locals alike sitting together and enjoying the local foods.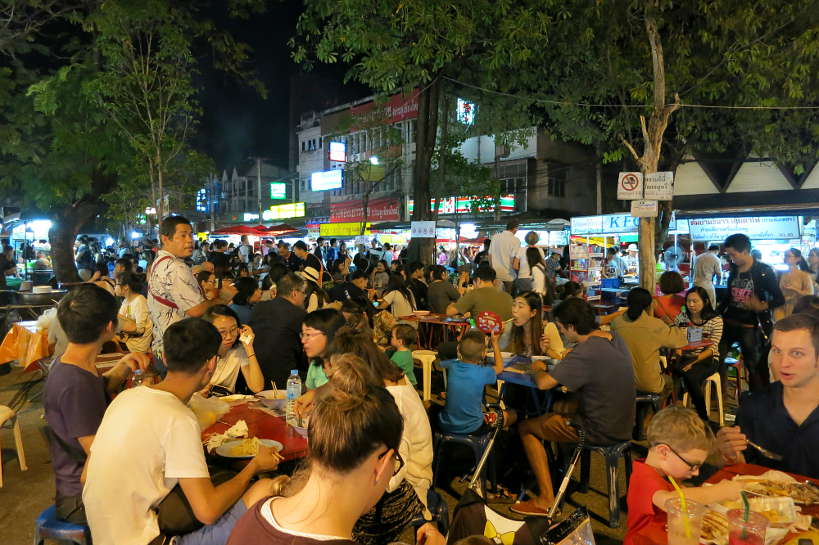 On our first Saturday night in Chiang Mai, we walked through the many vendors and decided to try the local specialty: Khao Soi.
We were served a generous bowl of Khao Soi and were eager to try our first Khao Soi in Chiang Mai.
The noodles were perfectly cooked. Not soggy at all. And the chicken was extremely tender . The curry soup thick and not too spicy. For our first introduction to Khao Soi in Chiang Mai, we were delighted.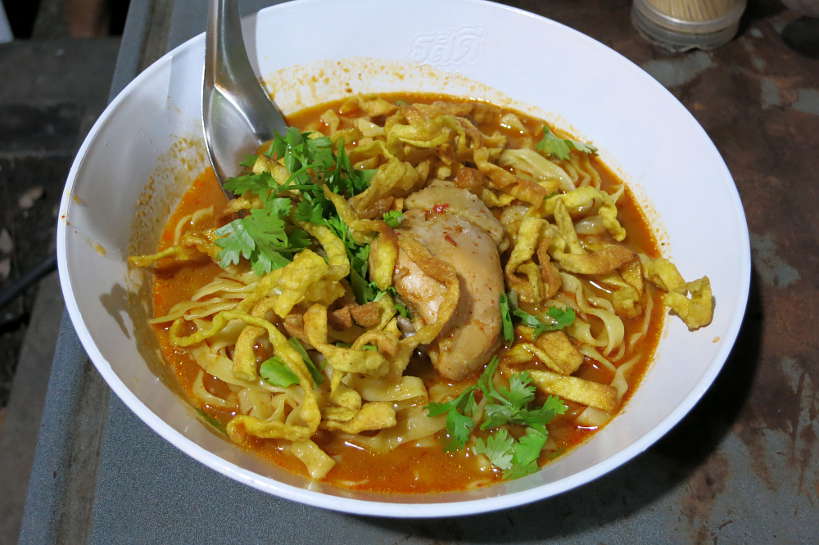 Where
Wui Lai Market – Khao Soi Vendor
Address: Chiang Mai Gate
Hours: Every Saturday from 6:00 pm to 10:00 pm
Prices: 40 Baht per person, approximately $1.22 USD.
2 – Khao Soi at a Very Local Eatery
To get the local flavor and experience, there is no better place to eat in a local part of town where the locals themselves go for lunch.
Every week, during our month long stay in Chiang Mai, we would go wash our laundry at a nearby "wash shop" or coin-operated laundry facility. The extremely clean laundry facility is just off the busy Chonprathan Road (Chiang Mai Outer Ring Road) a few meters away from isleepguesthouse.
Right across the laundry place, we discovered this small street vendor where locals would stop for lunch.
There were no signs in English and the ladies preparing the food didn't speak a word of English. Enticed by the popularity of the place, we decided to gave it a try.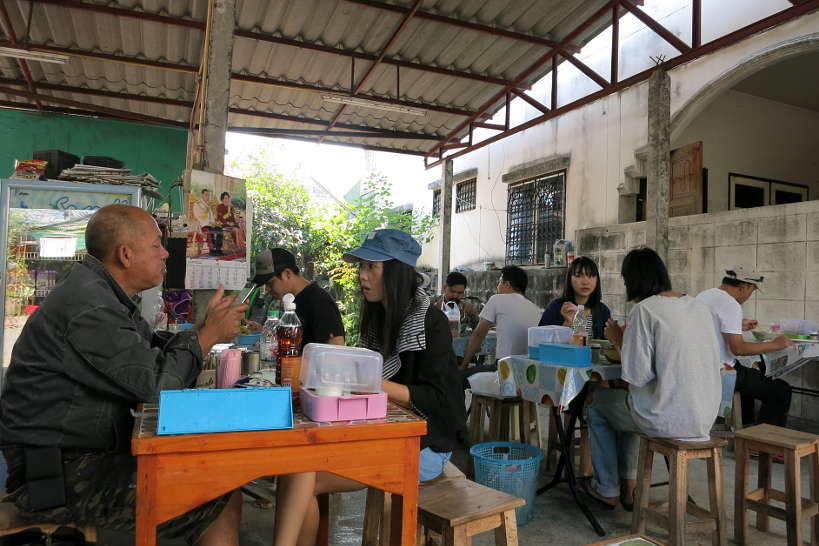 Once we sat down, we learned that they specialize in only two dishes.One of them was Khao Soi, so we jumped at the opportunity to try a Khao Soi made before our eyes by locals.
This Khao soi was really spicy and certainly geared towards the local taste. The chicken was delicious and falling off the bone. And the noodles were crispy and literally melted in the mooth.
We really enjoyed this Khao Soi, although we had to contend with our mouths being on fire. Even though it was on the spicy side, it was extremely delicious and we made sure to eat it every week while doing laundry.
Definitely worth a try as you getting used to the levels of Thai spices.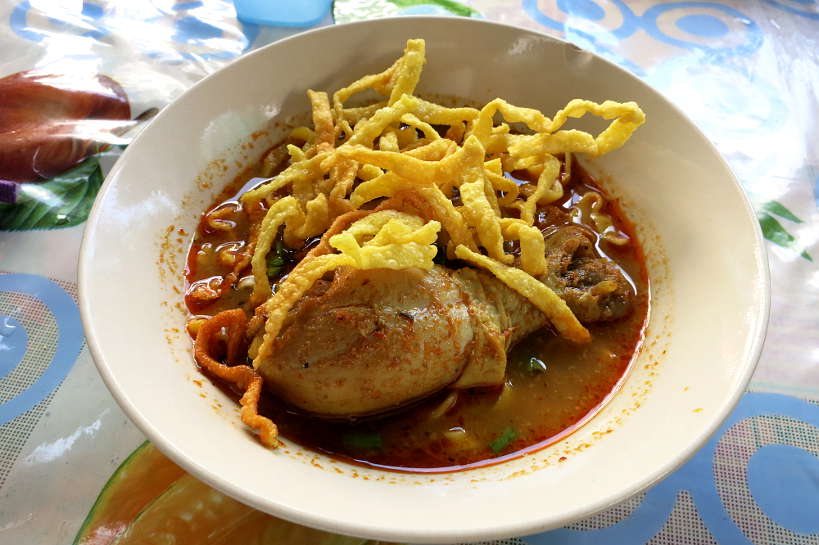 Where
Local Khao Soi Street Vendor
Address: At the intersection of Wua Lai and Huay Kaew Soi 2 Road, Chiang Mai
Hours: Monday to Saturday from 10:00 am to 1:00 pm
Prices: 30 Baht per person, approximately $1.00 USD
3 – Khao Soi Mae Sai – Stands True to Its Popularity
Another highly recommended restaurant by locals is Khao Soi Mae Sai. It is said to be the best place to have Khao Soi by expats and regular visitors to Chiang Mai. With such recommendations and a prestigious title, we were eager to taste the very famous Khao Soi.
Locals and tourists quickly fill up the tables. With the lunchtime hours extending until 4:00 pm, it is best to go after the rush so that you can sit outside and enjoy your meal.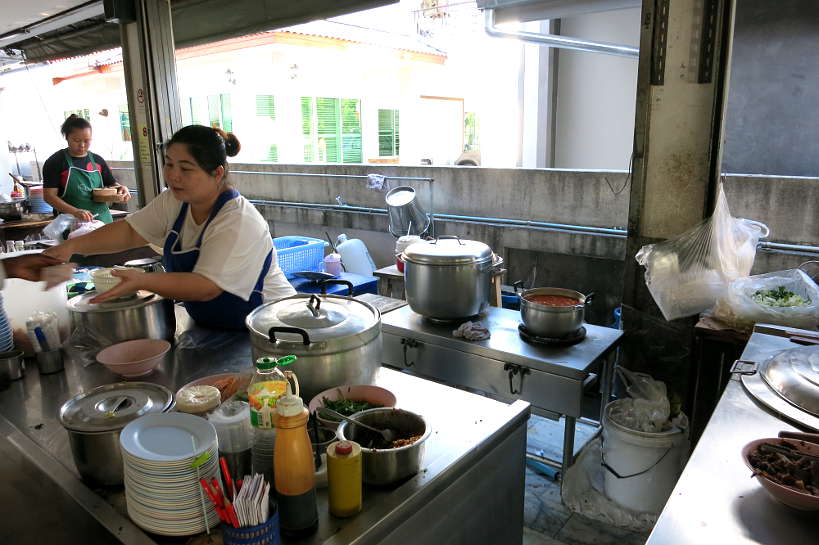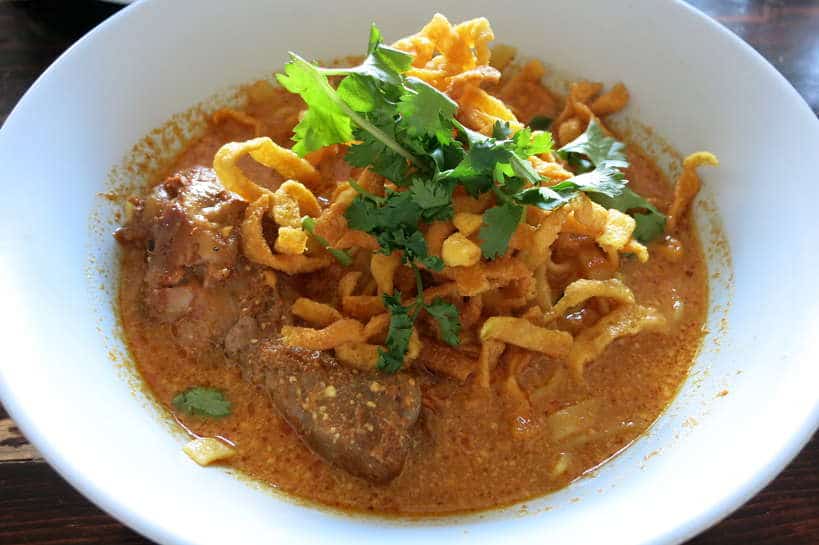 Where
Khao Soi Mae Sai
Address: 29/1 Ratchaphuek Alley, Mueang Chiang Mai, Chiang Mai
Hours: Monday to Saturday from 8:00 am to 4:00 pm
Prices: 40 Baht per person, approximately $1.22 USD.
4 – Khao Soi Khun Yai – Recommended but Disappointing
Khao Soi Khun Yai came highly recommended and we found it mentioned in many articles and blogs. It is a really popular restaurant, filled with tourist crowding the benches at this off-road street vendor.
Given its popularity, you have to be patient when ordering your meal. It is best to go either early before the busy lunch period or a little later after the crowd winds down.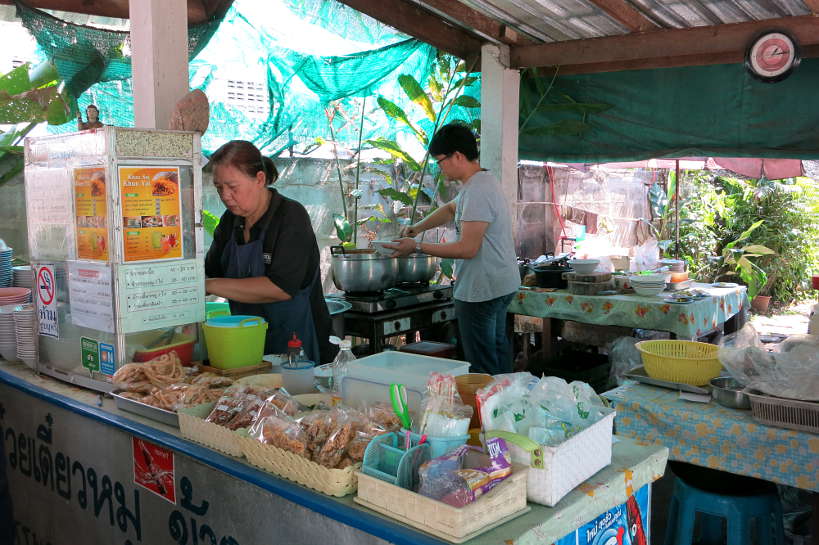 One particularity of this place is that you can order either the beef Khao Soi or the chicken Khao Soi.
We decided to order one of each to get a sense of the differences between the two versions.
Overall, we were disappointed by Khao Soi here. Perhaps we had really high expectations after hearing all the positive reviews about the place.
First, the portions are relatively small as compared to everywhere else we had eaten Khao Soi. It is the kind of place where you may need to order a second bowl just to satisfy your hunger.
Secondly, the crunchy noodles didn't seem homemade and were lacking freshness. The beef was disappointing and the chicken was only a slight improvement.
However, on the positive side, the location and atmosphere is pleasant. The restaurant is in the Old City on a quiet street across from the Wat Kuan Kama Temple. If you are looking for a laid back experience in the Old City, this is a great option.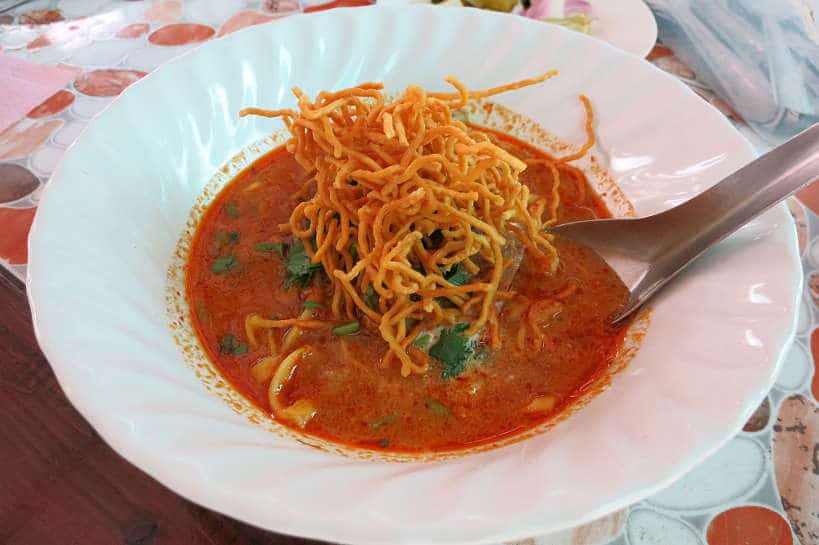 Where
Khao Soi Khun Yai
Address: Across Wat Kuan Kama Temple, Sri Poom Road, Amphoe Mueang, Chiang Mai.
Hours: Monday to Saturday from 10:00 am to 2:00 pm.
Prices: 40 Baht per person, approximately $1.22 USD.
5 – Khao Soy Nimman – A Catered Experience
Located on Soi 7 in Nimman, this upscale air-conditioned restaurant is popular with tourists and expats. The English speaking staff know enough to communicate and allow first-time visitors or those not comfortable diving into the street food version of Khao Soi, feel at home.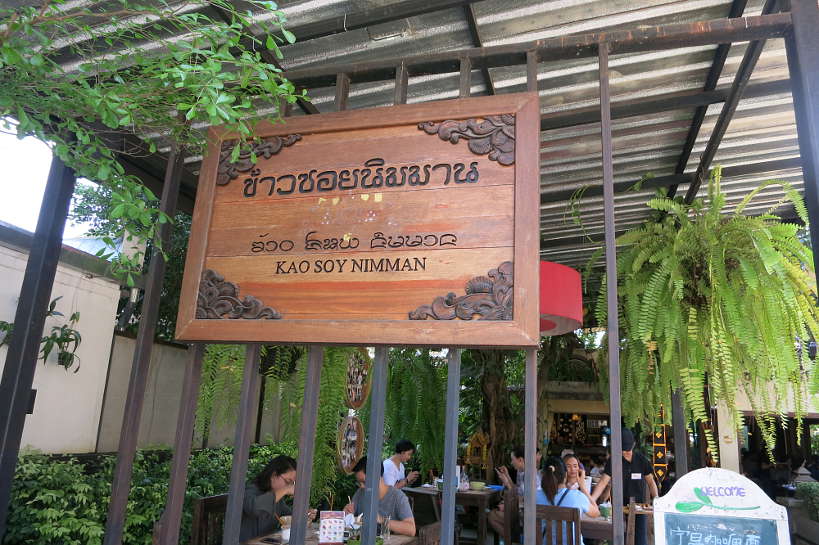 The Khao Soi here is predictably more expensive. The portions are not as generous as compared to other locations. Perhaps to cater to foreigners, the flavors are not as spicy. Overall, the sauce was creamy and it blended well with noodles. The chicken was tasty, though not as tender.
If you are looking for an upscale experience in air conditioning and an English speaking staff, you will like the comforts of Khao Soy Nimman. We found the experience "catered" and we much prefer Khao Soi prepared the "local" way, for the local palate.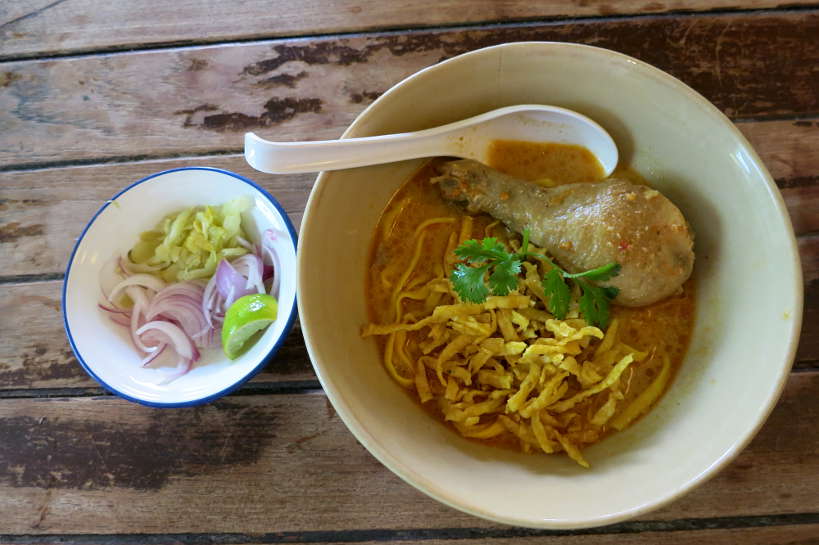 Where
Address: 137, Nimmanhemin Road, Soi 7
Hours: Everyday, from 11:00 am to 8:00 pm
Prices: 65 Baht per person, approximately $1.94 USD.
How to Make Khao Soi in Chiang Mai
After falling in love with Khao Soi and eating it at several different places, we decided to take a cooking class. At Aroy Aroy cooking school, we learned how to make Khao Soi, the most famous dish in Chiang Mai.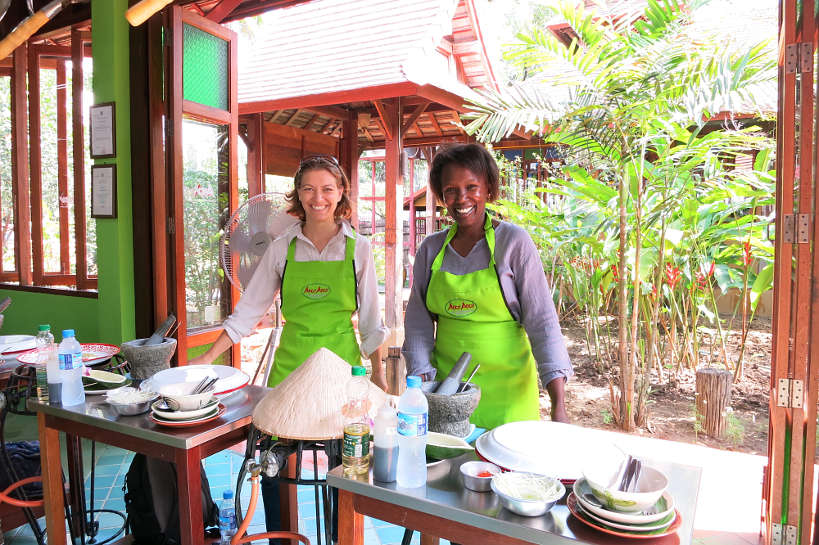 The experience was a lot of fun, and there was a lot of chopping and preparation involved. We learned that the secret to a good Khao Soi is in the sauce.
The key ingredient is the red curry paste, which can be adjusted to suit one's taste. More or less curry can be added which changes the taste of the dish. Read more about this lively cooking class at Aroy Aroy in Chiang Mai.
To make Khao Soi at home, here is the list of ingredients and recipe (compliments of Aroy Aroy).
To make things easier you can buy the Khao Soi Paste instead of making it from scratch. If you're up for more cooking then follow the recipe for Khao Soi Paste.
Once you're set with the Khao Soi Paste,  Here are the ingredients needed to make Khao Soi in addition to the Khao Soi Paste.
Ingredients for Khao Soi
1 pound fresh Chinese-style egg noodles, divided
2 (15-ounce) cans coconut milk, or 2 cups fresh coconut milk (do not shake)
1 cup homemade or canned low-sodium chicken stock
2 tablespoons palm sugar
2 chicken skinless chicken breasts, sliced thinly
Fish sauce to taste
Sliced shallots and lime wedges for serving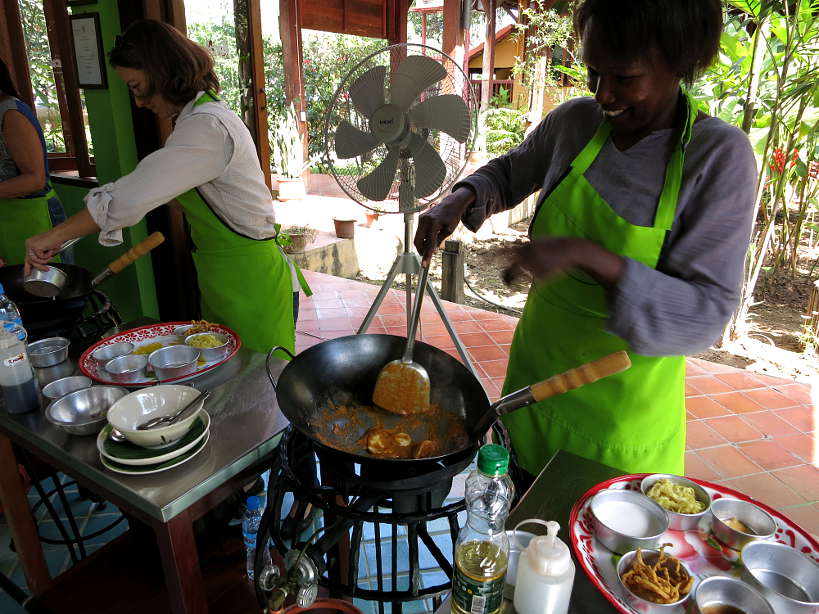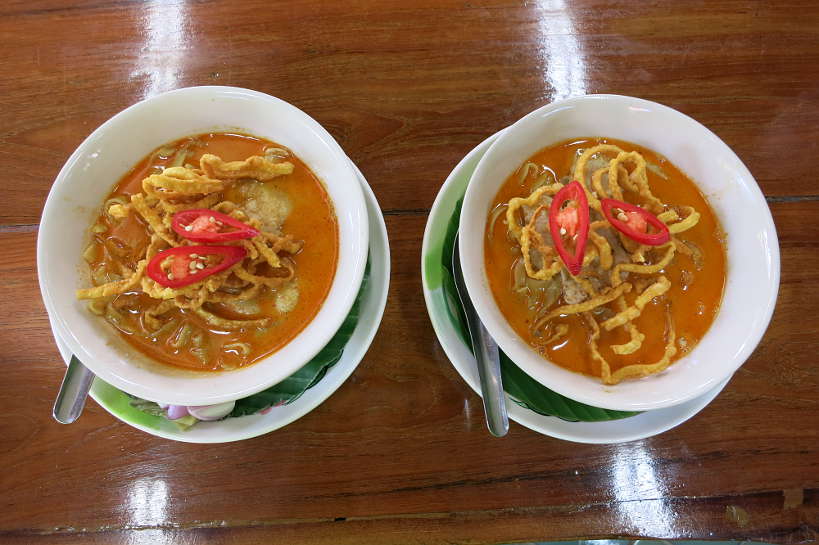 Recipe Khao Soi – Serves 4
1- Separate out 1/4 of the noodles (enough noodles to make a crispy fried-noodle topping for 4 bowls) and set the remaining noodles aside.
2-Heat vegetable oil in a large wok over high heat until simmering. Working in batches, add noodles to oil and fry, stirring and flipping until golden brown and crisp. Transfer to a paper towel-lined plate. Season with salt and set aside.
3-Discard all but 1 tablespoon oil from wok. Using a spoon, skim 2 tablespoons of creamy fat off the top of the coconut milk and add to the wok. Heat wok over high heat and cook, stirring constantly, until coconut milk breaks and oil begins to lightly smoke, about 2 minutes. Add curry paste mixture and cook, stirring and smearing the paste into the oil, until aromatic, about 45 seconds.
4-Slowly whisk in the coconut milk, followed by the chicken stock and palm sugar. Add sliced chicken breasts and bring to a simmer. Cook, turning chicken occasionally, until chicken is tender and broth is very flavorful, about 30 minutes. Season to taste with fish sauce.
5-Bring a pot of salted water to a boil. Add remaining uncooked noodles and cook until al dente, about 1 minute. Drain noodles and divide between four warmed bowls. Top noodles with two pieces of chicken. Divide broth evenly between bowls. Top with fried noodles and serve immediately with sliced shallots, lime wedges, and pickled mustard greens on the side.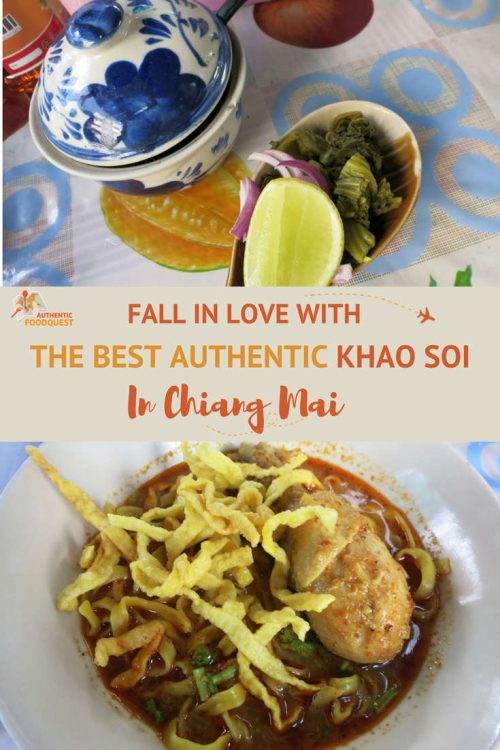 Rosemary is a writer and culinary explorer. Together with her partner, Claire, they created Authentic Food Quest to inspire people to travel deeper through authentic food. Through food, they believe, people can have more meaningful connections on their travels. Prior to creating Authentic Food Quest, Rosemary worked as a director of strategy in advertising for over 15 years.   Take the quiz and find out your Food Traveler Profile.