Bangkok is known for having some of the best food in the world.
With non-stop action and food available at every street corner 24-hours of the day, knowing what and where to find the best local food can be daunting.
One of the best ways to get your bearings on the local food scene while tackling the language barrier is to take a food tour in Bangkok.
With a local Thai guide and a fun way to explore the neighborhoods, you get to know the local culture as you eat your way through the city.
For your visit to Bangkok, also known as the "City of Angels," here are #6 Bangkok food tours to choose from to make your travels tasty.

What to Consider When Choosing a Bangkok Food Tour?
While the basics are the same for many food tours in Bangkok, things like length of tour, location and food experiences vary.
These are important considerations, especially whether it is your first time to Bangkok or not.
As you plan for a Bangkok food tour, here are a couple of questions you'll want to consider.
Once you've decided on what's important to you, go ahead and book the Bangkok food tour that best fits your needs.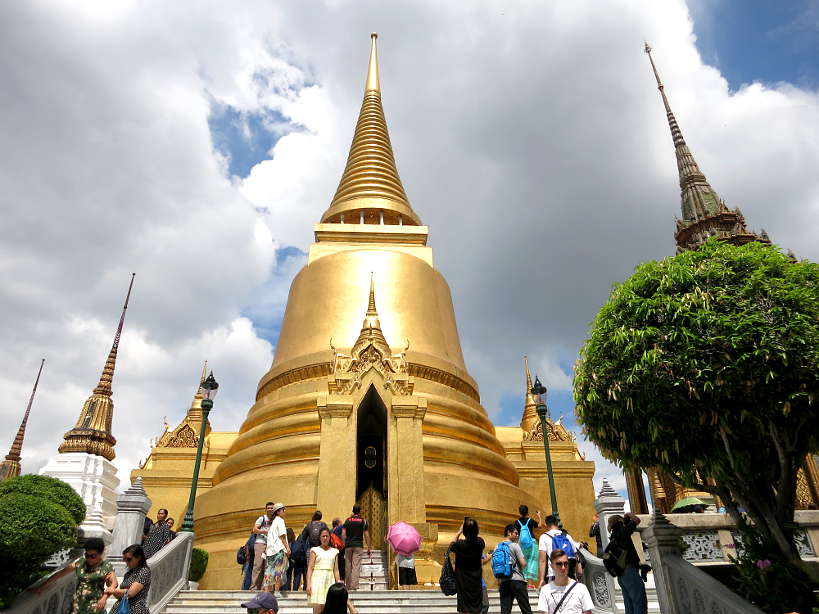 How Much Time Do You Have?
Depending on how much time you have in Bangkok, you can opt for half day or full day Bangkok tour.
Some tours are offered during the day while others are at night. With that flexibility, you should find a tour that fits your schedule.
What Kind of Bangkok Food Tour Experience Do You Want?
Having visited Bangkok several times and personally taken most of these tours, we can confidently say that you will have a local and authentic experience.
Beyond that, are there any experiences you particularly want to enjoy.
Are you curious about riding in a tuk-tuk for your food tour?
Is there a particular Bangkok neighborhood you want to explore?
Do you like taking a food tour with a group, or is a private Bangkok tour with a local expert more your style?
Whether you want to take a Bangkok floating markets tour or even take a day tour from Bangkok, all you have to do is choose.
What Is Your Budget for a Food Tour in Bangkok?
The kind of experience you are looking for will play largely into your budget considerations.
The Bangkok food tours we highlight range from $20 USD per person to more than $200 USD for two people. Depending on the size of your group, you may be able to negotiate discounted rates.
Be prepared to pay extra for private tours where you can explore at your own pace. The group tours showcased here are small groups with about 8 participants.
Even though you may not have the guide's exclusive focus, these Bangkok food tours are more affordable.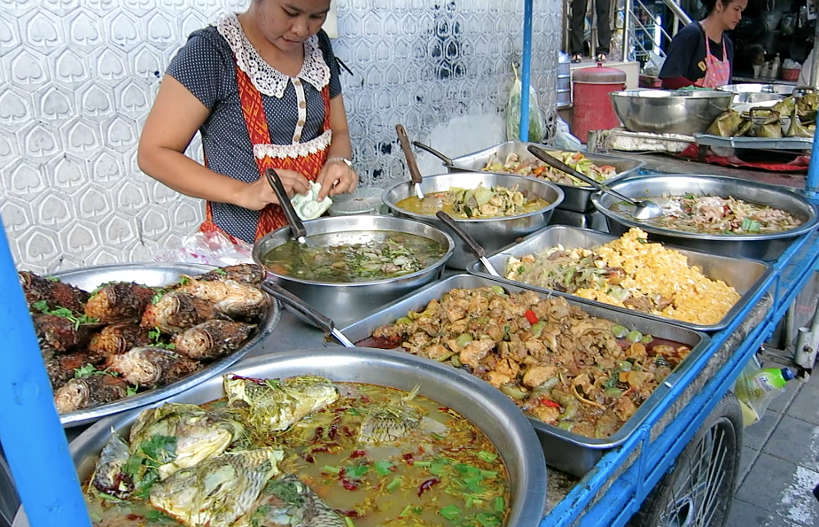 The Best Bangkok Food Tours To Choose From
#1- Bang Rak Bangkok Food Tour
If you want to immerse yourself in a local neighborhood, there is no better place than Bang Rak.
Bang Rak is one of Bangkok's districts known by locals for having some of the best food in a small area.
Additionally, Bang Rak is also known as the "Village of Love", and it represents Muslim, Buddhist and Christian communities living in harmony for over 150 years.
We took a Bang Rak food tour and enjoyed wonderful and authentic experiences that we wouldn't have discovered by ourselves.
At each stop, we ate like a local. It was like stepping into the day-of-a-life of a Thai person living in Bang Rak.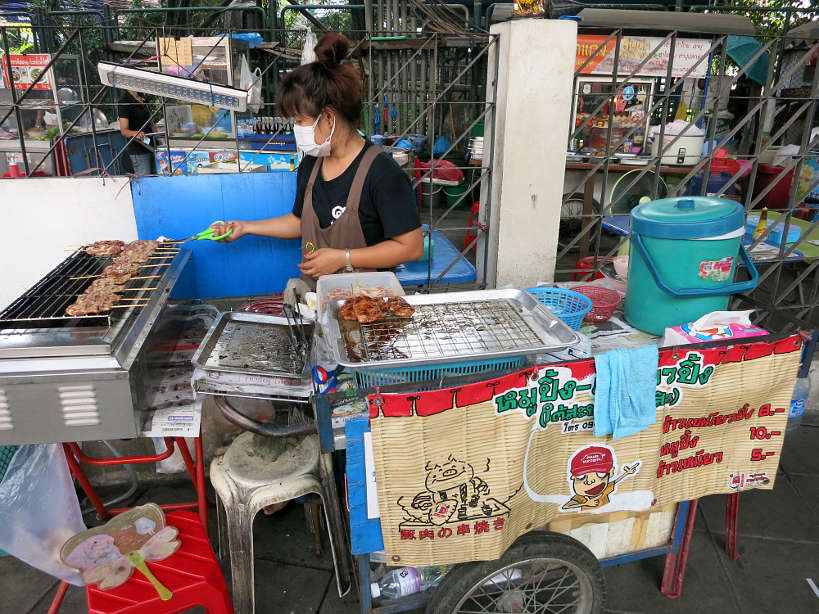 Our local guide, shared stories and local insights into the local Thai culture along the journey. Even though we made several food stops we enjoyed each one and didn't feel too overwhelmed with the food.
The Bang Rak food tour is best for those looking for an intimate and small group experience while delving deep into a specific local neighborhood. You will sink your teeth into Thailand's Royal Cuisine, savor regional recipes, including herbal drinks, sweets and more.
Cost of the tour: Aprox $57.00 USD per person
Length of Tour: Approximately 3-4 hours. Morning tour starts at 10:00 am and Evening tour starts at 6:30 pm
Size: Small group tour. English speaking local Thai guide
#2- Expique Tuk Tuk and Evening Bangkok Food Tour
Tuk-Tuks are one of the most iconic modes of transportation in Bangkok.
The way these three-wheeled vehicles whiz in and out of traffic is an experience to be had by first time and repeat visitors to Bangkok.
If you are curious about taking a tuk tuk, why not combine that with an evening food and tuk-tuk adventure.
At night the streets of Bangkok come to life in a unique way. Your senses are heightened as the smells and sounds of street vendors greet you at every corner.
On one of our first visits to Bangkok, we took the opportunity to hop into a tuk tuk and take a Bangkok night food tour.
That is one of the most fun and insightful tours we've taken.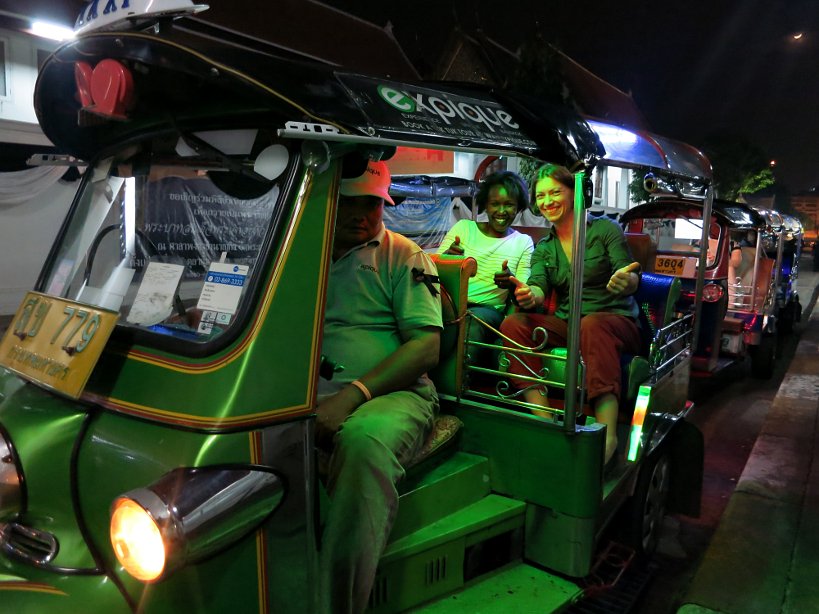 We enjoyed the combination of stops at delicious off the beaten path eateries and learning about what makes Thai cuisine special.
Furthermore, the convenience of moving around leisurely in a tuk-tuk makes for an entertaining experience.
If you are looking to experience Bangkok in a tuk-tuk and gain a local's perspective of the night food scene in the city, this tour is for you.
You'll enjoy diverse food stops, a local market stop and a Bangkok temple tour cultural stop in between the eating.
Cost of the tour: $82 USD per person
Length of Tour: Approximately 4 hours. From 6:00 pm – 10:00 pm
Size: Small group tour with English speaking Bangkok tour guide
#3 – Chinatown Food Tour – Bangkok Private Tours with Context Travel
Chinatown Bangkok is the world's largest and most authentic community of Chinese living outside China. It is also one of Bangkok's busiest and liveliest districts.
Known to locals as "Yaowarat", Chinatown Bangkok goes way beyond a tourist attraction.
It is a working Chinatown with two distinct atmospheres.
The Chinatown Bangkok market by day and a massive open-air food market by night.
Navigating Chinatown and knowing the best vendors not to miss can be very intimidating.
On our first visit to the capital of Thailand, we took a private Chinatown Bangkok food tour with Context Travel to get the most out of the experience.
Our tour was tailored for us and included a mix of culture, history and of course, the local specialties not to miss.
Having a guide that spoke both Thai and English was a huge bonus as well.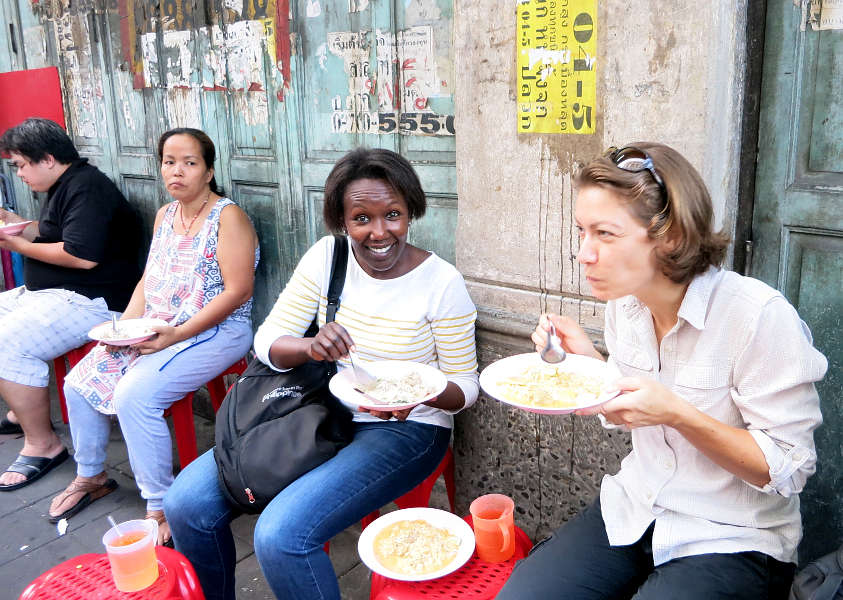 We really enjoyed the personal attention we received on this tour. Learning about the food in the context to the history and culture helped us appreciate the local food culture at a deeper level.
We went down alleys we didn't know existed. Stopped at shop houses and met owners of stores who had been there for decades.
And, we ate amazing street food from some of the most unexpected stalls and vendors.
If you enjoy exploring at your own pace, consider a private tour with Context Travel. The company specializes in small group tours for the intellectually curious travelers.
On this Chinatown Bangkok food tour, you will plunge into this buzzing district and discover distinctive Bangkok style take on Thai food.
With a Thai/ English speaking private tour guide, you will see a side of Bangkok that is impossible to find on your own.
Cost of the tour: $228 USD for two people
Length of Tour: Approximately 3 hours. Evening, specific time to be confirmed at booking
Size: Private Tour with your own personal tour guide
#4 – A Chef's Designed Bangkok Food Tour
Imagine diving headfirst into a Bangkok street food tour designed by a chef.
A Chef's Tour is a new type of food tour company that creates tours good enough for chefs.
The tours don't pander to Western palates. Instead, you get to really understand the regional foods, history, and ingredients in the heart of the area's cuisine.
We took a Chiang Mai food tour with A Chef's Tour to explore northern Thai food and loved it.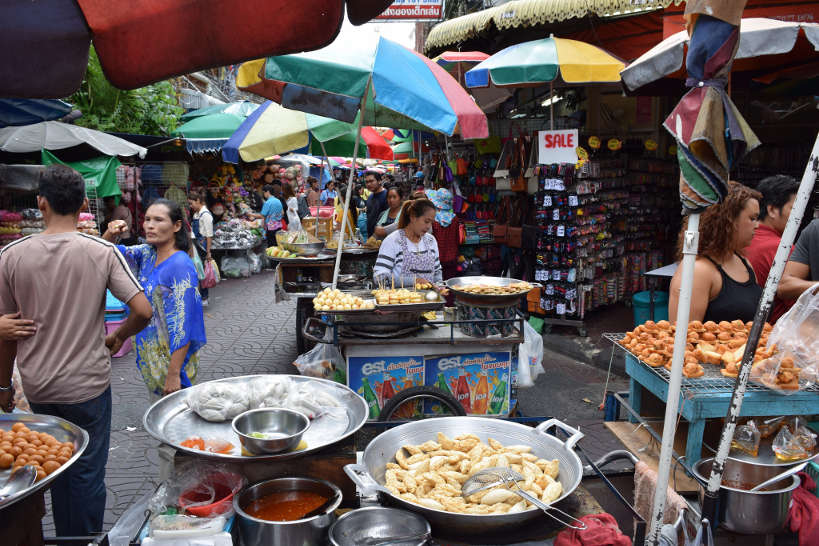 #5 – Floating Market Bangkok Tour
Visiting markets is a great way to explore the local food scene in Bangkok. There are many different kinds of Bangkok food markets, and at each one food is an integral part of the experience.
One of the most unique market experiences is visiting one of the must-see floating markets of Thailand. We visited some floating markets in Bangkok and although we enjoyed our experience, we would have benefited from being with a local guide.
The floating markets are not easy to get to and having a guide to help us find the market as well as interact with the boat vendors would have been beneficial.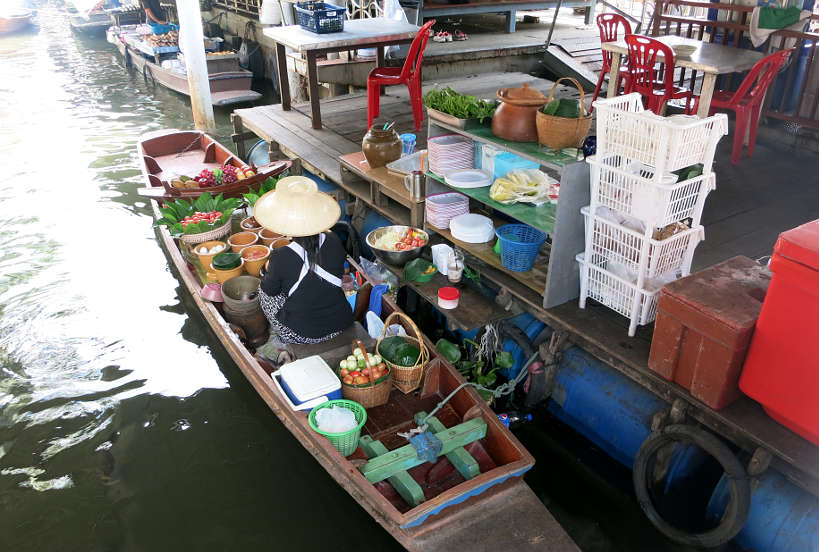 # 6 – Ayutthaya Food Tour from Bangkok
If you've been to Bangkok before or you simply want to explore outside of Thailand's busy capital, consider an Ayutthaya day tour from Bangkok.
While visiting the ancient capital of Thailand and its numerous temples, you get to explore the local cuisine.
Ayutthaya, located about 80 km north of Bangkok is a popular UNESCO World Heritage Site. Once the biggest city in the world and the center of trade of Southeast Asia, this former capital of Thailand is worth discovering.
We took an Ayutthaya tour from Bangkok and loved visiting the ancient temples, an important Thai-Chinese market known for its regional desserts and feasting on giant shrimp.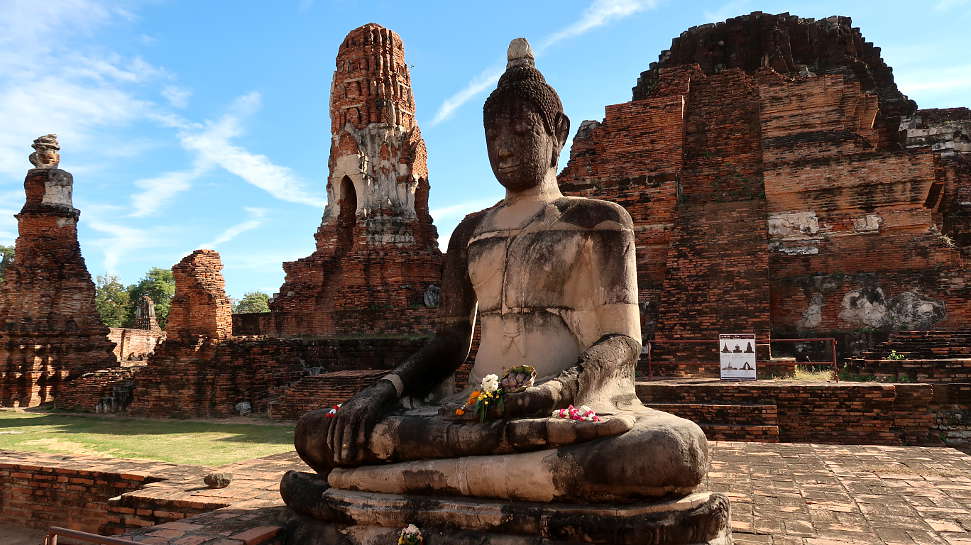 This private tour starts out with a pick up at your Bangkok hotel. With your local and private guide, you will visit several Ayutthaya temples, including the giant Buddha head in the trees.
Your tour guide will share the fascinating historical facts about each temple. After the temple visits, you will feast on amazing giant shrimp or jumbo river prawns.
Before your ride back to Bangkok, you will stop a local Thai-Chinese market and taste unique desserts found exclusively in the region.
If you are looking to see a different side of Thailand while diving into the local Thai culture, an Ayutthaya day trip from Bangkok is an experience not to miss.
Cost of the tour: $228 USD for two people
Length of Tour: Approximately 10 hours – from 7:00 am – 5:00 pm
Size: Private car and tour guide. Free hotel pick up and drop off

In Summary
With dozens of Bangkok food tours to choose from, it can be difficult making the right decision.
We hope this overview of authentic food tours in Bangkok will help you find the right tour that fits your needs.
Have you ever taken a food tour before? Let us know in which city in the comments below.
Savor the Adventure.
Love it? Pin it!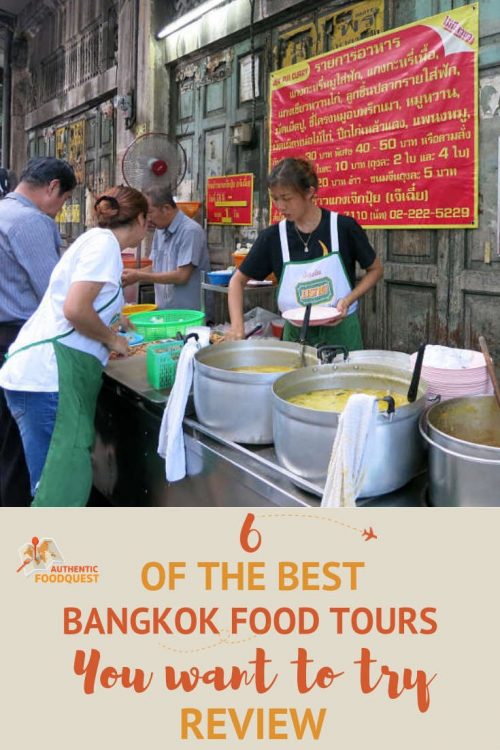 Disclosure: This page contains affiliate links. That means at no extra charge to you, we earn a small commission when you purchase using these links. Thank you for your support.
Rosemary, ex-marketing and advertising strategist, is a digital nomad and content creator at Authentic Food Quest. Since 2015, with her partner, Claire, they travel the world in search of the best local food experiences. Their mission is to help you enjoy the best local specialties on your travels or via recipes in your home kitchen. Favorite country for food: Peru. Favorite local dish: Bacalhau. Favorite way to keep fit: Running. Rosemary is the chief content writer and strategist on Authentic Food Quest. She is also co-author of Authentic Food Quest Argentina and Authentic Food Quest Peru, available on Amazon.