This article has links to products and services we recommend, which we may make a commission from.
What is Greek Boureki from Chania, Crete?
Originally from the island of Crete, boureki is a traditional dish made with sliced potatoes, zucchini, Crete mizithra cheese and mint.
It is also known as Chaniotiko boureki paying tribute to its origins.
A delicious vegetarian dish, it consists of a phyllo dough base followed by seasonal vegetables and phyllo on the top.
The layers of potatoes, zucchini, Cretan cheese and mint are the most traditional. However, tomatoes are typically added when they are in season during the summer months.
And, in the winter, squash or pumpkin can substitute for potatoes.
Chania is also spelled as Hania and sometimes you may see the dish referred to as Haniatiko boureki.
History of Cretan Boureki
Cretan boureki is a true reflection of the Cretan approach to life. Food as a way of life is delicious, simple and made with seasonal vegetables.
Rich in history, many traditional recipes can be traced back to Crete's long history. When combined with the abundance of local produce, dairy products, and olive oil, you get classics like boureki, and more.
Boureki from Chania, in western Crete, refers to an irresistible layered potato, zucchini dish with generous amounts of local cheese.
The word boureki, börek or burek refers to filled pastries made with phyllo dough. The word comes from the Ottoman Empire period where stuffed pastries were popular in Ottoman cuisine.
Börek is popular in the cuisines of the former Ottoman Empire, like in North Africa and the Balkans.
The Cretan boureki is special as it is filled with sliced zucchini, sliced potatoes, local mizithra cheese, and mint. It is typically baked with a crust of phyllo dough on the top.
Discovering Chaniotiko Boureki
Boureki in Crete or Chaniotiko Boureki is one of those traditional and classic dishes you will find everywhere.
It is not surprising as it originates from the area of Chania. In Crete, you'll find boureki at almost all traditional restaurants.
While exploring local Cretan food specialties during the lockdown, some local restaurants and bakeries offered boureki for take-away. As a result, we tried boureki several times from different places, always appreciating the nuances in the preparation styles.
In addition, our wonderful Airbnb host eager for us not to miss out on Cretan specialties, also made us homemade versions of this iconic dish.
The recipe below is from our host. Not only did she give us the recipe from her mother and grandmother, but she also gave us a cooking demonstration in her kitchen.
When you make this boureki recipe at home, you'll be tasting a treasured family recipe from generations in Crete.
Chania Boureki Recipe – How To Make Boureki At Home
On the island of Crete, there are as many different versions for the boureki recipe as they are home cooks. Each family may adjust the recipe by adding more layers of one ingredient or mixing different Cretan cheeses together.
At the core, a traditional chaniotiko boureki always includes mizithra cheese, potatoes, and zucchini. However, since boureki is a seasonal dish, tomatoes are added when they are in season in the summer months. And, in the winter, fresh squash or pumpkin is preferred over zucchini.
To make an authentic Cretan boureki, we recommend high quality Greek or Cretan ingredients and fresh vegetables.
For The Filling
500 grams of Mizithra or Greek feta cheese
Butternut squash, sliced thin
3 to 4 medium-size zucchini
One potato (medium)
One tomato (medium)
High quality extra virgin olive oil from Crete, Greece
Milk
One bunch of fresh mint
One egg
Mix of black and white sesame seeds
Salt & pepper to taste
For The Dough
All-Purpose Flour
High-quality Crete extra virgin olive oil
Tsikoudia or lemon juice
Water
Salt to taste
Authentic Food Quest Tip: Read about Cretan olive oil and tips for cooking with it from Crete top producer Terra Creta
How To Make Filo Dough For The Boureki Recipe
Phyllo dough or filo pastry is used extensively in Greek cooking. Depending on how much time you have, you can either buy your phyllo dough or make it from scratch.
We share here our recipe to make phyllo dough from scratch.
Buy Greek organic phyllo dough on Amazon – If you don't want the hassle of making phyllo dough, The Fillo Factory makes organic fillo dough for delicious Greek cooking.
Rolling Pin – Once you make the phyllo using our recipe above, you can use this adjustable rolling pin to evenly flatten your dough. The adjustable rings make it simple to roll to your desired thickness.
KitchenAid Pasta Roller & Cutter – If you already have a KitchenAid machine, add this pasta roller & cutter set to make fresh dough. Using the power of your KitchenAid machine, make perfectly rolled dough slices to create the base and top for the boureki recipe.
Marcato Atlas Hand-Cranked Pasta Machine – Considered the "Ferrari of pasta machines", this world-famous pasta machine from Italy can make your dough and much more. An alternative to an electric machine, you can use it to make your phyllo dough for this Cretan boureki.
Boureki Recipe Tips
Cretan Mizithra Cheese and Substitutes
Mizithra cheese is indigenous to Chania. For this boureki recipe, the local cheese mizithra cheese used has a slightly sour taste.
Its consistency is between crumbly feta cheese and ricotta. And, mizithra cheese is made from sheep and goat milk.
Mizithra cheese is available on Amazon and you can have it delivered to your home.
Alternatively, you can also use authentic Greek Feta cheese in the same quantity.
What If I Don't Have Phyllo Dough?
If you don't have phyllo dough, you can still enjoy the delicious flavors of Boureki without the dough.
In this case, layer the potatoes and zucchini while mixing in mizithra cheese in between. Add tomato sauce, mint, and salt and pepper to taste as you build each layer. Finish off with a layer of potato and add extra virgin olive oil and milk.
Cover with tin foil before baking. About 15 – 20 minutes before the end of the cooking time, remove tin foil to let the dish brown.
The result is a wonderful zucchini, potato and cheese gratin from Chania.
Can I Substitute Tsikoudia or Raki with Something Else For The Dough?
In Crete, Tsikoudia or Raki, a traditional spirit is added to dough for the boureki recipe. For Cretans, Tsikoudia represents hospitality and is a symbol of Cretan culture. Tsikoudia is a fragrant grape based pomace brandy.
Due to its fragrant aromas it is used in Cretan cooking including melomakarona, the popular Greek honey Christmas cookies.
Outside of Crete, it is difficult to find Tsikoudia, you can substitute with lemon juice instead.
Chania Boureki Step by Step Instructions
Prepare phyllo dough and line baking dish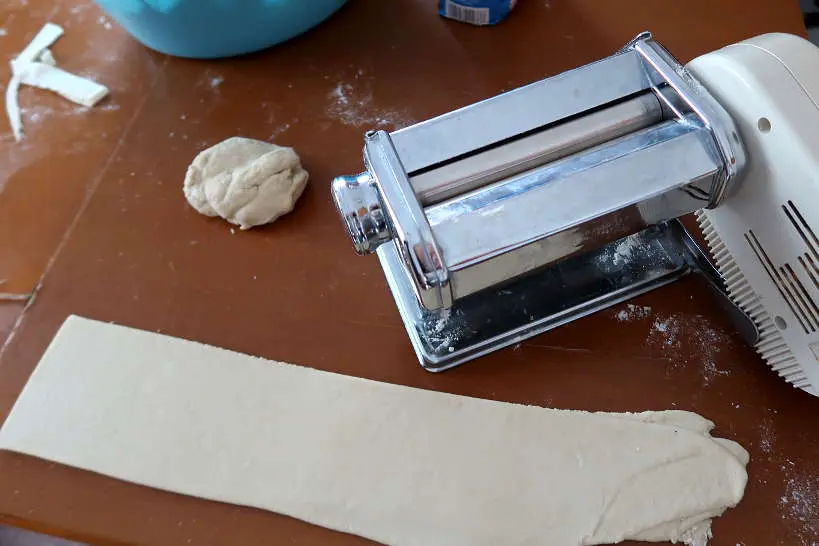 Prepare your dough and line the baking dish that has been greased with extra virgin olive oil. Follow your machine instructions to reach the desired thickness of phyllo dough.
Make sure the dough covers the entire base of the baking dish. Do not put layers of phyllo dough on top of each other, it is better to cut up little slices to fit your dish. Otherwise, the crust will be too thick.
Layer the Boureki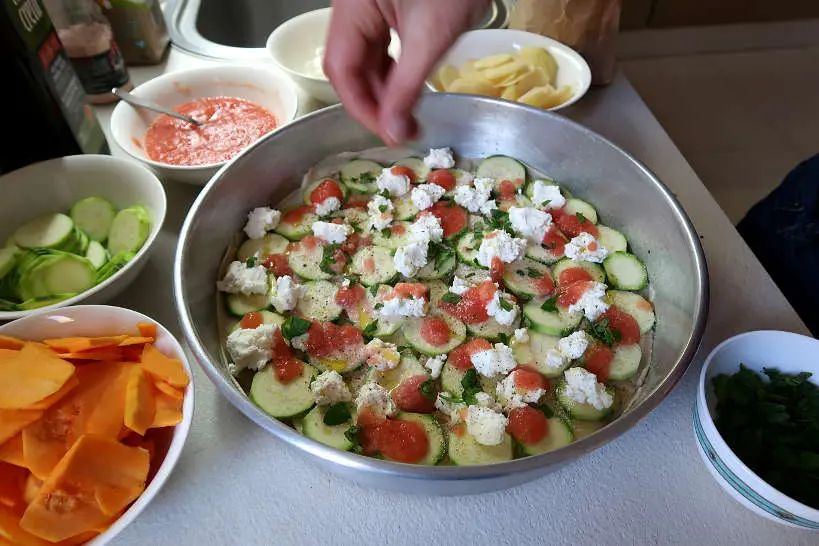 Starting with the potato layer over the dough, add the zucchini slices, cheese and tomato sauce. Drizzle milk, extra virgin olive oil, fresh mint, salt and pepper as you build each layer.
In this recipe, we substitute squash for potatoes for the additional layers. Repeat the layering at least three times, depending on the size of your baking dish.
Close the Boureki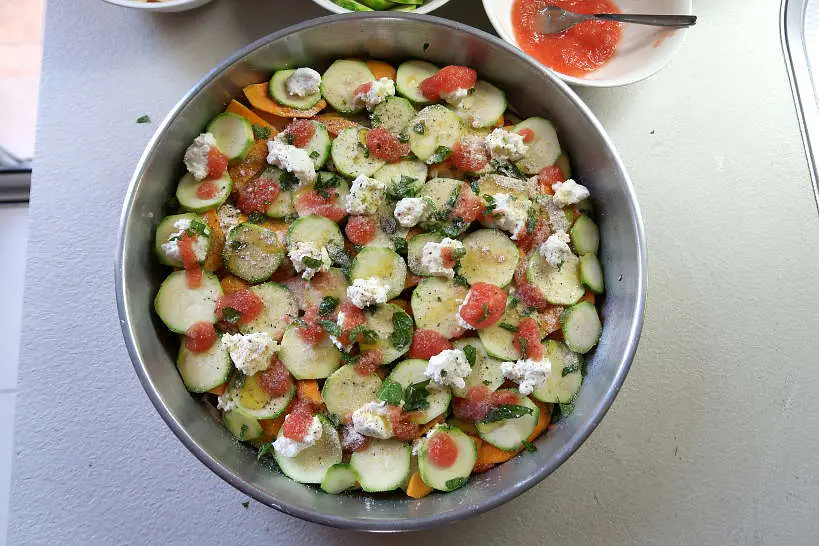 Make the last layer of phyllo dough to cover the Cretan boureki. Once the top is covered completely, press it down gently and cut it up into slices.
Using a basting brush, spread a little egg on the top for a golden finish. And, finish by sprinkling a mix of black and white sesame seeds on the dough.
Curious by nature, Rosemary loves exploring new flavors and connecting with locals. She shares her insights and culinary finds from her travels to inspire people to connect local through food.