When you think of comfort foods, what comes to mind?
Do you remember some of your favorite childhood foods? The type of food you eat to feel homey and taken care of.
Growing up in Kenya, one of my happiest comfort food memories took place outside the home. It was when my father used to take us to KFC on Sunday's to have fried chicken and milkshakes. It was our favorite Sunday meal from the newly opened American fried chicken chain.
We were excited to dive into fried chicken while exploring the food in South Carolina. Having loved fried chicken as a child, I could not wait to savor once again, this iconic Southern food.
Big Mike's Soul Food and Prosser's BBQ make some of the best fried chicken in Myrtle Beach.
With a focus on traditional soul food and Lowcountry dishes, these two restaurants are the best places to eat comfort foods in Myrtle Beach.

Big Mike's Soul Food – One of the Top Soul Food Eateries in the U.S.
The first indication that we were going to be well fed was right on the door as we walked into Big Mike's Soul Food.
The huge lettering on the door "Soul Food the way Yo Mama made it" had us salivating right away.
Owned and operated by Michael Chestnut, this family-owned local eatery has been named one of the top soul food eateries in the country.
A favorite stop for locals, soul food dishes like fried chicken, macaroni and cheese, biscuits, rice, and gravy, keep people coming back.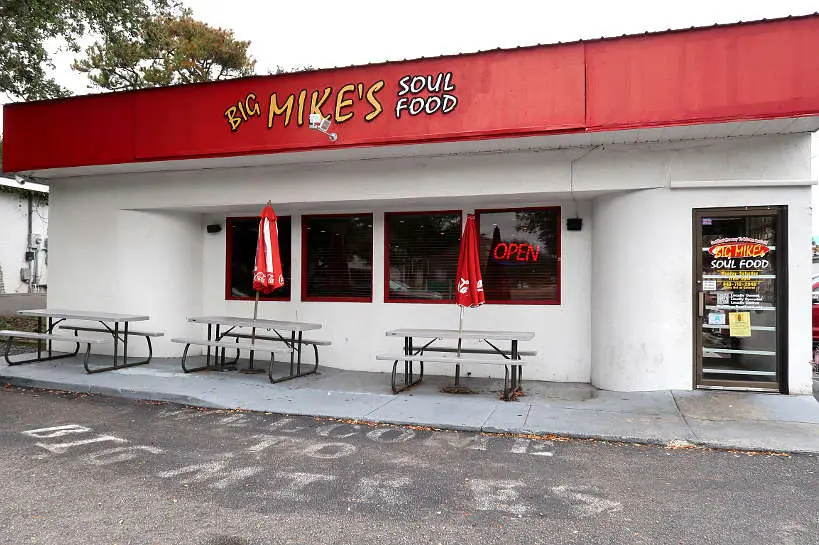 Blue Plate Special at Big Mike's Soul Food
As we got seated in this homey restaurant with red checkered plastic tablecloths, our friendly waitress pushed a floor standing menu board toward our table.
The first thing that caught our eyes was the "Blue Plate Special." With this, you can choose one meat, three sides, and cornbread.
Blue plate specials we learned, go back to the first half of the 20th century. They offered workers, home cooking at a low price. Also attractive to restaurants, blue plate specials allowed cooks to use food surplus or get rid of food stocks on the verge of going bad. And with blue plate specials, "no-substitutions" was a common policy.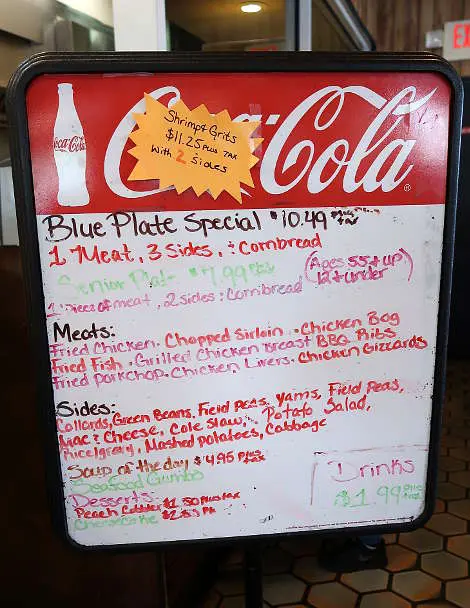 Tasting Favorite Soul Food Dishes
While looking over the menu, we glanced at tables around us and noticed the huge portions of food. With that, we decided to share a meal. We ordered the "Blue Plate Special" with a couple of additional sides.
For the meats, we went with fried chicken and chicken bog. And, the typical soul food sides of macaroni and cheese, collard greens and fried okra. A piece of cornbread completed the plate.
Soul Food Fried Chicken
Fried Chicken at Big Mike's is a specialty and we were eager to taste our first fried chicken dish in South Carolina. At the first bite, we were impressed by the crispy chicken and well-seasoned skin. The meat was juicy and tender on the inside.
Fried chicken is part of the culinary fabric of America. According to Adrian Miller, award-winning author of Soul Food: The Surprising Story of an American Cuisine, One Plate at a Time, "fried chicken is comfort food." And in the United States, "it is bone-in chicken parts, battered and fried once in oil.
In the U.S., the earliest accounts of eating fried chicken come from Virginia in the 1700s. Eventually. southern fried chicken became the culinary standard for American fried chicken.
At Big Mike's, the fried chicken is done just right. The textures and flavors work in perfect harmony. Once you taste Big Mike's Soul Food fried chicken, you'll quickly understand why it gets such rave reviews.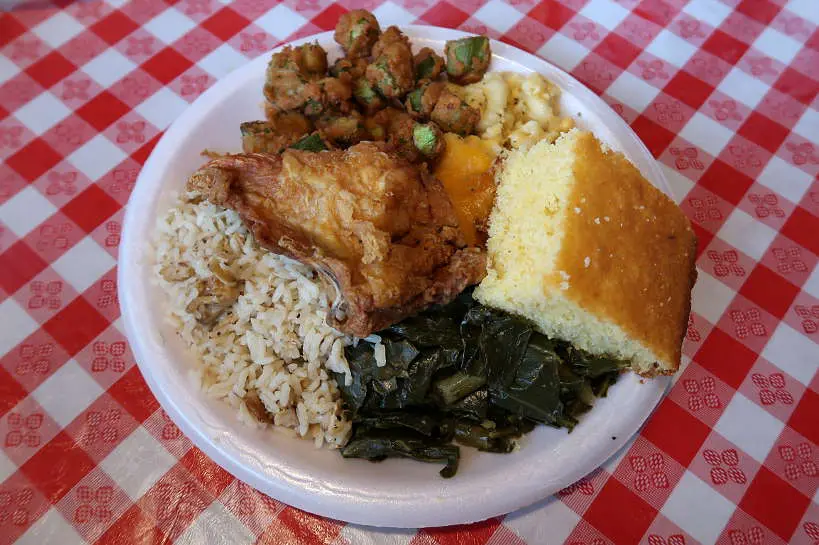 Chicken Bog – A South Carolina Tradition
One meat that surprised us was Chicken Bog, a soul food we had never heard of before and couldn't wait to taste.
Chicken bog is a delicious chicken, rice and sausage dish. It is a traditional South Carolina comfort food and typically a one-pot meal.
At Big Mike's, the chicken bog was perfectly seasoned. The rice and the shredded chicken was full of flavor and the bites of sausage added a unique texture and taste.
I loved this dish so much and it quickly became my favorite. The uncomplicated preparation and big flavors makes it worth seeking out if you've never had it.
The name "chicken bog" has many stories. Some believe that the name is related to the rice, linking the soggy nature of the dish to the wet rice fields. Other's speculate the name comes from the swampy, bog-like Lowcountry area in South Carolina where the dish originated.
Regardless of the name's origin, chicken bog has a huge following in South Carolina. There is even an annual Loris Bog-off festival dedicated to it.
Collard Greens
Collard greens are used in many cuisines around the world. A relative to the cabbage and Kale, we enjoyed its rich flavors in Caldo Verde, Portugal's national soup.
Southern-style cooking of greens came with the arrival of African slaves and the need to provide food for their families. Though greens did not originate in Africa, the habit of eating greens cooked down into a low gravy is of African origin.
At Big Mike's, the greens were cooked low and slow. While tasty, we found them too salty. One thing we learned is that soul food tends to have more intense flavors and seasonings.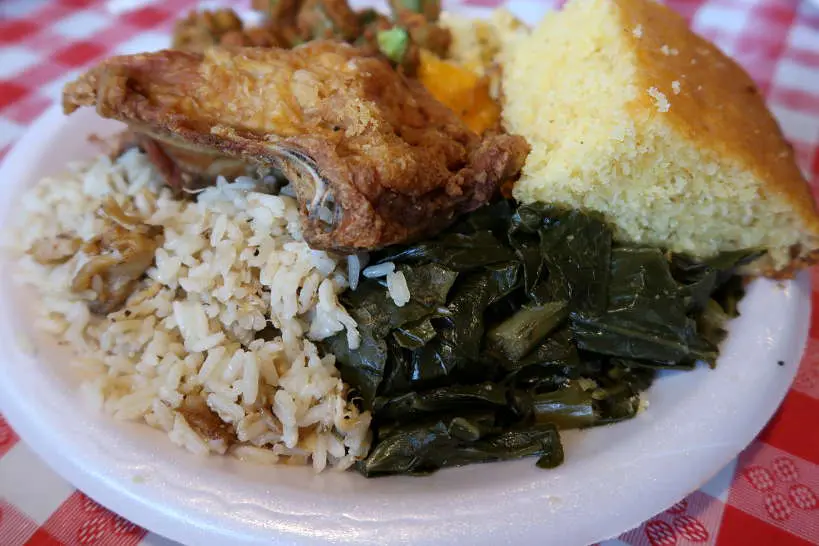 Macaroni & Cheese – One of the Most Popular Soul Food Dishes
Macaroni and cheese, the popular American comfort food was an incredible side dish. Placed with honor on the plate, this simple dish rounded up the meal perfectly.
Made with elbow macaroni layered with cheese and cooked with milk or cream was wrapped in Big Mike's soul food love. Each bite was heavenly.
The immigration of the macaroni and cheese recipe to the American South has been credited to American President, Thomas Jefferson. He is said to have eaten macaroni and cheese during a diplomatic stint in France in the late 1780s and later served it at an 1802 state dinner as president.
Macaroni and cheese holds a sacred space in America's culinary history and it continues to take new life with inventive twists by chefs and home cooks.
Fried Okra – Southern Immaculate Bites
Fried okra, one of our side dishes is a beloved staple in the South. At Big Mike's, the okra was cut up into small cubes and fried until golden.
With little hints of green peering through, these nuggets were crispy and fluffy. We enjoyed them best with a few drops of vinegar and hot sauce available at the table.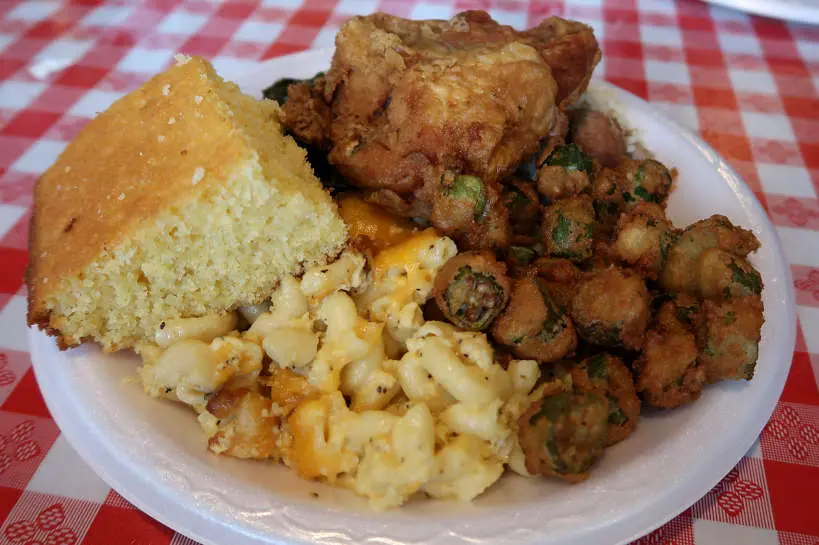 Cornbread
Just like the finishing touch to a beautiful display, a square piece of cornmeal topped the "Blue Plate" special.
The rich corn flavors and a tender, cake-like texture was delightful. Cornbread is more than a Southern dish, its history can be traced back to Native Americans.
Across the United States, the preparation of cornbread differs. Additional ingredients such as yeast, butter, eggs, milk, buttermilk, and sugar have transformed cornbread.
No matter how you like your cornbread, it is considered a "cornerstone" of Southern U.S. cuisine. And at Big Mike's, the cornbread is perfect for sopping up the flavors.
Your Practical Guide to the Best Place to Eat Soul Food in Myrtle Beach
Big Mike describes Soul Food as:
"any food that is cooked with love and passion, and it's got to be fried and seasoned just right."
When you eat at Big Mike's you taste the love in the cooking. In the cozy environment and with the welcoming staff, get ready to enjoy a real Southern soul food feast.
Go for lunch and don't miss the "Blue Plate Special." Affordably priced at $10.49 for one meat, three sides and cornbread, don't miss this soul food gem in Myrtle Beach.
For an inside look into Big Mike's Soul Food, click the video below
Address: 504 16th Ave North, Myrtle Beach, SC
Hours: Open Mon-Sat: 11:00 am – 9:00 pm, Closed Sunday's
Prosser's BBQ – A Local Favorite For Southern comfort foods in Murrells Inlet
Leaving Myrtle Beach on our way to Charleston, SC, we stopped for an early lunch at Prosser's BBQ. As soon as we arrived, we quickly realized the popularity of this Southern restaurant in Murrells Inlet. It was not even 11:00 am and the large parking lot was almost full.
Welcomed by the Southern hospitality of our friendly hostess, we walked into the main dining room filled with rustic wooden tables and chairs. One of the waitresses led us to another adjacent large dining room with plenty of seats available.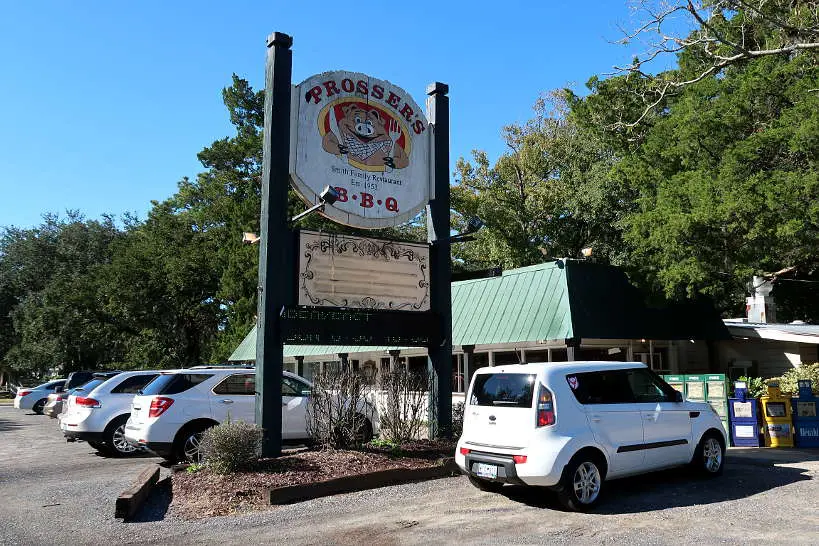 Serving Southern Bbq and Soul Food Since 1953
Prosser's BBQ is a family-owned restaurant with more than half a century of operation under its belt. Known for serving Southern bbq style and comfort food, it's one of the best places to eat home-cooked Southern food. Although you can order off a menu, the main attraction is their large country-cooking buffet filled with Southern comfort foods.
As we got seated, we were told that the lunch buffet would open in a few minutes. As soon as the word was out that the buffet was open, a long line formed right in front. Regulars lined up, excited to get the first taste of the freshly prepared dishes.
Intimidated by the line, the friendly staff reassured us that it was moving fast. With more and more people walking in this popular restaurant, we knew it was best to get up and join the line right away.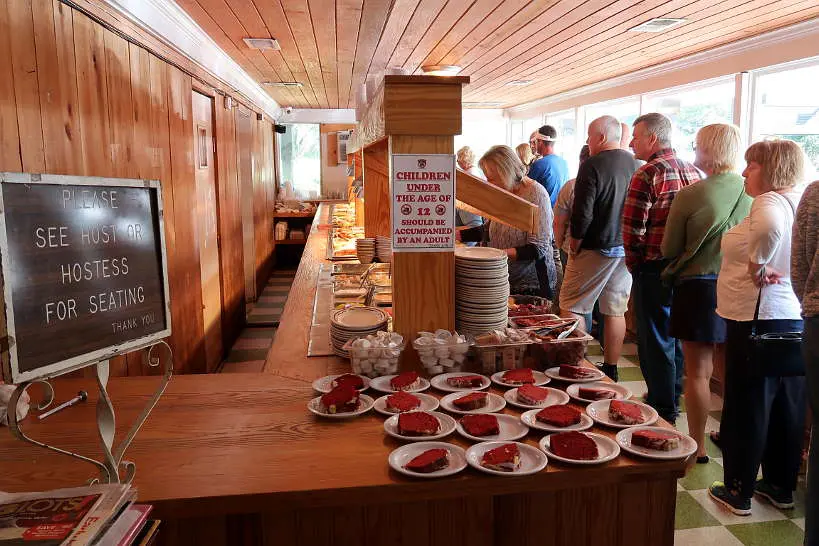 Buffet-style Low Country Dishes
The country-cooking buffet offers a bounty of Lowcountry dishes. Lowcountry food traditionally refers to the food made in the coastal regions of South Carolina and Georgia.
Prosser's BBQ was the perfect place for us to round up our experience of favorite Southern comfort foods and drinks.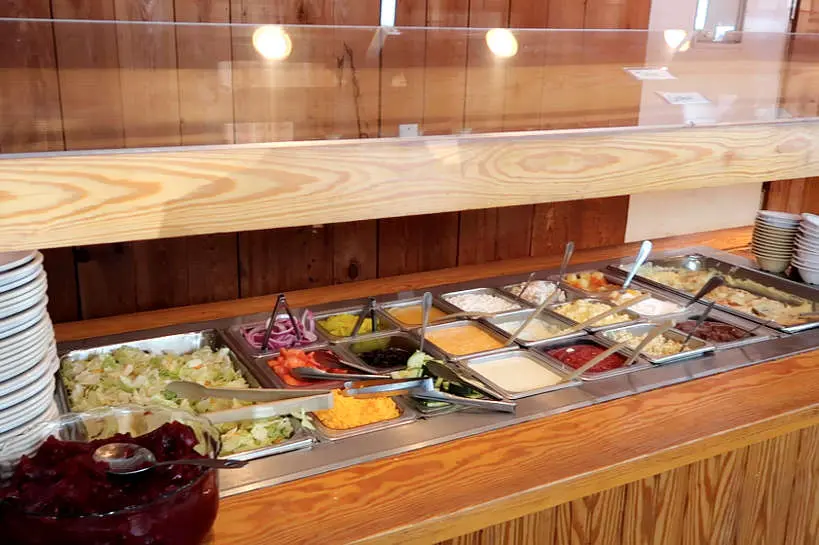 Pulled Pork
Choosing our food from the buffet, we started out with Prosser's Southern-style BBQ favorite – the pulled pork. Slow cooked and smoked over the flavor full hickory coals, the pulled pork is served with a traditional vinegar-based sauce.
We found the pork meat moist and fresh with a hint of acidic flavor, giving it a nice bite. This is one of the best pulled pork we had in the South. As we devoured the flavors we better understood why Prosser's BBQ mascot, a friendly cartoon-like pig, invites you to eat at every table.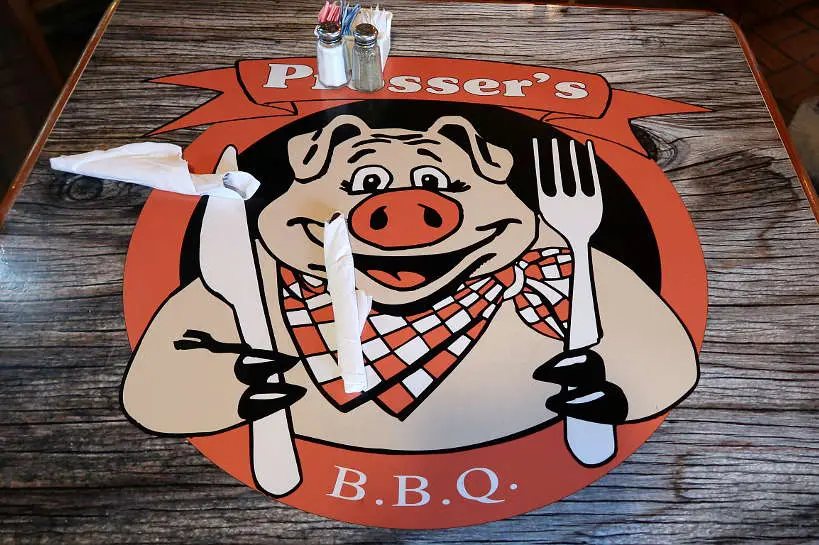 Southern Sweet Tea
While waiting for the buffet to open, we were offered the most traditional and revered Southern drink – Southern sweet tea.
Served ice-cold, the specificity of the Southern Sweet tea is that sugar or syrup is added while the tea is still hot or brewing. And sweet tea in the South is really sweet. We quickly learned to order it "half & half" – half sweetened and half non-sweetened, making it more enjoyable to drink.
This tea was the perfect fresh, light and pleasant drink to go with the hearty Lowcountry dishes.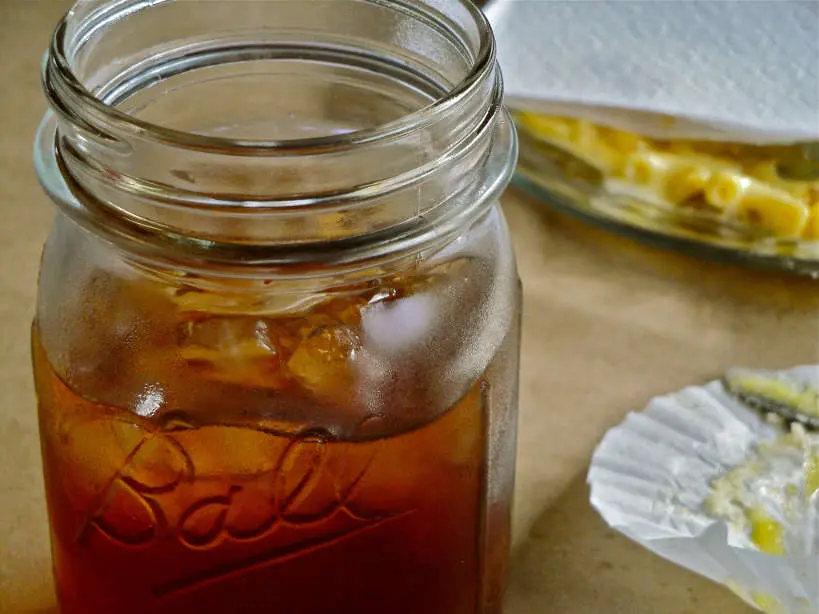 Southern Biscuits
Being a fan of all things doughy, Claire made it a point to indulge in as many Southern biscuits as she could while in South Carolina.
Southern Biscuits are typically made with buttermilk, or traditionally the milk left after churning the butter. What makes Southern biscuits special is not only the use of buttermilk but also the use of "soft" flour, a flour that contains less gluten.
Southern biscuits are typically served with gravy, though we skipped the gravy to fully enjoy the flavors of the biscuit. At Prosser's BBQ, the homemade biscuits were dense with a nice crunch though a tad salty. Next time, we'll try them with the gravy.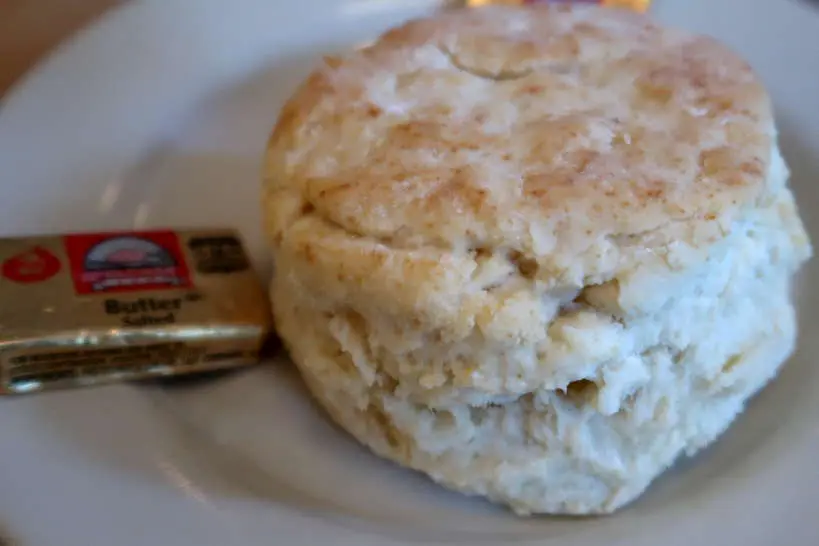 Sweet Potato Pie
Southerners love sweet potatoes. The sweet potato pie, a traditional soul food, can be eaten as a side dish or a dessert. At Prosser's BBQ, it was served as a side dish amongst the pulled pork and other meat dishes.
Smooth and sweet it made for an unusual side dish. The pie added a sweet contrast to the savory pork. Sweet potato pie can be eaten either as a side dish or dessert. Regardless of how it is eaten, sweet potato pies are a true Southern specialty.
Other Southern Dishes You Want to Eat at Prosser's BBQ
To complete our meal, we had the Southern fried chicken, chicken bog and the collard greens. The chicken bog was definitely our favorite. The rice soaked with juices from the chicken and the cracking sausages was full of flavor. The fried chicken and collard greens were also tasty and wonderfully cooked, making these southern staples "not to miss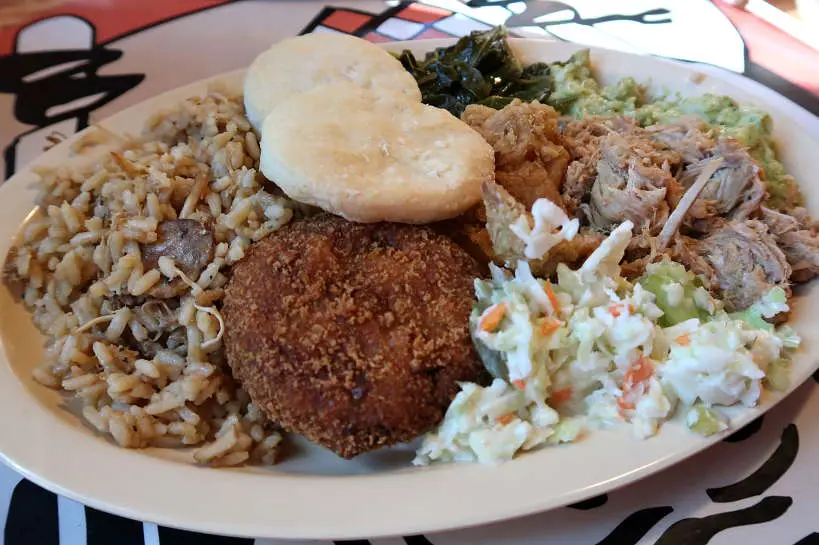 Southern Comfort Desserts
After our delicious time on the Pecan Trail in Florence SC, savoring pecan pie and other pecan delights, we were ready to try other popular Southern desserts.
Peach Cobbler
Peach is the official State Fruit of South Carolina. This Southern state grows over thirty varieties of peaches and ranks second behind California in fresh peach production.
Once a seasonal fruit dessert made with leftover biscuit dough, the peach cobbler can now be enjoyed year-round with canned peaches.
Made with a crust on top and bottom, the peach cobbler is dough rich with sugar and spices added. This was Claire's favorite dessert. She particularly liked its doughy texture, the crunchy caramelized crust made with melted sugar.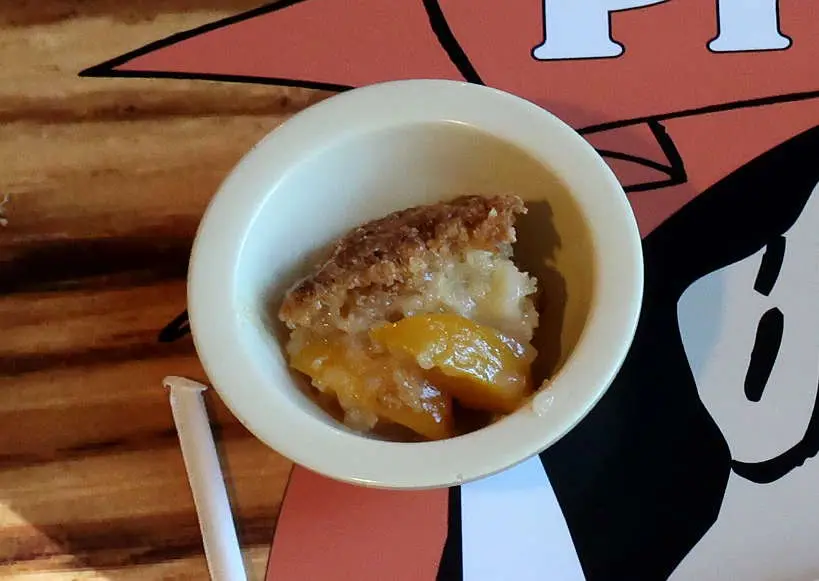 Banana Pudding
Prosser's BBQ is known to be home to some of the tastiest banana pudding. We could not leave without trying this traditional Southern dessert.
Made with layers of vanilla wafer and bananas, topped with vanilla-flavored custard, this pudding will please any banana lover. I loved the soft texture combined with the crunchy wafer and was pleasantly surprised as it was not as heavy as it looked.
Although not specifically from the South, the banana pudding has been associated with Southern cuisine since the 1950s. It is also referred to as "nanner pudding" a colloquial term used in the South.
Your Practical Guide to the Best Place to Eat Southern Comfort Foods in Murrells Inlet
With so many delicious Southern comfort foods to offer, Prosser's BBQ is a must eat place on the Grand Strand near Myrtle Beach SC. Prosser's BBQ brings home cooking to your table with traditional tasty Southern dishes.
The restaurant is also very affordable. With an all-you-can-eat lunch buffet for $9.95, go early and with an empty stomach.
For an inside look into Prosser's BBQ, click the video below
Address: 3750 US-17 BUS, Murrells Inlet, SC
Hours: Tues, Wed & Sun: 7:30 am- 2:00 pm; Thurs to Sat: 7:30 am-2:00 pm & 4:00 pm to 8:00 pm. Closed on Mondays.
What's your favorite comfort food? Please tell us in the comments below.
Savor The Adventure!
Disclosure: Our time in Myrtle Beach, South Carolina was in partnership with Discover South Carolina Tourism
Love it? Pin it!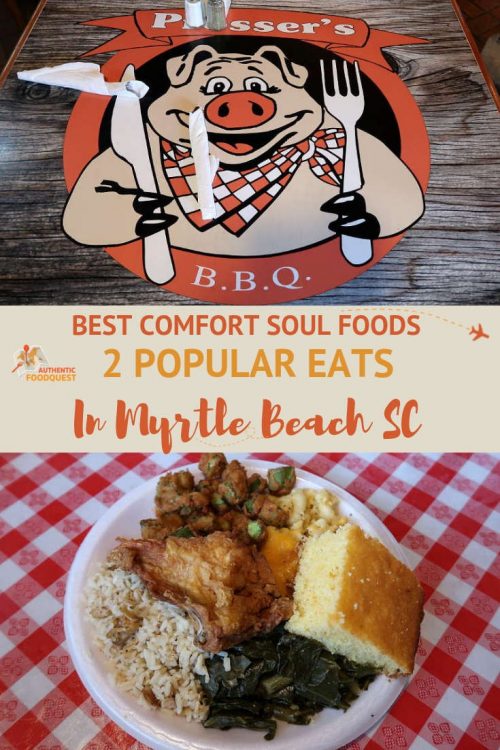 Rosemary is the editor-in-chief and strategist at Authentic Food Quest.
Traveling slow since 2015 with her partner, Claire, she has explored the cuisine in 45 countries and more than 240+ culinary cities.
Her writing about local food specialties has been featured in Lonely Planet, Business Insider, Honest Cooking, Food Insider, and Huffington Post.
As a food and travel writer, Rosemary has co-authored three books, including one in collaboration with Costa Brava Tourism.
Rosemary is an avid runner when she's not eating and exploring new destinations. She has run ten marathons and counting.
Before Authentic Food Quest, Rosemary held senior-level strategy positions in advertising. 
Find out more about Authentic Food Quest