This article has links to products and services we recommend, which we may make a commission from.
Cooking classes in Lisbon offer you the chance to learn about the flavors of Portugal. Alongside talented chefs, you'll learn to make authentic recipes while acquiring new skills.
The city of Lisbon charms you with its architecture, historic sites, culture, and fun activities. The city is also home to some of the best eateries, cafes and bakeries serving delicious food.
In Portugal, we had the opportunity to cook with Portuguese families and learn to make unique traditional recipes.
From bacalhau cod fish dishes to regional specialties from Alentejo, these experiences broadened our understanding of the local food culture.
Beyond cooking, we had a wonderful time connecting with the locals. The moments when we sat down together to enjoy our meal were the most fun.
On your next trip to Lisbon, dive into Portuguese cuisine with a cooking class. To help guide you, here are 6 of the best cooking classes in Lisbon to take.

Top Cooking Classes In Lisbon
1. Traditional Portuguese Cooking Class in Lisbon
Focused on traditional Portuguese cooking, this class offers a fun way to learn about Portugal through the cuisine.
Taught by a local chef or cooking instructor, you'll learn to make traditional dishes consisting of fish, meat and dessert.
This cooking class is a hands-on experience where you'll discover the seasonal products and ingredients that are key to the cuisine.
The 3-course Portuguese menu you'll make includes a starter, main course and traditional dessert. The main meals includes a fish dish and meat dish change frequently based on the season.
Examples of traditional Portugueses dishes you'll make may include caldo verde soup, pataniscas de bacalhau, and a variety of Portuguese pastries.
As you cook, you'll nibble on local products and enjoy plenty of Portuguese wine with your dinner.
This hands-on class with a talented chef teaches you techniques and secrets of traditional Portuguese cooking. You'll also gain valuable insights into the culture and country.
The cooking class starts at 6:30 pm and goes for about 3.5-hours. Taught by a passionate Portuguese chef, you'll have a fun and enjoyable experience while connecting with other travelers.
For an authentic Portuguese experience, this traditional cooking class in Lisbon is not to be missed.
Cost: About $77.8 per person
Time and Length: Approximately 3.5 hours. Classes start around 6.30 pm
Group Style: Small group cooking classes conducted in English
2. Hands-on Portuguese Cooking Class in Lisbon – Compadre Cooking Class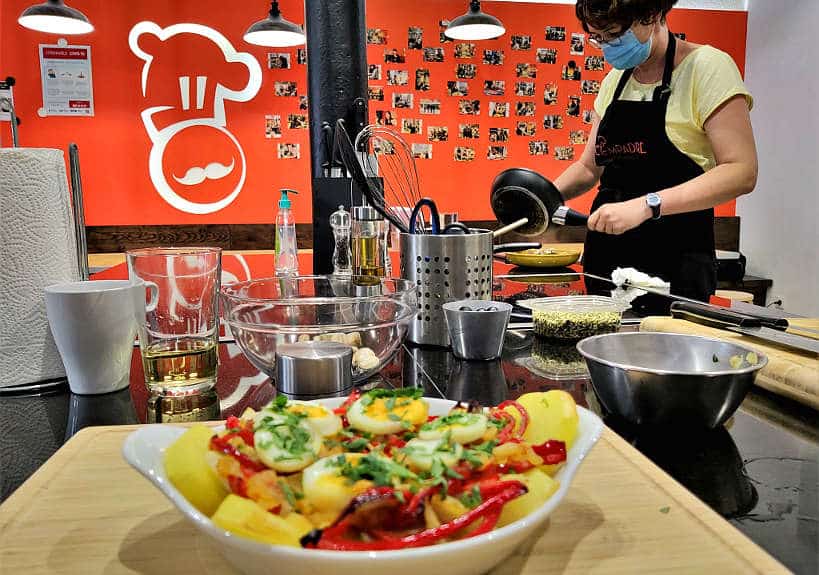 Whenever we travel, we try to understand the local culture and culinary traditions of a place.
This often finds us enrolled in cooking classes as a way to learn about the authentic specialties.
This hand-on cooking class offered by Compadre Cooking school in Lisbon is an experience like no other.
Adapted for home cooks of all skill levels, you'll learn step-by-step how to make traditional Portuguese cuisine.
Working at your own station, your Portuguese cooking instructor will guide you in the preparation of a three traditional dishes.
You'll start out by making a starter, and then make a bacalhau fish dish followed by a traditional meat dish. To end your cooking class, you'll also make a traditional Portuguese dessert.
The menu changes regularly based on the season, but the recipes are always of the traditional Portuguese dishes.
In an easy-going manner, the cooking instructor, will provide detailed explanations to make it a fun and seamless cooking activity.
As you learn the cooking techniques, you'll also learn about the stories behind the heirloom recipes.
You'll discover more about local products like Portuguese olive oil and fresh ingredients including herbs like coriander, essential to Portuguese cooking.
The hands on cooking class ends with you enjoying delicious meal including Portuguese wine and non-alcoholic beverages.
Travelers eager to roll up their sleeves and learn to cook Portuguese recipes like a local, will love this Compadre cooking class.
Cost: About $72.6 per person
Time and Length: Approximately 3 hours. Morning classes at 11:00 am and evening classes at 6:00 pm
Group Style: Small group cooking classes conducted in English
3. Traditional Portuguese Cooking Class by Home Cooking Lisbon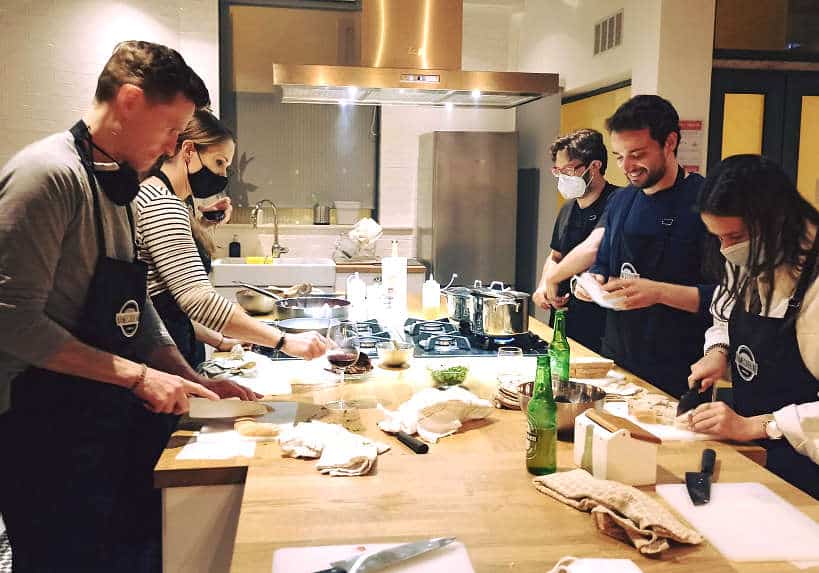 Founded by a Portuguese couple who grew up in Lisbon, this Home Cooking class aims to share traditional home cooking recipes.
In a cozy kitchen along with empathic cooking instructors, you'll learn step by step the journey to authentic Portuguese cooking.
You'll learn to make some Portuguese appetizers, main dishes and desserts. As you cook and learn the history of the dishes, you'll enjoy little bites and Portuguese local wines.
Examples of some Portuguese dishes you'll learn to cook are codfish Brás style, one of our favorite codfish dishes.
Other tasty Portuguese meals, you'll learn to make are the famous chicken piri piri, caldo verde soup, octopus dishes and more.
You'll also try your hand at making delightful desserts like orange roll and Portuguese rice pudding.
This 3-course Lisbon cooking class is conducted in a relaxed atmosphere and is so much fun.
Classes are flexible and offered in the morning and evening.
This gives you a chance to fit the cooking class around your travel and sightseeing plans.
Cost: About $79.6 per person
Time and Length: Approximately 3 hours. Morning classes at 11:00 am and evening classes at 6:00 pm
Group Style: Small group cooking classes conducted in English
RELATED: 7 of the Best Lisbon Food Tours You Want To Try – Review
4. Baking Class in Lisbon With Casa Dos Ovos Moles Em Lisboa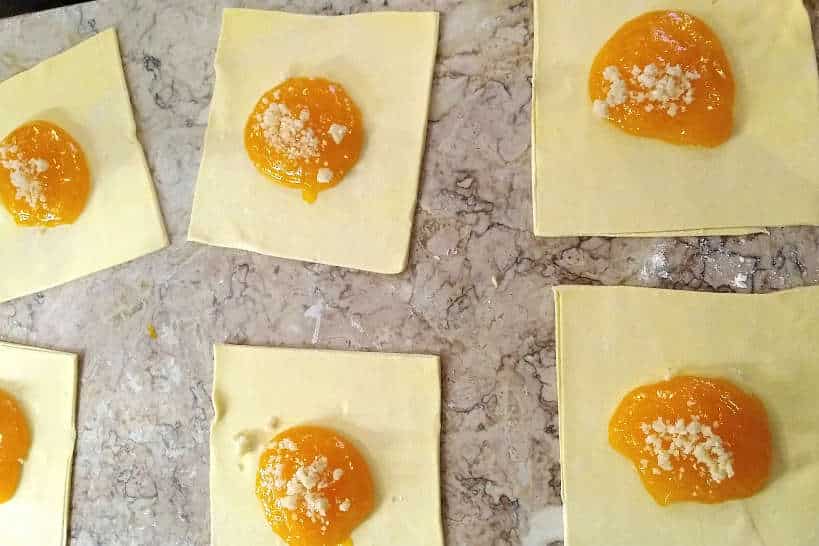 Portugal has a rich history in desserts. In addition to the famous pasteis de nata or Portuguese egg tarts, there is a rich history in conventual desserts.
These conventual desserts are those that were traditionally made in convents. Generally, they are typically made with Large amounts of egg yolks and sugar.
This baking class in Lisbon immerses you into Portuguese pastry making with a pastry professional chef.
The class is hands-on and interactive where you'll learn to make traditional Portuguese desserts.
Based on your preferences, you'll make two pastries like pastel de nata, egg yolk desserts, Portuguese almond cakes, and others.
With detailed guidance from your pastry chef, you'll learn the basics including the dough, custard and cream fillings, puff pastry shells, and pillows.
Fascinating origin stories of the 500-year conventual desserts developed in convents by Franciscan and Dominican nuns are both entertaining and add context.
No cooking class Lisbon session can be complete without some delicious tastings. Along with your traditional desserts, you'll enjoy local Portugal wine, Ginja liquor as well as coffee or tea.
Pastry lovers interested in learning about traditional Portuguese sweets and pastries will not want to miss this baking class in Lisbon.
Cost: About $73.1 per person
Time and Length: Approximately 2 hours. Classes offered at 3.00 pm
Group Style: Small group and private cooking classes conducted in English.
RELATED: 12 of the Most Authentic Portuguese Desserts and Where to Enjoy Them
5. Market Tour and Cooking Class in Lisbon
Immerse yourself in the vibrant culinary scene of Lisbon with a market tour and cooking class.
Start by visiting a local food market and learning about the local fish, seasonal produce, and regional recipes.
With your guide, a Portuguese professional chef, you'll select the ingredients you need to make a 3-course meal.
What's great about the market tour is the opportunity to learn about Portuguese food in an experiential way. As you tour the market, you'll sample regional specialty bread, cheeses, olives, and more.
After the market visit, you'll head back to cook your multi-course meal. The traditional recipes the chef will teach you to make will vary based on the seasonal products you picked up at the market.
Your Lisbon cooking class menu will include making a traditional appetizer, main meal, and delicious dessert.
At the end of your 5-hour market visit and cooking class experience, you'll sit down to tasty Portuguese foods.
In the company of other travelers, who now are more like friends, you'll savor the flavors and history of Portuguese cuisine.
Cost: About $115.20 per person
Time and Length: Approximately 5 hours. Market visit and cooking classes start around 9:30 am
Group Style: Small group cooking classes conducted in English
RELATED: 5 Authentic Ways You Want to Eat Bacalhau in Portugal
6. Pastel de Nata Workshop at a REAL Bakery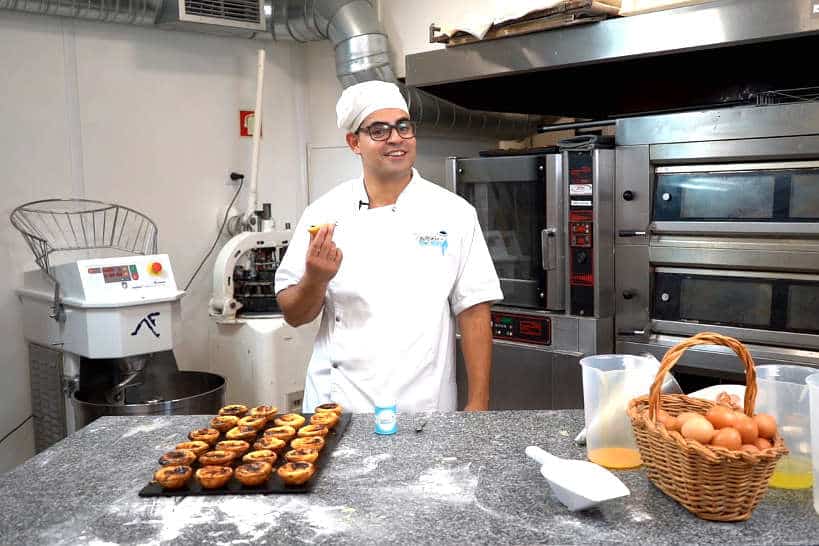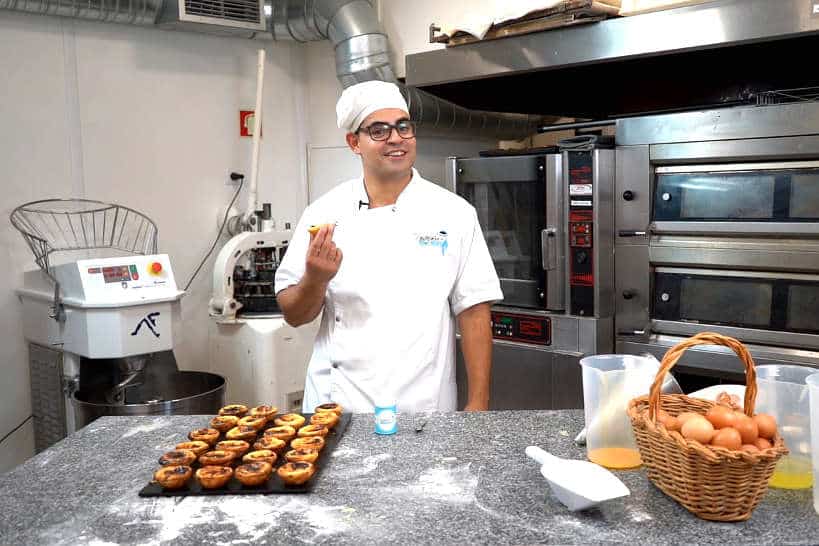 Pastel de nata, Portugal's iconic dessert and beloved around the world is an experience to learn to make in the country.
This Pastel de Nata baking workshop takes place at an award-winning real bakery located just outside of Lisbon proper.
João, your instructor, is a 5th-generation baker and an expert at making pasteis de nata and other Portuguese pastries.
This pastel de nata workshop begins with a brief history of this famous pastry and the original recipe.
After sampling a variety of traditional Portuguese desserts and pastries, you'll get to start baking in a professional kitchen.
As you learn to make pastel de nata at your own station, João will regale you with stories about Portuguese favorite foods.
With an emphasis on Portuguese sweets and pastries, you'll understand the role they play in Portuguese gastronomy and culture.
You work with the rest of the group as a collaborative team instead of making the traditional pastry at your individual kitchen station.
The class is unhurried, and all your questions about baking and techniques will be answered each step of the way.
There's nothing like the deep satisfaction you'll feel as you watch your puff pastry bake in the oven. Followed by the delicious joy after eating your custard tart made by you from scratch.
This pastel de nata workshop is best for those looking to master the art of this iconic Portuguese dessert.
Cost: About US$ 51.9 per person
Time and Length: Approximately 2 hours. Baking class starts at 2.30 pm
Group Style: Small group cooking classes conducted in English and 3 other languages
RELATED: 10 Most Popular Portuguese Dishes You want to Enjoy
Best Lisbon Cooking Class Comparison Table
The cooking classes in Lisbon are in euros (€). We provide USD conversion at the time of writing. Prices might vary slightly when you book your class.
What to Consider When Choosing Cooking Classes in Lisbon
All the Lisbon cooking classes featured here focus on traditional and authentic food, but the experiences vary.
Some classes teach popular and traditional recipes, while others teach Portuguese treats or baking tricks.
All classes, however, are taught but locals who share information about Portuguese food culture in entertaining ways.
In the end, you'll get to enjoy your meal and drink local wines, liquors and more.
As you book your cooking class in Libson, here are a few points worth considering.
AUTHENTIC FOOD QUEST TIP: Make sure to have travel insurance for your Lisbon trip. It can cover for your class and more in case of unexpected cancellations and last minute changes. We use and recommend Allianz travel insurance which is an affordable option for US residents. Another great option we also recommend is World Nomads travel insurance which covers residents from all over the world.
What Kind of Lisbon Cooking Class Experience Do You Want?
We've taken a few cooking classes in Lisbon and have enjoyed the experiences while learning about Portuguese food.
As you make your choices, consider your personal preferences and expectations.
Would you prefer to focus on traditional recipes or are you more interested in pastries?
Do you want to have a market tour as part of your experience, or do you prefer to get to the kitchen and start cooking?
Are you morning cooking classes more your style or do you prefer evening classes?
And, are you comfortable learning with fellow travelers? Or, would you rather prefer a private tour or cooking session?
Whatever your preferences, always go with an experience that matches your taste.
What Is Your Budget for Your Cooking Classes in Lisbon?
The cooking class in Lisbon experience you choose will depend on your itinerary as well as your budget.
The best Lisbon cooking classes range between $50 USD to $115 USD.
All the hosts continue to adhere to Covid safety guidelines. And, the cooking classes have a free cancellation policy that allows you to opt out up to 24 hours in advance.
The cooking sessions take anywhere from 2 hours to 5 hours to complete. This also includes time to eat and enjoy your lunch or dinner accompanied by local drinks.

Claire is a culinary explorer who travels the world in search of the best local foods. She is always looking for her next culinary adventure to bring you the best bites while exploring new places.