This article has links to products and services we recommend, which we may make a commission from.
Are you looking to go on a culinary adventure? To immerse yourself into a country's cuisine and culture?
If you love food and travel, then going on cooking vacations is a delicious way to experience a new destination.
Regardless of whether you're an amateur home cook or seasoned in the kitchen, you'll pick up new cooking techniques and recipes.
This list of cooking vacations around the world, takes you to exciting food destinations like Tuscany, Thailand, France, Mexico and others.
Working alongside local chefs, you'll learn to make traditional specialty dishes, starting from picking the ingredients at the farmers market.
Local wines from the regions are also part of the experience. In addition to visiting wineries you'll learn about wine pairing with the local cuisine.
These cooking vacations are immersive experiences into the local culture. From visiting local artisans to discovering important historic sites, you'll see different aspects of life, history and culture.
The best part of any vacation is the local food and flavors. So, why not take an exciting and fun cooking vacation the next time you travel.
Get inspired with this comprehensive guide of cooking vacations around the world.

Best All-Inclusive Cooking Vacations
Tuscany, in central Italy, is famous for its spectacular scenery, art, food and culture. If you're looking for all inclusive cooking vacations in Italy, this is the one for you.
This 8-day all-inclusive food and wine tours takes you on a culinary journey through Tuscany with traditional recipes and local wines.
There are four traditional cooking classes, each 3 to 4 hours long, with Rita your chef and instructor.
You'll make a variety of Tuscan local sauces, soups, fresh pasta, desserts and more.
Tuscan classics like zuppa di farro (farro soup), handmade pasta, gnocchi, fish dishes, focaccia, tiramisù and cakes will be easily mastered.
In addition to cooking, you'll also visit a local market and shop the seasonal products for your cooking classes.
Learning about Tuscan wines is part of the experience and you'll visit local wineries and learn to pair Tuscan wines with food.
This culinary vacation takes you all around the region. You'll visit verdant and culturally rich Pisa, Florence and the Garfagnana Valley.
In Lucca, one of the most charming cities in Tuscany, you'll sample local specialties as you tour the historic city.
The all inclusive accommodations are at La Mezzaluna B&B, close to Barga, one of Italy's most beautiful villages.
With an amazing range of cooking classes, wine tours and cultural excursions, this all inclusive cooking vacation in Tuscany is not to be missed.
RELATED: 9 of the Best Cooking Vacations in Tuscany You Should Consider
Mediterranean food lovers will enjoy the hospitality and all inclusive cooking experiences at this forest villa in Athens.
Steeped in history, this cooking vacation in Athens is a fine blend of Greek culture and cuisine. During your stay, you'll learn how to make traditional Greek dishes like tzatziki, Greek salad, cheese pies, and more.
What we like most about this culinary vacation is the showcasing of Greek culture.
You'll get to visit the Acropolis and also tour the Royal Tatoi Estates, the former Greek royal family's summer retreat.
Weather permitting, you'll also go island hopping to Hydra, Poros, and Aegina.
The villa where you'll be staying is located next to the Katsimidi mountain, just north of Athens. The area is flooded with pine trees offering a peaceful environment to unwind or hike.
The accommodations at this private Greek villa are spacious and intimate. There are only 4 rooms creating a cozy and familial atmosphere.
If you are a solo or single traveler, this inclusive cooking vacation will meet your needs.
If you are looking for a cooking vacation in the United Kingdom, this magical culinary vacation in Scotland will surprise you.
This class takes place in Dál Riada, once the ancient kingdom of Scotland. It is in the lush and unspoiled coastal region of Mid Argyll.
You'll explore and learn the best of Scottish cuisine during this 8-day, all-inclusive cooking vacation.
This unique culinary experience offers 4 Scottish cooking classes, one whisky tasting session and culinary trips within the region.
Some of the dishes you'll make are scotch pies, Scottish salmon, Haggis, oatcakes, shortbread and more. You'll also leave with a Scottish recipes cookbook to replicate the dishes back home.
The food excursions are diverse and range from cycling trips to foraging experiences, castle visits, forest walks, and much more.
You'll also have free time in your schedule to mingle with other guests and explore local eateries while enjoying rural Scottish life.
Your stay will be in a private cottage conveniently located to the cooking school.
This cooking vacation is a great way to explore Scotland and come home with a few new culinary skills.
Bangkok, one of the liveliest and busiest capitals in Southeast Asia, is a mecca for food lovers.
If you are traveling through Thailand's capital, consider taking two days off your travel itinerary for hands-on Thai cooking classes.
Thai food is some of the most loved cuisines in the world, and this Bangkok cooking class will teach you the secrets of Thai cuisine.
Working closely with Pimmy, your cooking instructor, you'll learn to make a variety of Thai dishes.
What's great about this class is that you can choose the dishes you want to learn how to make. From curry dishes, noodles and desserts, you'll learn new skills and impress friends back home.
Despite this being a short cooking class, you'll also get the opportunity to visit a local market and learn about Thai ingredients.
Your accommodations will be at a nearby boutique hotel with easy access to the cooking school.
Get more from your Thailand trip with a deep dive into Thai culture and cooking with Pimmy.
Best Luxury Cooking Vacations
This luxury cooking vacation in the Southwest region of France is an experience that will take your breath away.
The accommodations in a stunning 180-year-old farmhouse, along with staff on hand to help make your experience amazing, will ensure an remarkable experience.
This 8-day wine and cooking vacation in Lot-et-Garonne, is an unmissable cooking adventure for French lovers.
During your stay, you'll make a variety of Gascony dishes including many using foie gras, the local specialty.
In addition to cooking gourmet meals, you'll also visit regional producers and local markets.
Highlights include visits to an Armagnac distillery and sampling white, pink, dry and sweet champagne.
You'll also visit a famous chateau and medieval castles and enjoy meals at highly rated local restaurants.
There are culinary and cultural excursions including trip to either Bordeaux, Saint Emilion, Toulouse, or Lectoure.
This cooking vacation in Gascony, France will introduce you to the tastes that make this region so celebrated.
From the food, accommodations, wines and cultural excursions, this is one outstanding French cooking vacation you cannot miss.
RELATED: 9 of the Best Cooking Vacations in France To Explore The Local Cuisine
The food in Oaxaca is rated amongst the best in Mexico. The cuisine incorporates pre-Hispanic elements with strong indigeneous roots yielding diverse and colorful dishes.
We spent almost 6 months in Oaxaca exploring the local food and fell in love with the unique dishes and local drinks.
Now, imagine learning to cook Oaxacan food with stunning sea views? In a luxurious mansion right on the beach?
With 4 Oaxacan cooking lessons, you'll learn how to make Aguachile, tamales Oaxaqueños or Oaxaca style tamales, Mole Negro, and more.
This luxury cooking vacation also includes exciting cultural excursions. You'll visit local artisan markets and go on a boat ride to the Chacahua National Reserve.
You'll also enjoy visiting a local Mezcal distillery and learning about this traditional Oaxaca drink.
Puerto Escondido is a beautiful beach town, and you'll enjoy luxurious accommodations at a beachfront home with ocean views.
In between cooking classes and activities you can enjoy surfing, swimming at the beach or relaxing poolside.
This luxury cooking vacation in Oaxaca incorporates fun and cooking, offering one of the most memorable travel experiences you'll have.
RELATED: Oaxaca Foods – Your Best Guide To The Most Authentic Food
If you want to take a trip that's truly unforgettable, then you have to go on this 10-day Turkish cooking vacation.
On this trip, you'll get to participate in 4 different cooking classes and one wine tasting experience in a different part of the country.
In each class, you'll learn to make a variety of traditional Turkish foods like kebabs, pancakes, Mediterranean mezzes, salads and more.
The wine tasting experience takes place in up, which is in the ancient city of Ephesus. While visiting the vineyards, you'll learn all about fruit wines with Turkish winemakers.
Guided cultural excursions will take you to important historic ancient sites, natural springs, waterfalls, pottery workshops and much more.
Your luxurious stay as you travel to the different cities within Turkey will be at a variety of 5-star or boutique hotels.
Professional English speaking tour guides will accompany you as you fly to different Turkish destinations, explore new cuisine styles, and go on exciting adventures.
After your 10-day cooking vacations in Turkey you'll return having explored the best Turkey has to offer.
Along with new cooking skills and a collection of recipes, you'll have a true taste of the country's culture and flavors.
RELATED: 18 of the Best Culinary Destinations in the World for Scrumptious Adventures
Best Singles Cooking Vacations
Wimberley, in the Texas Hill Country is one of the hidden gems within the state. A picturesque area famous for its rolling hills and cypress trees has been referred to as a slice of heaven in the Hill Country.
This gorgeous area is the location for your 3-day cooking class. Using only the freshest ingredients and produce from local farmers, you'll be eating food made with 100% natural ingredients.
This cooking vacation offers 5 cooking labs where you'll learn to make a variety of global dishes. You'll learn how to make everything from New Orleans dishes to haute cuisine.
Cooking styles including French, Italian, American, and Mediterranean cooking will be covered allowing the inner chef within you, shine.
Your stay will be at a luxurious Texas Hill Country lodging house, with a variety of guest rooms and cottage suites.
Besides cooking, you can also enjoy amenities including a day spa, swimming pool, picnic and lounge areas, outdoor gardens, and more.
Depending on the time of year, the menu and recipes change to reflect the seasons and holidays.
This makes this Hill Country cooking vacation one you can take over again based on the seasons.
RELATED: How to Eat Your Way To the Best Barbecue in Austin Texas
Finca Las Encinas, the location for this Spanish cooking vacation is located centrally in Andalusia.
It's approximately equal distance from the famous cities of Cordoba, Granada, and Malaga.
Over the 7-day period, you'll enjoy hands-on cooking classes, learning to make Spanish, Andalusian, and Mediterranean dishes.
As you cook, you'll learn the history and culture as it relates to the recipes and ingredients. The menu varies as the ingredients are seasonal.
The fresh produce is picked directly from organic vegetable gardens, fruit trees, or sourced from nearby farms.
When you're not cooking, enjoy the tranquility of the fine accommodations tucked away on the edge of a stunning natural park.
Set amongst olive groves and fruit trees, it offers the perfect combination of relaxation and cooking.
You have a choice of rooms to fit your travel style. Solo travelers are easily accommodated as it only takes one person to participate in this cooking experience.
And if you are traveling with non-cooking partners they are invited to relax and enjoy activities in the area, while you cook.
If you are looking for a cooking holiday with a difference, this Spanish cooking vacation in Cordoba offers just that.
Soak in the rich culture and natural heritage as you learn to make dishes from the region's rich culinary mix.
Udaipur, the largest city in the southern Rajasthan state is a city known by many names. It's often referred to as "City of Lakes", or the "Venice of the East" due to the many lakes in the area.
The local food and cuisine makes this cooking vacation in Udaipur an excellent choice.
This 3-days cooking vacation is packed with different activities, including cooking classes, yoga classes, and guided city explorations.
You'll learn to make healthy and organic Indian delicacies with your host and at one of Udaipur's top restaurants.
Each day begins with yoga sessions by a top local yoga teacher. You'll visit a local market and learn about Indian spices and street food.
Cultural and culinary excursions will take you to major attractions like City Palace, Lake Pichola, Pearl Hill, Dudh Talai, Monsoon Palace and others.
You'll also visit temples and even participate in a camel ride.
If you are traveling solo, you'll enjoy a comfortable stay at Enjoy! Ashirwad Bhavan. It's located in a safe residential neighborhood close to the main attractions, famous lakes and Udaipur's old town.
If you are interested in learning the basics of Indian cuisine, this singles cooking vacation offers the perfect mix of food and culture.
Cooking Vacation FAQ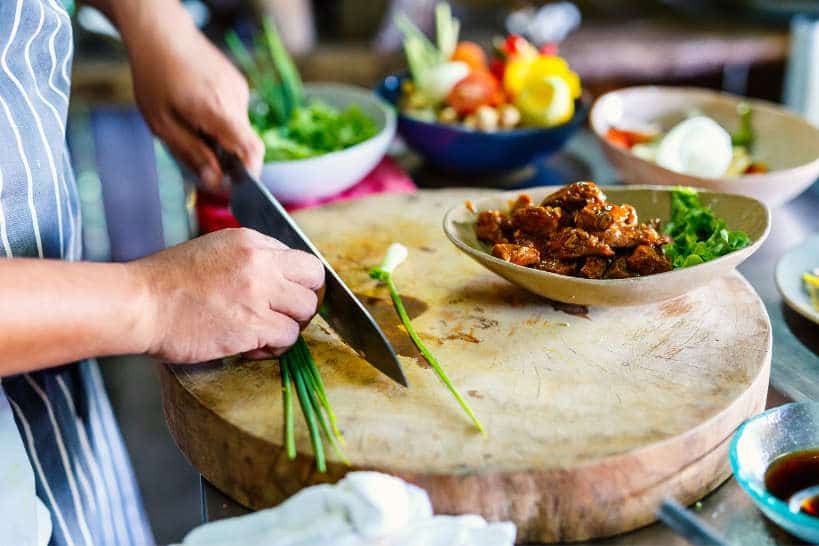 What is a cooking vacation?
A cooking vacation, sometimes called gastronomy tourism or food tourism, is a type of travel experience that centers around food.
On a cooking vacation, travelers will get to explore new countries while participating in cooking lessons to teach them about local culture and cuisine.
These cooking experiences are often paired with visits to local markets, farms, city explorations, and other guided activities.
Safety Measures
Due to the lingering impact of COVID-19, flexible booking conditions are available on all these cooking vacations.
If you are not able to travel as planned, you'll be able to reschedule your trip, book a different trip or receive credit and book later.
All the accommodations featured follow and prescribe to COVID-19 hygiene protocols.
When it comes to the ever-changing travel requirements, please stay up to date with the latest COVID-19 restrictions from official government sources.
Claire is a culinary explorer who travels the world in search of the best local foods. She is always looking for her next culinary adventure to bring you the best bites while exploring new places.