Portugal, a country full of hidden treasures is considered one of the worlds best destinations to visit.
In the past decade, the city of Lisbon has ranked as one of the top destinations in Europe. 
Built on seven hills on the banks of the River Tagus, you'll enjoy breathtaking views, colorful neighborhoods, haunting Fado music and the incredibly charming vibe of Libson.
Visitors to Lisbon will have much to explore, whether they are staying for a few days, weeks or longer.
However, getting out of the city offers another slice of Portuguese life. 
If your staying in Portugal's capital for more than a day, consider taking any one of the following day trips from Lisbon.
Most are easily accessible by bus, train or by car.
Explore the nearby wine regions of Cheleiros and Bucelas. 
Sample traditional Portuguese cheese in Azeitão.
Discover Alentejo cuisine in Evora.
Admire the magical palaces in Sintra and Arrábida Natural Park.
History and religious buffs will enjoy day trips from Lisbon to Fátima or visiting the Tomar Castle and learning more about the Knights Templar.
Whatever you choose to do, any of these options for day trips from Lisbon will give you deeper insights into local Portuguese culture.
In this guide we recommend 10 day trips from Lisbon to sample Portuguese regional cuisine, discover unique and amazing wines, explore medieval towns and more. 

Quick Tips – Day Trips from Lisbon
Looking for a quick way to find the perfect day trip from Lisbon?
Here are our top Lisbon day trips recommendations:
Lisbon day trip for food and wine lovers – Wine and Cheese Tasting in Azeitão
Lisbon day trip for beach and seafood lovers – Cascais
Lisbon day trip for wonderland and sweet lovers – Sintra Sweets Wonderland
3- Evora – Portugal's Bread Basket
Evora, is the capital of the Alentejo region and Portugal's bread basket. It is the agricultural heartland with rolling hills of farms, olive groves and cork forest.
The city of Evora is one of the most beautifully preserved medieval towns in Portugal.
A UNESCO World Heritage Site, its roots go back to the Roman era. In the 15th century, the town served as the town as the residence for the Kings of Portugal.
The cuisine in Evora and the Alentejo region is unique and made up of delightful specialities you don't want to miss.
Be sure to savor dishes like the famous black Portuguese pork, Alentejo bread, amazing wines, olive oils and a variety of local cheeses.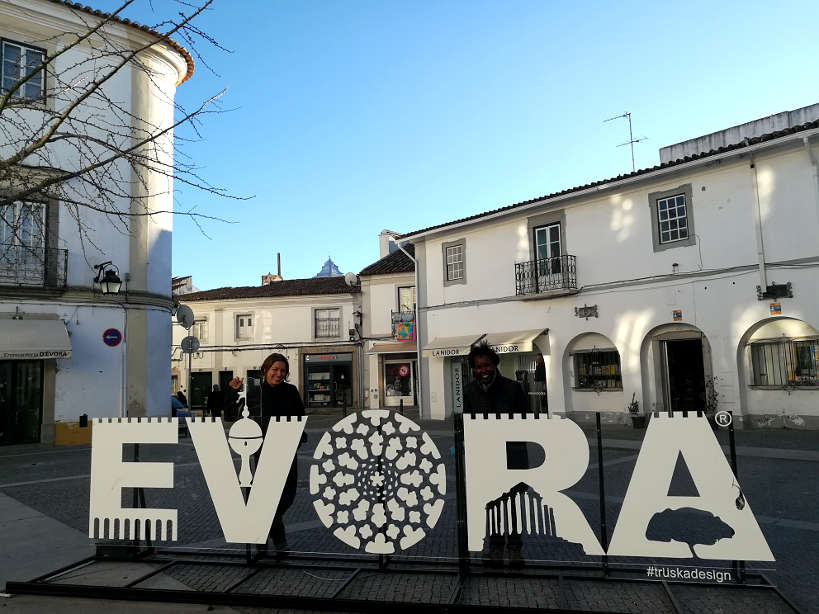 4- Sintra – a Lisbon Day Trip in Sweets Wonderland
Sintra is renowned as the most popular Lisbon day trip, and for good reason.
There are many cultural sites to visit in this ancient town in the foothills, just to the west of Portugal's largest city. 
You want to visit the restored Palácio Nacional da Pena as well as the Castelo dos Mouros, ancient ruins perched on the crest of the mountain. 
The town of Sintra itself has an impressive Gothic palace, Palácio Nacional de Sintra, and you'll want to spend some time walking the cobblestoned streets and exploring the shops adjacent to the town square. 
Your day trip to Sintra will be full, but it's the one you'll not want to miss. 
READ MORE: For more about what to do and what to eat in Sintra, read our article how to eat your way in Sintra in one day.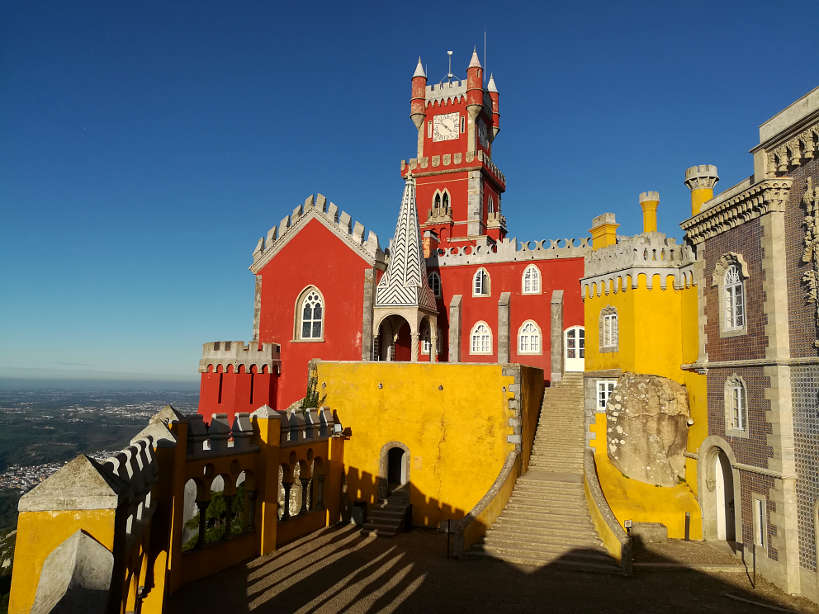 5- Belém and the Original Pasteis de Nata
Belém, a district of Lisbon, is certainly the more accessible and closest Lisbon day trip to take.
It is home to the original bakery for the national egg custard treat known as Pastéis de Natas. 
Head for Pastéis de Belém pastry shop and savor the original egg custard, called Pastéis de Belém.
The historic bakery has been making them since 1837, and the store is open most evenings until 11:00 p.m. 
Not-to-miss sights in Belém include Jerónimos Monastery and Belém Tower. Avoid Mondays when the sites are closed.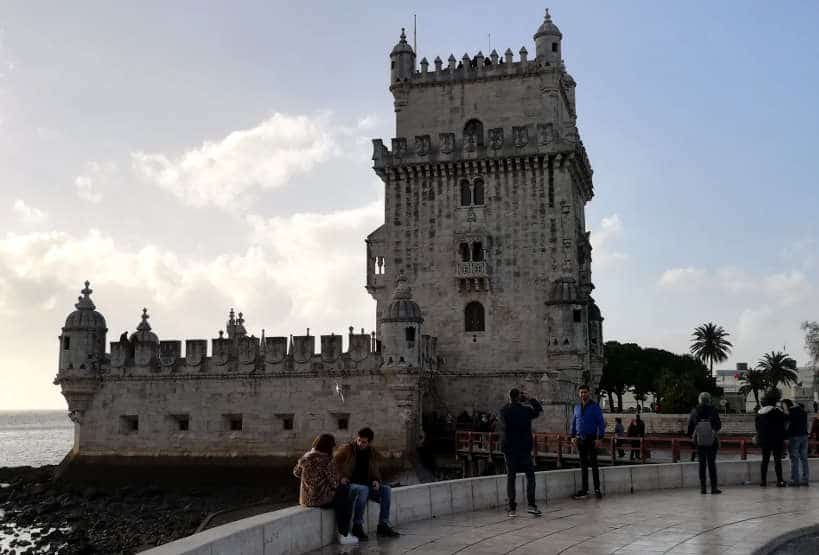 6- Cascais – Former Royal Summer Destination
Cascais, a former fishing village, has enticing beaches and a beautiful marina adjacent to a massive old stone fort building. 
Cascais used to be the summer destination for the Portuguese royal family.
Nowadays, there are beach bars as well as white-tablecloth restaurants to satisfy your hunger for freshly-caught fish and seafood.
Downtown Cascais, you can visit the historic centre with its traditional and upscale restaurants. shops.
By the waterfront, you will find the fishing harbour, the marina and the restored fort. Don't miss lingering on the beautiful beaches of Praia da Conceição or Praia da Duquesa.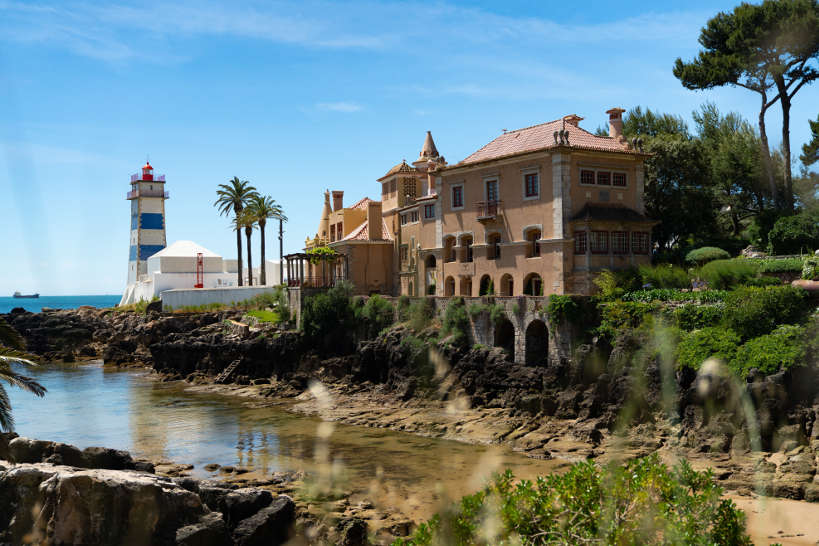 7 – Fátima and The Atlantic Coast
The kind of day trips Lisbon visitors find most appealing, are those that offer a multi-faceted view of the surrounding countryside as well as the primary destination. 
A visit to Fátima offers just that. Known as one of the most important Catholic shrines in the world, the city welcomes every year millions of tourists and pilgrims alike.
On your way to Fátima, pay a visit to the charming medieval village of Obidos with its narrow cobbled stone streets. 
An other interesting stop is to visit one of the fishing villages along the Atlantic coast. 
Nazaré and São Martinho do Porto are ideal towns for an easy lunch to enjoy the Portuguese seafood.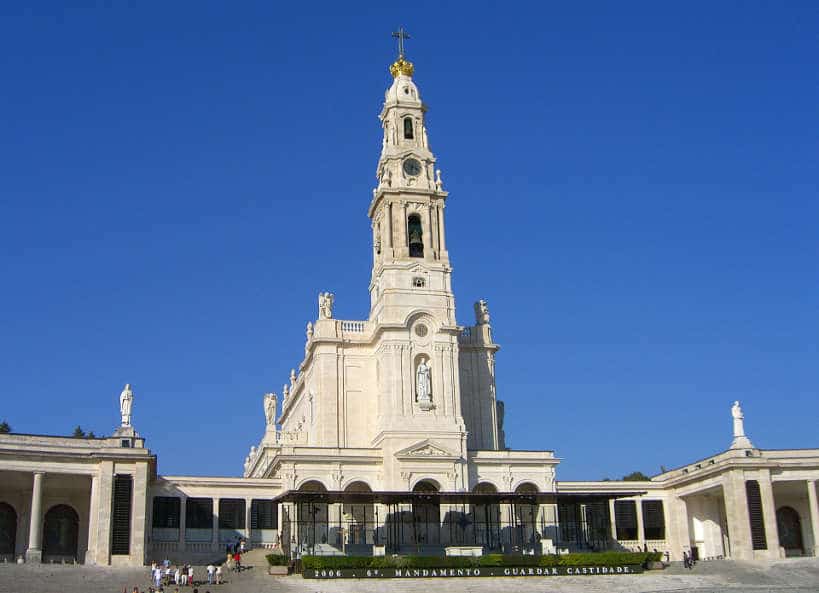 10 – Porto – Portugal's Second City
Porto has much to offer and we highly recommend spending several days in and around Portugal's second city.
Nonetheless, it is possible to experience this wonderful city on the banks on the Douro River as a day trip from Lisbon if you cannot squeeze out extra days.
Though it would make for a long day, it's a pleasant drive or a relaxing train trip, and it's entirely worth it.
Be sure to include time to learn about Port wines and a tasting at any of the famous fortified wines cellars in  Villa de Gaia.
Tour the Ribeira district and enjoy a drink or lunch by the Douro river before heading up to the top of Dom Luis Bridge. 
Soak up the views of Porto before walking toward Se Cathedral and the beautiful Sao Bento train station to admire the azulejo tile work.
READ MORE read our article about the best things to do in Porto for food lovers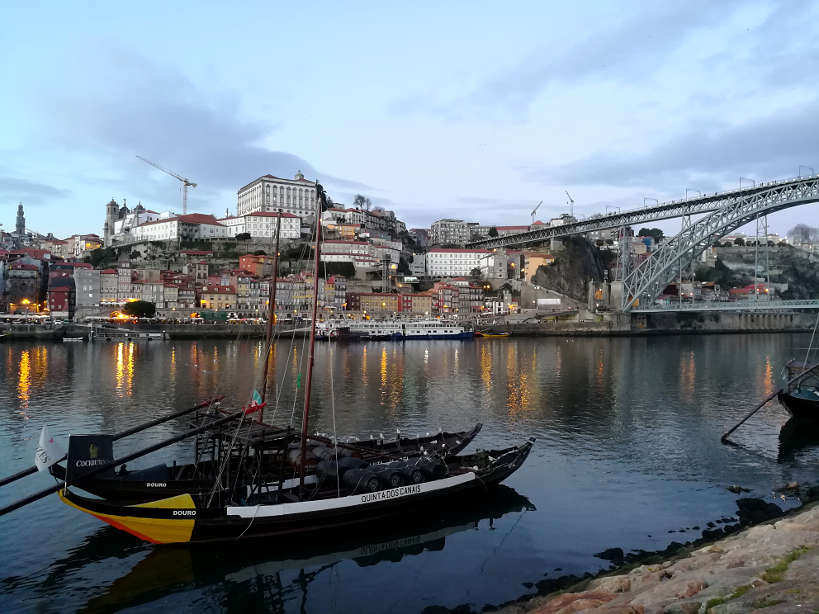 Renting a Car for Your Day Trips from Lisbon
Renting a car in Lisbon is quite inexpensive and pretty straight forward. 
One thing to be aware of is that, the majority of rental cars are manual transmission. If you want a car with automatic transmission, reserve one in advance. 
Bridges and highways charge tolls. At the car rental station, get a transponder and pre-pay 10 € euros for toll charges.
Car rental rates can be as low as 5 € euros per day. Bring the necessary paperwork including your passport and driver's license.
Love it? Pin it!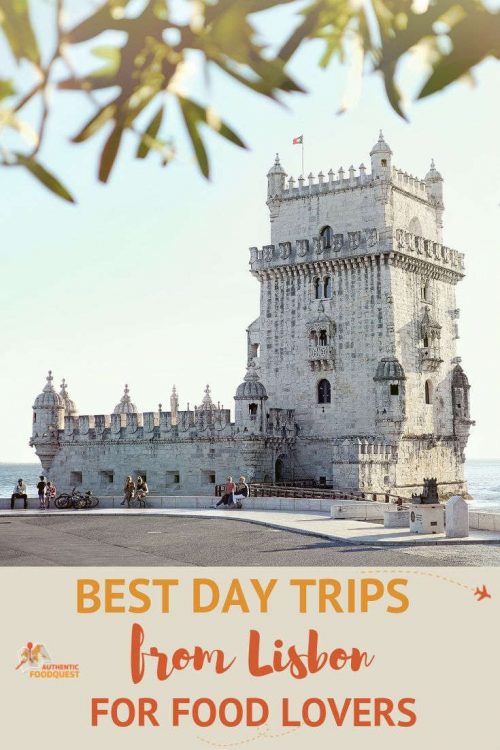 Disclaimer: This page contains affiliate links. That means at no extra charge to you, we earn a small commission when you purchase using these links. Thank you for your support.
Claire is a culinary explorer who travels the world in search of the best local foods. She is always looking for her next culinary adventure to bring you the best bites while exploring new places.