On a 5-day whirlwind trip to South Carolina, we hit the historic cities of Columbia, Florence, Myrtle Beach, and Charleston. Our goal was to explore the food in South Carolina, or at least, get an introduction to Southern food and the local food culture.
It was our first time visiting South Carolina, and we were excited. While we have traveled extensively in the U.S., visiting more than 30 states, we had never set foot in South Carolina.
Prior to the trip, our impressions of South Carolina were largely based on what we had heard. The food in Charleston is what people talked about the most about and we couldn't wait to savor the culturally rich cuisine.
One of the things we love about traveling the world and exploring the local flavors, are the connections we make through food. Meeting the people and understanding the history behind the food, makes for a deeper culinary experience.
Open and in anticipation, we journeyed South in search of the food that defines the region.
If your travels take you to the area, use this as a guide to help you find the best food in South Carolina.

Columbia: The State Capital
In many ways, Columbia surprised us. We were in a capital city and it felt like a capital city. Here we were in the deep south in awe of the antebellum architecture and Columbia's majestic Statehouse.
Over breakfast at Blue Flour Bakery on Main Street, we sat down with the affable John Sherrer, from Historic Columbia and author of Remembering Columbia.
Columbia, the first planned city in the United States, the seat of government, was a wealthy city built on an economy forged by slavery. Over the years, Columbians from all walks of life would work together to transform their city.
"Main Street," John said, "was an example of the revitalization efforts in Columbia." With his colleague, Anna Kate Twitty, who later joined us, the discussion was animated about the future potential for the city.
Old buildings adapted for the use as restaurants, stores, and coffee shops were examples of new energy flowing through.
The affordable cost of living and abundance of outdoor activities, they told us, attracts young people and keeps them in Columbia. In fact, earlier this year, CNBC rated Columbia, South Carolina, the second most attractive city to millennials, behind Seattle.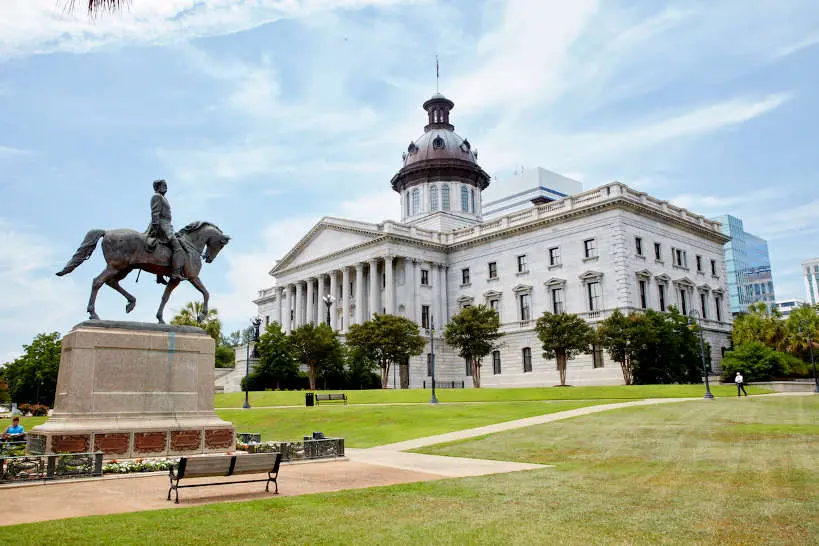 Best Restaurant in Columbia – Motor Supply Co. Bistro
Understanding the local food scene was our primary focus. And by understanding the evolution of the city, we were able to place the burgeoning food scene in context.
The night before, on our way to Motor Supply Co. Bistro, in the Congaree Vista district, we were impressed by the number of restaurants and energetic vibe. It felt like we could have been in a dining and entertainment district of any major US city.
While we didn't spend an extended amount of time in the city, the one thing that struck us was the local farm-to-table movement.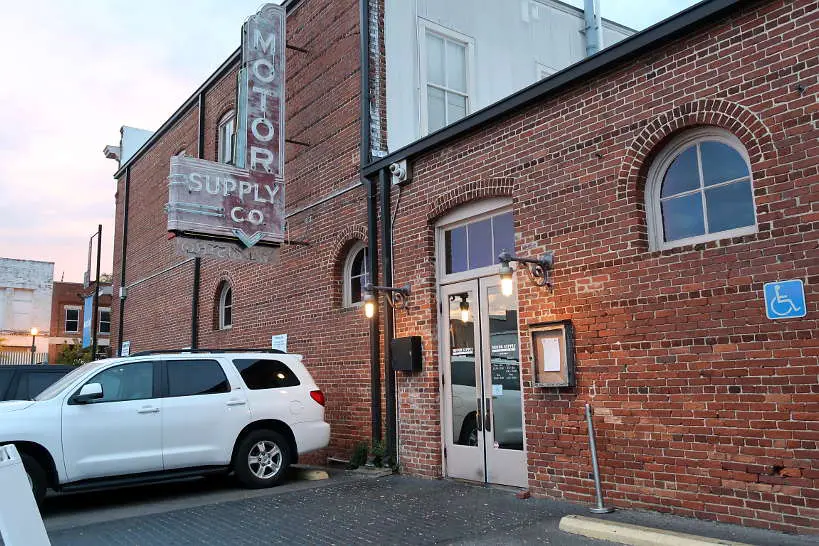 Savoring Locally Sourced Products
At the restaurant, chef Wesley Fulmer, talked about cooking with locally sourced ingredients. The bone-in-pork chop, a local favorite on the menu is an example of a dish that typifies his cooking philosophy as well as Southern food.
The pork used is locally sourced from heritage pigs. The produce comes from nearby organic farms and by using fresh local ingredients and innovative cooking techniques, Wes told us he aims to provide "what people can eat at their grandmothers, in a refined way."
Claire enjoyed the delectable Lady Edison Bone-In Pork Chop on the menu that evening. It was served with turnip puree, cider braised kale greens and a side of preserved watermelon.
With each bite, she savored the flavors of the South, appreciating the fresh and fine ingredients.
I recall thinking how pleasantly surprised I was. While I didn't have any expectations of Columbia, I was thrilled to find a buzzing city where high-quality food and ingredients are prized.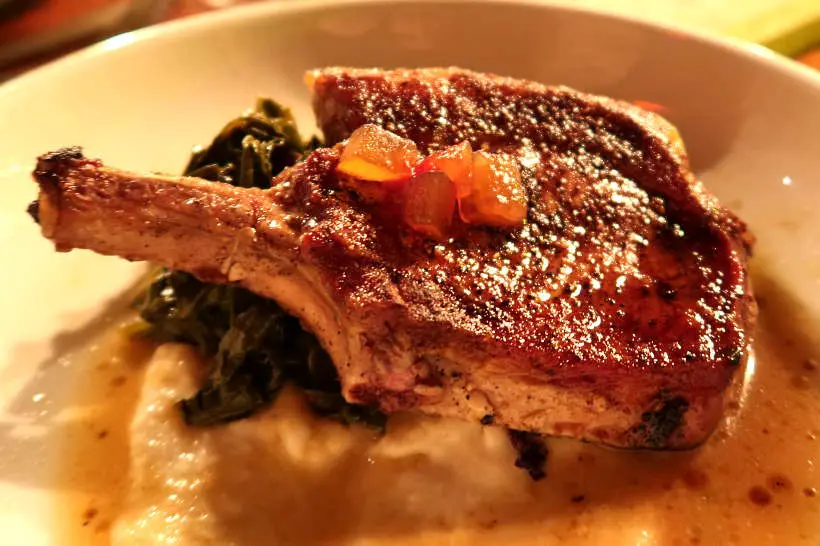 Florence: The Charming Southern Belle City
From Columbia, our culinary journey continued to Florence, a charming Southern belle city about 1.5 hours aways.
Nestled near the Great Pee Dee River, this area is known for agricultural farmlands and abundant fish and seafood.
With the Great Pee Dee River and later as an intersection of three major rail lines, Florence was an important transportation hub.
We learned that during the Civil War, Florence was a major rail center for the movement and men and military supplies.
Located about halfway between New York City and Miami, on the intersections of 1-95 and 1-20, Florence charms visitors from the eastern corridor and beyond.
We didn't know what to expect of Florence and were immediately drawn to its architecture. Stunning red brick buildings, one or two story high, flank each side of the street.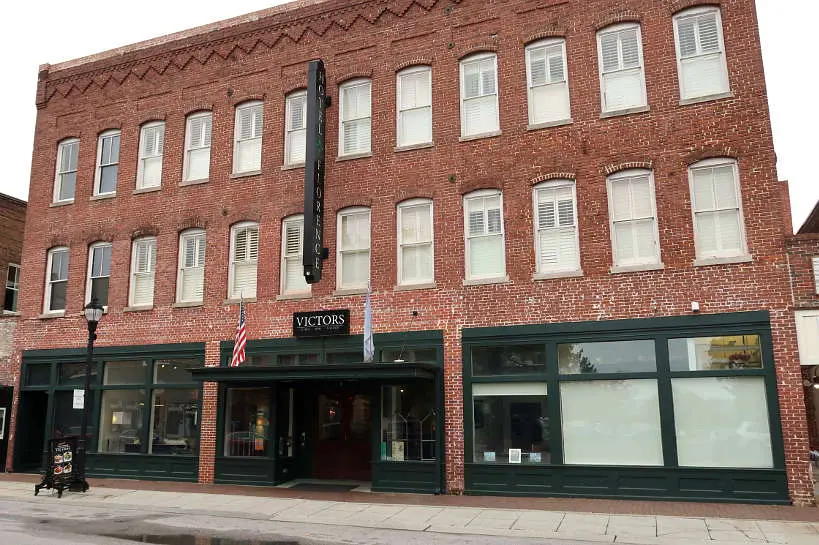 Dynamic Local Food Scene
We were surprised to find a dynamic local food scene in Florence. There is the Pee Dee State Farmers market, a drive-in market set on 55 acres.
Downtown Florence has a thriving restaurant scene, And, the town hosts the South Carolina Pecan Festival along with a dedicated South Carolina Pecan Trail, celebrating pecans, part of the town's heritage.
One dish we had heard about but had not yet eaten was shrimp & grits, one of the most popular foods in South Carolina. We made it our mission in Florence, to dig into this classic Southern food.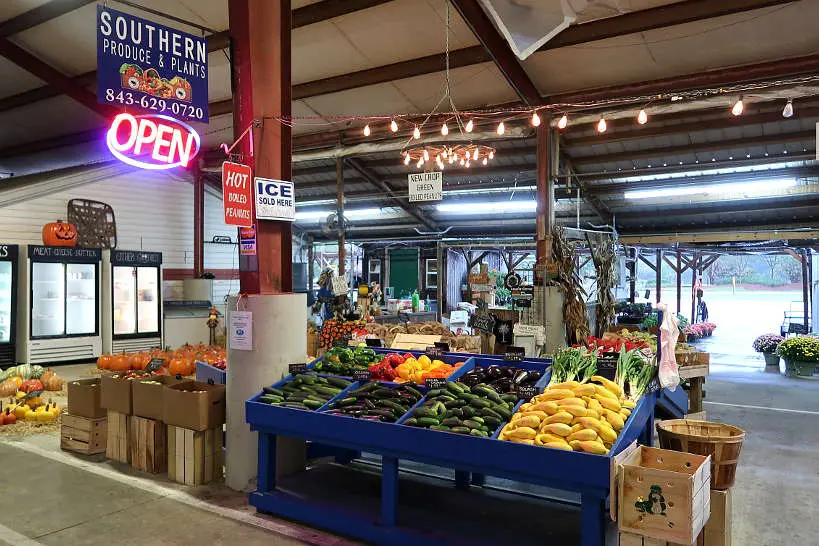 Shrimp & Grits at Tubb's Shrimp & Fish: One of the Best Restaurants in Florence
Tubb's Shrimp & Fish, known for Southern and Lowcountry-style cuisine, was our first stop in Florence. As we pulled into the old converted gas station, we already knew what we'd have.
Welcomed warmly by Kyle one of the co-owners, we sat down at the simple table lined with plastic checkered table cloths. With the specialties of fish, seafood and local ingredients, our choices were simple.
I had a platter of fresh fish and seafood accompanied by traditional Southern sides. The star dish, however, was Claire's shrimp & grits.
Shrimp & grits are one of South Carolina's iconic dishes. Flavorful shrimp from the salt creeks of the Lowcountry ladled over creamy, buttered grits.
We quickly learned that there are as many iterations of shrimp & grits as there are chefs and home cooks. Some are mild, while others raise the heat with peppers and hot sauce.
Not surprisingly, Tubb's has their own version. In their soulful southern style of cooking, their twist to shrimp & grits contains shrimp etouffee, andouille sausage and house cured bacon lardons.
As we savored the deep and contrasted flavors, Kyle stopped by to talk about the dish. Freshly caught fish and seafood, home cured pork and local ingredients, punctuated the discussion.
As we had observed in Columbia, a keen importance on the use of local products and an obsession with the highest quality produce, seafood and meats.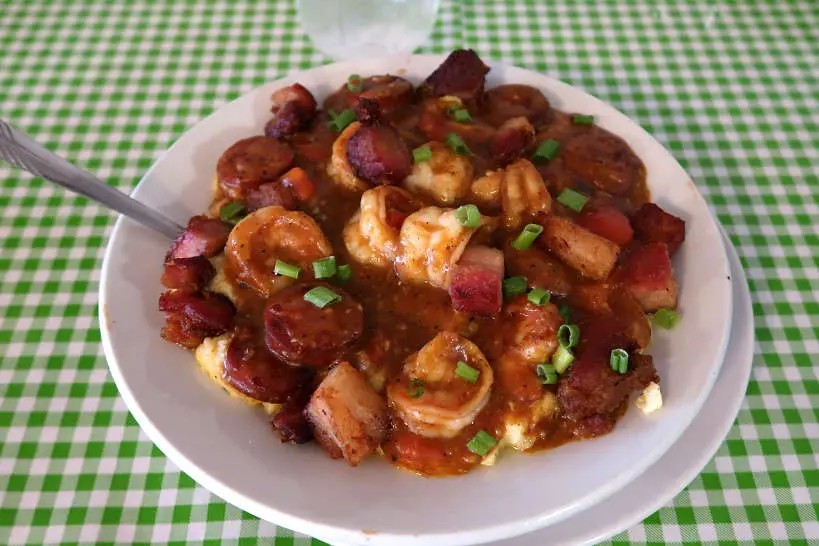 Myrtle Beach: the Grand Strand
The sandy shores of Myrtle Beach, about one hour away from Florence was our next stop. We drove in anticipation of discovering the beautiful coastline and the local food.
Along the Atlantic coastline, the 60 miles of stunning beaches are referred to as the "Grand Strand." This area is home to 14 distinct communities.
Our trip took us to Murrells Inlet, a fishing village and Myrtle Beach, the heart of the Grand Strand.
A popular vacation spot, Myrtle Beach offers beaches, golf courses, fishing, outdoor activities and shopping for family members of all ages.
Visiting in the Fall (October), we enjoyed a calm walk along the boardwalk. Ziplines, mini golf courses, and t-shirt stores were quiet, allowing us to fully appreciate the beauty of the Atlantic ocean.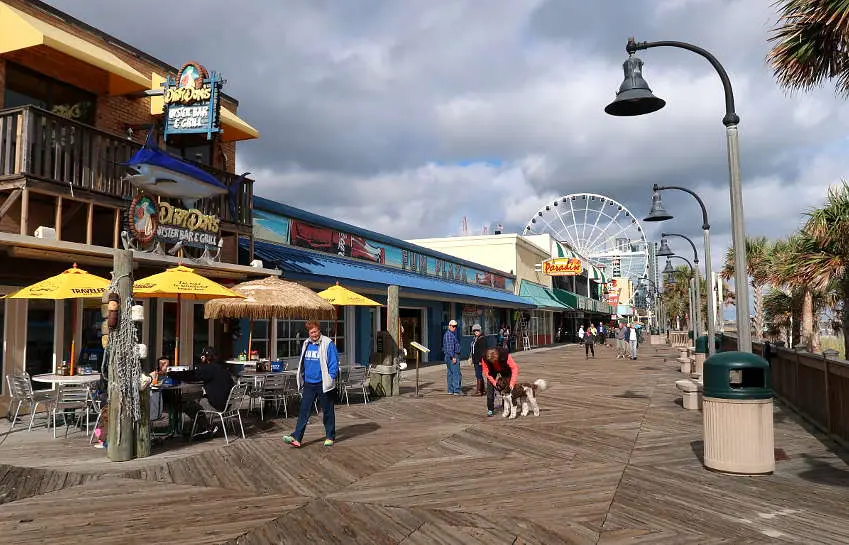 Best Restaurant in Myrtle Beach: Hook & Barrel
With the proximity to the Atlantic ocean, seafood which is popular in Myrtle Beach was naturally on our radar. One of the restaurants we were most excited about was Hook & Barrel, owned by Heidi Vukov, one of the 2018 South Carolina Chef Ambassadors.
South Carolina Chef Ambassadors, have the distinguished role of telling the remarkable story of South Carolina's food heritage through cooking demonstrations, educational activities and the dishes they create in their own restaurants.
Heidi Vukov is also the author of the popular cookbook based on her European heritage and Southern fusion recipes, aptly titled, "Bonjour, Y'all."
While Hook & Barrel is not Heidi's only restaurant, this one is dedicated to sustainable seafood dishes and local produce. Ben, her son and Director of Operations, whom we met, describes it as having the "first sustainable kitchen in South Carolina."
"Built from the ground up", Ben told us, "the green kitchen does not use gas or open flames and instead uses induction cooktops, which use less energy and are safer for the chefs."
Seated across the open "Steam Gallery", we watched as two chefs worked harmoniously to prepare some of the seafood dishes. In this area, mussels are shucked and chilled. Shrimp cocktail appetizers and seafood towers are assembled. And, the oyster stew and popular Charleston She Crab Soup are prepared here.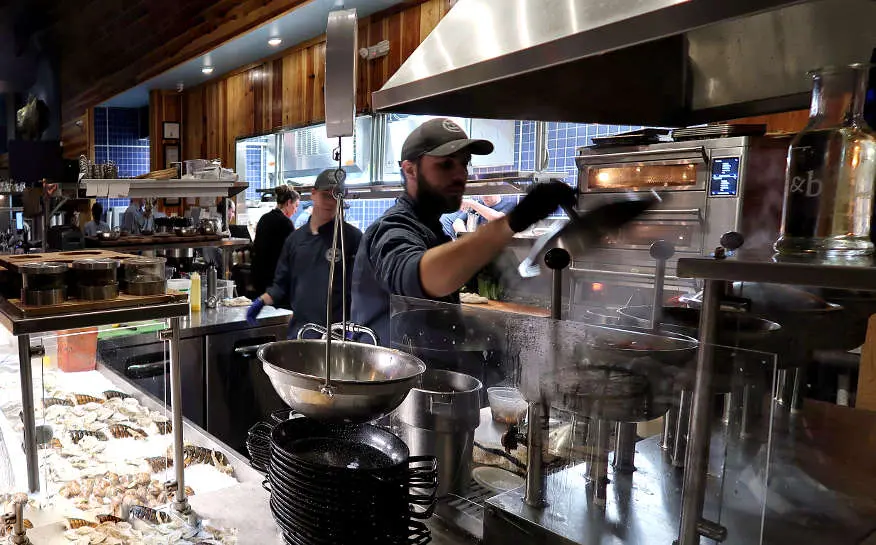 Food in Myrtle Beach: Seafood Delicacies
With a keen focus on seafood, we ordered starters and items from the steam gallery. From fresh oysters to crab cake sliders, oyster stew, She Crab soup, and fish bites, we savored the sweet flavors of local and sustainable seafood.
Our conversation with Ben as we enjoyed the meal, further underscored the restaurant's commitment to sustainability. Sourcing the best sustainably raised fish and seafood is their mission.
Just as we noted in Columbia, we saw a similar pattern emerge around fish and seafood. Both Ben in Myrtle Beach and Kyle in Florence talked passionately about offering the finest products sourced from local waters.
We began to see South Carolina in a new way. A state that takes great pride in bringing the flavors of the land and sea sustainably to your table.
"So, where to next?", Ben asked as we were getting ready to leave. "Charleston", we said in unison. "Ahh, Charleston, the gem of the South. You'll certainly eat well."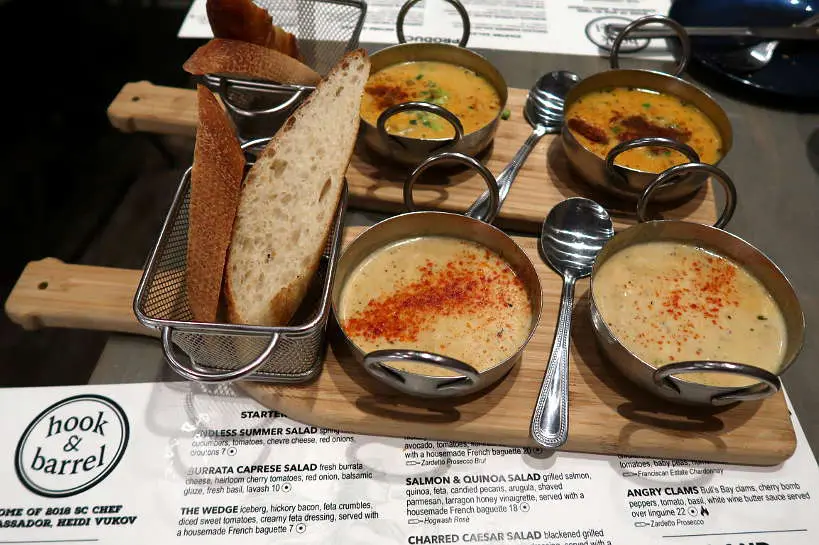 Charleston: The Food Gem of the South
As food travelers, Charleston had always been a city we've wanted to visit. Named one of America's top food cities, by multiple rankings, several years in a row, we were excited to see what the city had to offer.
Even though our time was short in the Holy City, we were immediately seduced by the city's charm and the countless restaurants and eateries.
Taking in the ocean breeze and the mild October temperatures, we enjoyed walking along, King Street, the main drag, promising ourselves to come back again.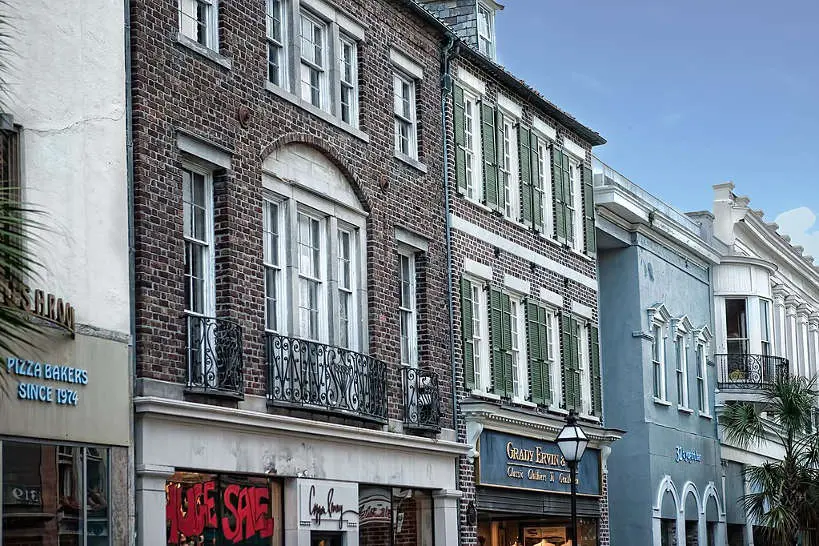 Best Restaurants in Charleston for Ancient Southern Ingredients: Revival
Even with a limited view of the local food scene, we experienced, again, the use and respect for local and heirloom ingredients.
At Revival Restaurant, chef Forrest Parker often considered an "agricultural archeologist", shared his passion for the culturally rich Lowcountry cuisine.
Deeply knowledgeable about South Carolina's culinary roots, our discussion was rich. As were the flavors of the heritage and previously extinct ingredients like Nostrale and Carolina Gold Pegao rice.
Chef Parker works with local farmers to grow heirloom foods, some of which date back to the establishment of the Carolina colony. His commitment to revival ancient ingredients and recipes are similar to the work taking place at Rosewood Luang Prabang, Laos with Sebastien Rubis, the Culinary Director.
With innovative dishes combined with a deep understanding of South Carolina's culinary roots,  we left with a taste of what "South Carolina once was.".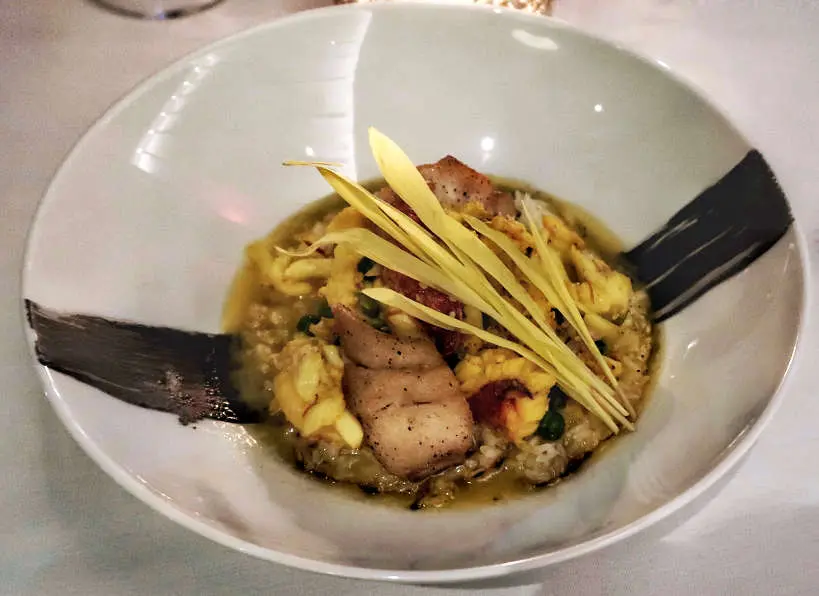 AUTHENTIC FOOD QUEST TIP: From Charleston, visit Magnolia Plantation and Gardens for a glimpse into past and present of Charleston. This 4.5 hour tour will you to the world-famous gardens and you'll learn about American in the 1600s. Take in the history of the area as you savor the rich local flavors during your visit.
Best Restaurant in Charleston for Breakfast: Hominy Grill
The next morning, at Hominy Grill, one of Charleston's beloved institutions, the discussion around Southern specialties, sourced locally and cooked innovatively continued.
This time our breakfast companion was Nathalie Dupree, the Queen of Southern Cuisine. She's an award-winning author of 14 cookbooks about the American South.
As we made our breakfast selection, Nathalie took great pride in pointing us to some of her best South Carolina foods. We had fried chicken livers, fried okra, Southern biscuits, shrimp & grits, and buttermilk pie.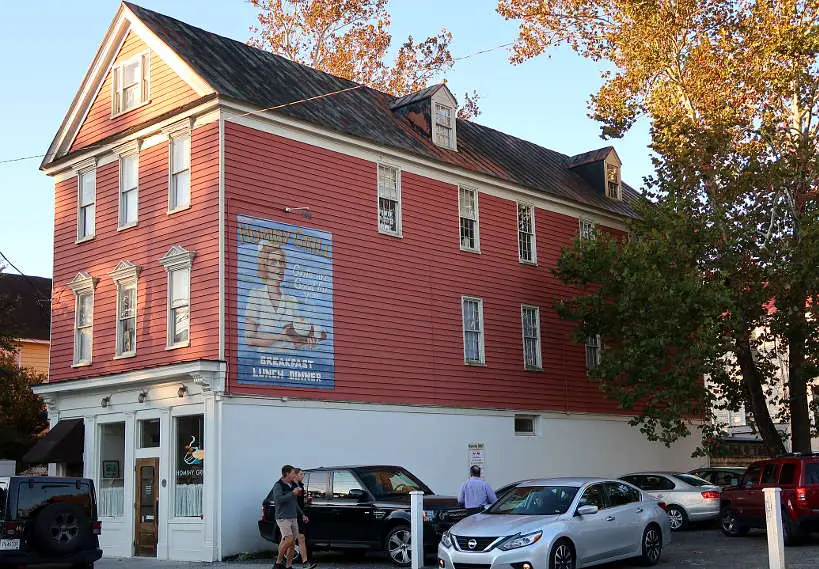 Nathalie's warmth and approachability took our breakfast conversation almost into lunch. Southern specialties and locally grown produce once again dominated the conversation.
By this time, at our last stop in South Carolina, the pattern was clear. This was a state that has a tremendous appreciation for farm-to-table freshness.
Even though Charleston is the best-known food city in the state, the movement extends beyond.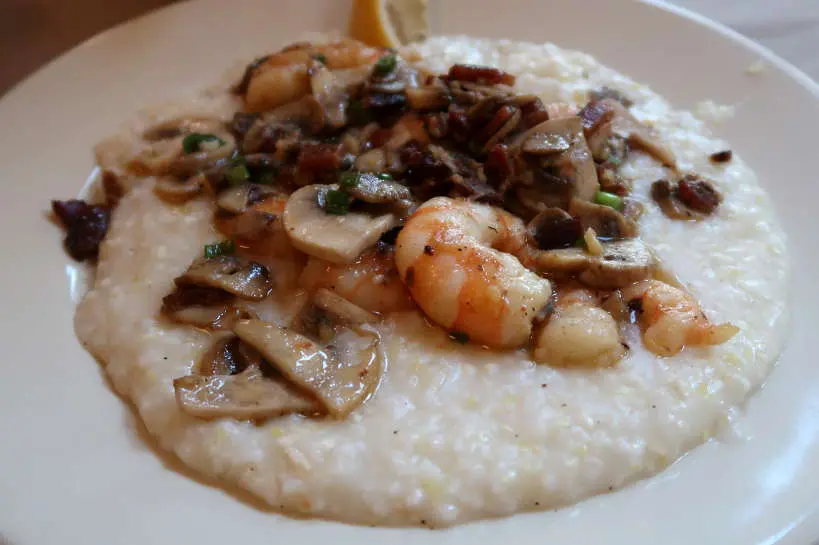 In Summary
For two non-U.S.natives, the trip through South Carolina was more than a culinary experience, it was a journey through time.
As with all cultures, the food in South Carolina is a reflection of its history. We learned that South Carolina's past, underpinned by enslavement, gives its food that much more depth. In iconic dishes like shrimp & grits, you taste the layers of the past in every bite.
As we were wrapping up, Nathalie left us with parting thoughts about the food in South Carolina. For her,
"Southern cooking is the mother cuisine of America."
Have you been to South Carolina before? In the comments below, tell us what was your best food in South Carolina.
Savor The Adventure!
Love it? Pin it!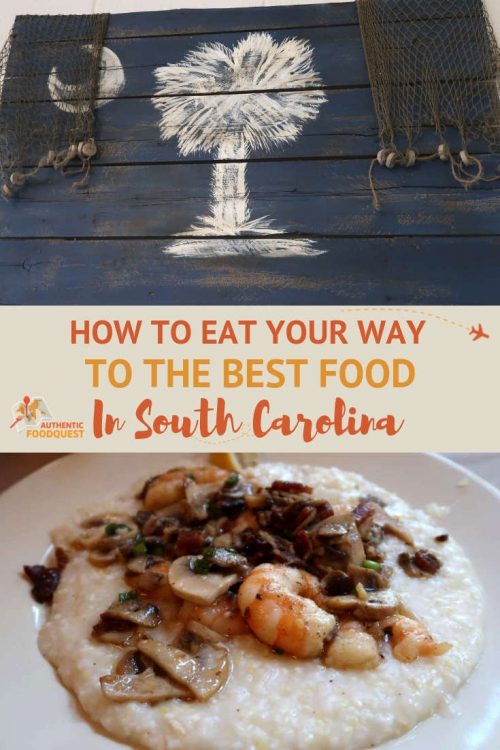 Rosemary is the editor-in-chief and strategist at Authentic Food Quest.
Traveling slow since 2015 with her partner, Claire, she has explored the cuisine in 45 countries and more than 240+ culinary cities.
Her writing about local food specialties has been featured in Lonely Planet, Business Insider, Honest Cooking, Food Insider, and Huffington Post.
As a food and travel writer, Rosemary has co-authored three books, including one in collaboration with Costa Brava Tourism.
Rosemary is an avid runner when she's not eating and exploring new destinations. She has run ten marathons and counting.
Before Authentic Food Quest, Rosemary held senior-level strategy positions in advertising. 
Find out more about Authentic Food Quest