This article has links to products and services we recommend, which we may make commission from.
A meandering visit to Mexico City food markets should be part of any itinerary to Mexico's capital.
Markets in Mexico City are at the heart of Mexico's culture. The places where the country's colors, aromas and flavors come alive.
The famous Chilean poet, Pablo Neruda said it very well; "Mexico is in its markets." And just like Neruda, one could go from market to market for years.
On your visit to Mexico's capital, go on an authentic Mexican food adventure at the market.
Visit at least one of these seven Mexico City markets and make memories as you savor the core of Mexico.

1- Mercado La Merced – One of the Largest Markets in Mexico City
La Merced is one of the most iconic food markets in Mexico City. It is also the largest retail market for traditional food in Mexico City.
This sprawling market was built in 1963 to accommodate numerous market stalls in the neighborhood.
Today, La Merced is housed in several buildings extending over several blocks. Visiting La Merced is an overwhelming and intense experience.
Countless vendors are filling every space available in the many buildings. Additional shops line up the streets surrounding the markets making it impossible to walk on sidewalks.
Shopkeepers, locals browsing and shopping, and delivery men all cohabitate amongst the intricate alleys and tight spaces.
It is easy to get disoriented in La Merced. We personally had to ask our way several times and found ourselves back to the same spot by mistake.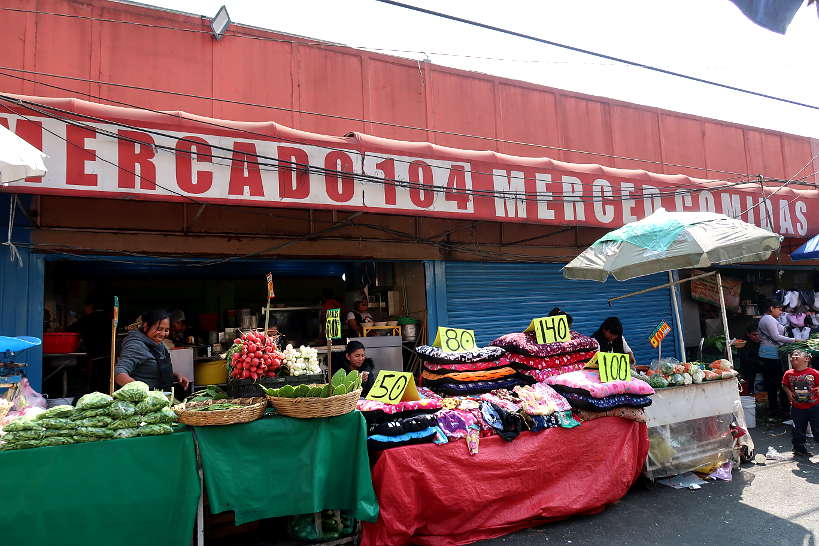 Where and What to Eat at La Merced
In La Merced, each building is dedicated to a particular type of product or activity. You will find the mercado de comidas for prepared food, mercado de dulces for sweets, or mercado de flores for flowers.
We used mercado de flores as an anchor point to orient ourselves in the market. There are also halls for fruits and vegetables, meat, dry fruits, house goods and more.
To eat at La Merced, you want to go to Calle Rosario at the intersection of Calle Gral Anaya. There is a small food court called Mercado de Comida where you'll find typical traditional Mexican dishes.
We particularly enjoyed chilaquiles breakfast at Cocina Frida.
Along Calle Rosario are several vendors selling quesadillas, tlacoyos, tacos and ice cream.
We were disappointed by Mercado de Dulces. We were expecting to find baked goods and traditional sweets from Mexico. Instead, there was a lot of candy and junk food.
We preferred the dry fruits hall which is located across Mercado de Comida.
In any case, you will not go hungry at La Merced. Even if you get turned around, you are sure to find something to eat.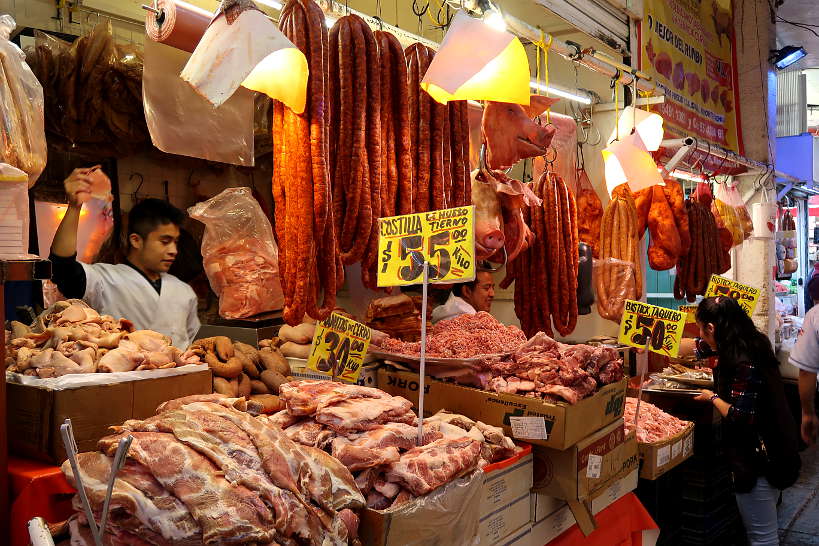 How To Get To La Merced
Located on the east side of Centro Historico, the most convenient way to get to La Merced is by metro.
The metro stop La Merced is on Line 1 or the Pink line which passes through Reforma and Condesa. This is an easy and convenient way to go to and from La Merced.
The metro station is literally inside the market. When you get out of the station, you'll enter the market with lots of shoe vendors filling up the stalls.
You will want to walk out several alleys before you get to the food section.
Address: Calle Rosario 159, La Merced, Mexico City
Hours: Open daily, from 9:00 am to 7:00 pm
Authentic Food Quest Tips:
La Merced doesn't have a reputation of being very safe. The neighborhood is known for prostitution and petty crime. Although we didn't have any issues, we recommend as much as possible to blend in. The best would be to carry money safely on you and not in a backpack. Also, be discrete with cameras and other valuable items.

Having a local guide that can navigate the market with you can be really helpful. On a

La Merced Market Tour,

you will taste traditional Mexican food and learn about local and pre-Hispanic food.
Watch La Merced Market Visit and Food Tour in Mexico City
2- Mercado Abelardo L. Rodriguez – Hidden Gem in the Historic Center
In the northeast corner of Zocalo, in the historic center, sits one of the best markets in Mexico City. Abelardo Rodríguez Market is a hidden gem and often overlooked by visitors to Mexico's capital.
The hallmark of this market are the enormous murals by students of Diego Rivera, Mexico's most prominent male artists.
As you walk into the market, look for murals by the entrance, stairways and on the second floor. Colorful and powerful, the murals cover themes of Mexico in the 1930s. Food production, exploitation of the workers, industrialization, greed, and more.
Entrance to the market and murals is free. Take advantage and see the works of lauded Mexican and American masters.
The market itself is much more manageable in size than La Merced and filled with throngs of vendors.
You'll find a section of fruits and vegetables by the entrance. Behind them are poultry and meat stands and all around are juice and food stalls.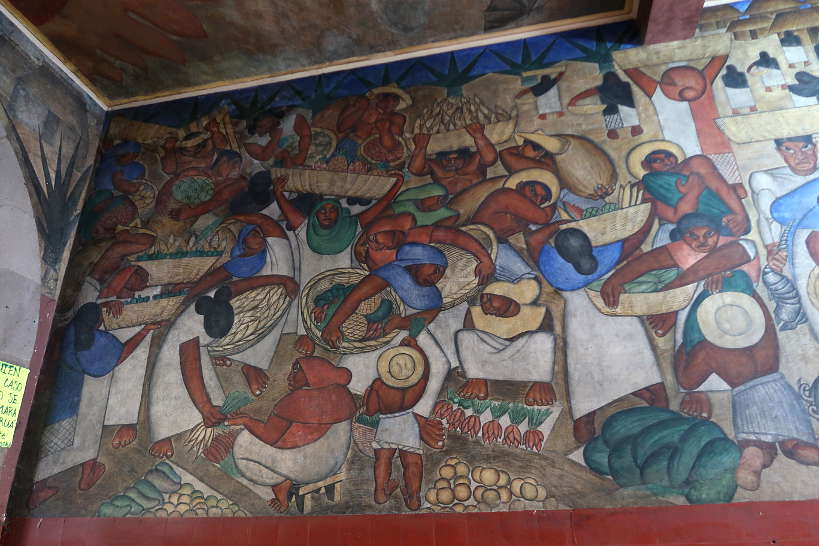 Where and What to Eat at Mercado Abelardo L. Rodriguez
We visited this market on a street food and market tour. While there are several eateries, our guide took us to what locals consider the best stall at the market.
Walk through the market all the way to the end and you'll see a small popular stand with the marking Local 219. The stall opens onto the street at the intersection of calle Rodriguez Puebla and Republica de Venezuela.
This stand is popular for tamales and atoles. We enjoyed sampling a wide variety of tamales from savory to sweet. The atoles came in different flavors and we liked the chocolate-flavored version.
Apart from tamales and atole, you can also have sandwiches and tortas. The long lines at this stall attest to the popularity of the place.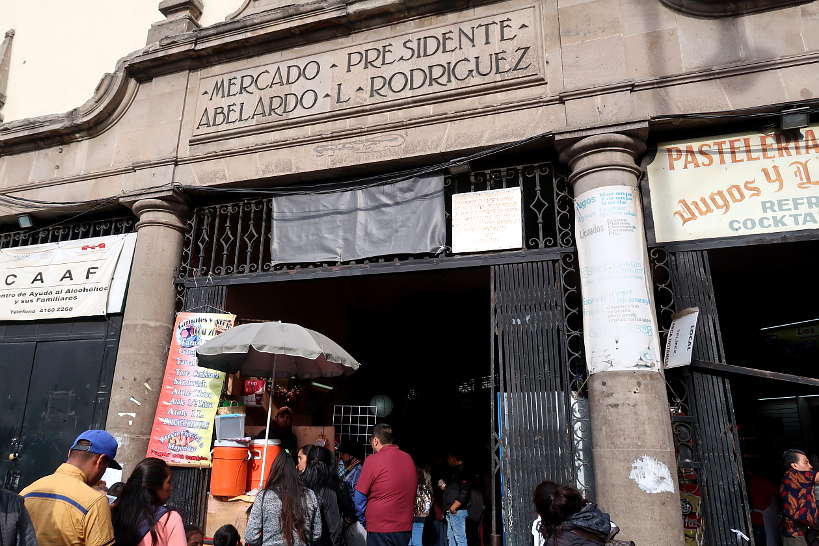 How To Get To Mercado Abelardo L. Rodriguez
If you are already in the historic center of Mexico City, head towards Plaza Santo Domingo and then go east on Republica de Venezuela. From there it's only about a 4 block walk.
Mercado Abelardo L. Rodríguez runs along República de Venezuela and Callejón Girón.
Address: Cjon. Girón, Centro Historico, Mexico City
Hours: Open daily from 7:00 am to 6:00 pm
RELATED: Read about our Street Food and Market Tour
3- Mercado de Jamaica – Flowers at Jamaica Market
One of the main traditional markets in Mexico City, Mercado Jamaica opened its doors in 1957. Jamaica is the name of the neighborhood and it also means hibiscus.
While a traditional market selling vegetables, fruits, meats, it is best known for flowers and plants.
Mercado Jamaica is the largest flower market in Mexico City and in Latin America. The market is impressive, exuberant and bursting with colors.
Even if you are not shopping for food the lively atmosphere makes this a fascinating Mexico City market to visit. As you enter the market, the striking displays of fruits and vegetables will captivate your attention.
Brightly colored oranges, gleaming strawberries, displays of Ataulfo mangoes will tempt you. Vegetables you've never seen like nopales, jicama, tiny green tomatillo tomatoes will pique your curiosity.
Walk deeper into the market until the first fragrance hits the nose. You'll see bundles of roses, huge bouquets of fresh cut flowers and formal arrangements for baptisms, weddings and funerals.
At one point in the market, we were surprised to see several pickup trucks loaded up with a multi-colors of flowers.
A trip to Mercado Jamaica is to enter a colorful slice of daily life in Mexico's capital.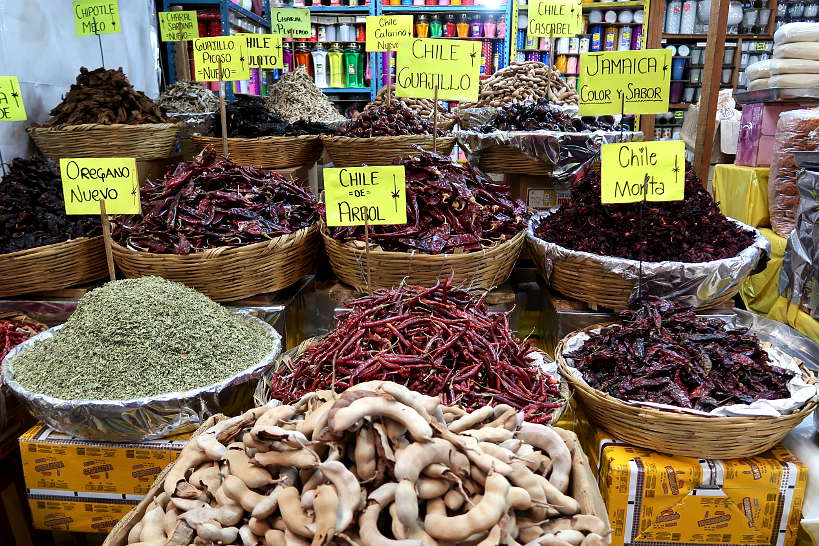 Where and What to Eat at Mercado Jamaica
Smack dab in the middle of the market are vendors who will draw you in with different food offerings. We enjoyed tasty barbacoa tacos at El Profe, a popular stand with stainless steel tables and chairs.
On the far side of the building by the flower section are vendors selling esquites, a popular Mexican snack. Unlike elotes which are grilled corn on the cob, esquites are corn kernels served in a cup. The esquites we had were in a chili citrusy marinade topped with a crumbly cheese.
For a more substantive meal, head to the "comida section" of Mercado Jamaica for huaraches, a Mexico City specialty.
For over 100 years, Ramoncita Restaurant has been making this legendary dish. Huaraches are oval-shaped corn masa cakes, stuffed with beans and then fried.
The restaurant's specialty is serving huaraches with beef ribs.
Be aware the portions are generous. If you have been snacking at the market we recommend sharing a plate, unless you are really hungry.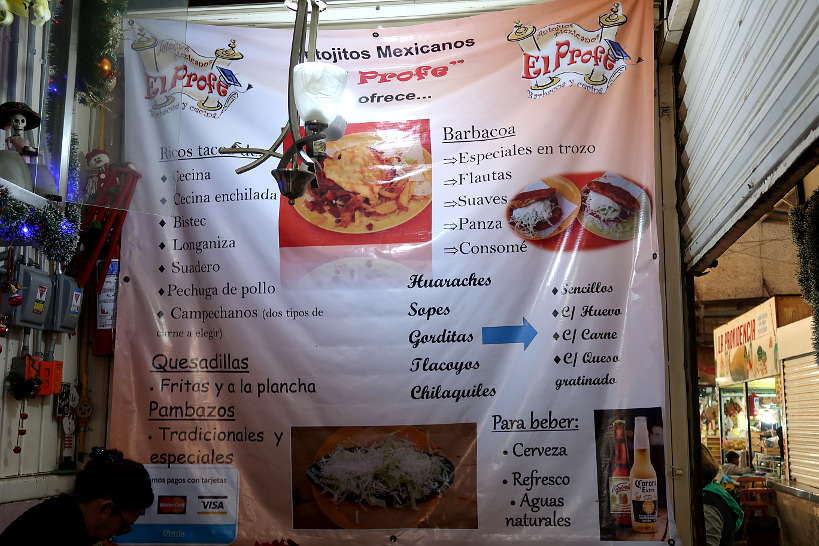 How To Get To Mercado Jamaica
Mercado Jamaica is easily accessible by public transportation. Simply take the #9 metro line and exit at the station Jamaica.
Address: Guillermo Prieto 45, Colonia Jamaica, Mexico City
Hours: Open 24/7, 365 days a year
AUTHENTIC FOOD QUEST TIP: One of the best ways to experience the local food culture in Mexico City is with a local guide. They will help you navigate the language and take you places you'll never discover on your own. See our detailed guide for the 7 Best Food Tours in Mexico City You Want To Take.
4- Mercado de Medellín – Latin Flavors at Medellin Market
Mercado de Medellín is one of Mexico City's markets that's truly enjoyable and manageable.
Covering a one-square block in Roma Norte, you can leisurely walk through it without feeling overwhelmed.
This is the perfect market to acclimate yourselves with neighborhood food markets in Mexico City.
One of its specificities of this market is the large offerings of products from Latin American countries. You can find arepas from Venezuela, Colombian coffee, Cuban ice cream, or chorizo Argentino.
Locals know it as "La Pequeña Habana" or The Little Havana, named after the wide variety of Cuban products available.
The food market is located in the middle, with food stalls and stands sprawling with beautiful fruits and vegetables. Next, meat and seafood stalls, known for their quality and freshness, seek your attention.
Surrounding the central food stalls are several restaurants to keep you from getting hungry.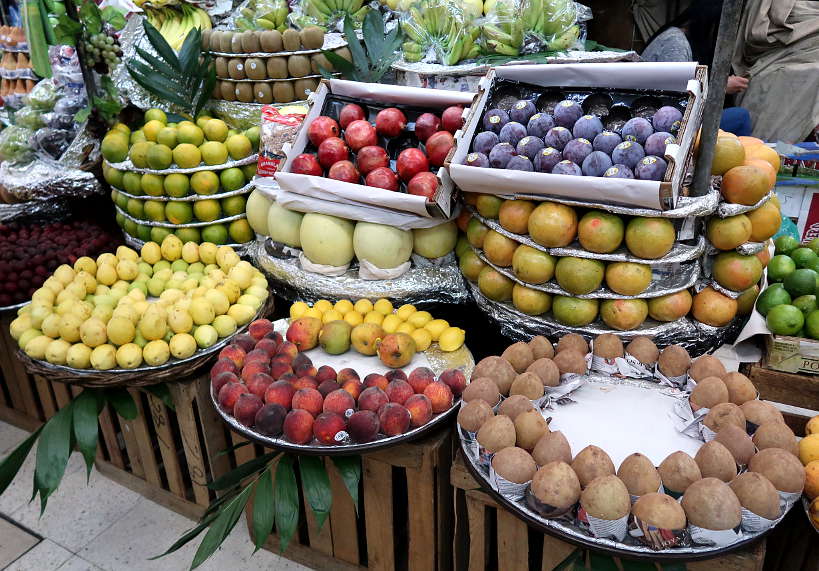 Where and What to Eat at Mercado de Medellín
One of the restaurants not to miss is Los Canarios. This local restaurant occupies a bright and airy space inside Mercado de Medellín.
On the menu is fresh fish like tuna and salmon as well as delicious Mexican food like alambres. This Mexican dish consists of grilled beef topped with bacon, peppers, onions, cheese, salsa and avocado.
Los Canarios is open from 11:30 am to 5:30 pm.
Another unmissable food stall is the Cuban Heladeria or Cuban ice cream shop Palmeiro at Local 507.
This stall makes Cuban style ice cream with fresh Mexican fruits. It is open from 10:00 am to 6:00 pm.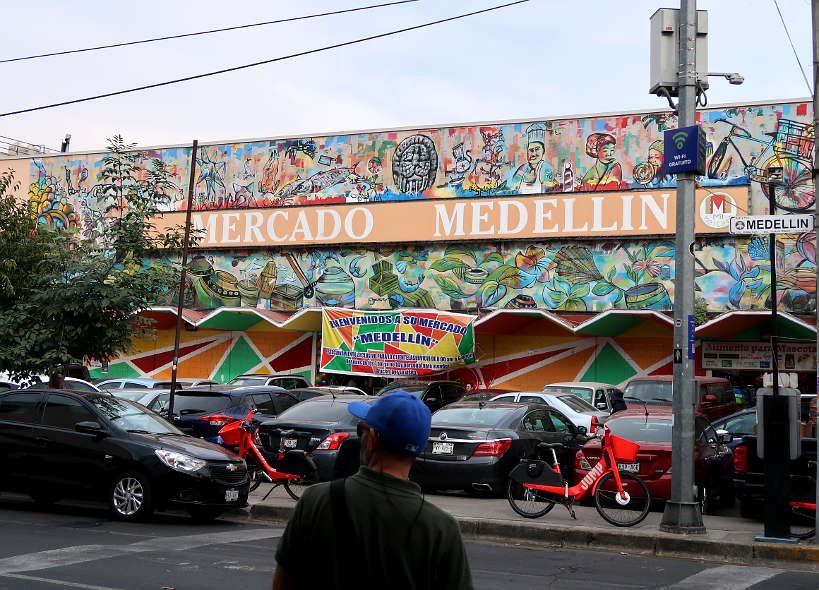 How To Get To Mercado de Medellín
Mercado de Medellín is located in Roma Sur, a few blocks from Avenida Insurgentes Sur. The metrobus station Campeche on Insurgentes is the closest stop to get you to the market.
Alternatively, you can get there by Metro from the Line 9 Chilpancingo station.
Address: Campeche 101, Roma Sur, Mexico City
Hours: Open daily from 8:00 am – 6:00 pm
RELATED: Your Ultimate Guide to the Best Authentic Food in Mexico City
5- Mercado de Coyoacán – Art & Food at Coyoacan Market
The Coyoacan market or Mercado de Coyoacán is a colorful and vibrant market a few blocks from downtown Coyoacán.
It is also located a couple blocks from the Frida Khalo museum. As a result, it is a market well frequented by tourists and locals alike.
Built in 1956, Coyoacan market is unique due to the presence of artists nearby and sales of crafts and arts.
You can buy traditional clothing, toys, gifts, and other crafts making it a great stop for souvenirs before returning home.
Besides the typical fruit, vegetables, meat, and fish stands, you'll also find many popular food vendors and juice stalls.
From snacks, tostadas, quesadillas, with meat or seafood, and juices or sweets, you'll find food to your liking.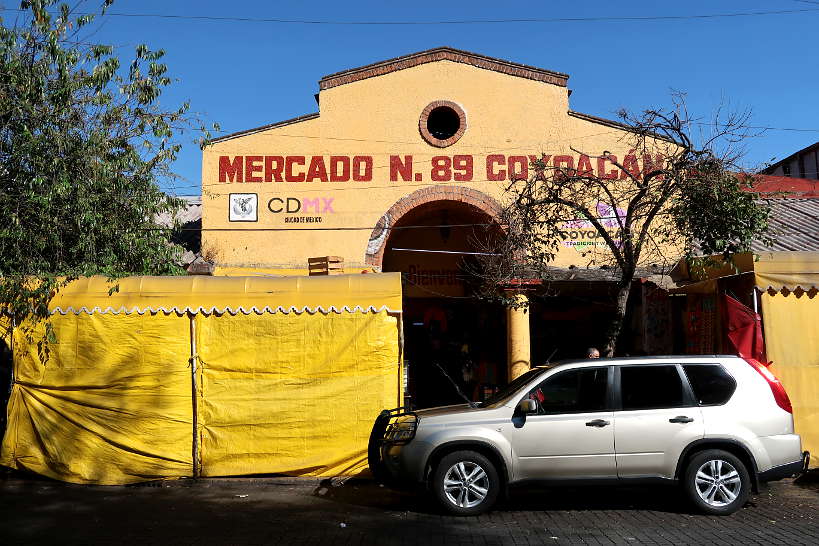 Where and What to Eat at Mercado de Coyoacán
In the middle of the market is the popular Tostadas de Coyoacán. This bustling large food stall has been around since the market opened.
The ambiance is quite chaotic as tourists and locals compete for open and available seating. Their seafood tostadas are quite appetizing and are well written about.
If the tumultuous atmosphere isn't for you, and you're craving seafood, go to Hostioneria El Limoncito instead. Their fish tacos and ceviches are some of their most delicious and popular items.
To end your meal with a sweet finish, go to El Portal del Sabor next door. This ice cream shop serves an extensive variety of traditional Mexican ice-cream.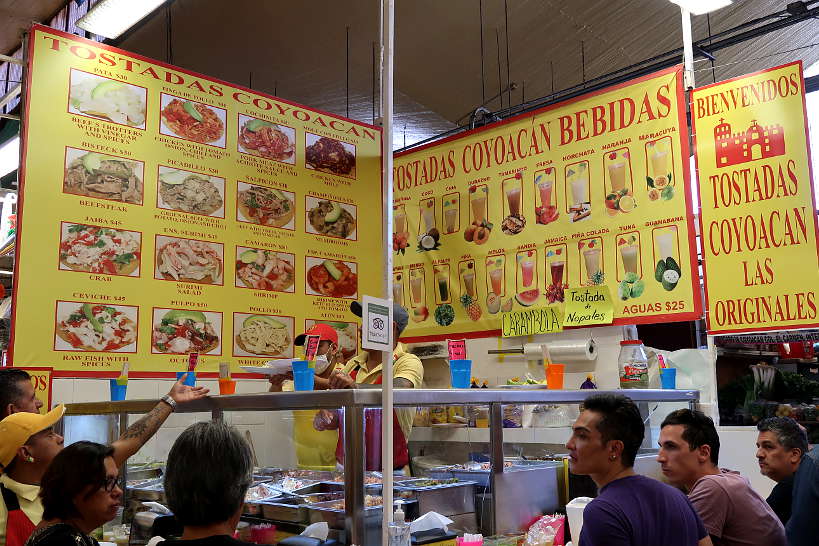 How To Get To Mercado de Coyoacán
The closest metro station is Coyoacán on Line 3 that connects Mexico City North – South. From there, it is a leisurely 20 minute walk or about 1.6km or 1 mile.
Uber and other car sharing providers are also available to get you there for a very reasonable price.
Address: Mercado Coyoacán runs along Malintzin between Ignacio Allende and Abasolo
Hours: Opens daily, 8:00 am – 7:00 pm
Authentic Food Quest Tip: One of the best ways to get around Mexico City is to take the Hop-on/ Hop-off bus. We typically do not take sightseeing buses like these, but several long-term Mexico residents highly recommended this mode of transportation. We're glad we listened to their advice and were thrilled to be able to see Mexico City, stress-free despite the traffic. There are stops at many of the neighborhoods where these markets are located making it easy to move around. You'll be pleasantly surprised, as we were, with the Mexico City Hop-on/ Hop-off bus.
6- Mercado San Juan – Exotic Mexico City Food Market
San Juan Market or Mercado de San Juan is one of the oldest markets in Mexico City. Although the market was built in 1955, the area has always been associated with food vendors since the 1900s.
Today, the market is famous for serving a wide range of exotic kinds of meat. You can find tiger steaks, lion burgers, armadillo, wild boar, alligator and more. If the meats are too foreign, you can try fried grasshoppers or ant larvae, which are surprisingly tasty.
Besides the unusual meat choices, this is the best market in Mexico City for imported and difficult to find items. The market is popular with chefs and food lovers for high-quality produce, meat, and seafood.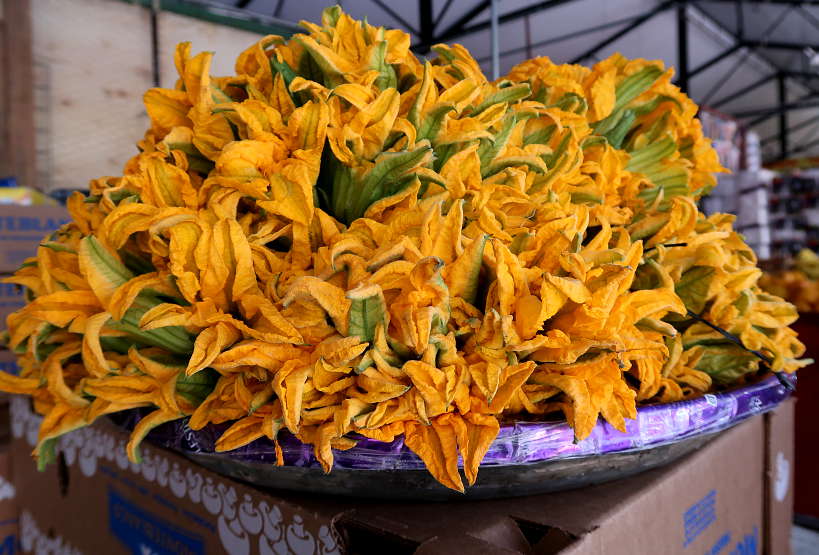 Where and What to Eat at San Juan Market
Like in other Mexico City markets, there are plenty of food stalls at San Juan market. If you want to go beyond your comfort zone and eat exotic meats, head to El Gran Cazador.
You'll find this small, sit down eatery at the rear of the market. On the menu are unusual foods like worms, different kinds of insects and exotic meat burgers.
If eating or sampling insects and unusual meats is on your must-do list, then by all means try them.
Otherwise, enjoy some of the city's freshest fish and seafood. The seafood section of San Juan market is considered the finest. The place to go is stall "Local 84, Pescadería Eladio."
The ceviche is known to be excellent and even better when paired with cucumber, chia and lemon water.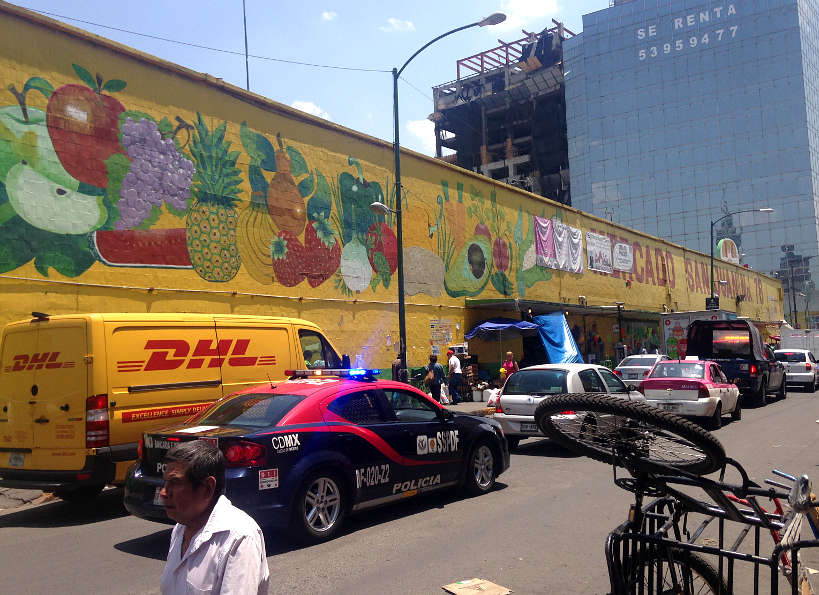 How to Get To San Juan Market
San Juan market is located at Calle Ernesto Pugibet 21, in the historic center. It's just a few blocks south of Palacio de Bellas Artes.
Alternatively, you can get there by Metro and get off at the Salto de Agua station.
Address: Ernesto Pugibet 21, Plaza Buen Tono, Centro Historico, Mexico City
Hours: Open daily from 7:00 am – 5:00 pm
Authentic Food Quest Tip
If trying the exotic meats is on your agenda, note that the prices will be considerably higher than regular hamburgers.

Credit cards are not accepted at all stalls. Carry cash (safely) to ensure you can try what you want.

To get the most of your visit, we recommend taking a

San Juan Market food tour

with a local guide.
7- Mercado Roma – Mexico City Gourmet Market
Mercado Roma is unlike the traditional Mexico City markets we've highlighted. This market is part of the newer generation of Mexico City markets.
It was the first gourmet market in Mexico City and it resembles a food hall more than a food market.
Opened in 2014, Mercado Roma is a gastronomic project marrying more than 50 food concepts.
You can find organic and artisanal products, Mexican and international restaurants, as well as coffee and beer bars.
The idea behind this gourmet project is to offer visitors a common place to share good food, beverages and create memories.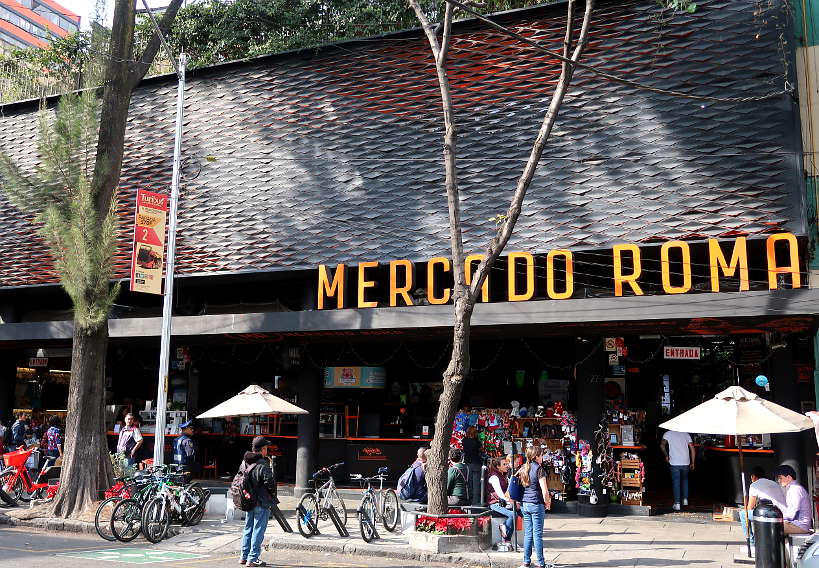 Where and What to Eat at Mercado Roma
One of the most iconic and famous vendors in Mexico City is Churreria El Moro. Located at the back of Mercado Roma, right in front of the terrasse is this busy small counter.
This is a great spot for churros with hot chocolate as you get tempted by the surrounding offerings.
Another popular stand is Pozole de Jose Guadalupe. Try the hearty soup and specialty from Jalisco, made by Chef Zahie Téllez. For something sweet, head to Mexican Chocolate at Que Bo!, recognized as one of the best chocolatiers in the world.
While not a market for groceries, it is a place to hang out and mingle while munching on gourmet dishes.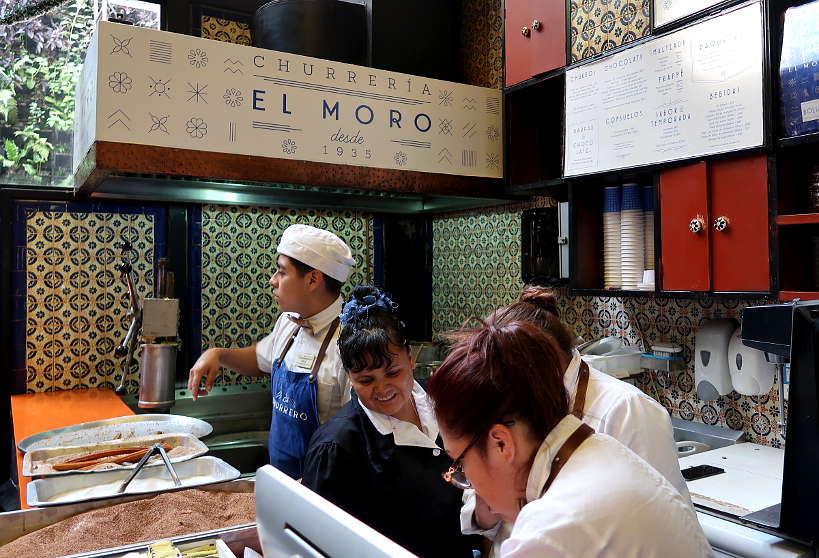 How To Get To Mercado Roma
Mercado Roma is located at the edge of Roma Norte and La Condesa, one block from Avenida Insurgentes Sur.
Depending where you are coming from, you can take the metrobus that will drop you at Avenida Insurgentes Sur. Alternatively, using Uber in Mexico City is reliable, fast and pretty inexpensive.
Address: Calle Querétaro 225, Colonia Roma, Mexico City
Hours: Open daily; 9:00 am – 9:30 pm – Restaurants open daily; 3:00 pm – 2:00 am
Authentic Food Quest Tip: Mercado Roma also has a location in Coyoacán with a similar concept. Find vegan tacos, Mexican wines and more at Miguel Ángel De Quevedo 353 in Colonia Santa Catarina.
RELATED: 10 Simple Ways To Protect Your Stomach When Traveling

In Summary
Exploring Mexico City through its food markets is one of the most fascinating experiences we had in the capital. Though you'll find the same produce, meats, fruits and food vendors, the vibe at each Mexico City market is different.
To soak up Mexican culture, grab your shopping bag and get lost in the market aisles. Depending on how much time you have, check out as many Mexico City markets as you can on this list.
As your senses come alive at these Mexico City food markets, you'll discover a multi-layered richness and vibrant culture. You'll find like we did, that the markets in Mexico City became the highlight of our trip.
Do you visit local markets on your travels? What's is your favorite food market? Please let us know in the comments below.
Savor the Adventure!
Love it? Pin it!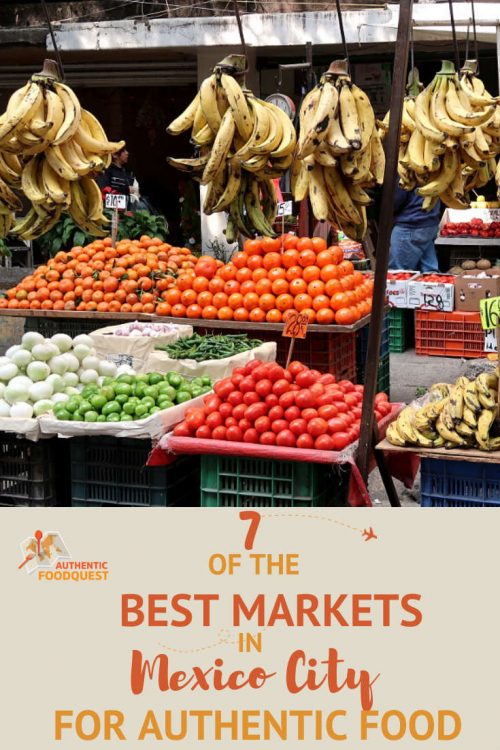 Disclosure: This article has been written in partnership with Allianz Partners, our travel insurance provider. Authentic Food Quest has received financial compensation and as always all opinions expressed are our own.
Rosemary is the editor-in-chief and strategist at Authentic Food Quest.
Traveling slow since 2015 with her partner, Claire, she has explored the cuisine in 45 countries and more than 240+ culinary cities.
Her writing about local food specialties has been featured in Lonely Planet, Business Insider, Honest Cooking, Food Insider, and Huffington Post.
As a food and travel writer, Rosemary has co-authored three books, including one in collaboration with Costa Brava Tourism.
Rosemary is an avid runner when she's not eating and exploring new destinations. She has run ten marathons and counting.
Before Authentic Food Quest, Rosemary held senior-level strategy positions in advertising. 
Find out more about Authentic Food Quest