This article has links to products and services we recommend, which we may make a commission from.
Mexico City, with more than 23 million people, is the largest city in North America.
With that comes various neighborhoods with their own unique identity and food culture.
One of the best ways to taste the local food scene is to take one of the many food tours in Mexico City.
With a local Mexican guide and a fun way to explore the neighborhoods, you will get to know the local culture as you eat your way through the city.
To help you select the best Mexico City food tour that fits your needs, here are 7 Mexico City food tours to make your travels fun and tasty.
Please note, hours and availability may vary based on local restrictions due to the pandemic.

Best Mexico City Food Tours To Choose From
1. Mexico City Markets and Street Food Tour
Mexico City is famous for street food with food vendors everywhere from street corners to local markets.
On a street food and market tour, we teamed up with Urban Adventures Mexico City for an immersive experience.
This food tour in Mexico City took us on a culinary adventure to three local markets.
Along the way, we sampled Mexican street food, local fruits and traditional Mexican drinks.
Using local transportation and eating at popular street food vendors, we experienced daily life in Mexico's capital, like locals.
To ground us in Mexico's history, the tour started in the Historic Center, a UNESCO World Heritage Site.
This Mexico City street food tour then veered off the tourist path to a relatively unknown market for a traditional Mexican breakfast.
On the tour you will visit two other markets, including the most bizarre witchcraft market. This Mexico city food tour ends with tasting even more street foods and local drinks.
If you are ready for a Mexico City food adventure, this tour is for you. You will stretch beyond your comfort zone as you immerse yourself into the local street food and market culture.
Join to discover Mexico's fascinating culture – voodoo dolls, magic potions, and insects included.
Cost: $54USD per person
Time and Length: Approximately 5 hours. From 8:30 am – 1:30 pm
Group Style: 12 people max. Walking tour with local transportation. English speaking Mexico City tour guide
READ RELATED: Mexico City Street Food Tour: A Fascinating Local Adventure
2. Mexico City Food Tour in Colonia Roma Food Neighborhood
Roma Norte is one of the most trendy neighborhoods in Mexico City. We stayed in this neighborhood in Mexico City and enjoyed discovering this popular area in the city.
We love exploring the local food wherever we are. And, when we found out Secret Food Tours was offering a food tour in our neighborhood, we jumped at the opportunity.
This Colonia Roma food tour took us through Roma Norte stopping at local eateries while learning about traditional Mexican cuisine.
On the tour, you'll enjoy delicious truly Mexican food specialties at over 7 local eateries.
In addition to the food, you will learn about the history of the fascinating European architecture in the neighborhood.
If you are looking to experience one of the most sought out neighborhoods in Mexico City through food, this tour is for you.
The variety of tasty local bites at both local and trendy eateries is impressive. And, interspersed between the food stops, are visits to key monuments for their cultural and historical significance.
Cost: $70 USD per person
Time and Length: Approximately 4 hours. From 12:00 pm – 4:00 pm
Group Style: Small group walking tour with English speaking Mexico City tour guide
READ RELATED: How Secret Food Tour Mexico City Will Make You Love Colonia Roma
3. Authentic Mexico City Downtown Food Tour
While talking to Mexico City locals, we learned that it's not easy to find good local eateries in downtown Mexico City.
Armed with some local recommendations, we visited downtown Mexico City and stopped at a few delicious local eateries.
Although we enjoyed our experience, we would have benefited from being with a local guide.
Sabores Mexico Food Tours with their Authentic Downtown Food Tour saves you the trouble of finding where to eat.
This food tour takes you to the heart of Mexico City and the best hidden gems for traditional Mexican food.
With eight stops in downtown Mexico City, you are sure to eat well on this Mexico City food tour.
You will visit San Juan market, street food stalls, traditional restaurants and iconic specialty stores.
For the quintessential flavors of downtown Mexico City combined with the legends and stories of Mexico's capital, this the perfect tour.
Discover Mexico City from a different perspective on this authentic downtown food tour.
Cost: $ 86.99USD per person
Time and Length: Approximately 5 hours. From 11:30 am – 4:30 pm
Group Style: Small group with 10 people max. Walking tour in the Historic Center with an English speaking Mexico City guide
READ RELATED: Your Guide To The Best Authentic Food in Mexico City
4. Polanco Food Tour in Mexico's "Beverly Hills"
Polanco neighborhood boasts many Michelin star restaurants next to luxurious stores and stylish hotels.
Some of the best restaurants in Mexico's capital can be found in Polanco. While in Mexico City, we took a Polanco food tour to discover the rich Mexican culinary scene.
Mexican Food Tours, offering food tours in the Polanco neighborhood for the past 8 years, was our guide.
This chic neighborhood offered surprising traditional and local Mexican food specialties.
From Oaxacan food and Yucatan cuisine, we savored several tasty bites at some of the best restaurants in the city.
Restaurants and food stops are all in close proximity. And, for over 4 hours, you'll discover the best local and regional food in the Polanco neighborhood.
For those looking to explore the local food in the "Beverly Hills" of Mexico City, this tour is for you.
Beyond food, this Mexico City food tour is a unique cultural experience. Learn about the history and culture of Polanco, one of Mexico's most exclusive neighborhoods.
Cost: $75 USD per person
Time and Length: Approximately 3 hours. From 11:00 am – 1:00 pm or 5:30 pm – 8:30 pm
Group Style: Limited to 10 food lovers. Local Mexican guide
READ RELATED: Taste The Best of Mexico City on a Polanco Food Tour
5. Mexico City Night Taco Tour with Beer and Mezcal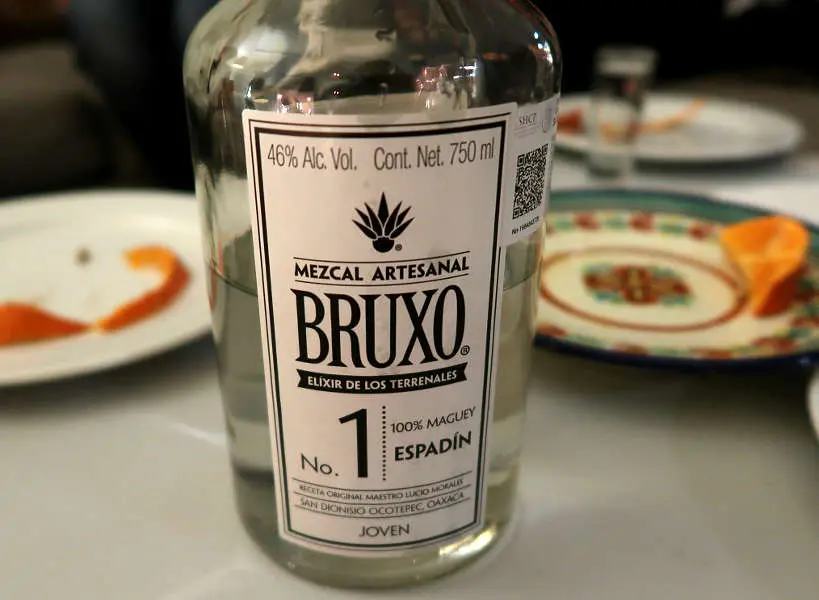 Explore Mexico City at night Tours with a visit to four different taquerias.
On this Taco Tour Mexico City, you will indulge in traditional and contemporary tacos, beer, and mezcal in Mexico's capital.
Your local guide takes you to iconic spots, sharing fascinating stories, while eating and drinking on a fun night out.
Even though we didn't personally take this tour, one of our friend's recommended it highly. We like that there is a nice mix of taquerias to visit, from traditional to modern.
Private transportation is provided as you explore Mexico City nightlife in the different neighborhoods.
Allowing you to be able to enjoy drinking beer and mezcal safely, without having to worry about where you are going next.
All the alcoholic drinks are included which makes this tour more expensive than the others on the list. And keep in mind, good quality mezcal comes at a price.
If you plan on taking this tacos, mezcal and beer tour at night, you must be of legal drinking age.
Bring an ID card with you to show you are above 18 years, the minimum legal drinking age in Mexico.
Cost: $ 127 USD per person
Time and Length: Approximately 3 hours. From 5:30 pm – 8:30 pm
Group Style: Small group tour, minimum of two people. English speaking Mexico City tour guide. Transportation provided
6. Pre-Hispanic Gastronomy Tour in Tepotzotlán
Just north of Mexico City, about 45 minutes away, is Tepotzotlán, a town rich in Aztec and Spanish history.
On this Pre-Hispanic gastronomy tour, you'll first visit this "Magic Town" before your gastronomic workshops in the afternoon.
Pre-hispanic Mexico is generally described as the time before the Spaniards set foot in Mexico.
The indigeneous Mexicans at the time ate what we would consider today as exotic Mexican foods.
You'll learn about the ingredients, dishes, and culinary traditions of pre-Hispanic times. And, you will use the "metate" to grind corn and cacao.
If you are feeling adventurous, you'll sample traditional Mexican food, like insects, iguanas or frogs.
Before your drive back to Mexico City, you'll visit a nursery that grows endemic species of plants characteristic of pre-Hispanic times.
If you want to leave the hustle and bustle of the capital city and explore a historic nearby 'Magic Town' consider this pre-Hispanic gastronomy tour.
Cost: $96.68 USD per person. Lunch and transportation included
Time and Length: Approximately 7 hours. From 10:00 am – 5:00 pm
Group Style: Small group tour with English speaking Mexico City tour guide
7. Mexico City Food Tour Adventure at La Merced Market
La Merced is the largest retail market in Mexico City and the most iconic food market.
The market is huge and is spread out over several blocks and buildings, each one focused on a different specialty.
We created our own self-guided food tour of La Merced which you can see on YouTube.
However, in retrospect, we wish we had gone with a guide to help us explore deeper.
If diving deep into daily Mexican life and local food traditions is your focus, then you'll enjoy this tour of La Merced market.
Besides La Merced market, this tour also takes you to Sonora market famous for sorcery. And in Zocalo, at the end of the tour you'll visit an art market and little known gems.
For over four hours, you will gain an understanding of Mexico's culinary traditions as you navigate the market stalls.
Along the way you get to taste and learn about various local foods like moles, tortillas and pozole.
To explore Mexico's markets, especially La Merced, this market tour is a great way to go.
Cost: $70 USD for a small group tour or $95 USD for a private tour
Time and Length: Approximately 4 hours. From 11:30 am – 3:30 pm
Group Style: English speaking Mexico City local food expert
READ RELATED: 7 of the Best Markets in Mexico City for Authentic Food
Comparison Table of the Best Mexico City Food Tours
What to Consider When Choosing a Mexico City Food Tour
While the basics are the same for many food tours in Mexico City, things like tour length, location and food experiences vary.
As you plan for a Mexico City food tour, here are a few elements to consider.
Once you've decided on what's important to you, book the Mexico City Food tour that best fits your needs.
How Much Time Do You Have
Depending on how much time you have, you can opt for a half or full day Mexico City food tour.
Tours are offered in the morning, middle of the day, or at night. With that flexibility, you should find a Mexico City food tour that fits your schedule.
What Kind of Mexico City Food Tour Experience Do You Want
All the food tours in Mexico City are run by Mexicans or locals who have lived in the city for several years. What kind of experience do you want to create?
Do you want to explore a particular neighborhood in Mexico City?
Are you looking to explore local markets or not?
Are you looking to try local restaurants or prefer snacks bites on the street?
Do you enjoy walking or would you prefer being driven around?
Do you prefer a small group tour or a private tour?
What Is Your Budget for Food Tours in Mexico City
The kind of experience you are looking for will play largely into your budget considerations.
The Mexico City Food Tours we highlight range from $54 USD to more than $120 USD per person.
However, depending on the size of your group, you may be able to negotiate discounted rates.
Be prepared to pay extra for private tours where you can explore at your own pace.
Other Practical Aspects To Consider on Your Mexico City Food Tour
Safety in Mexico City can be a concern for visitors. We found Mexico City to be safe for the most part. However, like in any big city, you want to watch out for your belongings.
Some of the Mexico City Food tours take you to local markets. On these food tours, we recommend dressing conservatively to blend in.
Carry your cash in a safe place and keep a close eye on your cameras and personal belongings.
Most of the tours we've highlighted are family-friendly. The only exception is the night tour with tacos and mezcal which does not allow children under legal drinking age.
Typically, the food tours will accommodate your dietary needs given advanced notice.
Although, some tours might not be appropriate for vegans. Please inquire at the time of booking.
Claire, ex-engineer, is a digital nomad and content creator at Authentic Food Quest. Since 2015, with her partner, Rosemary, they travel the world in search of the best local food experiences. Their mission is to help you enjoy the best local specialties on your travels or via recipes in your home kitchen. Favorite country for food: Vietnam. Favorite local dish: Hainanese Chicken Rice.  Favorite way to keep fit: Cycling. Claire is responsible for the website and the fun food & travel videos on Youtube. She is also co-author of Authentic Food Quest Argentina and Authentic Food Quest Peru, available on Amazon.