Argentinians love sweets and dulce de leche is one of the favorites that delights the nation. What is dulce de leche you might ask, it is literally "sweetened milk" similar to a type of caramel. In Argentina, dulce de leche is practically a religion.
On our quest for authentic food in Argentina, we were struck by its popularity. Everywhere we looked, there was dulce de leche. From pastries, snacks, ice-cream and desserts, you are never far from this sweet treat.
Earlier in a previous article, we highlight some of the top Argentina desserts where, not surprisingly, the common denominator is dulce de leche.
To better understand Argentina's craving for dulce de leche, we had the opportunity to meet Maria Ana Gianni, a local entrepreneur in Buenos Aires. Maria makes and sells homemade dulce de leche.
In addition to talking about dulce de leche, we also discussed her inspiration to create her business Tota, and Argentina's love for food.
Let's meet Maria Ana Gianni!

Meet Maria Ana Gianni, Entrepeneur from Buenos Aires
Maria Ana Gianni is the founder and creator of Tota Alimentos & Bebidas. We were introduced to Maria by friends from Los Angeles. Our conversation took place over drinks at Bar El Federal, one of the famous bar notables that are part of the official heritage of Buenos Aires.
Over drinks, Maria shared her background. We learned that she has a communications degree as well as training as a professional culinary chef. While she is still working in her full time job, her goal is to live off her passion and make Tota her sole business focus.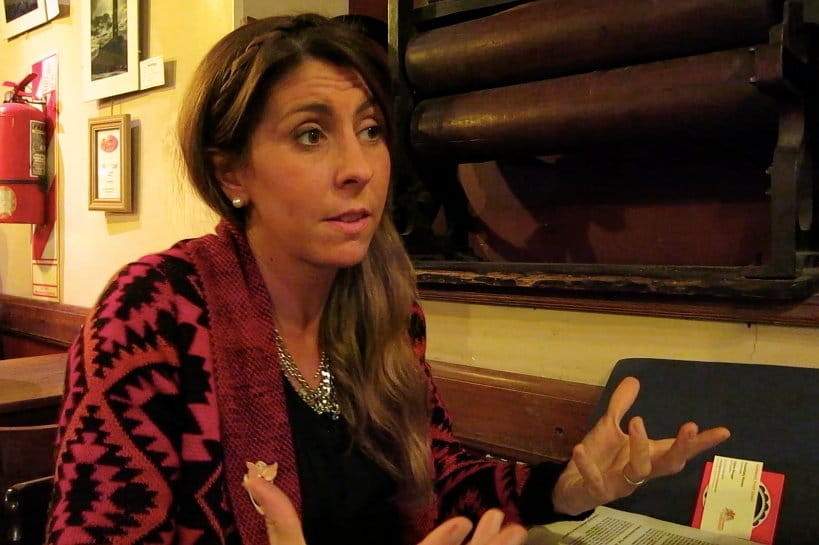 Why The Name "Tota"?
Maria told us that "Tota" is her grandmother's nickname. Her actual name was Ana Guimarey Edelma. As a child, her grandmother was kicked by a horse while playing in the field. The name of the horse happen to be "Tota". From that day onward, her grandmother was nicknamed "Tota".
Inspired By The Love For Cooking
Her grandmother, Maria told us has been the biggest inspiration and influence in her life. Maria grew up with her grandmother, who was her first teacher in the kitchen.
She told us how she would sit on a stool and admire her grandmother as she cooked. From as far back as she could remember, Maria and her sister would get up in the morning and would have breakfast with milk and homemade oatmeal cookies that had just been freshly baked.
For her grandmother, cooking was not a task to simply feed people. It was a way to demonstrate love. Everything her grandmother did was prepared with love, including her favorite dessert, dulce de leche. From the way the table was laid out to the presentation of the dishes. Eating was a communion of love and pleasure.
Maria told us that her grandmother has since passed away and it is a blessing and honor to put her name on her products.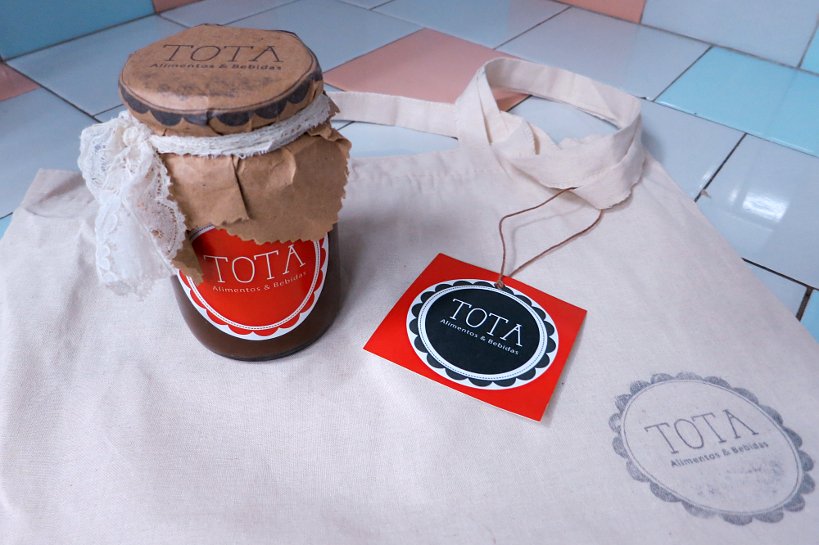 Launching The Business: Tota
Many years later, after studying Communications and Gastronomy, Maria told us of her desire to follow in her grandmothers footsteps. She has always loved cooking like her grandmother and making homemade artisanal products.
Her friends who enjoy her cooking, started requesting her products and urged her to sell them. With the support of her husband, Maria created Tota about a year ago. She now sells her products in Buenos Aires from her Tota Facebook Page. What started as a passion is now growing into a business.
Homemade Tota Products
What makes Maria's products unique is that they are natural and made with no preservatives.
Given that Maria is still employed full-time, she prefers to make products that can stored or conserved. Some of the products include; marinated eggplants, picked vegetables and marmalade.
Whenever possible Maria also makes and delivers prepared dishes like tortas, which are similar to a quiche. Beyond food products, Maria also sells her unique Italian designed aprons.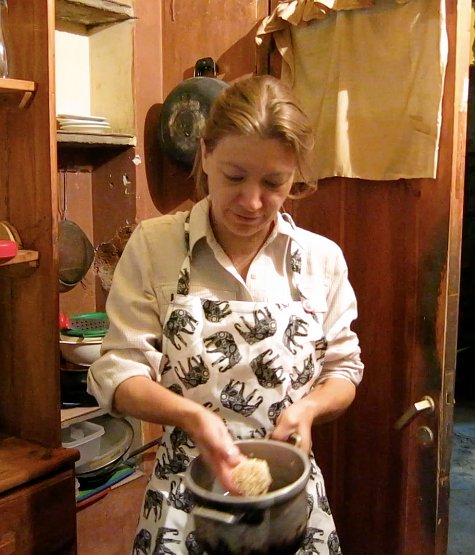 Homemade Dulce De Leche by Tota
Homemade dulce de leche, is Maria's signature product. Dulce de leche is a kind of sticky syrup or carmelized milk and sugar sauce. In Argentina, it is considered a delicacy and sometimes refered to as the nation's sweet. You will find variations of dulce de leche in other Latin American countries as well as France, Spain and the United States.
In Argentina, the grocery store aisles dedicated to dulce de leche are quite impressive. Multiple rows filled with different brands and packages. While nationally loved, most Argentines, prefer the convenience of buying a packaged product.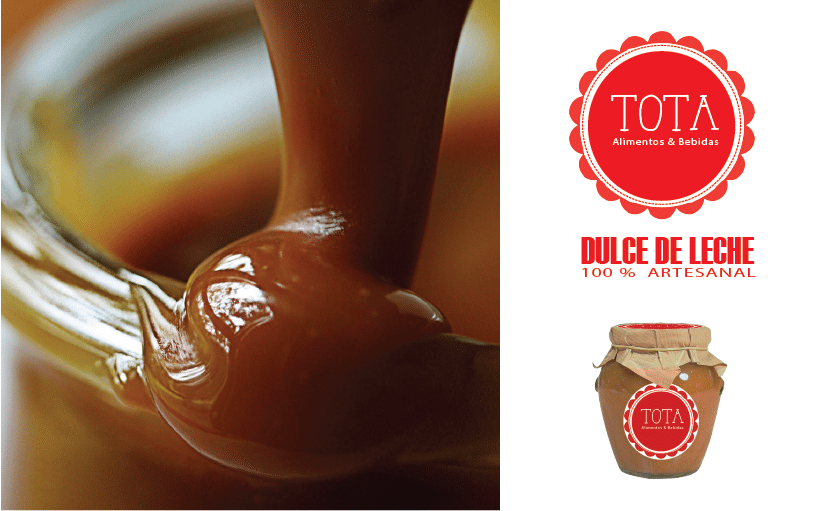 How To Make Dulce De Leche
Making dulce de leche is not difficult, but it is time-consuming. Maria told us that it takes her six hours of continously stiring to make the product. The secret to making the perfect dulce de leche is to stir the milk and sugar at the perfect temperature, so that it becomes smooth, almost liquid and with a nice caramel color.
Maria's special trick is to stir for "1 minute", let it rest for "5 minutes" and stir again and so on. She "recruits" her husband to help stir, while her son has the delicious job of tasting each batch.
While it is hard work, Maria loves what she does. From making the products, to putting the bows on the jars of dulce de leche and preserves, nothing gives her more pleasure than making the best homemade products.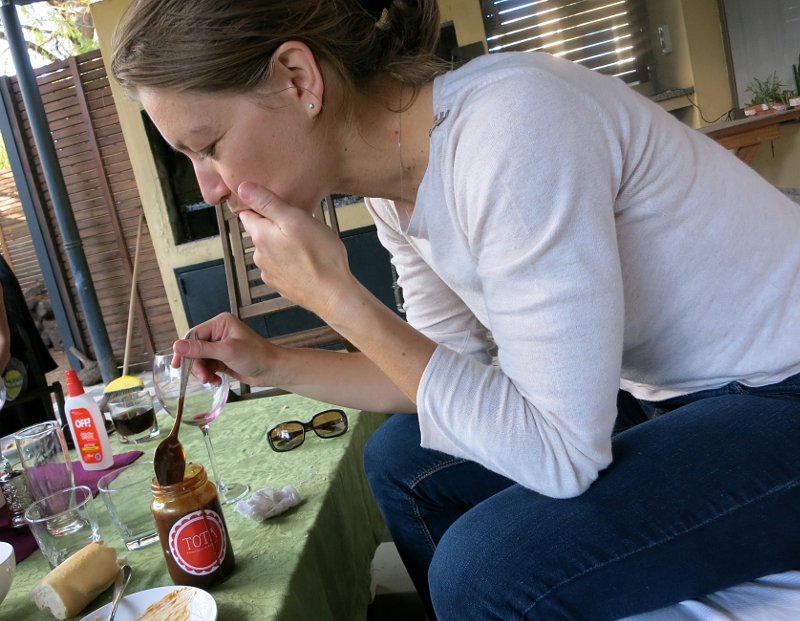 In Summary
Meeting Maria was inspirational. Her passion for homemade delicious products and great tasting dulce de leche was clear from the start of our conversation. To give and share love through food, like her grandmother did, brings her pure joy.
Having tried dulce de leche in many different sweets, we could immediately taste the difference in quality. We found the Tota homemade dulce de leche to be smooth and without the artifical sweet taste found in many store brands.
If your travels take you to Buenos Aires, order your artisanal dulce de leche from Tota. Your taste buds will delight in the smooth and delicate taste from the hours of tender effort.
How To Order Tota Dulce De Leche: Please contact Maria directly via the Tota Facebook Page and she will make delivery arrangements directly with you. Please keep in mind that she only delivers in Buenos Aires, Argentina.
Enjoy reading this article? Read more about the authentic foods in Argentina we discovered in our Amazon Bestseller book: Authentic Food Quest Argentina: A Guide to Eat Your Way Authentically Through Argentina Available NOW on Amazon.
Savor The Adventure!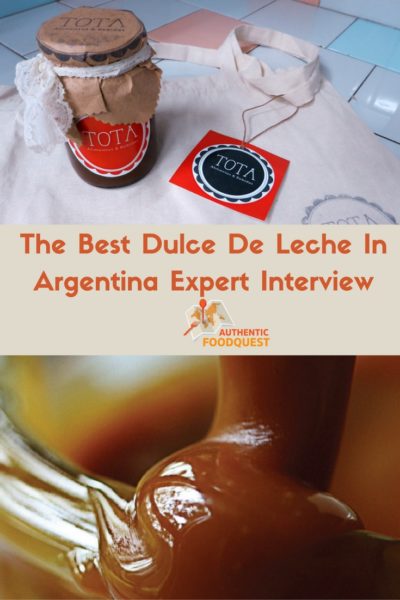 Rosemary, ex-marketing and advertising strategist, is a digital nomad and content creator at Authentic Food Quest. Since 2015, with her partner, Claire, they travel the world in search of the best local food experiences. Their mission is to help you enjoy the best local specialties on your travels or via recipes in your home kitchen. Favorite country for food: Peru. Favorite local dish: Bacalhau. Favorite way to keep fit: Running. Rosemary is the chief content writer and strategist on Authentic Food Quest. She is also co-author of Authentic Food Quest Argentina and Authentic Food Quest Peru, available on Amazon.