This article has links to products and services we recommend, which we may make a commission from.
The flavors from India, commonly known as the "Land of Spices", can be found in an Indian meal kit.
With no shopping required or need to hunt down unusual ingredients, Indian meal kits make cooking Indian food easy.
With a meal kit home chefs of any skill level can enjoy healthy and delicious meals from India.
An Indian meal kit delivery includes all the ingredients for your chef prepared meal, in perfect portion sizes.
And all you do is follow the instructions and bring the best Indian aromas and flavors to your table.
This guide features the best Indian meal kits available. From dedicated Indian meal services to Indian offerings on existing meal kit platforms, there's something for every Indian food lover.
Dig into the lip-smacking aromas and flavors of Indian cooking with these Indian meal kits.

Comparison Table For Best Indian Meal Kits
| Meal Kits | Price $ Starts | Meal Kits / Ready to Eat | Best For | Contiguous US | Shipping Fees (US) |
| --- | --- | --- | --- | --- | --- |
| Quicklly | $4.99 | Ready to Eat | Overall | Partly | Free over $30 |
| Sunbasket | $9.99 | Both | Healthy | Partly | $5.99 |
| GoldBelly | $23 | Ready to Eat | Special Occasion | Yes | Free |
| Blue Apron | $7.49 | Meal Kits | Fusion | Yes | $9.99 |
| Dinnerly | $5.06 | Meal Kits | Value | Partly | $8.99 |
Our Top Picks for the Best Indian Meal Kit Options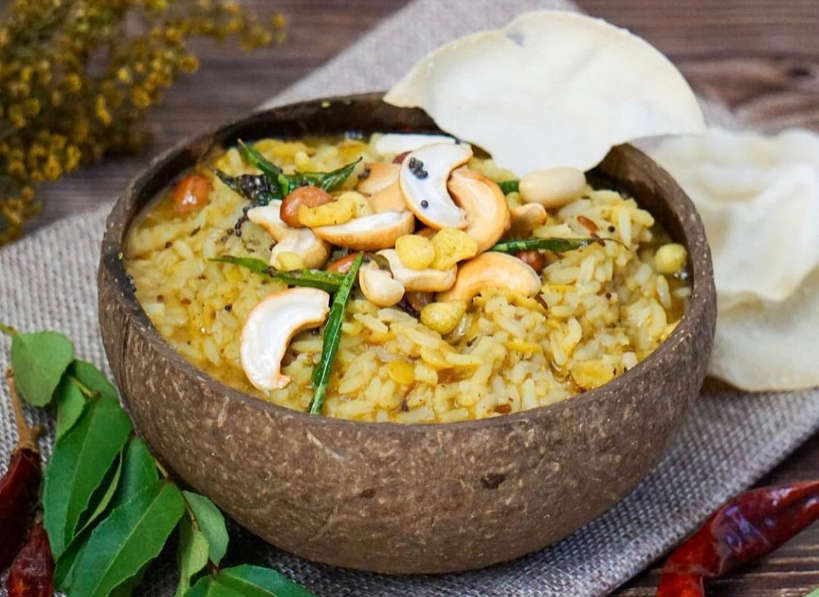 Chicago based Quicklly, is one of the only dedicated Indian meal kit companies with a large selection of Indian flavors.
Delivering ready to eat authentic Indian meals you get to enjoy mouthwatering Indian recipes without much effort on your part.
Two of their main offers for Indian meal kits are The Cumin Club and Tikka N Curry.
The Cumin Club offers pre-made meals using dry and fly techniques from top chefs in India that are ready to just heat and eat.
Choose authentic Indian meals from different regions of the country, curated by local chefs. You'll find authentic Indian dishes like Paneer Butter Masala, Masala Bhindi, Punjabi Kadhi and much more.
The spice levels for all meals are clearly indicated allowing you to choose dishes that meet your taste preferences.
From Tikka N Curry, a top Chicago restaurant, you can get ready to eat meals like butter chicken, chicken madras, chicken or vegetarian biryani and more.
Simmer sauces like Korma, Butter Masala, Vindaloo, Tikka masala are also available to easily make delicious curries for your meals.
If you enjoy barbecue, you will want the Indian barbecue skewers. You can get Tandoori Chicken BBQ, Chicken Tikka kebab and others. Vegetarian grilling skewers are also available for non-meat eaters.
This Indian meal kit delivery service makes it possible to enjoy flavorful Indian food without the hassle of cooking it yourself.
Pros
Dedicated Indian meal kit delivery service
Prepared meals ready in a few minutes
Options available to add BBQ, desserts, curries, sauces and more
Cons
Ability to customize spice levels not yet available
Beyond offering vegetarian options, you cannot customize for specific dietary needs
Delivery not available across the entire United States
A Few Indian Meal Kit Offerings Include: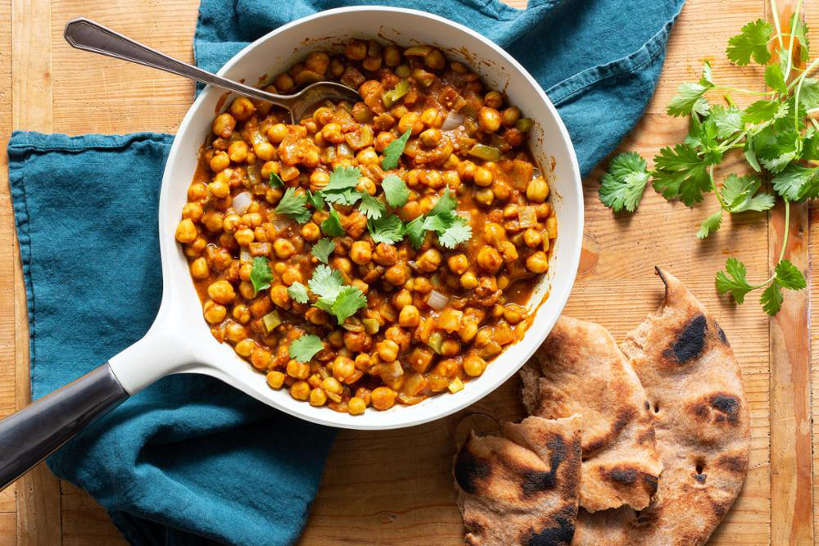 Sunbasket is the only meal kit delivery service using organic fresh produce and clean ingredients.
Their weekly menu features diverse meals and a number of flavorful Indian dishes. You'll find tasty meals like chicken biryani with cauliflower, tandoori chicken with turmeric rice, butter chicken and more.
Working with trusted farmers and producers, the ingredients are carefully sourced and delivered in recyclable/compostable packaging.
If you have any dietary concerns, Sunbasket offers different options for different lifestyles. You'll find Indian meals that are gluten-free, vegetarian, pescetarian, Mediterranean, and paleo-friendly options on the menu.
With Sunbasket, you can choose either meal kits or Fresh & Ready prepared meals. With meal kits, pre measured ingredients are delivered and you follow simple instructions as you create impressive dishes.
The Fresh & Ready meals are pre made and ready to be heated up and enjoyed. If you want to stock up your kitchen you can add breakfast, snacks, juices, soups, and much more.
Their organic and sustainable meals along with authentic Indian meal kits makes this one of our top choices.
Pros
Organic and sustainable ingredients
Can accommodate different diet options
Many Indian meal options available
Cons
Ships only to the contiguous United States
A Few Indian Meal Kit Offerings Include: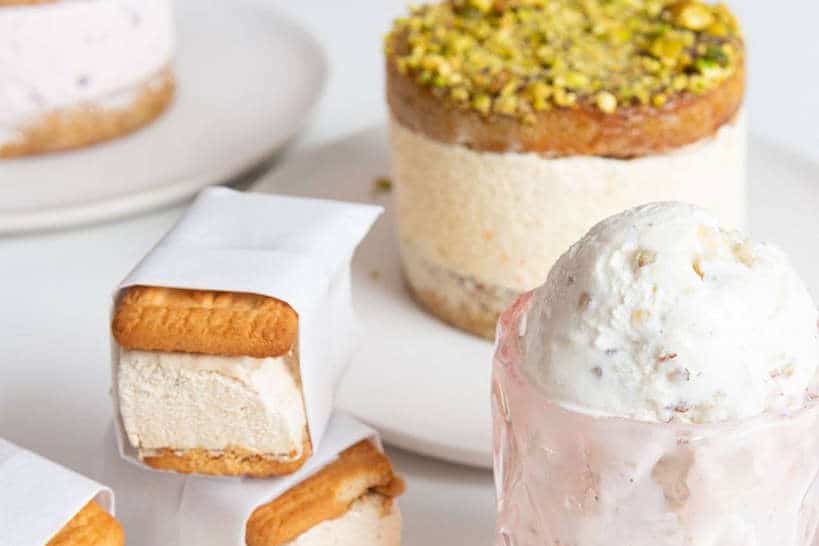 From the best Indian restaurants across the US, the Goldbelly platform brings Indian flavors right to your home.
While not a traditional meal kit service, Goldbelly helps chefs and restaurants deliver their meals across the country.
The Indian meals come from nationally recognizable restaurants or a local gem in various communities.
If you love Indian food, you may be familiar with GupShup, an acclaimed New York restaurant serving modern Bombay food.
From the comfort of your home, you can savor a wide range of traditional Indian classics made with modern techniques.
Try celebrated and highly rated dishes like chicken biryani, butter chicken to tandoori cauliflower, saag paneer and others.
Goldbelly makes it easy for you to enjoy spectacular food, no matter where you live.
With free shipping and Indian food from top chefs and restaurants enjoy authentic Indian flavors anywhere.
Unlike other Indian meal kits, Godlbelly does not require a subscription. The service is not the cheapest though the chefs and restaurants are among the best in the country.
For a special occasion or a gift for serious Indian food lovers, consider ordering from Goldbelly.
Pros
Authentic Indian food from America's top restaurants and chefs
One time order, no subscription necessary
Cons
High prices, though overnight shipping is often included in the price
Meals not customized for allergies or specific diets
A Few Indian Meal Kit Delivery Options Include: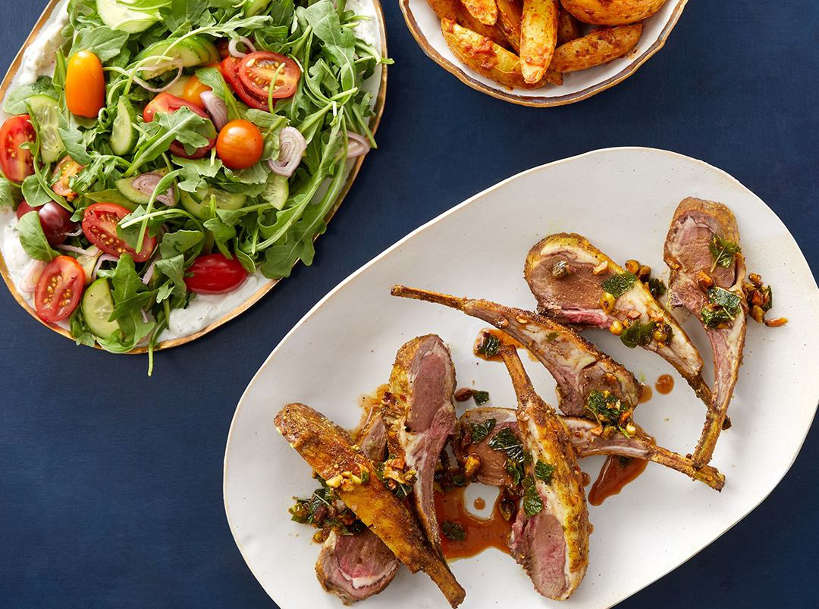 Find bold and delicious Indian food on Blue Apron, the large and popular meal kit delivery service. The weekly menu features authentic Indian meals along with Indian fusion foods.
Blue Apron chef-designed recipes, along with responsibly sourced ingredients are sent to your home in perfect portions. All you do is follow the simple instructions and surprise yourself by cooking flavorful Indian food.
Regardless of your Indian cooking skills. Blue Apron makes it easy. The Indian meal kits are available to prepare yourself with instructions or Heat & Eat meals that you simply serve and enjoy.
Choose meals for either two people or four people. And, if you have any dietary concerns, Blue Apron meal kits are tailored for diets like low calorie, low carb, vegetarian and more.
Beyond Indian meal kits, Blue Apron also offers wine that you can pair with your dishes as well as products for your kitchen.
If you are just getting started with Indian cooking, Blue Apron is a great place to start. Find interesting Indian recipes, fresh sustainable products and meals tailored to different diets.
The meal kits are also flexible where you can pause, skip or cancel your subscription easily.
Pros
Diverse Indian dishes available
Chef designed recipes and sustainable produce
Can accommodate different dietary preferences
Cons
Ships only to the contiguous United States
Meal kits for more than 4 people not available
A Few Indian Meal Kit Offerings Include: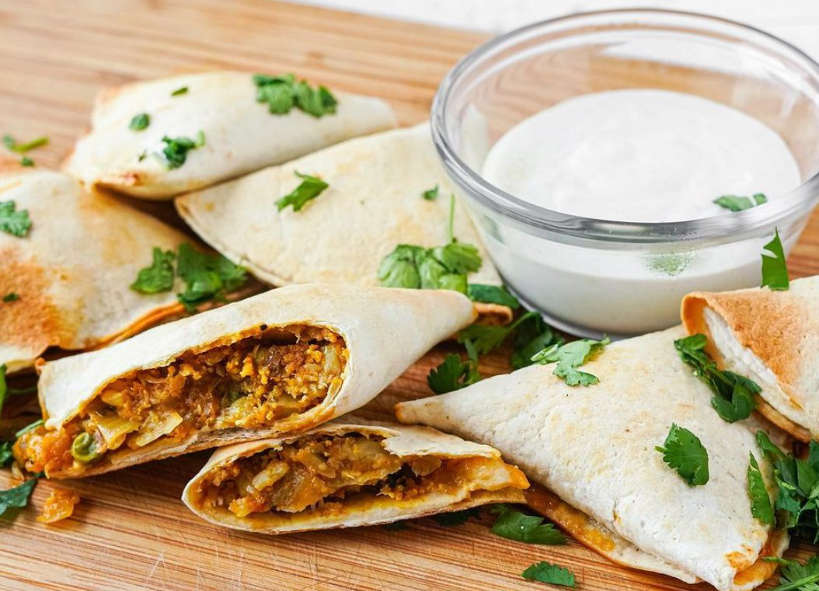 Dinnerly, the most affordable meal kit, is a great option if you are just getting started with meal kits.
Among the 28 delicious recipes available each week, you'll find a few flavorful Indian meals to add to your dinner table.
Beyond meals, Dinnerly also offers desserts that you can add to your order for a complete dinner experience.
Dinnerly makes preparing dinner incredibly easy with simple recipes that come together in about 30 minutes or less.
You can choose a two-person box or a family box for four. And, you also have the flexibility to pause, skip or cancel your subscription at any time.
Like other meal kit services, you'll receive your ingredients in an insulated box. With the downloadable recipes and simple instructions, you'll quickly whip up amazing dishes.
Dinnerly is a great option for those looking for affordable meal kits with Indian offerings.
Pros
Affordable Indian meal kits
Easy to prepare meals
Cons
Not a wide variety of Indian meals available weekly
Only offers digital recipe cards
A Few Indian Meal Kit Options Include
Answers To Popular Questions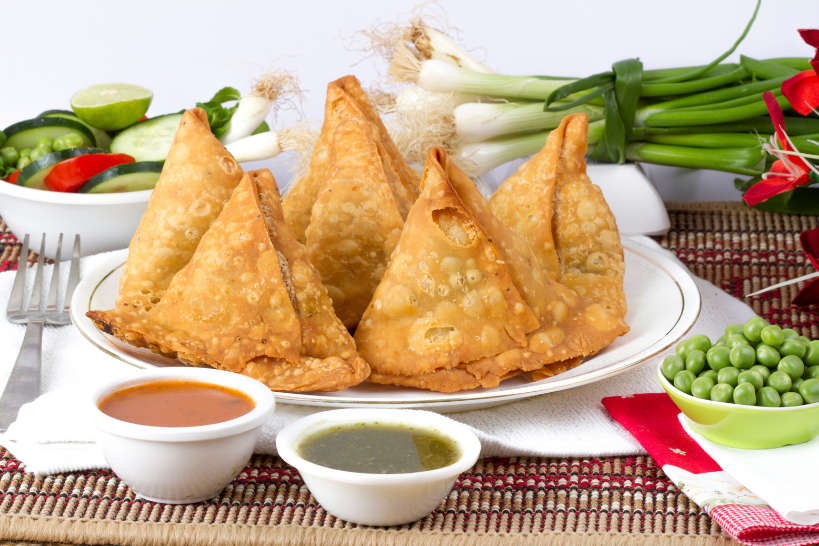 What is The Difference Between Northern and Southern Indian Food?
India is a huge, diverse country, with differences in cuisines depending on the region you're in. The Indian meal kits featured here represent flavors from across the country, especially northern and southern Indian dishes. 
The biggest difference between North and South Indian cuisine is the spice levels. Northern Indian food tends to be way less spicy than foods found in Southern India.
Northern Indian food tends to use a lot more chicken and lamb and is more popular. Dishes like chicken masala and palak paneer, along with naan, come from the Northern region.
Southern Indian food is more vegetarian focused with beans, vegetables like lentils and rice featuring heavily. Coconut milk is also used to make curries in the south, whereas ghee or clarified butter is used in the north.
The recipes in these Indian meal kits draw on northern and southern Indian flavors. They change each week offering you the full diversity of the country.
How does an Indian meal kit work?
An Indian meal kit works just like any other meal kit. You subscribe to a service to receive delicious food for your weekly menu. Once you choose your recipes and meal kit frequency, everything is delivered to your home with preparation instructions. Simply follow along and sit down to a flavorful Indian dinner.
Claire is a culinary explorer who travels the world in search of the best local foods. She is always looking for her next culinary adventure to bring you the best bites while exploring new places.