This article has links to products and services we recommend, which we may make a commission from.
If you want to experience delicious snacks from around the world, then an international snacks box is for you.
These curated boxes with snacks from all over Europe, Asia and more, take you on snacking adventures from the comfort of home.
Whether your sweet tooth needs something chocolate or cake-like or perhaps salty, peppery or chewy, there's something for you.
This list of the best international snacks boxes feature a different country or region. The boxes are filled with tasty snacks and treats saving you time and money.
All you have to do is just have fun while you sit back and snack.
Treat your tastebuds with something new from these nine best international snack boxes.

1. Universal Yums – Best Overall International Snacks Box
Each month Universal Yums lets you experience a new country through a blend of sweet and salty snacks.
Just choose the number of snacks you want to have delivered every month. There are three sizes available for your monthly snack subscription boxes for small to large households:
Yum Box: five to seven snacks
Yum Yum Box: ten to 12 snacks
Super Yum Box: 18 to 20 snacks
In addition to traveling to a new country through delicious snacks, you also get a booklet filled with cultural facts, trivia and recipes.
While your subscription renews each month, there is a one-step cancellation process to easily stop your subscription at any time.
Alternatively, if you want to gift international snacks to a loved one, you can get just one surprise snack box.
For lovers of food and travel, Universal Yums offers one of the best international snack boxes. This foreign snacks box is one of the best ways to go on a global adventure with snacks and candies.
Pros:
Three different size boxes to choose from
Free shipping to the contiguous US
Choose the country of your first snack box
Cons:
Currently unable to customize boxes for allergies or dietary restrictions
2. Try The World – Best Natural Snacks From Around The World
For snacks from around the world, Try the World brings you a delicious collection of global natural snacks.
Each snacks box is filled with six healthy snacks from six countries every month. All the snacks are made by artisans from around the world.
These international snacks are both sweet and savory snacks and all natural and healthy.
Alongside your monthly snacks, Try the World also includes a "Discovery" booklet. In it, you'll find information about the producers, ingredients and techniques used to make the snacks.
All their full sized snacks support local producers helping them grow and keep their culinary traditions alive.
This is the best snacking experience for people who prefer healthy snacks from around the world.
From healthy cookies, cakes, dried fruits, chips and more, these are guilt-free snacks you can enjoy each month.
Pros:
Different healthy snacks every month
Free shipping to the contiguous US
Multiple billing options. Choose from monthly or every three, six, or 12 months.
Cons:
3. Treats – International Goodies & Snacks Every Month
Making snacking a cultural experience with a monthly subscription from Treats. Each month
foreign snacks and candies allow you to explore all corners of the globe.
With a monthly subscription from Treats, you'll receive a box of delicious snacks from a different country.
And, the best part is that you don't know which country it might be until the box arrives. It's a total surprise that is fun for families.
Treats ship your first box within three business days of your order, and then every package after that comes somewhere in the middle of the month.
So, every month travelers at heart will have a chance to explore new flavors while learning about new cultures.
Two different subscription boxes are available. The Standard Pack offers five or more snacks while the Premium Box delivers ten or more snacks.
A Treats box is a perfect gift for families looking to explore the world through tasty delights.
In addition to the snacks an included postcard makes a great learning tool for kids and parents alike.
Make it a fun activity with the kids and check out what they have sent in the past; there's a 'past boxes from Treats' section with pictures of the snacks and countries they sent before.
Pros:
Two affordable price points for 5 and 10 snacks a month
Free shipping in the USA
Cancel anytime
Cons:
No way to know the featured country ahead of time
4. International Snack Mix – Best International Snacks Box for Sweet Snacks
Imagine tasting Spain in one bite and Japanese snacks in another bite. That's what this international snacks pack brings together.
This is the ultimate snack pack with treats from around the world. You'll find a mix of sweet and salty snacks like chips, cookies, wafers and more in a single box weighing almost 2.5 lbs.
With this international snacks pack, you'll have the widest choice of foreign snacks possible. There are 10 full sized snacks from different countries around the world,
This is a single purchase with no subscription or ongoing payment to keep track of. That makes it an excellent gift for a birthday, anniversary, or any occasion.
The selection is varied with snacks from countries like Croatia, India, and Europe. Items like ube cakes from the Philippines and fizzy candies from Ukraine are just some of the delicious snacks available.
Pros:
No recurring payment to keep track of
Available on Amazon
Variety of cookies and candies from all over the world
Cons:
Not available internationally
5. Deluxe Asian Snack Box – Best International Asian Variety Snacks Box
Featuring snacks from all over Japan, China, Korea, and other Asian countries, the Deluxe Asian Snack Box is sure to have items you'll enjoy.
This isn't a subscription service, so you don't have to worry about recurring charges. Instead, you purchase one box at a time and enjoy new snacks and surprising sweets from Japan, Korea and all over Asia.
The 22 snacks in this premium box feature popular snacks that change seasonally. You'll be sure to find a variety of Asian cookies, candies, chips, crackers, tea, and pocky with each purchase.
Travelers who have visited different Asian countries or just simply love the culture will love the variety in this box. This Asian snack box is the biggest snacks box on this list and it always has fun and mystery snacks included.
The box sells through Amazon, so their shipping rates apply. Unfortunately, it doesn't appear to be available to international customers.
Pros:
The largest number of snacks per box
One time purchase
Wide variety of premium Asian snacks, including tea and coffee
Cons:
Not available internationally
6. European Snack Box – Best European Favorite Bakery Snacks
With this European Snack Box, travelers can tour Europe through Polish, Greek, Spanish and Italian snacks, plus many other countries.
Made up of 44 countries, Europe has a wide variety of cuisines and snacks ready to be explored by travelers.
This one-time box purchase doesn't require subscription services and gives you a taste of the best snacks from Europe.
The foreign snacks in this box are at least eight or more and guaranteed to give you an authentic tasting experience.
With many European countries favoring cookies and biscuits with their coffee, this European Snack Box has plenty of baked snacks.
Discover new baked goodies like cakes, crackers and more to enjoy with tea or coffee.
Pros:
One time purchase with no recurring charges
Can be customized
Wide variety of snacks
Cons:
7. Eastern European Snack Box – Best International Snacks Box For Savory Snacks
​​
This Eastern European Snack Box has eight or more snacks from countries like Russia, Romania, Croatia, Serbia, and Ukraine.
Each box features interesting snacks with a variety of flavors and textures. Find a unique selection of sweet, savory, and salty snacks that is different in each box.
You'll want to buy more than one, but remember, this isn't a subscription service. Thankfully, this box qualifies for Amazon Prime shipping in the US.
This makes it easier to order often for yourself or give as a gift to friends and family.
This mix contains both savory and sweet snacks. However, Eastern Europe is known for unique savory snacks you won't want to miss out on, like different chips and crackers.
Pros:
Qualifies for Amazon Prime shipping
Selections change every month
One box at a time without monthly charges
Cons:
8. MunchPak – Best International Snacks Box for Full-Size Snacks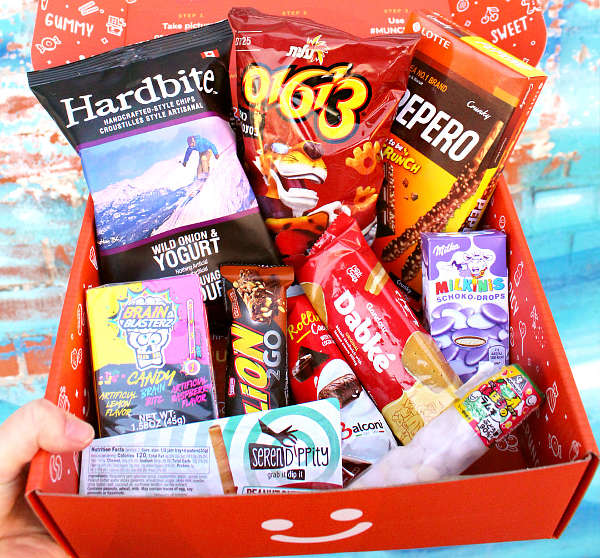 Started by two friends who loved international snacks but had difficulty finding them, Munch Pak takes you around the world.
With snacks from Asia to North America, all the international goodies are handpicked to deliver a great tasting experience.
international snacks from all over the world for monthly delivery without doing all the work finding them.
MunchPak offers three different sized subscription boxes each with full sized snacks.
Mini: five snacks
MunchPak: ten snacks
FamilyPak: 20 snacks
You'll receive at least five, ten, and 20 snacks, if not more. And for an additional charge, you can also add a soda to the Familypak subscription.
Although you can't customize the monthly snack subscription box, you'll get spicy, sweet and savory tastes and textures in each box.
Along with the snacks, each box contains a travel guide with facts about the snacks and the country.
Purchase a monthly subscription plan for yourself and your family or as a gift. You can also buy three, six, and twelve-month gift subscriptions.
Pros:
A large variety of full-size snacks available in each box
Free shipping in the USA
International shipping is also available
Cons:
Only gift boxes can be purchased without a subscription
9. SnackCrate – Best International Snacks Box for Value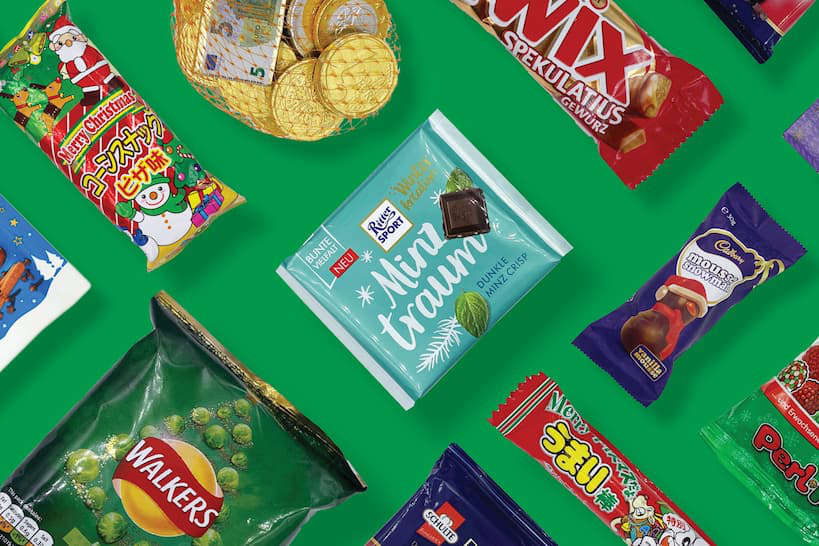 Snacking and traveling should be fun. And SnackCrate makes it easy to discover snacks from places you've dreamed about.
Your snack adventure begins with a fun monthly country-focused snack crate available in three sizes.
Choose a box from three sizes to get started:
Mini: five snacks
Original: ten to 12 snacks
Premium: 18 to 20 snacks
Every box comes with a postcard and information package about the country and the snacks included that month.
You can also purchase additional items from that month or past months separately in the Snackshop.
One unique feature of Snackcrate is the Adventure Ticket contest.
Each month everyone who receives a Snackcrate is entered into a drawing. The grand prize is a trip for two, including airfare to a city in the featured country.
With unique treats and the chance to win a trip Snackcrate offers the best value for money.
Pros:
Ships internationally
Taste quiz to determine which first country is correct for you
The referral program gives you $10 for each friend who signs up
Cons:
Countries are a surprise each month
International Snacks Box Comparison Table
| Box | Price per box | Best For | Type | US/International | Shipping (US) | Box Option |
| --- | --- | --- | --- | --- | --- | --- |
| Universal Yums | Starts at $15 | Overall | Monthly subscription | International | Free | Three sizes |
| Try the World | Starts at $23 | Natural Snacks | Monthly subscription | US | Free | One size |
| Treats | Starts at $14 | Families | Monthly subscription | International | Free | Two sizes |
| International Snack Mix | $29.95 | Sweet Snacks | Single box | US | Amazon rates apply | One size |
| Deluxe Asian Snack Box | $32.99 | Largest Variety | Single box | US | Amazon rates apply | One size |
| European Snack Box | $30.95 | Bakery Snacks | Single box | US | Amazon rates apply | One size |
| Eastern European Snack Box | $30.95 | Savory Snacks | Single box | US | Amazon rates apply | One size |
| MunchPak | Starts at $13 | Full-Size Snacks | Monthly subscription | International | Free | Three sizes |
| SnackCrate | Starts at $10 | Value | Monthly subscription | International | Free over $35 | Three sizes |
International Snacks Box FAQs
Is there any international snacks box for one-time purchase or without a subscription obligation?
You can enjoy an international snacks box without joining a monthly subscription program. Some of the boxes on this list are single purchase international snack boxes.
If you want a box from the monthly subscription programs, simply order a gift box or choose the purchase one option. Make sure to cancel your subscription after your box ships.
What country has the best candy?
It depends on which candy you're looking for. Belgium and Switzerland are known for their high-quality chocolate, and Japan has exciting and innovative hard candy flavors. It's best to try a variety of countries to see which you like best.
Which international snack box is the best?
Our overall best pick is Universal Yums, but each of the snacks around the world boxes have different pros and cons.
What countries can you get snack boxes from?
It's possible to get snack boxes from almost any country in the world. Most monthly boxes cycle through countries to ensure a wide selection of tasty treats.
What do you look for in an international snacks box? Have you tried any of these snack boxes? Let us know in the comments below.
Savor the Adventure!
Claire is a culinary explorer who travels the world in search of the best local foods. She is always looking for her next culinary adventure to bring you the best bites while exploring new places.