This article has links to products and services we recommend, which we may make a commission from.
If you want to experience delicious snacks from around the world, then an international snacks box is for you.
These curated boxes with snacks from all over Europe, Asia and more, take you on snacking adventures from the comfort of home.
Whether your sweet tooth needs something chocolate or cake-like or perhaps salty, peppery or chewy, there's something for you.
This list of the best international snacks boxes feature a different country or region. The boxes are filled with tasty snacks and treats saving you time and money.
All you have to do is just have fun while you sit back and snack.
Treat your tastebuds with something new from these nine best international snack boxes.

International Snacks Box Comparison Table
Box
Price per box
Best For
Type
US/
International
Shipping (US)
Box Option
Universal Yums
Starts at $15
Overall
Monthly subscription
International
Free
Three sizes
Tokyo Treat
$31.5
Japanese Snacks
Monthly subscription
International
$10.50+
One size
Treats
Starts at $14
Families
Monthly subscription
International
Free
Two sizes
Try the World
Starts at $23
Gourmet Snacks
Monthly Subscription
US
Free
One size
SeoulBox Signature
Starts at $39.50
Authentic Korean Snacks
Monthly Subscription
International
$12.50
3 different boxes
Spice Madam
Starts at $20
Spice Lovers
Monthly Subscription
US
Free
One size
Sweet Snacks Club
Starts at $34.90
Best Sweet Snacks
Monthly Subscription
International
Free
One size
Classic Candy Box
Starts at $22.50
American Snacks
Monthly subscription
International
$8
One size
European Snack Box
$30.95
Bakery Snacks
Single box
US
Amazon rates apply
One size
Top International Snacks Box
1. Universal Yums – Best Overall International Snacks Box
Each month Universal Yums lets you experience a new country through a blend of sweet and salty snacks.
Just choose the number of snacks you want to have delivered every month. There are three sizes available for your monthly snack subscription boxes for small to large households:
Yum Box: five to seven snacks
Yum Yum Box: ten to 12 snacks
Super Yum Box: 18 to 20 snacks
In addition to traveling to a new country through delicious snacks, you also get a booklet filled with cultural facts, trivia and recipes.
While your subscription renews each month, there is a one-step cancellation process to easily stop your subscription at any time.
Alternatively, if you want to gift international snacks to a loved one, you can get just one surprise snack box.
For lovers of food and travel, Universal Yums offers one of the best international snack boxes. This foreign snacks box is one of the best ways to go on a global adventure with snacks and candies.
Pros:
Three different size boxes to choose from
Free shipping to the contiguous US
Choose the country of your first snack box
Cons:
Currently unable to customize boxes for allergies or dietary restrictions
2. Tokyo Treat – Best For Japanese Snacks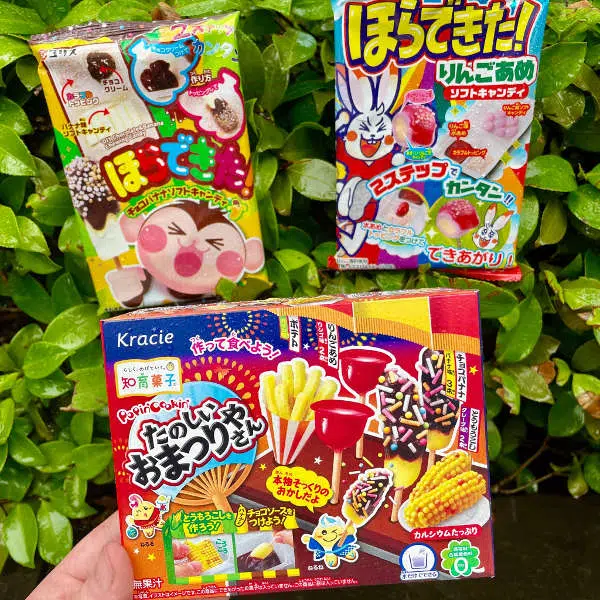 Bite into Japan with a monthly snack subscription box from Tokyo Treat. Each month enjoy delicious Japanese snacks along with a slice of daily local life.
Fifteen to twenty full size Japanese snacks you cannot find outside Japan are included in each box. The sweet and savory snacks will take your taste buds to new and exciting heights.
The snacks are carefully curated. Find a mix of rare Kit Kat chocolate bars, savory snacks, Japanese baked goods, instant ramen and even a Japanese drink.
This premium Japanese snacks box weighs a hefty 2.7 lbs or 1.2 kg. Also included is a snack and culture guide of the treats for easy reference.
The snacks change every month, which makes it exciting and something to look forward to. Previous boxes have covered Valentines, Japanese New Year, the tastes of Okinawa Island and more.
To get started, choose your snack box subscription. You can get a 12 month plan or 3 or 6 months. A monthly box option is also available and perfect for gift giving.
This Tokyo Treat box takes you around Japan with tasty and surprising full sized snacks.
Pros:
Unique high quality full sized Japanese snacks
Free shipping worldwide
Multiple billing options. Choose from monthly or every three, six, or 12 months.
Cons:
Only one size box available
3. Treats – International Goodies & Snacks Every Month
Making snacking a cultural experience with a monthly subscription from Treats. Each month foreign snacks and candies allow you to explore all corners of the globe.
With a monthly subscription from Treats, you'll receive a box of delicious snacks from a different country.
And, the best part is that you don't know which country it might be until the box arrives. It's a total surprise that is fun for families.
Treats ship your first box within three business days of your order, and then every package after that comes somewhere in the middle of the month.
So, every month travelers at heart will have a chance to explore new flavors while learning about new cultures.
Two different subscription boxes are available. The Standard Pack offers five or more snacks while the Premium Box delivers ten or more snacks.
A Treats box is a perfect gift for families looking to explore the world through tasty delights. In addition to the snacks, and included postcard makes a great learning tool for kids and parents alike.
Make it a fun activity with the kids and check out what they have sent in the past; there's a 'past boxes from Treats' section with pictures of the snacks and countries they sent before.
Pros:
Two affordable price points for 5 and 10 snacks a month
Free shipping in the USA
Cancel anytime
Cons:
No way to know the featured country ahead of time
4. Try The World – Best Gourmet Snacks From Around The World
For snacks from around the world, Try the World brings you a delicious collection of global gourmet snacks.
Each snacks box is filled with six healthy snacks from six countries every month. All the snacks are made by artisans from around the world.
These international snacks are both sweet and savory snacks and all natural and healthy.
Alongside your monthly snacks, Try the World also includes a "Discovery" booklet. In it, you'll find information about the producers, ingredients and techniques used to make the snacks.
All their full sized snacks support local producers helping them grow and keep their culinary traditions alive.
This is the best snacking experience for people who prefer healthy snacks from around the world.
From healthy cookies, cakes, dried fruits, chips and more, these are guilt-free snacks you can enjoy each month.
Pros:
Different healthy snacks every month
Free shipping to the contiguous US
Multiple billing options. Choose from monthly or every three, six, or 12 months.
Cons:
5. SeoulBox Signature – The Best Authentic Korean Snacks
The popular flagship K-Pop branded SeoulBox Signature has it all: from snacks, sweets, jelly and drinks – to beauty products.
It's an exciting way to treat yourself each month by subscribing to this authentic Korean box.
A mystery item is included in each box, which makes it even more exciting to receive the month's SeoulBox Signature.
Though each month the content of the box changes and you're granted to get around 18 different authentic Korean snacks.
The snacks which range from sweet and savory include chips, crackers, candies and more.
Each of the Seoulbox boxes also include ramen and and a unique local drink.
But what really emphasizes this international snacks box is the stunning SeoulBox Magazine.
This booklet is filled with Korean cultural information, Kdrama and Kpop updates as well as a tasting guide for all the delicious snacks.
Aside from product information and potential allergen warnings, you'll discover great things about the Korean culture and lifestyle.
With the authentic Korean snacks in the SeoulBox, every Korea lover can savor the sounds, flavors and goodies of the country.
Pros:
Ships directly from Korea
Immersive booklet with cultural information and recipes
Drinks, ramen and Kbeauty products included
Cons:
Does not offer options for gluten-free snacks
AUTHENTIC FOOD QUEST TIP: If you are considering Seoulbox subscription boxes, see our full review: How To Unbox Your S(e)oul? 2022 Seoulbox Korean Snacks Review
6. Spice Madam – The Best Spices To Travel The World
Spices is a different way to take your taste buds on a culinary adventure around the world.
You don't need to be an excellent home cook to enjoy the variety of international flavors. The Spice Madam monthly subscription box features simple global recipes and the accompanying spices and spice blends.
Each Madam Spice box features one country and 5 or 6 recipes. The recipes are designed to feed anywhere from 6 to 8 people, making it enough for a family.
Or, alternatively, provide delicious leftovers that can be enjoyed throughout the week.
Aside from spices, a themed Spotify music playlist of music from that country is also provided.
Plus, there's a Welcome Postcard in each box with fun facts and trivia about the featured country.
This way you can smell, taste, and enjoy the cultural variety of each month's country, without actually visit the place.
With just a single pinch of Spice Madam, you can internationalize your regular meals using the same ingredients you always use.
Pros
Free shipping within USA
High-quality blends and spices
Gluten-free and vegetarian-friendly
Cons
Communication with customer service is via email
RELATED: 18 of the Best Culinary Destinations In The World for Scrumptious Adventures
7. Sweet Snacks Club – Mega Energy Sweets Bundle
If you're a sweet tooth that prefers sweet snacks over savory, the Sweet Snacks Club is the best snacks box for you.
It includes the most popular snacks in a single mega snacks bundle. You'll find chocolate bars like Snickers, M&M's, Oreo, cookies, nuts and much more.
It's the ideal mix of sweet snacks that's perfect for parties, holiday gatherings, or simply moments to spread joy.
Each box contains a mix of snacks valued are more than $70 for the low cost of $29.90 for a 12-month subscription.
The selection of sweet snacks found in this mega package of sweets will energize and thrill your taste buds.
If you're going on a road trip, or having poker night or movie marathon, montly box of delicious sweet snacks you want to have around.
Pros
Great value for the price
Wide range of sweet snacks to choose from
Elegant and affordable package
Cons
Some snacks contain potential allergens like milk and nuts
8. Classic Candy Box – Best For American Snacks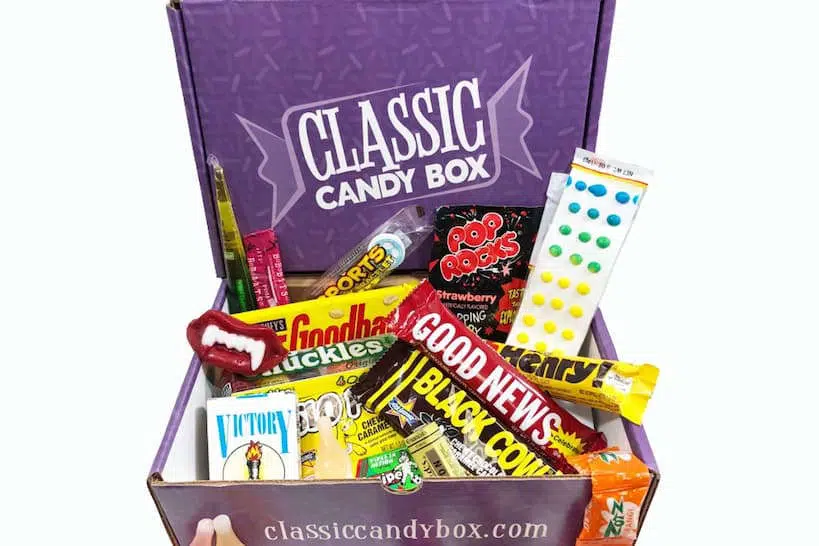 Do you remember the candy you loved as a kid? The classic candies that are now hard to find.
This classic candy box filled with American candies is filled with surprising flavors from the early 1900s to the 1980s.
You'll feel like a kid again each time you receive your curated classic candy box. Each month you'll receive a classic box of about 1 lb to 1.5 lbs stuffed with more than 25 pieces.
Get reacquainted again with chocolates, hard and chewy candies like Zagnut, Pop rocks, Blow Pops, Abba Zabba and much more.
If you are looking to take a trip down memory lane, make it delicious with this classic box. Or, surprise a loved one with sweet nostalgic memories with a monthly snack box of American classic candies.
Pros:
Snack box subscription flexibility of 1, 3, 6 or 12 month
Ships worldwide from the United States
Can cancel at anytime
Cons:
9. European Snack Box – Best European Favorite Bakery Snacks
With this European Snack Box, travelers can tour Europe through Polish, Greek, Spanish and Italian snacks, plus many other countries.
Made up of 44 countries, Europe has a wide variety of cuisines and snacks ready to be explored by travelers.
This one-time box purchase doesn't require subscription services and gives you a taste of the best snacks from Europe.
The foreign snacks in this box are at least eight or more and guaranteed to give you an authentic tasting experience.
With many European countries favoring cookies and biscuits with their coffee, this European Snack Box has plenty of baked snacks.
Discover new baked goodies like cakes, crackers and more to enjoy with tea or coffee.
Pros:
One time purchase with no recurring charges
Can be customized
Wide variety of snacks
Cons
International Snacks Box FAQs
Is there any international snacks box for one-time purchase or without a subscription obligation?
You can enjoy an international snacks box without joining a monthly subscription program. Some of the boxes on this list are single purchase international snack boxes. If you want a box from the monthly subscription programs, simply order a gift box or choose the purchase one option. Please be sure to cancel your subscription after your box ships.
What country has the best candy?
It depends on which candy you're looking for. Belgium and Switzerland are known for their high-quality chocolate, and Japan has exciting and innovative hard candy flavors. It's best to try a variety of countries to see which you like best.
Which international snack box is the best?
Our overall best pick is Universal Yums, but each of the snacks around the world boxes have different pros and cons.
What countries can you get snack boxes from?
It's possible to get snack boxes from almost any country in the world. Most monthly boxes cycle through countries to ensure a wide selection of tasty treats.
What do you look for in an international snacks box? Have you tried any of these snack boxes? Let us know in the comments below.
Savor the Adventure!
Claire is co-founder of Authentic Food Quest and a lover of simple and exquisite cuisine. Since 2015, with her partner, Rosemary, she has been traveling the world as a digital nomad, creating content about local food experiences.
Her advice from visiting 45 countries and more than 240 food cities has been featured in Lonely Planet, Business Insider, Honest Cooking, Food Insider, and Huffington Post. She has also co-authored three books, including one in collaboration with Costa Brava Tourism.
An ex-mechanical engineer, Claire is responsible for SEO, keeping the website running, and the fun food & travel videos on YouTube.
When Claire is not eating, she can be found running or cycling. Find out more about Authentic Food Quest