This article has links to products and services we recommend, which we may make a commission from.
If you want to learn how to cook Japanese food, why not try a meal kit? Japanese meal kits are a great way to explore new recipes and new cooking techniques.
Your ingredients and recipes arrive right at your door, with simple instructions to help you create amazing Japanese meals.
While there aren't many dedicated Japanese meal kit services, existing meal kit companies often feature Japanese dishes in their offerings.
In this article, we explore the best Japanese dishes offered by meal kit services today. We look at the meals they provide and highlight the types of Japanese dishes you can expect to receive.
The pros and cons of each one is included and the pricing information you need to know before you buy.
If you are ready to enjoy Japanese restaurant quality meals made with your own hands, read on.
Dig in and discover some of the most tantalizing Japanese meal kit options available.

Comparison Table For The Best Japanese Meal Kit
| Meal Kits | Price $ Starts | Meal Kits / Ready to Eat | Best For | Contiguous US | Shipping Fees (US) |
| --- | --- | --- | --- | --- | --- |
| HelloFresh | $7.99 | Both | Overall | Yes | $9.99 |
| Blue Apron | $7.49 | Meal Kits | Fusion | Yes | $9.99 |
| Dinnerly | $5.06 | Meal Kits | Affordable | Partly | $8.99 |
| HomeChef | $8.99 | Both | Easiness | Yes | $8.99 |
| Sunbasket | $9.99 | Both | Gourmet | Yes | $5.99 |
Our Top Picks for the Best Japanese Meal Kit Options
HelloFresh is one of the most popular meal kit services on our list. The company is a favorite and widely regarded for its fresh ingredients and a wide variety of meal options.
Within their weekly menu rotation, we found an impressive number of Japanese meals. You'll find traditional Japanese classics like Teriyaki pork chops, or salmon with wasabi lime. These are two versatile dishes you can easily add to your weekly rotation.
Other Japanese dishes take a fusion approach with meals like Japanese beef & pepper tacos, or pork and kale soup with Vietnamese pho flavors.
While not exclusively dedicated to Japanese meal kits, the selection offered is broad enough to taste Japan regularly. See all their Japanese dishes here.
As a company, HelloFresh offers over 25 recipes to choose from each week. They offer carb smart meals, calorie smart meals, vegetarian meals, quick and easy meals, and family-friendly options.
Taking the stress out of meal planning and shopping, you get fresh and affordable meals delivered to your home.
Pros
Extensive selection of Japanese food offerings
Meals are portioned to reduce food waste
Offers family-sized meals, and specialty chef-inspired meals
Cons
Does not offer gluten-free or nut-free meals
Ship to contiguous US only
A Few Japanese Meal Kit Offerings Include: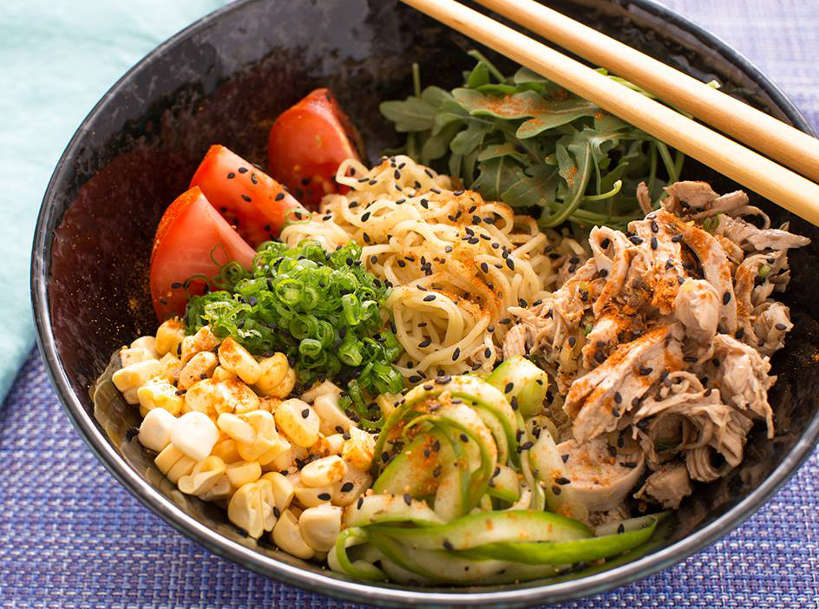 Blue Apron, another large and popular meal kit delivery service, is known for its interesting and diverse meal selections.
You'll find Japanese food on the weekly menu with chef designed recipes delivered along with responsibly sourced ingredients.
Within the weekly rotation, you'll find some traditional Japanese dishes, while other times, you'll find Japanese fusion food.
Either way, you'll enjoy Japanese flavors on a regular basis. Blue Apron recipes are accessible for cooks of any skill level. Simple and clear instructions accompany the chef designed recipes, making it easy to create the dishes in your kitchen.
Other delivery kit options include prepared meals which you heat and eat in no time.
For those with dietary concerns, Blue Apron offers four flexible plans to choose from. From holistic and balanced meals to meat free Japanese dishes, you have plenty of choices to choose from.
For home cooks looking for classic and creative Japanese meals, Blue Apron makes it easy to taste Japan in your kitchen.
Pros
Both authentic Japanese dishes and fusion Japanese dishes on the menu
Accommodates different dietary lifestyles
Cons
No shipping to Alaska or Hawaii
Portion sizes limited to four servings per meal, nothing larger for friends or large gatherings.
A Few Japanese Meal Kit Offerings Include:
Dinnerly, the affordable meal kit service and least expensive on this list, allows you to enjoy delicious meals at a low cost.
The affordable price does not mean a drop in quality. You have a choice of 28 easy recipes to choose from each week.
The recipes use fewer ingredients per dish and are designed for busy people who don't want to overpay for their meal kits.
While the Dinnerly menus are simple and easy to make, you'll find at least one Japanese meal on rotation each week.
However, most of the recipes are simple, Japanese Asian fusion dishes making them beginner-friendly, but perhaps not the most authentic Japanese food.
Each week you'll receive a box of fresh and seasonal ingredients to make your meals. With minimal chopping required, Dinnerly recipes take under 30 minutes to make.
All you do is follow the clear instructions from your digital downloadable menu.
Like other meal kit delivery companies, you can easily pause, skip a week or cancel your subscription. You can choose either a two person box or a family box enough for 4 people.
At the moment, you have the option to make your box vegetarian but cannot customize it for specific dietary needs.
Though a detailed list of ingredients are available for each recipe so you can choose what works best for you.
Dinnerly is a great option for those looking for an affordable solution to weeknight cooking.
Pros
Affordable, low price point
Meals are simple and easy to prepare using 6 ingredients or less and prepared in under 30 minutes
Cons
Only have digital recipes
Cannot accommodate different dietary needs
Delivers only to the contiguous United States
A Few Japanese Meal Kit Offerings Include: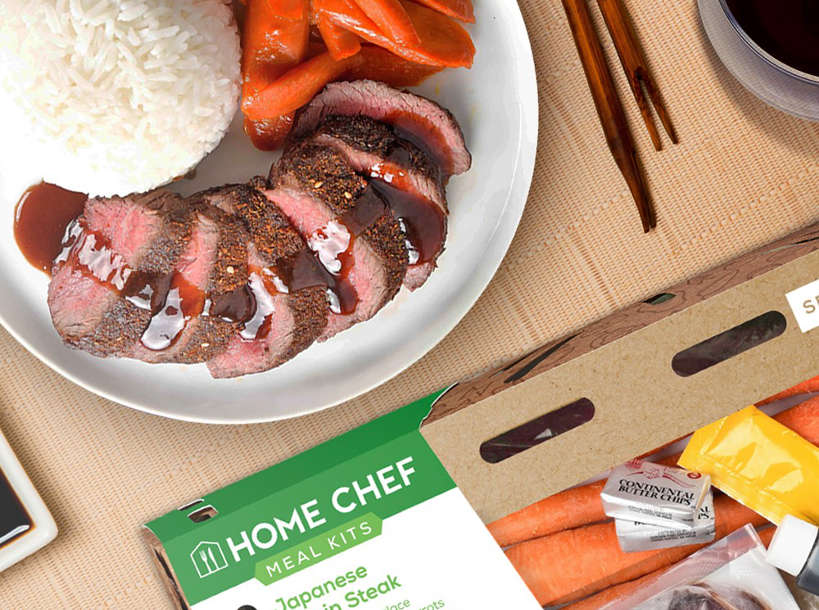 Home cooking made simpler is what you get with Home Chef meal kit delivery service. To help you simplify dinner, Home Chef gives you the flexibility to upgrade your box, add or swap protein on some meals putting you fully in control.
Meals are divided into two broad categories. Meal kits which you can prepare with simple recipes and fresh pre portioned ingredients. And, ready-made meals that you can simply heat and eat.
Their weekly rotating menu has a diverse array of dishes including Japanese food. The selection of Japanese dishes are both fusion-style modern Japanese foods and some traditional, authentic recipes.
Beyond the dishes, you can add "extras" like dessert, breakfast or even salads to your order.
Home Chef offers meals for those counting calories or watching the carb intake. Based on your profile, you can choose meals that suit you from over 25+ choices each week.
While not all specific dietary concerns are addressed, the nutritional information is provided in all Home Chef menus.
Home cooks seeking ease and convenience to effortlessly create dishes with Japanese and international flavors will love Home Chef.
Pros
Large diversity of meal types from quick meals with no prep, to premium culinary meals and even grill ready dishes
Wide selection of Japanese dishes
Includes "extras" like breakfast, sides and desserts
Cons
Not accommodating to specific dietary needs
Delivers only to the contiguous United States
A Few Japanese Meal Kit Offerings Include: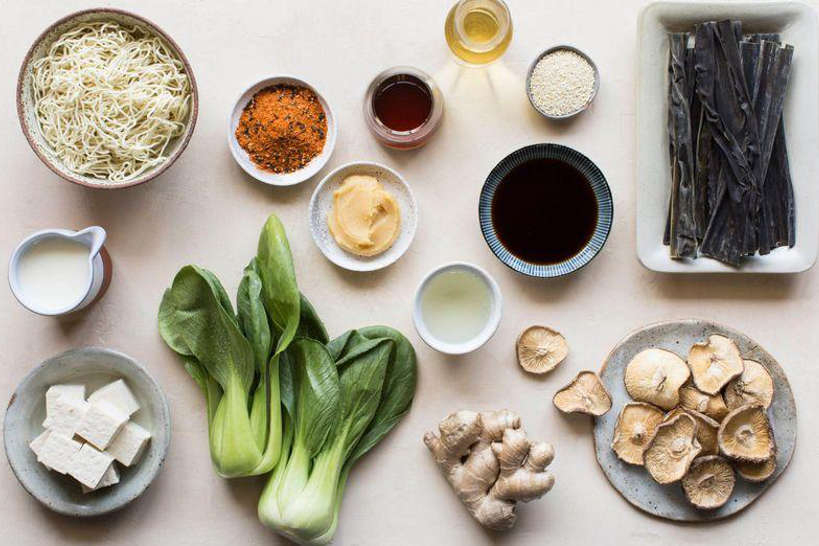 Delicious food starts with delicious ingredients, the philosophy Sunbasket adopts with their organic meals and sustainable practices.
Sunbasket offers a variety of healthy, organic meals delivered to your home each week. Their selection is one of the most diverse and extensive with a fair amount of Japanese dishes available.
The high-quality Japanese meals made with organic ingredients are available as meal kits or prepared meals.
The Japanese meal kits include pre portioned ingredients along with simple instructions to recreate them in your kitchen.
The Japanese prepared meals are chef-crafted and designed to go directly into your oven with no additional prep required.
If you have any dietary restrictions, Sunbasket offers customization options. Menus can be tailored for gluten-free, vegetarian, vegan, pescatarian, paleo, and diabetic-friendly diets.
Pros
Japanese meal kits and prepared meals available on a regular basis
In addition to meal kits and premade meals you can also get add-ons like additional cuts of meat, snacks, breakfast, juices and more
Easily accommodates different diets
Cons
Ships to the contiguous US only
A Few Japanese Meal Kit Offerings Include:
RELATED: The 8 Best Japanese Snacks Box To Taste Japan – A Complete Review
Answers To Popular Questions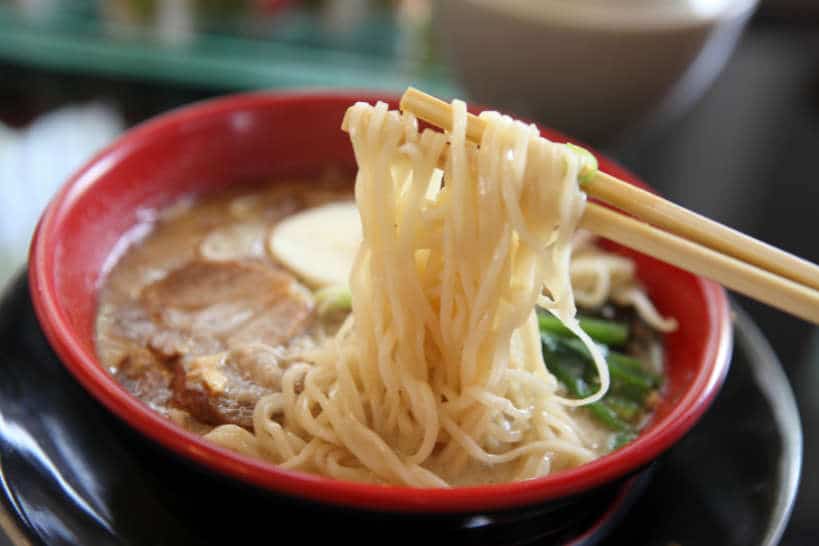 What Are Japanese at Home Meal Kits
Japanese home meal kits allow you to easily make Japanese food at home pre portioned ingredients in meal kits. The home meal kits come with instructions, ingredients and recipes to make exceptional Japanese food at home. Some home meal kits are already chef-prepared and involve no cooking. All you do is just heat and serve.
Is The Packaging Recyclable?
The Japanese meal kits delivered to your home arrive in recyclable and environmentally conscious packaging.
The box itself and the ice packs and insulation inside are made from compostable material which is easily recyclable.
Covid-19 Updates
With the lingering impact of Covid-19, food safety, food safety, timely delivery and supplies are top of mind for these Japanese meal kits services.
These meal kit companies work closely with their partners to ensure a regular supply of fresh produce. Additionally, they also work closely with their shipping partners for on-time Japanese meal kit deliveries.
Claire is a culinary explorer who travels the world in search of the best local foods. She is always looking for her next culinary adventure to bring you the best bites while exploring new places.