This article has links to products and services we recommend, which we may make a commission from.
The best Japanese snacks box brings you the sweet, unusual and colorful candies from the land of the rising sun.
Sweets and snacks are a beloved part of Japanese culture. They are famous for their visual and mesmerizing beauty and intriguing flavors linked to the seasons.
While maintaining a level of sweetness and subtle savory flavors, Japanese snacks reflect the culture.
Cultural touchstones like Hello Kitty, J-Pop, Manga, Anime and others are brought to life in fun and colorful ways through snacks.
For tastes of Japan that range from traditional to modern, see the best Japanese snacks boxes below.
Discover the different sides from the country with flavors that transcend your taste buds.

Best Japanese Snacks Box – Comparison Table
1 – Bokksu – Best Overall Japanese Snacks Box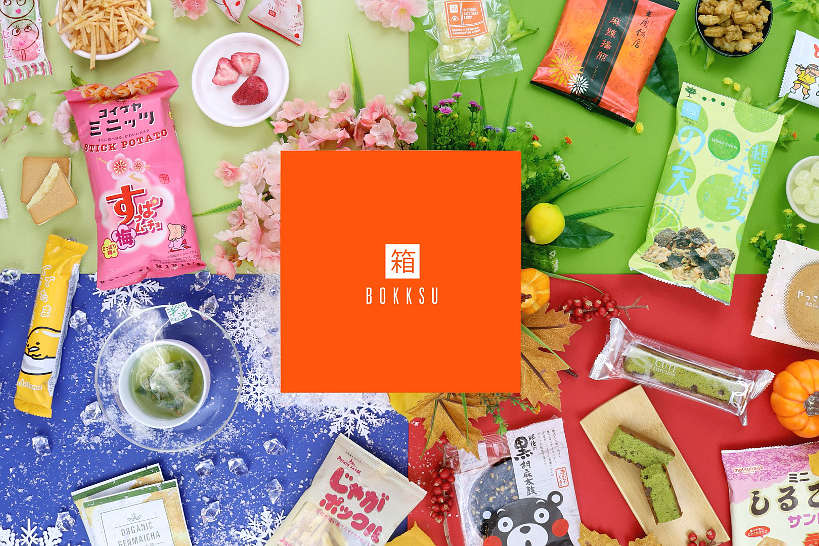 For authentic Japanese snacks, Bokksu delivers a monthly box of traditional treats delivered straight from Japan.
The unique treats are sourced from small centuries old family businesses and delivered in beautiful Japanese gourmet boxes.
This monthly Japanese subscription box contains an assortment of gourmet snacks and teas.
Each Bokksu monthly box has a specific theme showcasing a different side of the country. Past monthly boxes have featured treats from cities like Nagoya or Kansai to themed boxes like Moon festival and others.
When you sign up for a monthly subscription, your first box will include a delicious assortment of handmade authentic snacks.
This snack box, named "Seasons of Japan" covers a taste of Japan across all four seasons.
Each month after that, you will receive a themed box featuring Japanese candy and teas to taste even more of the country.
The Bokksu Japanese snack subscription box includes 20 to 24 snacks, candies and a tea pairing.
Also included in a detailed "Culture Guide" magazine that provides more information about the region and the flavors in your snack box.
Several subscription box options are available. You can choose a 3, -6 or 12 month option. Each premium box ships directly from Japan with free shipping anywhere around the world.
For lovers of Japanese authentic and traditional snacks, this is one of the best Japanese subscription boxes.
What People Are Saying
"I look forward every month to the arrival of my next Bokksu. All the snacks and teas are of the best quality. I love the variety of products and the seasonal themes."
"Top notch snacks, top notch packaging, and a brilliant experience every time."
"There is a good variety of sweet and savory snacks. I like the little booklet that tells you about each item."
2 – Tokyo Treat – Best Ongoing Japanese Snacks Variety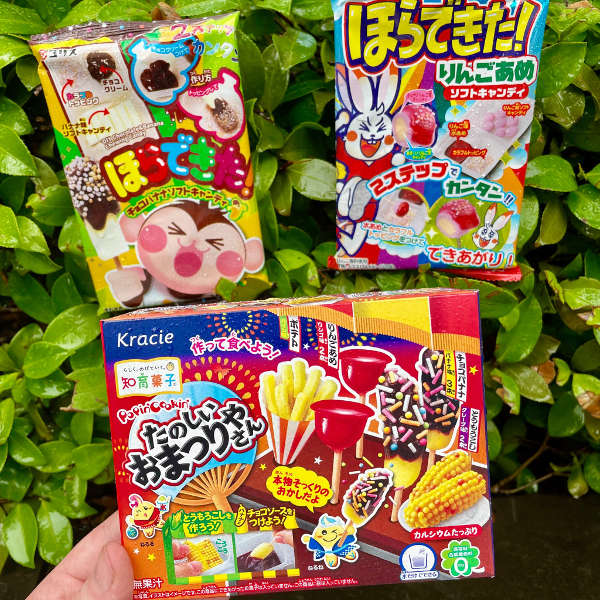 Tokyo Treat is a subscription box that delivers the excitement of Japan's food culture with exclusive treats month
Each box takes your taste buds on an exciting journey through Japan with the latest candies, snacks and drinks.
Every Tokyo Treat box has anywhere from 12 to 17 full sized snacks that you wouldn't find outside of Japan.
Carefully curated, each box contains a mix of chips, chocolate, gummies, diy candy kit, a Japanese drink and dagashi.
This premium Japanese snacks box weighs a hefty 2.7 lbs or 1.2 kg. It also comes with a snack guide for easy reference to the treats.
There are several subscription services or plans available. You can get a 12 month plan or 3 or 6 months. A monthly box option is also available and perfect for gift giving.
The Tokyo Treat box is a great option to discover new and fun things to snack on.
What People Are Saying
"Every box I get I am amazed. I look forward to them every month and I love the savory and sweet flavors."
"The excitement you get from trying something you've never had before is amazing. Top quality Japanese snacks."
The overall box was jam-packed with a large assortment of treats. The soda was unexpectedly tasty along with delicious chocolates and other treats. Overall I'm very impressed.
3 – Japan Crate – Best Popular Japanese Snacks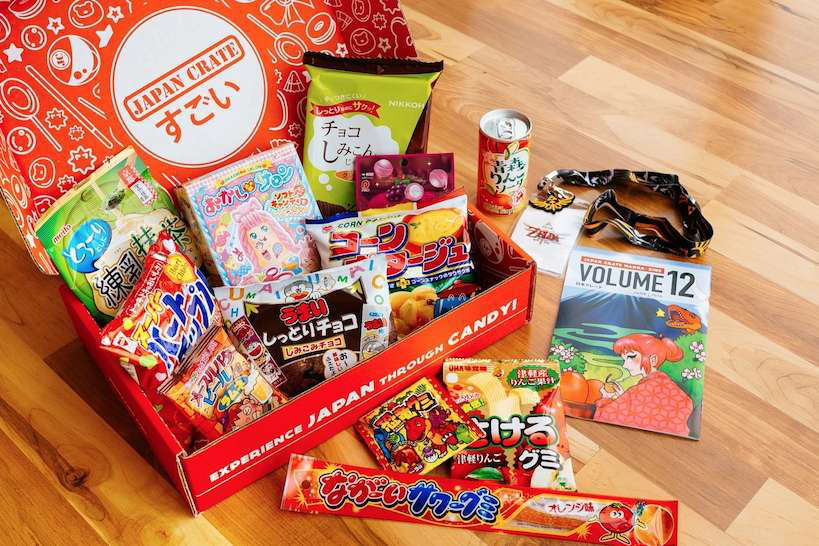 Tokyo-based Japan Crate has set itself the task of being the trendiest Japanese snack subscription box on the market.
The Japan Crate box offers exclusive Japanese candies delivering fun and excitement each month.
Inside each box are at least 10 savory and sweet premium Japanese snacks, DIY candy kits and bonus items you can't get anywhere else.
Each Japan Crate box has a different theme around popular Japanese culture.
Some of the past boxes feature exclusive themes like Sword Art Online, Fruits Basket or celebrations like the New Year.
Japanophiles or lovers of Japanese culture will love the excitement of exploring Japan through snacks.
This Japanese snack box ships worldwide and in addition to a monthly subscription, you can also give the box as a one time gift.
What People Are Saying
"​​My family and I were very excited to receive our Japan Crate. We had a lot of fun trying the snacks, and appreciated that information about each one was provided."
"I love the Japan Crate because they sell the best candy I've ever eaten in my life."
4 – Tonosama Japanese Snacks – Best For Dagashi Candies
This snacks box is an assortment of the most popular Japanese snacks. A total of 30 individually wrapped Japanese sweets, cookies, crackers, jellies, gummies and more are included.
Dagashi are traditional Japanese candies that are very affordable for children to buy with pocket money.
They are not fancy Japanese goodies, but are very nostalgic and popular with children and adults alike.
This Tonosama box has a variety of Japanese snacks that have been thoughtfully selected. The snacks are delivered straight from Japan but they ship from the US.
This makes it convenient for you to quickly enjoy your authentic Japanese snacks. If you're looking to enjoy Japanese sweets from time to time, this is the perfect option.
Unlike other Japanese subscription boxes, you are not committed to a regular monthly box. Simply order Japanese candy for specific occasions and events.
What People Are Saying
"You can tell a lot about the culture by common flavors, textures, packaging, serving sizes, and other things we saw in this box. We don't have a lot of exposure to Japanese culture so this was a wonderful learning and bonding experience for my daughter and me."
"The Japanese snacks are very nice and I'm excited to try everything. Great packaging and everything looks good."
5 – Japan Candy Box – Best Japanese Candy Subscription Boxes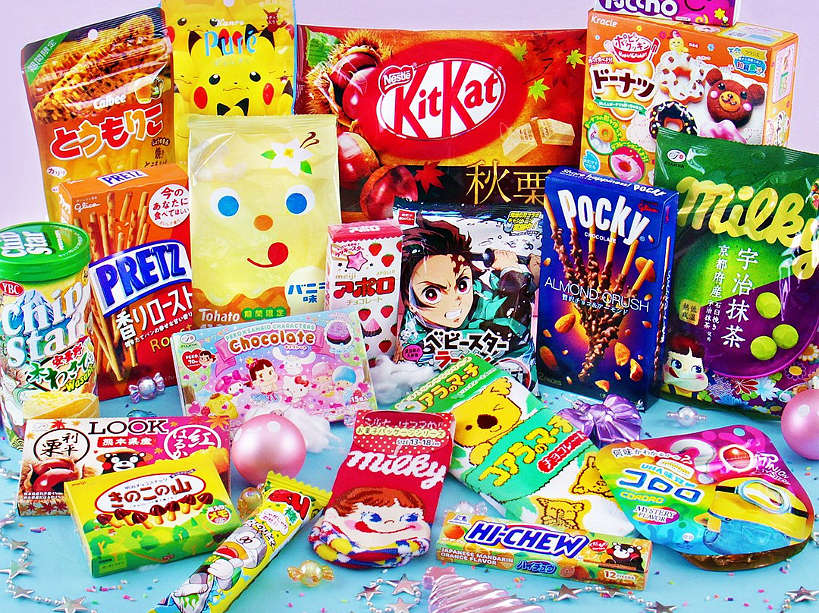 This is one of the most well-known Japanese snacks box and it is perfect for candy lovers
Japan Candy Box is an inexpensive option that gives you many different popular Japanese snacks to try.
Each Japan box contains at least 10 different Japanese treats. Find brands like KitKat, HiChew, Pocky sticks, a DIY candy kit and seasonal treats from all over the country.
The style is fun, with a lot of variety. Previous monthly boxes have had unusual treats like matcha latte egg rolls and beef flavored chips.
Unique rice crackers with squid, prawns or soy sauce have also been fan favorites. This box of quirky and fun Japanese candies and snacks also features seasonal and limited edition items.
The Japan candy boxes are available on a monthly subscription basis, or you can choose a 6 month or 12 month. Directly from Tokyo, all boxes ship free worldwide.
What People Are Saying
"Love this box. So cool to taste snacks from Japan with different flavors."
"I absolutely adored the candy and snacks I received. Such an adorable package and I love the cute designs."
"Everything we have tried so far has been great. I was impressed by the wide variety of snacks and candies in my box."
6 – Japan Kit Kat Flavors – Best For Japanese Kit Kats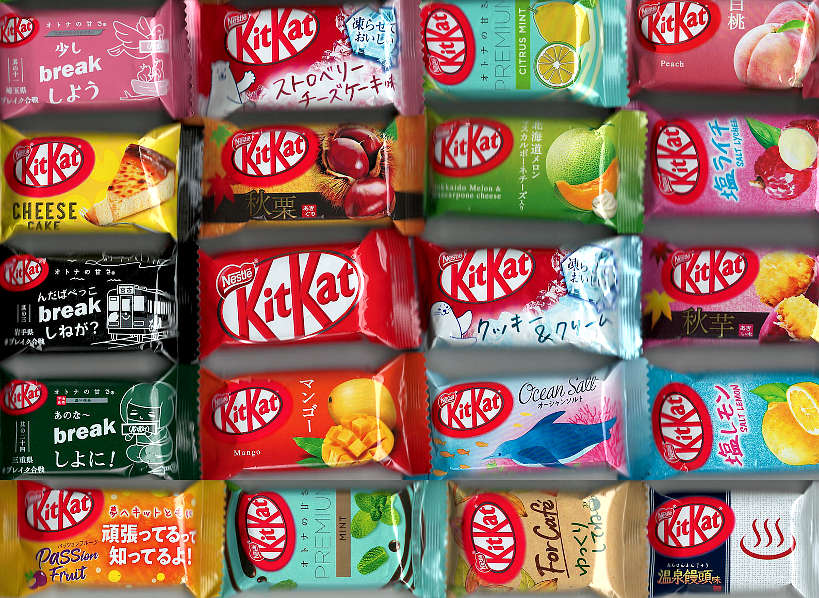 Can't decide which Japanese Kit Kat to try first? This classic box, a limited edition, is the perfect answer for Kit Kat fans.
Japanese kit kat flavors are unlike the ones found in the US. And, in your box you'll discover popular flavors like salt lychee, apple pie, cheesecake, sweet potato and more.
Shipping directly from Japan, this pack of 28 different kit kat flavors features limited flavors that change all the time.
That means, each time you order a Japanese kit kat snack box there will be new flavors to discover. In fact, each box contains one surprise mystery flavor.
What we love about this Japanese snack box is the diverse range of flavors. From traditional and iconic Japanese flavors to regional delights, you will not be disappointed.
Relish unusual Japanese kit kat flavors in this tasty Japan box.
What People Are Saying
"This was such fun discovering new flavours and tasting odd combinations. Who'd have thought sparkling wine flavored Kit Kat was a thing."
"So fun to have just a taste of so many Kit Kat flavors. Worth the purchase for the fun experience and future memories."
7 – Large Japanese Candy Box – Best For Sharing
This large Japan candy box comes with 50 individually wrapped savory and sweet snacks.
Containing some of the most popular sweets in Japan, your curiosity will be piqued by the range of flavors.
The snacks are all different and come in varying sizes. Some are candies, others are cookies, gummies, crackers, chocolates and even drink tablets to dissolve in water.
This is one of the best Japanese snack boxes for the number of snacks offered and the diversity of flavors.
The popular snacks in each box change according to the season. As this is not a subscription box you'll discover new tasty treats each time you order a box.
What People Are Saying
"The packaging and the content in this Japan candy box exceeded my expectations. What a fabulous, fun and creative gift."
"You get so much stuff for the price. It's mostly individually wrapped and everything is so different. I got treats I've never seen before."
8 – Japanese Anime Snack Box – Best For Anime Manga Lovers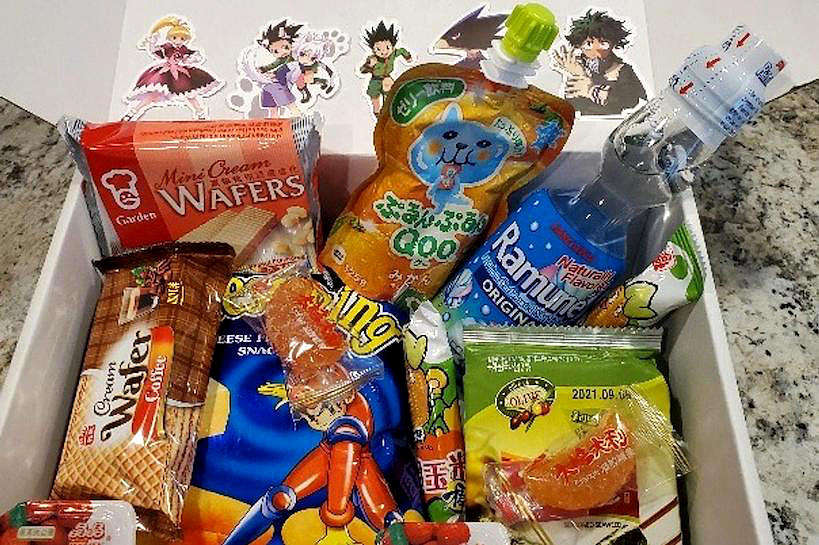 Are you shopping for a Japanese anime or manga lover?
Then this monthly assortment Japan box is just the perfect box for you.
This is the best Japanese snack box filled with an assortment of candy and anime stickers.
Best for sharing, this Japanese anime snack box has over 2 lbs of sweet and savory snacks. Also included is a Japanese drink and fun stickers making it a fun experience for all.
Each month the variety of popular snacks is different including a new fun drink and different anime stickers.
What we love most about this snack box is the combination of unique Japanese foods and culture.
This is a tasty experience for lovers of Japanese animation, comics and cartoons.
Have you had any of these Japanese snacks box? Please let us know your favorite box in the comments below.
Savor The Adventure!
Claire is a culinary explorer who travels the world in search of the best local foods. She is always looking for her next culinary adventure to bring you the best bites while exploring new places.