This article has links to products and services we recommend, which we may make a commission from.
Korean meal kits go way beyond kimchi offering Korean food lovers bold and innovative flavors to easily make at home.
With no shopping required or searching for hard to find ingredients, meal kits make Korean cooking a fun and exciting culinary adventure.
Even though there are not many dedicated Korean meal kit delivery services, existing providers offer Korean regularly.
You receive your Korean meal box along with chef prepared recipes. And, all you do is follow the instructions and bring the tastes of Korea to your dinner table.
If you are looking for convenience and delicious Korean food, see our guide to the best Korean meal kit options.
With either of these meal kit delivery services, you can add exciting Korean dishes to your weekly menu.
As they say in Korea, bab masbogi or bon appetite!

Comparison Table Best Korean Meal Kits
| Meal Kits | Price $ Starts | Meal Kits / Ready to Eat | Best For | Contiguous US | Shipping Fees (US) |
| --- | --- | --- | --- | --- | --- |
| Doofood | $9.95 | Meal Kits | Authentic Flavors | Yes | Free over $60 |
| CookUnity | $7.76 | Ready to Eat | Chef Meals | Partly | $9.99 |
| Blue Apron | $7.99 | Meal Kits | Value | Yes | $9.99 |
| HomeChef | $9.99 | Both | Flexibility | Yes | $10.99 |
| GoldBelly | $27 | Ready to Eat | Special Occasion | Yes | Free |
Our Top Picks for the Best Korean Meal Kits
Launched in 2017, Doofood is the only dedicated Korean meal kit company in the United States.
Doofood is driven by the mission of putting authentic food on every dinner table in America. As such, they offer an extensive selection of authentic Korean meals to choose from.
And, importantly, there is no subscription necessary to get started. Doofood offers more than 90 authentic Korean dishes, including soups and stews.
Prepped ingredients with instructions are delivered right to your front door. And, in less than 20 minutes, you'll be proud to easily pull together a traditional Korean meal.
We tried several dishes like bibimbap, bulgogi BBQ, Korean braised short ribs and Shabu Shabu.
The excellent ingredients, high-quality, meat, and easy instructions made cooking fun and easy.
The menu changes on Doo Food each week with over 32 new dishes available.
This way, you don't need to wonder what to cook, while also being sure your family eats fresh and tasty food.
With Doofood, you have the flexibility to choose your delivery date and your meal size with no subscription necessary.
Pros
Fresh and clean ingredients
Easy-to follow preparation instructions
Weekly menu changes and upgrades
Ability to customize by spice levels and type of protein
Cons
Meal Kits not tailored for those with allergen concerns
Minimum of $60 per order
Some of The Korean Meal Kit Offerings Include:
READ MORE: Read our full Doofood Review – Doofood Review: Is It The Best Meal Kit For Authentic Korean Food?
Imagine creating delicious Korean food at home prepared by top chefs from around the country. That's what you get with CookUnity.
A new kind of platform, CookUnity brings you restaurant quality meals, fresh not frozen, that you can heat and enjoy in no time.
Celebrity chef, Esther Choi, owner of Mokbar, a Korean restaurant in New York, offers a variety of traditional Korean dishes.
From CookUnity, you can order her signature Korean dishes like bulgogi ramen, wild mushroom bibimbap and many others.
What's great about CookUnity is that the meals are pre cooked by expert chefs. All you do is follow the cooking instructions provided and sit down to a restaurant quality dinner.
The Cook Unity platform is flexible allowing you to skip reschedule or pause your subscription at any time.
For those who want to enjoy Korean food at home with minimal fuss, CookUnity is the best option.
You'll enjoy delicious, high quality Korean prepared meals while tasting the flavors and culture of the country.
Pros
Wide range of authentic Korean dishes
Delicious chef prepared meals
Ease of preparation with fresh ready to eat meals
Cons
Menus not specific for those with allergen concerns
A Few Korean Meal Kit Offerings Include:
RELATED: Top 7 Korean Snacks Box To Try – A Comprehensive Review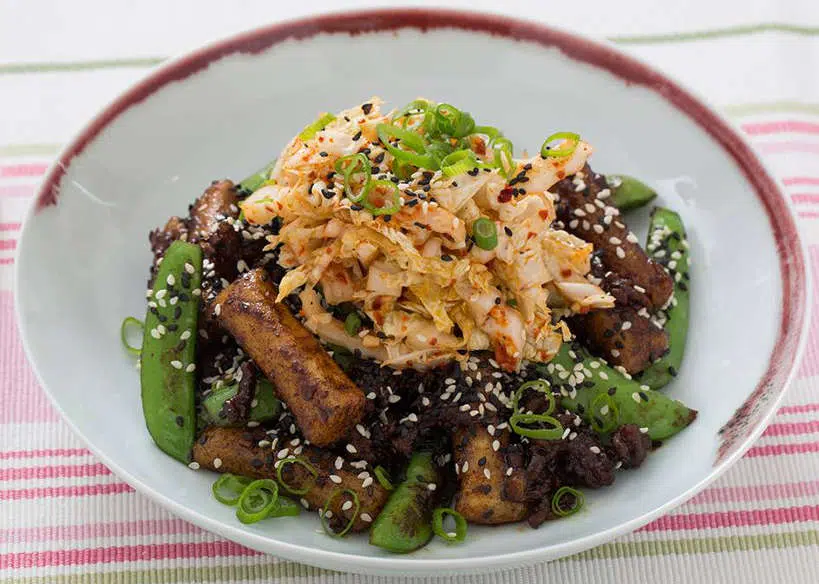 Blue Apron, the most well known meal kit delivery service offers a range of Korean dishes and international cuisines.
While they do offer many Korean dishes, some tend to lean towards Korean fusion-style rather than authentic Korean cuisine.
However, if you are looking to introduce more Korean flavors and ingredients into your weekly menu, Blue Apron is still a delicious choice.
Blue Apron is a great service for home cooks of all skill levels. You can try chef-curated and tested recipes or their Korean prepared meals.
Packages are shipped in recyclable boxes including recipes and easy to follow step by step cooking instructions.
All the ingredients are prepped and pre measured allowing you to reduce waste and focus on creating amazing Korean food.
If you want to pair your dish with wine, you can add it to your order and have it delivered to your doorstep.
Blue Apron makes it easy for those with allergies or dietary restrictions to use their food delivery services.
All you do is note your preferences on your online profile account and only dishes with ingredients you can eat will be suggested for you.
If you are looking to learn new Korean recipes and try new cooking skills, Blue Apron is a great place to start. The service is flexible where you can skip weeks or cancel easily.
See where your Korean cooking skills can take you with Blue Apron.
Pros
Diverse menu with many Korean and international dishes
Has unique offerings including, wine, kitchen equipment, spice blends
Cons
No plans available for more than 4 people
Ships only to the contiguous United States.
A Few Korean Meal Kit Offerings Include: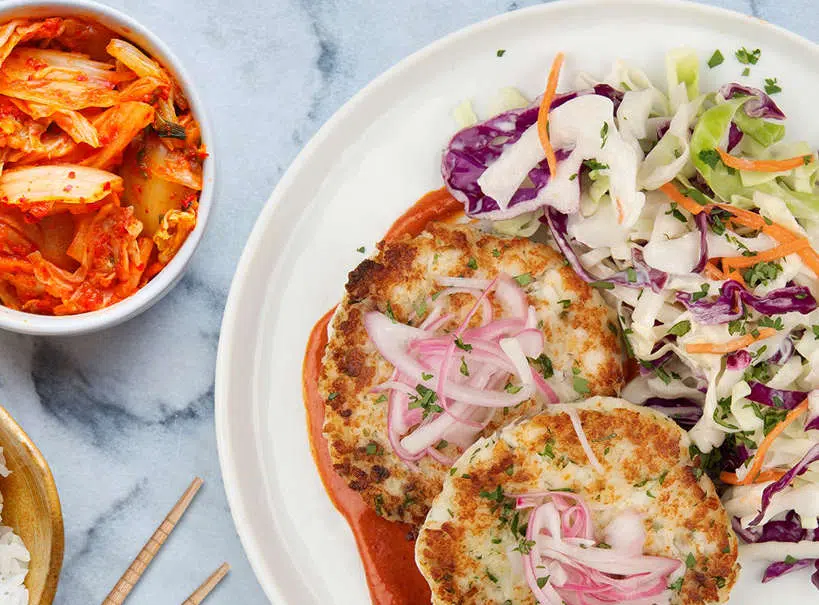 Korean food lovers, how does an oven ready Korean pork rice bowl that cooks for 30 – 40 minutes sound to you?
With all the ingredients pre packaged and only easy prep required, Home Chef brings exciting Korean dishes to your doorstep each week.
With Home Chef, you can choose either a Home Chef meal kit or a Fresh and Easy plan with low or no prep required. In either case, you can customize it for calorie or carb conscious plans.
You'll find Korean options in both the meal kits and fresh and easy prepared meals. The diversity ranges from Korean-inspired fusion dishes to more authentic recipes.
One of the things we like about Home Chef is the ability to build your own box. You can upgrade, double up or swap the proteins in your box.
Therefore, if you like a particular Korean dish and want to make a larger portion the next time, or try it with a different protein, you have full flexibility.
Home Chef makes dinner time a breeze with a wide variety of options for Korean food lovers.
Pros
Large sizes available for 2, 4 or 6 people
Wide variety of Korean options on weekly menu and archives
Add ons like dessert, extra protein and salad are included
Cons
Meals not super accommodating to specific dietary needs
Ships to contiguous US only
A Few Korean Meal Kit Offerings Include: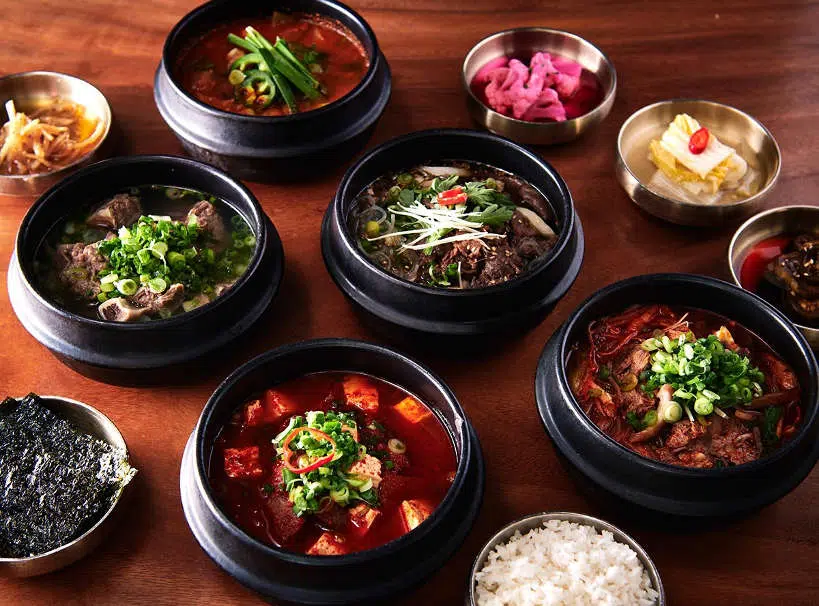 Gold Belly is one of the most unique platforms on this list. It features food favorites, from top chefs and award winning restaurants from all around the United States.
If you want the best Korean food in the country regardless of where the restaurant is located, you can easily get some with Gold Belly.
From Chicago, New York or Los Angeles, you can enjoy Korean prepared meals from the comfort of home.
Imagine savoring Korean fried chicken from Parachute restaurant, in Chicago. Or, a juicy BBQ kit from celebrity chef, Chris Oh.
With Gold Belly, you are not limited by geographical location. You can enjoy colorful and intensely flavored Korean food wherever you are.
While GoldBelly is not the cheapest Korean prepared meals delivery service, it is the very best. Working exclusively with top chefs and restaurants, each bite is guaranteed to be explosive and big on taste.
If you are looking for the best Korean prepared meals without a subscription, consider Gold Belly. It's the perfect treat for yourself or a gift for a Korean food lover.
Pros
Authentic Korean food from America's top restaurants and chefs
Large sizes available for up to 6 to 8 people for some Korean dishes
No subscription necessary
Cons
High prices, though overnight shipping is often included in the price
Nutritional information provided for the food but cannot be customized for allergies or specific diets
A Few Korean Meal Kit Delivery Options Include:
Answers To Popular Question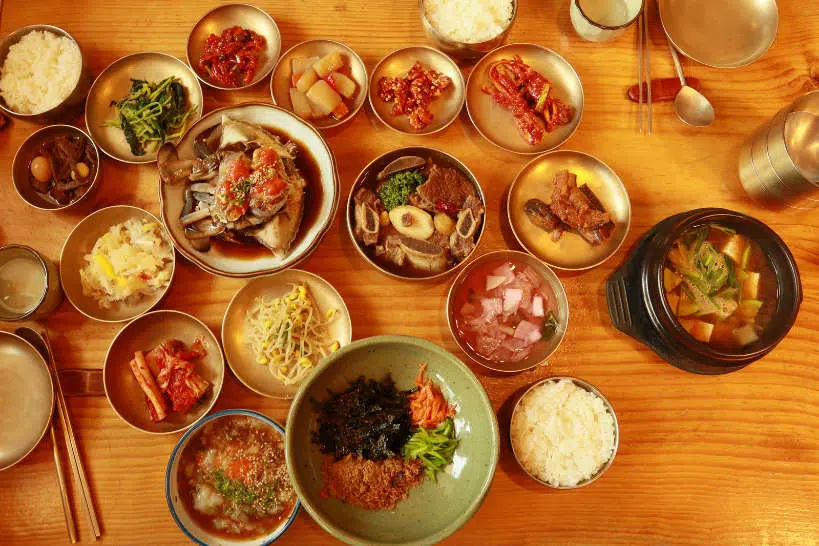 What Kind of Korean Food Can You Expect?
Typical Korean dishes are largely made up of rice, vegetables, seafood, meats, and soups or stews. With increased popularity, Korean food can now be found across the globe.
Popular Korean dishes include foods like kimchi, tteokbokki, bibimbap, bulgogi, jajangmyeon, and Korean fried chicken. These are all tasty meals you can expect to find in your Korean meal kits.
What Happens if There Is an Issue With My Korean Meal Kit Order?
The answer to this will depend on your meal kit provider. All meal kit services have customer service contact information where you can bring up any issues with your order or subscription. Please note that some meal kit providers have certain dates by which you can contact them to adjust or change an upcoming order.
Claire is co-founder of Authentic Food Quest and a lover of simple and exquisite cuisine. Since 2015, with her partner, Rosemary, she has been traveling the world as a digital nomad, creating content about local food experiences.
Her advice from visiting 45 countries and more than 240 food cities has been featured in Lonely Planet, Business Insider, Honest Cooking, Food Insider, and Huffington Post. She has also co-authored three books, including one in collaboration with Costa Brava Tourism.
An ex-mechanical engineer, Claire is responsible for SEO, keeping the website running, and the fun food & travel videos on YouTube.
When Claire is not eating, she can be found running or cycling. Find out more about Authentic Food Quest