This article has links to products and services we recommend, which we may make a commission from.
Korean snacks boxes are the perfect way to experience Korea. From traditional and premium tastes, as well as K-pop-themed delights; there's no better way than through food!
This guide to the best Korean snacks is your gateway to Korean hallyu. This is a taste of all things South Korean like the cuisine, music, beauty, and more.
Whether you are planning a trip to South Korea or not, let the flavors come delivered direct to your home.
See our reviews for the best Korean snacks box and give the gift or choose your favorite Korean snacks.

1 SeoulBox Signature – Best Overall Korean Snacks Box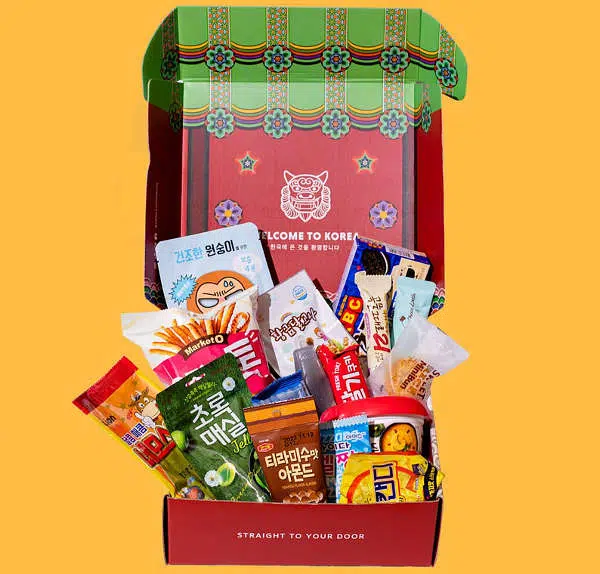 Sent directly from Korea, the SeoulBox Signature box offers a variety of unique Korean snacks and K-pop goodies.
With shipping worldwide, you can taste the best of Korean right from home. This box features 18 authentic Korean snacks.
A magazine providing you with in-depth information about Korean culture and snacks is also included.
Unique ramen and drinks flavors as well as K-Beauty products and K-pop merchandise complete your Seoul experience.
There is fun and excitement in every box as the theme and items change each month.
Depending on the time of the year you may get a Halloween-themed box, Korean Spa theme, and many others.
This Korean box makes a great gift for lovers of K-pop, K-drama, and all things Korea.
What People Are Saying
"Good selection of snacks, Kpop merch, skincare, and overall quality is great."
"I really like the different themes for each month and a mix of snacks, K-beauty, and Kpop."
2 Korean Snack Box – Best Korean Snacks For Ongoing Variety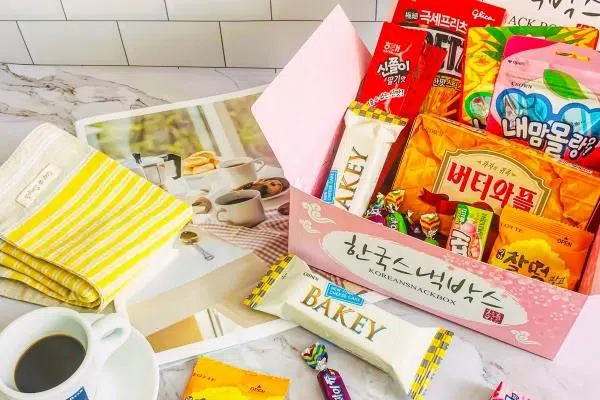 For Korean happiness in a box, this large Korean snack box will surprise and delight lovers of Korean culture.
This Korean subscription box is shipped every month with the tastiest and most delicious Korean snacks.
Korean candies, jellies, cookies, chips and K-pop goodies are in every box, including a free silk bag. Each month the theme changes.
Some of the past boxes have focused on Korean Thanksgiving, "Summer beach and pool box", "Cherry Blossom box", "Lantern Festival" and more.
This box ships directly from South Korea. What we love most is the ability to build one's knowledge about Korea, month by month with delicious treats.
Shipping is free worldwide and fast, usually within one business day. For those learning the Korean language or simply love the culture, this is one of the best Korean snack subscription boxes.
What People Are Saying
"I am taking K-pop dance lessons and learning Korean. Got my first 3 boxes and all the candy has been great. There is just so much stuff in every box. This is a cool and fun gift to anyone interested in Korea."
3 Korean Variety Snack Box Pack – Best for Sharing
This Korean Variety snacks box features a wide variety of beloved Korean candy, gummies, chips, cookies and more.
All the snacks are individually sealed to retain their freshness. Allowing you to savor these popular Korean snacks over time.
The flavors in this box are quite intriguing. From classic, rich and natural flavors to chocolate, caramel, a variety of fruit flavors and more.
With a selection of 42 different treats, this is one of the most delicious Korean snacks boxes. The treats are high quality, popular and conveniently small sized packed to easily eat on the go.
They even offer an extra large Korean Variety XL snack box featuring 46 individually wrapped long-lasting snacks with extra candies and ramen.
Lovers of Korean food and culture will love these snack boxes. It makes for an elegant gift and a delightful way to have flavorful Korean experiences.
What People Are Saying
"My Korean wife was very pleased with the variety of snacks in this collection. It was a nice reminder of her home country." "Everything tasted great."
"Bought this for a fan of K drama. Great gift and great assortment of snacks."
4 Squaredino Ultimate Korean Snack Box – Best Korean Snacks Box For Sweets
To satisfy your curiosity for Korean sweets, this Squaredino snack box is curated for you.
This box comes with 25 individually wrapped goodies including Nom Nom Box chopsticks. All items are carefully hand selected and packed.
You'll find full sized Korean chips, cookies, candies and more with an emphasis on sweets. The snacks are always fresh and the assortment changes on a regular basis.
Even so, you'll always have the same number of 25 high quality Korean snacks.
For those curious about Korean culture and sweets, this ultimate snack box is a way to learn and grow at the same time.
Conveniently packed in a sturdy Squaredino box, this makes a perfect gift for lovers of foreign foods.
What People Are Saying
"Bought this for my daughter as she's all about the Korean culture and we loved everything about it."
"We loved trying all the different snacks. Nicely packed and a good mix of Korean sweet and savory snacks."
5 Seoulbox V Korean Vegetarian & Lifestyle Box – Best for Vegetarians
For a meat-free and vegetarian Korean tasting experience, this Seoulbox V, is for you.
The "V" stands for Vegetarian and Victory, making this one of the Korean snack boxes that's accessible to everyone.
This Korea box contains 10 to 12 meat-free snacks, 1 K-beauty treat and K-pop items. Additionally, each box comes with unique drinks and vegetarian ramen.
What we particularly like about this monthly box is the in-depth magazine that's included, featuring culinary and cultural insights.
Each month, the subscription box changes and is based around different themes showcasing a unique slice of Korea.
Regardless of the theme, each box will always contain Korean snacks that are vegetarian and halal.
With worldwide shipping available, this box is perfect for fans of South Korea seeking meat free snacks.
What People Are Saying
"Loved this box. Nice selection of snacks."
6 K-Pack Korean Snack Box – Best For BTS Fans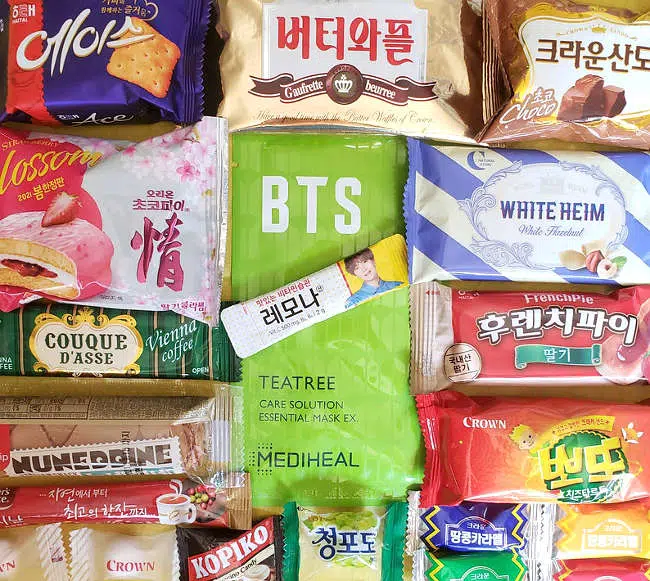 Got a BTS fan at home? Why not surprise them with a Korea box especially curated for BTS fans?
This Korean K-Pack snack box is filled with 35 amazing treats including one mystery snack in each box.
Find 35 individually wrapped full sized and mini snacks, including Kawai Korean candy, snacks, cookies, and gummies.
This box is available in two sizes. The "Dream Set" contains 20 mini-sized authentic Korean snacks including BTS masks, tea and more,
The larger "Hope Set" has 35 snacks and goodies along with an assortment of BTS fan items.
Every month the theme of the box changes, giving you an opportunity to discover even more unique snacks from Korea.
Surprise the BTS fans with one of the tastiest Korean snacks delivered directly to their door.
What People Are Saying
"The snacks are really yummy. My favorite part is probably getting the BTS products."
7 Korean Halal Ramen Noodle Snacks Box – Best for Ramen Lovers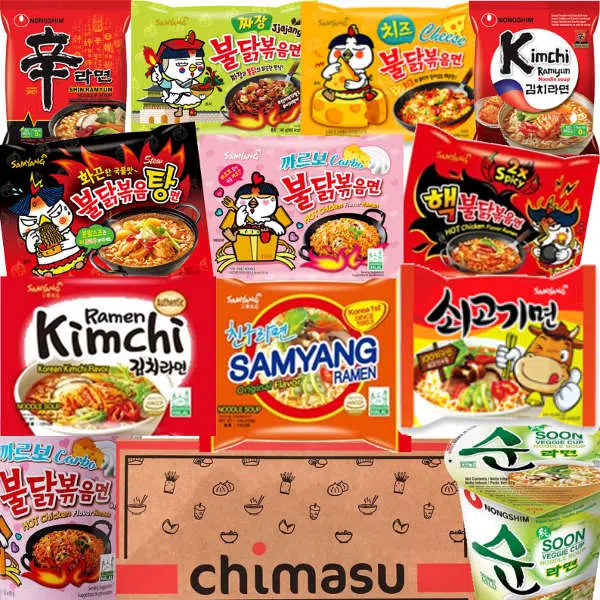 If you love ramen and want an authentic Korean experience, then this Korean halal ramen noodles snack box by Chimasu is for you.
Each box has eight instant ramen noodles packets from top Korean brands, Nongshim and Samyang.
The flavors range from mild to spicy and all the instant noodles are labeled in English.
This box of halal noodles from Chimasu ships worldwide, in a beautiful Asian inspired box. This makes it a lovely gift for halal ramen noodles with a Korean twist.
What People Are Saying
"Yummy noodles, shame they didn't last long. Also, delivery was spot on and items well packaged."
"Amazing little package. The perfect halal gift."
Korean Snacks Box Comparison Table
From this list, which Korean snacks box are you most tempted to try? Please let us know in the comments below.
Savor The Adventure!
Claire is a culinary explorer who travels the world in search of the best local foods. She is always looking for her next culinary adventure to bring you the best bites while exploring new places.