This article has links to products and services we recommend, which we may make a commission from.
Taking food tours in Las Vegas is a great way to explore the city. Beyond gambling and the nearby national parks, Las Vegas has some of the best culinary offerings in the country.
From the finest cuisine on the Strip, to local hidden downtown gems, there is always something new to discover.
After exploring the Vegas food scene for several months, we can confidently say foodies will be delicioulsy delighted in Vegas.
To make your Sin City travels tasty, we've reviewed 7 exquisite food tours Las Vegas offers.
These Las Vegas food tours all offer unique experiences. Some are on the Las Vegas Strip, others explore the downtown area, while others use motorized transportation modes.
Simply pick your experience and enjoy delicious food tours in Las Vegas.


Comparison Table of The Best Food Tours Las Vegas Offers
Please note, prices and Las Vegas food tours availability may vary at the time of booking.

Las Vegas Food Tours On The Strip
All along the 4.2 miles (6.8 km) of the Las Vegas Strip are many celebrity chefs and gastronomy restaurants. 
If you want to discover and experience some of the country's top restaurants, book a food tour on The Strip.
Any of the following Las Vegas food tours on The Strip will surprise and delight you.

1. Las Vegas Food Tours On The Strip
While in Las Vegas exploring the local food specialties, we were fortunate to meet Kathyrn, the founder of this tour.
A local and native of Las Vegas, Kathyn's has one key goal with this food tour in Las Vegas. She wants every visitor to have a "friend" in Las Vegas and experience the city like a local.
And, this Las Vegas Strip sightseeing & foodie tour takes you to some of the best local food gems on the Strip.
The first stop at the Cosmopolitan Hotel sets the tone. This was the first casino hotel oriented towards culinary experiences and the arts rather than gaming and gambling.
Walking leisurely on the Strip, you eat your way through gourmet restaurants and top street food-style eateries.
This Las Vegas Strip Foodie Tour is a unique combination of food stops and sightseeing of the hidden gems only locals know about.
We particularly enjoyed the variety of savory and sweet bites including fascinating stories about Las Vegas.
Taking this tour with a local changed the way we thought about Las Vegas and the food.
If you are looking for a tasty food tour in Las Vegas and discovering hidden gems on the Strip, book this tour.
This tour is offered in the morning and also at night. Simply choose the time of the day that works best for your schedule.
Cost: $124 USD per person
Time and Length of Tour: Approximately 3 hours. Morning tours starts at 11:00 am and evening tours at 5:30 pm
Group Style: Small group tours

2. Secret Food Tours Las Vegas – Best For Celebrity Bites
Have you always wanted to eat gourmet food by a celebrity chef but the price put you off?
Do you fancy dining in England, eating in Jersey, and savoring Italy in one 3-hour block of time?
If so, then this Celebrity Eating and Walking Tour is for you. On a guided food tour, learn about the unique gourmet culture in Las Vegas.
Enjoy world class cuisine from celebrity chefs like Gordon Ramsay and Giada De Laurentiis. In a small group setting, explore the intersection between food, trendy restaurant, celebrity and casino.
For over 3 hours you'll enjoy exceptional food and signature dishes from famous chefs. You'll explore the world while savoring sweet and savory world-class dishes.
If you prefer, you can also choose to make this a private food tour with your own personal local guide.
Cost: $142 USD per person; $264 USD for private tour
Time and Length of Tour: Approximately 3 hours. Tours start at 11:00 am
Group Style: Small group tour or private tour option with a local Las Vegas guide
RELATED: How to Enjoy Wine Tasting at 3 Las Vegas Wineries in the Desert
3. Best Bites On The Las Vegas Strip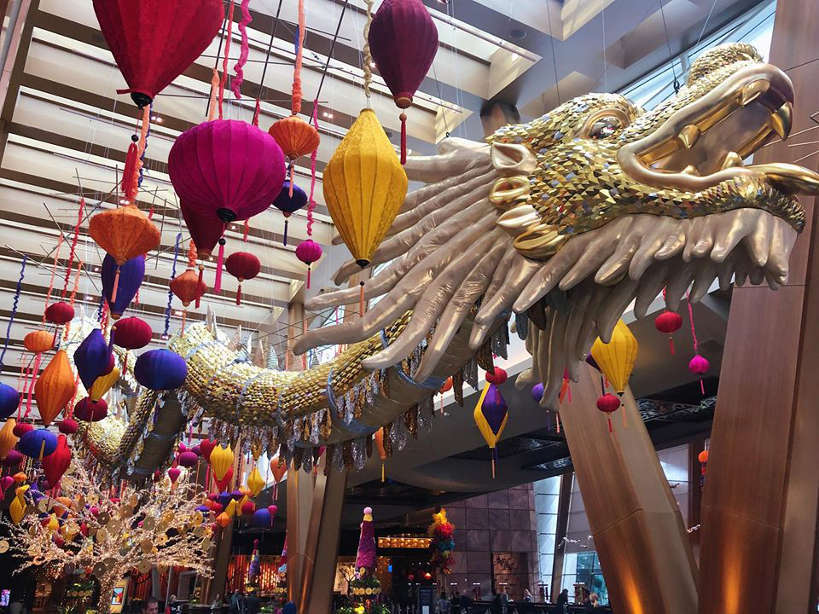 Las Vegas or Sin City is unlike any other city in the world. World class entertainment, famous chefs and historic landmarks make this a city worth visiting.
If you are new to Las Vegas, this best bites of the Las Vegas Strip food tour is the perfect introduction to the culinary scene.
This walking tour takes you down Las Vegas blvd to iconic Vegas hotels and gourmet restaurants for delicious food tastings.
You'll savor delicious bites at at four iconic Las Vegas hotels. Your culinary adventure takes you to New York New York, Park MGM, The Cosmopolitan, and the Bellagio.
Along the way, your tour guide will share fun facts about Las Vegas as you learn about the amazing food scene and local culture.
From humble buffets of the 1940s to a world-class fine dining city, you'll understand the gastronomic transformation in Las Vegas.
Whether you are new to Vegas or not, this food tour offers a different perspective on the cuisine. It's a combination of Vegas history and tasty bites and perfect for an introduction to Sin City.
Cost: $79 USD per person
Time and Length of Tour: Approximately 2.5 hours. Tours start at 12:00 am
Group Style: Small group tour

Downtown Las Vegas Food Tours
Even though the Las Vegas Strip gets all the attention, the Downtown area is where everything began.
On Downtown Las Vegas food tours, you'll learn about the city's roots and iconic places that have shaped Vegas.
Check these walking tours to discover the local food scene where Vegas first began.

4. Best Downtown Las Vegas Foodie Tour
This downtown Las Vegas food tour was the first food tour we took in Las Vegas.
The tour kicks off at downtown Container Park, an urban park, part of the revitalization project.
Here, you'll sample small bites from the restaurants, bars that are all independently and locally owned.
This 4-hour entertaining Las Vegas food tour takes you to unique stops in downtown with a view of local life in the city.
You'll appreciate, like we did, hearing the fascinating stories about "Old Las Vegas." All this comes to life as you stop at 3 to 4 popular restaurants along the way.
This Las Vegas food tour of downtown is a fun and enlightening experience to explore the "new" and "old Vegas".
The food tastings were not only luscious but also filled with great insights and stories behind downtown Las Vegas.
More than a food tour, this is a fun cultural experience of the "real Vegas". Book this tour early in your Las Vegas stay. This tour is available at noon and in the early evening.
Be sure to make time for this informative tour of downtown Las Vegas.
Cost: $124 USD per person
Time and Length of Tour: Approximately 3 hours. Tours start at 11:00 am and 5:00 pm
Group Style: Small group tour with a local Las Vegas guide

5. Taste Buzz Las Vegas Arts District Foodie Tour
If you're been to Las Vegas before or simply want to explore an off-the beaten path neighborhood, discover the Las Vegas Arts District.
The Las Vegas Arts District, also known as Block 18b is the city's home to art galleries, funky boutiques, antique shops and more.
All along the area, are vibrant streetscapes, colorful buildings, chic cafes and restaurants, filled with charming character.
This brand new tour takes you to this up and coming neighborhood which is between downtown Las Vegas and the Strip.
On this Las Vegas food tour of the Arts District you will visit 3 to 4 popular restaurants in the area. Along the way, you'll stop at different studios and galleries as you discover this emerging creative hot bed.
Guided by a Las Vegas local guide, you'll learn about recent Las Vegas history as you also visit the Healing Gardens.
Wear comfortable shoes on this 3-hour food and walking tour of the Arts District. And be prepared to savor the food, drinks and history of this emerging neighborhood in downtown Las Vegas.
This Las Vegas foodie tour is best for those looking to discover the artsy side of Sin City.
Cost: $124 USD per person
Time and Length of Tour: Approximately 3 hours. Tours start at 1:00 pm
Group Style: Small group size with local Las Vegas guide.

Motorized Las Vegas Food Tours
Las Vegas is known as the Entertainment Capital of the World. For a dose of fun with your food tours, why not go on a motorized Las Vegas food tour adventure.
Not only will you satisfy your stomach, you'll also enjoy the pleasure of riding across town.

6. Car Scooter Las Vegas Strip & Downtown Food Tour
For a Las Vegas food tour experience unlike any other, consider taking a car scooter tour.
Imagine cruising around the Strip, seeing all the sites with few hidden gems, while savoring delicious food.
This all inclusive guided tour starts when you get picked up at your hotel and ends when you get dropped off.
Before heading to the Strip, you'll learn to maneuver your car-scooter and then take snapshots at the Las Vegas sign.
Feel like a celebrity as people wave at you driving down the Strip. You'll hit several iconic landmarks as well as a reality TV show, while sampling gourmet treats along the way.
Next, you will head to Downtown Las Vegas and eat at a local favorite restaurant. While in the area, you'll visit iconic areas in downtown from Fremont Street to the Art District.
Additional reality TV shows and food stops await before you return toward the Strip.
Your final stop on the top floor of the Rio Hotel and Casino promises amazing views of Las Vegas.
Choose this food tour for a jam packed, glamourous and entertaining food tour in Vegas.
Cost: $329 USD per scooter for two people. Hotel pick up and drop off included.
Time and Length of Tour: Approximately 4 hours. Tours start at 9:00 am.
Group Style: Car Scooter tour with 7 maximum. Driver must be over 21 years of age with a driving license. Minimum age is 8 years old for the passenger.

7. Downtown Las Vegas Food Tours on a Segway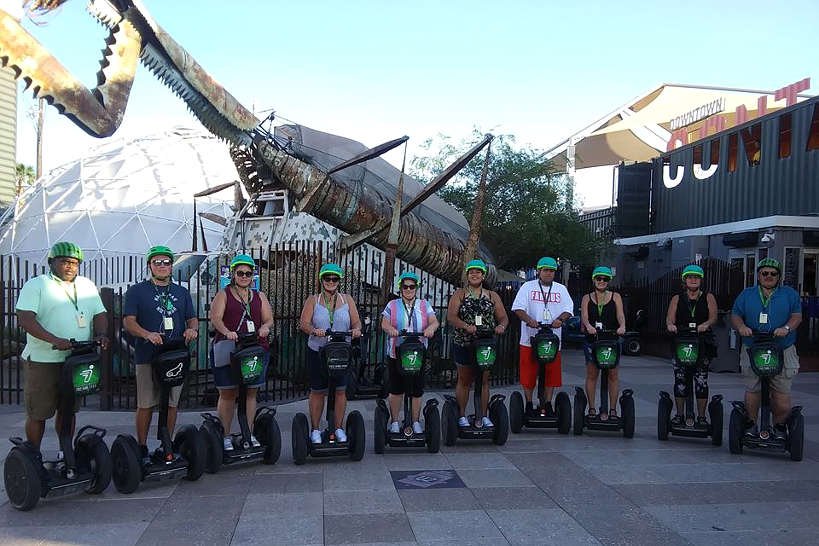 Fancy a Las Vegas food tour on a Segway? Even if you've never ridden a Segway, you'll get trained before the tour starts.
This Las Vegas Segway food tour focuses on the unique eateries downtown and local favorites. You'll sample different cuisines at restaurants popular with locals that are often off the beaten path.
What makes this segway food tour unique is their focus on local restaurants. There are no chain restaurants on this Las Vegas food tour.
You'll ride around to five stops for food and beverages keeping you satisfied and hydrated. At each one, you'll learn the stories behind the restaurants in the context of Las Vegas history.
Every few months, the tour itinerary is updated with new restaurants. As a result, you can enjoy this Segway Las Vegas food tour over and over again..
This is an entertaining Segway food tour perfect for food lovers looking for off the beaten path eateries in Vegas.
Cost: $189.00 USD per person (minimum two people)
Time and Length of Tour: Approximately 2-3 hours. Tour starts at 1:00 pm. Plan to arrive 30 mins ahead for the segway training.
Group Style: Small group tour. Beginners welcome, training included.

Considerations When Taking a Food Tour in Las Vegas
Taking a Las Vegas food tour is a mouthwatering way to experience The Strip. Regardless of whichever one of these tours you choose to book, you will have a great time.
As you prepare for your food tour in Las Vegas, here are a few considerations to keep in mind.

Dress for Las Vegas
Depending on when you visit Sin City, you want to make sure you are dressed appropriately. In the winter months temperatures can drop to as low as 32°F (0°C).
 If you are taking an evening tour, bring a jacket or something to keep you warm.
In the summer months, temperatures in Las Vegas can soar to as high as 115°F (46°C). Be prepared for the hot temperatures with a hat, sunscreen and water. 
Even though you'll get water on the Las Vegas food tours, we recommend carrying an extra bottle with you.
As you dress for Las Vegas, don't forget to wear comfortable walking shoes.
What Kind of Vegas Food Tours Experience Do You Want
As you consider your these Las Vegas food tours, what kind of experience do you want to have?
Do you want to explore the Las Vegas Strip or head to to downtown Las Vegas or other neighborhoods?
Do you prefer a walking food tour or would you like the thrill of a motorized foodie tour?
Do you want to take a group tour or is a private food tour more your style?
Simply choose your experience and book your favorite food tours in Las Vegas.
What Is Your Budget for Your Foodie Tours Vegas?
The kind of experience you are looking for will play largely into your budget considerations.
These Las Vegas food tours range from about $79 to $329. However, depending on the size of your group, you may be able to negotiate discounted rates.
The tours in Las Vegas highlighted are private and small groups only. They all adhere to strict Covid-19 safety guidelines and health regulations.
However, if you prefer, some offer private Vegas tours that you can enjoy at your own pace.
One practical thing to note is that all the tours offer free cancellation up to 24 hours before the event.
Dietary Considerations
If you have any special dietary concerns, please notify the food tour of your food choices. All these Las Vegas food tours will accommodate your needs given advanced notice.
AUTHENTIC FOOD QUEST TIP: Make sure to have travel insurance for your trip to Vegas. It can cover for your food tour and more in case of unexpected cancellations and last minute changes. We use and recommend Allianz travel insurance which is an affordable option for US residents. Another great option we used and also recommend is World Nomads travel insurance which covers residents from all over the world.
Claire is a culinary explorer who travels the world in search of the best local foods. She is always looking for her next culinary adventure to bring you the best bites while exploring new places.