This article has links to products and services we recommend, which we may make a commission from.
The Mediterranean diet, a pillar of healthy living, is easily achievable using Mediterranean meal kits.
These meal plans emphasize the benefits of the diet using fresh fruits and vegetables, healthy fats, lean proteins and whole grains.
If you are looking to eat healthy, maintain heart health, and even lose weight, incorporating Mediterranean meal kits makes it easy.
Meal kits take the hassle out of meal planning, grocery shopping and daily cooking. You save time with healthy meals prepared by chefs.
Featured in our comprehensive review of Mediterranean meal kits are a range of options for every type of home cook.
Some Mediterranean meal kits have dedicated Mediterranean diet offerings, while others draw inspiration from the diet.
Depending on the level of convenience you want, some Mediterranean meal kits require following simple recipes to put meals together. While others deliver full prepared meals that you just heat and serve.
Eating healthy doesn't need to be difficult or time consuming. Simply pick a Mediterranean meal delivery service and enjoy simplicity and a balanced living plan.
Let's get started!

Comparison Table For Best Mediterranean Meal Kits
Meal Kits
Price $ Starts
Meal Kits / Ready to Eat
Best For
Contiguous US
Shipping Fees (US)
Marley
$8.49
Meal Kits
Overall
Yes
$8.99
Blue Apron
$7.49
Meal Kits
Value
Yes
$9.99
GreenChef
$11.99
Meal Kits
Organic
Partly
$9.99
HomeChef
$8.99
Both
Flexibility
Yes
$8.99
Freshly
$8.99
Ready to Eat
Singles
Yes
$9.99
HelloFresh
$7.99
Both
Greek-Style
Yes
$9.99
HomeBistro
$16.99
Ready to Eat
Restaurant Meal
Yes
$19.95
Free over $75
RealEats
$9.83
Ready to Eat
Farm-Fresh Meals
Partly
$5.16
Balance
$7.99
Ready to Eat
Weight Loss
Yes
$19.95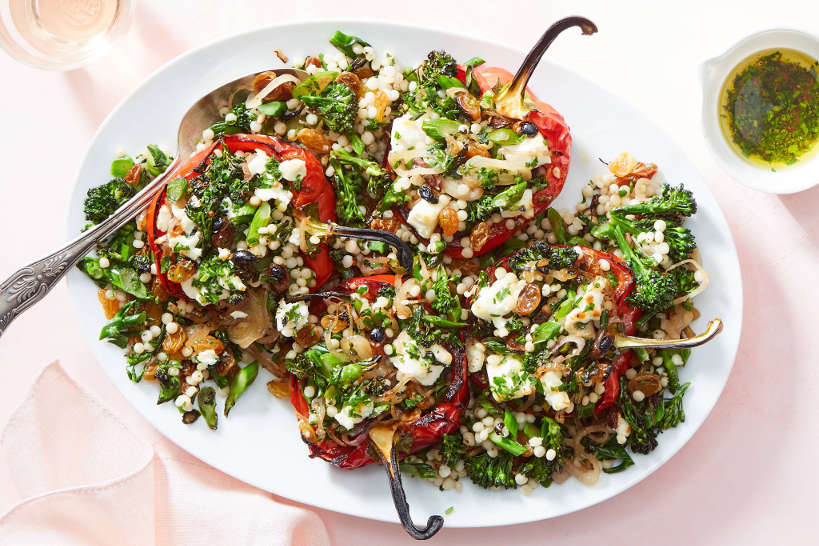 Martha Stewart, American icon and food expert, shares her celebrated recipes in the form of meal kits that you can enjoy at home.
Not only do you choose from 40 different recipes each week, you also get access to one of a kind artisanal products.
With Martha Stewart & Marley Spoon, all the recipes use fresh and seasonal products making cooking a true pleasure.
While there is no dedicated Mediterranean meal delivery service, the Health & Diet and Vegetarian & Vegan plans are designed for a healthy lifestyle.
The Mediterranean suitable options include meal kits with a generous amount of fresh vegetables, healthy saturated fats, legumes, whole grains and more.
The recipes are creative and at the same time easy to make at home. It takes only 6 steps to bring out the culinary goddess within you as you put together the meals.
Depending on your preferences and schedule, you can choose a plan with delicious meals ready in under 30 minutes.
Or you can customize for vegetarian dinners, low carb or family friendly meals. Simply choose your meal plan for either two or four people.
Those seeking Mediterranean meal plans with a large variety of creative recipes, can fire up their taste buds with Martha Stewart & Marley Spoon.
Pros
Wide variety of Mediterranean recipes
Smart 6-step easy to make recipes
Fresh, creative and convenient meal options
Cons
Shipping only to the contiguous United States
Does not have meal plans for those with severe allergies or food sensitivities
Does not offer meal plans for more than 4 people
A Few Mediterranean Meal Kit Offerings:
RELATED: How To Choose Cretan Olive Oil With Tips From Top Greek Producer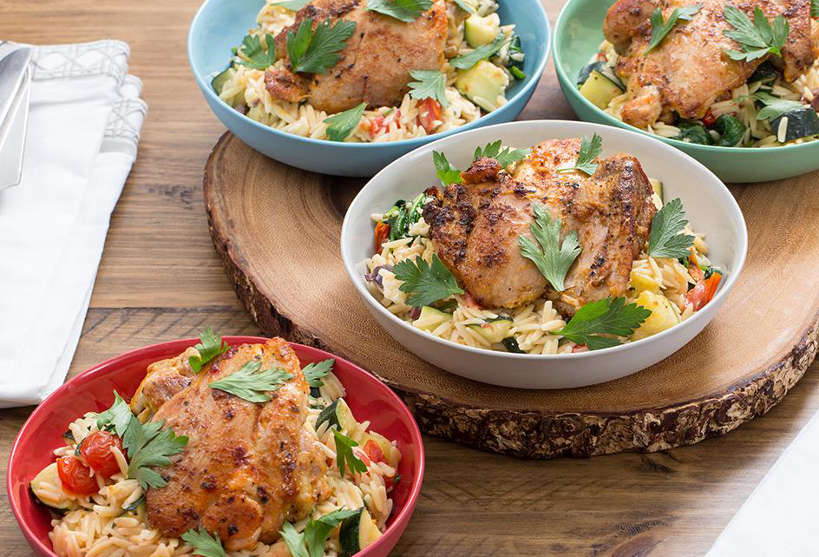 Blue Apron is another popular option for those who want their meal kit service to cater to a Mediterranean diet.
While there is no dedicated Mediterranean plan, Blue Apron offers a variety of Mediterranean inspired meal kits.
Their "Wellness" meal plan is specifically inspired by the Mediterranean diet principles and offers balanced nutritionist approved meals.
If you are vegetarian, meat-free dishes from Blue Apron made with whole grains, vegetables, and more also fit the Mediterranean meal plan.
The ever changing weekly menu offers a variety of delicious meals made with whole grains, vegetables, lean proteins and olive oil.
Once you make your selection of Mediterranean diet meals, everything is pre portioned and shipped in recyclable packaging.
This makes it easy to enjoy the Mediterranean plan while taking care of your health.
Beyond offering Mediterranean meals, Blue Apron also has wine you can purchase to elevate your dinner.
Studies have shown that consuming one glass of red wine per day adds to the health benefits of the Mediterranean diet.
Pros
Delicious Mediterranean recipes that offer exciting variety
Nutritionally balanced meals for a healthy lifestyle
Easy recipes with seasonal ingredients and fresh foods
Additional offerings like wine, kitchen products, spice blends and more
Cons
Shipping only to the contiguous United States
A Few Mediterranean Meal Kit Offerings: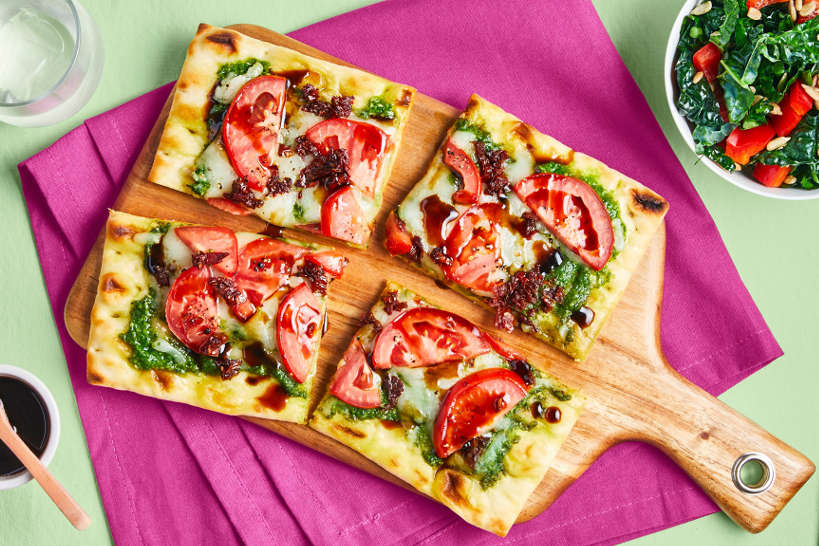 To help you in your pursuit of eating well, Green Chef offers only organic and nutritionally approved plans.
The first certified organic and gluten free meal kit delivery service in the US, Green Chef also offers Mediterranean diet approved meals.
Vibrant Mediterranean flavors, hearty grains, sun ripened vegetables and fruits along with lean proteins is what you get each week.
The Mediterranean diet meal kits include organic ingredients, pre measured ingredients and easy instructions that take you right to the Mediterranean coast.
The menu options are diverse and change each week. You'll find Greek, French, Italian or Spanish flavors on the weekly menu.
The meal kits from Geen Chef are available in two sizes. Meal kits for two or larger family sized kits for four people. Everything is pre measured and prepped, allowing you to make a nourishing dinner in about 30 minutes.
Working with only organic farmers and sustainable producers, you get delicious Mediterranean dishes free of toxins, pesticides, antibiotics, growth hormones, and steroids.
If you are following a strict Mediterranean diet and eating organic ingredients, Green Chef makes the cooking process easy.
No need to worry about finding the best organic ingredients. Let Green Chef deliver leaving you free to have fun and enjoy the best parts of cooking.
Pros
USDA certified organic meal delivery company
Dedicated Mediterranean meal plan with wide variety of dishes to choose from
Chef crafted recipes made with fresh and seasonal ingredients
Meal plans available for Keto & Paleo, Gluten-free, Vegetarian and more
Cons
Does not deliver to Alaska, Hawaii and parts of Louisiana
A Few Mediterranean Offerings: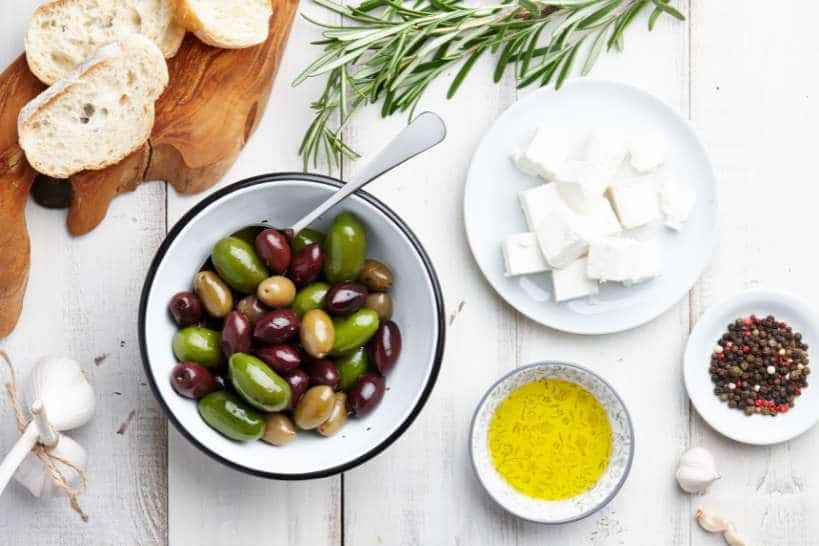 Home Chef is all about making dinner simple with meal kits and pre-made meals, allowing you to enjoy a delicious meal in no time.
Their recipes, even though not specifically Mediterranean diet meal kits, have options that support healthy eating habits.
Incredibly delicious meals like blackened Mahi Mahi, asparagus and tomato flatbread or stuffed peppers are available on the weekly menu.
Their menu can be narrowed down even further to filter for carb-friendly, low calorie, and vegetarian options.
When it comes to dietary accommodations, Home Chef makes it pretty simple to switch out proteins if you want to avoid certain things.
This would make it great if you want to avoid red meat and pork, focusing on lean proteins like fish and poultry.
The ability to customize meals and Mediterranean diet inspired meal kits makes Home Chef one of our top Mediterranean diet delivery services.
The additional options to add extras like bread, desserts and proteins makes it the perfect plan for balanced living.
Pros
Menu options support the Mediterranean diet lifestyle
Simple recipes for home cooks of all skill levels
Fresh, high quality ingredients, pre portioned for ease
Cons
Does not cater to specific diet plans like Keto or Paleo
Delivers to only 98% of the United States
A Few Mediterranean Meal Kit Offerings: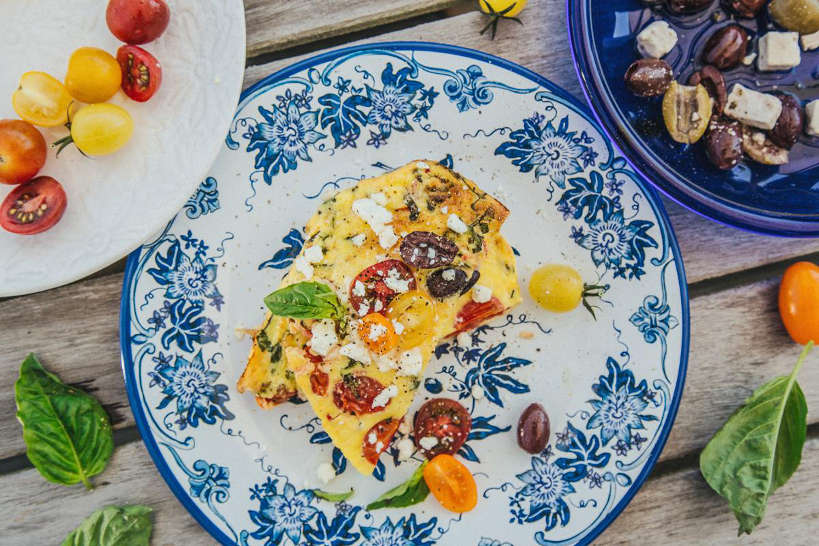 Freshly makes eating healthy easier and accessible. This meal delivery service offers nutritious chef-cooked meals without processed foods, sugars, chemical preservatives or artificial flavorings.
With Freshly meal kit delivery services you get flavorful, nutritious, chef prepared meals that you can enjoy in minutes.
With a focus on delicious and healthy meals you can choose from any one of their three meal plans. There's a vegetarian plant based option, FreshlyFit low carb and gluten free meals, and the Signature collection made with nutritious ingredients.
Even though there is no Mediterranean diets plan, all the chef-prepared meals are centered on health benefits and balanced living.
The prepared meals are in portion sizes for one, delivered frozen, with simple instructions to heat and serve.
Recently, Freshly introduced a series of limited prepared meals designed by four celebrity chefs. Jet Tila, Sean Brock, Kristen Kish and Kwame Onwuachi's meals are available as part of Freshly's meal delivery service.
Busy people looking for flavorful and healthy food will enjoy Frehsly's meal delivery services. The perfectly portioned meals for one make it even more convenient for singles to eat nutritious meals with no prep or cooking involved.
Pros
Flavorful chef prepared heat and serve meals ready in a few minutes
Has a variety of healthy, diet-accommodating options
Less sugar, less processed and nutritious high-quality ingredients
Cons
Portions only available in servings of one
A Few Mediterranean Offerings: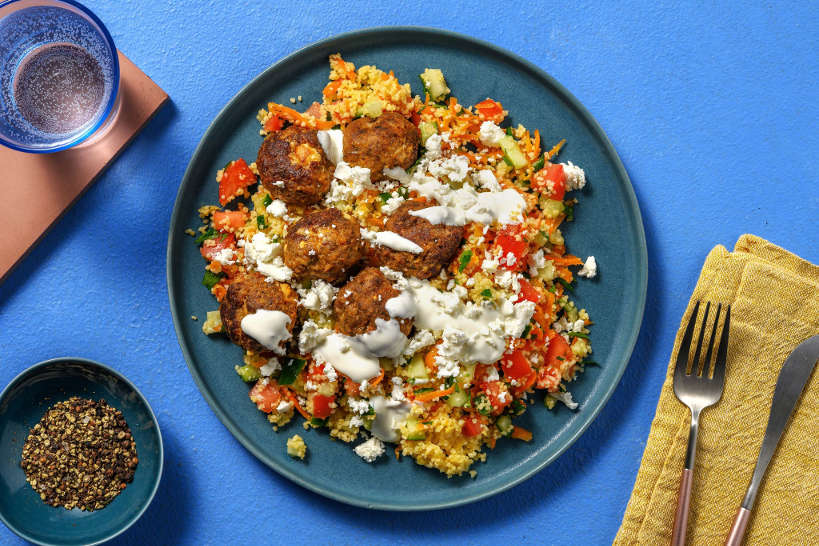 HelloFresh, one of the biggest names in the meal kit delivery industry, is also one of the most popular.
Even though they do not have a dedicated Mediterranean meal plan, they have a number of Greek Mediterranean recipes to choose from.
From the country most associated with the Mediterranean diet, you can make healthy meals like shrimp saganaki, Mediterranean chicken, Greek flatbread and more.
Additionally, you can also browse their menu to see carb smart, calorie smart, and vegetarian meals for conveniently delivered healthy eating.
One of the reasons, Hello Fresh, is so popular is for the fun experience they deliver in each box. The ingredients are fresh with chef designed menus presented with easy to follow instructions that make cooking healthy fun.
If you want to dive into Greek cuisine with the ease and convenience of Mediterranean meal kits, then HelloFresh is your best choice.
Pros
Large selection of Greek and Mediterranean meal plans
Uses fresh and responsibly sourced proteins
One of the most popular meal delivery services in the United States
Cons
Does not accommodate dietary preferences like gluten-free, dairy-free, or nut-free meals
Ships only to the contiguous US
A Few Mediterranean Meal Kit Offerings:
For those looking for exciting meals from world-class chefs delivered fresh, look no further than Home Bistro.
Home Bistro offers restaurant quality that are gourmet and ready made from celebrity chefs.
With no cooking required, the meals are delivered in "vacuum skin packaging." All you do is heat them up and enjoy a gourmet meal in minutes.
The fully prepared meals use only the freshest produce and high quality cuts with most meals taking under 15 minutes to prepare.
You can shop for your meals either by category or by chef. The main categories are Chef's choice, Family meal, Healthy Choice or Meal Combo.
And, if you like a particular chef and their style, simply filter by the meal kits offered by that chef.
Many of the dishes within the Healthy Choice category can be described as Mediterranean meals.
You can find wholesome meals like Mediterranean chicken breast, salmon with lentil rice, seared halibut in moderate portions for a healthy lifestyle.
One interesting option from Home Bistro offers is the ability to shop for meal combos. You can purchase a set of meals, anywhere from 5 to 20 from a celebrity chef of your choice.
And the best part is that you can make a one time purchase rather than an ongoing subscription.
For those seeking restaurant quality gourmet meals with little prep and no cooking, consider Home Bistro. You can choose meal plans inspired by the Mediterranean diet and order with no commitments.
Pros
High quality meals, created by celebrity chefs
Meals are freshly prepared and to just heat and serve
Ability to buy bundles of multiple meals for easier meal planning
Cons
Some of the meals can be expensive compared to other meal delivery services
Does not ship to Hawaii and Alaska
A Few Mediterranean Offerings: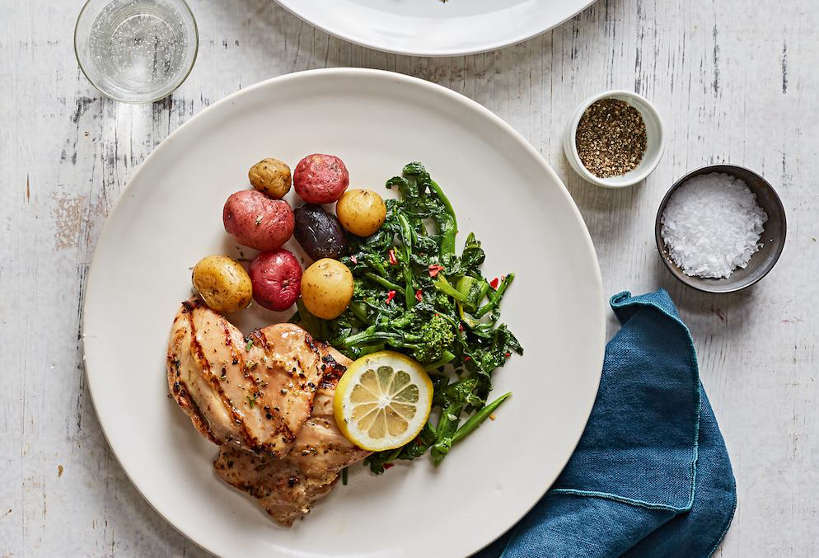 Located in New York in the Fingerlakes agricultural region, RealEats provides healthy meals prepared in 6-minutes or less.
Clean, farm fresh ingredients from local farmers are cooked by professional chefs and then vacuum sealed for immediate delivery.
Using sous-vide technique, you place your vacuum sealed meals in boiling water and in about 6 minutes you have a nutritious meal.
We love the flexibility RealEats offers. Starting with the chef-curated meals, you can customize each plate by swapping proteins, grains, or veggies.
You can choose by spice level, meals free of dairy products, wheat or soy. And, you opt for high protein or carb and calorie smart options.
While there is no dedicated Mediterranean diet meal plan, you'll find Mediterranean inspired flavors on the weekly menu.
Additionally, the ingredients are clean, fresh and locally sourced bringing you farm fresh flavors each time.
Beyond healthy meals, you can also order breakfast, healthy beverages and snacks to keep on hand in your kitchen.
One thing to keep in mind is that the RealEat meals are designed for individual servings only. So if you are ordering for more than one don't forget to double or triple the meals.
Those looking for healthy farm fresh meals will enjoy the convenience of RealEats. Getting started does not require a subscription.
You can start with a few individually portioned Mediterranean diet friendly meals.
Pros
Delicious farm fresh meals, fully prepared meals
Easy to prepare in about 6 minutes
Ability to customize meals by dietary preferences or by adding/swapping ingredients
Single serving meals convenient for one person households
Cons
Not appropriate for those with severe allergies
Minimum order to get started is four meals
Does not deliver across the entire United States
A Few Mediterranean Offerings: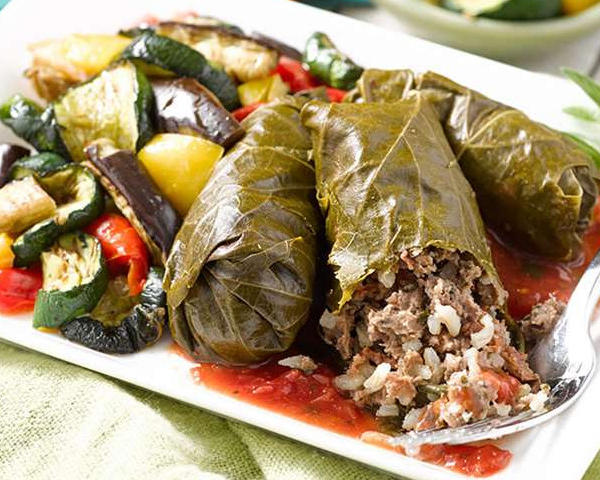 Created in 2005, Bistro MD is the only meal delivery company on this list, started by a physician to assist people in losing weight.
One of the specialty plans is a specific Mediterranean diet meal plan designed to promote weight loss with nutritionally balanced meals.
The healthy meals focus on fresh fruits, vegetables, legumes, whole grains, fish and dairy. You eat foods with heart healthy benefits that are crafted with high quality ingredients.
You'll find a large variety of meals to choose from including breakfast, desserts and bars. Everything you need to enjoy a range of delicious Mediterranean diet meals.
Unique from Balance by BistroMD is the ability to order with no contracts or commitments.
All the meals are doctor approved, chef-prepared and shipped to your home frozen. The Mediterranean dishes are prepared meals, nutritionally complete and all you do is heat them up and enjoy.
No shopping or cooking is necessary and you can feel good about losing weight on a balanced Mediterranean diet plan.
Balance by BistroMD is best for those looking to improve their health in a stress free manner with a Mediterranean diet meal plan.
Pros
Doctor approved Mediterranean meal plans
Offers high protein snacks to keep you feeling satisfied
No contracts or commitments to get started
Cons
Portions sizes for one, no family-sized meals available
Does not ship to Alaska or Hawaii
A Few Mediterranean Offerings:
Answer to Popular Questions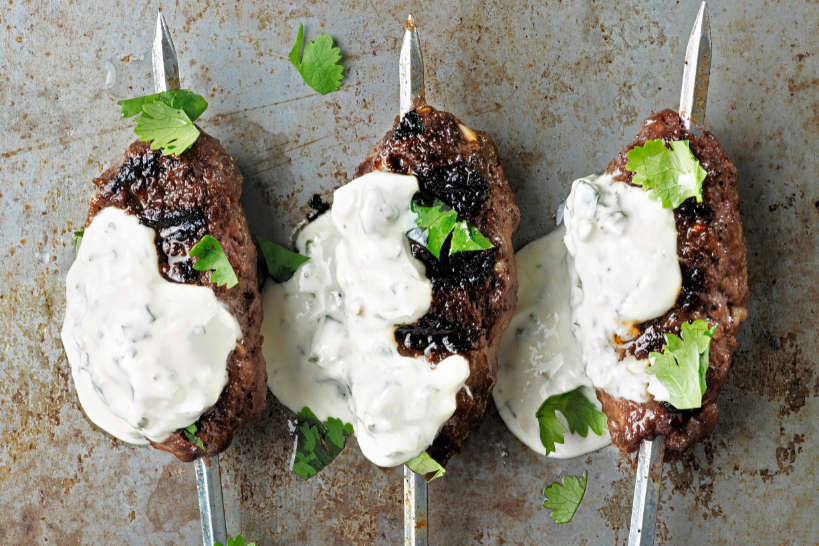 What is the Mediterranean Diet?
The Mediterranean diet has been recognized for decades as a pillar of healthy living.
It is a healthy eating style that involves consuming fresh fruits and vegetables, olive oil, lean proteins, whole grains, nuts and seeds.
The Mediterranean diet is a way of eating based on the typical diet of people who live in the Mediterranean.
While mostly associated with Greece, Italy and Spain, the region is much broader and encompasses 22 countries.
Evidence suggests that people from these regions have better health and longer life spans due to the typical diet.
The Mediterranean meal kits featured in this article are all nutritionally balanced and inspired by the Mediterranean diet. These meal kits are designed in collaboration with nutritionists and chefs.
And, with the use of fresh and seasonal ingredients, you enjoy delicious and healthy meals.
What are Mediterranean Meal Kits versus Ready Meals?
In this article, we highlight meal delivery services that offer both Mediterranean meal kits and ready made meals.
Meal kits are boxes that contain pre-portioned ingredients meant for a specific recipe. All the prep work is typically done and all you do is cook the recipe following simple instructions.
Ready meals on the other hand, require no cooking or meal prep work. Like meal kits, the recipes are chef designed. And, in the case of ready meals, chefs prepare the dishes in their own kitchens using healthy products and ingredients.
The ready meals are shipped and all you do is follow the heating instructions and serve and enjoy.
What is The Difference Between Frozen Mediterranean Meal Kits vs. Fresh?
Mediterranean meal kits save you time on planning your weekly menus and shopping for fresh, healthy foods.
Depending on how involved you want to get in the kitchen you can choose meal kits with frozen meals or fresh ingredients.
Most Mediterranean meal kits on this list include fresh and seasonal ingredients included in their meal delivery service. Your fresh Mediterranean meal kit includes pre measured ingredients, fresh produce and lean meats along with a recipe to follow along.
Frozen Mediterranean meal kits include fully prepared meals. There is cooking necessary and all you do is follow the heating instructions and enjoy nutritious healthy eating.
Curious by nature, Rosemary loves exploring new flavors and connecting with locals. She shares her insights and culinary finds from her travels to inspire people to connect local through food.