This article has links to products and services we recommend, which we may make a commission from.
A Mexican snacks box delivers the rich culture of Mexico in a tasty subscription box. If you are looking to taste Mexico without traveling to the country, a delicious box of snacks is the perfect way.
We discovered many of these snacks on our travels to the country and are excited to share them with you.
In this review of the top five Mexican snacks boxes, we invite you to go on a Mexican snack adventure.
Choose from an assortment of authentic sweets or go for chocolate delights or spicy treats.
Mexican candies are known for being some of the tastiest and surprisingly flavored treats. Easily experience the flavors of Mexico at home or give the gift of authentic Mexican candy, snacks and treats.
However, you choose to experience the flavors of Mexico, you are in for a treat. Ready for delicious Mexican snacks?

1 – MexiCrate – Best Overall Mexican Snacks Box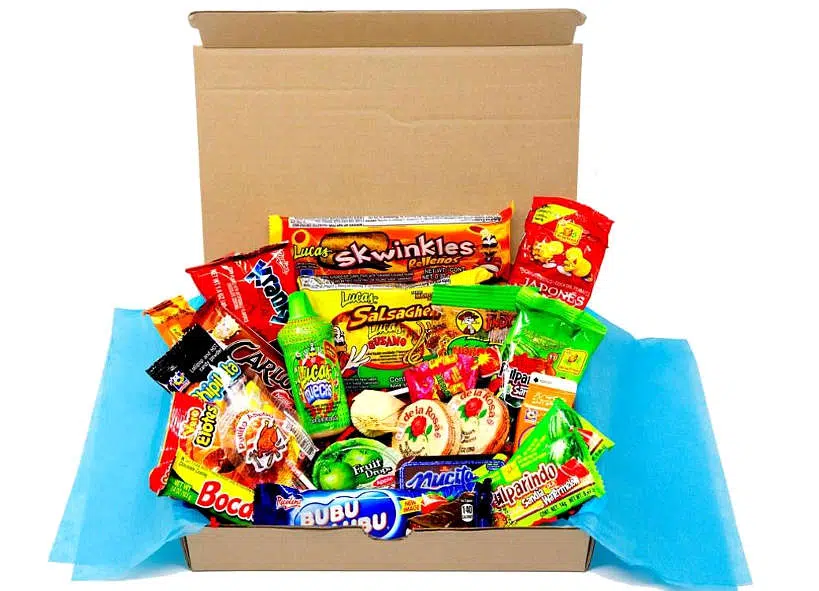 MexiCrate is perfect for gifting or bringing a taste of Mexico to your family. Every month, MexiCrate delivers a selection of handpicked Mexican chocolates and snacks.
With hundreds of unique Mexican candies and snacks available, this is one of the most diverse subscription boxes.
Each month, you'll receive authentic new and exciting Mexican candy. The snacks change each month for variety and elements of surprise.
Depending on how many people will enjoy the MexiCrate treats, you can choose from one of three sizes.
The smaller "Pequena box" has about 10 – 15 pieces of candy. The medium "Mediana" Mexican snacks box has between 15 – 25 snacks of various sizes.
And, the large "Grande" box offers a delicious taste of Mexico with enough snacks to feed a family.
What we love most about this subscription box is the variety of authentic and traditional goodies. Discover sweet and spicy flavors from Mexico's capital, the Yucatan Peninsula and everything in between.
Each box is an adventure with treats like marzipan, wafer bars, spicy chili sweets, chocolates and more.
With shipping available to Canada and within the U.S, this is a Mexican subscription box to enjoy.
What People Are Saying
"Amazing. There were so many items packed into one MexiCrate box. Many full sized items, and packs of individually wrapped snacks."
"Got a great variety of sugary candy, chocolate, and snacks. The box was very full with a bunch of different things to try."
RELATED: Mexico City Food – Your Ultimate Guide To The Best Authentic Food In Mexico City
2 – Mexican Candy Box – Best Mexican Snack Box For Candy Assortment
The Mexican candy box offers a wide selection of sweet, sour, spicy and salty delicious Mexican sweets and snacks.
The more than 40 pieces of candy are from some of Mexico's most popular brands.
Enjoy spicy flavored lollipops by Rebanaditas, mazapan candy from De La Rosa, unique flavor blends from Ricolino and others.
If you're lucky, your Mexican candy box may contain a "Golden Ticket." Look for it as it gives you access to additional free Mexican sweets.
This delicious candy box is perfect for sharing and also makes a great gift. Located in Texas at the border with Mexico, you can count on delicious fresh sweets and snacks.
What People Are Saying
"So happy with my Mexican candy box. Everything I got was fresh and intact. It was great to get some of the classics and some that are new to me."
"I loved the candy! I definitely will be ordering more."
3 – MexiCrave Snack Box – Best For Spicy Mexican Snacks
This spicy Mexican snack bundle comes to you with 33 of the hottest snacks, figuratively and literally.
Spicy snack fans will love this bundle of spicy sweets, chips, peanuts, tostadas and more. Plus, this box also includes one refreshing Coca Cola made in Mexico using real cane sugar.
These MexiCrave spicy snacks pack more flavor in every bite. From spicy potato chips, flaming cheese puffs or sour tamarind sweets, your taste buds will light up in excitement.
This Mexican snack box is especially curated for those who like their snacks with a lot of heat. Keep this in mind especially if you are planning to give this box as a gift.
Take your snacking to a whole new level with this hot and tasty Mexican snacks box.
What People Are Saying
"Got this box for a friend who loves snacks, she loved it."
"Extremely happy and excited !! Thank you sooo much. I really love and appreciate all the snacks in the box."
4 – MexiCrave Bake Goods – Best Mexican Snacks For Chocolates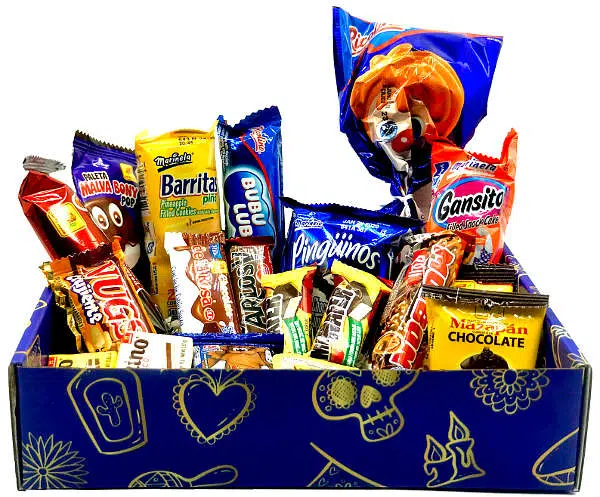 Chocolate is one of Mexico's culinary gifts to the world. The first cacao plants were planted in Mexico over 4000 years ago.
Mexican chocolate is used in a variety of ways from drinks, baked goods and candy bars.
This Mexican snack box features a variety of 23 different chocolate candies and sweet treats.
If you are shopping for yourself or a gift for loved ones, this box of favorite Mexican chocolate snacks will impress.
Savor Mazapan chocolates, De la Rosa chocolate bars, marshmallow paleta covered in chocolates and many more chocolatey delights.
The selection in the boxes changes based on availability making every box filled with unique Mexican candies.
For chocolate lovers, you can't go wrong with this Mexican snacks box. Relish the creamy, rich and silky flavors of one of Mexico's most famous foods.
What People Are Saying
"I love this Mexican chocolate box. Beautiful design, Every single candy was amazing and delicious."
"Super rich. Everything was good quality. Makes an awesome gift box.
5 – MexPower – Best Mexican Snacks Box For Cultural Gifts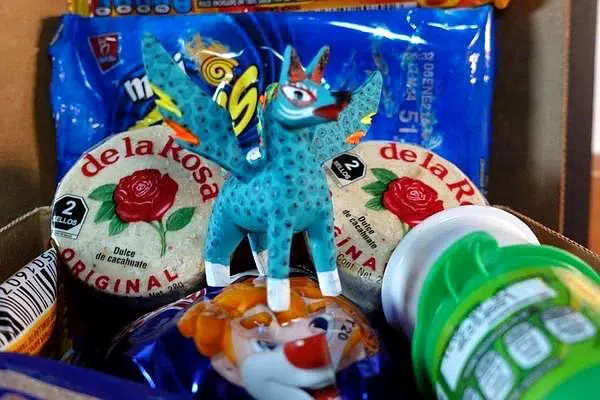 Those who know and love Mexican culture may be familiar with Alebrijes. These are whimsical carvings of animals, people or objects found primarily in the state of Oaxaca.
Having spent several months in Oaxaca, we love the connection to the rich culinary culture in the state.
This MexPower box features an assortment of Mexican candy and a surprise Alebrije each month.
Shipped directly to your doorstep from Oaxaca, this subscription box delivers delicious surprises each month.
One thing we particularly appreciate about this Mexican candy box is the focus and support of local artisans in Oaxaca.
Not only do you receive tasty Mexican candy, but also a unique handcrafted Alebrije.
This Mexican snacks box makes the perfect gift for those seeking to learn more about Mexico's rich heritage.
RELATED: Oaxaca Foods: Your Best Guide To The Most Authentic Mexican Food
Mexican Snacks Box – Comparison Table
Have you had any of these Mexican snacks boxes? Please let us know your favorite Mexican candy in the comments below.
Savor The Adventure!
Claire is a culinary explorer who travels the world in search of the best local foods. She is always looking for her next culinary adventure to bring you the best bites while exploring new places.