This article has links to products and services we recommend, which we may make a commission from.
Similar to conventional wines, natural wine clubs make it easy to buy natural wine online.
While the concept of natural wine is not clearly defined, it is growing in popularity. On our travels around the world discovering authentic food, the conversation often comes up with wine producers.
Loosely described as wine made with organic grapes using the least amount of additives and with little intervention from winemakers.
With no formal regulation or official certification, natural winemaking uses a broad variety of farming practices to make clean wine.
Terms like sustainable, organic, biodynamic, sulfite free wine are commonly used to describe natural wines.
In this article, we highlight natural wine subscriptions as well as the best places to buy natural wines online.
If you are looking for natural wines from around the world, you'll enjoy discovering some of the best natural wine clubs.

Natural Wine Clubs Comparison Table
Club Name
Subscription Cost
Best For
Wine Quality
Unrooted Wines
Starts at $109 for 4 bottles + free shipping
International
Natural Wines
High
Organic Wine Exchange
$85 for 3 bottles
Variety
High
Plonk Wine Club
Starts at $110 for 4 bottles
Native Grapes
High
Mysa
Starts at $84 for 3 bottles
Overall
Medium to High
Usual Wines
Starts at $96 for 12 bottles + free shipping
Unique Packaging
Medium
VeroVino
$99 for 4 bottles
Italian Wine Lovers
High
1- Unrooted Wines – Best International Natural Wines
Tip: Get the mixed wine club for the greatest variety
Unrooted Wines, one of the newest natural wine clubs we recently discovered, makes impressive natural wines.
Born in California, the small two-person team focuses on delivering hand-selected natural wines from around the world.
All their wines are 100% Natural, with only two ingredients, grapes, and yeast.
We tried wines from their mixed natural wine club, consisting of two white and two natural red wines.
We were very impressed with the quality of the wines and the country diversity. The natural wines were from Chile, France, and Spain.
You can get a natural wine subscription with Unrooted when you choose either the mixed or the only red wine club.
With their natural wine subscription, you get 4-bottles each month from their favorite winemakers worldwide.
You don't have to spend your precious time finding natural wines from around the world.
Leave it to the experts, with deep roots in the wine business, to send you the best natural wines you'll love.
It's easy to skip a month or spread out your natural wine shipments to quarterly if you prefer.
You can also buy individual bottles from the online wine shop, including sparkling natural wines.
The fresh, natural wines from Unrooted are outstanding. We know you'll love them just like we do.
What People are Saying
From personal experience, we truly loved the diversity of wines. Each bottle has a handmade tag with a QR code with more details about each wine. Exceptional Chile wine from Limari Valley and all-around good natural wines.
2 – Organic Wine Exchange – Best Natural Wine Subscription for Variety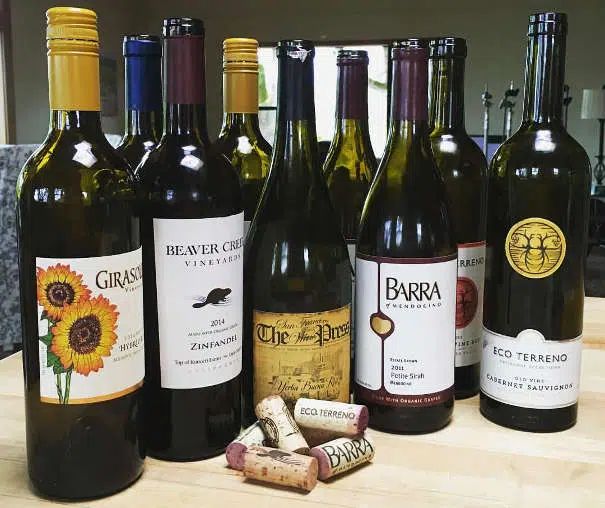 Tip: Pick the red-only option for a fascinating array of tastes.
The no added sulfites from Organic Wine Exchange is an excellent choice if you are looking for a wide range of wines.
This club provides both red and white wines including a mixed variety. The red wines are particularly notable and the ones that stand out the most.
While the white and mixed collections of natural wines are also well rated, this is one of the best natural wine clubs for reds.
After selecting the type of wines you want, choose from 3, 6 or 12 bottles and if you want quarterly or monthly shipments.
All the wines are made using natural farming methods and earth friendly practices. And, they include wines from domestic and international wine regions.
What People are Saying
The big news with this wine shop is the highly praised selection of wines. Their wine club options including biodynamic wines, vegan and organic are celebrated for their wide range of offerings.
3 – Plonk Wine Club – Best Natural Wine Club For Native Grapes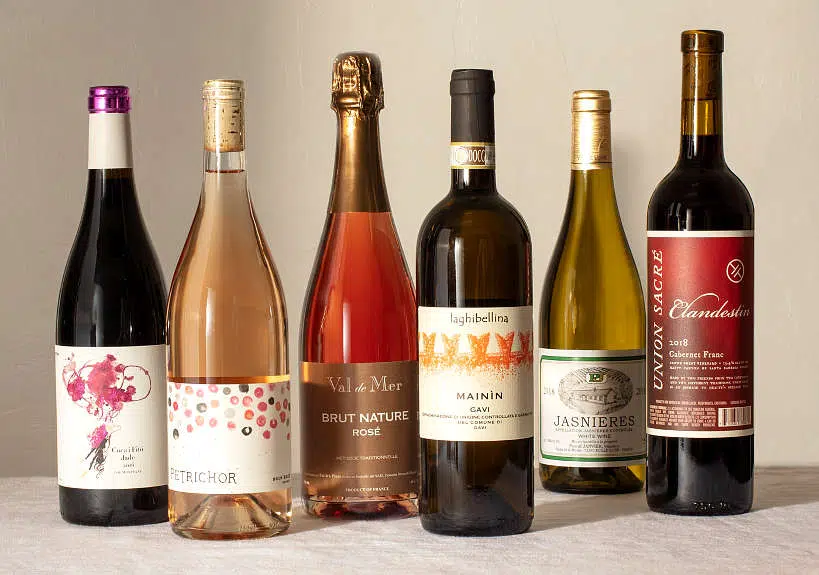 Tip: Get the 12 bottle shipments to expand your palate
If you love discovering exotic wines from around the world that are made with native grapes, then you'll love Plonk.
Plonk wine club features top tier natural wines that appeal to wine drinkers with an adventurous palette.
Etty Klein, the founder, personally selects organic or biodynamic wines that are certified organic and curates exceptional wines for members.
Three wine clubs are offered, red, white and mixed, featuring native grapes grown with organic winemaking practices.
Simply choose what types of wines you want, choose four bottles, six or twelve and then select your subscription frequency.
You'll not go wrong with whatever option you choose. Each glass takes you on a fascinating wine adventure.
Get to know the vineyards and winemakers with the expert tasting notes that accompany the wines. And, enjoy recipe pairings for each and every bottle of wine.
The robust wines from untapped or lesser known regions around the globe will delight and surprise you every single month.
What People are Saying
Customers consistently praise Plonk wines. The high reviews come from the unique selection of wines from boutique earth friendly wineries. Their attention to detail and a keen focus on their customers comes up over and over again.
RELATED: 5 of The Best Organic Wine Clubs To Sip On – A Full Review
4 – MYSA Natural Wine – Best Overall Natural Wine Subscription
Tips: Choose a charitable foundation and this club may donate some profits to it!
MYSA, a small wine shop committed to natural wines, personally curates one of the few natural wine subscription clubs.
Their unique range of natural wines includes Reds, Whites, Sparkling and even Orange wine. All the MYSA natural wines are natural and sustainable wines from producers all around the world.
The Mysa natural wine subscription club delivers not just amazing wines, but also perks to make the experience even better.
You first start by choosing the number of natural wines you want to receive. The cost depends on the number of bottles, from 3, 6 or 12. You'll naturally pay a bit more for a higher number of bottles.
Choose to have the wines delivered to your doorstep every month, every two months or every three months.
In addition, you'll receive video tasting notes, information about the winemakers and food pairing suggestions.
As a small women-led business, we love Mysa's commitment to empowering minority communities and earth friendly organizations.
A percentage of their profits are donated to a variety of causes and they welcome recommendations of new organizations from their members.
When choosing the best natural wine clubs, Mysa is one of our favorites. The range of amazing natural wines, delivery flexibility and shopping options makes this an excellent place to buy natural wine online.
What People are Saying
Mysa is praised by its customers for having an excellent natural wine selection. Club members enjoy discovering new wines, drinking better wines while supporting artisan winemakers.
AUTHENTIC FOOD QUEST TIP: If you're traveling and planning on transporting wine, see the best carry options The 9 Best Wine Suitcases For Easy and Safe Travels
5- Usual Wines – Best Natural Wine Clubs With Ultra Chic Packaging
Tip: Get the mixed pack for wine for any occassion
Made with just grapes, water, and sunshine from sustainable farms is the promise you get with Usual wines.
Usual Wine are straightforward wines for those who want a nice full-bodied glass of wine.
The wines come in ultra-chic modern bottles that make for a nice full glass of wine.
Usual Wines come from California, and you can choose from red, rosé, or brut wines.
The wines are made with 0g sugar, no additives, and nothing artificial included.
What's great about the wines is that each bottle is designed to be enough for one individual serving.
Each bottle is shaped like a glass beaker with a screw top making for a single and generous serving.
This means that you can enjoy a different wine from friends without having to cork any leftover wine.
You can get a mixed-pack subscription for either 12 or 24 bottles of red, rosé, or brut wines.
Have your Usual wines delivered monthly for additional savings, and cancel anytime after your first two shipments.
Enjoy the convenience of sugar-free, sustainable natural wines from Usual Wines.
What People are Saying
I live alone and am happy to have quality wine in a quantity that I can consume. I loved the mixed pack for the excellent variety that fits a variety of palettes. The wines are tasty. Love these little bottles.
6 – VeroVino Craft Wines – Best For Natural Italian Wine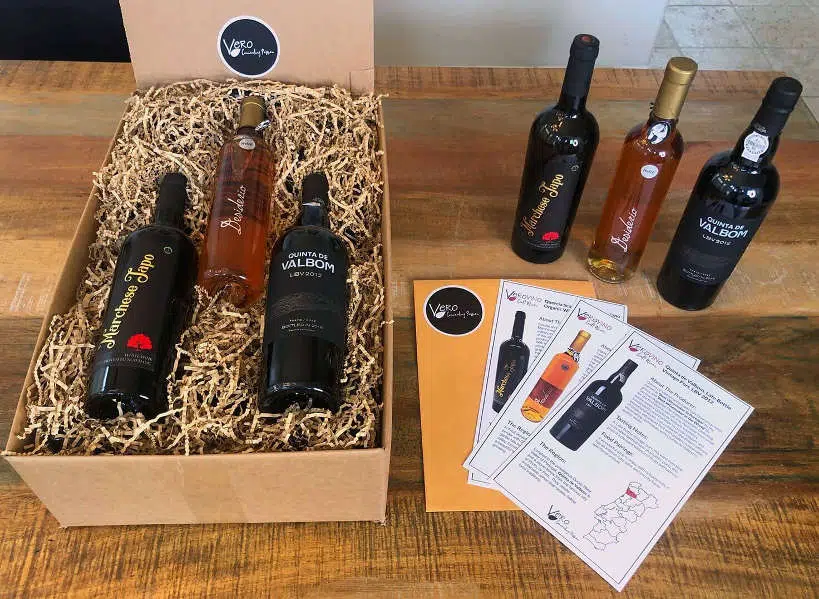 Tip: Verovino offers wine tasting sets for every occasion, a wonderful option for a gift
Vero Vino, one of the wine clubs we like, works with small-production, sommelier selected, sustainable wines.
While they carry wines from a few select regions, their specialty are wines from Italy that are natural, organic or biodynamic wines.
As a woman founded company, they also shine a spotlight on women-owned wineries with a focus on sustainable and organic wine making.
Italian natural wines from VeroVino Craft wines are available by the bottle, if you want to get started with a few.
Find elegant natural red wines made from Nebbiolo and Sangiovese grapes, including a wide range of Tuscan wines.
Bottles of Orange wines and refreshing white natural Italian wines are also available for purchase.
Vero which means "real" in Italian focuses only on sustainably farmed grapes with a focus on wine made sustainably.
If you are looking for natural Italian wine, you'll not go wrong with the carefully curated selection from VeroVino.
As you can buy the wine bottles individually, there is no commitment needed. And, if you are looking for advice and guidance on the best natural wines, try their sommelier concierge service for free.
What People are Saying
The most frequently highlighted comments about VeroVino are about the great selection of wine and friendly service.
Best Natural Wine Clubs FAQs
What is Considered a Natural Wine?
Natural wine is farmed organically and produced without using additives or processing aids. It also minimizes the intervention process such as adding more fermentation elements to ensure that the wine is as natural as possible. This way it emulates the traditional wine-making methods used many years ago, though the overall effect depends on the winemaker.
Should I Choose Natural Wine vs Organic Wine?
It is essential to know exactly what each term means in the debate between natural wine vs organic wine. Organic wine must come from USDA-certified organic fruit sources. By contrast, natural wine indicates a type that is made with minimal intervention during the creation process. It is not certified by the USDA, so there is often a rather diverse range of possible options you can choose when choosing between natural wine vs organic wine.
What If I Don't Like The Wine?
One of the best things about the natural wine clubs is that they usually give you a refund if you don't like a bottle of wine. As you cannot return opened alcohol per federal and state laws, you can get a refund or a discount on your natural wine subscription. If you end up not liking any wines, you can always cancel your natural wine online subscription at any time, as most require a month-to-month payment.
Can I Order Only The Individual Wines?
Yes! Most wine clubs also work as a general wine store, allowing you to buy whatever wines that you want without joining a club. Make sure to check this option out before you join a club to ensure you find an option you enjoy.
Are There Other Tips to Consider?
Make sure that you carefully research what each winemaker means when they use the term "natural." As stated earlier, natural wines may be prepared using a variety of processes, each of which must be carefully understood. The natural wine clubs with which you buy natural wine online should provide information about the winemaker, organic farming practices, vineyards and wines.
Rosemary is the editor-in-chief and strategist at Authentic Food Quest.
Traveling slow since 2015 with her partner, Claire, she has explored the cuisine in 45 countries and more than 240+ culinary cities.
Her writing about local food specialties has been featured in Lonely Planet, Business Insider, Honest Cooking, Food Insider, and Huffington Post.
As a food and travel writer, Rosemary has co-authored three books, including one in collaboration with Costa Brava Tourism.
Rosemary is an avid runner when she's not eating and exploring new destinations. She has run ten marathons and counting.
Before Authentic Food Quest, Rosemary held senior-level strategy positions in advertising. 
Find out more about Authentic Food Quest