This article has links to products and services we recommend, which we may make a commission from.
Similar to conventional wines, natural wine clubs make it easy to buy natural wine online.
While the concept of natural wine is not clearly defined, it is growing in popularity. On our travels around the world discovering authentic food, the conversation often comes up with wine producers.
Loosely described as wine made with organic grapes using the least amount of additives and with little intervention from winemakers.
With no formal regulation or official certification, natural winemaking uses a broad variety of farming practices to make clean wine.
Terms like sustainable, organic, biodynamic, sulfite free wine are commonly used to describe natural wines.
In this article, we highlight natural wine subscriptions as well as the best places to buy natural wines online.
If you are looking for natural wines from around the world, you'll enjoy discovering some of the best natural wine clubs.

Natural Wine Clubs Comparison Table
Club Name
Subscription Cost
Best For
Wine Quality
Mysa
Starts at $84 for 3 bottles
Overall
Medium to High
Organic Wine Exchange
$85 for 3 bottles
Variety
High
Plonk Wine Club
Starts at $110 for 4 bottles
Native Grapes
High
Tour Guide Wines
Starts at $52 for 4 bottles
Organic Sulfite Free
Red Wines
Medium to High
Winc Wines
Starts at $30 for 4 bottles
Budget
Medium
VeroVino
$99 for 4 bottles
Italian Wine Lovers
High
1 – MYSA Natural Wine – Best Overall Natural Wine Subscription
Tips: Choose a charitable foundation and this club may donate some profits to it!
MYSA, a small wine shop committed to natural wines, personally curates one of the few natural wine subscription clubs.
Their unique range of natural wines includes Reds, Whites, Sparkling and even Orange wine. All the MYSA natural wines are natural and sustainable wines from producers all around the world.
The Mysa natural wine subscription club delivers not just amazing wines, but also perks to make the experience even better.
You first start by choosing the number of natural wines you want to receive. The cost depends on the number of bottles, from 3, 6 or 12. You'll naturally pay a bit more for a higher number of bottles.
Choose to have the wines delivered to your doorstep every month, every two months or every three months.
In addition, you'll receive video tasting notes, information about the winemakers and food pairing suggestions.
As a small women-led business, we love Mysa's commitment to empowering minority communities and earth friendly organizations.
A percentage of their profits are donated to a variety of causes and they welcome recommendations of new organizations from their members.
When choosing the best natural wine clubs, Mysa is one of our favorites. The range of amazing natural wines, delivery flexibility and shopping options makes this an excellent place to buy natural wine online.
What People are Saying
Mysa is praised by its customers for having an excellent natural wine selection. Club members enjoy discovering new wines, drinking better wines while supporting artisan winemakers.
AUTHENTIC FOOD QUEST TIP: If you're traveling and planning on transporting wine, see the best carry options The 9 Best Wine Suitcases For Easy and Safe Travels
2 – Organic Wine Exchange – Best Natural Wine Subscription for Variety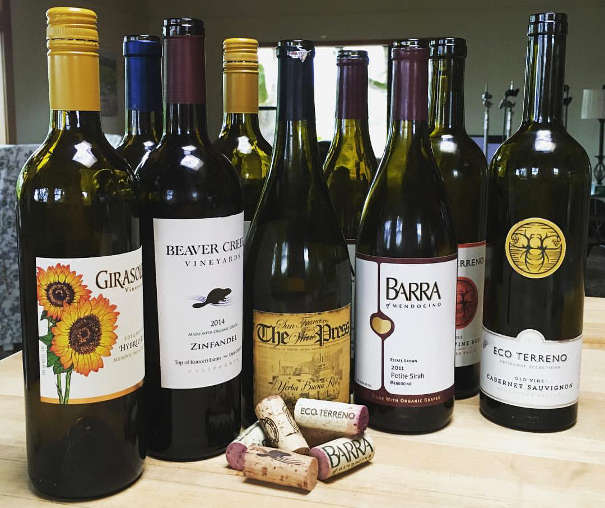 Tip: Pick the red-only option for a fascinating array of tastes.
The no added sulfites from Organic Wine Exchange is an excellent choice if you are looking for a wide range of wines.
This club provides both red and white wines including a mixed variety. The red wines are particularly notable and the ones that stand out the most.
While the white and mixed collections of natural wines are also well rated, this is one of the best natural wine clubs for reds.
After selecting the type of wines you want, choose from 3, 6 or 12 bottles and if you want quarterly or monthly shipments.
All the wines are made using natural farming methods and earth friendly practices. And, they include wines from domestic and international wine regions.
What People are Saying
The big news with this wine shop is the highly praised selection of wines. Their wine club options including biodynamic wines, vegan and organic are celebrated for their wide range of offerings.
3 – Plonk Wine Club – Best Natural Wine Club For Native Grapes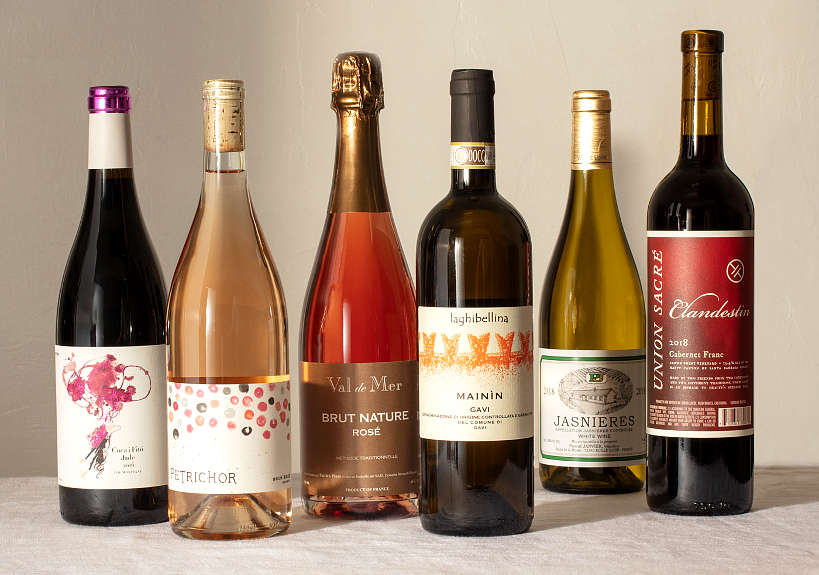 Tip: Get the 12 bottle shipments to expand your palate
If you love discovering exotic wines from around the world that are made with native grapes, then you'll love Plonk.
Plonk wine club features top tier natural wines that appeal to wine drinkers with an adventurous palette.
Etty Klein, the founder, personally selects organic or biodynamic wines that are certified organic and curates exceptional wines for members.
Three wine clubs are offered, red, white and mixed, featuring native grapes grown with organic winemaking practices.
Simply choose what types of wines you want, choose four bottles, six or twelve and then select your subscription frequency.
You'll not go wrong with whatever option you choose. Each glass takes you on a fascinating wine adventure.
Get to know the vineyards and winemakers with the expert tasting notes that accompany the wines. And, enjoy recipe pairings for each and every bottle of wine.
The robust wines from untapped or lesser known regions around the globe will delight and surprise you every single month.
What People are Saying
Customers consistently praise Plonk wines. The high reviews come from the unique selection of wines from boutique earth friendly wineries. Their attention to detail and a keen focus on their customers comes up over and over again.
RELATED: 5 of The Best Organic Wine Clubs To Sip On – A Full Review
4 – Tour Guide Wines – Best For Organic Sulfite Free Red Wines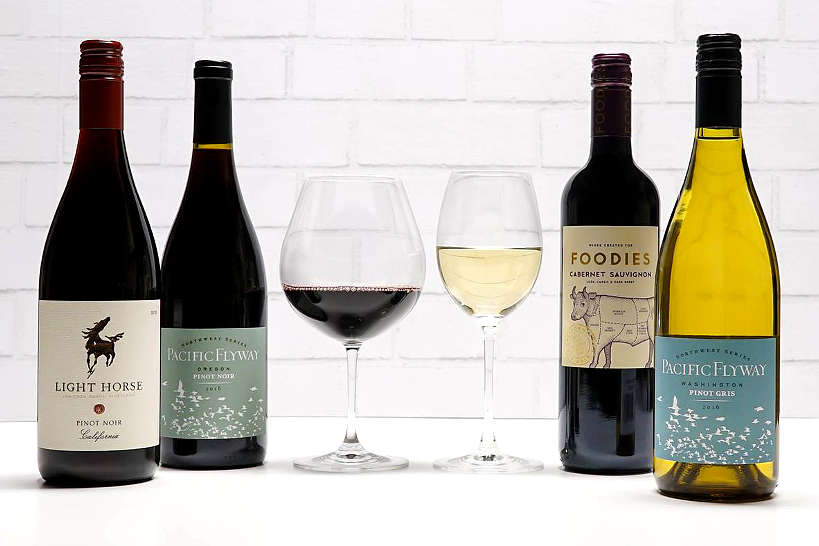 Tip: Order 12 bottles of organic and sulfite free wines for the greatest savings
With a focus on organic wines that have no added sulfites, Tour Guide Wines takes you on exciting wine adventures.
The club option, organic wine and sulfite free are reasonably priced at everyday prices. Many of their organic wines are from California and made with USDA certified organic grapes. The majority also have the benefit of being vegan friendly and gluten-free wines.
With their organic wine subscription program you can choose 4-, 6- or 12-bottles rates. The delivery options are either every month, every two months or every three months.
The organic and sulfite free club offers only red wines with either 6 or 12 bottles delivered at the same frequency.
The wines are high quality organic wines made without any added chemicals, preservatives or detectable sulfites.
With their ongoing new introduction of sulfite free and organic wines, this is one club to keep an eye on.
What People are Saying
Most reviewers state that Tour Guide Wines are surprisingly high-quality for their mid-priced wines. They love the varying subscription tiers, as well. The red wines usually get a slight edge from this company, so keep your options open here.
5 – Winc – Best Natural Wine Clubs For a Budget
Tip: Store your natural wines in a climate-controlled area to preserve their taste.
Winc, a popular wine club, makes sustainably-farmed, sulfite free wine, made with organic grapes at affordable prices.
Their unique digital model uses technology from wine drinkers to determine what they like and then craft wines that appeal to them.
Winc's approach to winemaking is one that includes minimal intervention, organically farmed wines including natural wines.
When you join the Winc wine subscription club, you first answer a few questions to assess your taste preferences. Winc then sends you organic wines to match your palate. It's that simple.
The variety of affordable wines offered by Winc is one of the largest available online for low sugar, low sulfites and organic wine.
With rates starting at $29.99 for four bottles it doesn't get more reasonable than that.
The natural wines are available by the bottle with discounted prices for members. This makes it easy to get familiar with Winc without starting out with a wine subscription.
What People are Saying
The sheer diversity of options for good clean wine drives Winc's popularity. Customers have praised it as an easy way to buy natural wine online at affordable prices. The guarantee to replace any bottle that is not loved is touted positively.
6 – VeroVino Craft Wines – Best For Natural Italian Wine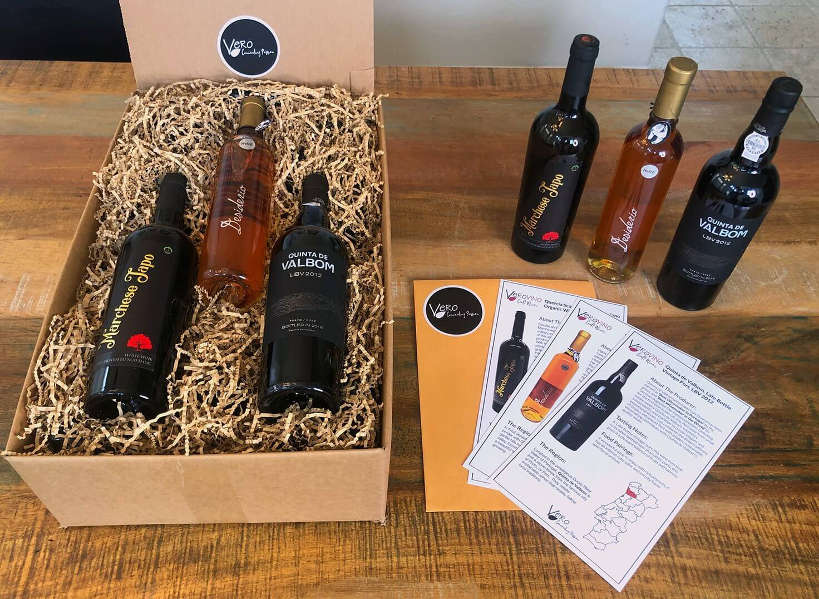 Tip: Verovino offers wine tasting sets for every occasion, a wonderful option for a gift
Vero Vino, one of the wine clubs we like, works with small-production, sommelier selected, sustainable wines.
While they carry wines from a few select regions, their specialty are wines from Italy that are natural, organic or biodynamic wines.
As a woman founded company, they also shine a spotlight on women-owned wineries with a focus on sustainable and organic wine making.
Italian natural wines from VeroVino Craft wines are available by the bottle, if you want to get started with a few.
Find elegant natural red wines made from Nebbiolo and Sangiovese grapes, including a wide range of Tuscan wines.
Bottles of Orange wines and refreshing white natural Italian wines are also available for purchase.
Vero which means "real" in Italian focuses only on sustainably farmed grapes with a focus on wine made sustainably.
If you are looking for natural Italian wine, you'll not go wrong with the carefully curated selection from VeroVino.
As you can buy the wine bottles individually, there is no commitment needed. And, if you are looking for advice and guidance on the best natural wines, try their sommelier concierge service for free.
What People are Saying
The most frequently highlighted comments about VeroVino are about the great selection of wine and friendly service.
Best Natural Wine Clubs FAQs
What is Considered a Natural Wine?
Natural wine is farmed organically and produced without using additives or processing aids. It also minimizes the intervention process such as adding more fermentation elements to ensure that the wine is as natural as possible. This way it emulates the traditional wine-making methods used many years ago, though the overall effect depends on the winemaker.
Should I Choose Natural Wine vs Organic Wine?
It is essential to know exactly what each term means in the debate between natural wine vs organic wine. Organic wine must come from USDA-certified organic fruit sources. By contrast, natural wine indicates a type that is made with minimal intervention during the creation process. It is not certified by the USDA, so there is often a rather diverse range of possible options you can choose when choosing between natural wine vs organic wine.
What If I Don't Like The Wine?
One of the best things about the natural wine clubs is that they usually give you a refund if you don't like a bottle of wine. As you cannot return opened alcohol per federal and state laws, you can get a refund or a discount on your natural wine subscription. If you end up not liking any wines, you can always cancel your natural wine online subscription at any time, as most require a month-to-month payment.
Can I Order Only The Individual Wines?
Yes! Most wine clubs also work as a general wine store, allowing you to buy whatever wines that you want without joining a club. Make sure to check this option out before you join a club to ensure you find an option you enjoy.
Are There Other Tips to Consider?
Make sure that you carefully research what each winemaker means when they use the term "natural." As stated earlier, natural wines may be prepared using a variety of processes, each of which must be carefully understood. The natural wine clubs with which you buy natural wine online should provide information about the winemaker, organic farming practices, vineyards and wines.
Have you tried Natural Wines before? Please let us know in the comments below if you have tried any of these natural wine clubs.
Savor The Adventure!
Curious by nature, Rosemary loves exploring new flavors and connecting with locals. She shares her insights and culinary finds from her travels to inspire people to connect local through food.