This article has links to products and services we recommend, which we may make a commission from.
This wagyu burger recipe is for a restaurant-quality, gourmet beef burger you can make in your own kitchen.
In partnership with Truffle Shuffle SF ( San Francisco), we show you how to make the juiciest wagyu beef burger you'll ever eat.
From French Laundry trained chefs, we share tips from our online truffle wagyu beef burger cooking class experience.
With ingredients sent ahead and the cooking class conducted via Zoom, get ready to enjoy fine dining in your kitchen.
This perfect wagyu burger recipe, with the juiciest patties, comes complete with buns, truffle cheese, artisanal burger sauce, and more.
Discovering Wagyu Beef Burger with Truffle Shuffle SF
To celebrate July 4th, Truffle Shuffle SF invited us to join them for a Truffle Wagyu Cheeseburger online cooking class.
This San Francisco based company was created by alums of the Michelin-Starred French Laundry Restaurant in Napa.
Established in 2018, Truffle Shuffle SF's mission is to bring clarity to the complex worlds of truffles.
Initially, they focused on providing the finest truffles and truffle products to US Michelin-rated restaurants.
However, when restaurants began to close as a result of Covid, they looked for ways to survive.
Leveraging their backgrounds as French Laundry trained cooks they started offering fun online cooking classes with truffles.
Unlike other cooking classes, Truffle Shuffle SF sends you a complete kit of all ingredients beforehand.
Then on a cooking class via Zoom, you learn all the techniques needed to make an exceptional meal from the comfort of your own home.
More than offering cooking classes, they are also committed to helping artisans and the local community.
For each kit sold, Truffle Shuffle SF donates meals to front line healthcare workers as well as local charities.
BOOK A CLASS: Truffle Shuffle SF offers a variety of live online cooking classes featuring truffles. Make restaurant-quality meals like Risotto and Truffles, Black Truffle Tortellini, and even Ice cream Sandwiches with Brown Butter Truffle Honey. To join a Live class, simply click on this Truffle Shuffle cooking class link. Get 10% off when you enter the code QUEST10 at checkout.
The Perfect Wagyu Burger Starts With Exceptional Wagyu Beef
Wagyu beef produced in Japan is highly prized for its rich marble and buttery taste. A high, grade piece of wagyu simply melts in your mouth.
Pronounced as wah-gyoo, not wah-goo, high-grade wagyu beef can command prices up to $200 per pound.
Wagyu in English translates to "Japanese Cow" and there are four main breeds used for wagyu production in Japan.
Kobe beef is the most well-known cut of Wagyu beef. For more about wagyu beef, read about the world's most luxurious steak.
American Wagyu Burger for Our Truffle Shuffle Cooking Class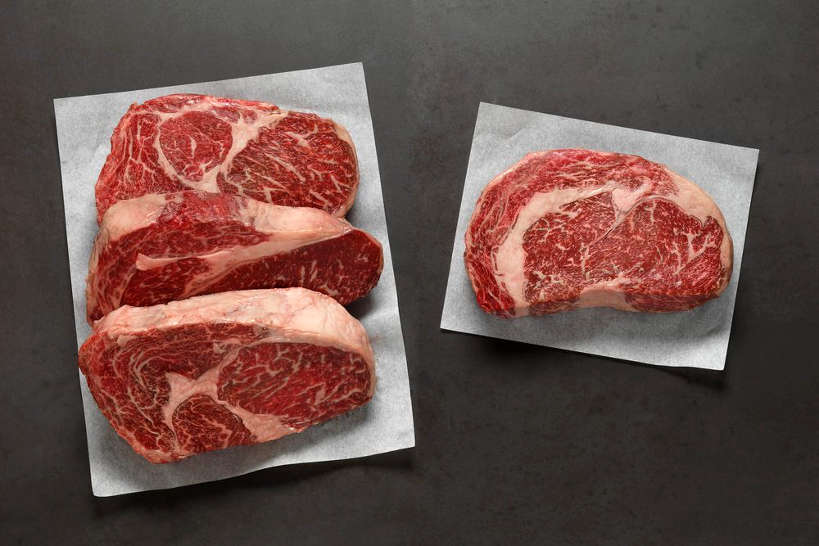 For this wagyu burger recipe, we used American wagyu beef. American wagyu beef is the result of crossbreeding Japanese Wagyu with high-quality traditional American breeds of cattle.
The result is exquisite and luxurious richness of Japanese beef with familiar American flavors.
While there are differences between Japanese and American wagyu beef, American wagyu is also highly respected.
Extreme marbling or fat content from American wagyu beef gives it a silky and buttery texture, and even taste.
Where to Buy Wagyu Beef
One of the great things about taking an online Truffle Shuffle SF cooking class is the convenience. Everything you need for your cooking experience is shipped to you ahead of time.
All you need to do is simply follow along and learn tips and techniques from Michelin trained chefs.
We received one pound of American wagyu beef which was more than enough for two juicy truffle wagyu beef burgers.
You can have American wagyu beef delivered to the comfort of your home. Snake River Farms delivers the highest quality beef and pork directly from their ranches.
Snake River Farms American Wagyu beef is featured in a number of Michelin-starred restaurants around the country.
Unboxing Ingredients for Truffle Shuffle SF Online Cooking Class
A few days before the 4th of July, we received our unmissable package in the mail.
The compact box, marked "perishable" contained all the ingredients we needed for the Truffle Wagyu burger online experience.
What we loved the most was that all the ingredients were weighed and measured and enough for two.
This kept us free to follow step by step instructions from experienced chefs and make the ultimate truffle wagyu cheeseburger.
To go along with the wagyu burger was a jar of 816 BBQ sauce from local artisan, chef Darryl Bell. A Bouchon Restaurant alum, his 816 BBQ sauce added depth with hints of spice and sweetness.
In addition, we also received Truffle Kettle corn and the necessary essentials to make two Moscow Mule cocktails.
Truffle Shuffle SF Live Online Cooking Class Experience
Make sure to subscribe on Youtube for our latest videos

At the designated time, we eagerly joined our Truffle Shuffle SF class via Zoom. We were excited as it was our first time taking an online cooking class.
Once the class got started, the energy from the chef and everyone else was contagious.
Cooking Via Zoom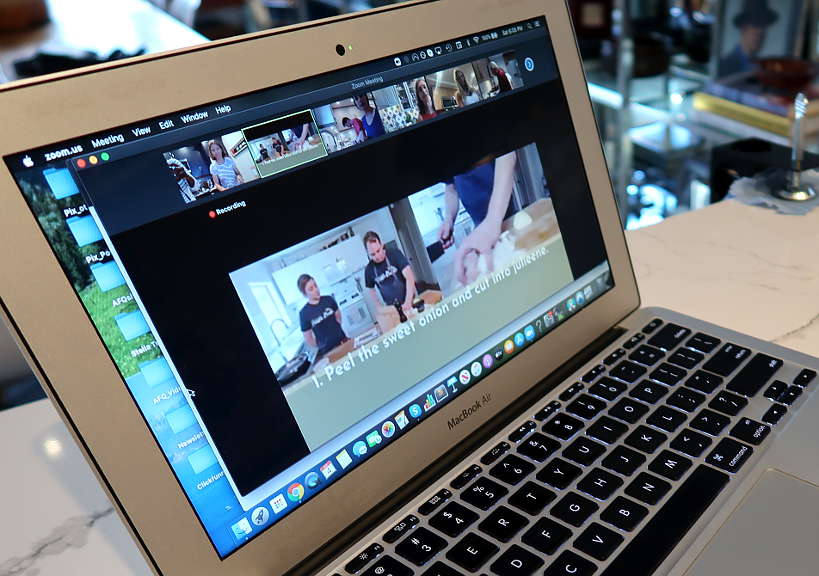 We had everything laid ready for the class. With the ingredients weighed and measured, all we needed was to follow along.
On the screen, we would see the chef demonstrating the techniques and the instructions would also be written on the screen.
There were also different camera shots so we could clearly see each process. At the same time, the chef would also share cooking tips and techniques.
We started first by caramelizing the onions and then moved to make the wagyu burger patties.
Each step of the way we were drooling while cooking.
Tasty Perks For Our Truffle Shuffle SF Cooking Class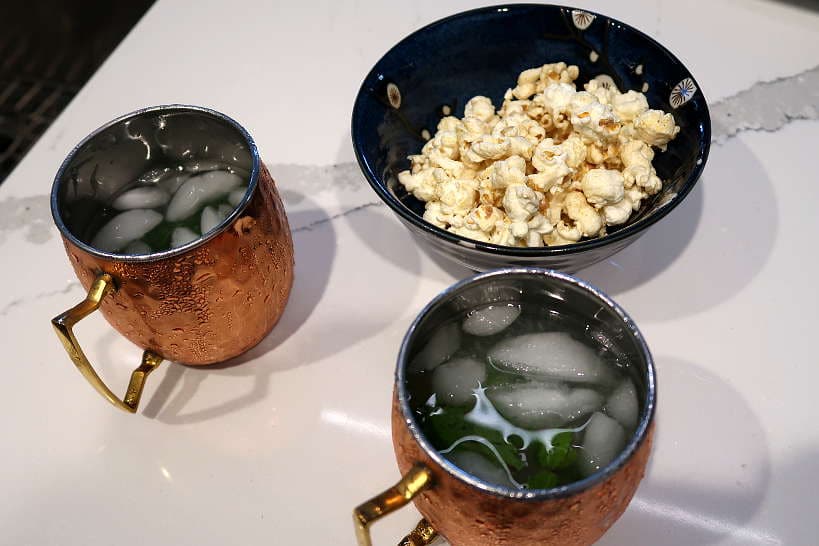 While cooking, we would sip on our Moscow Mules while waiting for the ingredients to cook. We also appreciated the inclusion of Truffle Kettle Corn to munch and keep us going.
At the same time, Truffle Shuffle SF also showed videos of the local artisans behind the products.
We enjoyed videos about our brioche buns from La Boulangerie as well as the BBQ sauce.
What We Enjoyed About The Truffle Shuffle SF Online Cooking Class
While we enjoy cooking classes on-site, we really appreciated the convenience of taking this class from home.
No need to navigate traffic or go shopping anywhere. We simply walked into the kitchen at the designated time.
One major bonus was not having to worry about finding the ingredients, especially American wagyu beef. Having everything we needed in the right amounts could not have been more convenient.
The class was a lot of fun and we enjoyed learning chef cooking techniques.
High-Quality Artisanal Products
From time to time, during the cooking class, Truffle Shuffle SF showed videos of the local artisans behind the products.
One notable video featured chef and local artisan, Darryl Bell, creator of 816 BBQ Sauce.
This Kansas bred, California-made barbecue sauce perfectly complemented the wagyu beef burger.
We loved the idea of putting a spotlight on the people behind the food. This gave us an even deeper appreciation of the high-quality ingredients used.
An Interactive Cooking Class
Beyond celebrating the artisans, Truffle Shuffle's recognition of the online participants created a strong bond and community.
Right before the class came to an end, we loved how Truffle Shuffle SF invited everyone to show off their wagyu beef burgers.
With the cameras turned around, participants showed off their perfect burgers, with huge smiles and pride on their faces.
AUTHENTIC FOOD QUEST: Enjoy your wagyu burger with delicious bold California wines. See more in our article The 6 Best California Wine Clubs.
Supporting The Local Community
Truffle Shuffle's commitment to supporting the local community deeply resonated with us.
By the date of our class, Truffle Shuffle SF had already made a huge impact on the local community.
Already, more than 6000 meals had been donated to frontline workers. In addition, local charities in the San Francisco Bay area also received support.
And, just from our Truffle wagyu burger class, they were able to donate 250 meals and support the local charity, Black Cultural Zone in Oakland.
We couldn't help but feel good about supporting the local community and artisans over delicious truffle wagyu beef burgers.
Challenges on Our Online Cooking Class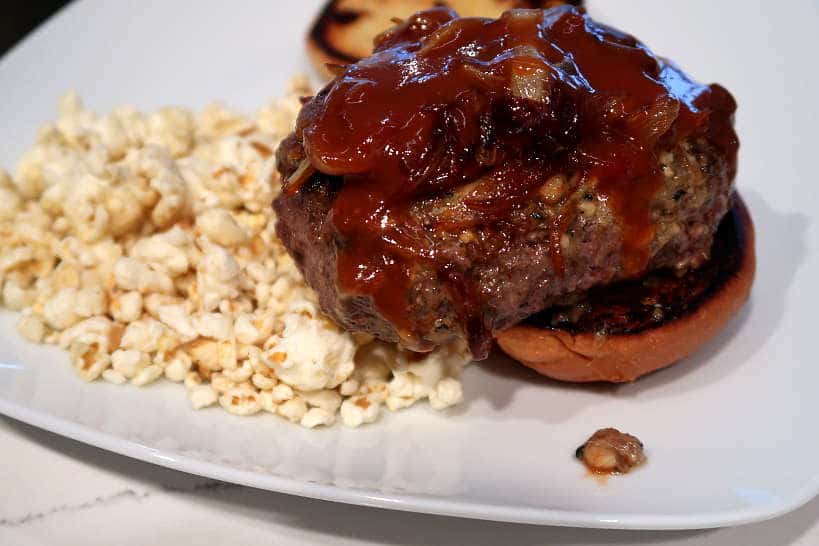 Fast Pace
While we enjoyed the dynamic pace, we did find it challenging to keep up.
There was a lot to manage between listening for instructions and following along.
While cooking, I mistakenly forgot to turn on the broiler to melt the cheese over the burger. This caused us to fall even further behind.
Unlike a cooking class on-site where the instructor can help if you miss a step, you have to be much more attentive online.
Periodic Check-Ins
In the midst of all the activity, we would have appreciated a few check-ins from time to time. As simple as the chefs asking how everything was going and if anyone was stuck.
That is certainly one difference between taking a live class compared to an online cooking experience.
Besides over-browning one of the halves of the buns, we had a great time.
All things considered, the best part of the experience was biting into the juicy and flavorful wagyu beef burger.
Tips for Cooking The Perfect Truffle Wagyu Beef Burger With Cheese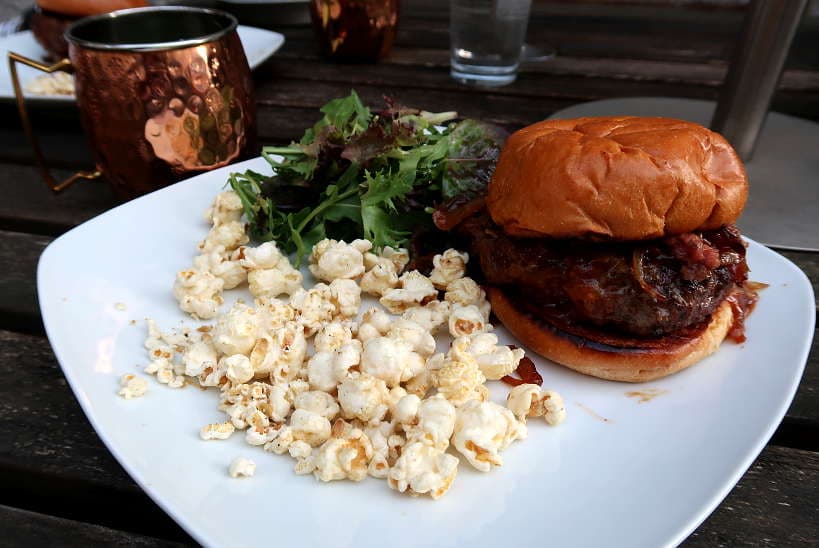 How To Caramelize the Onions
Caramelizing onions can take a long time. From chef Jason, we learned the trick of adding a little vinegar to speed up the process.
In this case, we started by cooking the onions on medium heat with butter. And after they started browning, we added a little Apple cider vinegar with honey.
After cooking a little longer, the onions turned to a deep golden color.
How To Make The Perfect Wagyu Beef Patty
Divide the meat up and take enough for one patty and shape it in your hands. Create a ball shape and then flatten it out with your hands.
Make the patties at least about 20% wider than the bun as meat tends to shrink when cooked.
For the perfect height, make sure each patty is stacked up one knuckle high, about 1 inch or 2 centimeters.
Season patties before cooking.
How to Cook Wagyu Beef Burger
Unlike other cuts of ground beef, chef Jason recommends cooking the wagyu beef burger medium-rare.
The recommended cooking time is about 1 minute 30 seconds for each side until brown.
We topped our burgers with Cowgirl Creamery and truffle cheese mix. Then, we cooked them in the broiler for 2 additional minutes.
How To Book Your Truffle Shuffle SF Cooking Class
Truffle Shuffle SF offers live cooking classes weekly. The cooking classes change regularly and you can find the updated schedule on their website.
The classes are fun and they incorporate truffles in tasty and unusual ways. All cooking classes are taught via Zoom with easy to follow step by step instructions from experienced chefs.
To ensure on time delivery of your ingredients kits, book your class in advance.
If you are outside the San Francisco Bay Area, book your class by the Wednesday prior.
Get 10% OFF when you use the code QUEST10 at checkout.
Shop Your Truffle Wagyu Burger Recipe
Chef Darryl Bell BBQ Sauce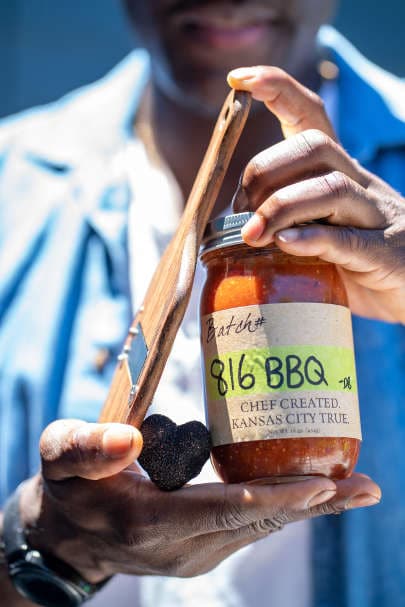 Curious by nature, Rosemary loves exploring new flavors and connecting with locals. She shares her insights and culinary finds from her travels to inspire people to connect local through food.