This article has links to products and services we recommend, which we may make a commission from.
This bougatsa recipe is for a deliciously authentic flaky traditional Cretan breakfast pastry. Made with only 5 ingredients, the bougatsa is wrapped in a golden brown phyllo package, sprinkled with sugar. This complete recipe guide with pictures and video will transport your breakfast experience to Crete, Greece in about 25 minutes.

What is Bougatsa or Μπουγάτσα – Greek Custard Dessert
Bougatsa is a famous breakfast pastry in Greece. It is a Greek breakfast pie made with smooth and crunchy phyllo pastry sheets with various fillings.
Popular fillings include custard, cheese and even savory versions with meat.
Thessaloniki in Northern Greece is famous for their sweet bougatsa made with cream and sprinkled with powdered sugar.
On the island of Crete, bougatsa is a local specialty in the towns of Chania and Heraklion.
In Chania, where we are based, bougatsa is the iconic and celebrated breakfast pastry.
Unlike other versions of bougatsa across Greece, bougatsa in Chania is made with the local cheese known as mizithra cheese.
So popular across the island and Greece, bougatsa from Chania is also known as "Bougatsa Chanion".
What Is Bougatsa Made Of?
The first rule for the perfect bougatsa starts with using high-quality local ingredients. For this bougatsa recipe, use quality Greek ingredients for the best experience.
To make this bougatsa from Chania, you only need five ingredients. The most important ingredient is the thin phyllo dough sheets.
The other bougatsa recipe ingredients are mizithra cheese, milk, flour and a light oil like corn oil.
Once all the bougatsa is made and baked, this beloved pastry is enjoyed at breakfast with a cup of coffee.
What is the difference between Bougatsa and Galaktoboureko?
While bougatsa and galaktoboureko are both traditional Greek specialties made with crispy phyllo, they are totally different.
Galaktoboureko is a traditional dessert made with custard wrapped in a crispy phyllo shell. It is bathed in a sweet syrup and makes for a delicate creamy custard dessert.
Bougatsa, on the other hand, is traditionally eaten for breakfast. Bougatsa from Chania uses local mizithra cheese with a slightly sour taste. There is no syrup used in bougatsa.
Discovering Bougatsa in Chania, Crete
When we first arrived in Chania, Crete and asked locals about the local specialties, bougatsa came up over and over again.
And, the place that was frequently mentioned was Iordanis, the oldest and most famous bougatsa shop in town.
Today, Iordanis Akasiadis and his wife, Ioanna, the fourth generation, keep this more than 90-year tradition alive.
The secret to their bougatsa success as Ioanna told us is their use of local ingredients and extremely thin handmade sheets of phyllo.
The local mizithra or "pichtagalo" cheese is the star and what gives bougatsa its particular and unique flavors.
And, the phyllo dough is handmade using flour, water, salt and olive oil for the dough.
Iordanis Bougatsa is famous worldwide and their bougatsa is always made and served fresh.
It is impossible to visit Chania without having one and more likely two servings of bougatsa from Iordanis.
History of Bougatsa
Bougatsa is one of the most traditional and famous breakfast pastries in Greece. This phyllo pastry can be filled with semolina, custard or cheese or minced meat for savory ones.
In Greece, bougatsa is said to have originated in the city of Serres in the north and it is especially popular in Thessaloniki.
On the island of Crete, bougatsa is a local specialty, with the bougatsa from Chania or "Bougatsa Chanion" being world renown.
The history of bougatsa is said to have originated in Asia Minor in Constantinople.
And, at Bougatsa Iordanis in Chania, the recipe is traced back to a Cretan Muslim from Constantinople.
The name bougatsa comes from the Ottoman word "pogaca" which means filled pie.
Bougatsa Recipe – How to Make Bougatsa at Home
This bougatsa recipe from Crete is for one of the most delicious breakfast pastries you can make. It is smooth with crunchy phyllo sheets and not sweet at all.
The Chania style bougatsa calls for sprinkling granulated sugar on top of the pastry before serving.
For a tasty bougatsa, start with the best high quality local or Greek ingredients you can get your hands on.
Whole Milk
All-Purpose Flour
Corn oil or any light oil
Granulated sugar
Greek Hand Made Phyllo Sheets
Greek pastries call for the finest phyllo dough or sheets you can find or make. In Chania, we got our bougatsa phyllo sheets from one of the only shops that still makes phyllo dough by hand.
Most of the phyllo dough for bougatsa at supermarkets is made by machines.
The process for making the extremely thin phyllo sheets is time consuming, so store-bought phyllo is often the most convenient option.
At the handmade phyllo and kataifi store in Chania's city center, we had the opportunity to watch the owner, Stelios, and his brother Nikos, make handmade phyllo.
The process was fascinating to watch. It starts out with circular sheets of handmade phyllo dough made with flour water and oil.
The sheets are then spun around by hand until they expand. Next, the mound of dough is laid onto a table and stretched out into very thin layers.
This old traditional way of making phyllo dough is surprisingly quite physical. The art appears to be in the perfect number of twirls or spins needed to expand the dough to the right size.
Even more astonishing is the dough does not crack or break when stretched almost paper thin across a large table.
If you don't have access to freshly made phyllo dough, you can get thin pre-packaged phyllo sheets for this bougatsa recipe.
AUTHENTIC FOOD QUEST TIP: Watch the Fascinating Process of Phyllo Dough Making by Hand
Bougatsa Recipe Tips
Mizithra Cheese and Alternatives
This bougatsa recipe from Chania, Crete uses the local mizithra cheese which resembles ricotta cheese and has a sour taste.
You can find mizithra cheese in the deli or cheese section of a specialty store with a wide selection of international cheeses.
Alternatively, you can also order mizithra cheese from Amazon and have it delivered to your home.
If you cannot find mizithra cheese, the best option is to use a combination of Greek Feta cheese and ricotta cheese.
The Feta cheese adds salty flavors whereas the ricotta makes the cheese smooth and creamy.
Use an equal amount of each for this bougatsa recipe and mix together using a fork.
How To Fold the Bougatsa – The Crucial Step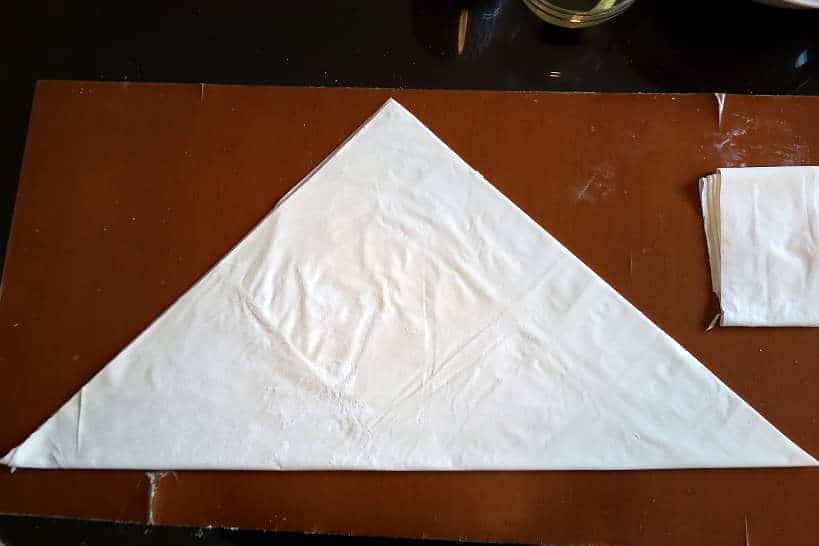 There are many techniques used to fold the phyllo dough for bougatsa. The one we learned was a traditional Cretan style for folding the bougatsa.
Take the six phyllo sheets and fold them in the shape of a triangle. Cut off the excess phyllo and set aside. This is done to make sure you have a square sheet of phyllo.
On three oiled phyllo sheets, spread the bougatsa mixture in the middle. Fold over opposite sides to meet in the middle.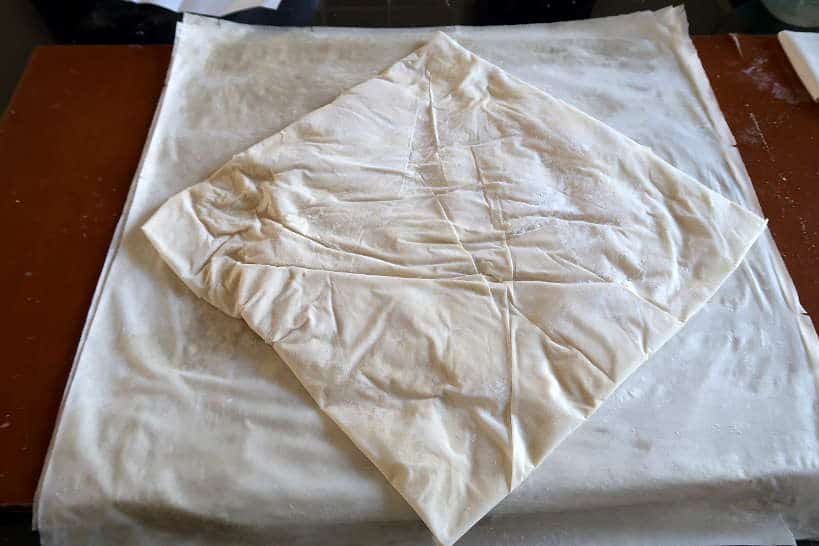 Once the sheets are folded over to make a square. Place them in the middle of the second set of three oiled phyllo sheets.
Form a diamond shape and fold over, starting with opposite sides to form a square.
How to Cook Bougatza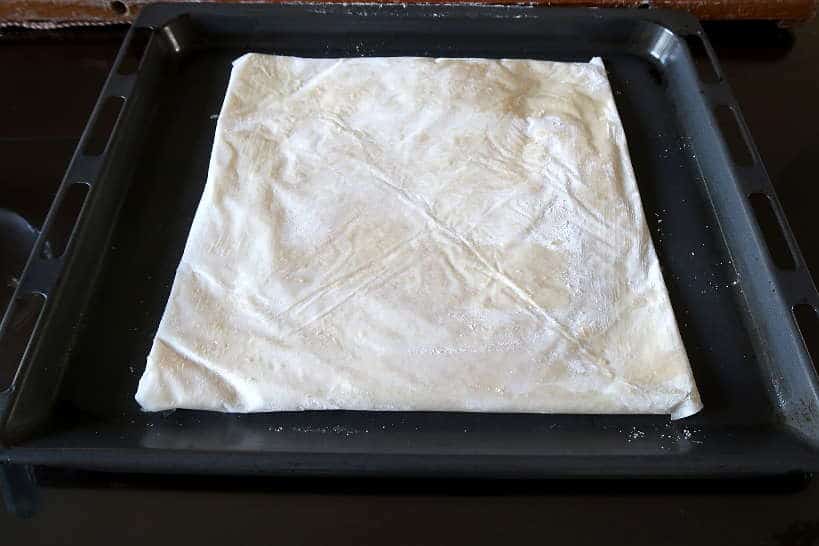 To make your bougatsa, preheat your oven to 400 degrees F or 200 C. Let your bougatsa cook for about 20 to 25 minutes.
What you are really looking for is a golden brown and crunchy top. Some ovens may take a longer time, while others, a little shorter.
More important than time, is golden color that you are after.
How Do You Store Bougatsa?
Once you bite into the delicious bougatsa, you'll more than likely not need to store your bougatsa.
However, if you do have any baked bougatsa leftover, simply wrap it in a kitchen towel and place it on the counter. Be sure to eat it within two days while it is still fresh.
If you have a little filling left over from your bougatsa, you can make "Triangles" with the leftover pieces of phyllo, like they do in Greece.
You can either bake the triangles or freeze them to make at a later date.
Any leftover phyllo sheets should be wrapped and placed in the refrigerator following the instructions on the package.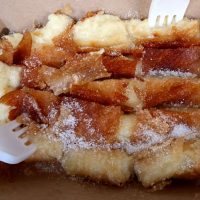 Bougatsa Recipe
This bougatsa recipe is for a deliciously authentic flaky traditional Cretan breakfast pastry. Made with only 5 ingredients, the bougatsa is wrapped in a golden brown phyllo package, sprinkled with sugar. This complete recipe guide with pictures and video will transport your breakfast experience to Crete, Greece in about 25 minutes.
Print
Pin
Rate
Ingredients
8.8

ounces

Greek Mizithra cheese

½

cup

Whole milk

5

tbsp

All Purpose flour

5

tbsp

Corn oil

for the mixture

2

tbsp

Sugar
Instructions
Prepare the Bougatsa Filling

Place the cheese into a mixing bowl

Add the five tablespoons of flour and milk into the bowl

Mix well until the flour is well incorporated into the cheese

Add the corn oil and mix again


Prepare the Phyllo Sheets

Count 6 phyllo sheets and place them on a flat surface

Fold the phyllo sheets to form a triangle and carefully slice off the excess and set aside 

When you open up the phyllo sheets you should have a square

Using a pastry brush, lightly brush oil onto one phyllo sheet 

Then brush the second phyllo sheet

Place a second phyllo sheet on top of the first one and brush again with oil. 

Repeat the same process over again for the third phyllo sheet.

Once all three sheets have been brushed pour the mixture into the center of the phyllo sheets

Spread around the phyllo sheets leaving about 1 inch or 2.5 cm from the edges

Fold one corner of the phyllo sheets and then fold the opposite corner to meet in the middle

Repeat for the other sides and you should have a square – like a 'square envelope'

Gently tap the envelope in the center to seal it

For the next three sheets, oil each one as before and place all three on top of each other

Gently take the cheese-filled envelope place it on opposite ends of the phyllo sheets, like a diamond

Brush with a little oil and fold again to make a slightly thicker square envelope

Using the pastry brush, apply a little oil on the bougatsa  

Flip the bougatsa around so the folds are on the bottom and place it a well oiled baking tray

Brush a little oil and place in a preheated oven and let it bake for 20 -25 minutes, until golden brown

Remove bougatsa and let it rest for about 5 to 10 minutes. 

Cut the bougatsa into squares and enjoy warm with a cup of coffee

Optional: Sprinkle granulated sugar over warm bougatsa before serving
Notes
Don't worry if the phyllo sheets break when folding the bougatsa. Simply put them together as they are not noticeable in the finished product.  
Even though granulated sugar is traditionally used in Chania to sprinkle on bougatsa, powdered sugar and cinnamon are also used.
Nutrition
Serving:
1
|
Calories:
232
kcal
|
Carbohydrates:
12
g
|
Protein:
6
g
|
Fat:
18
g
|
Saturated Fat:
5
g
|
Polyunsaturated Fat:
4
g
|
Monounsaturated Fat:
9
g
|
Trans Fat:
0.04
g
|
Cholesterol:
24
mg
|
Sodium:
48
mg
|
Potassium:
82
mg
|
Fiber:
0.2
g
|
Sugar:
6
g
|
Vitamin A:
218
IU
|
Calcium:
112
mg
|
Iron:
0.5
mg
Curious by nature, Rosemary loves exploring new flavors and connecting with locals. She shares her insights and culinary finds from her travels to inspire people to connect local through food.