Within an hour ride from Porto by train, Braga is one of the best day trips from Porto to consider.
Braga, the third largest city in Portugal, is located in the Minho region in the north of the country. This region is home to the famous Vinho Verde, a light, sparkly young wine.
Braga is also Portugal's most important religious city. The history, culture, and diversity of natural landscapes create a festival of flavors that makes Braga´s gastronomy unique.
While in Porto discovering Port wines, we were invited on a Braga food tour to taste the local cuisine.
Join us on a Braga tour with Christiane, founder of Eco Trilha Viagens. Let's explore the history, culture and flavors of Braga.

Visit Braga – Portugal's Oldest and Most Christian City
In this medieval town filled with narrow lanes, plazas and stunning baroque architecture, you'll find over 35 churches including the country's oldest cathedral.
After a few hours in Braga, you soon feel the ecclesiastical power, embodied by all the religious buildings, shrines and sanctuaries.
The Arco da Porta Nova or Arch of the New Gate, the oldest door of the city, welcomes the new visitors. This door is historically significant for being an invitation for commerce, versus other cities where the door was closed. In Braga, the door is is always open.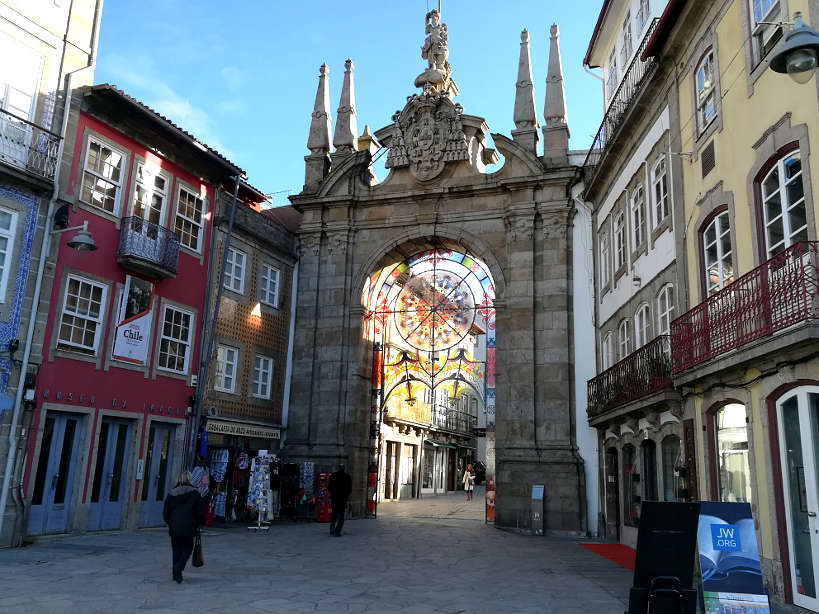 The extremely narrow streets right behind the arch lead into the main plaza. Buildings covered in beautiful tiles and wrought iron railings are everywhere. The architectural styles range from Gothic, Romanesque, Manueline and Baroque.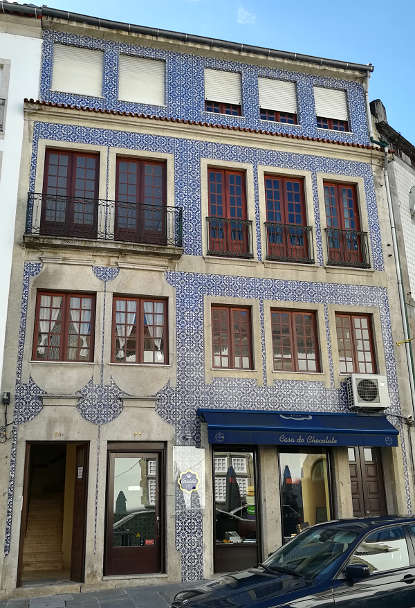 One of the most important monuments in the city is the Cathedral of Braga or Sé de Braga. This is the oldest archdiocese in Portugal, and the current building dates to the 12th century. The exterior Romanesque façade has two impressive Baroque bell towers.
The interior is richly decorated with gold-leafed carvings and the huge organ in the main chapel.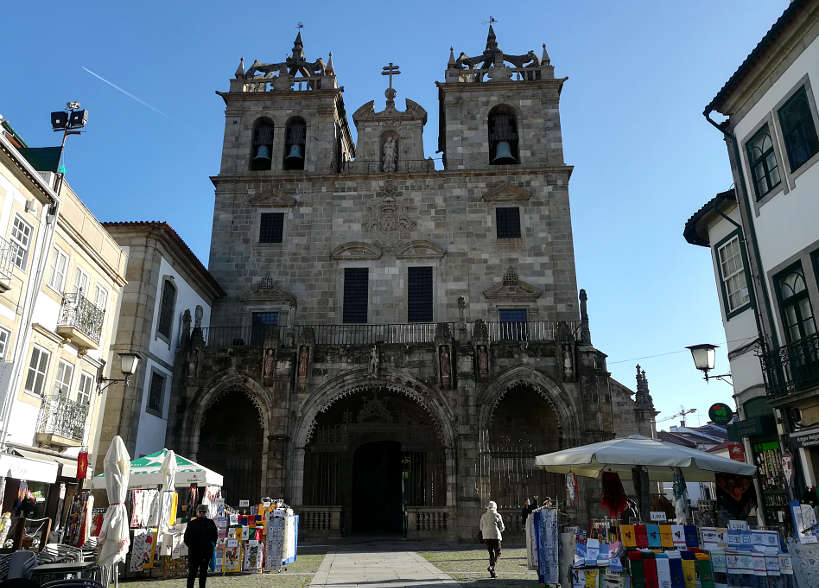 Bustling Saturday Market
Often times the best way to explore the local food is by starting at the local farmers market.  On the tour, we visited Mercado Municipal, the main local Braga market.
The market was buzzing with vendors standing side by side tending to their mountains of fruits and vegetables. You hear negotiations in Portuguese broken up by laughter. A variety of smells, vibrant colors and loud noises engage the senses at this lively Saturday market.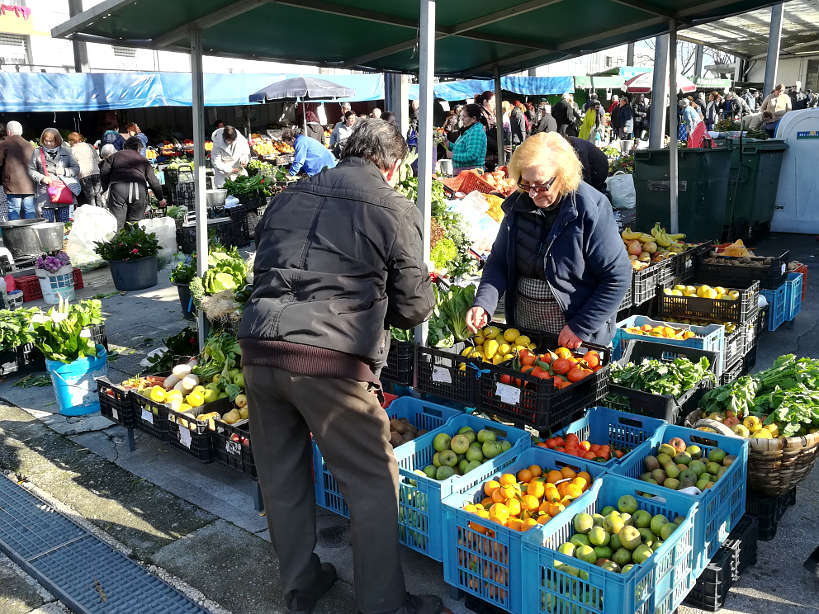 Sold by ladies at the market, we picked up lupin beans, a local and popular Portuguese snack. These beans are unusual to eat and you want to avoid the thick outer skin.  
Typically, you nip the corner of the skin with your teeth and squeeze the soft, buttery bean from the inside.
Healthier than salted peanuts, lupin beans, are a tasty Portuguese snack worth discovering.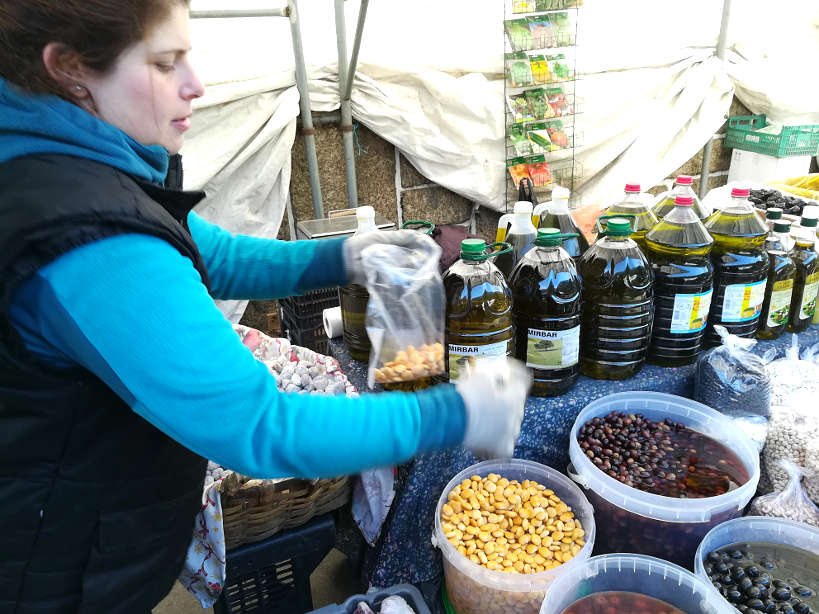 Fish Vendors
The Portuguese love fish and the country is one of Europe's largest consumers of fish. Unsurprisingly, the fish section of the market was busy with a variety of fresh fish and seafood sourced from the local waters.
The quality and freshness of the fish was simply remarkable. You'll see some of most beautiful fish, shellfish and sardines, that will leave your taste buds hungry for fresh fish.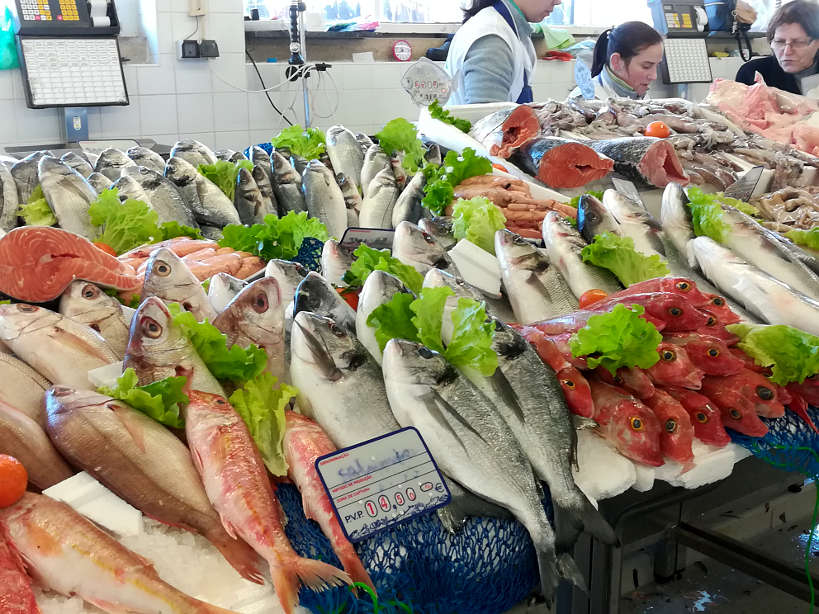 Regional Bread
As we meandered through the market, we made our way to the back alleys and onto the breads, sweets and sausages sections.
Very different from the iconic Alentejo bread we discovered in Evora, Claire fell in love with the region's delicious cornbread. Known as Pão de milho or Broa de Milho, this is one of the oldest varieties of bread in Portugal.
The bread is hearty, dense and yellowish in color. It is typically eaten as a starter along with good regional cheeses.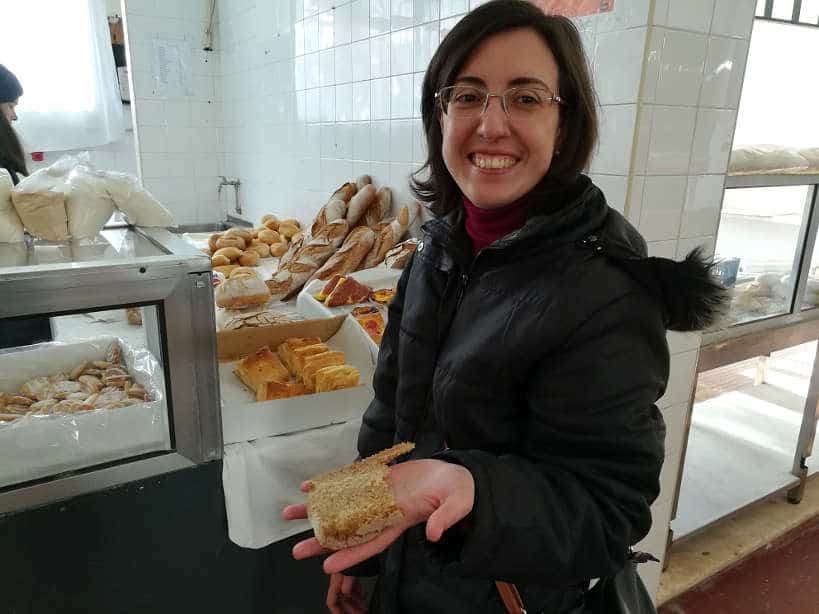 Chouriço – Portugal's Most Popular Sausage
One of the other iconic Portuguese foods are the chouriço sausages. This is probably the most popular Portuguese sausage and is similar to Spanish chorizo.
Seeing the different kinds of chouriço sausages was incredibly fascinating. These Portuguese sausages are made with pork, garlic, flavored with paprika (and sometimes red wine).
These sausages are very versatile and can be eaten cold (charcuterie style), fried, grilled and boiled. They are a popular ingredient in soups, including the most famous caldo verde soup.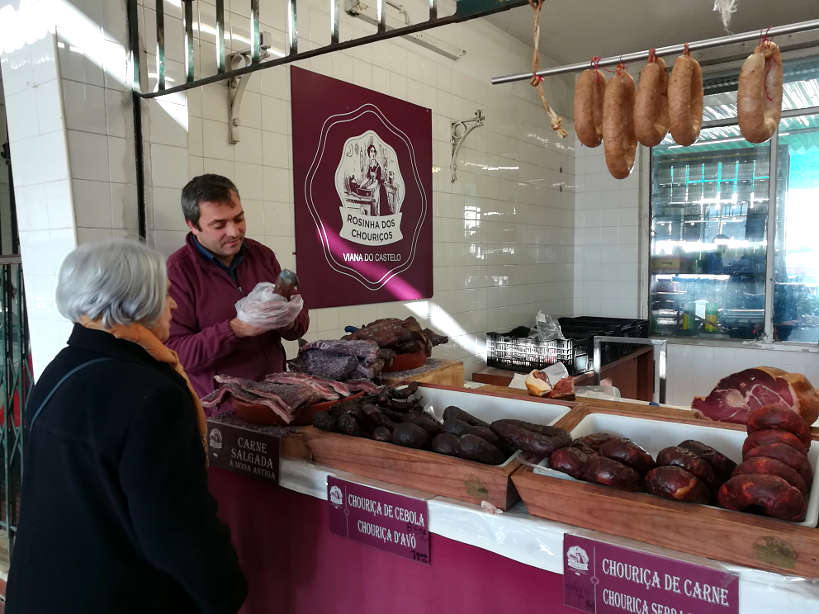 The Church Influence and Medieval Vestiges
Braga is a perfect city for exploring on foot. As we walked around the city, we were delighted by the distinctive architecture and attractive landscaped gardens.
The religious significance of Braga was evident all around. Braga was once considered the religious capital of Portugal. Even today, people from all over the country come to Braga around Easter time for Holy Week, also known as Semana Santa.
During this time, ceremonies and processions with devotees dressed in hooded black tunic carry torches or effigies to remember the death and rise of Christ.
The Archbishop's Palace in the center of town, once covered one-tenth of the city. You will be struck by the impressive fortress-like building, which today is home to a library and various faculties of the university.
Near the Archbishop's Palace is the must visit Gardens of Santa Barbara or Jardim de Santa Bárbara in Portuguese, in the center of the city. The Romantic style gardens are beautifully laid out and incorporate medieval arches that were once part of an arcade from the palace.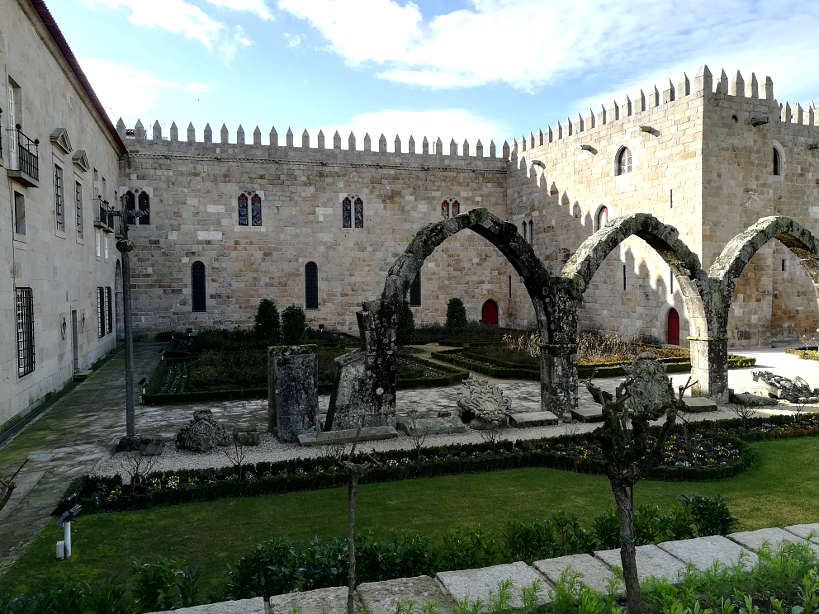 Farricoco Restaurante & Petisqueira
For a taste of the traditional Portuguese cuisine from the region, we went to Farricoco Restaurante to eat petiscos.
Petiscos are part of Portugal's gastronomy and often compared to Spanish tapas. Petiscos are also small bites, but generally, small versions of large dishes. Interestingly, the name Farricoco is in reference to the striking figures dressed in black from the Easter processions.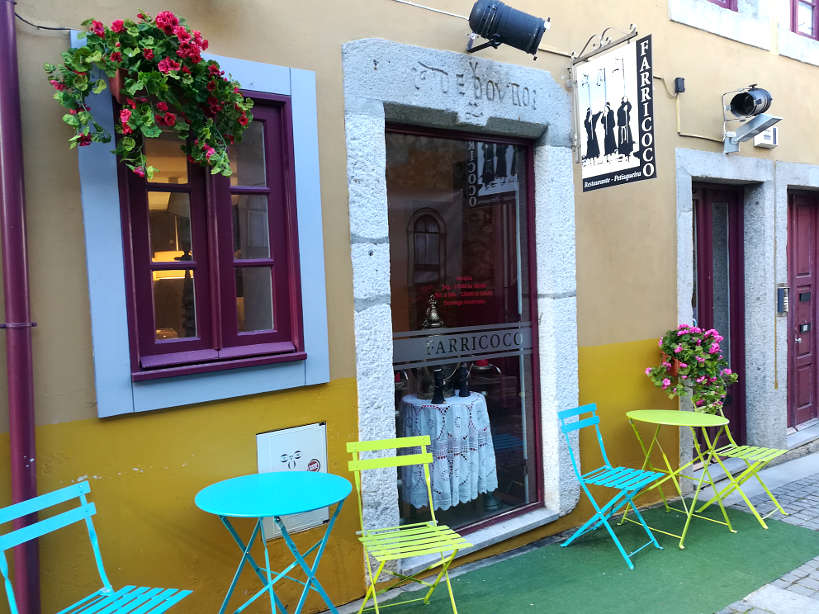 Traditional Starters
With our taste buds open, we couldn't wait to try the little bites from the region. The petiscos menu had five dishes, a local bread and Sangria.
After a warm welcome and introduction to the charming restaurant, we were ready to dig in.  We were presented with three generously sized starters.
The bread known as pão recheado, was excellent. Slices of bread stuffed with ham and cheese was a delicious welcome.
With bacalhau or codfish being one of Portugal's most treasured dishes, it was no surprise to see it on the menu. Codfish is so popular that there are over 365 ways to eat bacalhau in Portugal.
At Farricoco's restaurant, we had Pataniscas de Bacalhau, which are deep fried cod fritters. Even though these little bites are deep fried, they were surprisingly not heavy and quite flavorful.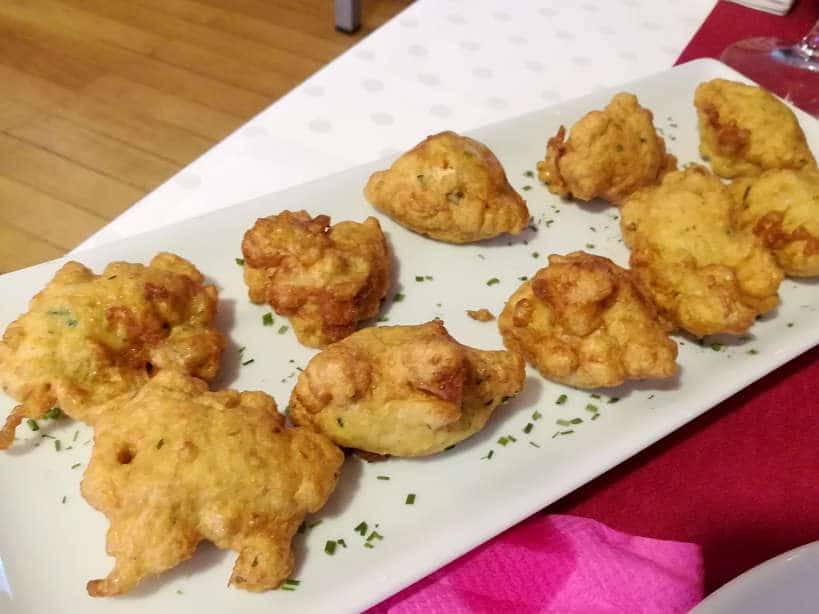 Our favorite starter was Portugal's most famous soup, Caldo Verde. This green soup is made with a dark green cabbage that is not widely available beyond Portugal's borders, potato puree, slices of chouriço sausage and finished off with local Portuguese olive oil.
The wonderful combination of flavors was outstanding. This simple soup, so full of flavor and delicious textures, was just perfect!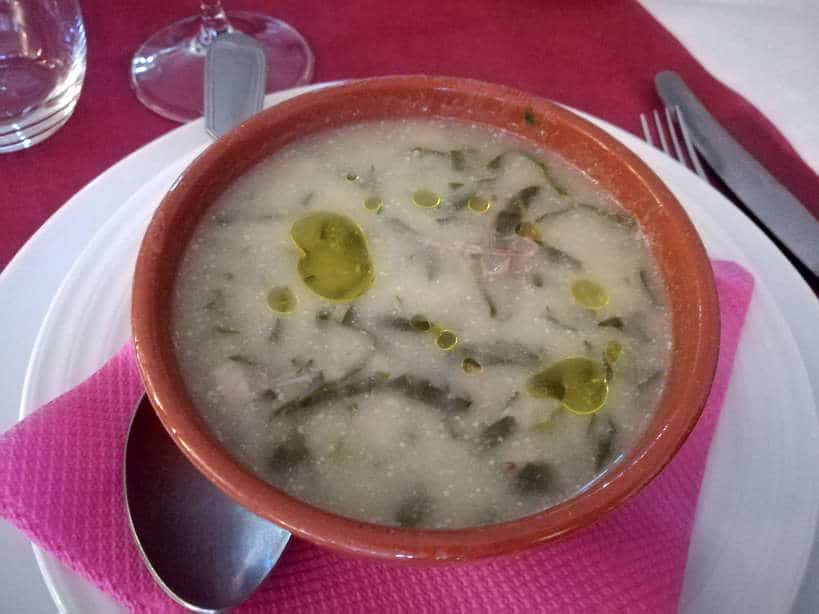 Braga Meat Specialties
Braga regional specialties are synonyms with meat specialties. We had the opportunity to taste three different regional meat dishes.
First, the Rojões, a traditional dish from Portugal originally from the Minho region. Made from pork shoulder, the meat is cut in cubes and seasoned differently depending of the recipe. This dish was prepared with cumin spices. Although the meat was very tender and tasty, the overall dish was on the dry side.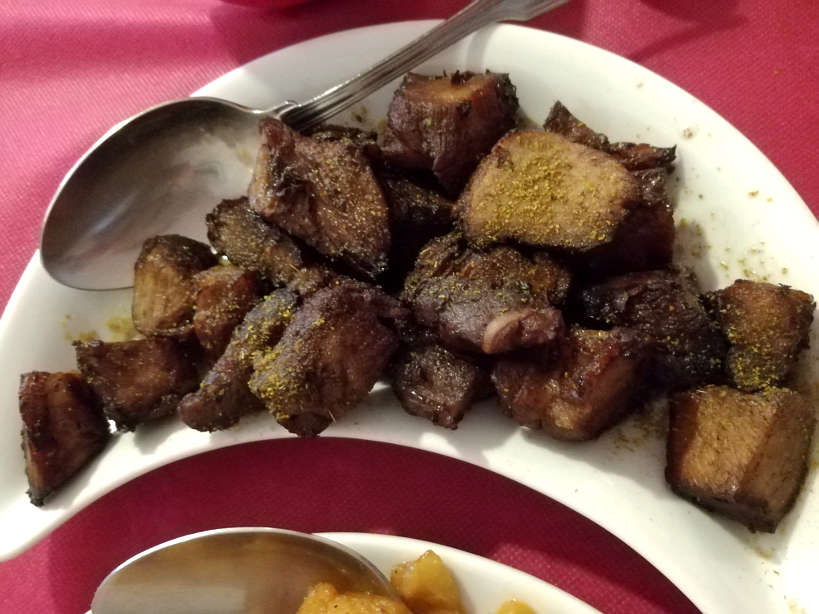 The next dish Dobradinha or Portuguese tripes is sometimes served with Rojões dishes. This dish is made from the intestines of the cows and is very popular in Porto, Portugal's second city.
The tripes had a chewy texture with a very distinctive taste. Enjoying this meal is definitely an acquired taste. As we had dobradinha as petiscos, we lacked the traditional side dishes of rice and vegetables to help smoothen the taste.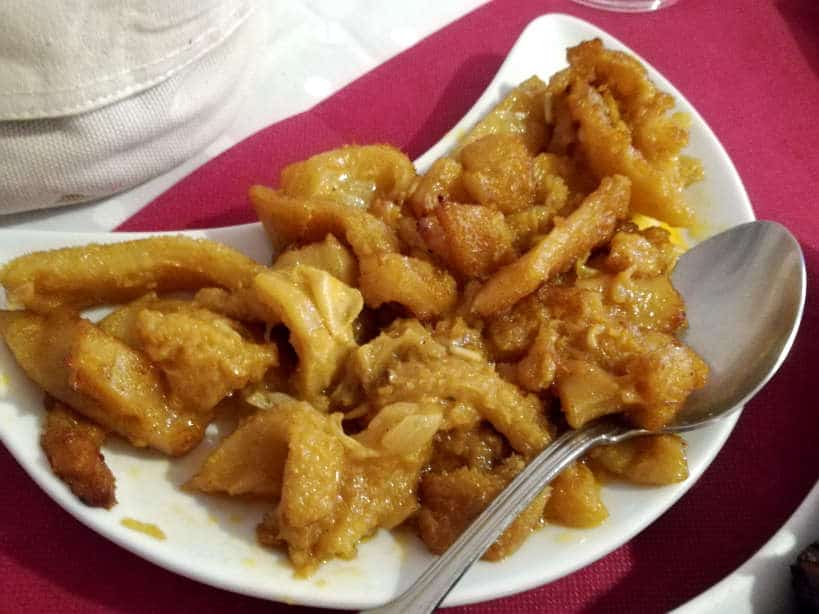 The last meat dish was Moela de frango or chicken gizzards. This dish was our favorite. Deliciously prepared in a spicy onion, garlic and tomato sauce, the meat pieces were very soft and flavorful.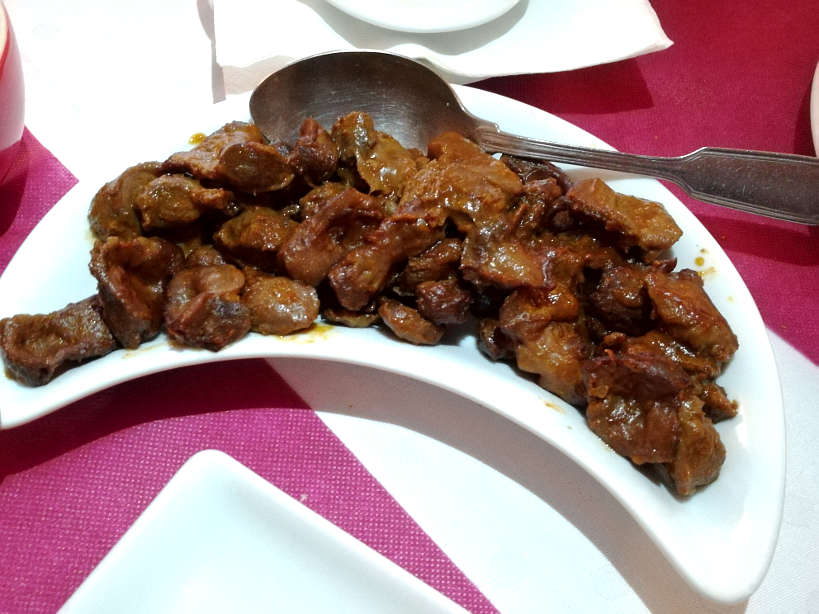 Meat lovers and adventurous eaters will enjoy the local meat specialties from Braga. The following local Portuguese drinks make the perfect companion to the traditional local food.
Portuguese Sangria and Vinho Verde 
Portuguese Sangria
Spain isn't the only place where you can find Sangria. Portuguese Sangria is the only other Sangria recognized under European laws that can be labeled as a Sangria.
Sangria is very popular Summertime drink. Although we visited Braga in January, Christiane offered us a taste of Summer with a fruity white Sangria cocktail.
Made with Portuguese white wine, punch, oranges, and apples, the white Sangria was fresh, fruity and sweet. This was an easy drink to accompany our heavy and flavorful petiscos experience.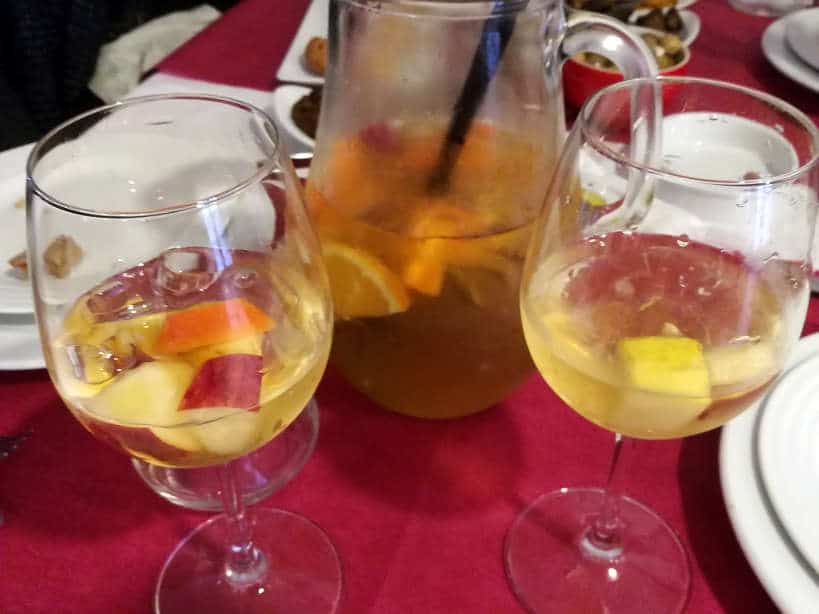 Vinho Verde: Wine from the Minho Region
In Braga, you cannot miss the most famous wine from the Minho region, called Vinho Verde. Vinho Verde is a light, bubbly, crisp white wine.
Naturally fresh due to its high acidity, Vinho Verde is low in alcohol content. Depending on the grape variety, Vinho Verde flavors range from floral, fruity to mineral.  
Consumed soon after bottling, Vinho Verde is considered a young wine. This white wine is slightly effervescent due to its low carbonation.
Vinho Verde pairs well with seafood and starters like caldo verde and pataniscas de bacalhau.
Vinho Verde is one of our favorite Portuguese wines. While in Portugal, we took every opportunity we could to taste it. Our favorite grape was the Loureiro for its floral flavor. We also enjoyed the fine, mineral and subtly fragrant flavor from the Alvarinho region.
In any case, don't miss the opportunity to taste Vinho Verde on your visit to Braga and Portugal.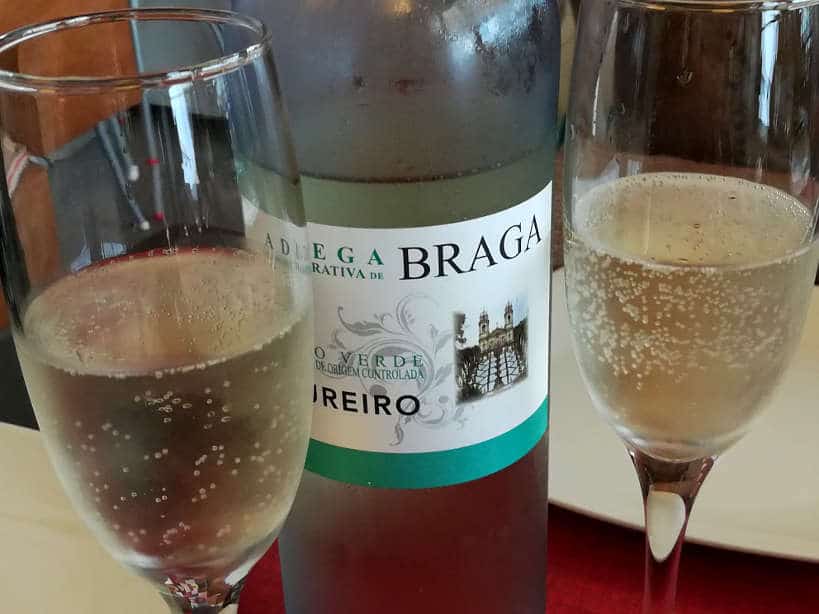 The Conventual Desserts from Braga 
With sweets being so central to Portuguese cuisine, this Braga food tour made no exception and ended with delicious Portuguese desserts.
To discover how locals indulge and satisfy their sweet tooth, we went to Pastelaria Lusitana, a popular and local pastry shop. It's the kind of place where family and friends gather for an afternoon lanche or snack.
Conveniently located near the beautiful Jardim de Santa Bárbara, Lusitana is the ideal location to see and be seen in Braga!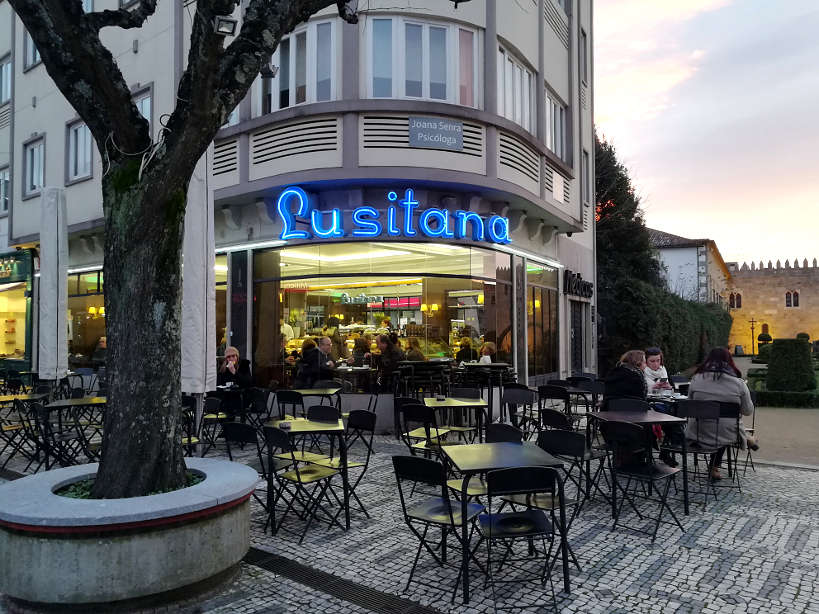 With a strong history of the Church and religious influences, we were not surprised to find so many conventual desserts in Braga.
Conventual desserts are literally desserts that were traditionally made in convents. They are typically made with a large amount of egg yolks and sugar.
We tried two local specialty desserts from Braga. The traditional Tíbias de Braga, which are puff pastries filled with a soft sweet creamy paste with powder sugar on top. The texture was similar to the French Paris-Brest pastry.
While we enjoyed this pastry, we found it a little too creamy for our taste. It's perfect for sharing or eating in small amounts.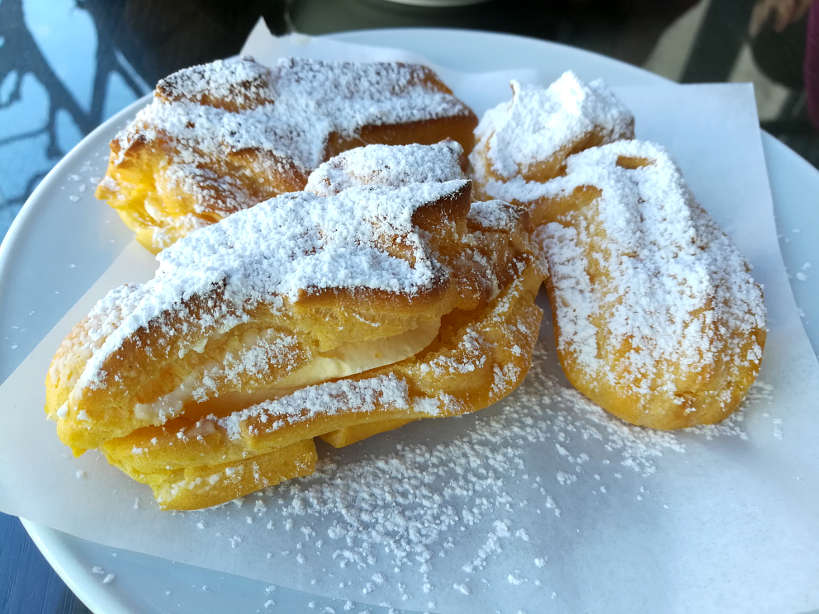 The second dessert specialty was the fidalguinhos which are traditional biscuits from Braga. Their unique shape resembles two-crossed legs. Their shape was to mock the nobles who didn't have to work or go to great lengths to get what they wanted.
These golden biscuits are sweet and crunchy with a zest of cinnamon. These Portuguese sweets pair perfectly with Portuguese coffee.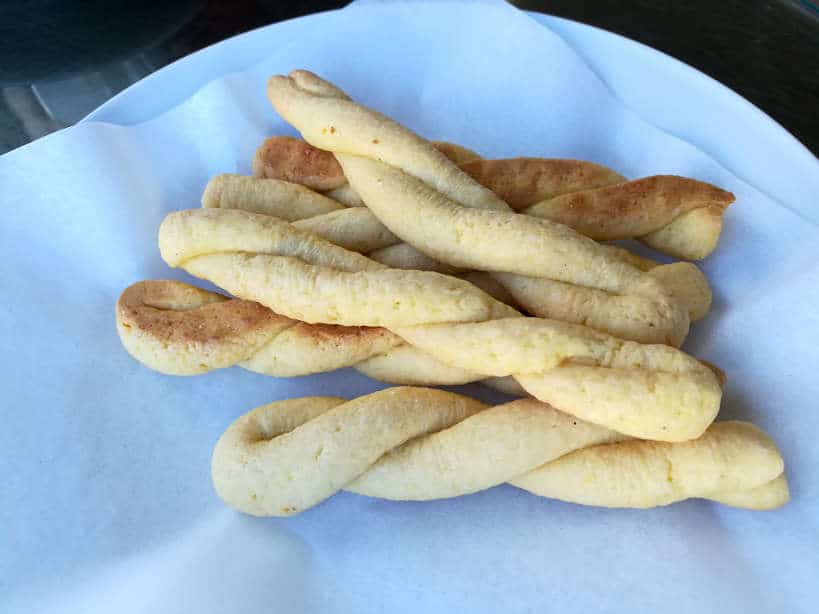 Walk Off the Food at Bom Jesus –  A Stunning Sanctuary 
After the Braga food tour ended, we decided to walk off our filling lunch and afternoon snacks and explore the Portuguese sanctuary of Bom Jesus do Monte.
Visiting Bom Jesus do Monte is one of the most famous day trips from Porto. It is easily located about six kilometers east of downtown Braga. Bom Jesus (Good Jesus) is a pilgrimage site with a magnificent Baroque double stairway that climbs 116 meters (381 feet) up to the church.
While you can avoid the stairs and take the funicular. But don't skip the walk as it is the purpose of this visit!
The first chapel on the site was built in 1373. The current sanctuary dates back from 1722. It is one of the most important tourist attraction in Braga. During Holy Week, penitents go up the stairway or "Sacred Way" on their hands and knees.
Walking up the monumental staircase is beautiful and at the same time very peaceful. The sweeping views of the countryside were quite remarkable. Regardless of your religious affiliations, this site, rich in history, is worth a visit.  
If you're taking a food tour in Braga, walking up and down the stairs at Bom Jesus is the perfect exercise. You can also consider an overnight stay and indulge in more local specialties in Braga the next day.

In Summary
Visiting Braga is one of the most fascinating day trips from Porto to take. There is an easily accessible Porto to Braga train.
Braga was surprising in a number of ways. One one hand the city is lively and dynamic with a growing nanotechnology industry. Yet, on the other hand, the religious influence is so strong and impossible to miss.
While the cultural aspects of the Braga tour were fascinating and rich in history, the cuisine from the region was the highlight. Taking this Braga food tour with a local is one of the best ways to experience the city.
Additional Information for your Braga Food Tour
Tour: Book your Braga Food Tour directly on Eco Trilha Braga Food Tours.
Duration: Approximately 4 hours. Bring comfortable walking shoes.
Experience: Customized food tour led by a knowledgeable Braga resident.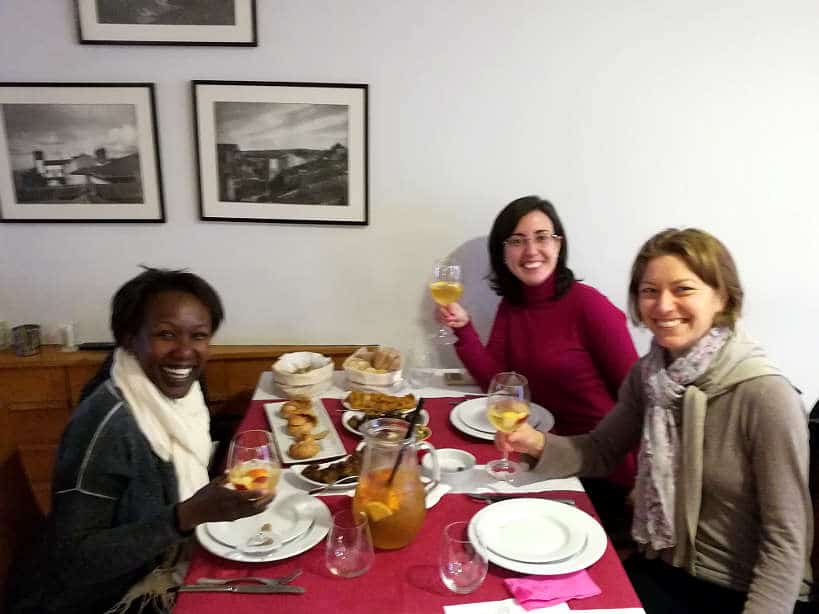 Practical Information for your Braga Day Trip from Porto 
Porto to Braga by Train
The best way to reach Braga from Porto is by train.
Take the train to Braga at São Bento or Campanhã train station in Porto.
Tickets cost about €3.20 euros one way for a total of €6.40 euros (approx $3.90 one way/ $7.90 round trip).
Purchase your tickets at the train station. Take the regular train and not the fast speed train which will cost you 5 times the price for only a few minutes gained.
Check the dates and times on the Portuguese railway website Comboios de Portugal.  
The trip takes about one hour.
How to get to Bom Jesus from Braga
Getting to Bom Jesus do Monte from Braga is very easy and convenient.
In Braga, head to the main plaza called Praça Conselheiro Torres Almeida. Across the church or Igreja do Pópulo, you will see a popular bus stop.  
Stand at the bus stop Conselheiro Torres Almeida II.
Take the bus number 2 in the direction Bom Jesus do Monte. The bus will drop you off at the terminus which is located at the bottom of the sanctuary and near the departure of the funicular.
Bus tickets cost $ 2 euros one way/ €4 euros total (approx $2.50 one way/ $5.00 round trip). Carry small change and pay the driver directly.
The trip takes about 25-30 mins and there are about 2 to 3 buses every hour going to Bom Jesus do Monte.
To go back to Braga, take the number #2 bus back from the terminus.
Where to Stay in Braga
In Braga, you'll find hotels for all budgets and tastes. The following hotels are conveniently located to the city's main sights.
Tea 4 Nine Guest House and Bistro – Every room is a fully equipped apartment, breakfast provided and the Bistro serves lunch and dinner all week.
Collector's Hostel – Cross between a B&B and designer hostel, original decor, free daily breakfast
Amelia's House – Free breakfast, fitness center, beautiful gardens and terrace
Book a Tour
Discover more of Braga, when you click below and book a tour online.
Find out What kind of food traveler are you? Take our quiz and get your food traveler profile in minutes!
Savor The Adventure!
Special thanks to Eco Trilha Viagens for having us on this Braga tour. All views and opinions expressed are our own. Full bellies and happy taste buds too!
Love it? Pin it!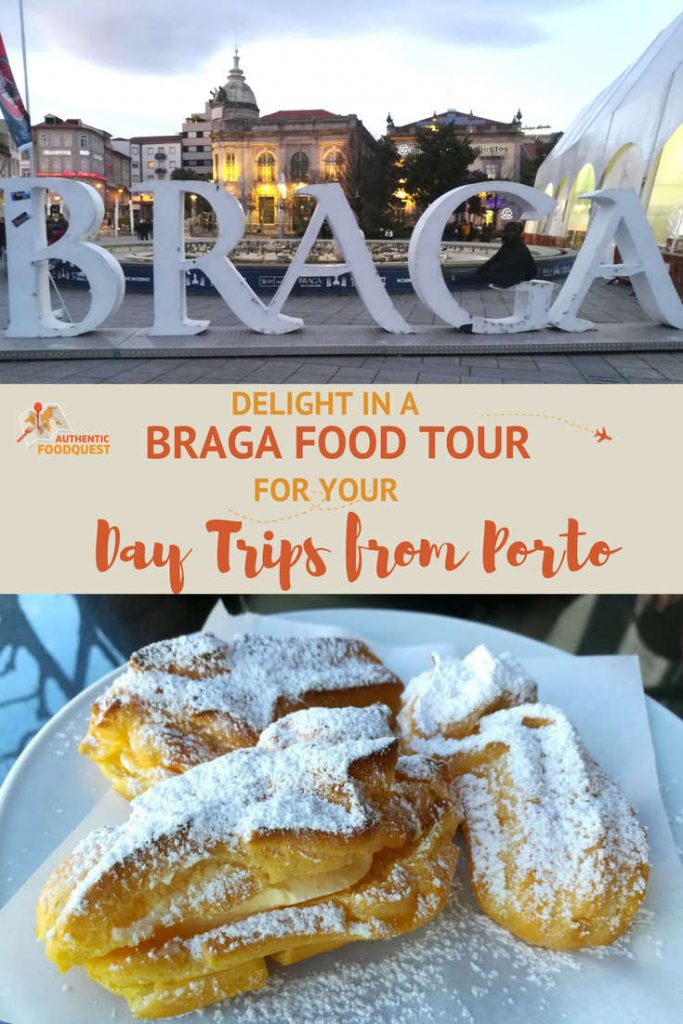 Rosemary is a writer and culinary explorer. Together with her partner, Claire, they created Authentic Food Quest to inspire people to travel deeper through authentic food. Through food, they believe, people can have more meaningful connections on their travels. Prior to creating Authentic Food Quest, Rosemary worked as a director of strategy in advertising for over 15 years.   Take the quiz and find out your Food Traveler Profile.