As we prepared for a month-long stay in Austin, the thoughts of Texas barbecue was top of mind. But when we asked locals what food specialty we should have in Austin, we were taken by surprise.
What we heard over and over again was: breakfast tacos.
While very familiar with tacos, the idea of breakfast tacos was new to us. We quickly learned that breakfast tacos are a pillar of the Austin culinary scene.
Curious to dig deeper, we set off to explore the breakfast tacos scene in Austin. In that quest, we discovered more about their popularity and the places to have the best breakfast tacos in Austin.
Join us as we explore this Austin breakfast staple.

What are Breakfast Tacos?
Breakfast tacos are not tacos for breakfast. They are a meal by themselves. They are Tex-Mex, in that they combine traditional Mexican staples with American breakfast food. Picture a flour tortilla with salsa, cheese, and beans, combined with eggs, bacon, and potatoes.
Available, only in Texas, breakfast tacos are typically served warm in a wrapped foil. It is a meal that sets the tone for the day. Eating two will give you the fuel needed to successfully conquer your morning.
The origins of breakfast tacos are somewhat contentious. Locals say Austin coined the term "breakfast tacos" while the people of San Antonio claim to have invented it.
One cannot deny that Austin has made the breakfast tacos so iconic that you can find it served any time of the day.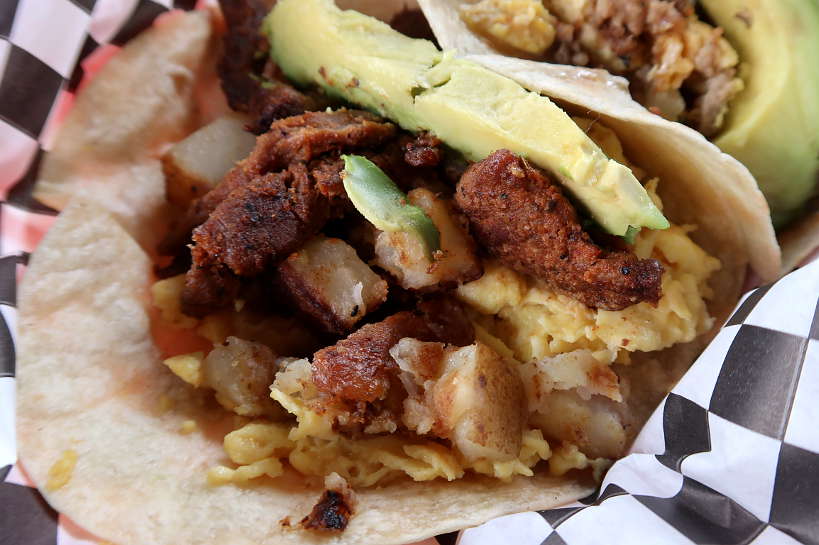 Breakfast Tacos – an Austin Institution
In Austin, breakfast tacos are beloved and every Austinite has their favorite tacos joint. New breakfast tacos recipes compete with old-fashioned breakfast tacos. You can pretty much find anything in a breakfast taco, be it fish, meat, veggies, and newly invented sauces.
On homemade tortillas, you'll find a variety of creative and healthy ingredients. From vegan, gluten-free, or veggie loaded tacos, there are more options that you can imagine.
With their relative affordability, at a cost of $4 or less, it's no wonder breakfast tacos are so popular.
One of the best breakfast tacos in Austin, that everyone raves about is the migas. Migas in Mexico are the leftovers. This typically involves crumbs of tortilla chips, eggs and other leftover foods that are not to be wasted.
Inspired by the Mexican tradition, Migas in Austin are Tex-Mex tacos filled with scrambled eggs, tortilla chips, guacamole, and a variety of other toppings.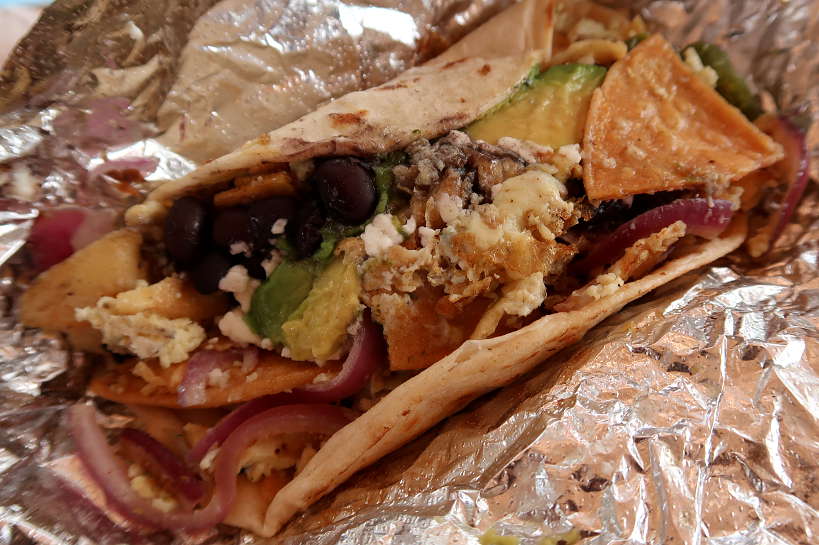 Where to Eat Breakfast Tacos in Austin – According to the Locals
When it comes to where to eat the best breakfast tacos in Austin, it's always best to ask the locals. We noticed that the favorite locations most mentioned were in the neighborhoods where they lived or worked.
However, there were a few iconic places that consistently came up for the best breakfast in Austin. Here are the places we recommend to savor migas and breakfast tacos in town.
#1 – Veracruz All Natural
Veracruz All Natural was started by two sisters, Reyna and Maritza, born in Veracruz, Mexico. Reyna's dream was always to open her own restaurant. She partnered with her business-savvy sister, Maritza, to make her dream a reality.
Today, fueled by Reyna's love for cooking and Maritza's entrepreneurship, their success is beyond what they could have imagined. Named one of the top 5 tacos places in America by the Food Network, Veracruz All Natural now has five locations in Austin and the surrounding area.
Veracruz was also the first breakfast tacos place that was mentioned to us and more specifically for their migas. Not familiar with the famous migas, we were intrigued and could not wait to taste this unique Austin breakfast food.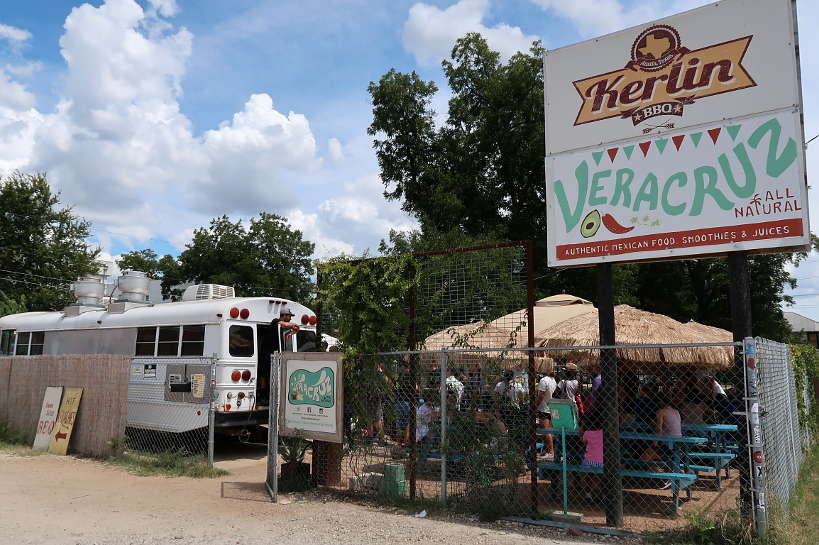 Tasting Veracruz Migas and Tacos
Following one of our local friend's recommendation, we went to the original location in East Austin for brunch. By the time we got there one sunny Sunday afternoon, a sizable line had already formed in front of the trailer.
We actually ended waiting longer in the taco line than for barbecue at Franklin's barbecue, rated the top barbecue spot in Austin.
Forty-five minutes later, we were seated with our migas and breakfast tacos in hand.
Tempted by all the tacos on the menu, we ordered the famous Migas Original, the Migas Poblanas, and the healthy looking La Reyna. To bear the wait for the tacos, we also got chips and salsa with refreshing watermelon aguas frescas.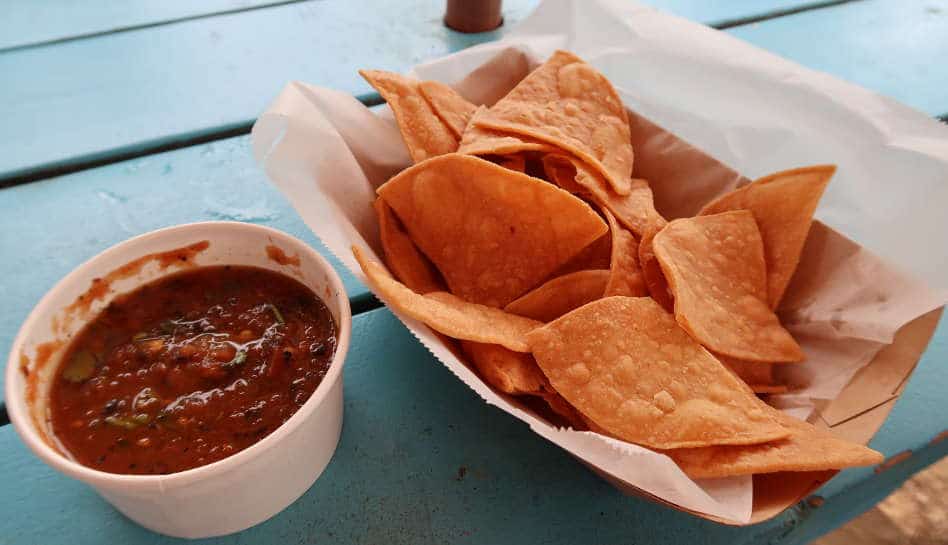 After dipping frantically into one of our best salsas and sipping the freshly-made watermelon water, we were ready.
The list of ingredients in each taco made them sound like a full meal. And they were.
With the addition of the poblano peppers to the Migas Original, the Migas Poblanas was one of our favorites.
Filled with eggs, tortilla chips made fresh, poblano peppers, red onion, queso fresco, black beans, and avocado, it was a mouthful of delight. Everything tasted really fresh and the tortilla chips, crispy and salty, added the ideal bite to the migas.
La Reyna was a pleasant surprise. This breakfast taco comes with egg whites, mushrooms, carrots, spinach, cilantro, onion, red bell pepper, Monterey jack cheese, and avocado. With this wonderful mix of vegetables, freshly cooked and crackling under the teeth, it was definitely one of our best breakfast tacos in Austin.
Happily, we got to taste an additional breakfast tacos that had been mixed up in our order. Thank You Veracruz!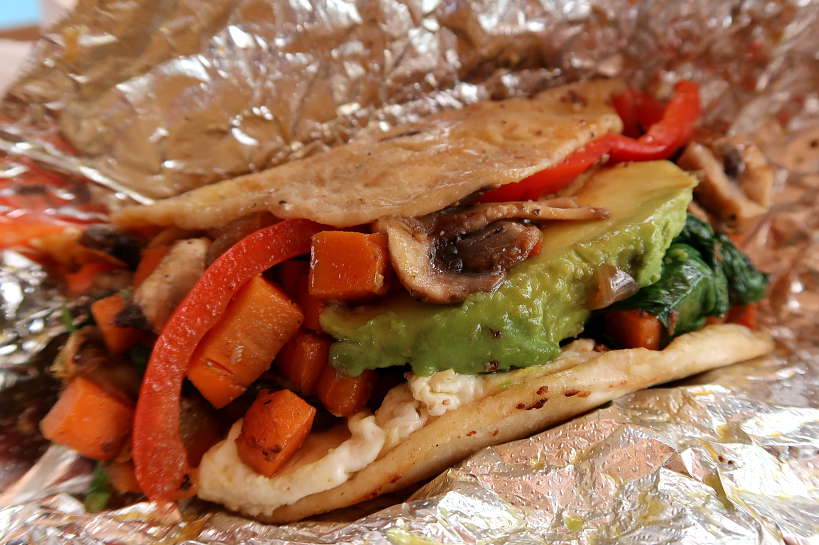 #2 – Torchy's Tacos
What started as a food truck has grown to become one of Austin's beloved taco chains. Their slogan "Damm Good" is exactly what we thought the first time we tasted these native tacos.
At the Torchy's location near the University of Texas, we got acquainted with a variety of tacos with evocative names. From the tipsy chick, democrat, independent, republican and more, there is a sense of playfulness that just draws you in.
For a taco joint, we were very impressed by the decor of the place. Even though it is a chain, it doesn't have a fast-food vibe. The decor is cheeky and playful. This particular location even has a bar with Torchy's margaritas, that are not premixed and with the perfect balance of tequila and sweetness.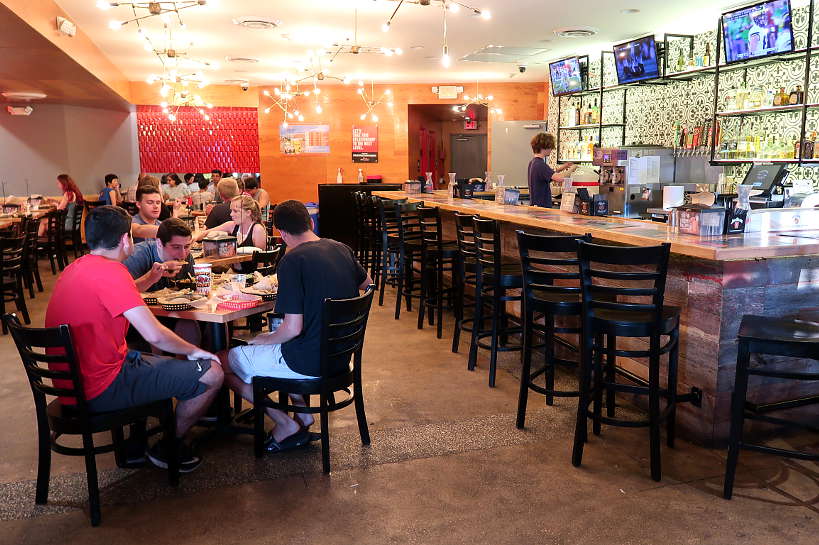 Tasting Torchy's Tacos
Tempted by the following tacos, we ordered the beef barbacoa Democrat, the seared ahi tuna Mr. Pink, Baja Shrimp, and the monthly special. We completed the order with an order of guacamole and the much hyped about sumptuous Torchy's queso dip.
In general, all the tacos were great. The combination of diverse and in some cases, an unexpected mix of ingredients was phenomenal. Mr. Pink, for instance, matches chipotle sauce with seared ahi tuna, and the combination works.
Messy to eat, and a delightful indulgence, it's no wonder Torchy's Tacos are so loved.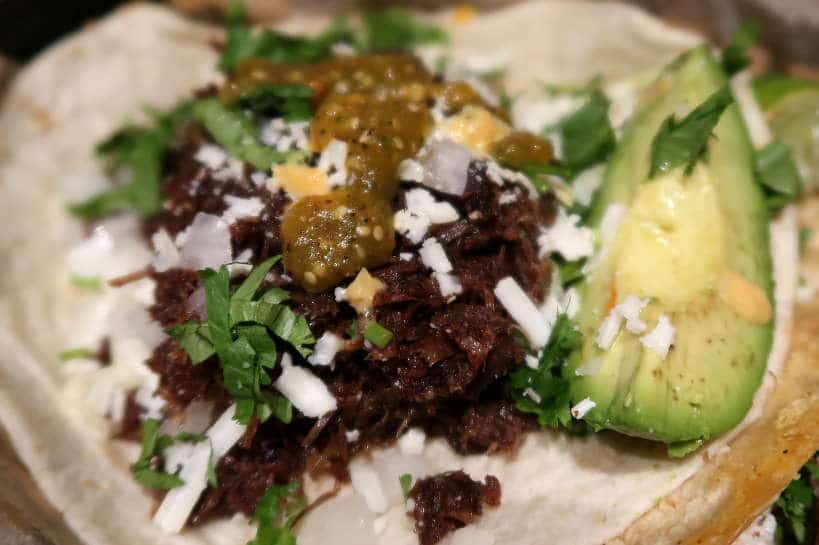 The famous green chili queso with chips was the best queso dip we've ever had. Velvety and smooth, this green chili queso has the perfect savory heat that allows you to keep eating without the fear of a burning chili taste.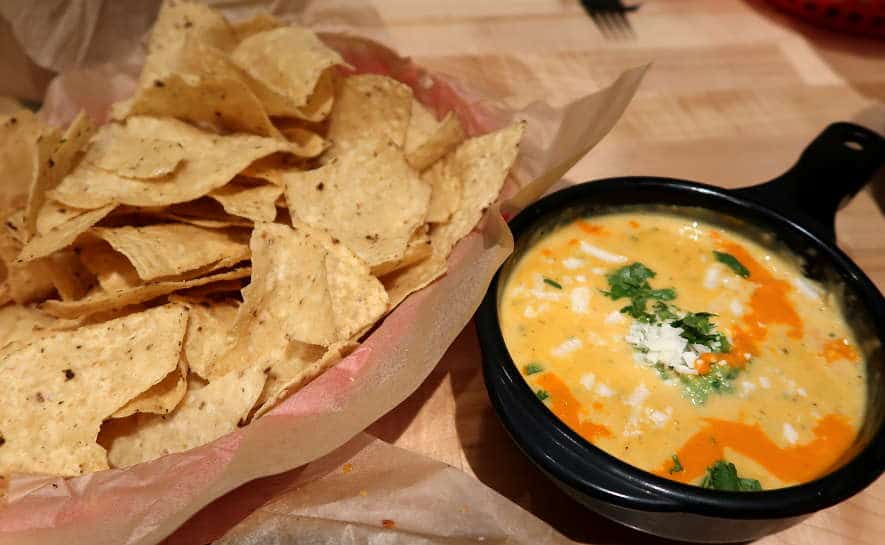 Where to Eat Breakfast Tacos in South Austin
Torchy's has over 15 locations in Austin and in multiple cities throughout Texas. Beyond the Lone Star State, you'll find Torchy's in Oklahoma and Colorado.
Torchy's Tacos South Lamar – Flagship Location
Address: 3005 S. Lamar Blvd, Austin, TX
Hours: Open every day; 7:00 am- 11:00 pm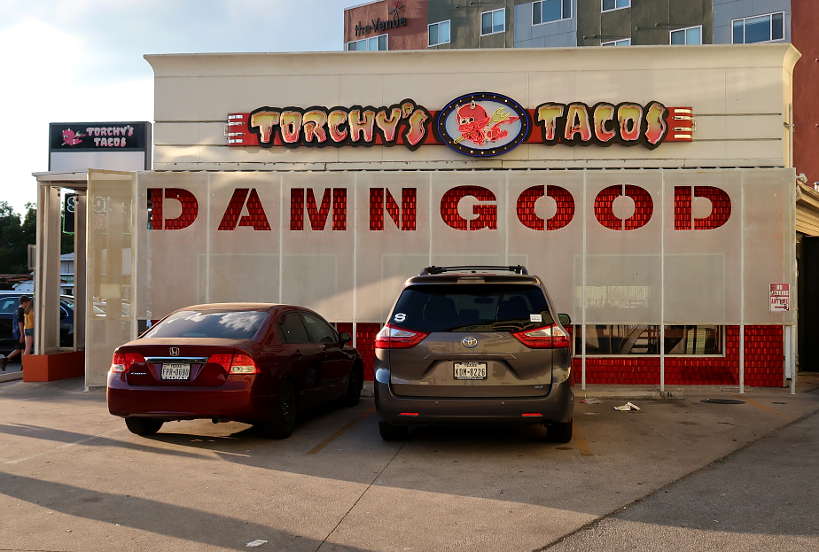 #3 – Cenote
Popularly known as a coffee shop and restaurant, Cenote in east Austin, is also home to delectable tacos.
The place recommended to us by Amy, a local, who said: "you'll find some of the best tacos in Austin, that no one talks about."
Located in a historic house built in 1887, Cenote is very welcoming. The place has a relaxed atmosphere, with comfortable couches as well as space for working. The outdoor seating area is spacious with large wooden tables under umbrellas.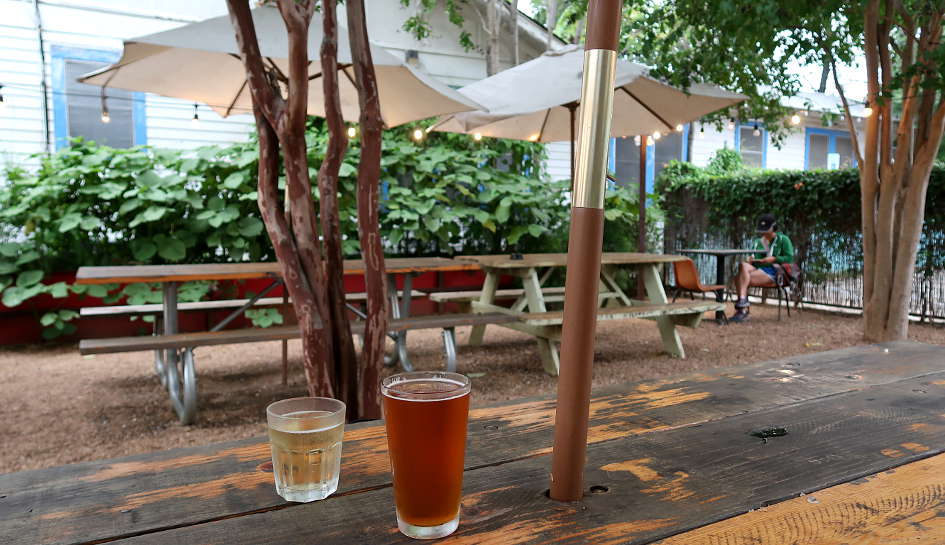 Tasting Cenote's Tacos
Keeping in mind Amy's recommendations, we bypassed all options on the menu and went directly to the tacos. We ordered the tacos plate with the choice of three tacos including fish tacos, chicken fajita, and a carnitas taco. A side salad completed the plate.
Having tasted their beet fries previously at a potluck dinner, we made sure to order them again.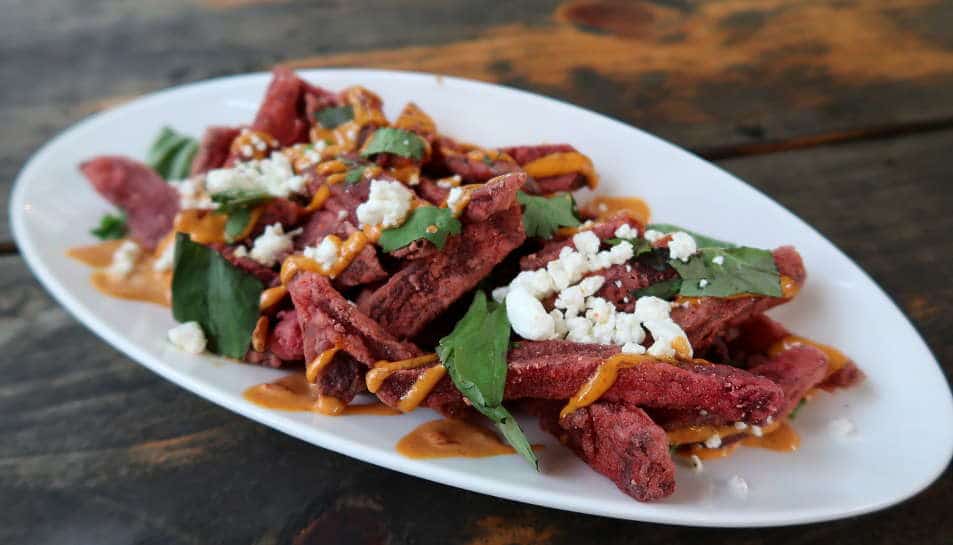 The first glance at our meal, which arrived while seated outdoors, we knew it was going to be good. The fresh arugula, as well as the avocado, onions and tomatoes falling out the tacos, was a clear indication of the use of high-quality ingredients.
The homemade 50/50 corn/flour tortillas held the tacos perfectly in place. Each taco was juicy with the right amount of flavor.
Cenote prides itself in making everything from scratch with the simple ingredients. Seasonal ingredients from Texas farmers including local craft beers and wines are featured.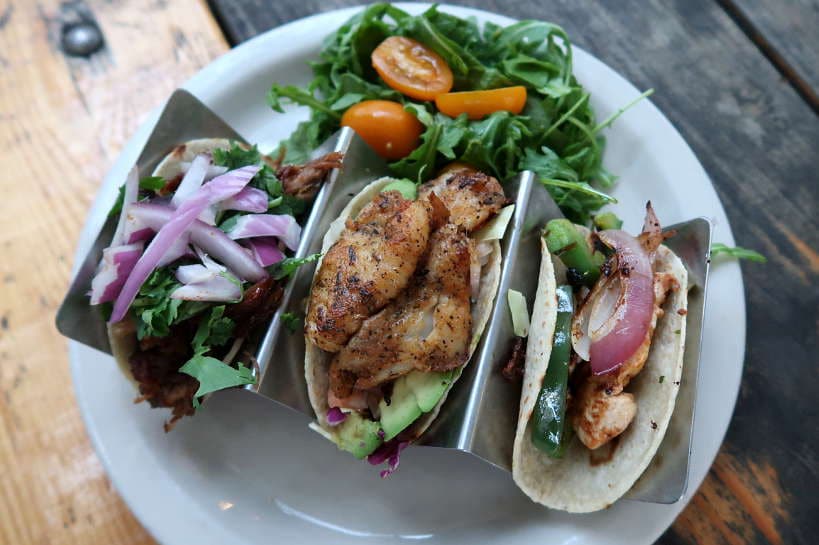 Where to Eat the Best Breakfast in Austin
Address: 1010 East Cesar Chavez Austin, TX
Hours: Mon – Fri; 7:00 am- 9:30 pm; Sat, 8:00 am – 9:30 pm; Sun, 8 am – 4:00 pm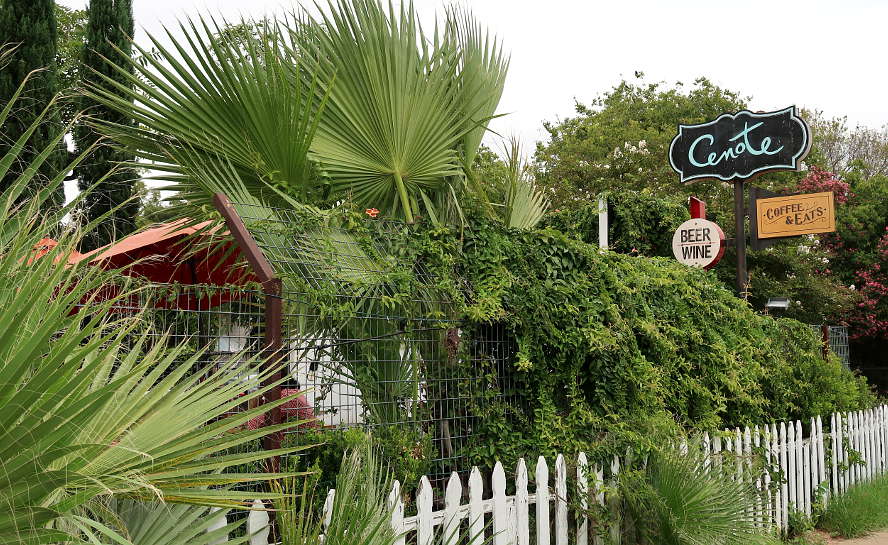 #4 – Tyson's Tacos
Tyson's Tacos, a small neighborhood joint on Airport Boulevard, was another gem highly recommended by locals for the best tacos in Austin.
Helen, whom we were house-sitting for, told us with a lot of enthusiasm to definitively check the place out. "I cannot believe I only discovered this place recently!" she said and "the tacos are really tasty. It's also a great place to hang out."
The extensive menu at Tyson's Tacos is the first thing that strikes you as you walk up to the counter to order. There are dozens of tacos to choose from. Story has it that most of the tacos have been created by Austinites who love the place. The names are creative and so are the ingredients.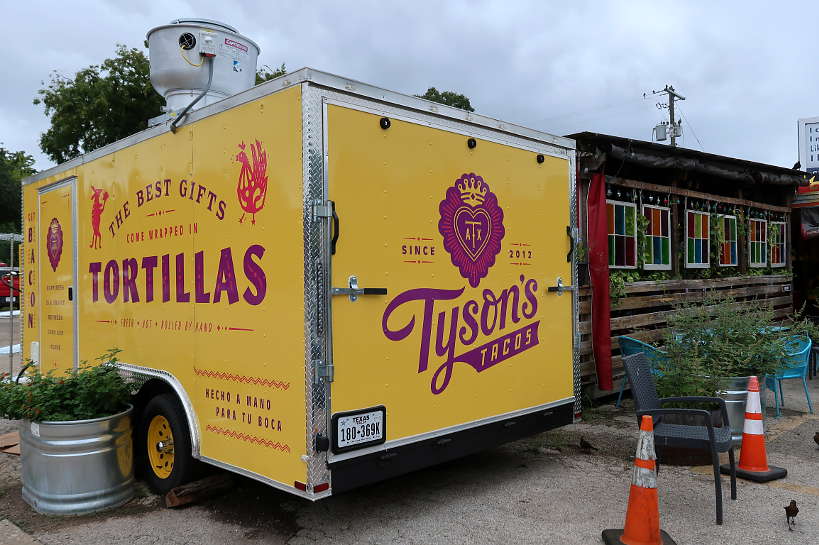 Tasting Tyson's Tacos
We went to Tyson's Tacos twice and each time ordered one of the most unusual tacos we've ever had.
The Pescado y mariscos which came with pecan crusted corn tilapia, pickled beet slaw, and purple cabbage with raspberry pico de gallo with a kiss of goat cheese.
Intrigued by the unusual combination of tilapia with raspberry pico de gallo and charmed by the kiss of goat cheese, we just had had to try this Austin style taco.
The taco named Wild Feminist immediately caught my attention. Filled with eggs, house sausage, avocado, potatoes, and pico, this was another taco to savor.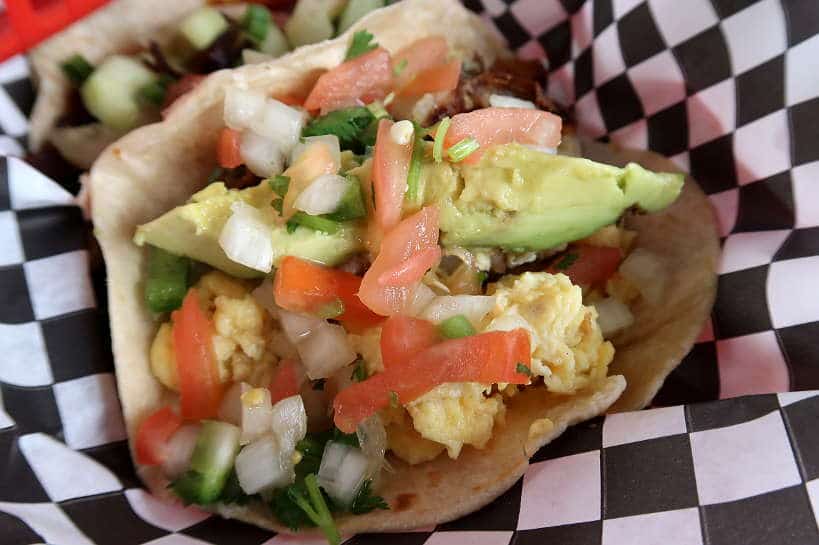 Other tacos we tried were The Rage which comes with eggs, black beans and fried avocado and Queen Barret, which has migas, avocados, house sausage, and fresh jalapenos.
The pescado y mariscos was the most outstanding tacos. Surprisingly, the unusual flavors complemented each other. The pecan crusted tilapia was moist and not greasy at all. When combined with the pickled beet slaw and raspberry pico de gallo, the flavors harmonize in the mouth.
The outdoor seating patio, friendly staff, and availability of local craft beers make this neighborhood joint worth discovering.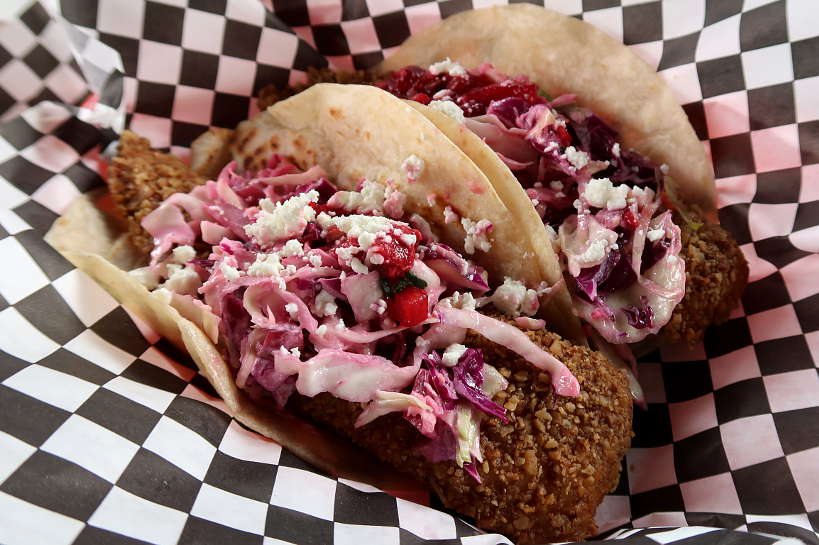 Where to Eat Breakfast Tacos in North Austin
Address: 4905 Airport Blvd, Austin, TX
Hours: Open 24/7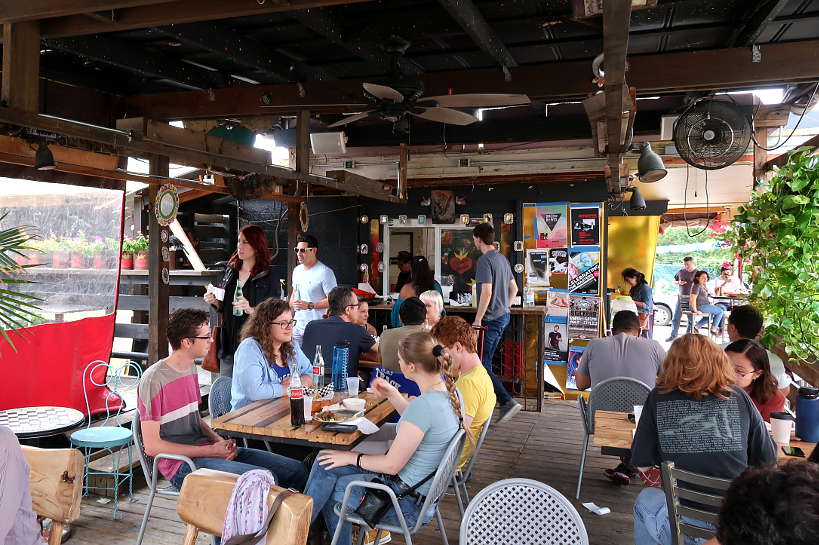 #5 – One Taco – An Urban Taqueria
Located in downtown Austin, is where you'll find the original One Taco food truck which opened in 2009. They now have two brick and mortar locations around Austin. We went to the downtown Austin food truck for a taste of traditional tacos with a variety of ingredients.
Tony, one of the owners was working the food truck when we got there. Really friendly, he described his concept as offering authentic Mexican Style Tacos. As he said "conceived in México and born in Austin".
Following his recommendations, we ordered the Gowalla tacos which came with steak, bacon, avocado slices, queso served on a corn tortilla.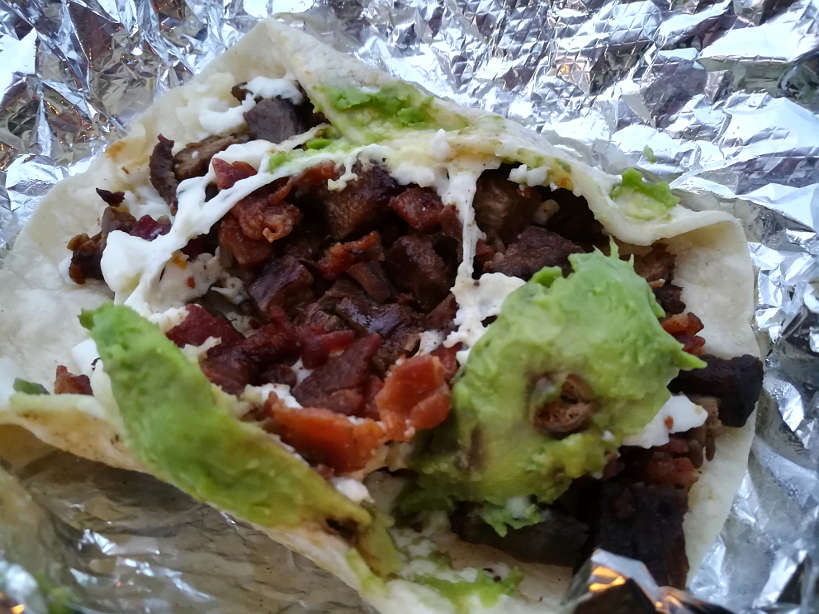 The second recommended tacos was the Taco Bandera, a grilled chicken taco with avocado slices and pico de gallo, on a corn tortilla. We completed our order with a serving of chips and salsa.
One of the aspects we really enjoyed was the ambiance. One Taco food truck downtown is attached to a popular neighborhood bar on West 6th street called Little Woodrow's.
The outdoor seating area with a full bar featuring Texas craft beers is the perfect place to relax and watch sports on one of the many screens.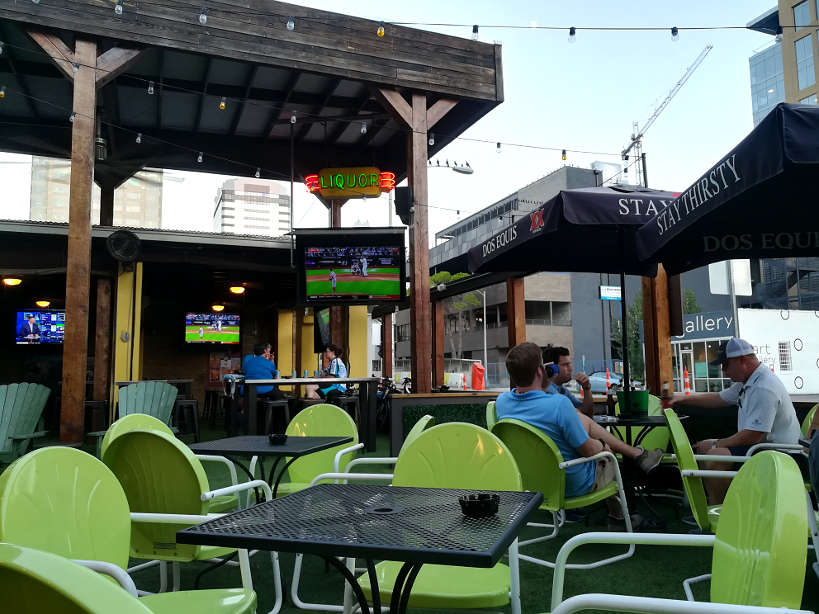 Tasting Tacos from One Tacos – An Urban Taqueria
For solid breakfast tacos downtown Austin, One Tacos is a great spot to check out. Both tacos were incredibly fresh and flavorful. The Gowalla tacos was stuffed with perfectly seasoned steak and with all the other ingredients, it made for a very filling tacos.
While a grilled chicken tacos might seem basic, we were quite impressed by the flavors of the tender chicken with avocado and the hint of spice from the pico de gallo.
One Tacos offers hearty tacos with authentic flavors. If you are in downtown Austin and craving tacos, this casual spot is worth seeking out.
Where to Eat Tacos in Downtown Austin
Address: Food Truck, Little Woodrow's, 520 W 6th St, Austin, TX
Food Truck Hours: Everyday; 11:00 am – 10:00 pm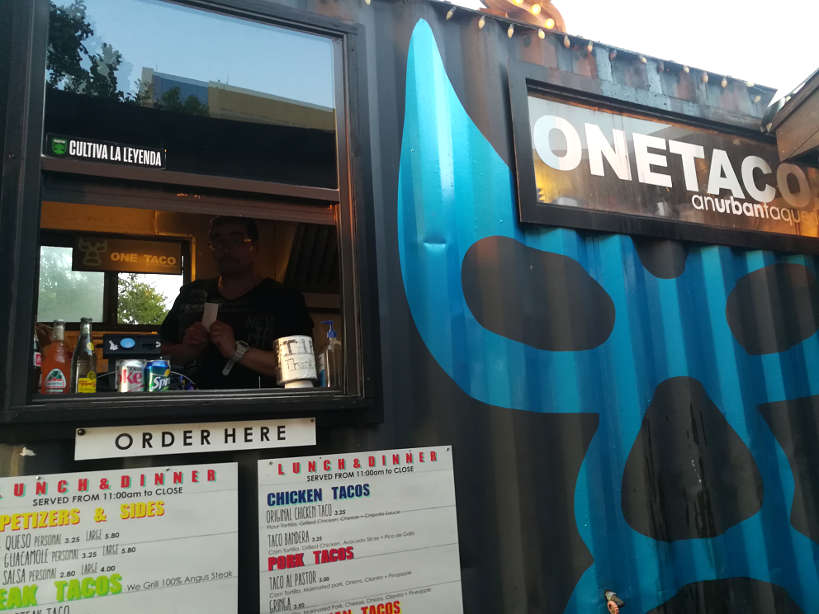 #6 – Tacodeli
Tacodeli is the other popular native Austin taco chain that came up frequently when we asked for local locations. The first taqueria opened in 1999, and by now the chain has five locations in Austin as well as in Dallas, Plano and Houston.
After a morning run on Friday morning, we stopped in for lunch at the Central Austin location on Lamar Blvd.
When we first walked in, we were welcomed by the bright colors and airy atmosphere and surprised by the long line. The wait gave us a chance to peruse the menu and read the favorable press on the walls.
The menu is extensive and features chicken, beef, pork, fish and vegetarian options. We went for the house favorites including the Friday special, an unexpected ceviche yucatan.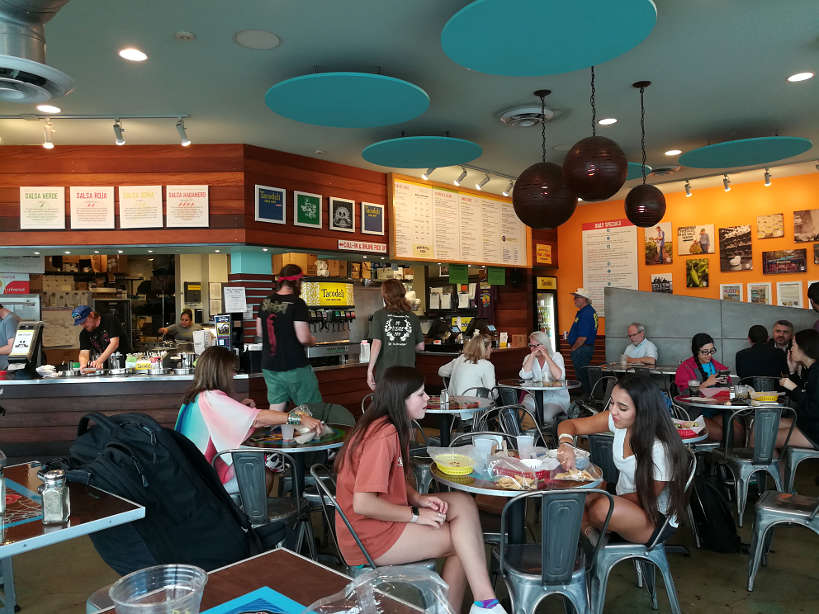 Tasting Tacos from Tacodeli
The surprising ceviche yucatan featured lime cured mahi, roasted peppers, corn, serranos, onions and cilantro. One of the house favorites, the cowboy taco, had juicy beef tenderloin, caramelized onions, roasted peppers, cheese and guacamole.
From the sea, the mojo fish taco, a grilled line caught Texas gulf drum was prepared with a garlic sauce, spiced slightly with pico de gallo and served with guacamole. The final tacos was the classic carne asada, with grilled ribeye, avocado, cilantro, onion, lime wedge.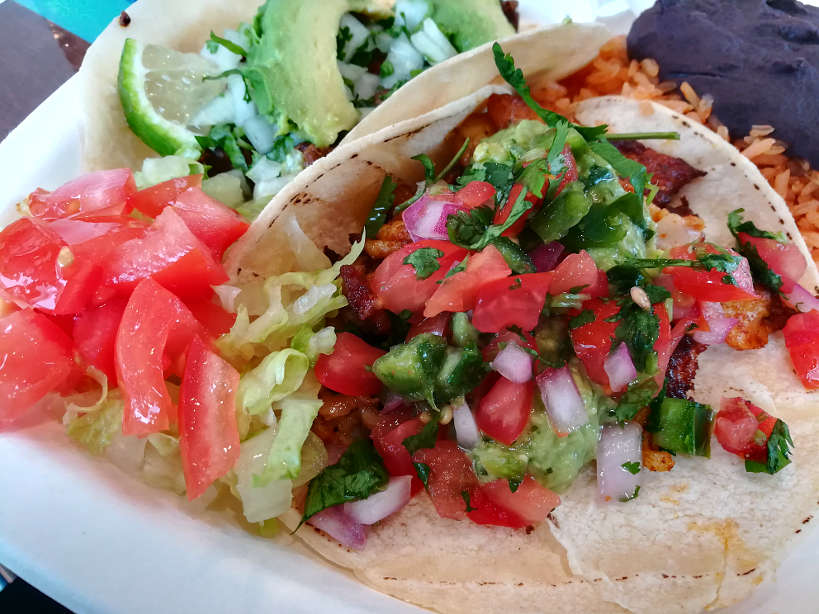 Rice and beans and a serving of the masa chips and salsa roja (medium hot sauce) completed the order.
Overall, the tacos were solid. Not exceptional, but the kind of place you can count on for convenience. The tacos were plump full, though the carne asada was disappointing, as it was too salty.
Between the two taco chains in Austin, our preference goes to Torchy's. However, Tacodeli is a reliable option for a wide range of tacos made with fresh ingredients.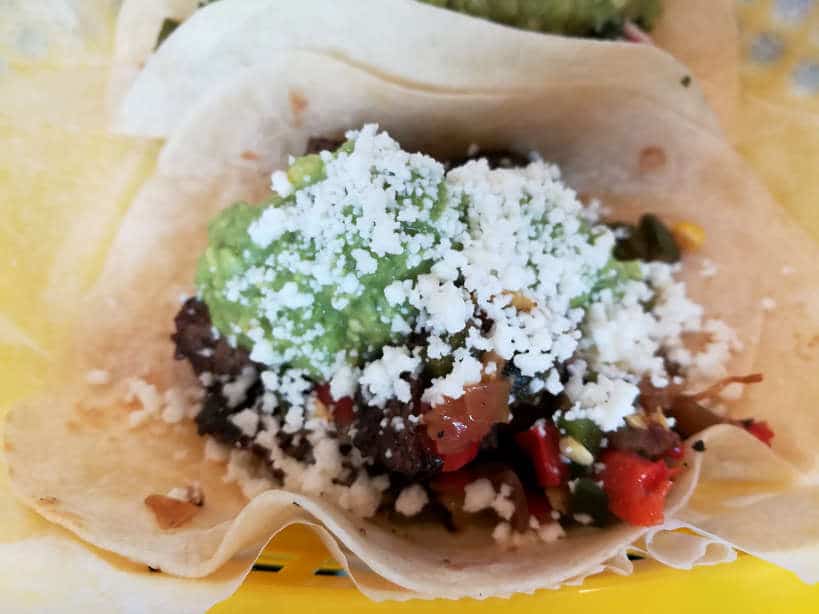 Where to Eat Breakfast Tacos in North Austin
Address: 4200 North Lamar Blvd, Austin, TX
Hours: Mon – Fri; 7:00 am- 3:00 pm; Sat – Sun; 8:00 am – 3:00 pm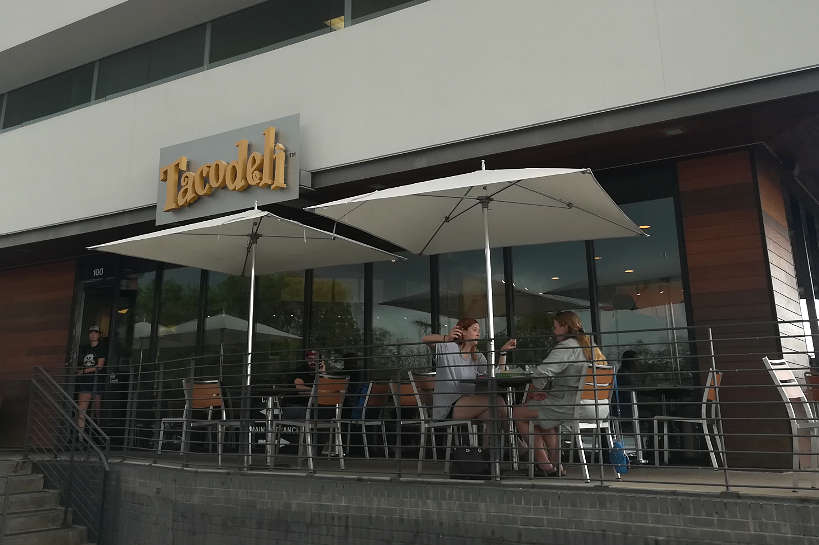 In Summary
Breakfast tacos in Austin are deeply woven into the fabric of the local food culture. With the proximity to Mexico, we expected to find more traditional flavors and ingredients.
As one Mexican grandmother told us during our stay, "breakfast tacos don't exist in Mexico", the flavors you'll find in Austin, her daughter added "are uniquely Austin."
From freshly made tortillas stuffed with fluffy eggs, bacon, salsa, and more, there is a taco for every persuasion and every occasion.
The best part is that you can enjoy breakfast tacos in Austin at any time of the day – morning, afternoon, or evening. Put all expectations aside and let the creativity and local flair guide your tacos choices.
Have you ever had breakfast tacos before you? If not, which of these tacos would you like to try? Let us know in the comments below.
Savor The Adventure!
Love it? Pin it!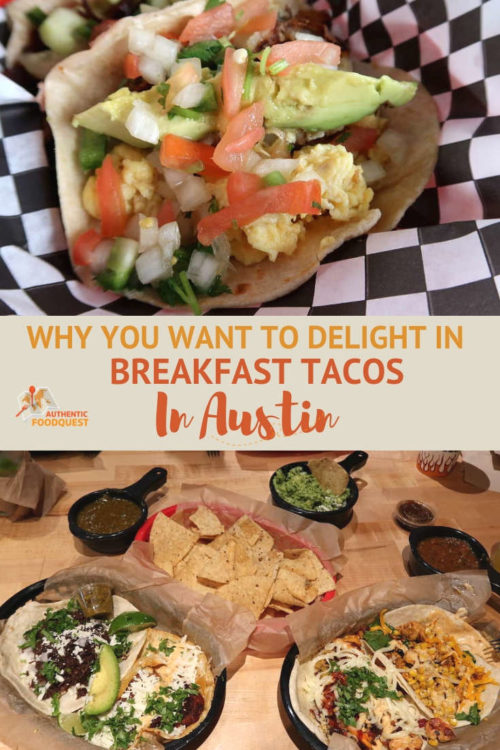 Claire is co-founder of Authentic Food Quest and a lover of simple and exquisite cuisine. Since 2015, with her partner, Rosemary, she has been traveling the world as a digital nomad, creating content about local food experiences.
Her advice from visiting 45 countries and more than 240 food cities has been featured in Lonely Planet, Business Insider, Honest Cooking, Food Insider, and Huffington Post. She has also co-authored three books, including one in collaboration with Costa Brava Tourism.
An ex-mechanical engineer, Claire is responsible for SEO, keeping the website running, and the fun food & travel videos on YouTube.
When Claire is not eating, she can be found running or cycling. Find out more about Authentic Food Quest