Numerous Bulgarian restaurants offer the opportunity to taste traditional and regional specialties.
During our three month-stay in Bulgaria, we observed a few surprising things while eating at restaurants in Bulgaria.
From the menu to eating in groups as well as the payment mode, there are a few things you want to be aware of ahead of time.
To make the most of your restaurant experiences in Bulgaria, here are ten surprising facts about eating at Bulgarian restaurants.

1 – Food in Bulgaria Is a Shared Affair
In Bulgaria, people love to eat and share meals together. Dinner is traditionally the largest meal of the day and can extend into the night.
At restaurants, you'll often find families and friends dining together in large groups. As such, many dishes on restaurant menus lend themselves to sharing.
One of the most popular traditional dishes is sache. Sache is a large serving of sizzling meat served on a large iron plate at your table.
The meat is generally a combination of pork, sausages, and chicken. This is often accompanied with onions, mushrooms and peppers.
For the non-meat eaters, there is a vegetable sache. In a similar fashion, this is a mix of vegetables served on a hot sizzling pan.
The common vegetables are roasted peppers, zucchini, eggplants, tomatoes, onions served with potatoes.
Expect to find several menu items which include platters of salads, meat, vegetables, dessert, and more, at traditional Bulgarian restaurants.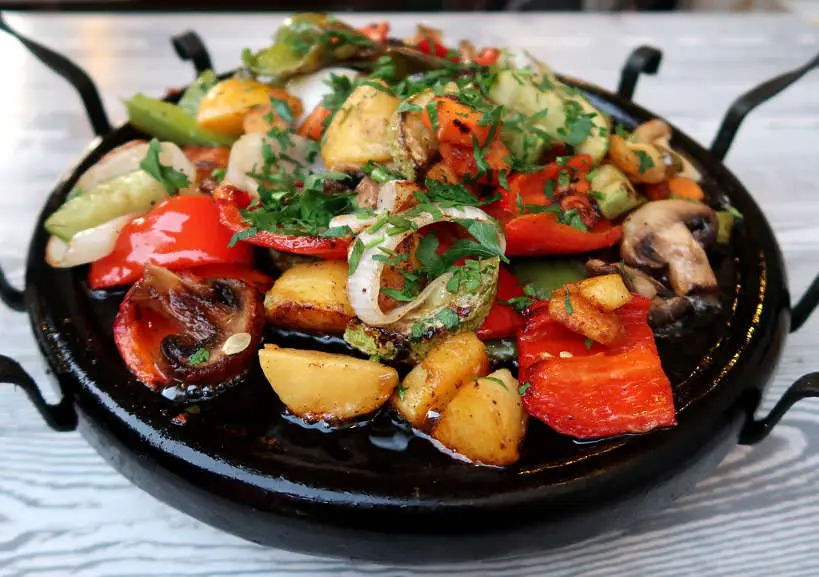 2– Restaurant Menus List Food in Grams
In Bulgaria, most restaurants offer the menu in both Bulgarian and English.
As you scan through it, the first thing you'll notice is the weight of each dish in grams, often depicted as "gr." or "гр."
It's strange at first but something you'll quickly get used to as you'll see this practice at almost all restaurants.
The weight of each of the dishes is not limited only to the meat, it also applies to salads, soups, stews and more.
This practice is actually quite helpful allowing you to match your level of hunger to the portion size.
When it comes to the meat portions, it is quite practical. For instance, grilled meat on a skewer is a very popular dish.
While some skewers might weigh 100 to 150 grams, others can be 300+ grams, enough for two people.
With the weight indications, you get a better sense of how much to order. And if the dish is for single portion or for sharing.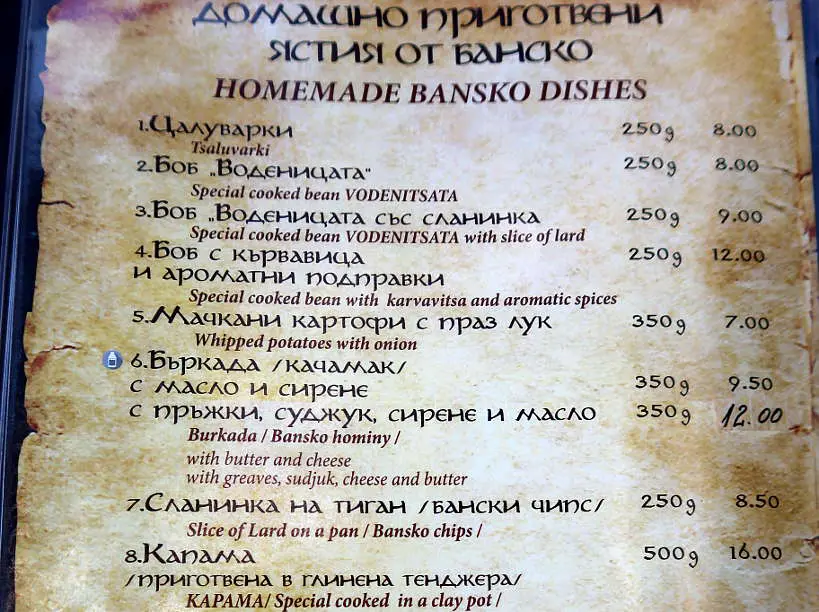 3 – Eat like a Local and Order a Salad to Start
When it comes to meals, Bulgarian usually start out with a fresh salad.
Even if traditional Bulgarian dishes can be filling, you might want to follow the same local habit and choose a salad to start.
Waiters also expect you to order a salad, and the most common is the traditional shopska salad.
The shopska salad is emblematic to Bulgaria. It is a tomato salad made with the delicious pink tomato from the country.
With the tomatoes comes cucumbers and a healthy serving of Bulgarian white cheese called sirene.
Ordering a salad before your main meal gives the kitchen time to prepare your order.
As we'll talk more below, Bulgarian kitchens are not the most organized. A salad order helps keep your stomach from grumbling as you wait for your main dish.
One additional tip is don't hesitate to ask for olive oil to go with your salad. Usually you will have a set of salt, pepper, sunflower oil and vinegar on the table.
To get olive oil, you will need to ask for it. Just ask for "zekhtin" pronounced "cetin".
4 – No Tap Water on the Table
Getting tap water at restaurants varies greatly depending on the country you are visiting.
In the U.S., tap water is expected. As soon as you sit down, a server brings a large glass of water typically filled with ice.
While in Thailand, you'll serve yourself filtered water from a cooler or large water vessel and get ice as needed.
In Bulgaria, you are rarely served tap water at restaurants. We found it very surprising for a country that is known for having numerous mineral waters.
We learned that in Sofia, the tap water is filtered, due to contamination from the aging pipes.
But the tap water in the mountains is not only potable, it also tastes amazing. Even so, barely any Bulgarian restaurants offer tap water.
You will need to order mineral water, which fortunately is widely available and relatively cheap.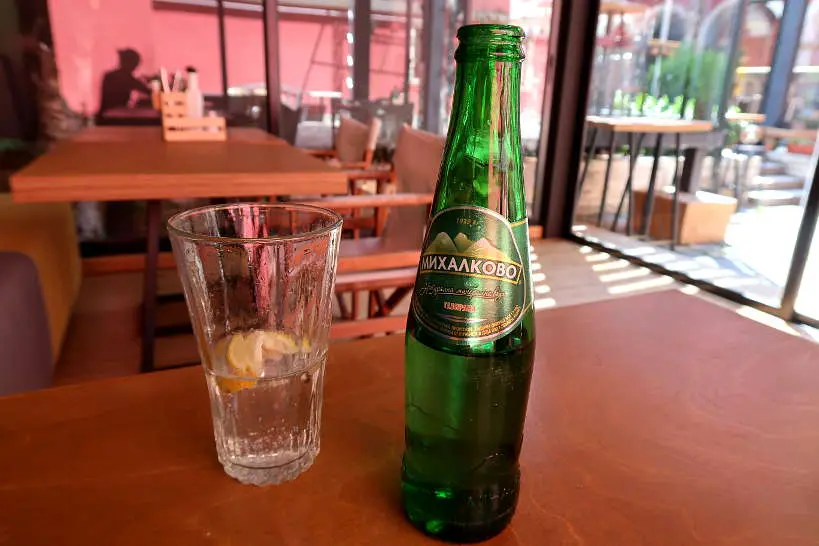 5 – Don't Be Afraid of Homemade Wine
On our first evening in Bansko, located in the Pirin Mountains, we went to a traditional Bulgarian restaurant and were offered homemade red wine.
When the friendly waitress saw our raised eyebrows, she reassured us, and told us: "it is really good."
We both wondered: "What is homemade wine ?"
Up for the adventure, we said, yes. And we were glad we did. Our waitress was right, the homemade wine was an easy to drink table wine.
We later learned about Bulgaria's ancient history in winemaking. Vines grow in many parts of the country and people make their own wines at home.
Even though the winemaking process at home is often very rudimentary process, there is pride taken in this milenia old craft.
One thing to note is that homemade wine do not age well. For that reason, it is best to drink homemade wine after harvest season in September.
In any case, whatever time of the year you are in Bulgaria, don't leave the country without trying homemade wine at Bulgarian restaurants.
Related: Read more about Bulgarian wines in our article Melnik wines and wineries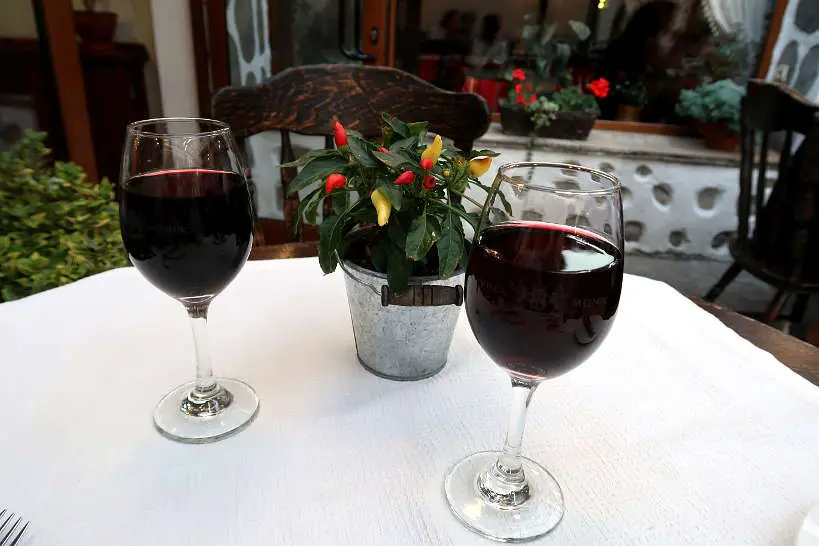 6- Smoking Happens in Bulgarian Restaurants
Smoking is a favorite Bulgarian pastime. And unfortunately, this habit has made it into restaurants.
If you're from a country or culture where restaurants are non-smoking, you're in for a shock in Bulgaria.
Our focus is on local and authentic dishes and the best places to try them is in traditional Bulgarian restaurants.
This is also regrettably where you will encounter the most smoking in restaurants.
For example, one evening while dining at an outdoor restaurant in Bansko, we sat down at a table for two.
Next to us was a large table for about eight people.
When we arrived, the large table was open and we relished our time together sipping homemade wine on the outdoor patio.
Shortly after, a group of Bulgarian's came in, probably two families, comprised of four adults, two toddlers and the elderly parents of one of the couples.
Unsurprisingly, after getting seated, all the adults lit up their cigarettes.
At this point, we had just received our salads and had to contend with smoke filling up the air.
Irritated, we waited patiently for the table to receive their salads and looked forward to them stubbing out their cigarettes and eating.
To our surprise, the men and in particular the eldest one continued smoking.
It was particularly fascinating to watch the skill involved in chewing food between puffs of smoke.
Although there were children at the table and food on the plates, the smoking was ongoing.
Be prepared to deal with the smoke at traditional restaurants (typically referred to as Mehana), and sometimes even indoors.
Don't assume the presence of food or even babies, will break the smoking habit.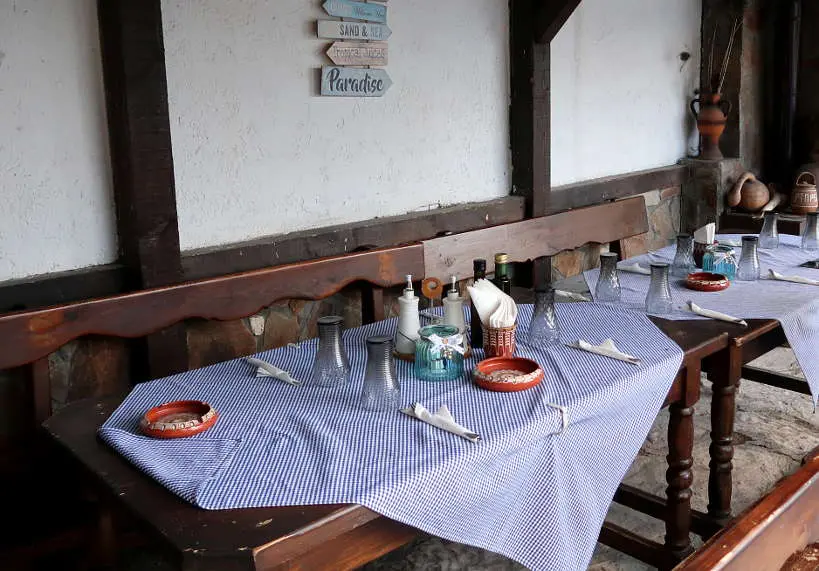 7 – Service Can Be Spotty
When it comes to eating at Bulgarian restaurants, adjust your expectations about the service.
We found the quality of service to vary greatly from one restaurant to another. And sometimes, between one waiter to another in the same place.
In Bansko, we had lunch at a popular restaurants in the center.
We once had a pretty miserable experience with a waiter who acted like she didn't want to serve us.
Another time, at the same place, the service was friendly and food tasty.
Generally, when a waiter is not confident with their English, they are reluctant to serve the table.
It's really a hit or miss.
Several Bulgarian friends shared similar stories about poor restaurant service experiences.
Even local chefs confirmed that the service needs to be improved.
One thing to know is that Bulgarian say "yes" by shaking their heads from left to right.
This can often be misleading and interpreted as a negative response.
All in all, service at Bulgarian restaurants is definitely not their strongest asset.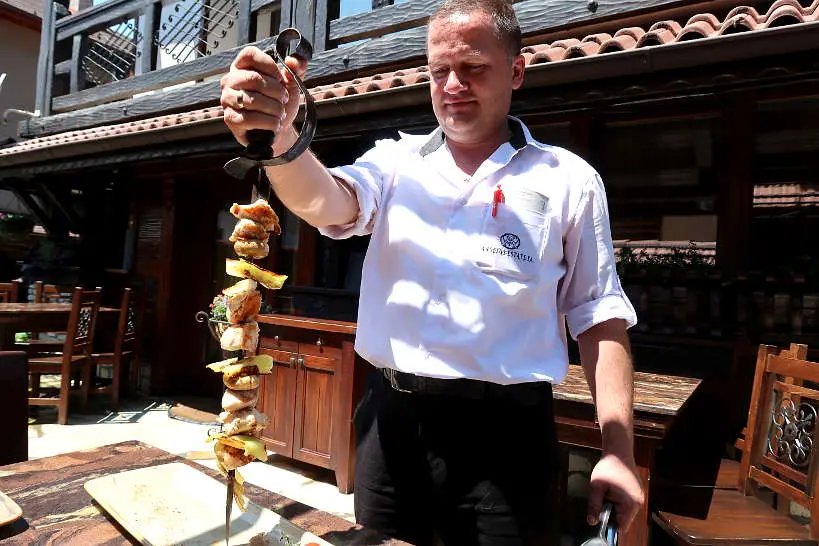 9 – Groups – Don't Expect to Be Served at the Same Time
Relatedly, it is hard for Bulgarian restaurants to handle large groups. And by large, we are only talking about more than four people.
We had several experiences at small restaurants or larger venues, where group serving was chaotic. We saw the same trend in the main cities as well as in smaller towns.
Even though everyone places their order at the same time, there is a significant time difference between when the first and the last person gets their meal.
We once had to wait over three hours for everyone in our group to eat. With the size, refills on drinks or special orders also often go unnoticed.
Ultimately, eating in groups creates headaches that few Bulgarian restaurants can handle.
However, if you are planning to have a party of four or more people, always make a point to let the restaurant know about it in advance.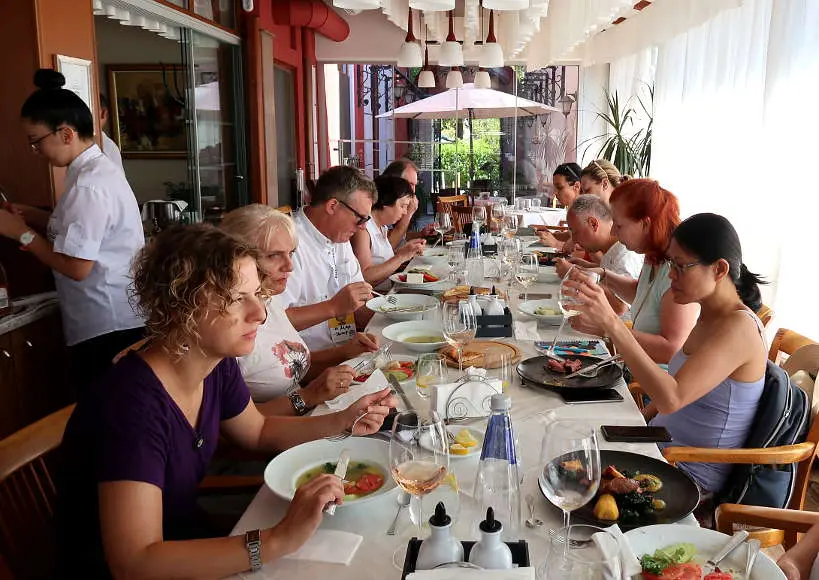 8 – Food in Bulgarian Restaurants Doesn't Come out at the Same Time
As we noted earlier, kitchens in Bulgaria are not always the most organized.
We noticed after eating at several different eateries that the food does not come in any particular order.
Some of the most popular local dishes are grilled meat or fish. Typically, you order the meat or fish with several sides.
Generally, we would order a serving of grilled meat with fries and a side of grilled vegetables.
On several occasions, we would be served the fries first and then have to wait for the meat and vegetables.
Other times, the meat would come first and we'd have to wait for the fries and vegetables.
There is no particular sequence to the food. And, if you choose to wait for everything to come out before you start eating, you'll be eating a cold meal.
The one tip found to improve the sequence in which the food comes out is to order a salad first.
That way, the kitchen has time to prepare the other warm dishes while you are eating.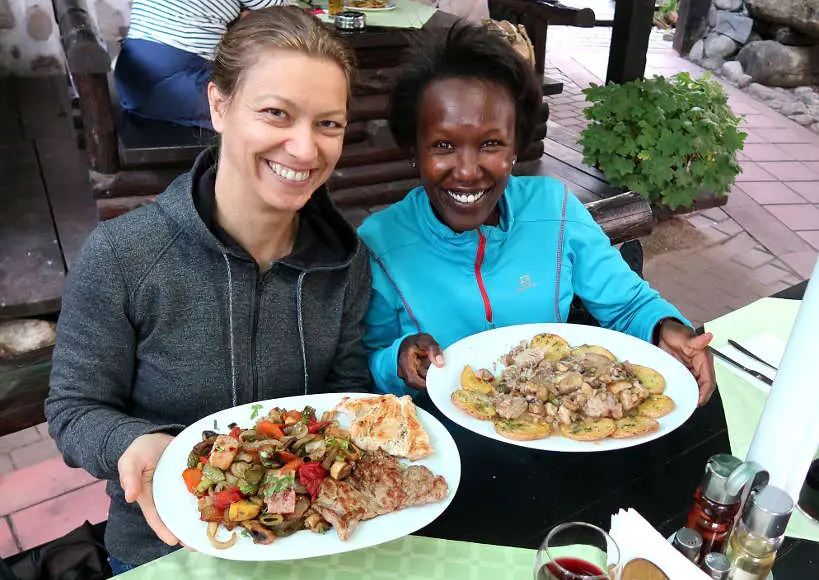 10 – Cash or Credit in Advance
At the end of the meal, servers in Bulgarian restaurants will typically ask how you prefer to pay the bill.
Although some restaurants only accept cash, we also found many where you can pay by credit card.
This simple question, has big implications. Bulgarian restaurants process the bill differently depending on the mode of payment.
If you change your payment mode, you create a lot of work for your server.
At a local restaurant, we once told our waiter that we would pay our bill in cash.
However, when we looked at the amount, we changed our minds and pulled out a credit card instead.
The reaction we received by changing the payment method was very surprising.
Our waiter complained that it was difficult to make the change, even though the restaurant accepts credit cards.
Eventually, the waiter accepted our credit payment.
In Bulgarian restaurants be very clear from the start on how you will pay for your meal and avoid to change your mind.
One thing to keep in mind is in smaller towns, restaurants prefer cash payments.
Always have cash with you in case you run into the potential issue of the credit card terminal machine not working.
One last note on tipping. Although not mandatory and depending on your experience, a 5% to 10% tip is welcome.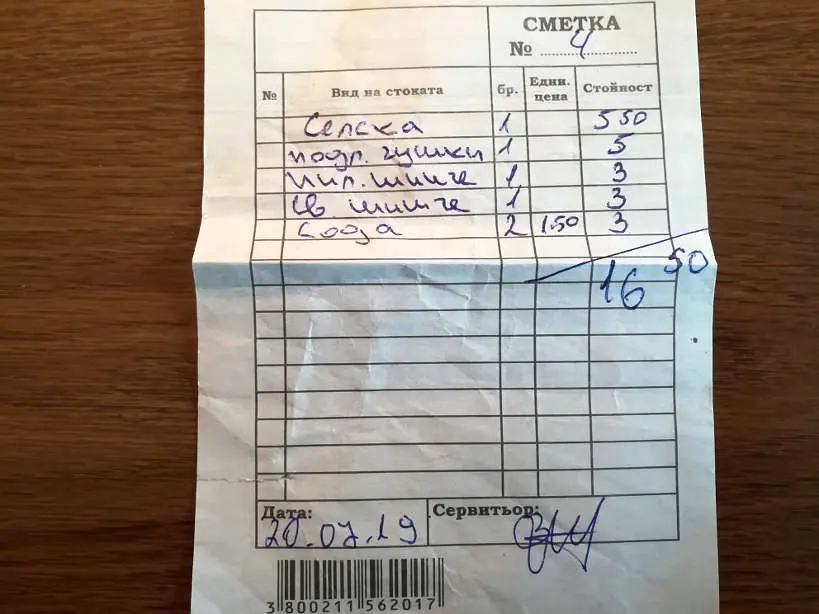 In Summary
While visiting Bulgaria, make a point to experience traditional food at local Bulgarian restaurants.
Traditional food in Bulgaria is seasonal, fresh and prepared with simplicity, that lets the flavors shine.
Now armed with these surprising facts about eating at Bulgarian restaurants, we hope to help you make the most of your experience.
What about you? Have you eaten at Bulgarian restaurants before? If not, what has surprised you the most from this article? Please share your comments below.
Savor the Adventure!
Love it? Pin it!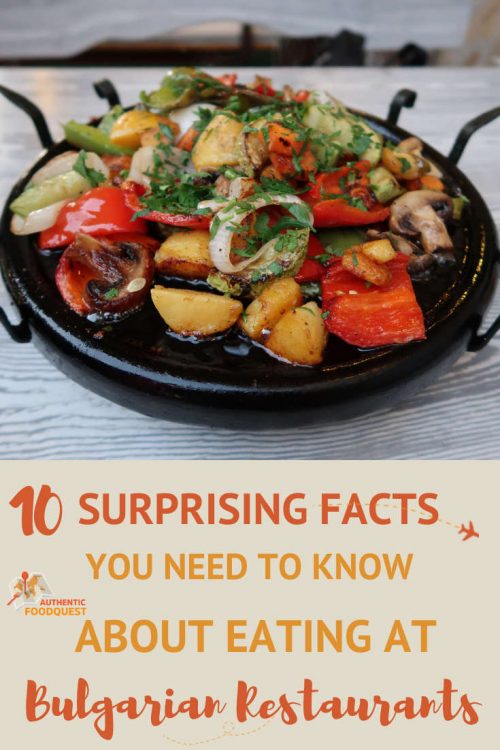 Claire is co-founder of Authentic Food Quest and a lover of simple and exquisite cuisine. Since 2015, with her partner, Rosemary, she has been traveling the world as a digital nomad, creating content about local food experiences.
Her advice from visiting 45 countries and more than 240 food cities has been featured in Lonely Planet, Business Insider, Honest Cooking, Food Insider, and Huffington Post. She has also co-authored three books, including one in collaboration with Costa Brava Tourism.
An ex-mechanical engineer, Claire is responsible for SEO, keeping the website running, and the fun food & travel videos on YouTube.
When Claire is not eating, she can be found running or cycling. Find out more about Authentic Food Quest