Exploring Cambodian cuisine and its local flavors is a journey full of surprises. While eating our way through Southeast Asia, we hadn't put much thought into Cambodian food.
We were still raving about Pho and Bánh Mì after leaving Vietnam. And we had been wowed by Bangkok street food.
With Cambodia been tucked between Vietnam and Thailand, we assumed that Cambodian cuisine would somehow be related to these two countries.
Needless to say, that was a very limited view of Cambodian cuisine. Certainly, Cambodian foods have their own unique characteristics, flavors, and tastes.
Let's explore the 12 Cambodian dishes that will have you delight in the unique flavors of Cambodian cuisine.

1 – Amok: The Emblem of Cambodian Cuisine
When visiting the Kingdom of Cambodia, Amok, the national dish is not to be missed.
While you may be offered a variety of Amok versions, the most authentic and local is Fish Amok.
Fish amok is a sublime combination of fresh river fish (often snakehead) and coconut cream, steamed in banana leaves. It is absolutely delicious, moist and elegant. The unique Cambodian ingredient in this dish is Kroeung, a curry paste, which gives it a distinct flavor. The dish is served with a side of rice.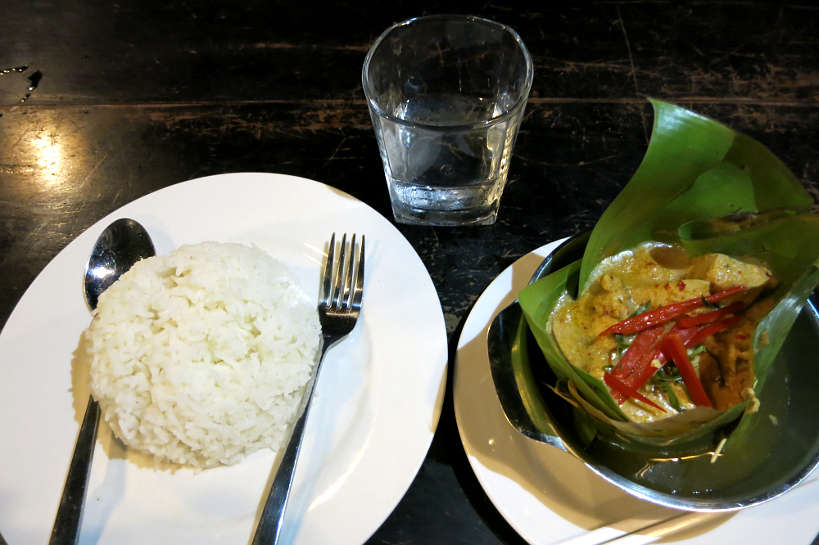 You will find Amok available at several restaurants. To make sure you are getting the local and traditional version, here a couple of helpful hints.
The traditional dish is Fish Amok, if you are offered "chicken", "beef" or "vegetarian" options, the restaurant is appealing to tourists. Amok is always steamed. If it is prepared in any other way, it is not following the traditional recipe.
Finally, make sure the fish is local river fish. Snakehead is the popular local fish. Stay away from other types of fish.
Where to Have It
We had this Khmer dish several times in Phnom Penh and Siem Reap. We highlight below Khmer Women's Restaurant in Phnom Penh as one place to enjoy Cambodian cuisine.
We liked this restaurant not only for the delicious food but also because it empowers women with jobs and skills, helping them move forward from the horrors of the country's past.
Khmer Women's Restaurant
Address: One block East from the corner of St 308 and St 29 in Phnom Penh
Hours: Everyday from 7 am to 10 pm
Price: $4 per dish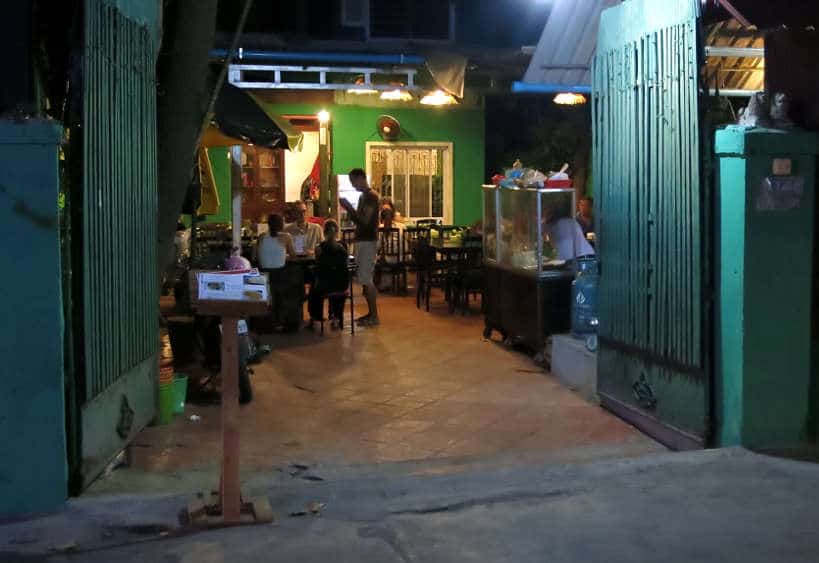 2 – Kuy teav: The Most Popular Cambodian Breakfast
When it comes to local breakfast specialties, there is one dish that rises above the rest. Kuy teav is the capital's undisputed pride. This extremely popular breakfast is a rich broth made from pork bones, dried squid, and a generous amount of condiments and garnish.
Kuy teav Phnom Penh as the local version is called, takes the dish to the next level by adding giant prawns from the Mekong river and beef offal.
While it is an unusual breakfast for Westerners, we were amazed by the depth of flavors. We found it simple, tasty and enjoyed the vermicelli noodles with carrots, greens, and turnip.
This typical Khmer food for breakfast is to be savored on your trip to Cambodia.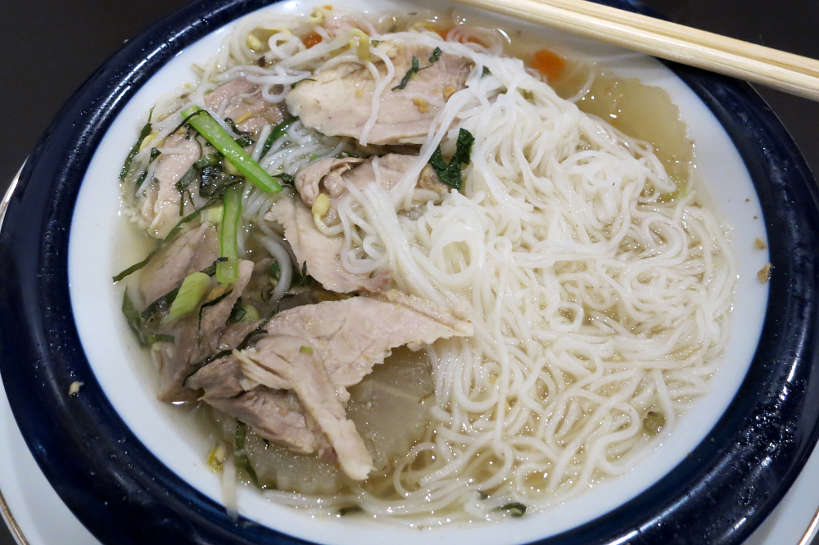 Where to Have It
This is a really local market with friendly vendors. You will not see any tourists and you will get a glimpse into the daily life of locals in Siem Reap.
Outdoor Food Stall at Pho Langka Market
Find the stall on the left-hand side of the market when you are facing it. If you see the lady from the picture, you're in good hands!
Address: Pho Langka Market, Siem Reap
Hours: Every day from 7 am to 12 pm
Price: 3000 Riel per dish (about $0.75 USD)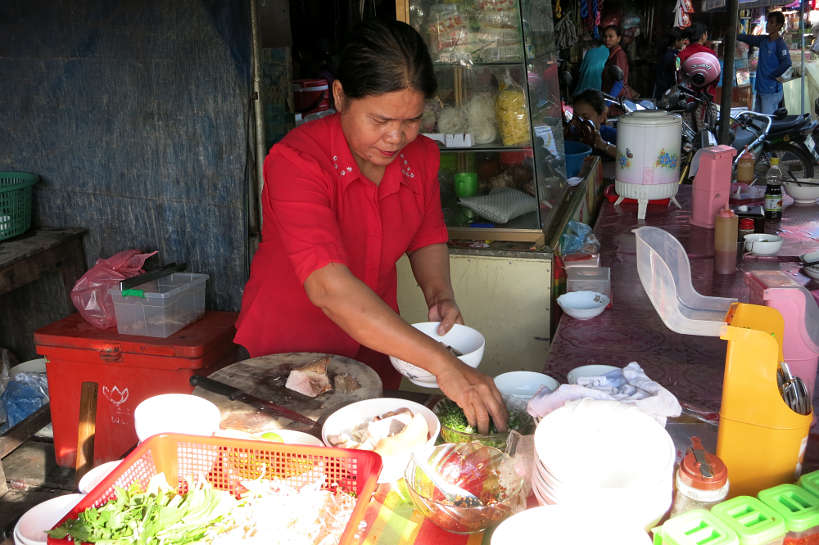 3 – Bobor Rice Porridge: Typical Khmer Food
Bobor is a rice porridge, typically served with ginger and fish or poultry. It is a popular dish for breakfast and evenings amongst local workers.
The simplicity of this Cambodian food makes it a popular option. It is a thick and flavorful soup, with either chicken or fish, congealed blood, and offal. Sitting on top of the porridge is ginger, coriander, and crunchy fried onions.
We tried the porridge with both chicken and fish, and ultimately preferred the fish version. It is tasty, easy to eat and surprisingly light.
In addition to the delicious taste, it is also one of the cheapest meals you'll find. Be sure to enjoy this classic Cambodian cuisine on your travels to the Kingdom.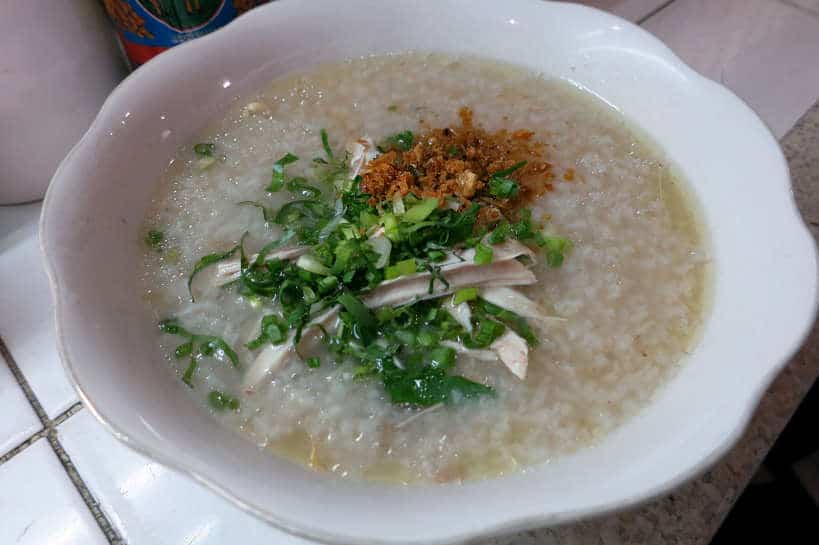 Where to Have It
This market is one of the landmarks of Phnom Penh. The Khmer name for the market is Phsar Thmei or New Market. The unique art deco building was designed by French architects in 1937. Spend time exploring the market after sampling the porridge.
Central Market at Food Stall G-123
Address: Central Market, Phnom Penh
Hours: Every day from 7 am to 6 pm
Price: $1.50 USD or 6000 Riel per dish.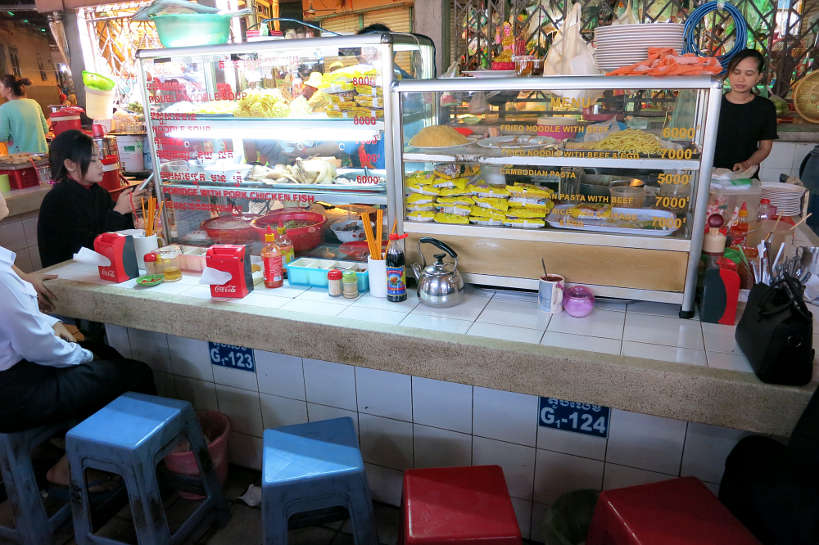 4 – Bai Sai Chrouk: Another Everyday Breakfast Food
Bai Sai Chrouk is another popular breakfast dish in Cambodia. Made with pork slices marinated in coconut milk or garlic slowly grilled over charcoal. It is typically served with rice, pickles, and sometimes, a fried egg. Fresh tomatoes, cucumbers, and carrots are added on top.
This dish literally means rice and pork. The skin of the pork is caramelized from the marinade, and the pork itself quite tender. It has a very nice sweet and salty taste. With the fresh vegetables, it is an easy meal to have at any time of the day.
Where to Have It
We had it at Khmer Women's Restaurant in Phnom Penh. This simple restaurant is quite quaint and with outdoor seatings.
Take a peek at the ladies cooking and grilling outdoors. The restaurant serves different kinds of Khmer food including Amok which we had on the same night. A highly recommended stop in Phnom Penh!
Khmer Women's Restaurant
Address: One block East from the corner of St 308 and St 29 in Phnom Penh.
Hours: Every day from 7 am to 10 pm
Prices: $1.50 per dish.
5 – Beef Lok Lak: Crowd-Pleasing Cambodian Food
Beef Lok Lak is a very popular dish in Cambodia especially amongst the tourist as it involves "safer" and popular ingredients like beef.
It is a Vietnamese inspired dish where the beef is cut into cubes before being sauteed. Typically, it is served on a bed of lettuce, red and green onions, cucumbers and tomatoes. Beef Lok Lak comes with a light sauce made with lime juice, salt, and black Kampot pepper.
You might also get a fried egg on the side and of course rice, which is a staple in Cambodia.
The version that comes with fries is the "westernized version" and you'll want to stay away from this "not so local" option.
Where to Have It
As mentioned previously, Beef Lok Lak is very popular amongst tourist. So it is an easy dish to spot on restaurants menus especially in Phnom Penh.
We recommend this delicious food joint in Siem Reap with outstanding local cuisine. On their English menu is where to find the Beef Lok Lak.
Heng Heng Restaurant
Address: Street 17 & River Road – a few stall before river road, Sangkat Slorgram, Siem Reap
Hours: Everyday from 10 am to 9 pm
Price: $3 per dish.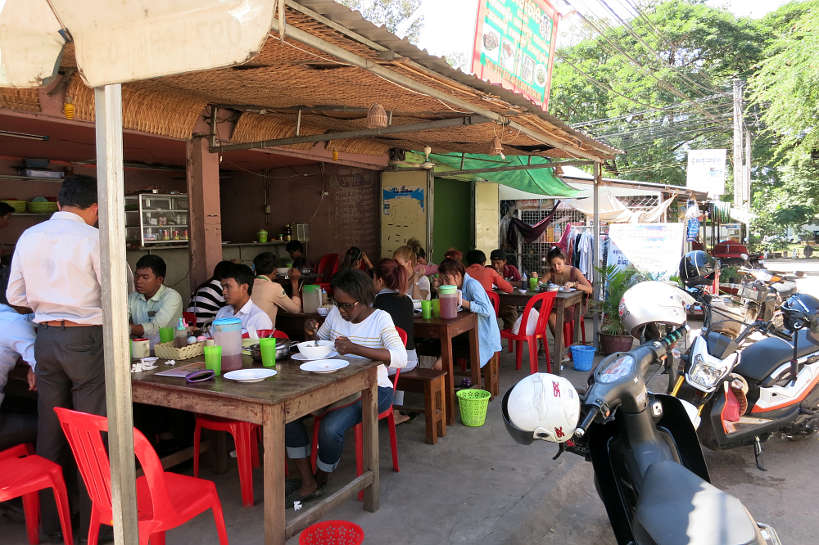 6 – Prahok: A Traditional Ingredient in Khmer or Cambodian Cuisine
Loved by most Cambodians, yet loathed by most foreigners is the signature aroma of Prahok.
Prahok is a concoction of crushed and salted fish that gives off a pungent smell. Grey in color and visually unattractive, Prahok is left to ferment until it matures. It is used as a condiment or seasoning in nearly every Cambodian food.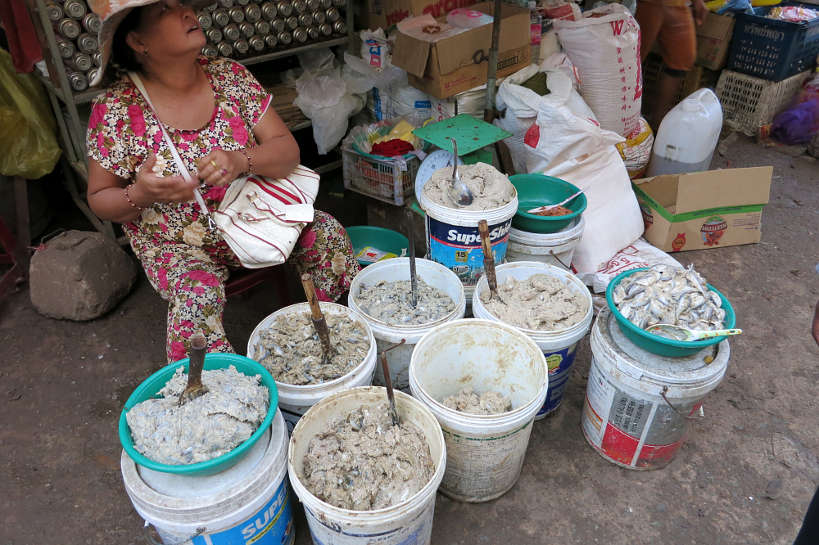 Prahok is one of the main sources of protein in Khmer food. In the countryside, simple meals of prahok and rice are common.
The stench of prahok in the markets was quite overpowering. As culinary explorers on the hunt for local and authentic foods, we had to find a way to taste prahok, a rare find on restaurant menus.
Marum Restaurant in Siem Reap which serves delicious local food proved to be the perfect tasting ground. On the menu was a Khmer specialty of prawn and pork prahok dip served with local vegetables and crispy rice.
What we thought would taste like it smelled, turned out to be incredibly delicious. The flavor combination of the prawns and pork was delightful. When we the dipped vegetables or crispy rice into the prahok, we found the experience quite enjoyable.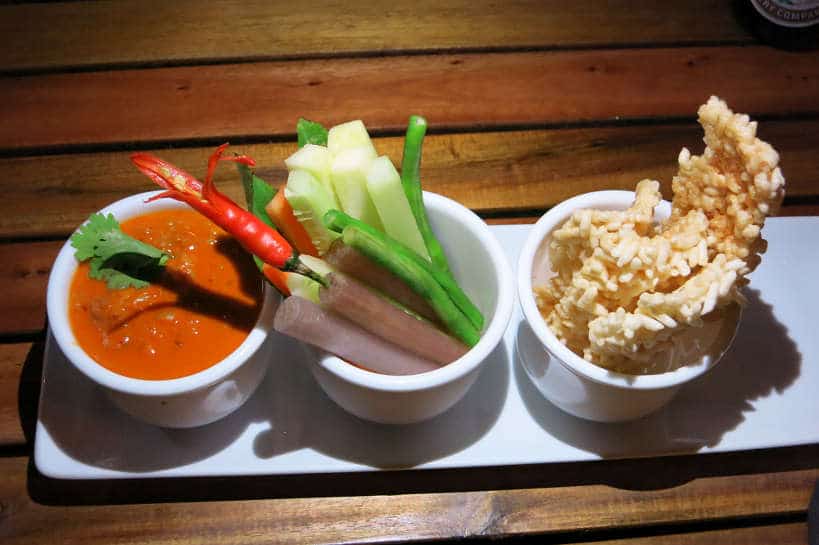 Where to Have it
Eating at an NGO, fine dining restaurant in Cambodia is an experience not to miss.
In Siem Reap, go to Marum restaurant. They offer a mix a solid local cuisine. The restaurant also works with street children and other marginalized youth and trains them in hospitality. You will eat good and feel good about eating at Marum.
Address: #8A, B Phum Slokram (Between Wat Polanka and Catholic Church), Siem Reap
Hours: Everyday from 11 am to 11 pm.
Prices: $5.75 per dish.
7 – Red Tree Ants: Khmer Food With A History
Cambodian cuisine really surprised us. Of all the countries we have visited on our quest, Cambodia is the only country where all sorts of insects are prominent on the menu.
Insects became essential in Cambodia in the 1970s during the famine of the infamous Khmer Rouge years. Insects were seen and continue to be eaten as a cheap source of protein, especially for many Cambodian children who suffer from some type of malnutrition.
For an introduction to insect dishes, we tried the red tree ants with beef with kaffir lime and chili stir fry. The ants are stir-fried with lemongrass, ginger, garlic, shallots, and thinly sliced pieces of beef. This simple is dish was accompanied by a side of steamed rice.
We found the dish surprisingly delicious. The ants did not have a particularly distinctive taste, but what was noteworthy, was their crunchy texture. Overall, the meal was tasty and an "easy" introduction to eating insects or becoming "entomophagians."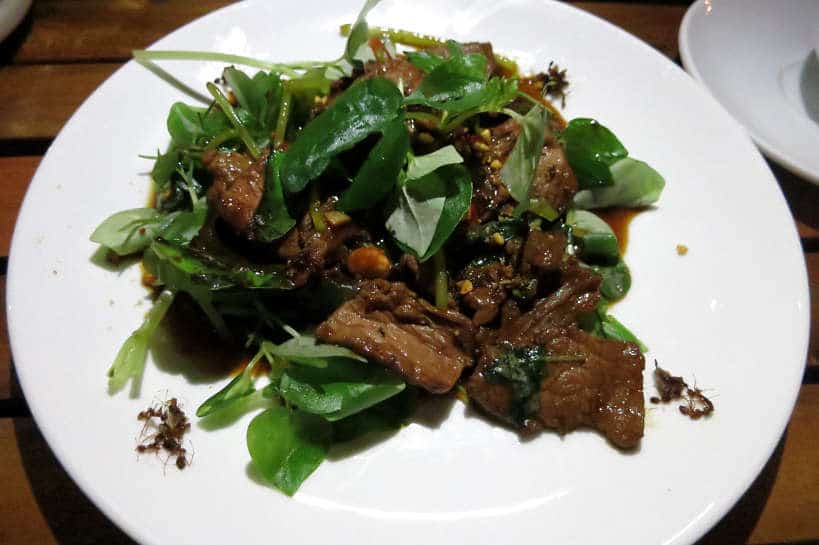 Where to Have It
Address: #8A, B Phum Slokram (Between Wat Polanka and Catholic Church), Siem Reap
Hours: Everyday from 11 am to 11 pm.
Prices: $6.50 per dish.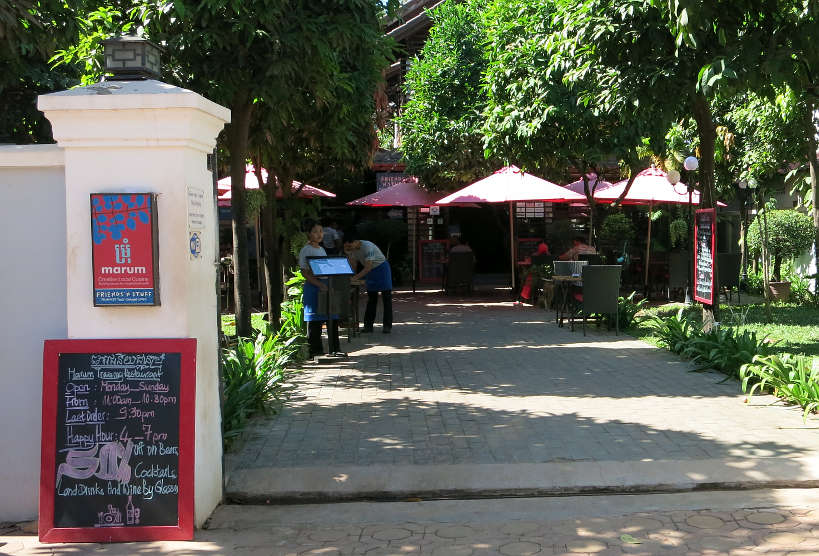 8 – Khmer Red Curry: Cambodian Style Curry
We were immediately intrigued when we first saw Khmer red curry on the menu. Our big question was whether it would taste like the Thai curries we had become familiar with.
Khmer red curry we found out is not as spicy as in Thailand. The similarity is in using the coconut milk base, but without all the chilis. The dish also features, beef, chicken or fish, eggplant, green beans, potatoes, fresh coconut milk, lemongrass, and kroeung.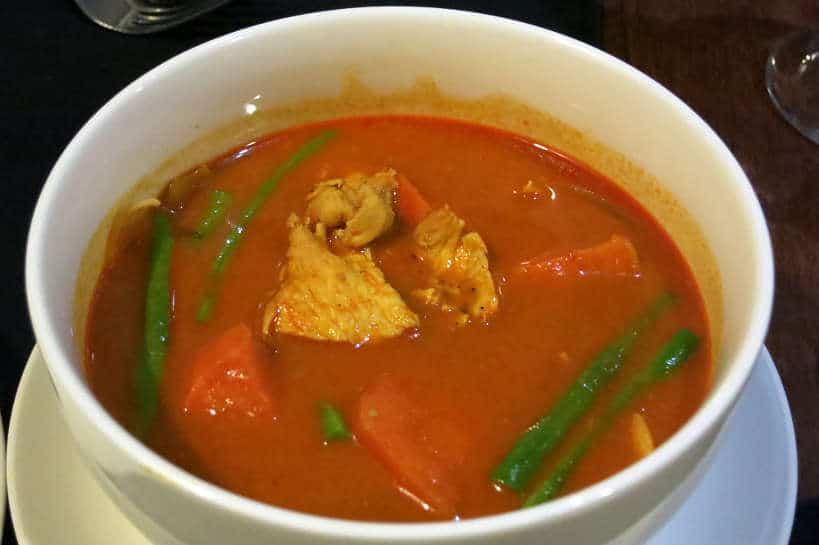 We had this meal when we first arrived in Phnom Penh. Tired from our travels, we were looking for an easy dish that would be gentle on the stomach. We found the soup incredibly delicious with a wonderful coconut milk base and aromatic lemongrass flavors.
The Khmer red curry was served with bread, which was unexpected, though we later learned that this is a remnant of the French influence in Cambodia.
Where to Have It
Street 63 is a small restaurant attached to a hostel in the expat district of Phnom Penh. It might not be the most authentic and local place. However, it is quaint and they serve Khmer food specialties on their menu.
Address: Street 63 between St 288 and St 294, Phnom Penh
Hours: Everyday from 6 pm to 10 pm.
Price: $3.50 USD per dish.
9 – Cambodia Sour Soup: Simple Cambodian Cuisine
Sour soup is another popular Khmer food. Cambodians have as many ways to make sour soup as they have seasonal and regional ingredients. The key is flexibility.
The ingredients often include lemongrass, galangal, cilantro and other local herbs, green onions, fish sauce, sugar, chiles and different meats or fish. The sour flavor, which is not as sour as the name suggests, comes from the use of tamarind and/or lime.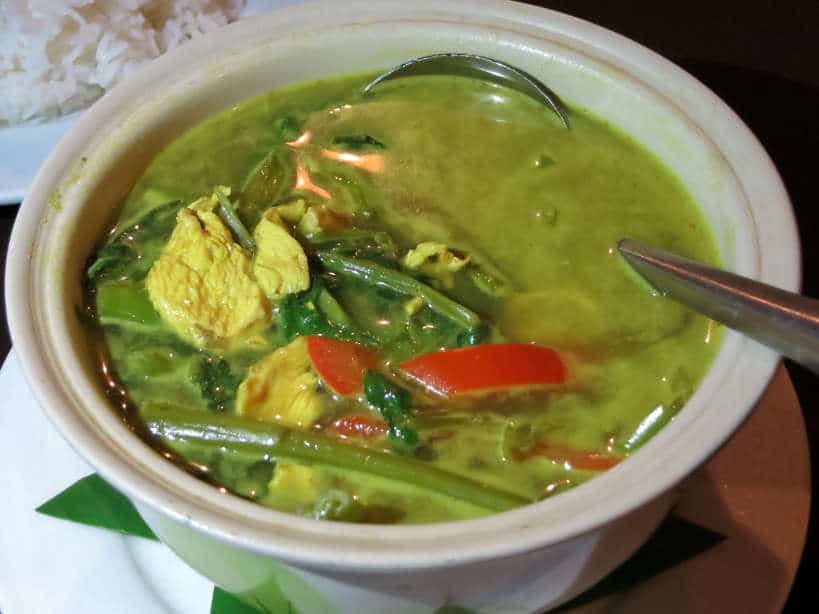 We were surprised by the greenish color when the waiter brought us the chicken sour soup with Khmer spices we had ordered. The smell was interesting. Hints of basil with unfamiliar spices.
The taste was also unusual. Slightly bitter greens and roots combined in a sourish broth. The pieces of chicken were succulent and full of flavor. Altogether, a wonderful exploration of this popular Cambodian food.
Where to Have It
Address: Wat Bo Road between Street 17 and Men's road, Sla Kram Village, Siem Reap.
Hours: Everyday from 9 am to 10 pm.
Price: $6 USD per dish.
10 – Cambodian BBQ: Seafood Frog and Grilled Meats
Walking around the streets of Cambodia, you will find restaurants and street vendors selling fresh food from the grill.
The most popular grilled items are fresh fish, seafood, and chicken. Fish and seafood are more consumed in Cambodia than meat. With the large freshwater network including the Mekong River and the Tonlé Sap lake, fish and seafood are predominant in Cambodian cuisine.
When it comes to grilled seafood, squid is a popular item on the menus. For fish, you can find whole grilled Tonlé Sap, the fish from the famous lake in Cambodia.
We had grilled squid at a popular local seafood BBQ joint in Phnom Penh. The squid is prepared grilled with salt, chili or other spices. We had the squid with salt chili which had a nice bite to it and the flesh was really tender. A definitely must try while in Cambodia.
Grilled frog is another local delicacy. The texture of grilled frog is somewhat close to chicken and the taste similar to a white fish. Surprisingly, we found this dish delightful. Very simple, fresh and absolutely tasty.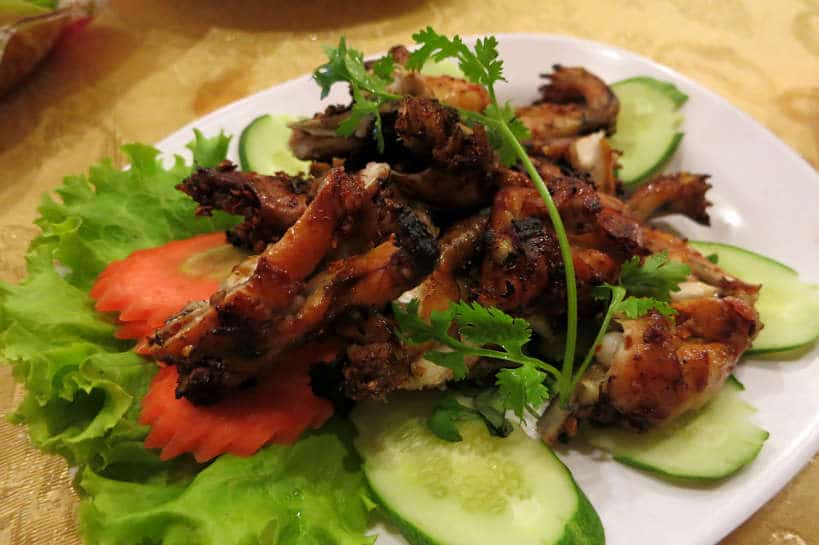 Where to Have It
BBQ joints are commonplace in Cambodia. Some specialize in meat while other are more seafood oriented.
Here are two BBQ restaurants we recommend in Phnom Penh:
Seafood BBQ
Find the busiest seafood BBQ place along street 450 adjacent to the market, this is it!
Address: Street 450 along the Russian Market, Phnom Penh
Hours: Everyday from 6 pm to 10 pm
Price: 10,000 Riel (About $2.0o USD) for grilled squid.
Sovanna II Restaurant
Address: Abdul Carime St. (21) between Street 294 and Street 274, Phnom Penh
Hours: Everyday from 4 pm to 10 pm
Price: 13,500 Riel (About $3.35 USD) for grilled frog.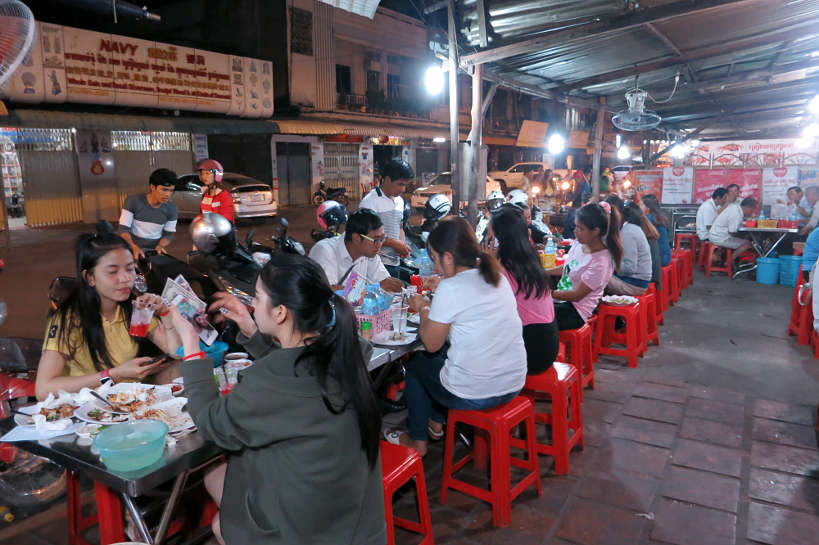 11- Chargrilled Eggplant and Pork
Cambodian cuisine abounds with fresh vegetables, and eggplant is amongst the most popular.
This unique chargrilled eggplant dish has an intense and surprising smoky flavor.
The eggplant is cooked whole on the grill for a few minutes. When the flesh becomes tender, the grilled skin is removed and the eggplant is served cut in half with the stir-fried pork placed on top of it.
It typically comes with rice served on the side. The eggplant acts as a sponge and absorbs all the flavors.
We had this dish a couple times. We found our first meal to be a bit too smoky to for our taste. On the following times we had the dish, the smoky flavors were much less intense.
Be prepared for an interesting mix of flavors!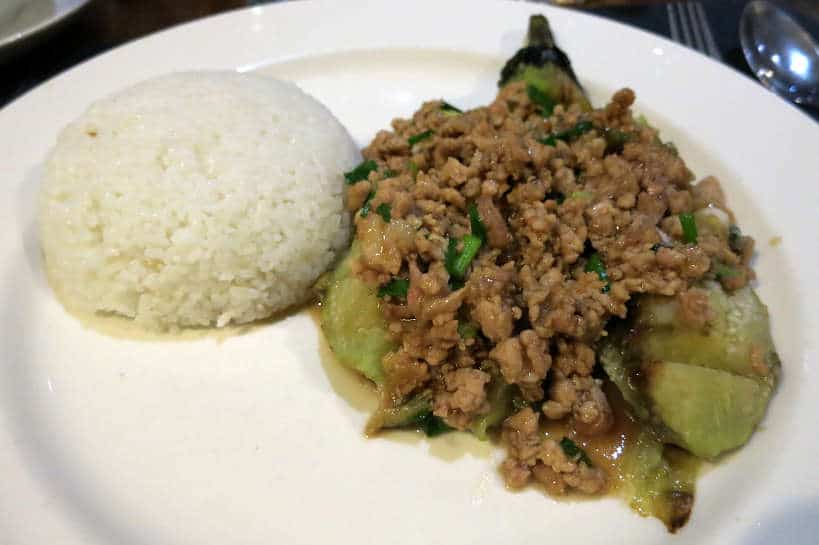 Where to Have It
The Chargrilled Eggplant and Pork is a popular dish on many restaurants menus. We had it at two different locations and recommend this Khmer restaurant in Siem Reap.
Address: Wat Bo Road between Street 17 and Men's road, Sla Kram Village, Siem Reap.
Hours: Every day from 9 am to 10 pm.
Price: $6 USD per dish.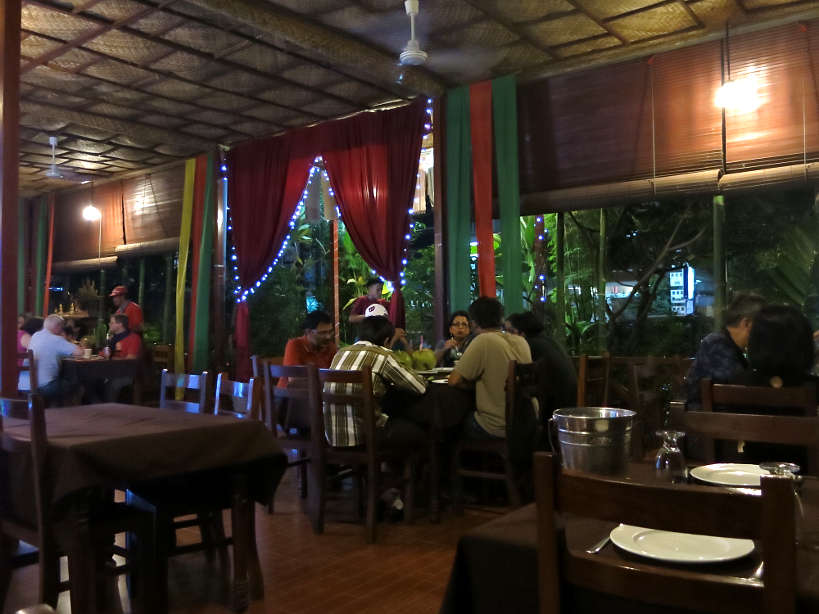 12 – River Fish from Mekong River
Freshwater fish from the Mekong River and Tonlé Sap Lake make up a large part of Cambodian cuisine.
In Phnom Penh, we stumbled onto a busy local restaurant, that was not too far from a local market we were planning on checking out.
This restaurant had two different ways of ordering. There was the menu, in English and with tourist prices. We had made the observation earlier of different prices for different people (tourists vs. locals).
The second way to order was simply walk up to the counter and see what was cooking in pots behind the glass. The idea is similar to a buffet. Point to what you would like, and the cook will compose the plate for you. With each item priced separately, it was evidently much cheaper than ordering off the menu.
We ordered the river fish from the Mekong and it was served with a side of shredded green mangoes. The fish was fleshy, perfectly cooked and surprisingly mild. The green mango added texture and a nice bite. Definitively worth eating on your travels to Cambodia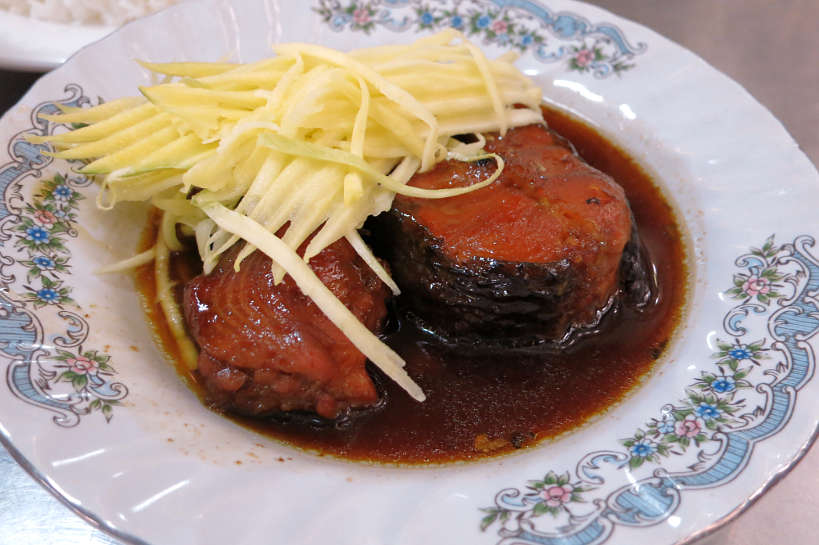 Where to Have It
This restaurant is very popular with locals, especially at lunch time. Located far from the tourist areas of Phnom Penh, it is worth seeking out.
Phsar Kabko Restaurant
Address: Ke Nou St. (9) between Street 294 and Street 274, Phnom Penh.
Hours: Every day from 6 am to 10 pm
Prices: 6,000 Riel (About $1.50 USD) per dish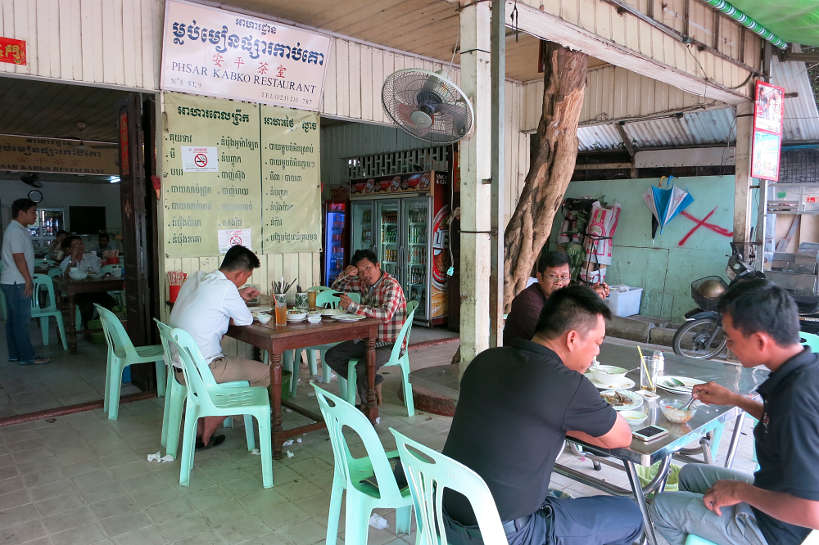 In Summary
From succulent fish and seafood to distinct sour soups and crunchy insects, Cambodian cuisine will surprise more than one!
Exploring Cambodian foods will take you beyond the common stereotype that Cambodian cuisine resembles that of Vietnam or Thailand.
With these 12 Cambodian dishes, you will find out what makes Cambodian foods so special. From Amok and Prahok, to Red Tree Ants, take the time to appreciate the unique smells, distinctive tastes of sweet and sour, and unusual textures -soft and crunchy that Cambodian cuisine offers.
Cambodian cuisine definitely embodies our motto; Savor the Adventure!
What Cambodian dish have you had before? Or which one would you like to have? Please share with us what tempts you with Cambodian cuisine!
Savor The Adventure!
Love it? Pin It!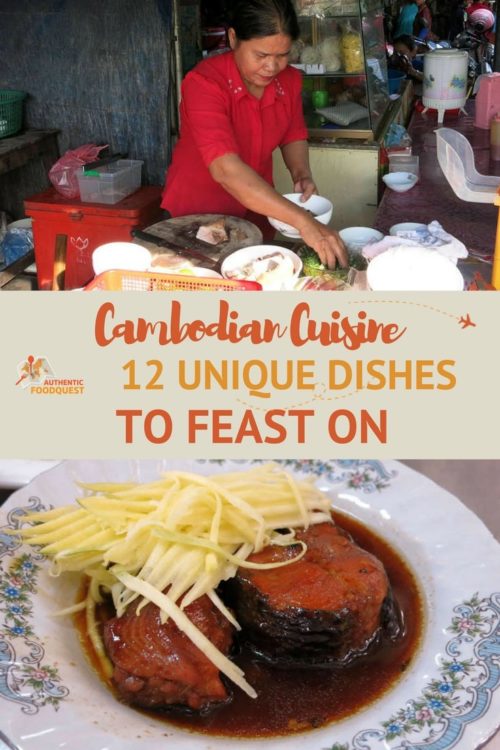 Disclosure: Please note that some of the links might be affiliate links. If you click through and make a purchase, we may receive a small commission (at no additional cost to you). Thank you in advance for your support!
Claire is co-founder of Authentic Food Quest and a lover of simple and exquisite cuisine. Since 2015, with her partner, Rosemary, she has been traveling the world as a digital nomad, creating content about local food experiences.
Her advice from visiting 45 countries and more than 240 food cities has been featured in Lonely Planet, Business Insider, Honest Cooking, Food Insider, and Huffington Post. She has also co-authored three books, including one in collaboration with Costa Brava Tourism.
An ex-mechanical engineer, Claire is responsible for SEO, keeping the website running, and the fun food & travel videos on YouTube.
When Claire is not eating, she can be found running or cycling. Find out more about Authentic Food Quest