Going behind the scenes and getting to know what makes a cuisine special is what we aim to expose with Authentic Food Quest.
Cambodian food was a bit of mystery at the beginning. After spending exploring the local flavors in Phnom Penh and Siem Reap, we discovered a country with unique flavors and distinctive food culture.
Our article 10 surprising facts you need to know about the food in Cambodia goes into more detail.
One of the top restaurants in Cambodia is Cuisine Wat Damnak. The restaurant specializes in authentic Cambodian cuisine with creative French culinary techniques.
In addition, Cuisine Wat Damnak, in Siem Reap was the first Cambodian restaurant to be listed on the prestigious Asia's 50 Best Restaurants in 2016.
In this article, we interview Joannès Rivière, the chef behind Cuisine Wat Damnak. He shares his thoughts on what makes Cambodian food rich and unique. The interview ends with his personal list of local and authentic dishes not to miss on your visit to Cambodia.
Let's go behind the scenes on a culinary journey through Cambodia with chef Joannès Rivière!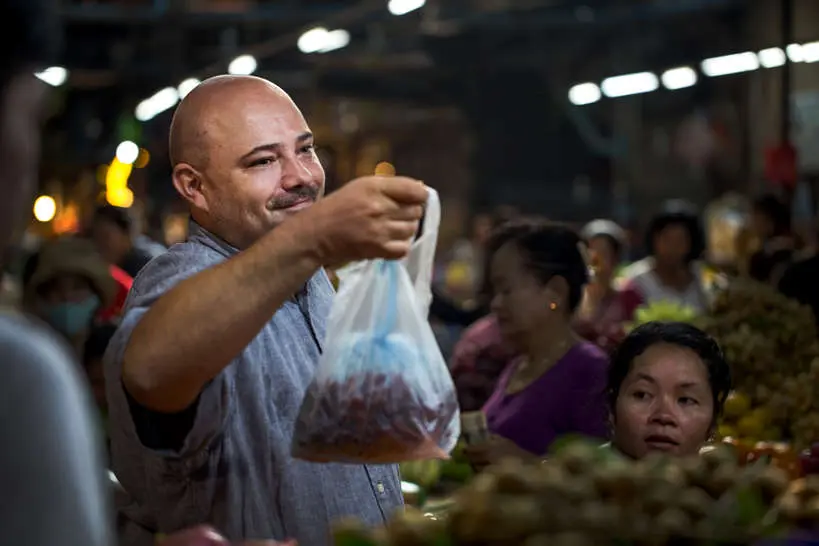 #1- What Attracted You to Cambodia?
My father and his brother lived in Cambodia in the early 1970s so I grew up hearing about Cambodia. Not really about the food, but more about the unique and strange atmosphere at this time.
The people, the culture, and the war were recurring topics that fascinated me growing up.
Of course, when I found a volunteer position 14 years ago and after 2 really hard working years in the US, I jumped on the opportunity.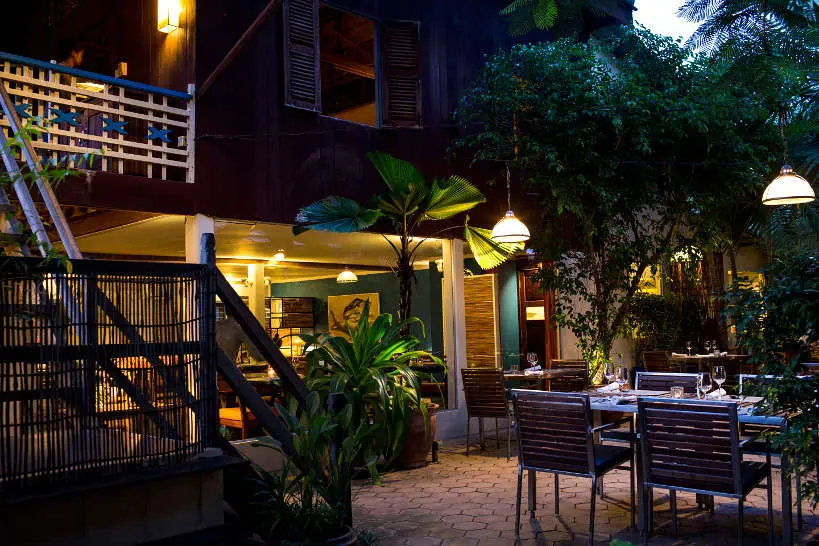 READ MORE: Eating the creatively prepared traditional Cambodian flavors, at Cuisine Wat Damnak was one of our culinary highlights during our Siem Reap stay. We got a deeper appreciation of the local ingredients in unusual and delicious combinations. Click to read more Spotlight on Cuisine Wat Damnak – The Best Siem Reap Restaurant
#2- What Do You Find the Most Fascinating About Cambodian Food?
Probably its complexity within its simplicity. The simplicity of recipes and preparations, because most Cambodian cuisine is very rustic and not very different from one province to another.
The complexity of the ingredients and combinations. Cambodia is still very rural and therefore we have access to an amazing collection of vegetables, herbs, fruits, or fish that most of our neighboring countries such as Thailand or Vietnam no longer use or value.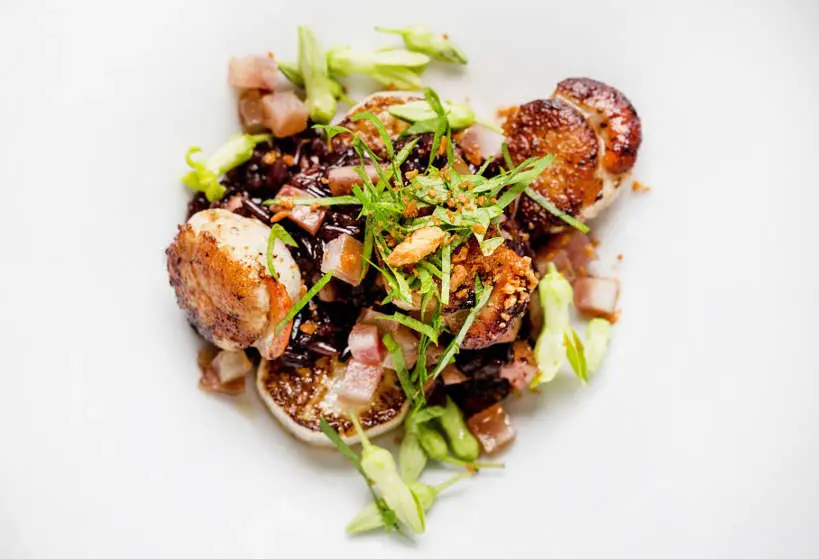 #3- What Would You Say Is the Difference Between Khmer Cuisine and Cambodian Cuisine?
Cambodia is the country and therefore encompasses the ethnic majority, the Khmers, along with the Chinese, the Lao, the Cham, the Viet, the Samre, the Jarai… Cambodian food is a mix of all those cuisines.
Khmer cuisine relates to a specific group without the capital idea of the influence of other groups.
Where does it start? When does it stop? It is hard to say and I do not think it is very relevant. It has actually become a politicized term that I find unsound and I'd rather like to stay away. It is a little bit like talking about Latin cuisine in Italy or Gallic food in France.
#4- How Would You Describe the Cuisine/Food at Cuisine Wat Damnak?
I had a really good remark from a Cambodian customer one day: "it tastes like Cambodian food but it is not Cambodian food." I think it is actually a very nice compliment.
#5- Top Five Local Specialties Visitors to Cambodia or Siem Reap Should Try?
While not everyone might agree, these five dishes my personal recommendations.
Samlar Prohar Noum Banchop

This is light coconut and fish curry with Cambodian rice noodles and a lot of crudités. Available in markets for breakfast or all day long in Pradak village within the Temple area.

Kha Trey Svei Kchey

Delicious braised fish with caramelized palm sugar, peppercorn, and fresh green mango

Prahok Kti

Local specialty, braised prahok (Cambodian fish paste) with coconut, minced pork, fish and crudités

Samlar Korkor

This is a fish and vegetable stew thickened with toasted rice, probably the Cambodian national dish.

Sach Ko Han Teuk Prahok

This one needs to accompanied with a lot of beer: Grilled beef with prahok sauce. Genuine drinking food, in front of Wat Damnak pagoda.

In Summary
While not well known, diving into the rich history of Cambodian food with chef Rivière, provides a richer understanding of this simple and yet complex cuisine. Understanding the cultural influences that shape the local flavors, helps deepen your appreciation for the cuisine, people and culture.
While dining at Cuisine Wat Damnak, the menu was heavily fish oriented, one of the characteristics of Cambodian food. Fish is the popular source of protein and you will find it eaten in all forms. From freshwater fish, to fish paste (prahok) to dry fish, smoked fish and more. As such, it is not surprising that the local Cambodian food recommended by chef Joannès Rivière is fish based.
On your travels to Cambodia, leave your expectations of the food behind. Come with an open mind and discover the local flavors at the markets, on the streets, and at the restaurants. You'll be delighted to discover the unique tastes and flavors of Cambodian food.
What surprised you the most about Cambodian Food in this interview with chef Joannès Rivière? Please share your comments below.
Savor The Adventure!
How To Get To Cuisine Wat Damnak for Chef Joannès Rivière Cuisine
Address: Wat Damnak, Market Street, Siem Reap. Check here for directions.
Hours: Tuesday to Saturday from 6.30 pm to 9.30 pm
Reservation: +855 (0)77 347 762 (9-11am, 2pm until closed on working days)
or by email: [email protected]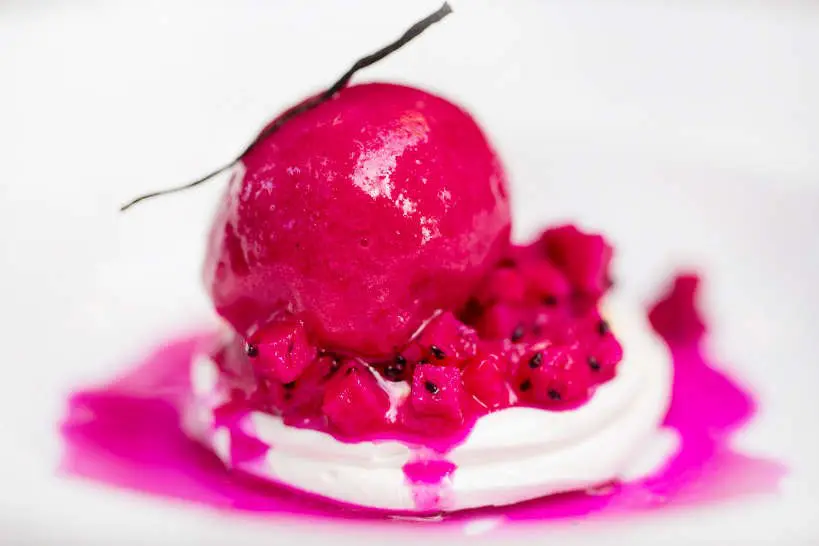 For more about Cambodian Food and Cooking, check out chef Joannès Rivière book: Cambodian Cooking filled with more than 6o authentic recipes.
Read More Local Food Experience With Amazing Chefs
Love it? Pin it!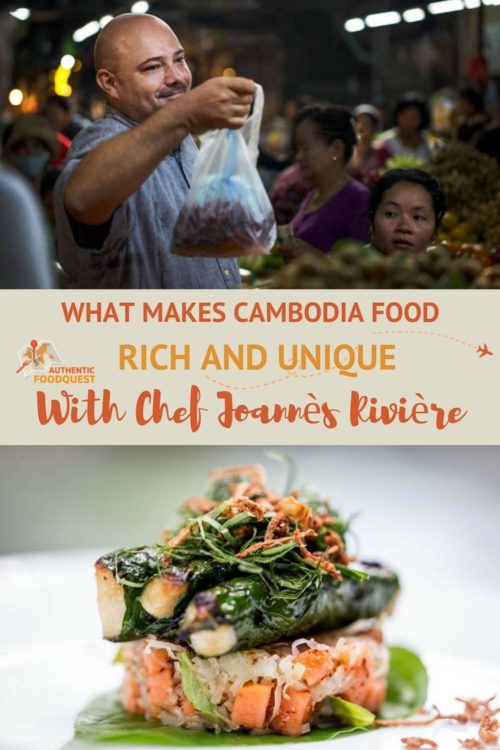 Disclosure: please note that some of the links might be affiliate links. If you click through and make a purchase, we may receive a small commission (at no additional cost to you). Thank you in advance for your support!
Rosemary is the editor-in-chief and strategist at Authentic Food Quest.
Traveling slow since 2015 with her partner, Claire, she has explored the cuisine in 45 countries and more than 240+ culinary cities.
Her writing about local food specialties has been featured in Lonely Planet, Business Insider, Honest Cooking, Food Insider, and Huffington Post.
As a food and travel writer, Rosemary has co-authored three books, including one in collaboration with Costa Brava Tourism.
Rosemary is an avid runner when she's not eating and exploring new destinations. She has run ten marathons and counting.
Before Authentic Food Quest, Rosemary held senior-level strategy positions in advertising. 
Find out more about Authentic Food Quest