One way to understand the people and a place is through the food.
By exploring the local flavors, one appreciates the destination at a deeper level.
Cambodian cuisine surprised us on our quest for the authentic foods in Cambodia.
In Siem Reap, we were immediately intrigued when we heard about chef Joannès Rivière, of Cuisine Wat Damnak. Using fresh ingredients sourced from all over Siem Reap, he blends authentic Cambodian flavors with creative French culinary techniques.
Our Airbnb host, Dalia, an expat in Siem Reap raved about the restaurant and convinced us to dine there. The issue was that we hadn't made reservations in advance and it was during the busy Christmas and New Year period.
Fortunately, Dalia was able to creatively get us a reservation. We could not miss the opportunity to experience creative Cambodian cuisine, recently named The Best Restaurant in Cambodia in Asia's 50 Best Restaurants.

Cuisine Wat Damnak – a Hidden Gem in Siem Reap
Siem Reap is the destination of choice for many visitors to Cambodia. Indeed, Siem Reap is the city next to Angkor Wat, a UNESCO World Heritage site and the largest religious monument in the world.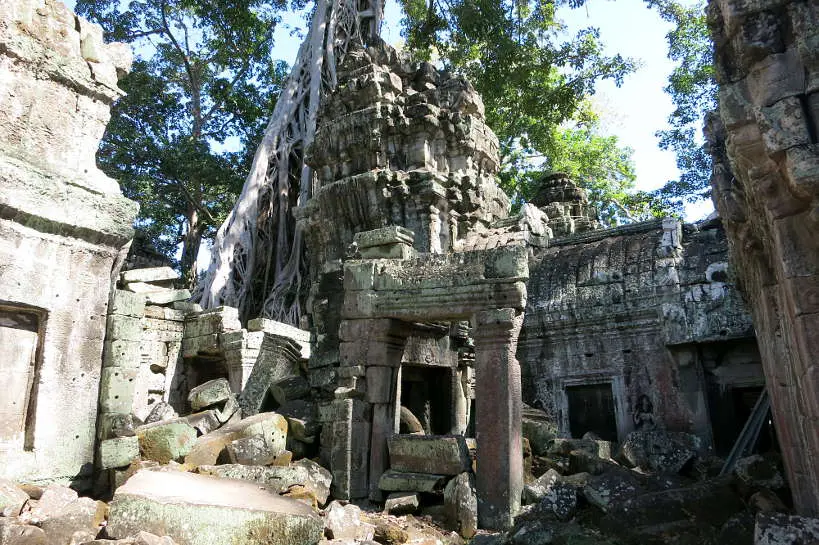 In the food scene, Cuisine Wat Damnak is the first Cambodian restaurant to land on Asia's 50 Best Restaurant. It is run by executive chef Joannès Rivière and his wife Carole Salmon since April 2011.
The restaurant is housed in a traditional Cambodian wooden house in the Southeast part of town, near Wat Damnak. In Siem Reap, neighborhoods are named after a Wat or temple.
So, the restaurant, Cuisine Wat Damnak is named after the temple in the neighborhood where it is located. Angkor Wat is a Buddhist temple which is worth a detour. Feel free to visit the quiet pagoda and check out the Center of Khmer studies before your dinner.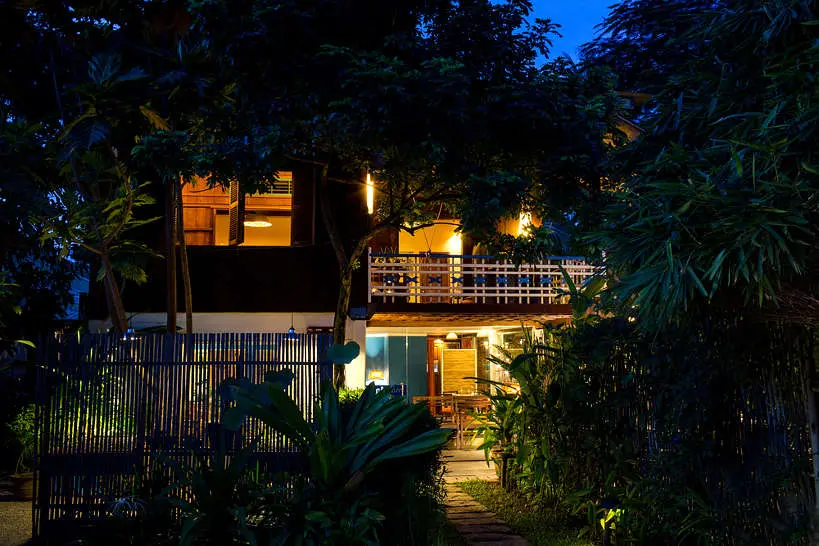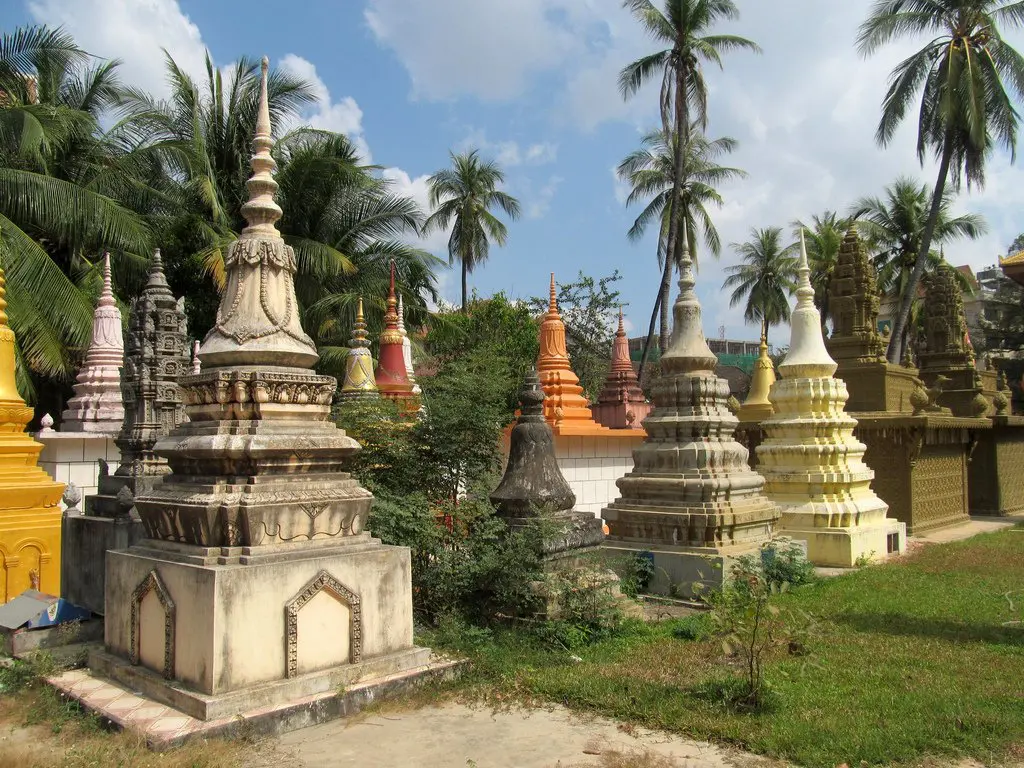 Now, let's explore the local flavors at Cuisine Wat Damnak.
The Menu at Siem Reap Restaurant Cuisine Wat Damnak
The restaurant offers two tasting menus which change every two weeks. Chef Joannès uses locally sourced produce and unique ingredients. He aims to showcase Cambodian products cooked in a creative way.
Once seated in the cosy restaurant, you be given the menu for the week, which is a two page booklet. There are only two options. One five-course menu for $27 USD and one 6-course menu for $31 USD.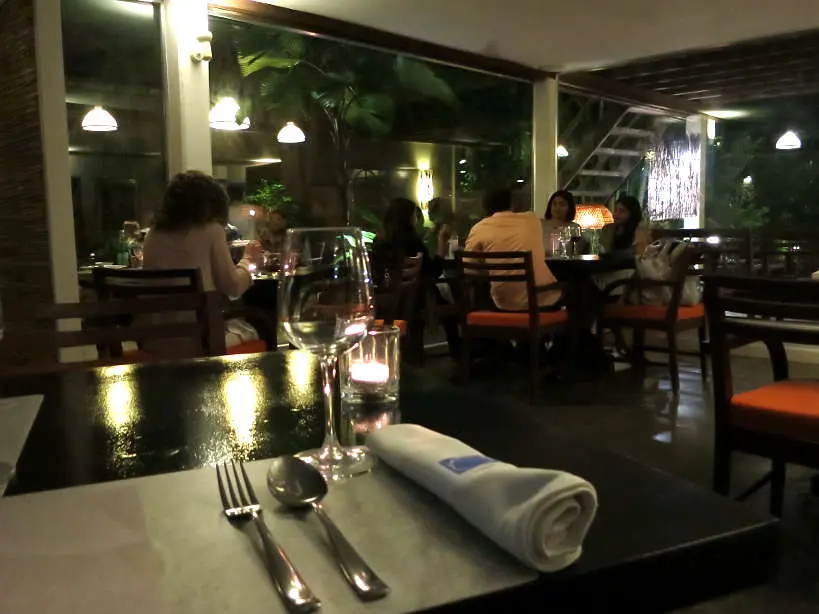 While the 5-course menu offers plenty, we couldn't resist getting the full 6 course-menu at one of the best Asian Restaurants in the world.
How often do you have the chance to taste locally sourced "Mekong langoustine" or "duck egg in pong tia kone style"?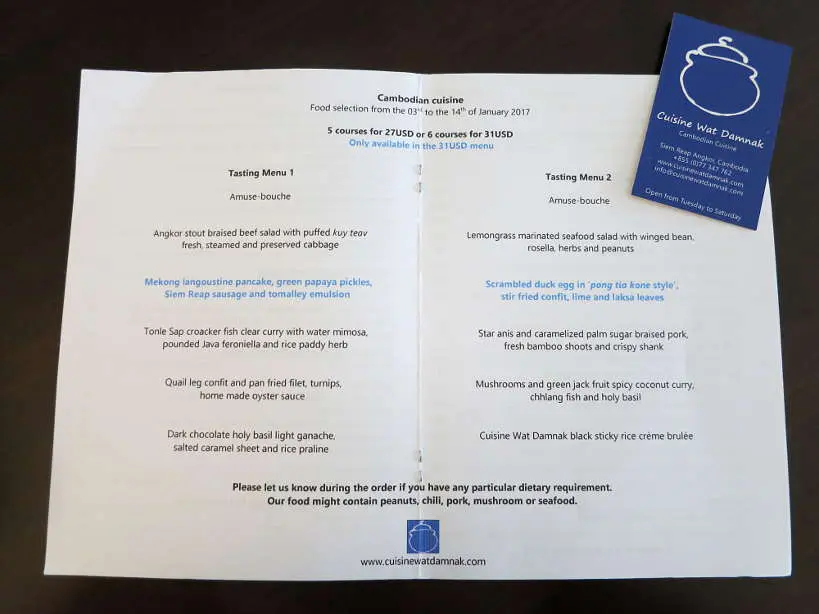 Don't Pass Up the Local Drinks
The beverage menu at Cuisine Wat Damnak is full of surprises. You will find cocktails made with local spices and ingredients. Sample drinks with unique ingredients like kaffir lime, pomelo and ginger infused brandy, Tamarind infused vodka and more.
If you are a beer love, you will enjoy the refreshing and smooth draft beers by Siem Reap Brewpub. The wine list has a nice international selection from France, Italy, Australia, South Africa and more.
I typically prefer wine with dinner, but was tempted by the "Purple dragon fruit sangria".
Made with purple dragon fruit, passion fruit and Phnom Kulen Vanilla, this was a delicious "bloody" refreshment.
Claire settled on local craft beer from Siem Reap Brewpub. It was her chance to try a local beer beyond the regional Southeast Asian beers.
Her verdict? "A refreshing and tasty beer. A nice change from some of the regional bland beers".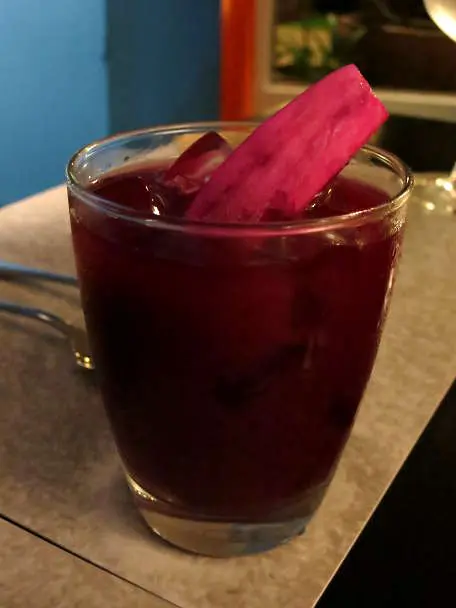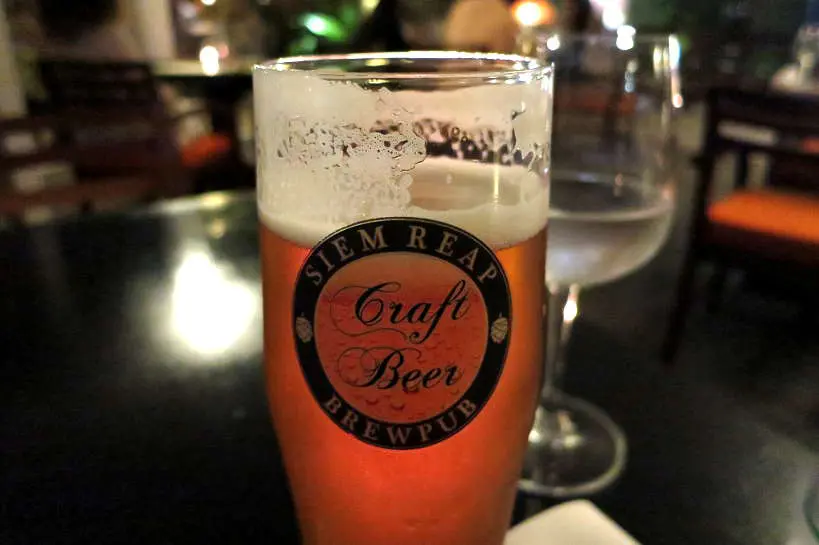 Highlights of Cuisine Wat Damnak Creative Cambodian Cuisine
Chef Rivière personally selects the freshest local and seasonal ingredients for his kitchen. The flavors are authentic including the unique bitter and sour tastes we wrote about in our recent article Cambodian cuisine:12 unique dishes to feast on.
On the menu that evening were locally sourced meat and seafood dishes. Following are highlights on what you can expect at Cuisine Wat Damnak.
Locally Sourced Cambodian Seafood
In Cambodia, fish and seafood are the most popular source of protein. Not surprisingly, seafood and fish dishes are found throughout the menu. From the amuse-bouche (small complimentary appetizer) to the appetizer and main meals. The ingredients like Mekong langoustine, Tonlé Sap fish and Chhlang fish all come from nearby freshwater lakes and rivers.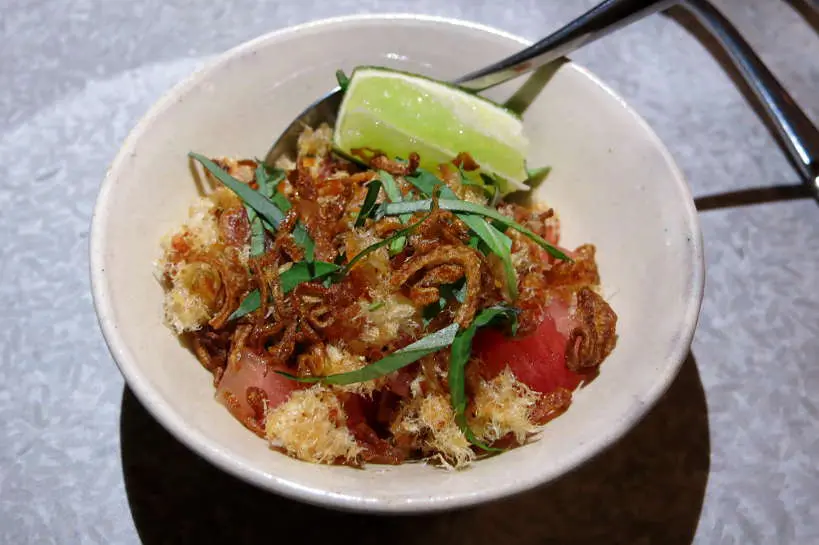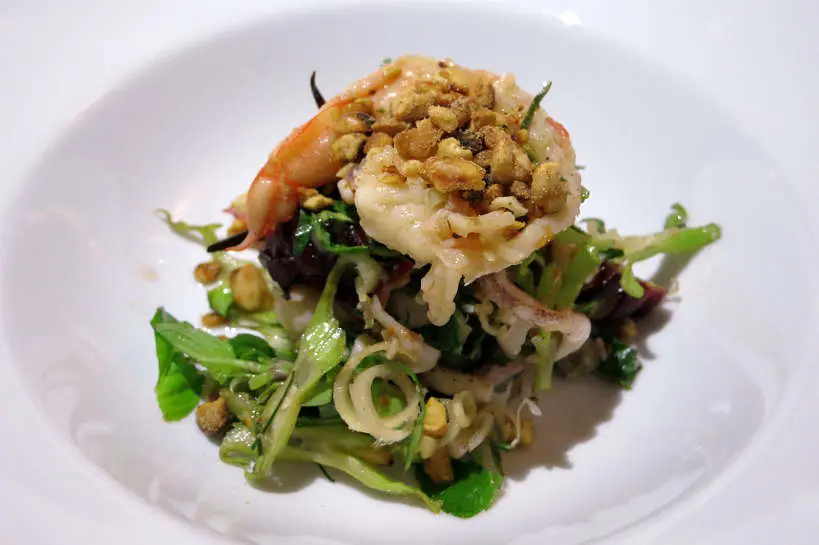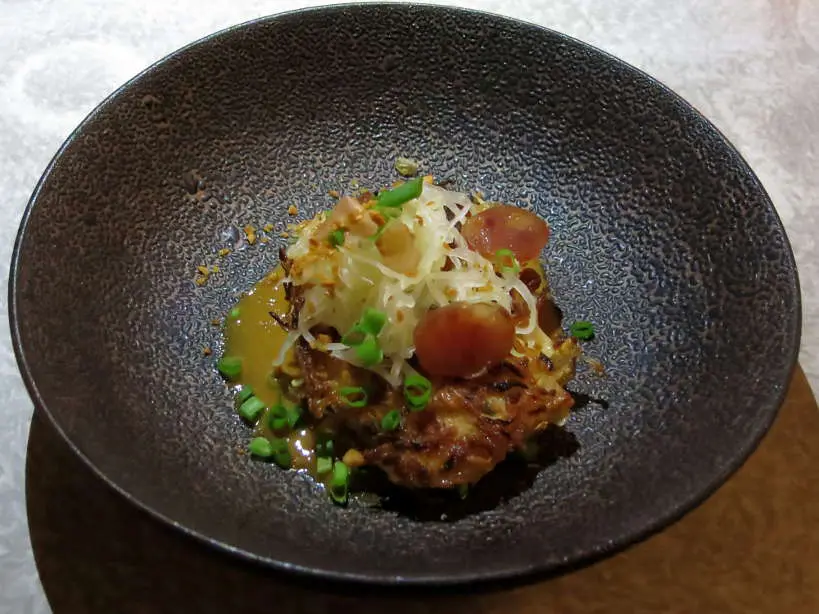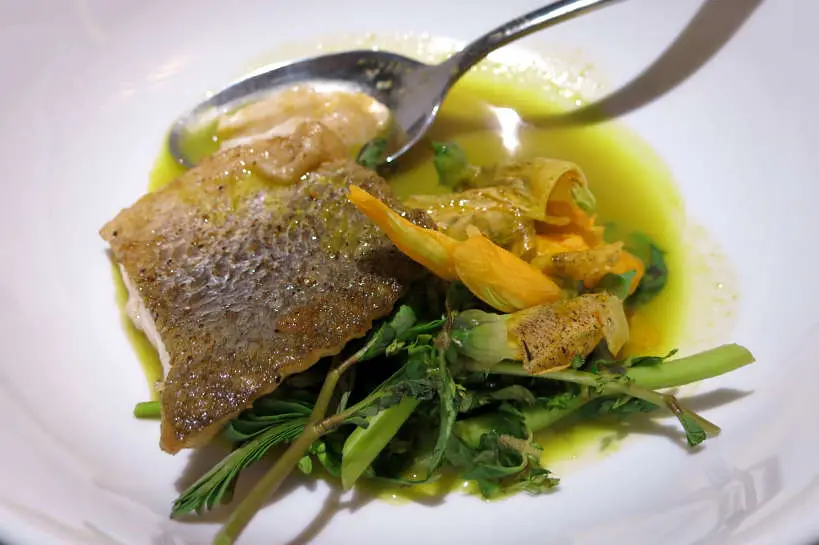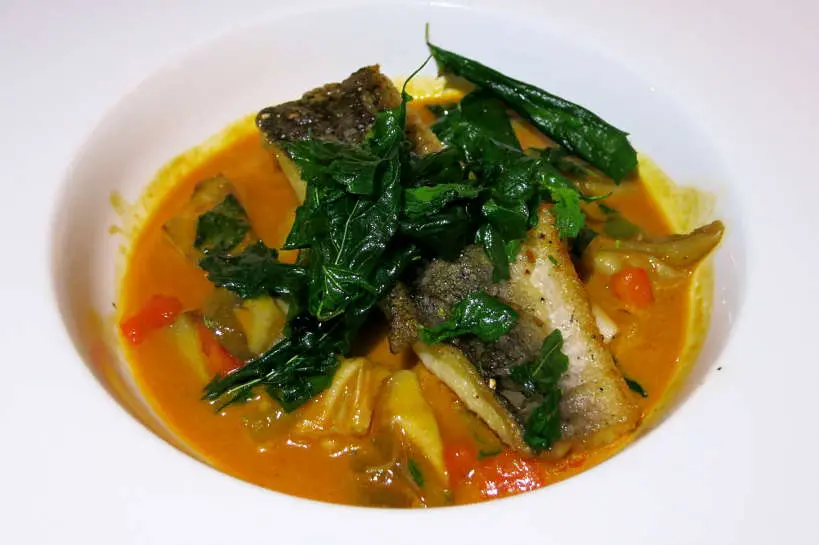 On the whole, all the fish and seafood dishes were quite tasty. The combinations unusual, and the flavors quite distinctive.
Without any reservation, the Mekong langoustine was our favorite. The fresh seafood, sweet Siem Reap sausages and crispy green papaya pickles was a phenomenal explosion of flavors. Cooked to perfection, this masterpiece was divine.
The rice paddy herbs in the Tonle Sap fish curry gives off lemon and citrusy flavors found in sour Khmer food. The flavors were interesting and the textures unusual. Delicious, yet subtle, this was an enjoyable sensorial experience.
Locally Sourced Cambodian Meats
While fish is much more common than meat in Khmer cuisine, Cuisine Wat Damnak does include meat in both menus. The ingredients and dishes are traditional, and the cooking technique creative.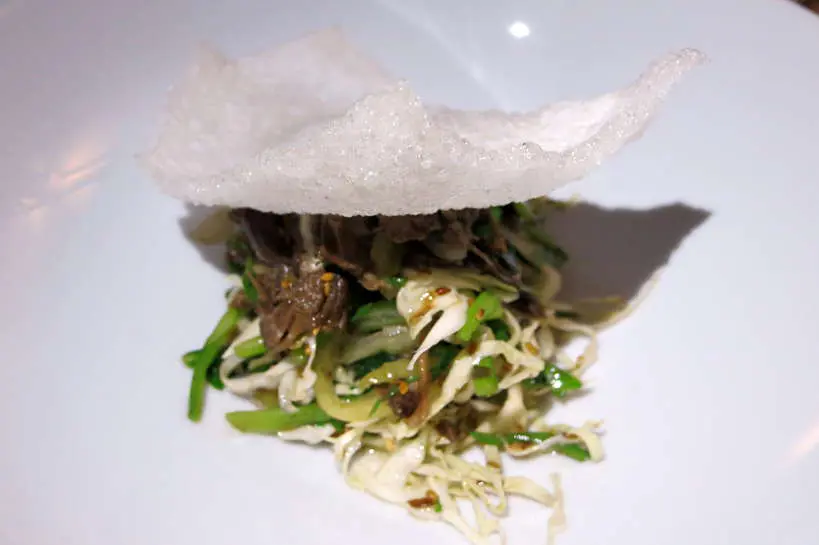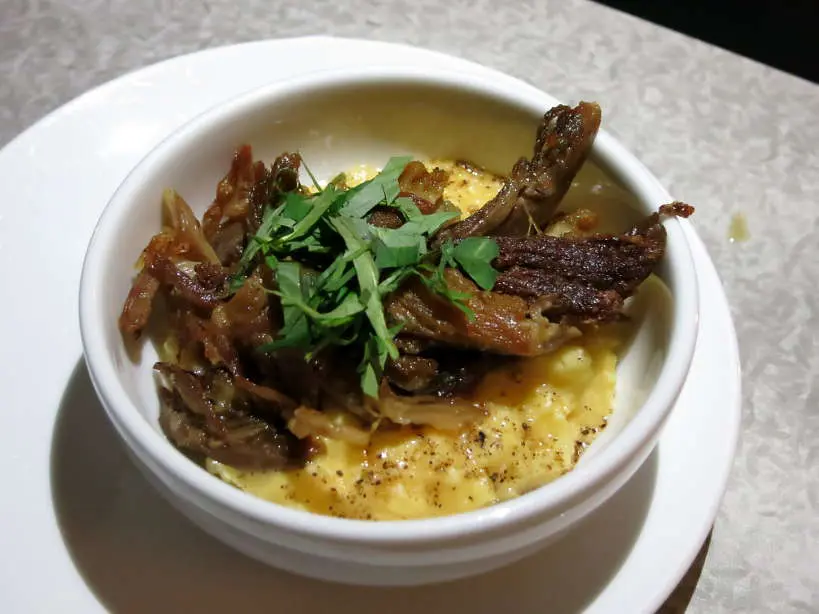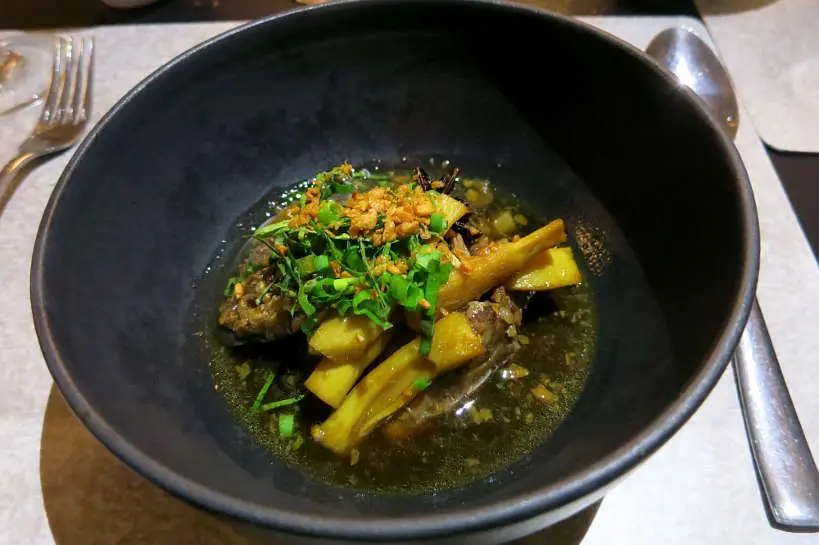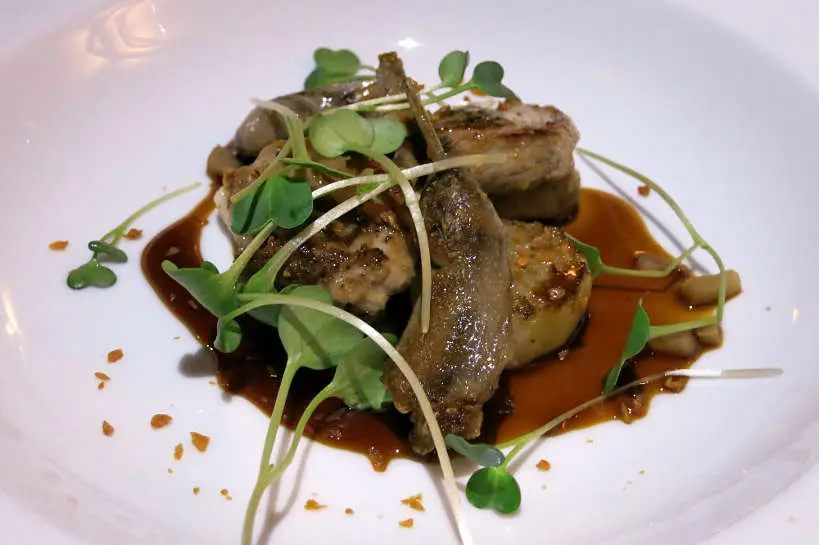 The blend of traditional and contemporary was clearly evident in all the meat based dishes.
Our favorite appetizer put a creative twist on kuy teav, the most popular Cambodian breakfast dish. In addition, soaking the braised beef in Angkor stout beer, the most popular beer brand resulted in an amazing dish, tender and full of flavor.
The most impressive meat dish was braised pork. One of things that made it so unique was the use of palm sugar, which is used in Cambodian cuisine. We discovered palm sugar while taking a cooking class at La Table Khmère in Phnom Penh.
Rather than the sweet taste one would expect from sugar, palm sugar gives smokey flavors that enhance the dish. The bamboo shoots were quite tasty and they are commonly found in Khmer cuisine. They are high in protein and said to improve blood circulation.
The scrambled duck egg in pong tia kone style is inspired by the embryo egg popular popular in Khmer food, which is a boiled egg containing a duck embryo. The version at Cuisine Wat Damnak, was more palatable.
Overall, the meat based dishes were delicious and covered a range of flavor dimensions.
French Style Cambodian Desserts
In his culinary journey, chef Joannès worked as a pastry chef in the U.S.for two years. This training and background came through in the fabulous desserts.
There were two dessert options on the menu and we tried them both.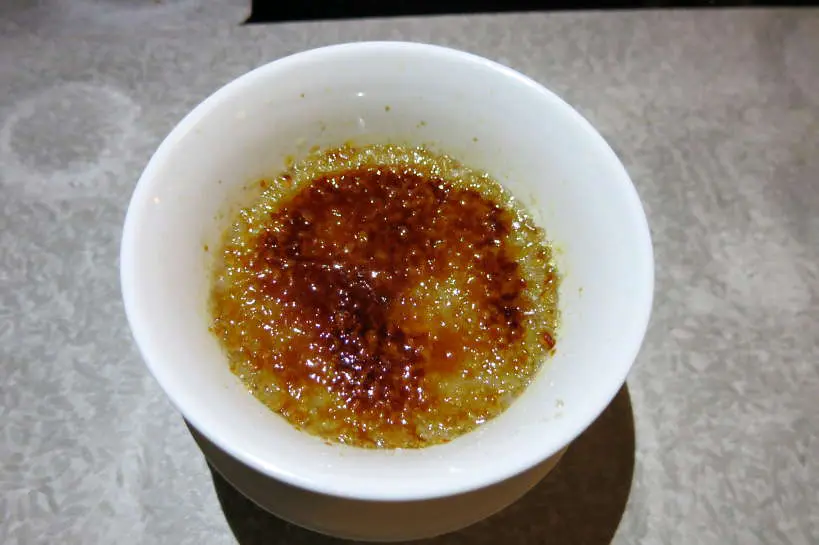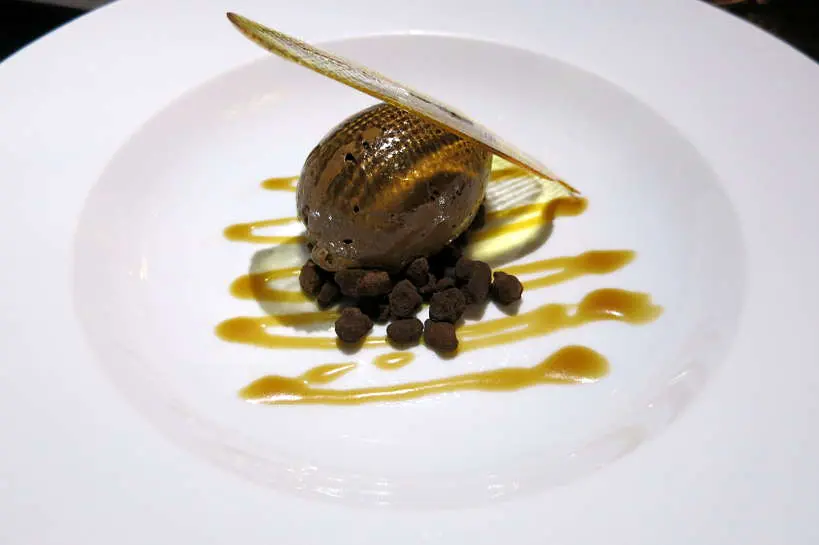 The French connection was the most prominent in these revisited French desserts. The traditional crème brulée is made with local sticky rice, a staple of Southeast Asian countries.
The ganache was elegantly presented and resembled a snail. Maybe it was a "clin d'oeil" (a nod) to the popular freshwater snail snack sold in the street of Phnom Penh or the famous French chocolate "Escargot de Lanvin".
The Final Surprising Treat to End the Night
Cuisine Wat Damnak reserved a special surprise for the end of our copious meal. Chef Joannès served us a plate of fresh fruits cut into pieces with a line of chili and kaffir lime infused salt and sugar mix. We had the chance to taste zapote, rose apple and tree cucumber, all indigenous fruits of Southeast Asia.
This was the perfect finish to a scrumptious meal.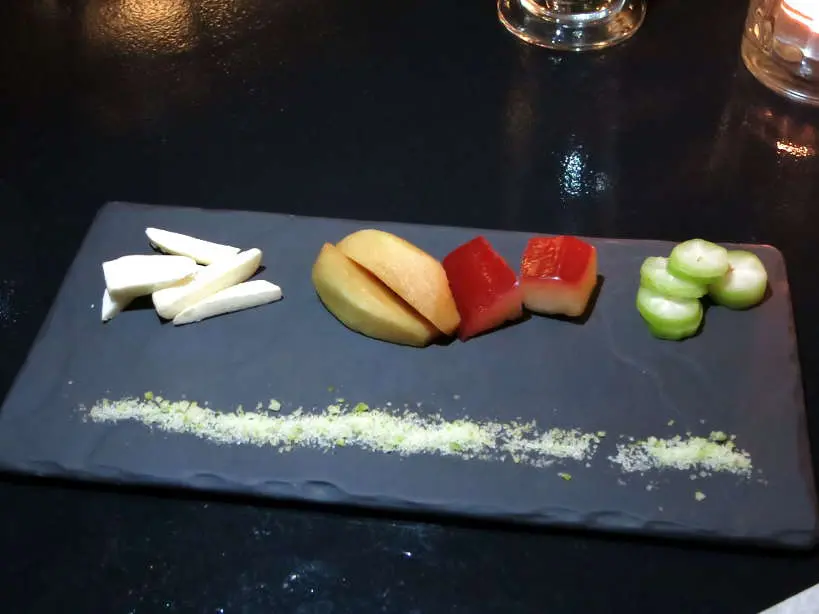 In Summary
Eating the local cuisine and traditional dishes on your travels is a way to have a full appreciation of a destination.
In Siem Reap, Cuisine Wat Damnak is an experience not to be missed. The opportunity to taste local ingredients and unusual produce sourced from the area will give you a fuller appreciation of Cambodian cuisine.
If this article made you salivate and you want to make Cambodian cuisine at home, search no more!
Chef Joannès Rivière is also the author of Cambodian Cooking, a book of authentic Cambodian recipes to prepare easily at home.
Have you had an amazing fine dining experience with local flavors on your travels? Please share with us where you had it!
Savor The Adventure!
Practical Information
Book at least two weeks in advance or more depending on the season. Keep in mind that bookings open 90 days in advance.
Pro Tip: If you are too late to book ahead, you may have a chance by walking in later at night (around 8pm-ish) during the weekdays.
Address: Wat Damnak, Market Street, Siem Reap. Check here for directions.
Hours: Tuesday to Saturday from 6.30 pm to 9.30 pm
Reservation: +855 (0)77 347 762 or by email: [email protected]
Getting There: The best way to get there is to take local transportation, a tuk-tuk. From downtown Siem Reap, the ride should cost no more than $2 to $3.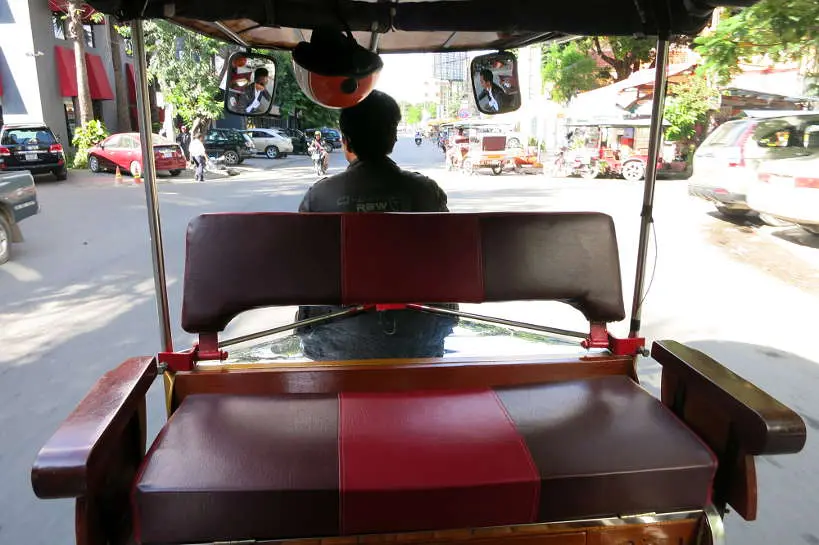 Disclosure: please note that some of the links might be affiliate links. If you click through and make a purchase, we may receive a small commission (at no additional cost to you). Thank you in advance for your support!
Love it? Pin it!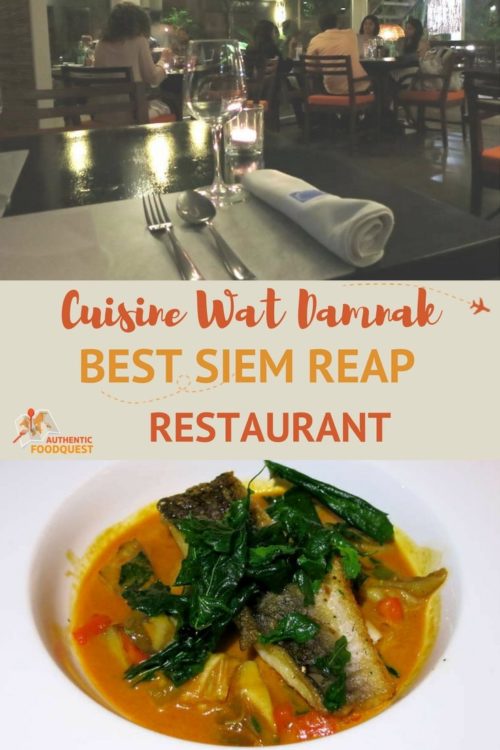 Rosemary is the editor-in-chief and strategist at Authentic Food Quest.
Traveling slow since 2015 with her partner, Claire, she has explored the cuisine in 45 countries and more than 240+ culinary cities.
Her writing about local food specialties has been featured in Lonely Planet, Business Insider, Honest Cooking, Food Insider, and Huffington Post.
As a food and travel writer, Rosemary has co-authored three books, including one in collaboration with Costa Brava Tourism.
Rosemary is an avid runner when she's not eating and exploring new destinations. She has run ten marathons and counting.
Before Authentic Food Quest, Rosemary held senior-level strategy positions in advertising. 
Find out more about Authentic Food Quest