This article has links to products and services we recommend, which we may make a commission from.
Traditional Catalan food was at the core of our exploration in Costa Brava, Spain.
In collaboration with the Costa Brava Tourism board, we wrote a new digital book called "Taste the Terroir A Gastronomy Pilgrimage Through Costa Brava".
This ebook is FREE and it introduces you to the region and the amazing local specialties.
Costa Brava food is a wonderful fusion of flavors from the "Sea and Mountain" or Mar i Muntanya.
While mostly Mediterranean, Catalan food has been shaped over centuries. Greeks, Romans, Italians and French have each left their mark on this complex cuisine.
The food in Catalonia has a distinct identity. Simple cuisine made with the freshest ingredients in unexpected combinations.
Passionate chefs, artisans and wine makers bring these gastronomic offerings to life.
The stories in this ebook are from our personal experiences. We met all the local producers in person, as well as participated in the local food experiences.
Based in Girona, we easily navigated the region by car.
To whet your appetite, here are a few bites about the book and a bit about the Costa Brava foods and experiences.

Catalan Food in Costa Brava – The Book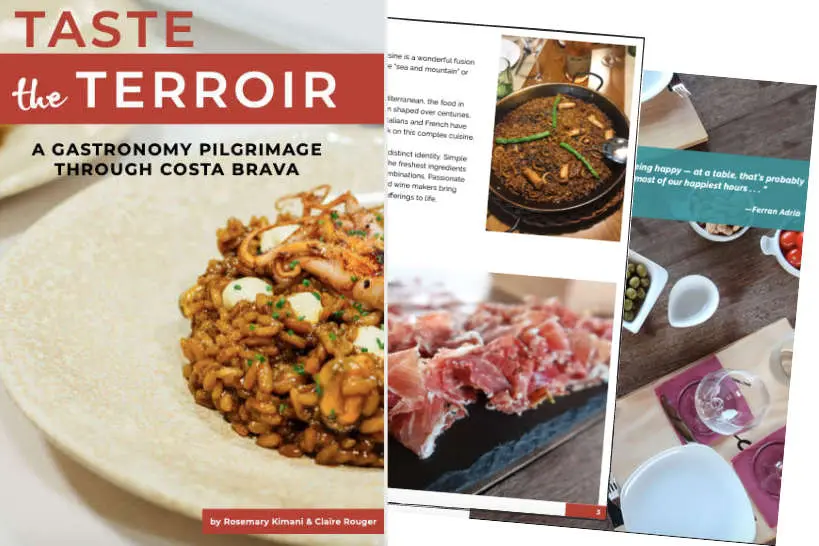 In this book, we take you on a gastronomy pilgrimage to three popular regions in Costa Brava. We start in Girona, the capital, then Baix Empordà (low Empordà) ending in Alt Empordà (high Empordà)
Discover the local Catalan food and wine specialties and meet the passionate producers dedicated to preserving this rich culinary heritage.
On your travels to Costa Brava, we invite you to taste the terroir.
Culinary Guide To Catalan Food in Costa Brava
While putting this ebook together, we also documented individual stories of our experiences learning about traditional Catalan food.
This series of articles will introduce you to Costa Brava foods, food tours, wineries, restaurants, and more.
For a handy PDF guide, don't forget to download the ebook for free.
Girona Food Tour – An Introduction to Traditional Catalan Food
Girona, the capital of Costa Brava is one of the world's major culinary hubs.
One of the best ways to get familiar with the local cuisine at a new destination is to take a food tour.
With a local guide, you get to discover the local specialties and where to have them.
As such, our trip to Girona started out with a food tour. Pat, our Girona Food Tours guide with a bubbly personality, regaled us with stories about the food intertwined with Catalan legends and tales.
We sampled the legendary xuixo, pastry. Along the way we stopped for Catalan tapas. And, we finally learned about the iconic iberico or Spanish ham.
This tour wasn't only a food tour, it was also a cultural tour.
From artisanal bakeries, local markets to Michelin star ice cream, this Girona food tour was a wonderful introduction to Catalan Food.
READ MORE: Girona Food Tour – How To Taste The Best of Girona Spain
5 Authentic Costa Brava Restaurants To Enjoy Amazing Catalan Food
Costa Brava is known for its density of gastronomic restaurants with El Celler de Can Roca as the leading three Michelin star restaurant.
With many restaurants to choose from, we highlight five authentic Costa Brava restaurants that stand out.
You might not find them on the Michelin star list. However, they excel by the way they bring local Catalan food, wine, and produce to the forefront.
At Casa Marieta, you'll dive into traditional Catalan food made seasonally. One of our favorites was botifarra or Catalan pork sausages. The iconic 19th-century restaurant is recognized as a Centennial Restaurant in Spain, and is an experience worth savoring.
Vicus, located in the medieval city of Pals offers gourmet seasonal and local delicacies with a creative twist. The rice dishes from the rice fields in Pals are not to be missed.
Mooma, a restaurant as well as a cidery, is the perfect place for a casual gathering. With apples at the core of the menu, taste flavorful Catalan dishes along with cider.
Es Baluard, a family restaurant, brings fish and shellfish freshly caught to its tables. The Mediterranean views and the excellent seafood will definitely seduce you.
El Molí de l'Escala, located in an ancient flour mill, offers contemporary Catalan cuisine with international flavors. One standout meal we savored was the flavorful traditional fisherman rice made with locally grown rice of l'Escala.
READ MORE: 5 Costa Brava Restaurants To Enjoy Amazing Catalan Food
Enjoy Catalan Wines at Three Stunning Wineries in Costa Brava
Catalan wines are as important as Catalan food when it comes to Catalonia's rich gastronomy heritage.
The Empordà is the wine region that characterizes the wines of Costa Brava, in the northeastern part of Spain.
We had the opportunity to visit three wineries each with their unique charm and stunning vineyards.
Eccocivi Cellar, the winery closest to Girona, grows vineyards and produces wines in a protected natural area.
This eco-friendly winery produces impressive wines, working with nature and supporting the local community.
Wine tastings are offered paired with regional cheeses, local Spanish ham and an assortment of nuts, dried fruits and local bread.
Mas Geli winery is a beautiful vineyard set in the middle of the rice fields near the medieval town of Pals. It was the first winery in the Emporda region to get the organic certification from the start.
Wine visits and tastings take place in the vineyards with views of the Montgrí mountain in the background.
Martin Faixo winery is nestled high in the hills overlooking the town of Cadaqués is
The winery has the distinct honor of being the only winery located in the middle of Cap de Creus, a natural park.
READ MORE: Enjoy Catalan wines at Three Stunning Wineries in Costa Brava
Mas Alba – Artisanal Cheesemaking
The region of Costa Brava produces a large variety of artisanal cheeses, emblematic to Catalan food.
After sampling tasty local cheese on our Girona food tour, we were excited to visit Mas Alba, a local dairy.
Located in the small village of Terradelles, Casa Mal Alba is a farmhouse and local dairy, 30 minutes drive north of Girona.
Owned by the Huguet family for five generations, the children are now running the farm, guest house, and dairy.
Martí, the youngest brother and cheesemaker, has quickly made a name for himself. His cheeses are very popular and everything is done organically and sustainably.
From mild goat cheeses to mature hard-crusted cheese, Martí is constantly innovating with new flavors.
READ MORE: Artisanal Cheese Tasting Experience at Mas Alba, Girona
Tots a Taula – Catalan Cooking Class
When you take a cooking class, you get a deeper appreciation for Catalan food. It is the perfect way to have fun and enjoy learning about the culture and discovering new flavors.
Xavier Escatllar, passionate about cooking, opened Tots a Taula in October 2013.
In pursuit of his passion, he traded his former engineering career for cooking and sharing. In fact the name Tots a Taula in Catalan means "Everyone to the Table."
Under Xavier's watchful guidance, we cut, peeled, and folded while learning the fascinating history of the dishes.
Over a five hour period, we immersed ourselves into the local food culture.
Catalan Paella and Crema Catalana, similar to crème brûlée, were amongst the most iconic Catalan dishes we made.
The experience ended with savoring our delicious creations along with local Empordà wine.
Gambas de Palamos – A Fascinating Day in the Life of a Fisherman
Gambas de Palamós or red prawns are the local delicacy in Palamós, a coastal city along the Mediterranean.
Highly valued for their exquisite flavor and succulent meat, Palamos gambas are said to be the best in the world.
Fishing sustainably is at the core of the fishing tradition in Palamós. Only 17 trawlers are permitted to fish for the gambas 10 months of the year.
Onboard a fishing boat, we became part of the crew for one day hunting for Palamos gambas.
We learned about gambas de Palamos, observed modern fishing practices while sharing in the daily life of fishermen.
Additionally, we ate what fishermen typically eat. The famous bread with tomato known as pan con tomate in Spanish or pa amb tomàquet in Catalan kept us satiated.
And after the fishing experience, we learned how to make fisherman stew or suquet de peix at the nearby Port of Palamos center.
With this unique experience, learn more about this cultural and regional delicacy from "sea to table".
READ MORE: Gambas de Palamos in Costa Brava – A Fascinating Day In the Life of a Fisherman
A Peek Inside The Book
This book takes you on a delicious journey through Costa Brava foods. Within the 72 pages are stories from local producers, appetizing food imagery and a few simple recipes.
Find an overview of local restaurants, wineries, unique food experiences, cooking demonstrations, and markets. Everything you need to savor Catalan flavors on your travels.
The book ends with tips for eating in Costa Brava like a local.
How To Get To Girona
Barcelona to Girona
If you're coming from an International destination, the best way to get to Girona is by flying into Barcelona airport. Check on Skyscanner for the best price options.
Barcelona to Girona by Train
From Barcelona airport, you can get to Girona by train in less than one hour with the high-speed train. Tickets start at €17 euros.
Barcelona to Girona by Bus
The liaison between Barcelona and Girona is also available by bus. The trip takes about 2 hours and tickets start at €15 euros.
Barcelona to Girona by Car
Finally, renting a car might be your best option if you are planning to tour around Costa Brava and fly out from Barcelona.
With a car, you can easily access the Empordà region and visit the local wineries. You can also tour the coastal cities of Cadaques, Roses, Palermo, and other fishing towns.
Girona by Plane
If you're coming from within Europe, it is possible to fly directly into the smaller and closer Girona airport. There are many low cost airlines that offer short trips from the main European cities into Girona at low fares.
Check on Skyscanner for the best price options.
Girona by Train
You can also take the train to Girona directly from Paris. With the TGV, French high-speed train, the trip takes about 6 hours.
More Food and Travel Books From Authentic Food Quest
Rosemary is the editor-in-chief and strategist at Authentic Food Quest.
Traveling slow since 2015 with her partner, Claire, she has explored the cuisine in 45 countries and more than 240+ culinary cities.
Her writing about local food specialties has been featured in Lonely Planet, Business Insider, Honest Cooking, Food Insider, and Huffington Post.
As a food and travel writer, Rosemary has co-authored three books, including one in collaboration with Costa Brava Tourism.
Rosemary is an avid runner when she's not eating and exploring new destinations. She has run ten marathons and counting.
Before Authentic Food Quest, Rosemary held senior-level strategy positions in advertising. 
Find out more about Authentic Food Quest