If you ask any Filipino for the most popular dishes in the Philippines, you will certainly get "Lechon" as an answer.
Naturally, the following question is, "where can we have the best lechon in the Philippines"?. The answer is crystal clear: Cebu lechon is the best lechon of the Philippines.
To taste the best lechon in the Philippines, after arriving in Manila, we took the next flight out to Cebu City, the second largest city in the Philippines. We landed in Mactan Island, which is close to Cebu City and world famous for its diving spots. Our only interest was to dive into the lechon.
While on our authentic food quest to the Philippines, we learned that a few years ago, Anthony Bourdain had also visited Cebu to experience the famous lechon!
Not only were we about to taste this Filipino food delicacy, but we were also following in the footsteps of Anthony Bourdain, ex-chef, TV personality, and famous food adventurer.
Let's dive into the Cebu lechon which Anthony Bourdain described as "the best pig ever!"

What is Lechon?
Before we dive into Cebu lechon, let's take a step back and understand what lechon is!
Lechon is literally roasted pig. The way it is made in the Philippines, is with a whole pig cooked on a large stick over a pit filled with charcoal.
The pig is prepared in advance with seasoning placed inside the pig where the insides have been removed. Then the whole pig is cooked rotisserie style for 1.5 to 2 hours depending of the size of the pig. The best lechon is said to be made with young pigs, between two to six weeks old as they are less fatty.
Cebu lechon is a traditional dish prepared for special events or fiestas such as holidays, parties and festivals. It is best enjoyed with the whole family as there is a lot of meat to be shared!
If you don't have the chance to get invited to a private party to share a lechon, find below some of the best places to have lechon in Cebu and in the Philippines.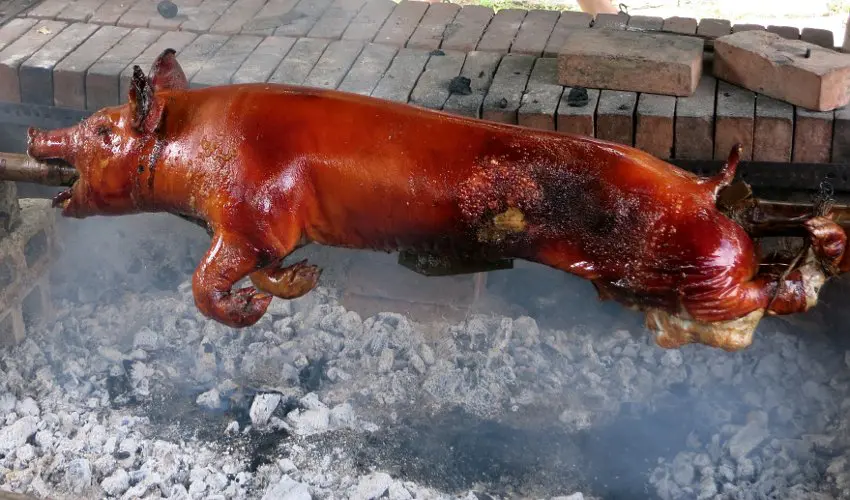 How We Found Out About The Best Lechon In Cebu
Finding the local specialities is often one of the most challenging, yet fun parts of our quest for authentic food. In this case, we simply "asked". We asked the opinions of people who know Cebu City, for the best lechon in Cebu. Just like if you wanted to find the best pizza in town, you would ask the people living there for their favorite joints.
Our search started in the U.S. even before we left to eat our way through Southeast Asia. We asked Filipino friends living in the U.S. and colleagues living in Switzerland, where to find the best lechon in Cebu. We also connected with the top Filipino food blogger, Anton Diaz of Our Awesome Planet for his recommendations.
Once we got to Cebu City, we started by asking our Uber driver and our Airbnb host for their top lechon recommendations. Our final confirmation came from the local Cebu tourism office.
After all the "asking", three places kept coming up over and over again. Below, we present the best places for Cebu lechon, according to the locals!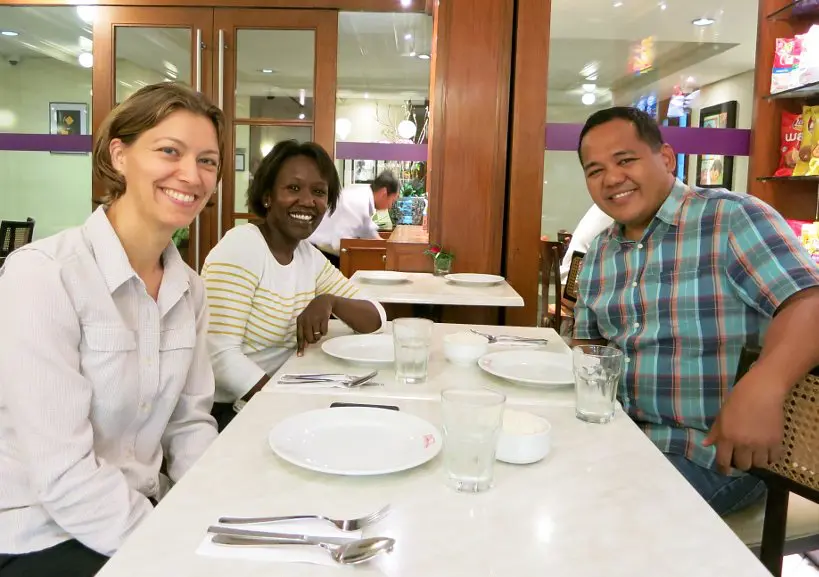 Rico's "Da Best Gyud" The Best of The Best Cebu Lechon
Rico's lechon was by far our favorite lechon in Cebu. We had dinner at the Mabolo branch location which was not too far from where we were staying.
Right away, we were welcomed into a casual environment by very friendly staff. One great feature we noticed right away about the space, is that you can watch your lechon being chopped up and prepared.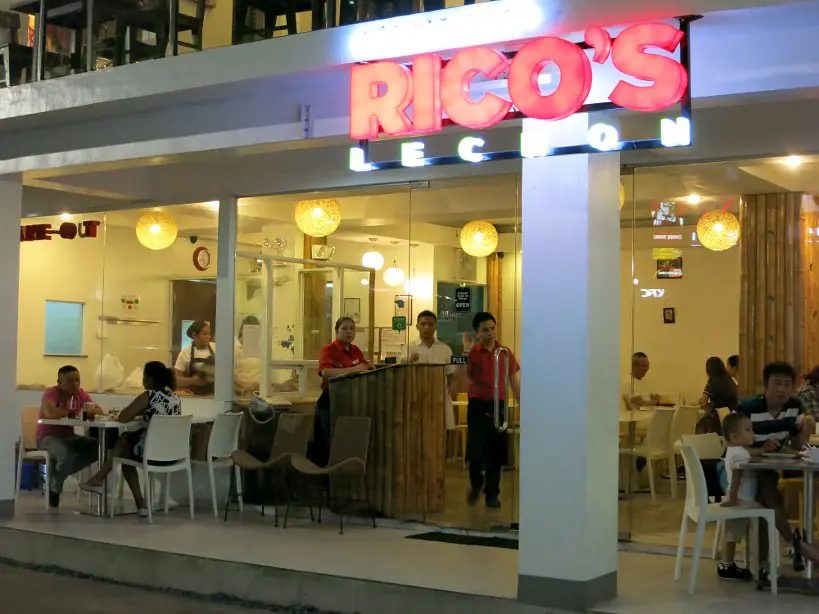 As we were getting ready to place our order, we were informed that they were out of the "classic" lechon, and all they had that evening was "spicy" lechon. At this point, we didn't know that Rico's had invented "spicy" lechon, we simply went ahead and ordered ½ kilo of Spicy Lechon.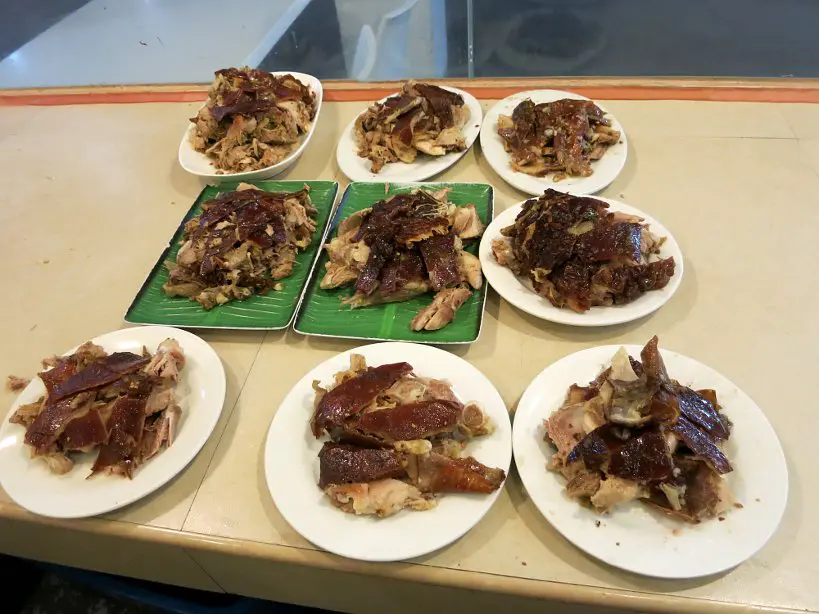 To go with the lechon, we ordered a side of greens and went with the local restaurant speciality, the "Trio of Seaweed Salads". This salad was made up of three different types of seaweed (lokot, lato, and guso) all tossed together with Rico's native fermented vinegar and seasoned with spices. And we also had a side of garlic rice to complete the meal.
What we loved about Rico's lechon was two things. First, the skin was crispy and not fatty. Perfectly browned and each bite cracks in your mouth releasing a burst of flavors. The lechon itself was tasty and very tender cooked with a mix of garlic and leeks giving it the slightly tangy and delicious garlicky kick.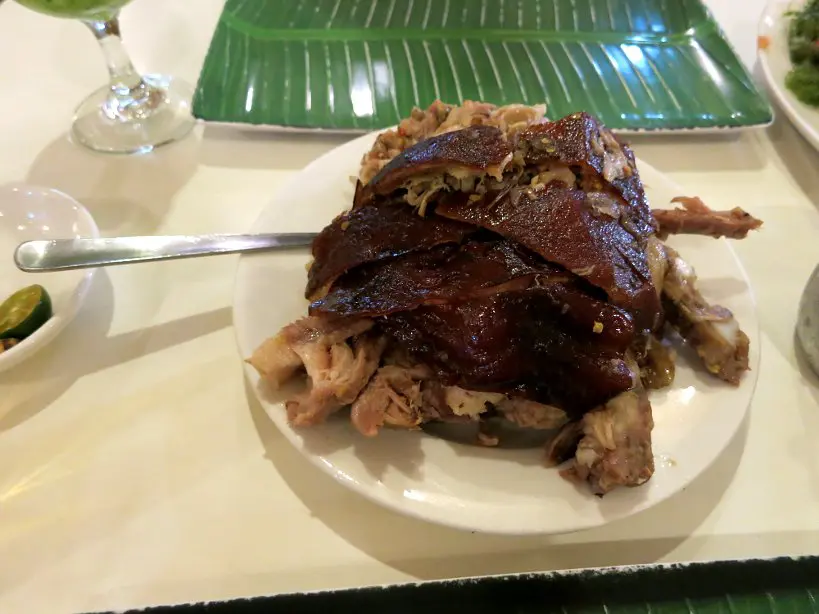 The Trio of Seaweed Salads was hearty and a wonderful array of flavors and textures. Having the "greens" to go along with the pork made for a less guilty pleasure.
The recommended drink to accompany the lechon is the Cucumansi Quencher. This refreshing and iced drink has Calamansi (a typical Filipino lime) and cucumbers. The perfect drink to tame the spice and flush away any guilt.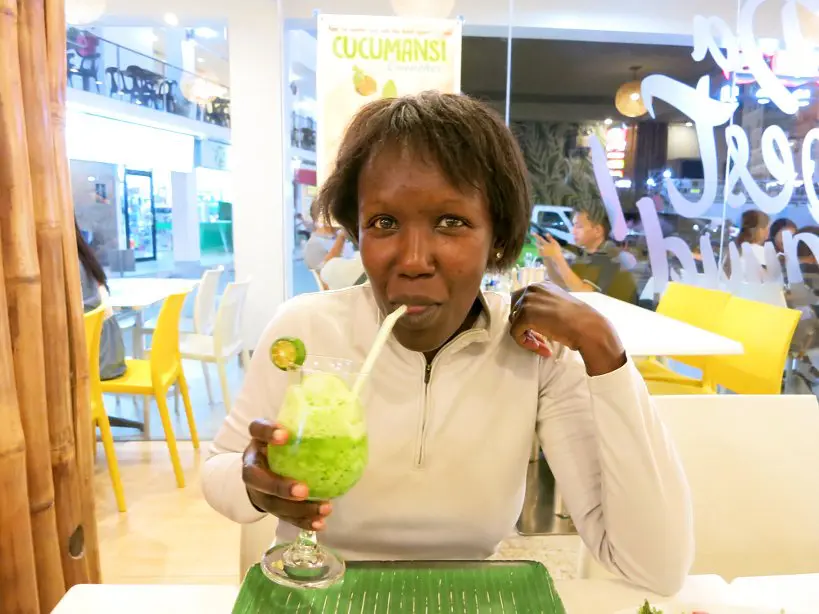 When we finished our meal, we looked around and took inspiration from nearby tables ordering dessert. We got tempted by the house specialty, Oreo Mango Float. Not your typical Oreos, this dessert was made up of layers of tasty Graham crackers, with fresh mango slices in between and topped with homemade cream.
With Filipino mangos listed as the sweetest in the world, by the Guinness Book of World Records, you cannot go wrong with this luscious dessert.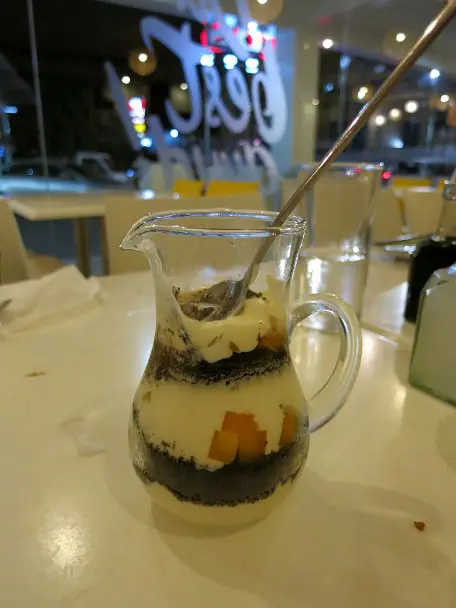 Overall, Rico's lechon is excellent and lives up to being "the best lechon." What makes the lechon outstanding, is the use of native and organic pigs. The garlic lechon is quite exceptional and full of flavor. Summed up in their slogan "Da Best Gyud", this is really the place to go for the best lechon in Cebu.
READ MORE: Why Rico's Lechon is The Best Lechon in Cebu
Where
Two locations, Mabolo Branch in Cebu City and on Mactan Promenade on Mactan Island.
A third location is slated to open by year end 2016.
Price range for a Medium Platter (2-3 people) of lechon, P310 – P340, Approx.: $6.34 – $7.02 USD
CNT Lechon
With locals especially those in Cebu recommending CNT, we were excited to try out their version of lechon. To find CNT lechon, we had to go to the mall, Ayala Center in Cebu.
In our previous article, 10 interesting facts you need to know about food in the Philippines, one of the surprising observations we made is that dining takes place at the mall.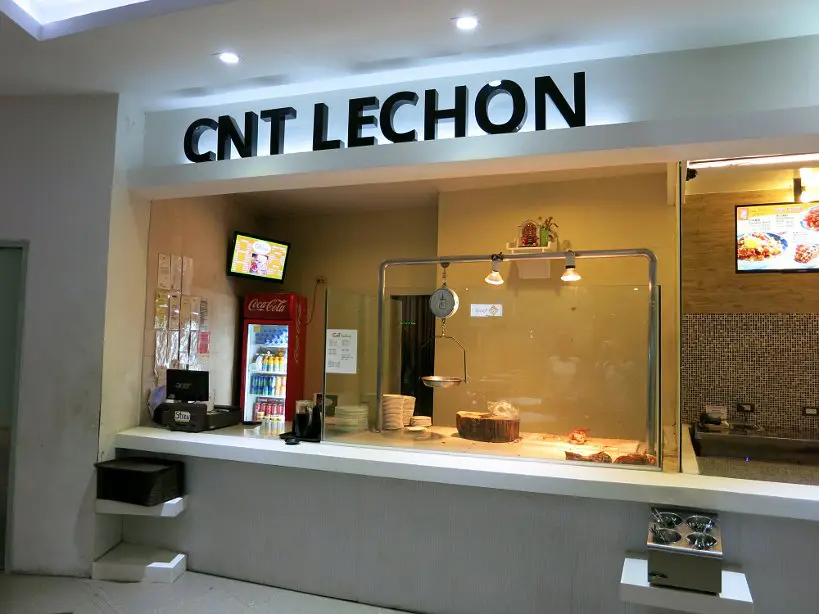 After watching the "chopper" cut up the pork, we settled in to try the local favorite, CNT lechon.
On the whole, we enjoyed the CNT lechon. The skin was crispy though a little fatty. The pork itself was very tender. While we found the lechon quite tasty, we noticed that it had a lot more bones than meat.
Overall, the experience at the mall is casual and many people were taking their orders to go. For delicious lechon to go or to enjoy in a relaxed environment, head out to the mall for CNT lechon.
Where
Three locations in Cebu City
Price range for a Medium Platter (2-3 people) of lechon, P320, Approx.: $6.60 USD
Zubuchon
Described as "commercial" by locals, Zubuchon is certainly very famous for its marketing appeal. However, it doesn't earn the title of tastiest lechon from the locals.
Zubuchon was definitively on our "to do/eat" list, and we were set to check out one the local store in our neighborhood.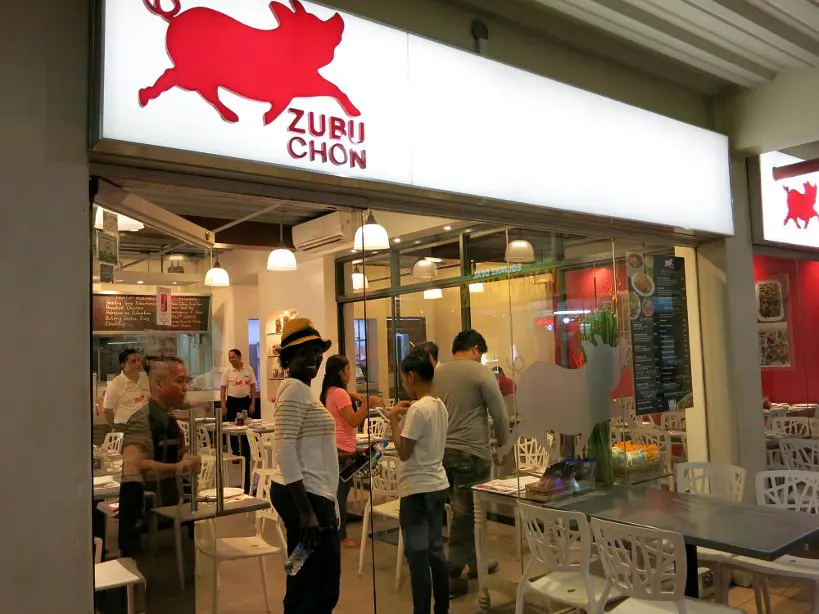 From the outside, the restaurant is very clean and welcoming. As soon as we stepped in, we were welcomed by the staff. Right away we noticed the Anthony Bourdain quote: "Best pig ever". Nice endorsement though we found out that Anthony Bourdain talked about lechon prior to Zubuchon opening…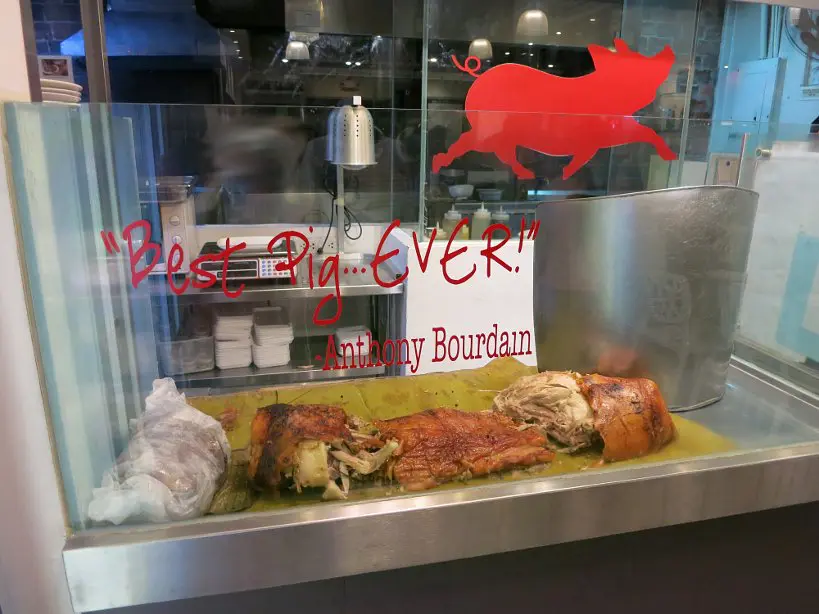 The menu was well designed with great pictures with a large selection of local dishes. You have the feel of a more trendy restaurant as compared to a local food joints. We ordered the Zubuchon medium platter, and an eggplant salad (ensaladang talong) to go along with it.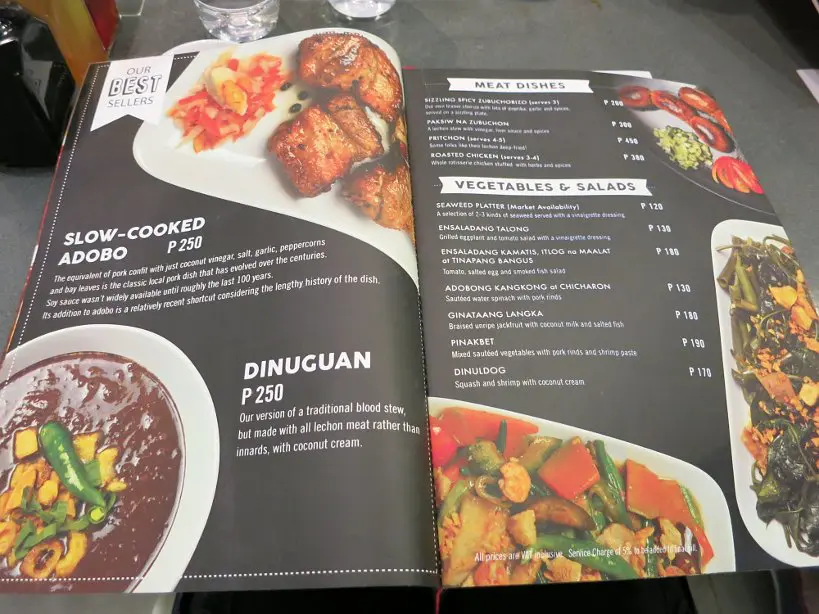 The lechon was good though we found it a bit fatty and lacking the full flavor experience of Rico's lechon. The salad was a fresh and light with a slightly tangy taste.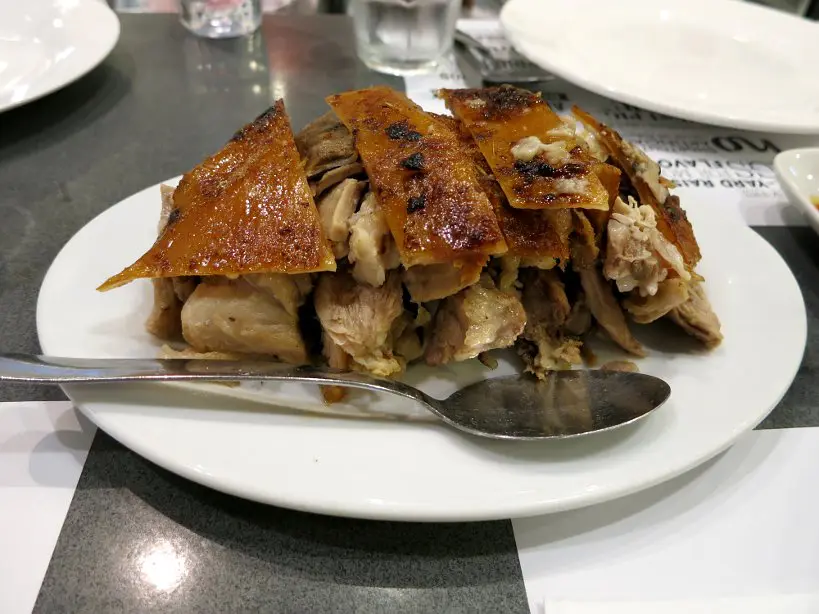 Overall, Zubuchon provides a modern and clean experience. It is a nice restaurant to try local specialties beyond lechon. Though if you are looking to have the best Cebu lechon, it may be better to look at the options above!
Where
8 locations in Cebu City and Mactan Island
Price range for a Medium Platter (2-3 persons) of lechon P330, Approx.: $6.81USD

In Summary
If your travels take you to the Philippines, you have to taste lechon and if possible, Cebu lechon. The great news is that you don't have to order the whole roasted pig to try lechon! You can simply order by the kilo and taste the delicious crunchy skin with and the unique flavors and seasonings.
Don't fall for the commercial restaurants and marketing hype. Try lechon at different places and make up your own opinion about the best lechon in Cebu. However, if you can only try Cebu lechon once, we recommend you go with Rico's lechon!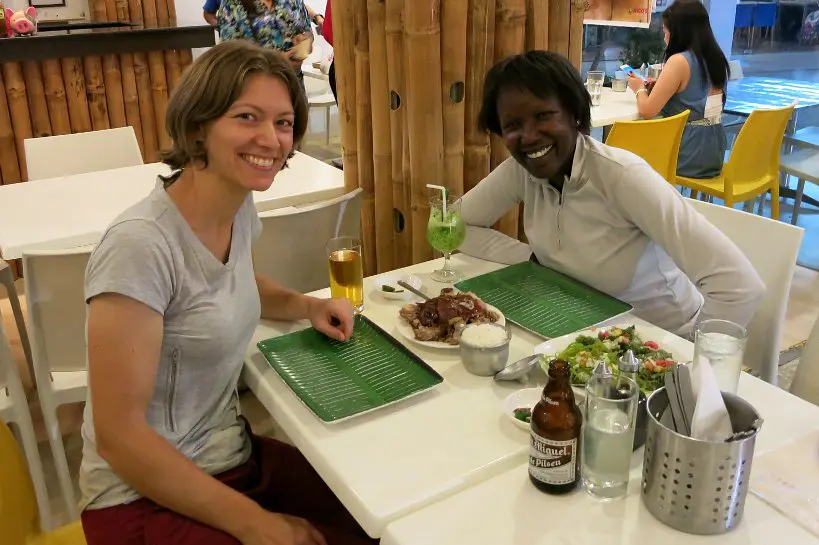 Have you had lechon or Cebu lechon before? If so tell us what you think of it and if not would you be interested in trying it?
Savor The Adventure!
Love it? Pin it!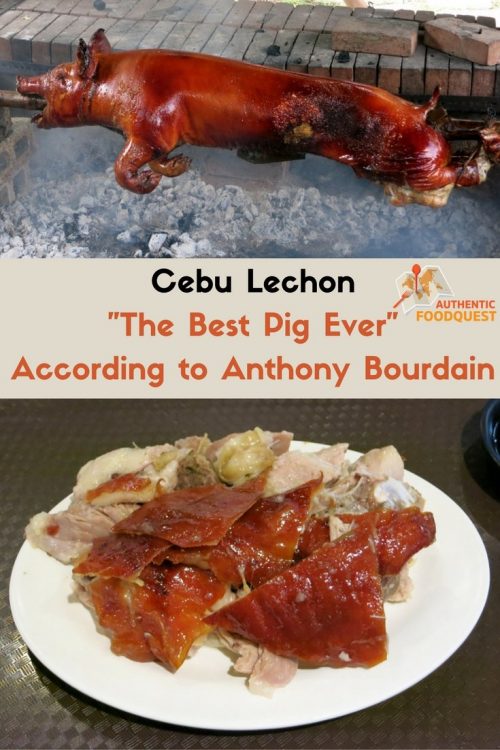 Claire is co-founder of Authentic Food Quest and a lover of simple and exquisite cuisine. Since 2015, with her partner, Rosemary, she has been traveling the world as a digital nomad, creating content about local food experiences.
Her advice from visiting 45 countries and more than 240 food cities has been featured in Lonely Planet, Business Insider, Honest Cooking, Food Insider, and Huffington Post. She has also co-authored three books, including one in collaboration with Costa Brava Tourism.
An ex-mechanical engineer, Claire is responsible for SEO, keeping the website running, and the fun food & travel videos on YouTube.
When Claire is not eating, she can be found running or cycling. Find out more about Authentic Food Quest