This article has links to products and services we recommend, which we may make a commission from.
Che Ba Mau is a refreshing and eye-catching Vietnamese dessert. Also known as Vietnamese three color dessert, this popular dessert has 3 vibrant layers. One layer of red beans, another layer of mung beans and a final layer of green pandan jelly topped with coconut sauce and shaved ice. This che Vietnamese dessert is the perfect indulgent cool treat for a hot sunny day.
What is Che Ba Mau or Chè Ba Màu?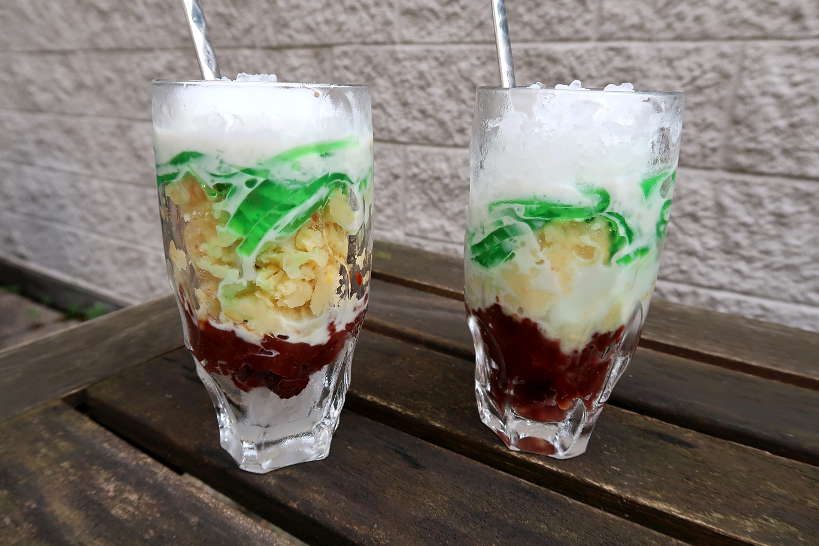 Chè is the Vietnamese word for desserts and che ba mau is one of the most popular che desserts.
In Vietnamese, chè ba màu translates to "three color dessert". It is also known as Rainbow dessert or che 3 mau in reference to its distinctive layers.
This Vietnamese dessert shares similarities with the famous Halo Halo dessert from the Philippines. You may sometimes see che ba mau also referred to as the Vietnamese Halo Halo dessert.
Surprisingly, this che Vietnamese dessert is not as sweet as one might think. With this che ba mau recipe, you have even greater control in the amount of sugar used.
READ MORE: 14 Most Popular Vietnamese desserts to Indulge In
Che Ba Mau Pronunciation
This popular Vietnamese dessert, che ba mau is pronounced "chey bah ma-oh" or "jeh-ba-mao". You can also simply call three color or rainbow dessert.
Discovering Che Ba Mau: Vietnamese Three Color Dessert in Hanoi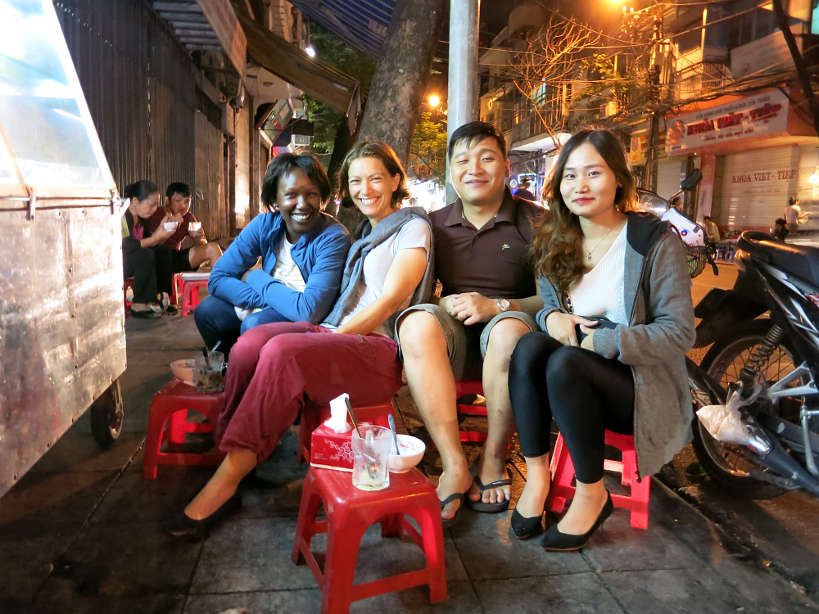 The vibrant and striking colors of che ba mau or three color dessert caught our attention while we were in Vietnam.
To cool off from the heat and humidity, we would always see locals slurping on this colorful dessert at a popular street vendor.
One night, after dinner, we decided to join the locals and discover what the excitement was all about.
Once it was our turn to place our order, we quickly found ourselves in a language barrier.
The vendor didn't speak English and we don't speak Vietnamese.
Luckily, locals waiting in line realized the issue and jumped in to help translate. With their help, we ordered this famous Vietnamese che dessert.
The che ba mau was served in a tall glass mug, topped with ice.
Visually stunning, we enjoyed the refreshing flavors and textures. Though with the heat, the three layers quickly become a multi-colored dessert.
How to Make Che Ba Mau at Home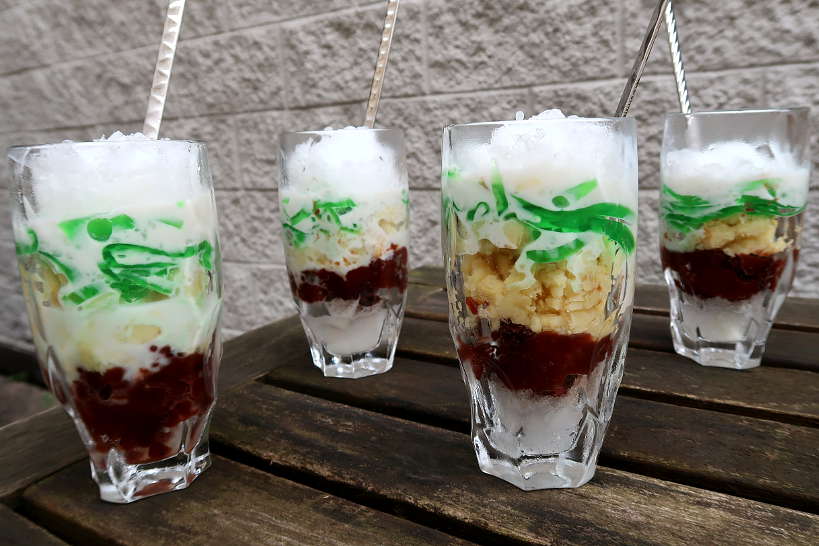 Che ba mau is popular in Vietnam and can also be found in almost any Vietnamese restaurant around the world.
This dessert consists of layers of red beans, yellow mung beans, and green pandan jelly strips. It is served with shaved ice and topped with coconut milk.
While the che ba mau recipe is fairly easy to make, there are a few steps that require soaking and waiting. This is the case for the yellow mung beans and pandan jelly layers.
In this che ba mau recipe, we make the mung bean and pandan jelly layers from scratch. We use sweetened canned red beans and also provide instructions using canned kidney beans.
Che Ba Mau Recipe – Ingredients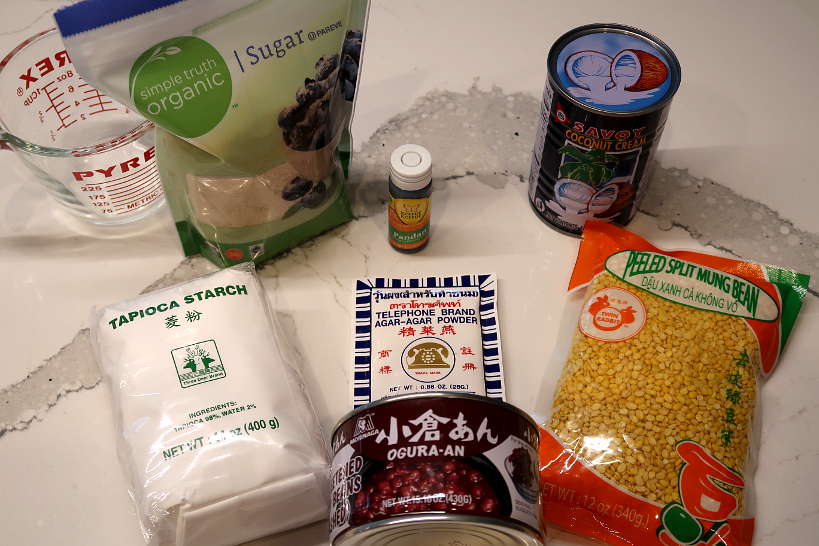 How to Make Red Bean – Red Layer
For the red bean layer, we used a store-bought can of sweetened red beans from an Asian grocery store in Chicago. The same brand of sweetened red beans is also available on Amazon.
The amount of sugar in the sweetened red beans was just perfect for this che ba mau recipe.
Alternatively, you can also make your own red layer using a 16 oz can of kidney beans.
In this case, rinse out the can of red kidney beans a few times to get rid of the saltwater.
In a saucepan, dissolve ½ cup of sugar with 2 tablespoons of water using low heat.
Once the sugar is dissolved, add the red kidney beans and simmer on low heat for about 10 – 15 minutes until the beans absorb the sweetness of the sugar.
Set aside to cool.
How To Make Mung Bean – Yellow Layer
Mung beans are a good source of protein and rich in vitamins and minerals. They have many health benefits with some experts calling them a superfood.
Mung beans are a popular ingredient used in many Asian desserts. To cook the mung beans, wash ½ cup of peeled split mung beans a few times to remove the coloring.
Soak the beans in about 1 inch of water for at least 4 hours though overnight is recommended.
To make the yellow mung bean layer, cook the soaked mung beans with 1 ½ cups of water until soft.
When the beans turn mushy, add 3 – 4 tablespoons of sugar and mash into a paste.
Once mashed, cook on low heat for about 10 – 15 minutes and then transfer to a dish. When the mung beans cool down, they will thicken like a pudding.
Set aside.
How To Make Pandan Jelly – Green Layer
Making the green pandan jelly layer was exciting because it called for ingredients we had never cooked with before.
To make the green color jelly layer, mix 1 tablespoons of agar agar powder in 4 cups or 1 liter of water.
Stir constantly while bringing it to boil.
What is Agar Agar?
Agar agar powder is used in many Asian recipes in the place of gelatin. Agar Agar has no calories, no carbs, no sugar, not fat and is loaded with fiber. It's free from starch, soy, corn, gluten, yeast, wheat, milk, egg and preservatives.
It's vegan and dairy free–great for those with dietary restrictions.
Agar agar is used as a thickener for soups, in fruit preserves, ice cream and other types of desserts. It is also used by chefs who specialize in molecular gastronomy.
It has no taste and no particular smell.
How to Make the Green Coloring
Once the mixture of water and agar agar comes to a boil and starts to bubble, add the sugar and turn off the heat.
Continue stirring until the sugar dissolves. Add ½ teaspoon of pandan paste or green food coloring.
Stir and mix the color completely, then transfer the mixture to a baking dish and let it cool on the counter for at least one hour.
Transfer and let it cool in the refrigerator for 4 hours or overnight until firm.
After the pandan jelly has set, run a knife around the edges to loosen it up.
Cut the jelly into thin slices using a bread knife. Alternatively, you can use a mandoline slicer to crinkle cut the jelly.
Refrigerate until ready to serve.
Pandan is a fragrant plant that grows abundantly in Southeast Asia. It adds unique flavors and aromas to desserts and drinks as well as savory dishes.
It is inexpensive with a much lower price tag than vanilla bean.
How to Make the Coconut Sauce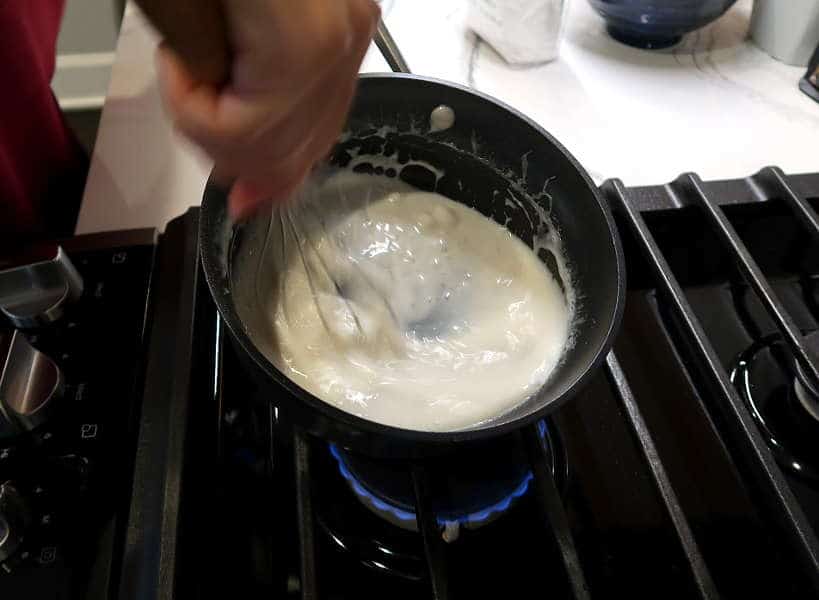 To make the che ba mau coconut sauce, mix coconut cream, sugar, and salt in a small saucepan and cook over medium heat.
Add the tapioca starch and use a whisk to mix thoroughly.
Cook over medium heat for an extra one to two minutes, until the mixture thickens to the consistency of pudding.
Remove off the heat and cool.
Che Ba Mau or Che 3 Mau Assembly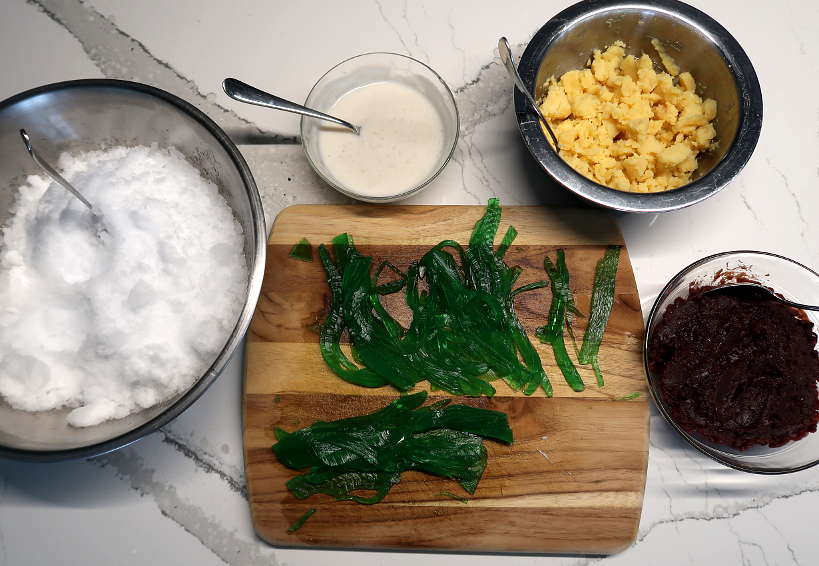 Before assembling the che ba mau, make sure all ingredients are refrigerated. You want to have all the ingredients cold, so that you can enjoy a refreshing dessert.
Start by making crushed ice. Simply use the "blend ice" function on your blender and make enough crushed ice for 4 to 6 che ba mau desserts.
Starting from the bottom, add some crushed ice to the glass. Next, add 2 to 3 tablespoons of sweetened red beans.
Follow that with 1 to 2 tablespoons of the yellow layer of mashed mung beans.
The next layer is 2 to 3 tablespoons of green shredded pandan jelly. Add another couple of tablespoons of crushed ice.
And finally, top the dessert with a heaping spoon of coconut cream sauce.
Serve cold and dig into the deliciousness of che ba mau dessert, before the ice starts to melt.
What does Che Ba Mau Vietnamese Dessert Taste Like?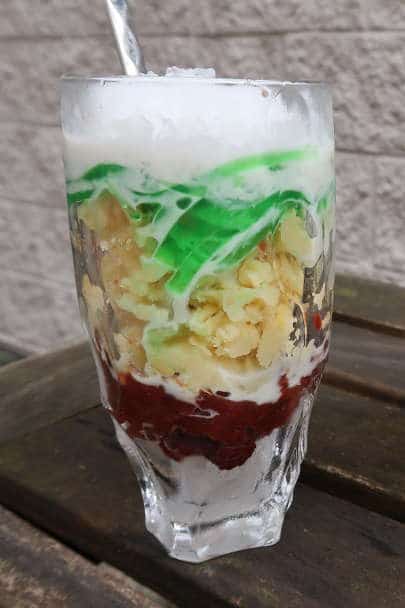 Che ba mau is a wonderful medley of flavors and textures. Compared to other typical desserts, the ingredients and textures are unusual.
The red beans are the filling part of the che ba mau dessert. The mung beans or yellow layer has a grainy texture and is not very sweet.
The texture of the pandan green jelly is similar to jello and is chewy like gummy worms. The coconut sauce adds sweetness to the dessert, while the crushed ice makes it refreshing.
When you make this che ba mau recipe, you control the sweetness in the dessert. In Vietnam, some vendors add additional toppings and some use different kinds of beans.
Typically, che ba mau is served in a tall glass with a spoon and a straw.
This is a popular Vietnamese dessert and one we enjoy. It is refreshing, filling without being overly sweet.
Che Ba Mau Recipe Tips
How Long Che Ba Mau Can Last in the Fridge?
Che ba mau ingredients can last in the fridge for about one week.
When you want to enjoy this refreshing Vietnamese dessert, simply take out the ingredients from the fridge and assemble your dessert.
More than likely, you will have pandan jelly left over. You can add the extra jelly into icy drinks for fun textures and tastes.
Claire is a culinary explorer who travels the world in search of the best local foods. She is always looking for her next culinary adventure to bring you the best bites while exploring new places.