On our second trip to Chiang Mai in 2019, we continued our quest to explore the authentic regional cuisine of northern Thailand. On a recent Chiang Mai food tour, we dive deeper into the backstreets of the city. We go to the unfrequented parts of town and explore the regional cuisine at the markets and unique local eateries.
After falling deeply in love with Khao Soi, Chiang Mai's famous curry and noodle dish, we were excited to explore northern Thai cuisine further. The food in northern Thailand has its own distinct identity. The flavors are rustic, fragrant and meaty with influences from China, Burma, and India.
To guide us into the core of northern Thai food, we took a Chiang Mai food tour for a culinary journey into the heart of the local cuisine.

Chiang Mai Street Food Small Group Tour – A Chef's Tour
Moui, from A Chef's Tour was our guide on the Chiang Mai Northern Flavors Tour. Originally, from Lampang, the third-largest town in northern Thailand, Moui, has called Chiang Mai home for more than 20 years. Passionate about food and cooking, her local knowledge helped us pierce into the local culture.
Traveling like locals in one of Chiang Mai's famous rod daeng trucks (also called red cars by locals), we explored exciting areas of the city, bustling with vendors, markets and food.
Our first stop on the evening tour was at the famous cowboy hat lady for a steaming plate of braised pork.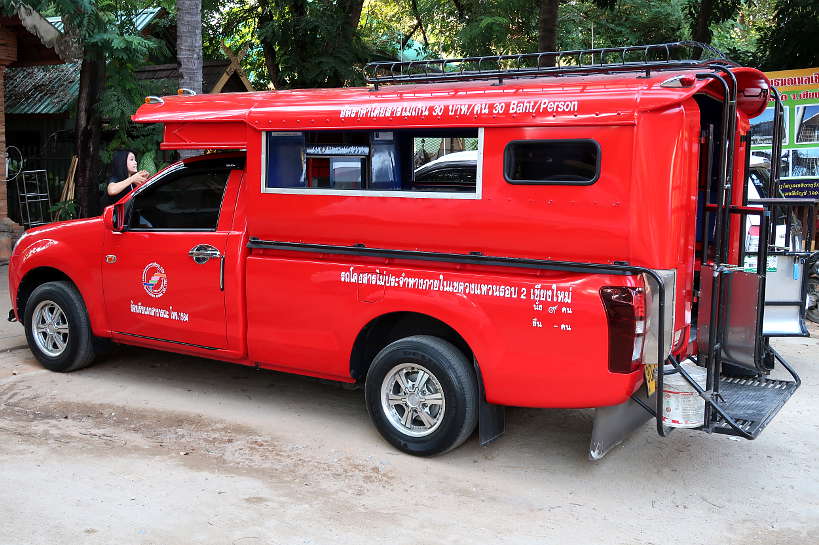 Cowboy Hat Lady: The Busiest Street Food Stall in Chiang Mai
Having already been to this iconic food stall in Chiang Mai a few times, we were not expecting much. However, we were so wrong.
With Moui, we learned the behind-the-scenes story about the famous cowboy hat lady in Chiang Mai.
According to her, the cowboy hat lady sells the best pork leg with rice in town. This dish, called Khao Kha Moo in Thai was brought by Chinese immigrants. Of Chinese descent, the cowboy lady moved to Thailand years ago and together with her Thai-Chinese husband, partnered to offer a flavorful Thai version of this dish.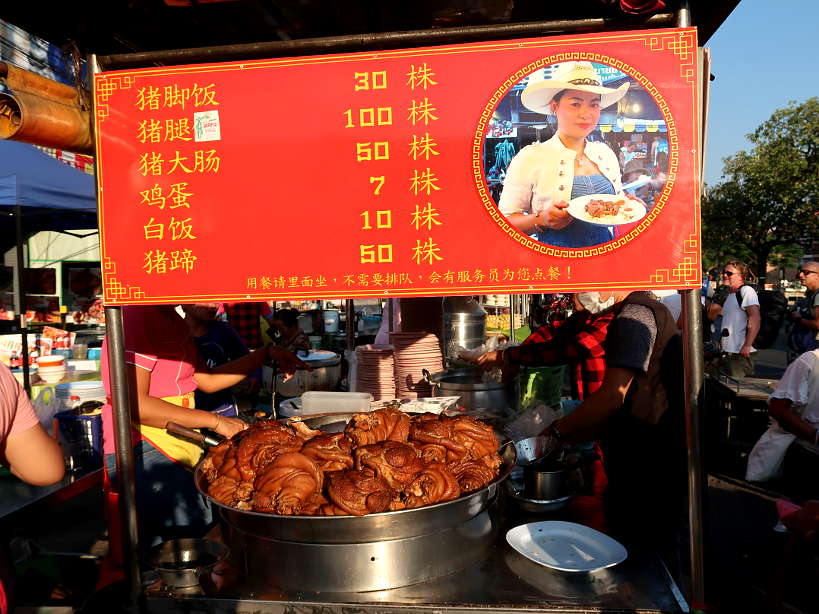 What makes this particular place so special is that they slow cook the pork leg for a minimum of four hours making the meat really tender. This dish is also served with duck eggs. Khao Kha Moo is typically eaten with fish sauce, garlic, chili, and a Thai-chili sauce.
The pork is extra tender and it dissolves wonderfully in the mouth. The Thai chili sauce adds a great bite to the pork and rice, making the combination just perfect.
In the last 15 years, Chinese tourist have become her biggest fans. With 400 kilos of pork and 1,000 duck eggs served every night, this is one of the busiest Chiang Mai street food stalls.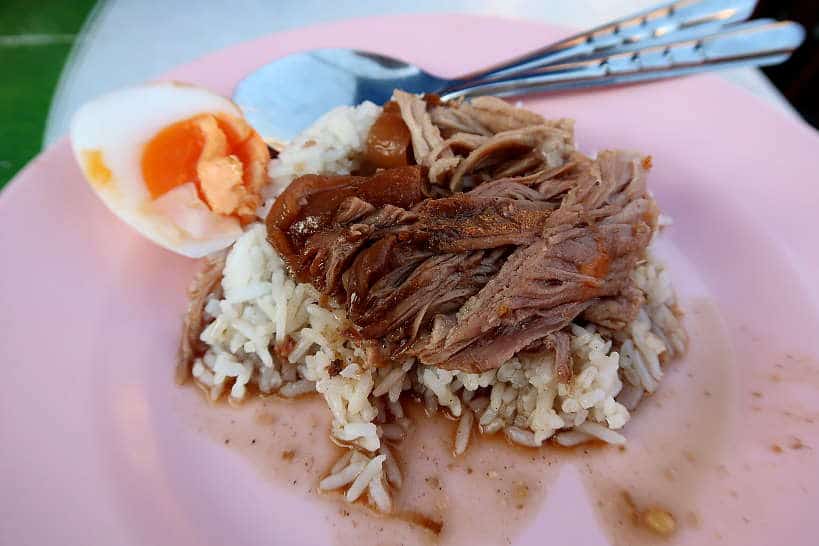 Eat the Best Pork Leg on Rice in Chiang Mai – Khao Kha Moo
Located across from Chang Phueak, the old city North Gate, you can easily spot the cowboy hat lady stall with her picture and Chinese writing.
We arrived a few minutes after 5:00 pm and the cowboy lady had just arrived. As she was eating and getting ready for the night, her staff were serving the first customers. We took the opportunity to meet her and snap a picture with her.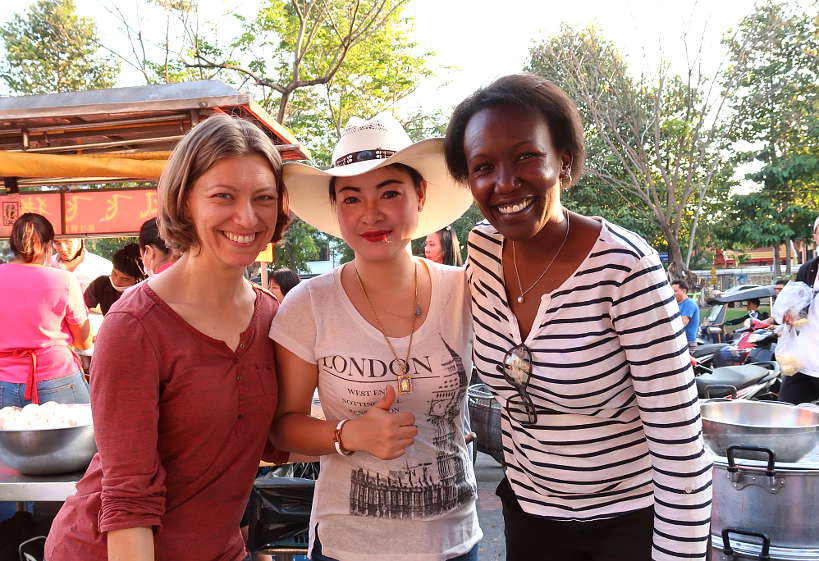 Siri Wattana Market: A Food Hunt at a Local Market in Chiang Mai
After hopping back into the red car, we made our way to our next stop on our Chiang Mai food tour. This time to Siri Wattana Market, a local fresh food market in the Chang Phueak neighborhood.
This market is a real gem for food lovers. One of its particularities is the high number of food vendors selling organic products. We had the chance to stop at many food stalls, learn about the different vegetables and herbs used specifically in northern Thai cooking.
Some of these herbs are also used in tea or juices. We tried Pennywort, Butterfly Pea Flower and Roselle juices. They all have medicinal properties to keep you healthy naturally. Our favorite was the butterfly pea flower – smooth, sweet and naturally colorful.
Sampling Crickets and other Northern Thai Delicacies
As we walked through the market, we stopped at a stand selling silk worms and crickets. Mouri mentioned that insects are typically used in northern Thai cuisine as a substitute for meat. They are high in protein, readily available, as well as affordable.
Although it was a sharp contrast to our taste buds after the sweet juices, we were intrigued to taste Thai insects after our Cambodian street food experience. The silkworms were mushy in texture, with not much taste, while the crickets had a nice grilled salty bite.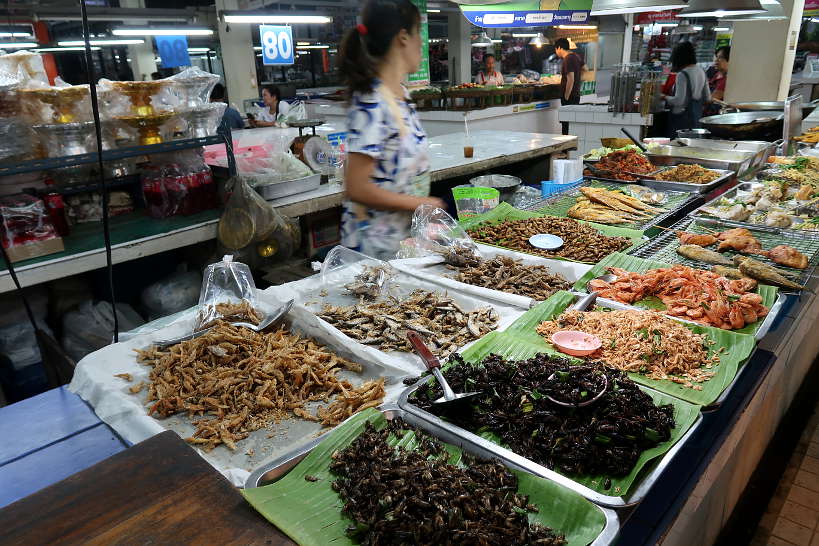 From there, we moved to taste the "real meat" – buffalo meat. This is another source of protein typical in northern Thai food. Buffalo today is eaten less frequently than pork, and it requires to be slow cooked for hours, to make it tender enough to eat. To eat buffalo the Thai way, you simply dip a slice of meat into chili sauce. We found it quite tasty and surprisingly enjoyable.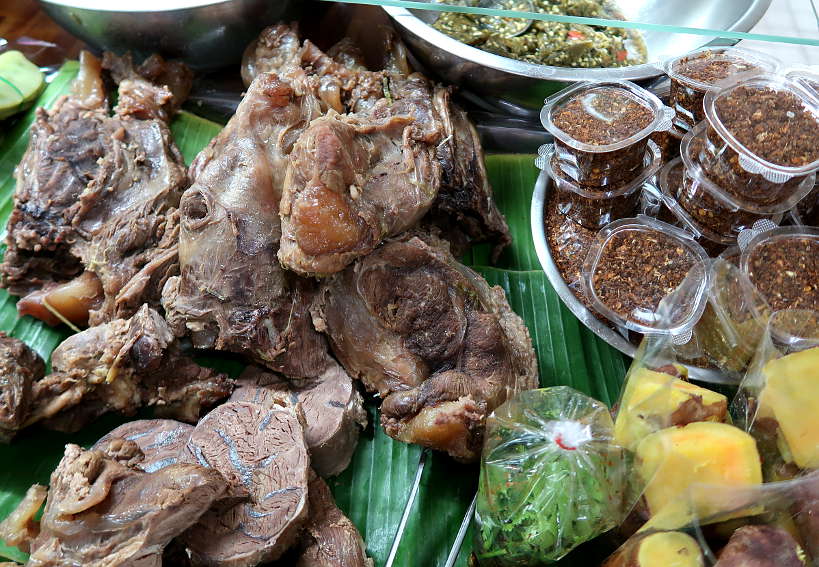 The star at the market was the Sai Oua vendor. On the top of her stall is the recognition for an award she earned for making some of the best sai oua in Chiang Mai. Sai oua are fragrant and spicy northern Thai sausages made with red curry, several herbs such as lemongrass, chili spices, and pork.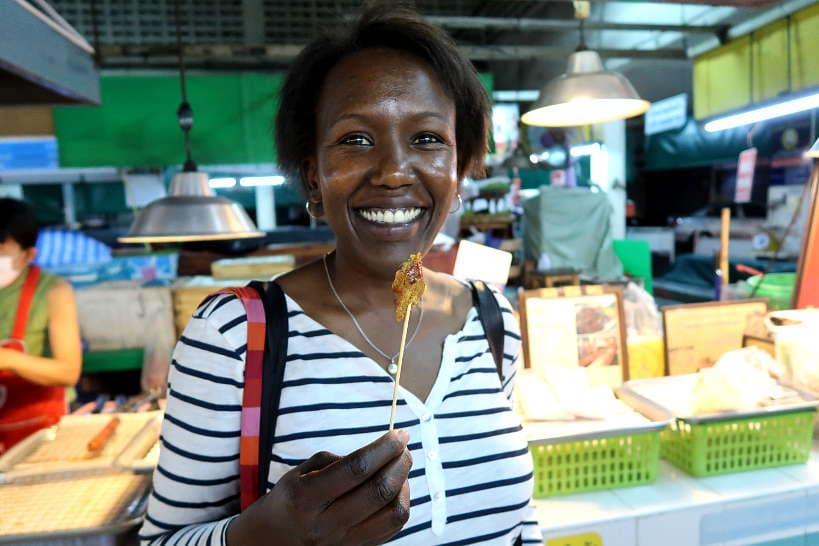 Thai Desserts to End our Siri Wattana Market Tour
To tame the spicy taste of the sai oua sausages we finished our treasure hunt in the Thai dessert section of the market.
Fresh off the griddle, we tasted small Thai pancakes also called Khanom Buang. The vendor was just cooking them. Still warm, they were incredibly tasty, with a nice crisp from the pancake and smooth finish from the coconut cream filling.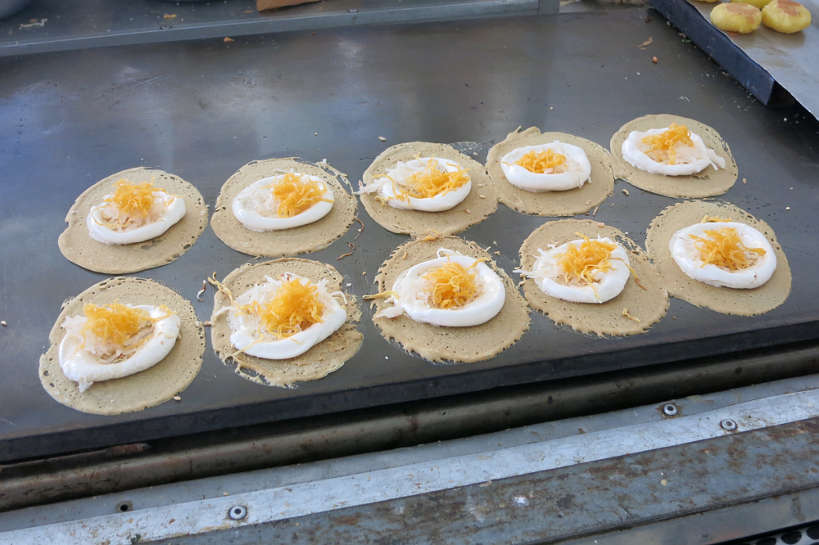 The next food stall had a table filled with Thai desserts. The most striking was the colorful orangish colored egg yolks.
We learned from Mouri that these desserts were influenced by the Portuguese when they introduced Portuguese cuisine to Thai royals in Ayutthaya. Now, you find the "golden egg drops" and "threads" at many food stalls throughout Thailand.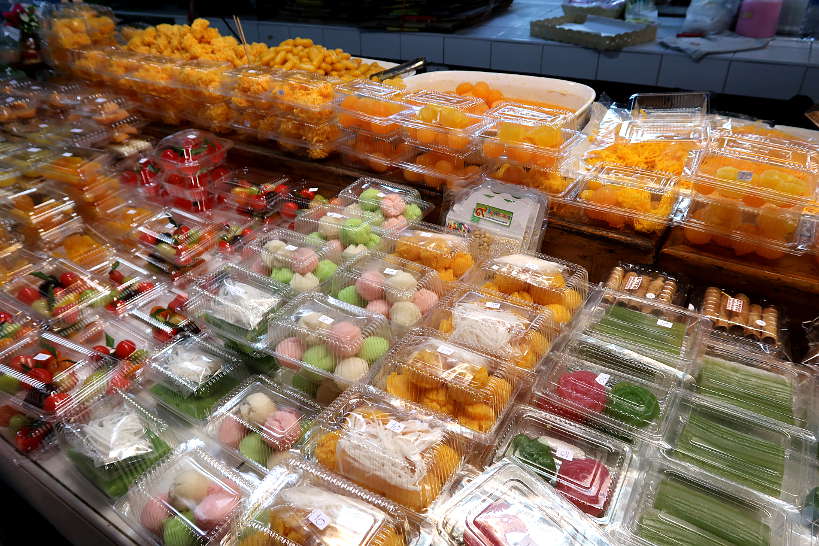 Burmese-Shan Cuisine at Chef Jed's Restaurant
As we continued to get deeper into northern Thai food, we took the red car to our next surprising stop. In a celebration of Thailand's ethnolinguistic diversity, we visited a Shan restaurant for regional specialties.
We learned on the tour that the food in Chiang Mai has been influenced by Burmese cuisine. The Shan are one of the largest Tai groups in the north, who historically lived on the borders of Burma (Myanmar), but emigrated to Thailand in the 19th century to escape conflict.
At the restaurant owned by chef Jed for over seven years, we sampled a variety of traditional Thai-Burmese dishes, including the food we picked up from the market.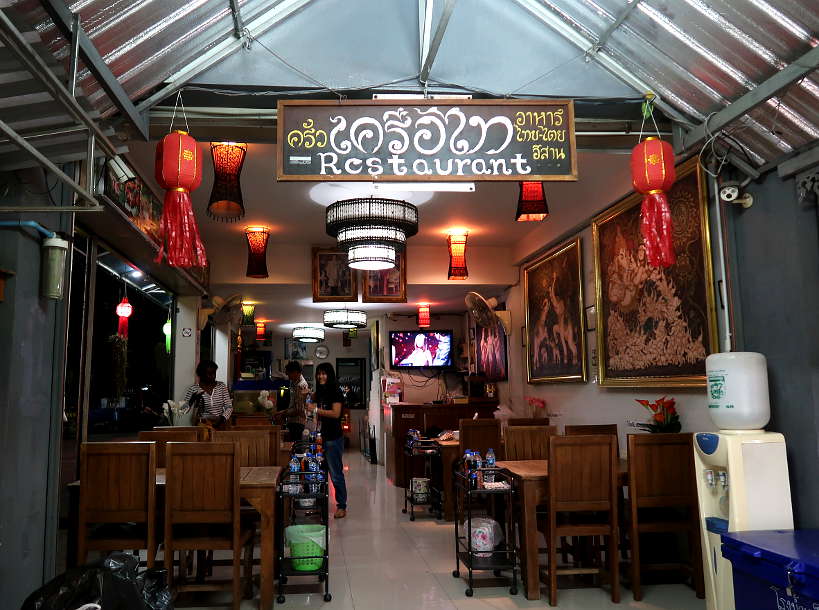 Pennywort and Tea Leaf Salads
The sampling of Burmese cuisine started with two traditional salads. The salad tradition is an important part of Burmese cooking. We had a Fermented Tea Leaf Salad, a signature dish of Burma and the Shan people. And the second salad was a Pennywort Salad, another popular Burmese salad.
Both salads were sparkling with flavor. They both had crispy and crunchy textures with ingredients like lettuce, cabbage, lime juice, Thai chili and a variety of other local ingredients.
Curious, we asked about the fermented tea leaves, as the salad had no tea leaves in it. Moui was quick to let us know that the fermented tea leaf portion is part of the dressing component for the salad. The tea leaves are fermented for a certain amount of time and then used to make the exceptional dressing.
Even though it was not our first time having Burmese food in Chiang Mai, we enjoyed discovering this unique restaurant in a local part of town.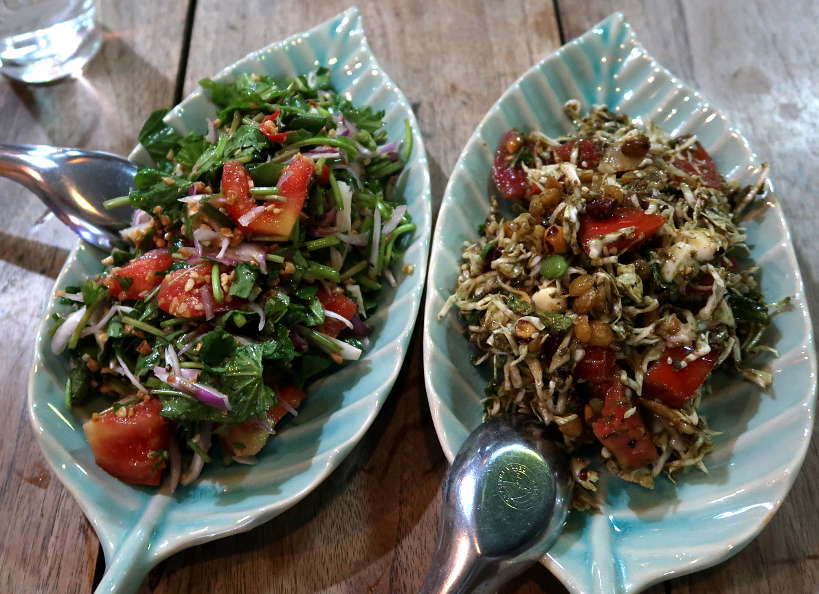 Northern Thai Food from Siri Wattana Market
Betel Leaf Wrap
One of our favorite dishes that we picked up from the market is a traditional Thai snack called Miang Kam. It involves wrapping various ingredients into a betel leaf, topped with a sweet-and-salty sauce. This tasty treat comes from the north of Thailand and is influenced by Burmese cuisine.
Spread out on the table was a beautiful platter of Betel leaves, baked coconuts, peanuts, lime, ginger, dried shrimp and shallots. Eating this snack calls for carefully folding the betel leaf into a little pouch and then stuffing it with little bits of the ingredients and finally the sauce.
The combination of flavors is fascinating. With each bite, you go on a journey of tastes from bitter, spicy, sour, sweet and a hint of saltiness from the dried shrimp. We could have eaten many more servings of these one bite wraps.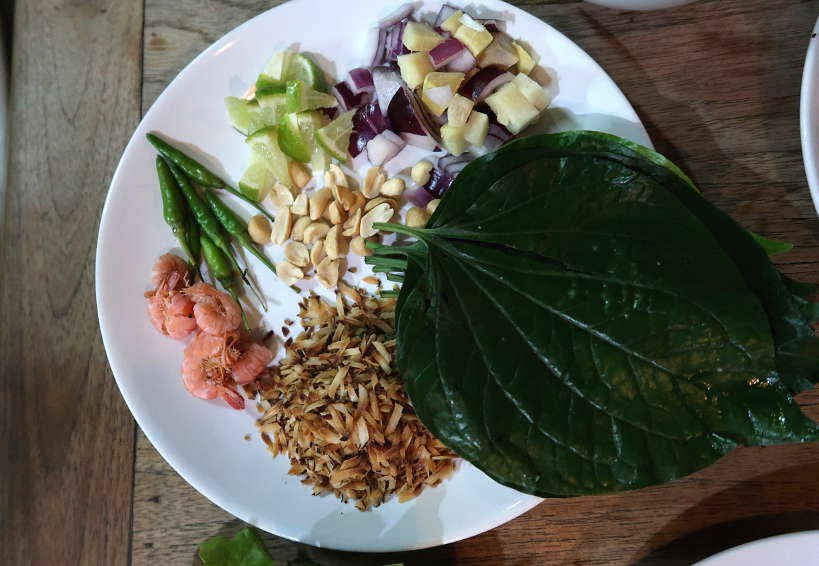 Nam Prik, Crickets & Silk Worms
To round out the amazing spread of northern Thai dishes, we also had Nam Prik and the leftover crickets and silkworms from the market.
Not too eager to continue eating the crickets and silk worms we focused on the popular dipping sauces. Nam prik ong is a red dipping sauce, while the green one is known as Nam Prik Noom. Popular in northern Thailand they are typically eaten with deep fried pork skin known as Kap Moo.
You simply break a piece of the pork rind and dip it directly into either sauce and scoop up a crunchy bite. Both delightful we enjoyed the combination of the chili and the crispy pork.
Already stuffed, we knew we had to make room for our next restaurant stop.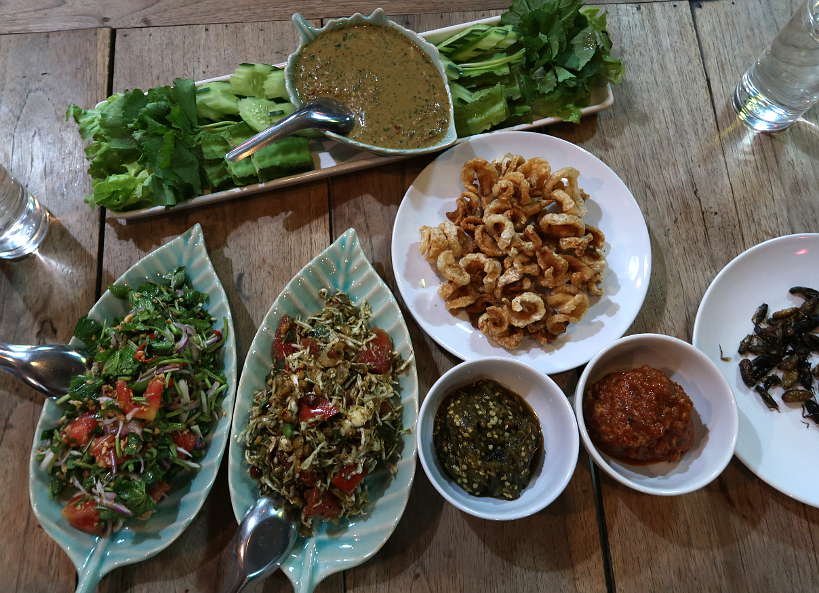 Northern Thai Authentic Food at A South Gate Restaurant
Continuing our hunt for authentic northern specialties, we got back into the red car and made our way into Chiang Mai Old City.
In the South Gate area, we stopped at a well-known family-owned restaurant. The restaurant has been around for about 20 years and is known to have some of the best and most authentic northern Thai dishes. The restaurant is popular with locals and difficult to find, particularly if you don't speak Thai.
Built in a Lanna style decor, we took our seats at a table in the garden area and enjoyed two of signature northern Thailand dishes.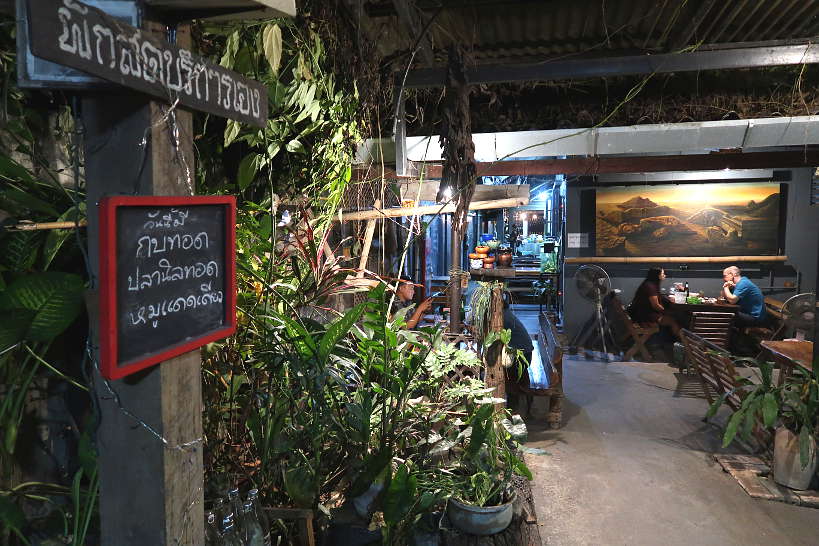 Spicy Minced Pork Salad – Larb
The two dishes were brought out at the same time. A spicy minced pork salad to start followed by a pork curry stew.
Larb or spicy minced pork salad is found in northeast Thailand and Laos. The salad consists of chopped up pork seasoned with Thai chili peppers, fish sauce, lime juice, toasted sticky rice and a wonderful assortment of fresh herbs.
This salad is typically eaten with sticky rice. To eat it in the traditional Thai style manner, Moui taught us to roll the rice into a ball and then use your thumb to scoop up some pork salad. While larb is one of our favorite salads, we found this particular version incredibly flavorful. Moui confirmed when she said it was one of her best local restaurants for Thai northern food.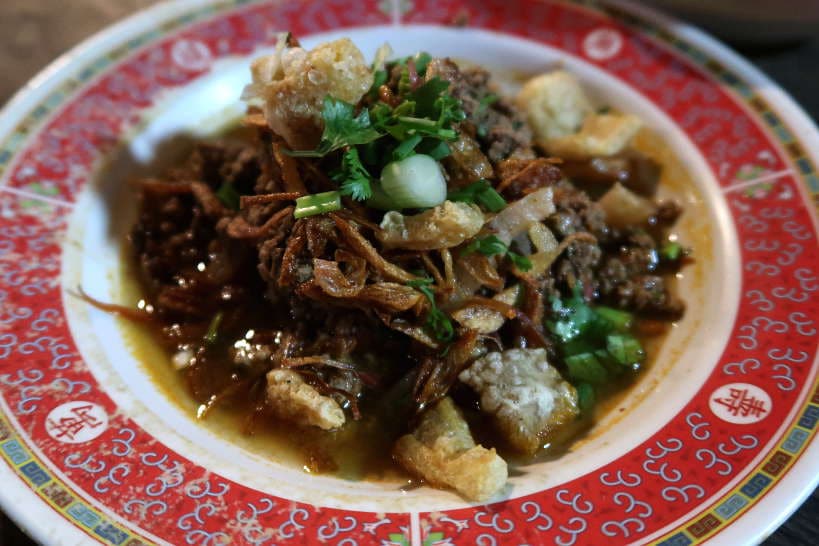 Northern Thai Pork Curry – Gaeng Hang Lay Moo
The Gaeng Hang Lay Moo or northern Thai pork curry is another iconic dishes of northern Thailand. The dish is said to have to come to Thailand through Burma. The hot bowl of fragrant flavors tempted us.
The pork curry is made by slowly stewing pork in a variety of spices and herbs including, palm sugar, tamarind, turmeric, ginger, garlic and more.
Incredibly aromatic we enjoyed diving into this rich curry with pork that just melts in your mouth.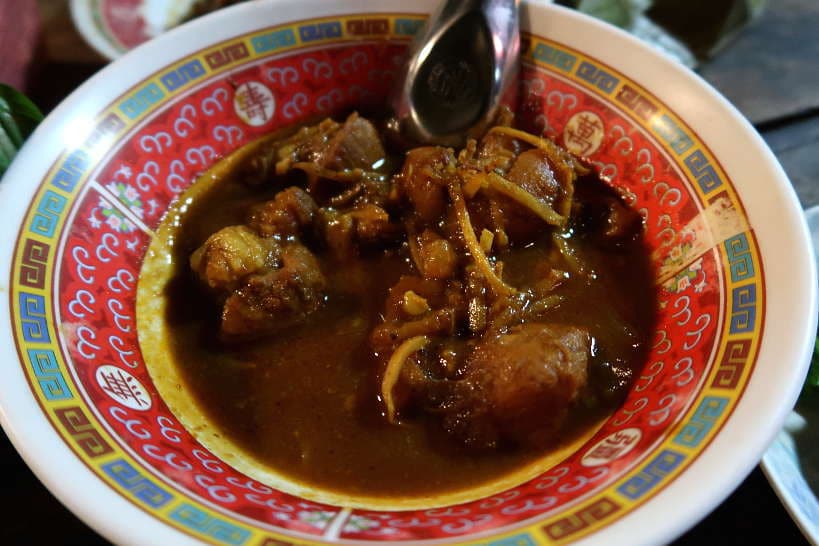 Warorot Market: Chiang Mai's Largest Food Market in Chinatown
Warorot Market is a landmark not to miss in Chiang Mai. This huge market offers a wonderful food scene with different vendors in the morning and at night.
The Noodle Soup Lady
While we were already full from our previous stops, we walked on the main side street of Warorot to stop at the Noodle Soup Lady stall.
As Mouri explained, this lady has been at that particular spot for 20 years or more making noodle-based dishes. She starts each night at 5:00 pm and stays until she runs out.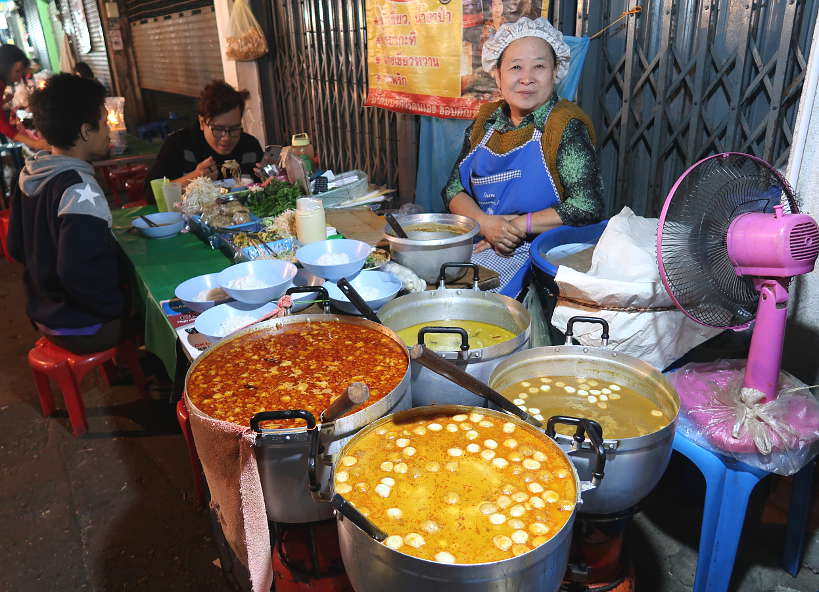 We tasted three different noodle soups. The first was a coconut red curry noodle soup with fish balls. The second, a red pork soup with chicken blood cubes also called Khanom Jeen Nam Ngiao, a dish from Northern Thailand. And finally an Isaan soup from northeastern Thailand made of fermented fish sauce with noodles and curry paste.
Claire's favorite was the Khanom Jeen Nam Giao with its fragrant tomato based soup. While Rosemary really enjoyed the Isaan soup with the combination of strong savory flavor from the fish sauce and smooth curry taste.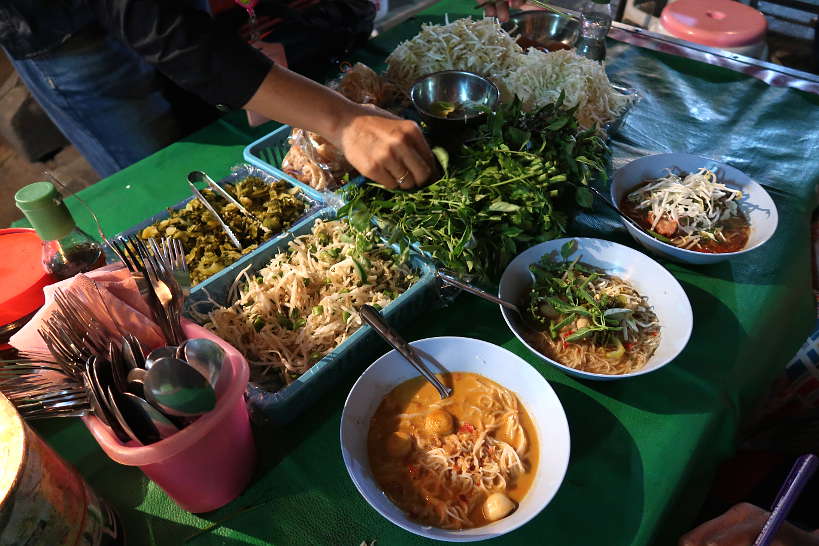 Thai Desserts Vendors
Every market tour is a great excuse to sample new sweets and treats. While walking through the alleys at Warorot market, we stopped at a vendor with a street cart filled with Thai desserts.
Even before we could resist, Moui, had us try mung bean cake, coconut cakes, sticky rice with coconut pudding and more sweet treats. They were all delicious, however, the coconut cakes with their sweet and smooth finish was our unanimous favorite.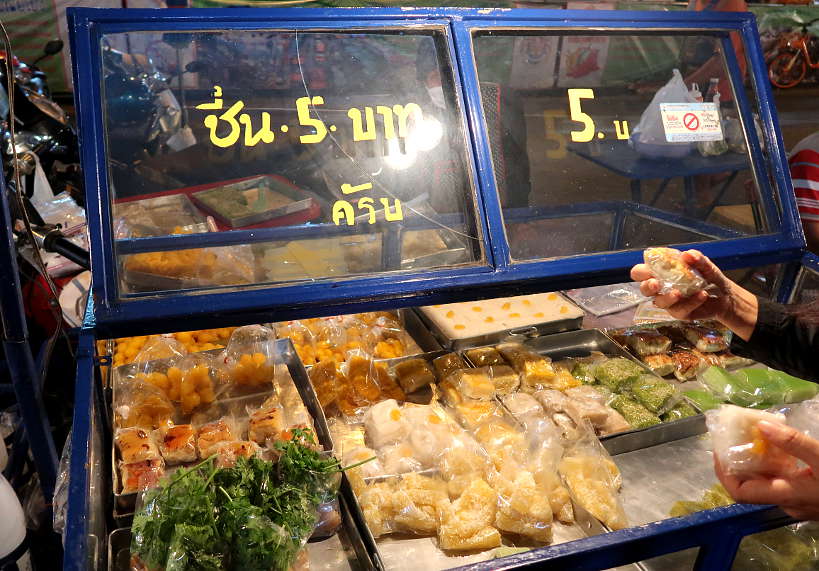 Customized Thai Desserts at Kanomwan Chang Moi
Our last stop for the evening was at Kanomwan Chang Moi for dessert. At this point, we were all stuffed, but somehow the word "dessert" managed to open up more room.
When we pulled up to the dessert shop, the place was buzzing with activity. Almost all the tables were occupied and the atmosphere was upbeat and energetic.
The counter is a long selection of brightly colored treats of every kind. In an assembly line fashion, you choose your treats and then move towards the end of the line for your toppings.
We were in awe of the brightly colored liquids, gelatin shapes, jelly-like noodles, fruits and beans of every kind. They reminded us of cendol, one of the most surprising desserts we discovered in Penang, Malaysia.
With Moui's guidance, we had different desserts topped with coconut milk, logan juice, and water chestnut. We enjoyed these fun and wickedly refreshing treats and it was the perfect end to our Chiang Mai food tour.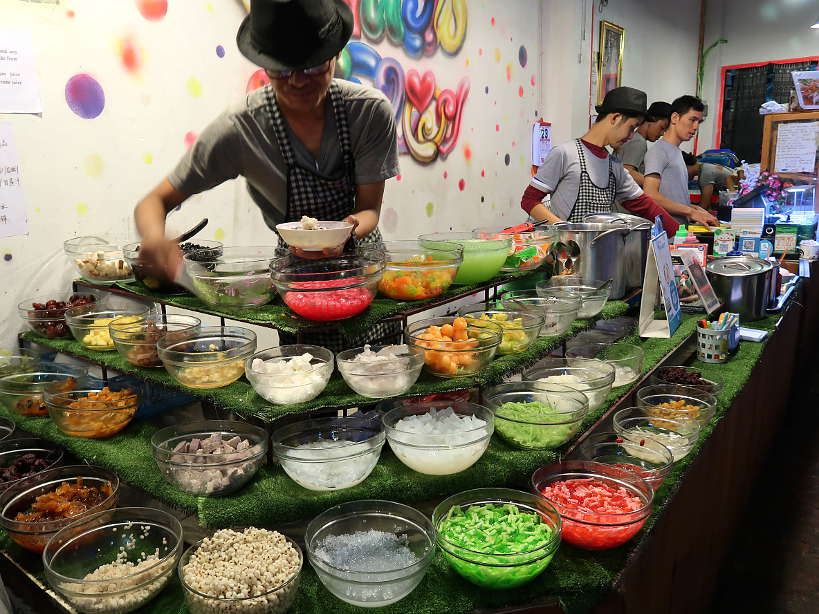 In Summary
Taking a Chiang Mai Northern Flavors Food Tour is one of the best ways to get to really know northern Thailand's distinct cuisine.
While Chiang Mai has a lot to offer visitors, the food and the under-the-radar culinary specialties is the biggest draw.
Even though we had previously spent time in Chiang Mai discovering the local food, this Chiang Mai food tour took us even deeper to some of the best local restaurants, many of which are hidden and only accessible with local knowledge.
After seven amazing food stops and sampling over 16 unique regional specialties, we were thrilled. With Moui's local knowledge about Northern Thai food and the link to the Thai culture, we got a well-rounded perspective of the local cuisine and culture.
The one piece of advice we would give is to go with an empty stomach. Don't be surprised if you can't stop eating even if you are full. It's that delicious!
If you are in Chiang Mai and want to sample amazing northern Thai food, simply click here to book your Chiang Mai Northern Flavors Food Tour.
Savor The Adventure!
Love it? Pin it?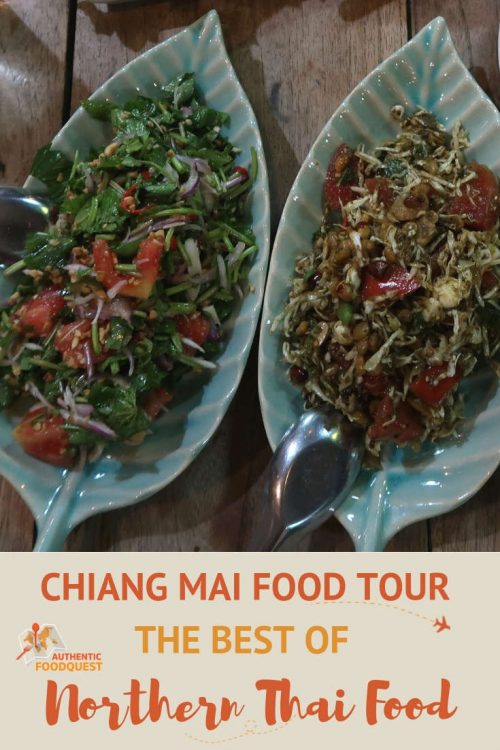 Special thanks to A Chef's Tour for having us on this tour. All views and opinions expressed are our own. Full bellies and happy taste buds too!
Curious by nature, Rosemary loves exploring new flavors and connecting with locals. She shares her insights and culinary finds from her travels to inspire people to connect local through food.